Tucson (not to be confused with Tusson) maybe the name of one of Arkansas' largest cities but it is also the name of one of Hyundai's longest serving models. Launched in 2005, the Tucson was an early entrant into a category of SUVs that would soon become extremely popular over a decade later. More than 15 years after its debut, the Tucson is still here and it not only looks better than ever, it IS better than ever before!
Hyundai have been on a roll recently, adding some serious features to their existing line-up as well as bringing on completely new models. While the Tucson may be a legacy name, it is quite different to what we have come to expect.
Before I move on, you must know that you can also watch the review of this Tuscon on our YouTube channel!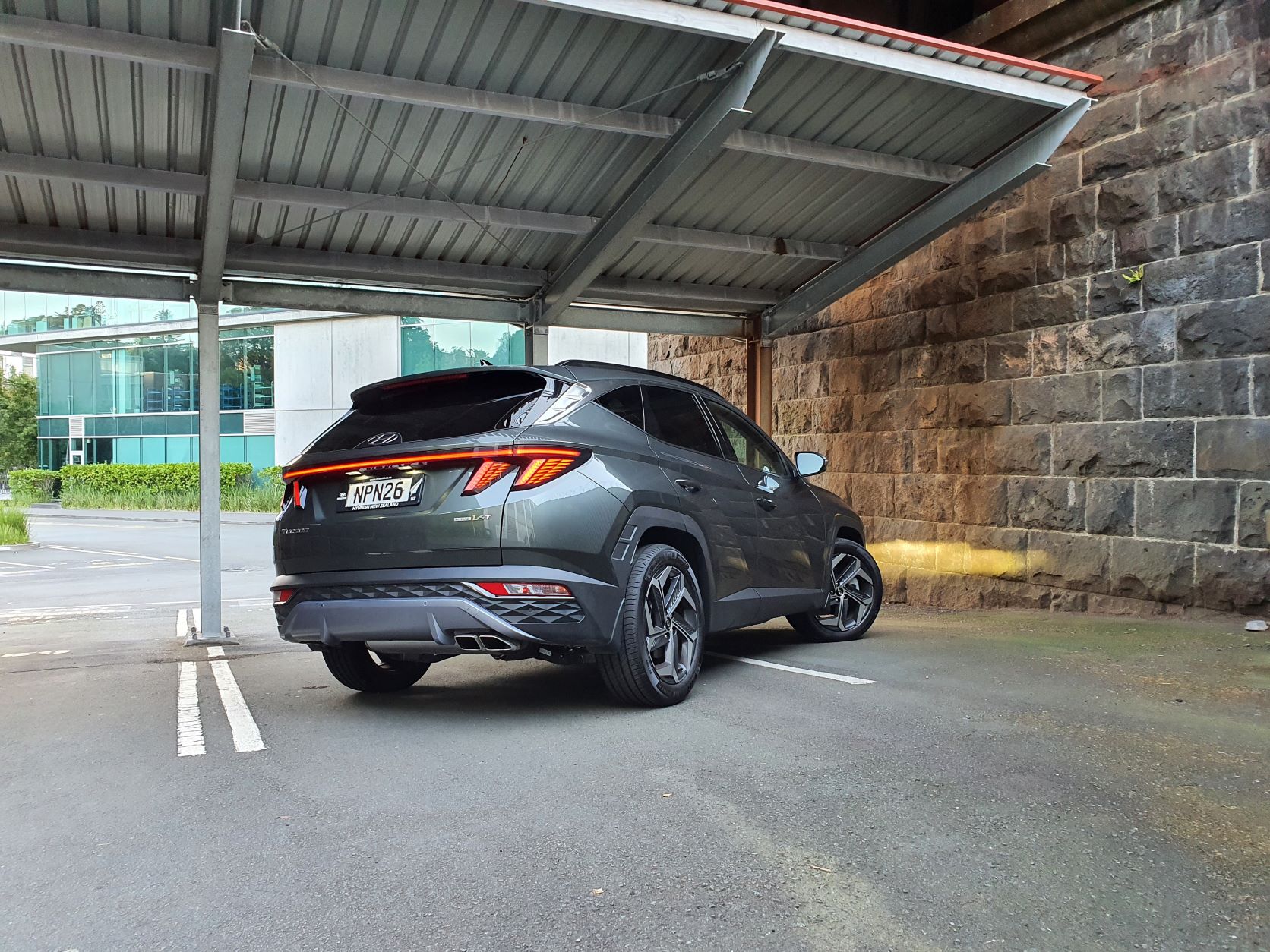 Looking sharper than ever on the outside, the 5-seater SUV has ditched its smoother lines in favour of more striking design elements. One could also call it over styled but I would have to disagree. Just look at those striking wheel arches, chrome highlights and the unmistakable LEDs. Pictured above in the 'Limited' guise, the new model looks like it belongs in the high streets or in a modern art gallery for that matter. It has been styled to look distinct while still paying homage to the Tucson's legendary practicality and usability.
Coloured in what is actually a shade of grey but when light bounces off those lines, you would be forgiven for calling it green even! The metallic colour is nicely balanced out thanks to mix of gloss black plastic highlights and chrome accents that dot the exterior. Speaking of the aesthetics, you may have noticed that the Hyundai badge is now perched at the bottom of the rear windscreen which leaves no space for a wiper. Or so I thought, the real surprise is that the rear wiper is hidden at the bottom of the spoiler! Now that's design.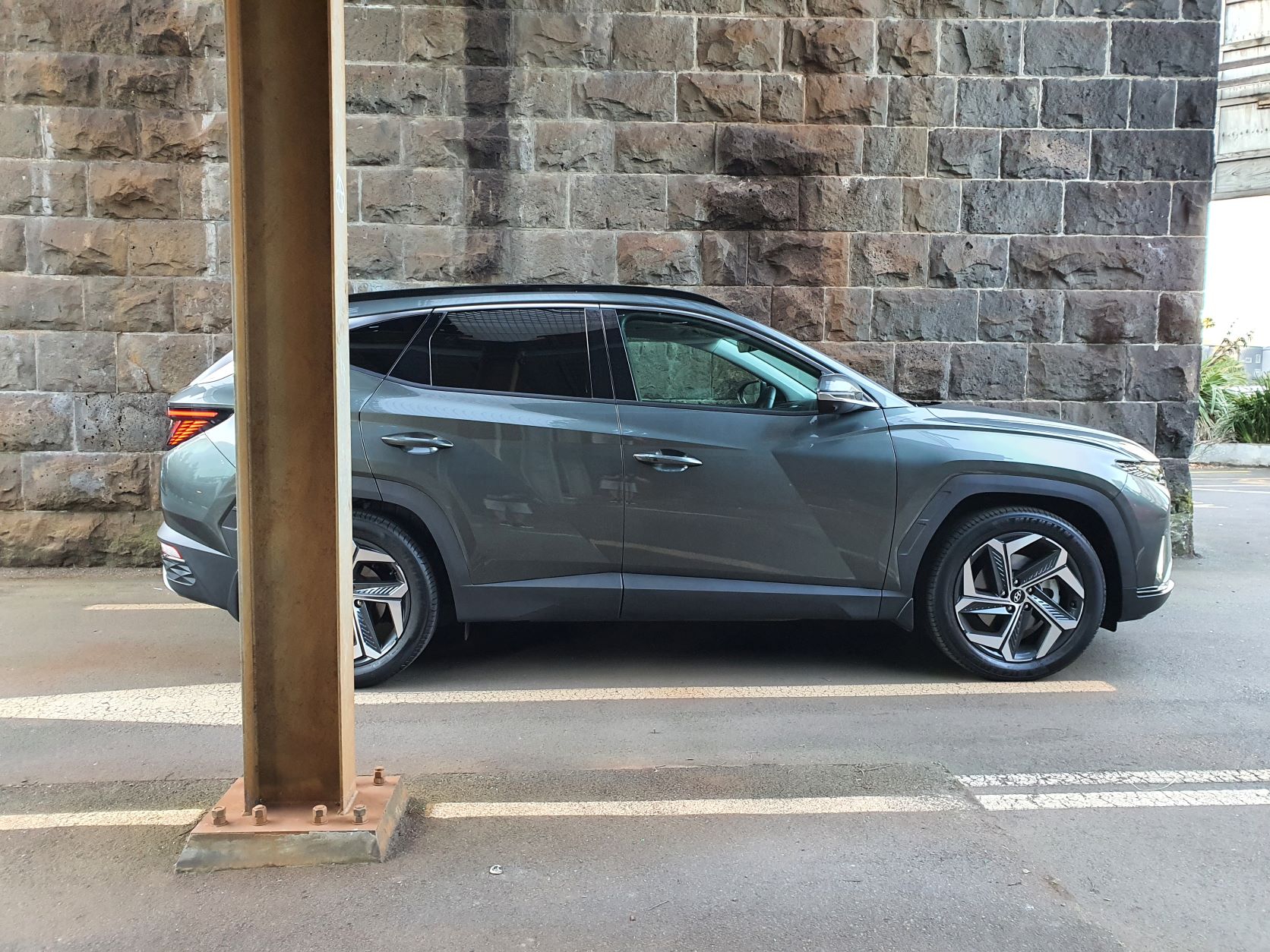 Similar themes of luxury and a focus on design are echoed throughout the cabin. There's plenty of leather around with the seats and steering wheel being covered in the stuff, not to mention that the seats are heated and ventilated as well. Same goes for the rear seats which also have the heating option, now that is comfort! They provide the perfect device to lay back in while you enjoy the view through the double sunroof. A sunroof that seemed too complicated for me initially but I did eventually get the hang of it.
Something that isn't too complicated is the dashboard which has a beautiful shape to it actually with the unit appearing to be sculpted around the driver and passenger. Featuring AC vents that merge into sharp lines that flow along the top and merge into the centre console with the infotainment screen seamlessly integrated into the design language of the interior. Every detail has been thought through here!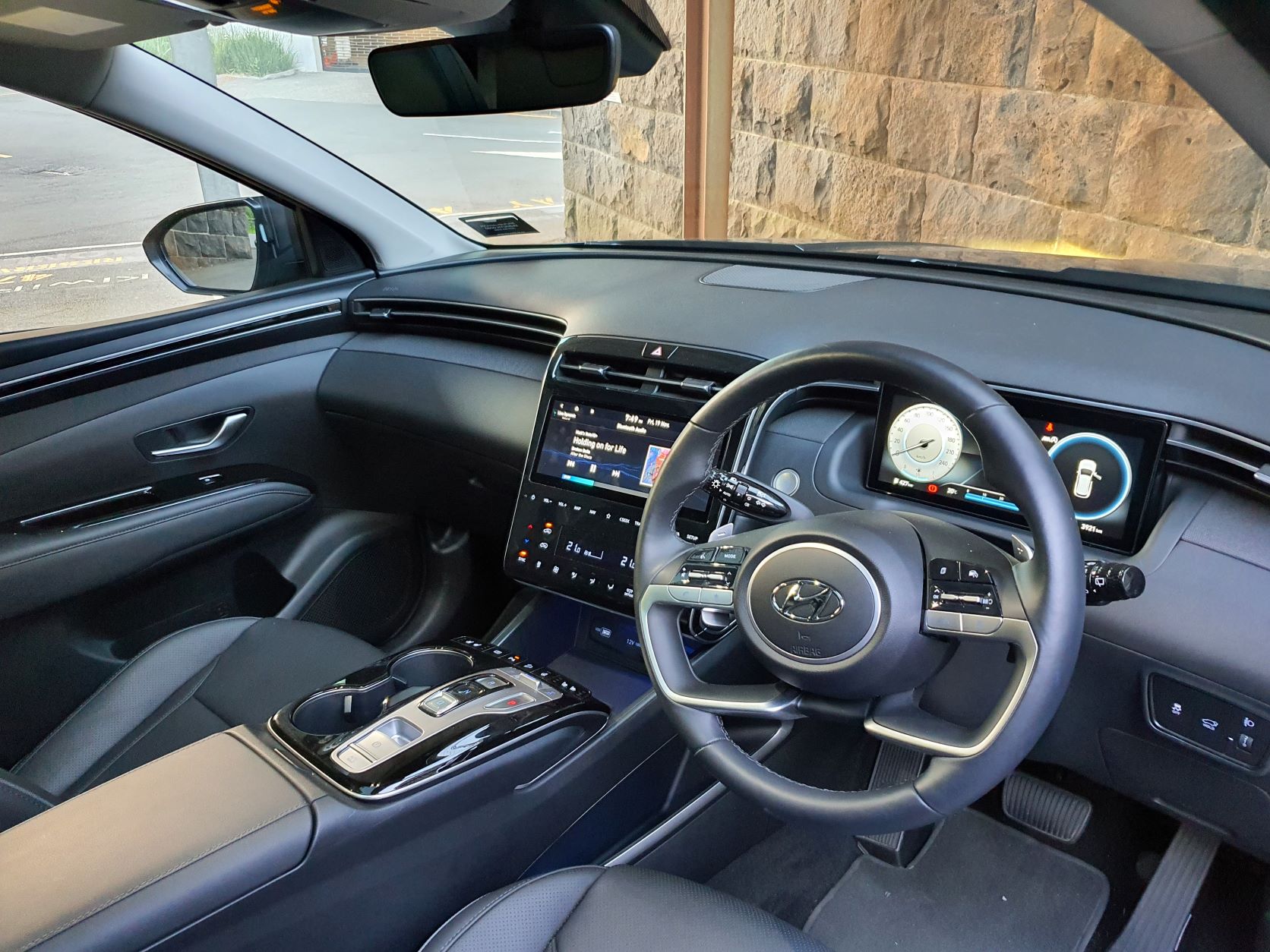 Speaking of thinking, that's something you don't have to do much of as both the infotainment screen and centre buttons are neatly laid out. With practicality being top of mind, everything the driver will ever need to use is located within arms reach. The gear selector, climate controls, drive modes and the screen. The infotainment unit is one that finds a fan in me not only for its layout but also because of its nifty features like voice notes and sounds of nature. It can be a nerd fest when you need it to be as well. But for times when you just want to enjoy the drive, all you have to do is sit back and turn up the awesome Krell audio system. Quality sound is a must for someone with a music collection like mine so you'll be glad to know that the Tucson fared really well in that respect.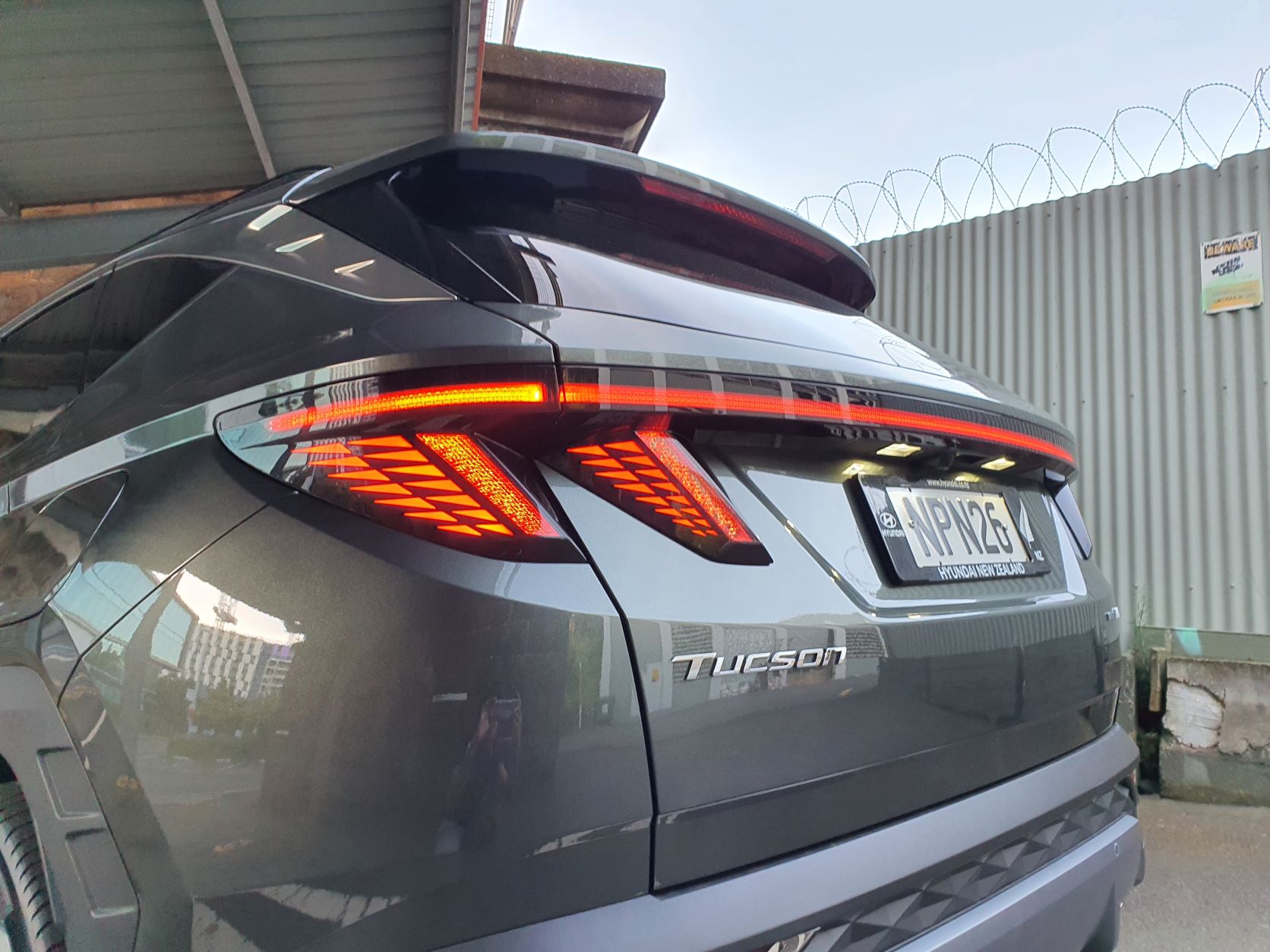 Hyundai have given this new Tucson the bells & whistles both inside and out. And the feature list continues to the powertrain of the car with this model having a 1.6l T-GDi turbo engine mated to a 7 speed dual clutch gearbox. With a power output of 132kW, it certainly has some grunt especially when you add Hyundai's HTRAC all wheel drive system into the mix. Once up to motorway speeds, the smoothness of the drive is best compared to silk. The Tucson will sit very comfortably in seventh gear, miserly sipping away at the fuel while you enjoy your morning commute!
While it is a standout on the motorway, this engine-gearbox combination isn't as comfortable around town. It takes a bit to get the 1.6l turbo going but the power suddenly comes on around 1,800-2,000 rpm which is when the car goes into the next gear up. It's a weird sensation and one that certainly takes a bit of getting used to. Once you do master the power delivery, you'll have a smooth drive on the slower roads as well.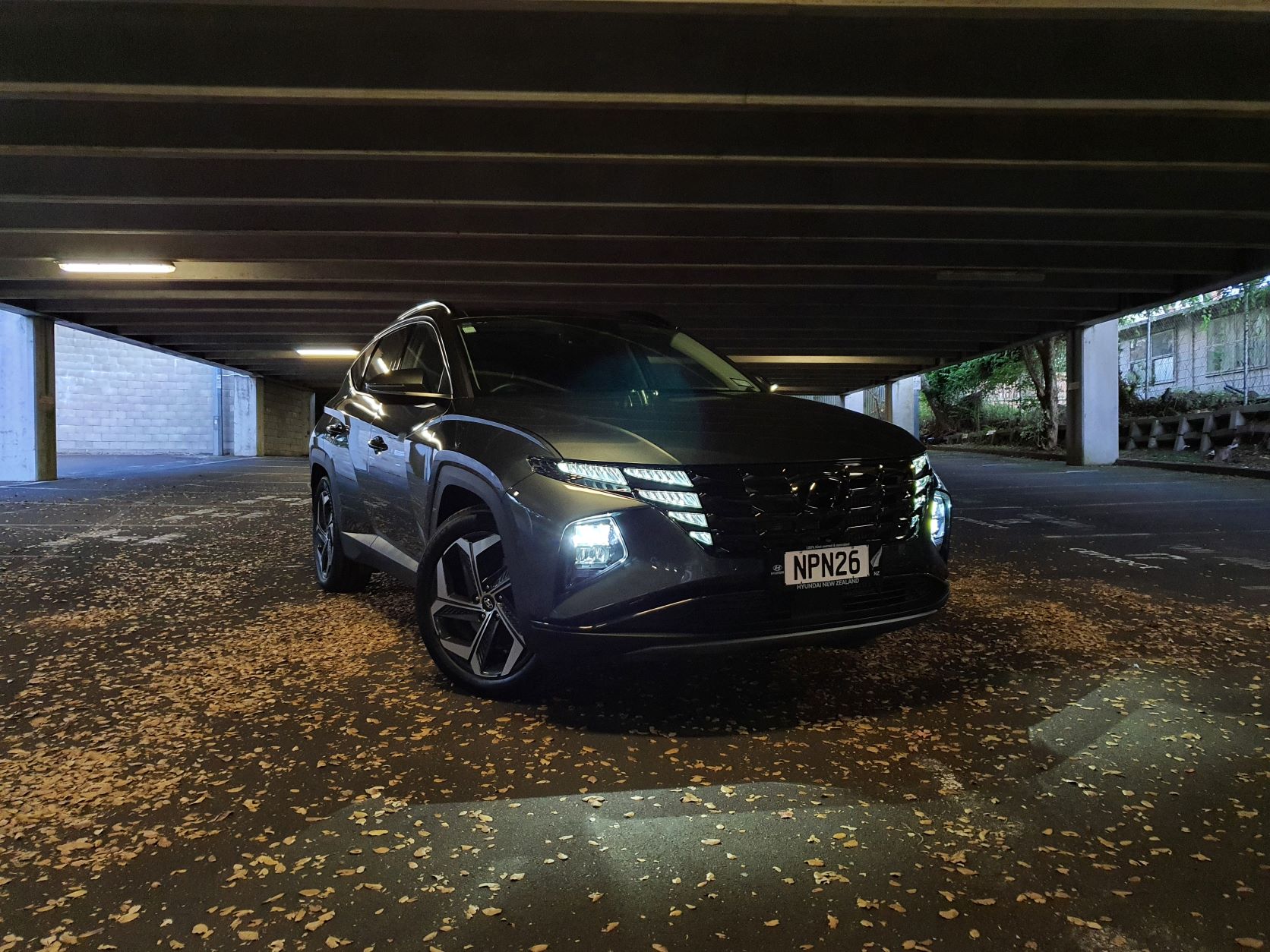 The Verdict
All around, the new Hyundai Tucson is an excellent proposition. Not only does it carry a stylish new design but the interior and ride have been massively improved as well. Throw in the fact that this 'Limited' model is packed with virtually every single gizmo you can imagine and you can see why there's a line of orders for this car. The queues are also thanks in part to the origin of the NZ models, built in the Czech Republic means there's a strong sense of quality to back up this brilliant offering. It could've have been a bit smoother to drive around town but hey, nobody's perfect. But the new Tucson, well it's almost too good to be true!
2021 Hyundai Tucson Limited 1.6T: 4/5
Thanks for reading! For more news and reviews, check out Tarmac Life.
Words and pictures by Matthew D'Souza, car courtesy of Hyundai Motors New Zealand.