Amarok, referencing a Wolf deity in Inuit culture, is the name of Volkswagen's pickup truck. Selling well above 800,000 units since its launch in 2010 before production of the first generation truck ceased in 2020. In the New Zealand market, its long lifeline spawned many special editions along the way including the Darkside Edition, Edition-R and the Aventura among others. Aventura only arrived many years into the production of the first generation truck too!
This time however, Volkswagen are doing things quite differently. And I'm being as literal as I can be here. Sharing a platform with Ford is a massive deal for VW, the two trucks are even made side by side in Silverton, Pretoria, South Africa. Clearly, the new Amarok will need far more wading depth to ford this stream! More on that later on as well as an explanation on the 'Merino' bit.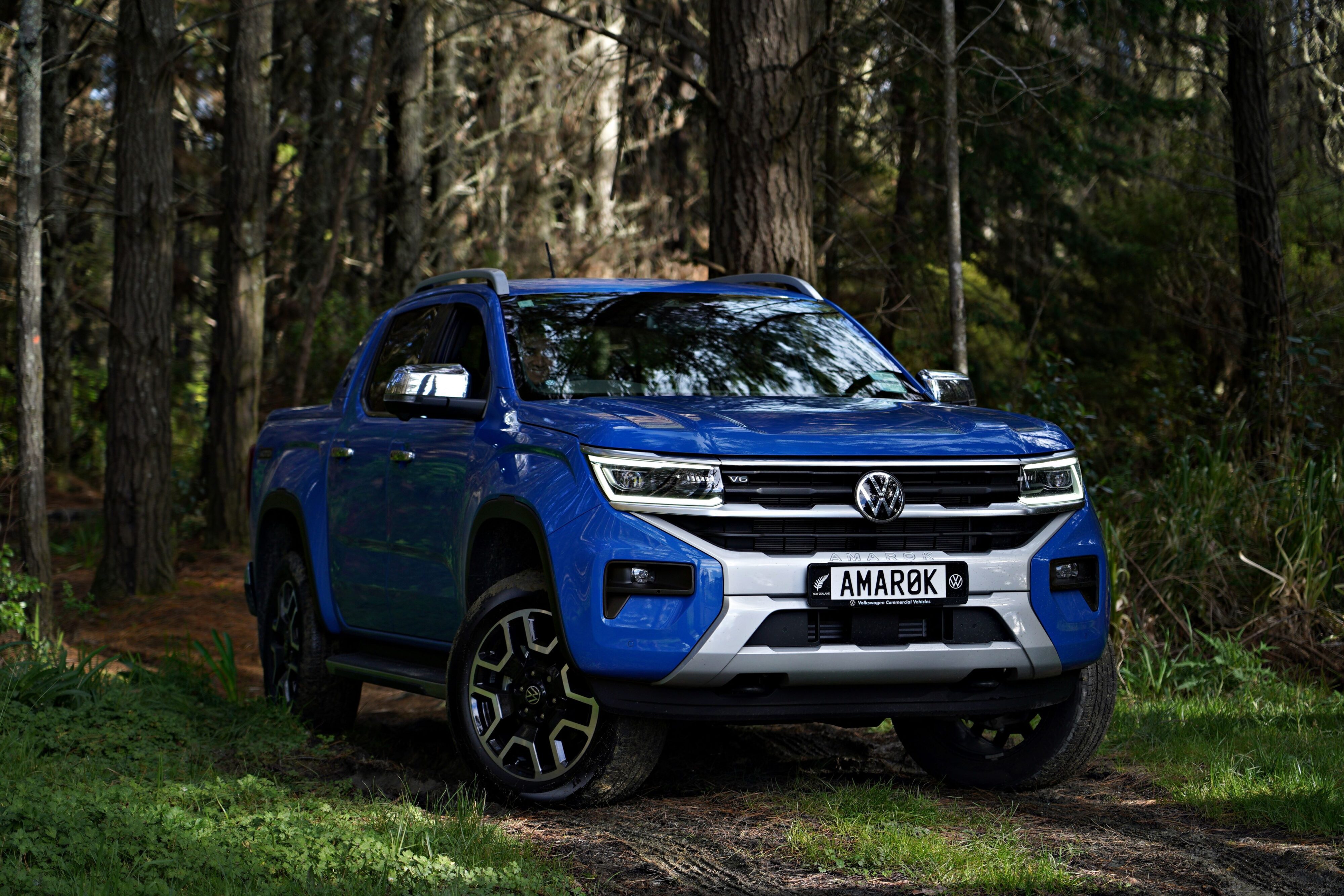 Now, I have some history with the Amarok and the Aventura specifically. It was the very first vehicle that I reviewed with Dave as part of 'Tarmac Life'. That was nearly five years ago but thanks to this magical thing called the internet, the video review still exists on the line. My written review hasn't enjoyed the same fate because it was published on a now defunct platform. For fans of mine, be warned because I didn't feature on screen in this video, instead serving as a camera hand to Tez M.
Be that as it may, I can still recall looking upon the previous Amarok Aventura favourably. It was well made, rather luxurious for a pickup/ute but at the same time had a grunty V6 and plenty of utilitarian appeal. In other words, the Aventura spec balanced this fine line rather well, it was well suited to city life but could prove its mettle when the going got tough!
That's a tall order to follow for the new Amarok Aventura V6!
Tall is exactly how I'd describe the 2023 Amarok Aventura. In traffic, you'll find yourself becoming well acquainted with bus drivers & truckers alike while looking down on the rest of the commuting public. At 1.88m tall, it's not just the height that makes this an imposing vehicle to see in your mirror. A width of 2.2m and length of 5.35m make it equally as gigantic from any angle.
This is a genuinely large vehicle and can make simple tasks like finding a park at the shops challenging but on the plus side, you can bid goodbye to tailgaters and lane cutters. Few dare get in the way of the new wolf. If they do, the sight in their rear view mirror is filled with the embossed 'Amarok' badging on the front bumper. Didn't notice that on the new Ranger? You'd be right too because only the roof, door handles and mirror caps are shared between the two vehicles when it comes to the exterior. Everything else you see is pure VW!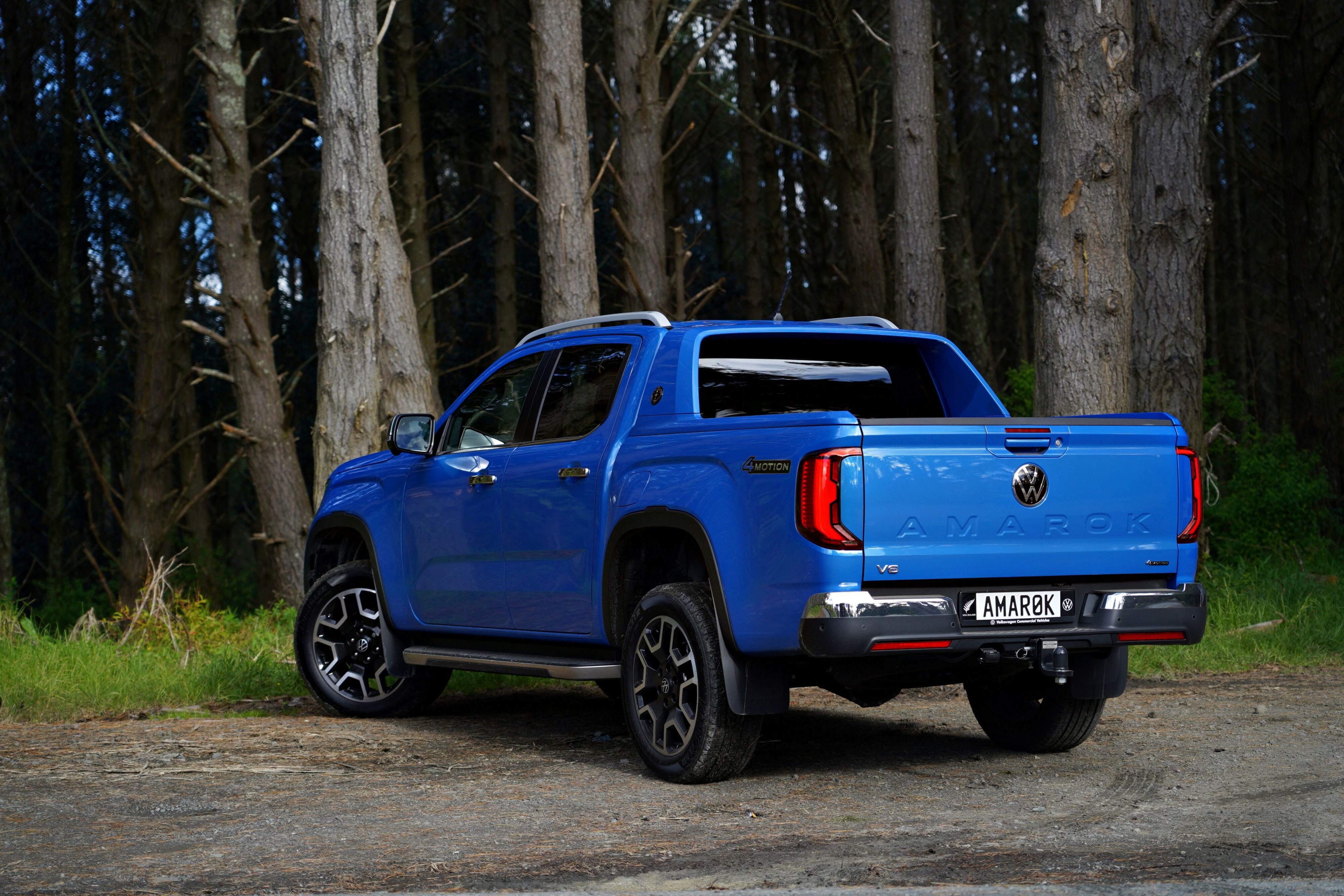 That's just as well too because it was the Amarok's essential "VW-ness" that created a community of enthusiasts around it. And that statement very much rings true for this second generation truck. Featuring VW's IQ.Light LEDs with Active Bending Headlamps, new VW logos and badging as well as diamond cut 20 inch wheels to highlights its urban bend.
Don't be fooled by all of the chrome though because this Amarok Aventura is seriously capable when you want it to be. Built on Ford's T6 platform which was developed through punishing testing by the team in Australia where they redefined "Ford Tough". What that means for you is that the chassis is as capable as the 4MOTION system, offering several different off-road modes as well as a locking diff, hill descent control, forward facing camera and more.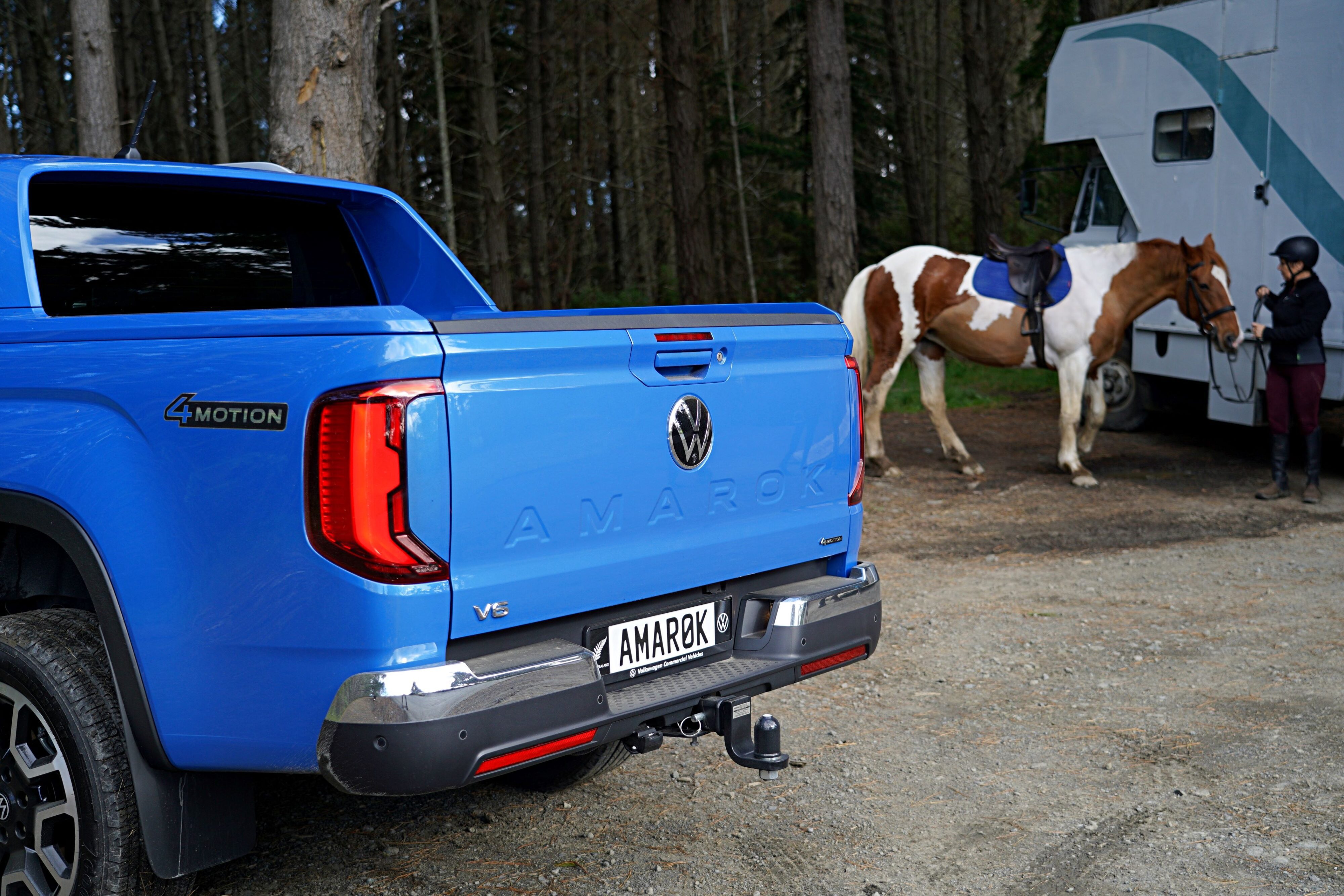 In the same way, that tow bar isn't just for shin bashing bystanders while parked on Ponsonby Road, the Amarok will happily tow 3.5 tonnes worth of braked goods. Not enough? You can also load the bed up to 858 kgs and the roof will take 350kgs of load too. Don't be put off by its shiny chrome or its eye catching 'lightning blue metallic' colour, this truck walks the talk!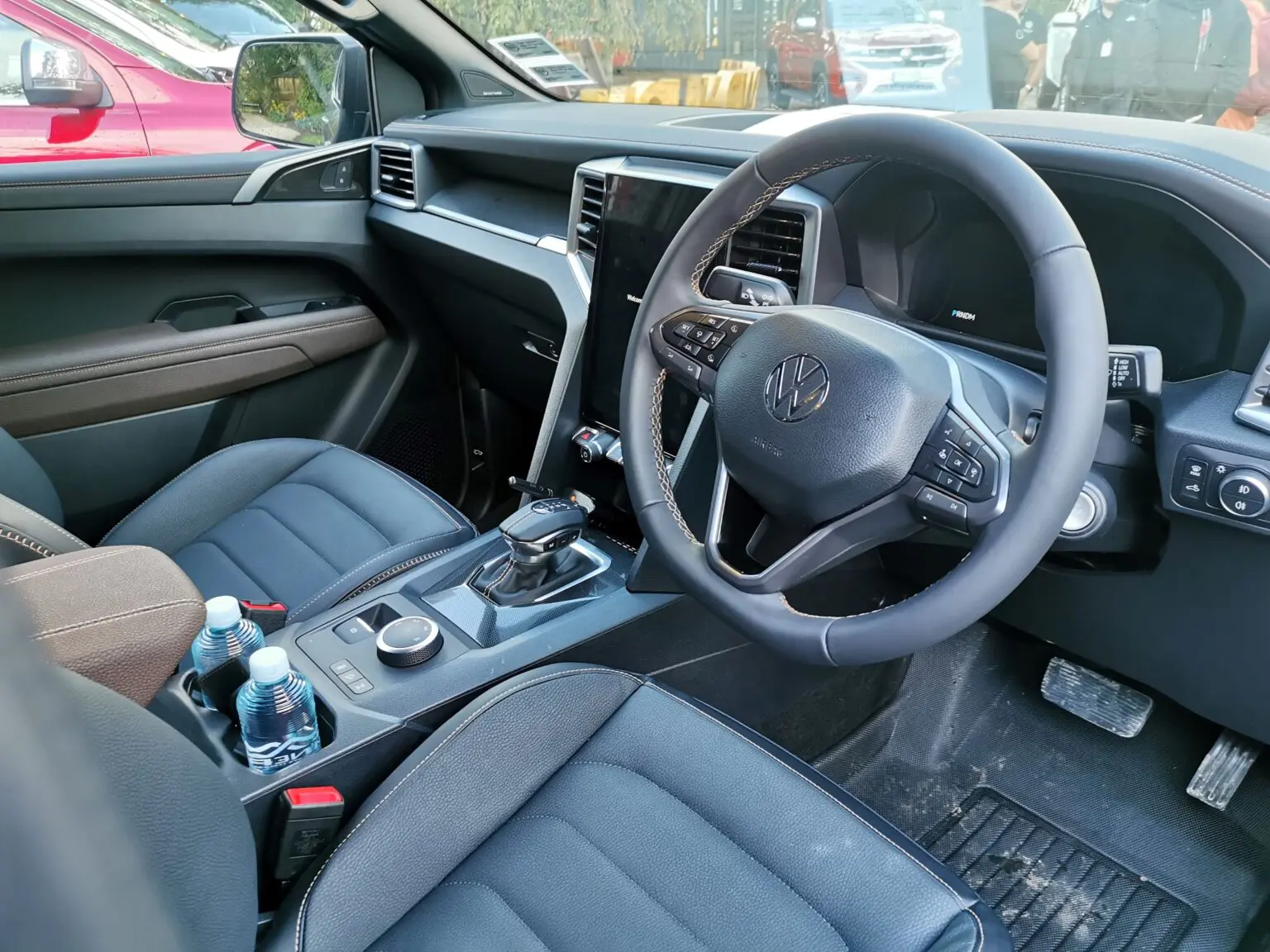 Hop inside the Amarok Aventura and you'll leave the world behind because the cabin is reassuringly quiet. Once again, shared components are kept to a minimum here. The only Ranger bits come in the form of that large screen, claw gear shifter, door handles and roof liner. It's all VW otherwise. Full leather VW specific seats front and back offer plenty of comfort while the front units are heated too! The steering wheel is a VW unit too as is the software on both screens.
While the 12-inch screen is massive, its quite easy to navigate with the ability to have floating shortcuts at the bottom constantly. Audio inputs and AC temperature are quite easy to adjust too. Speaking of audio, Aventura adds a nice 8-speaker Harman Kardon sound system which has 640 Watts worth of kick to it! Much like that 3.0L V6 engine.
As it is a shared platform, the engine is also a Ford unit. Specifically, a 3.0L turbocharged V6. It still marks an improvement on the previous model across the board. Torque is up to 600Nm now with power at 184kW! All this means a 0-100 time of 9s is possible while efficiency is rated at 9.6L/100km. During my week with the Amarok Aventura, I achieved around 9.8L/100km so not too far off the mark despite not exactly driving conservatively at all times. Thankfully, there's a 10 speed automatic gearbox to lend a hand with that!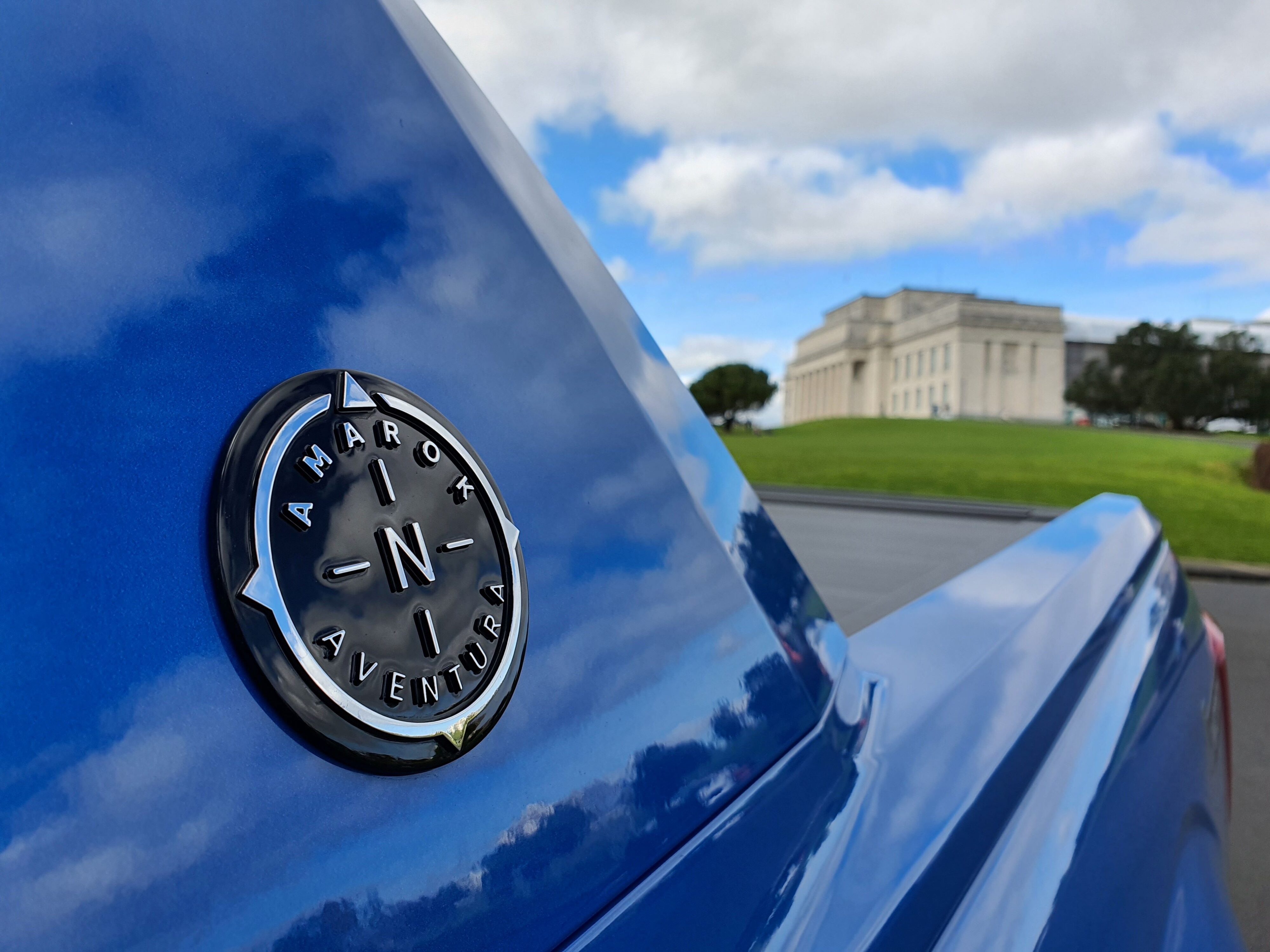 While those power figures look great on paper, they were equally astonishing when translated into road use. I was impressed by the Amarok's suspension setup, it made for comfortable driving whether or not there was a road underneath. It eats speedhumps for breakfast while gravel is of no matter to the wolf. Despite not using the truck bed at all, the ride is soft for both sets of passengers, front and rear. Another trait of the previous gen Amarok was its car like handling and I am happy to report that the new truck follows in the same footsteps, impressive stuff!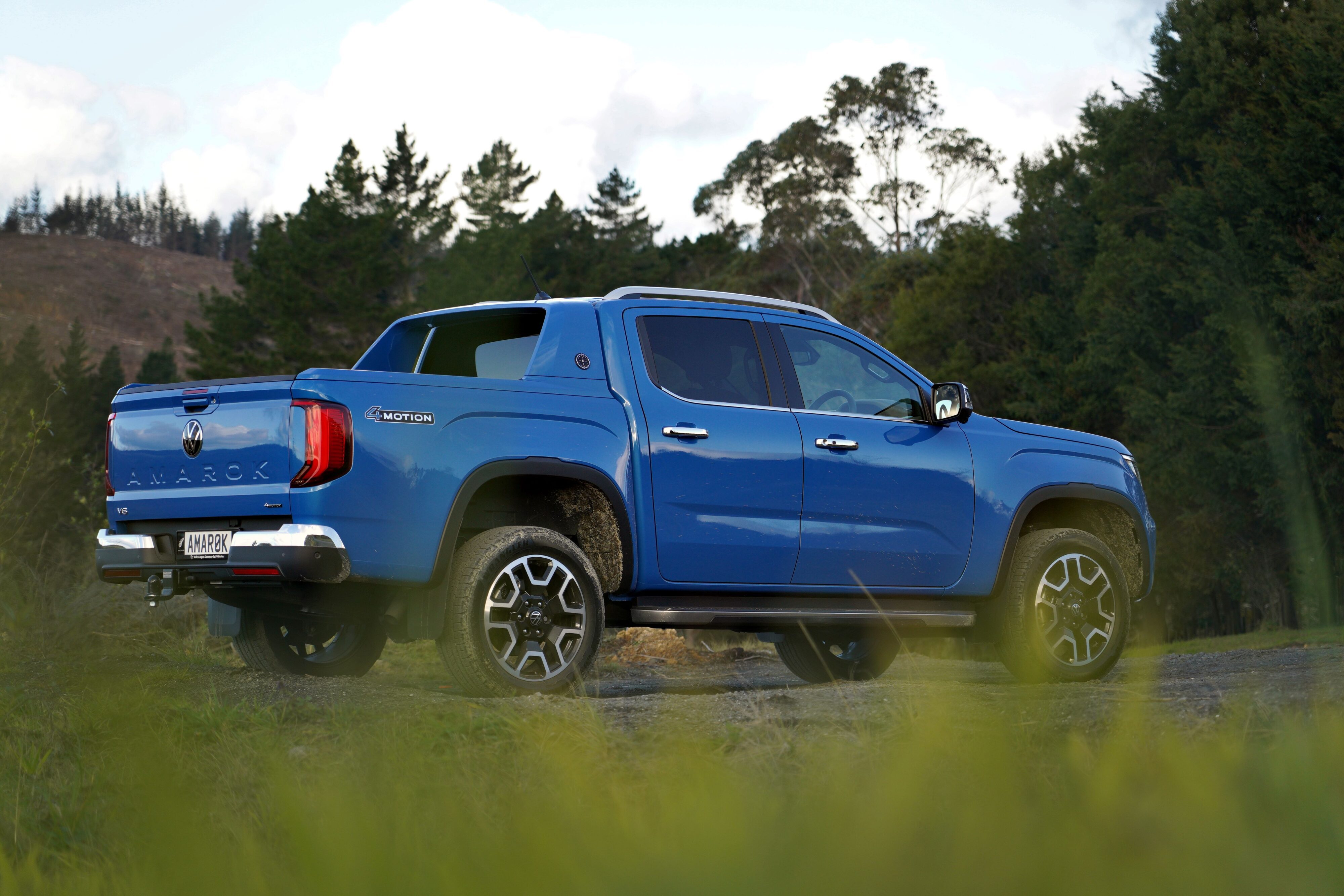 The new Volkswagen Amarok Aventura V6 is a bit like Merino wool then. Good for all seasons, trendy enough for the town but suitably tough for country living. Rather than being a "wolf in sheep's clothing", the Amarok has the capacity to be a bit of both, some might even call it a 'Merino Wolf'. But just like Merino wool, all this functionality and luxury comes at a cost that isn't cheap. Add on the government's Clean Car fees plus an automatic shutter for the truck bed and the Amarok Aventura V6 tips the pricing scales at just over $100,000 NZD!
Yes, it's a hefty price but it's also the cost of quality. Having one of the best luxury pickups on your driveway should ask for a premium and here it is!
2023 Volkswagen Amarok Aventura V6: 4/5
Thanks for reading! For more Volkswagen news and reviews, check out Tarmac Life.
Thanks to Volkswagen New Zealand for providing the 2023 VW Amarok Aventura V6. Words by Matthew D'Souza, pictures courtesy of Harry de Souza.