No doubt even the most uninformed of car buyers would have noticed that the SUV segment is a crowded space today. With plenty of takers for your cash, the decision isn't quite as black and white as it once was. Or is it? RAV4 carries one of the oldest names in the game and while it has added on a few more badges over time, can it still go toe to toe with the host of newcomers?
Speaking of new, my review model came with Toyota's famous Hybrid technology and a fresh XSE trim level which added a nice leather interior and a flashy two tone exterior.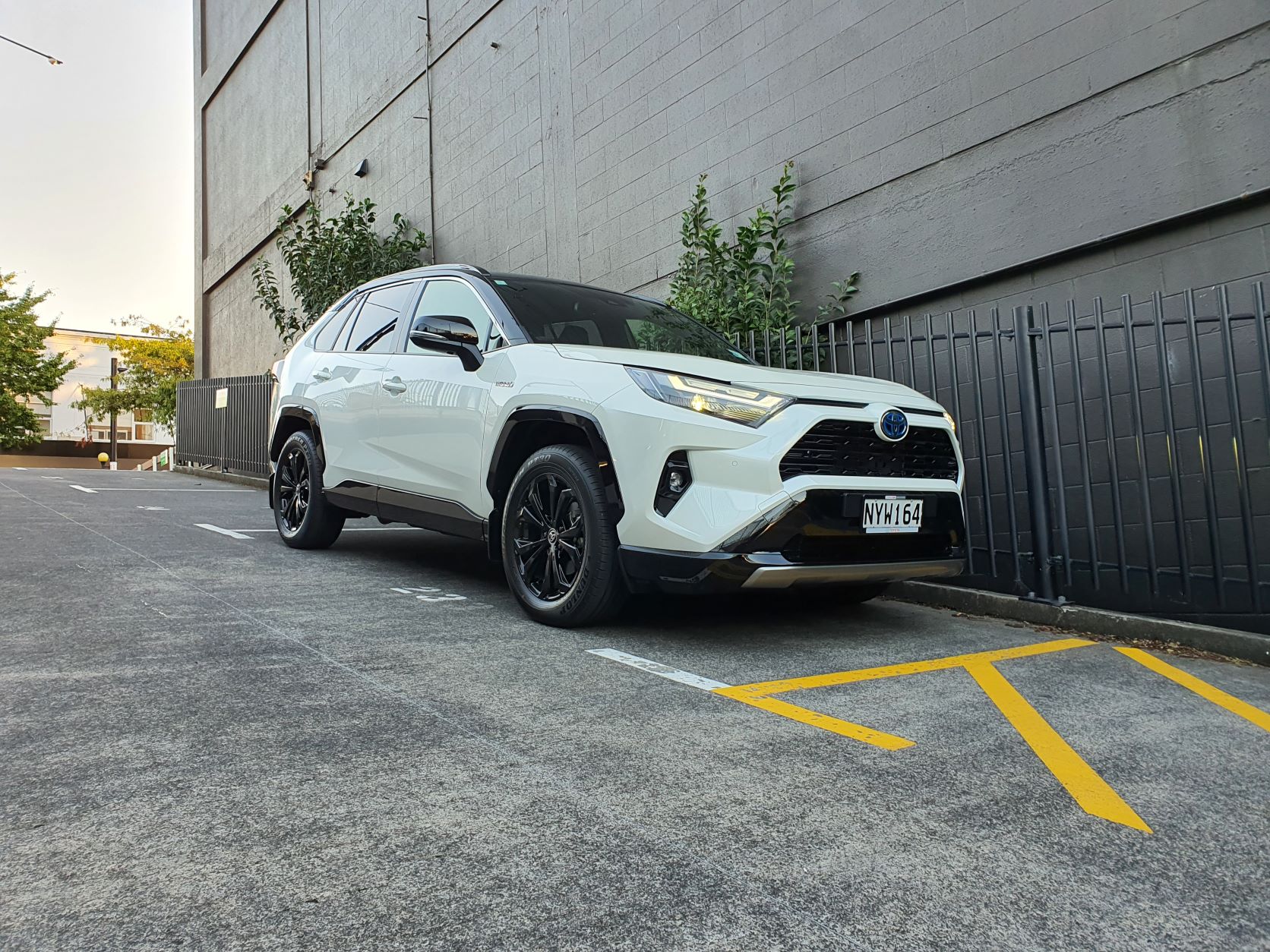 Especially in this two tone colour scheme of Eclipse/Crystal Pearl or white and black in layman's terms, the RAV4 XSE is a striking looking SUV. Attracting the eyes of many onlookers, the latest model clearly has a more grown up appeal. While black is a very on trend shade at the moment, the sparing use of it to highlight lines and arches got the nod of many Parnell & Newmarket residents. For our international readers, those are two of Auckland's trendier suburbs so here's hoping they would know a thing or two about design!
Choosing to photograph the car at sunset made the pearly white colour look slightly softer on the lens, though it is quite a standout especially at night! Same goes for the black paneling of which gloss has been applied wherever possible. The combination of the two plus the razor sharp are set up to reflect light as optimally as possible. A design that keeps the car looking relevant even though this style of RAV4 has been around for a few years now!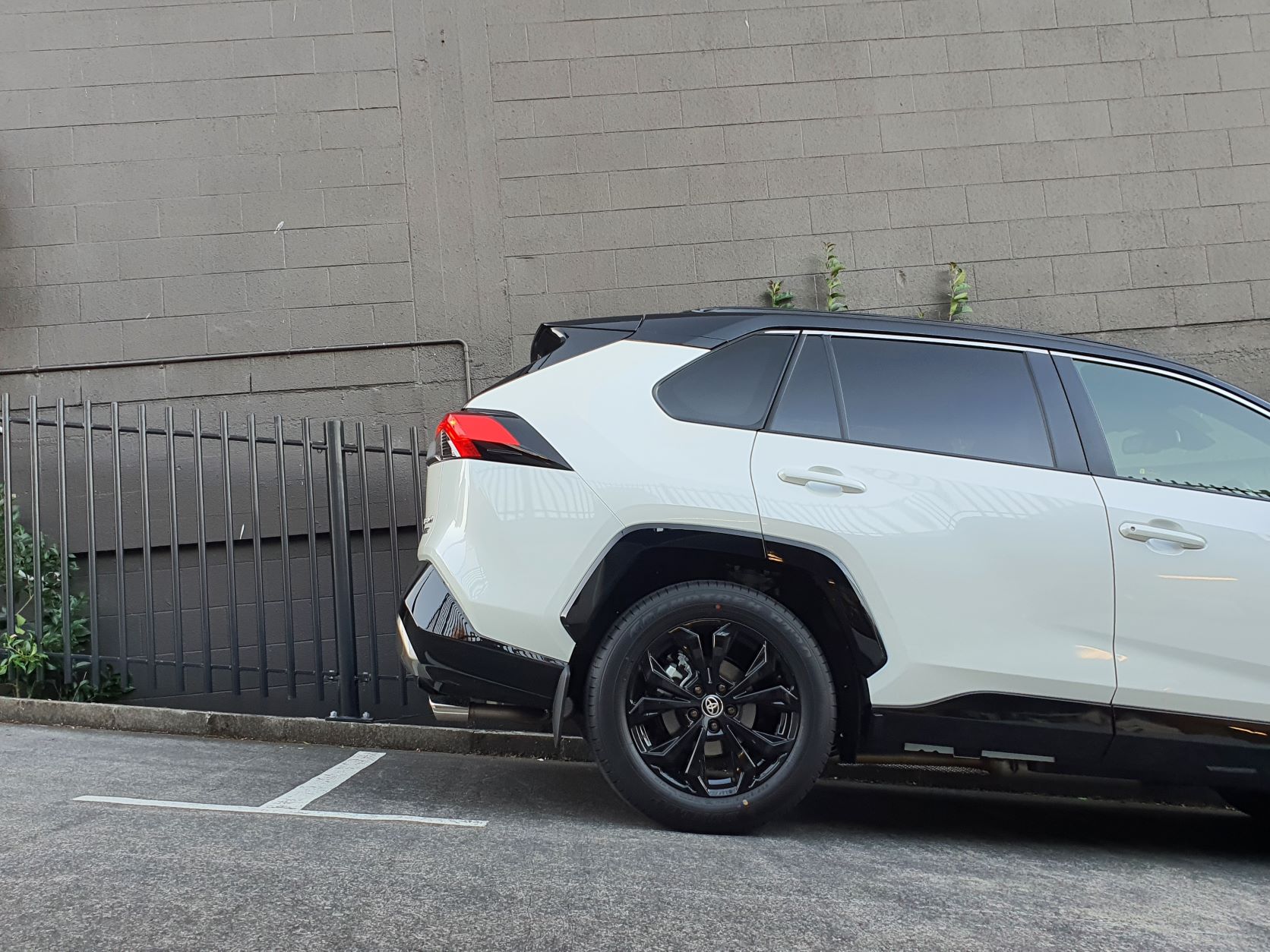 On another hand, the plus side of having a longstanding design like this is it has been tried and tested! It seats 5 comfortably with plenty of room in the boot as well. Sizable rubber keeps you from worrying about kerb rash and the driving aids make sure you drive as sensibly as possible! Overall, there's a pleasing sense of familiarity with this car and I like many other people, find that reassuring.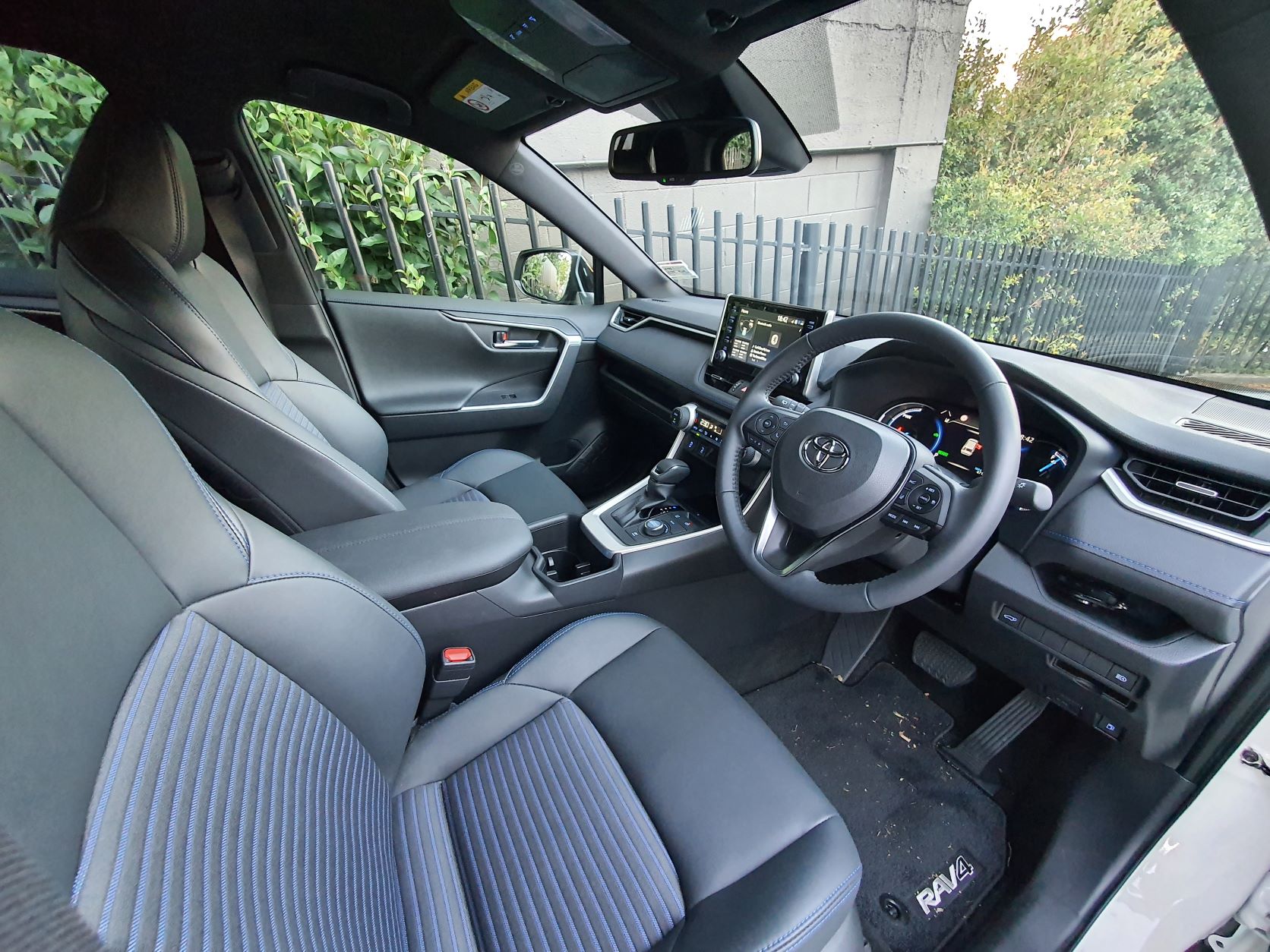 Maybe the sense of familiarity comes from the use of styling and parts shared from the Toyota range. No complaints there as it is all solidly screwed together and will probably outlast many of its competitors. Speaking of lasting, the faux leather seats were holding up incredible well. No wrinkles or creases in sight! Granted this was a brand new car but still, credit where it's due. A unique black & blue striping pattern in the seats added some welcome vibrancy to the cabin. In saying that, the sea of black is broken up by a plethora of blue stitching and soft lighting which rally comes into its own at night.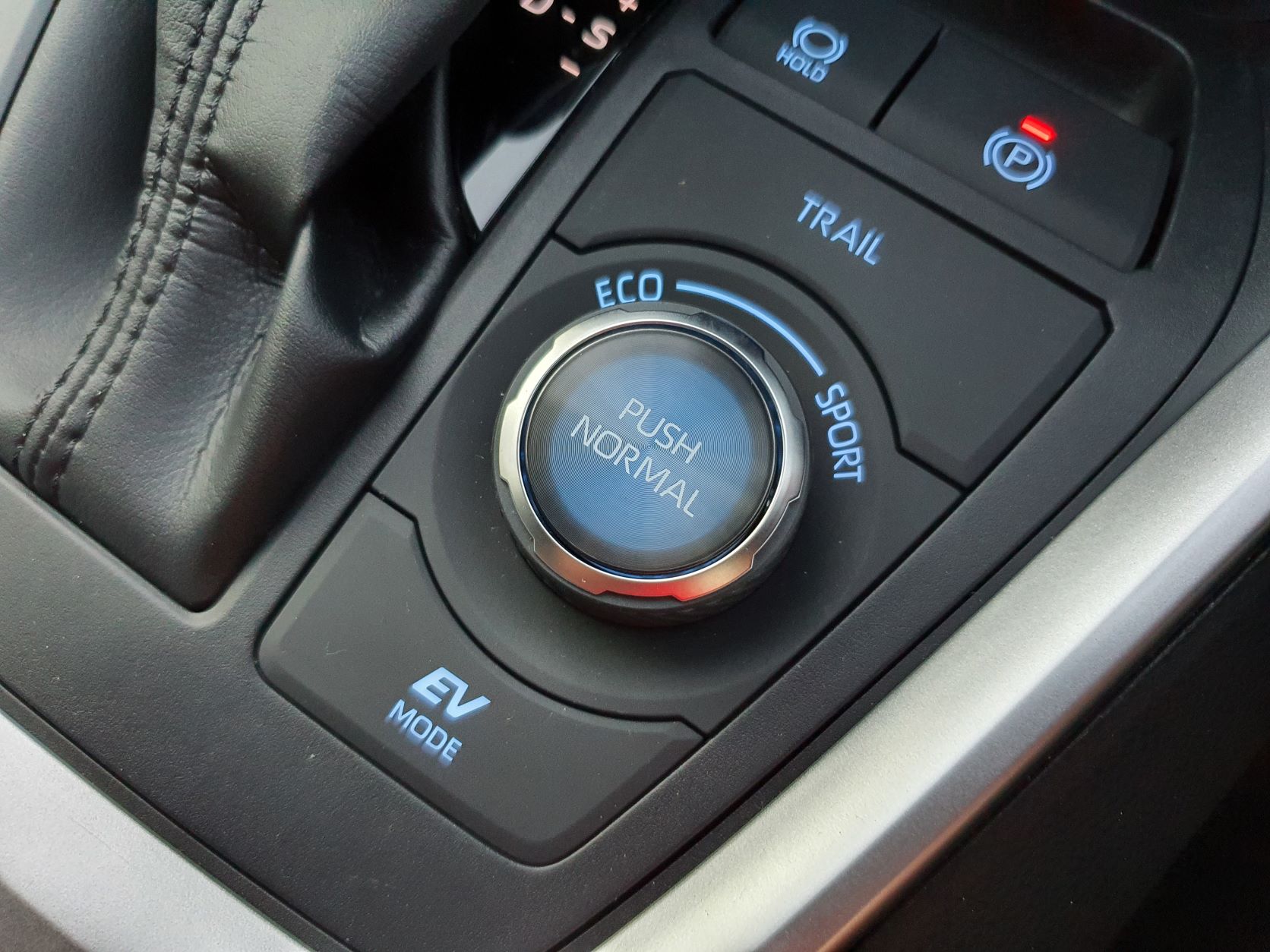 It was refreshing to see Toyota's use of buttons and knobs dotted around the cabin. The air conditioning controls, audio system and analogue gauges felt like a stumble back in time but with a comforting familiarity for longstanding drivers.
My favourite among these buttons was the one shown above that adjusted the driving mode. Not just because it changed colour with different modes but also because 'sport', 'normal' and eco are highly differentiated. Though it did feel almost video game like with the changing colours and the various diagrams all around. At times, I felt like I was on a mission to try and keep the battery topped up as fast as possible. Who knew efficiency could be this engaging!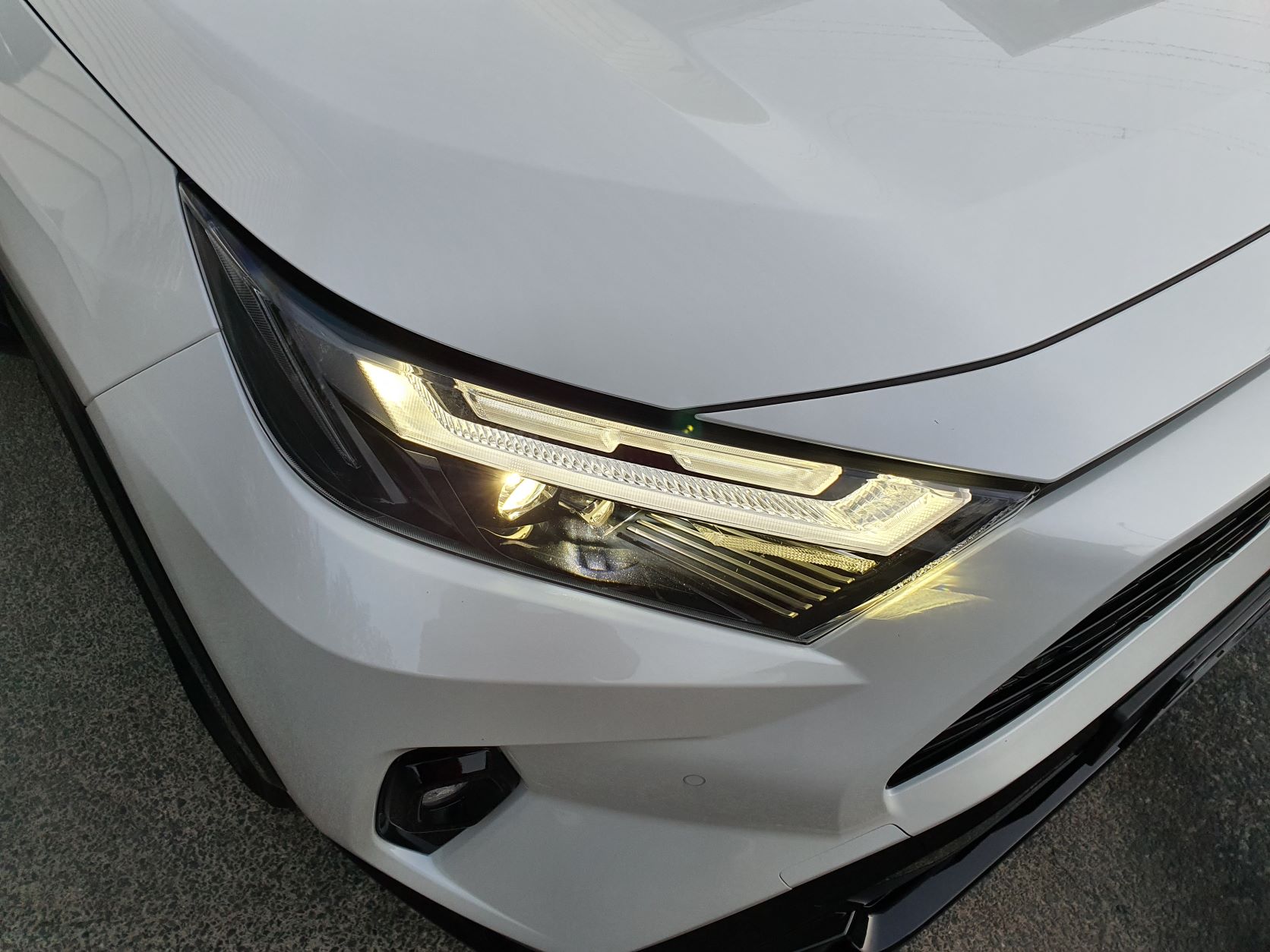 In many ways the RAV4 is the perfect commuter car. It's high riding position means you can glide over those concerningly large speedhumps, the soft suspension keeps your back intact on longer drives. And then there's the hybrid drive system. The petrol engine and battery work in conjunction to ensure you use the least amount of fuel possible at any given time. Unless of course you are using the battery for extra performance in sport mode!
Anyway, traffic was particularly bad on my commutes that week so I spent a lot of time in EV mode! The result was an average consumption of 5L/100km. Somehow I beat Toyota's perfect world figure of 5.3L/100km! Either way, those numbers are incredibly impressive for a car of this size. Despite it's ability to sip fuel at an agonizingly slow rate, the RAV4 still has some poke about it. With a combined power figure of 163kW and 221Nm of torque, you seldom find yourself wanting more from the go faster pedal!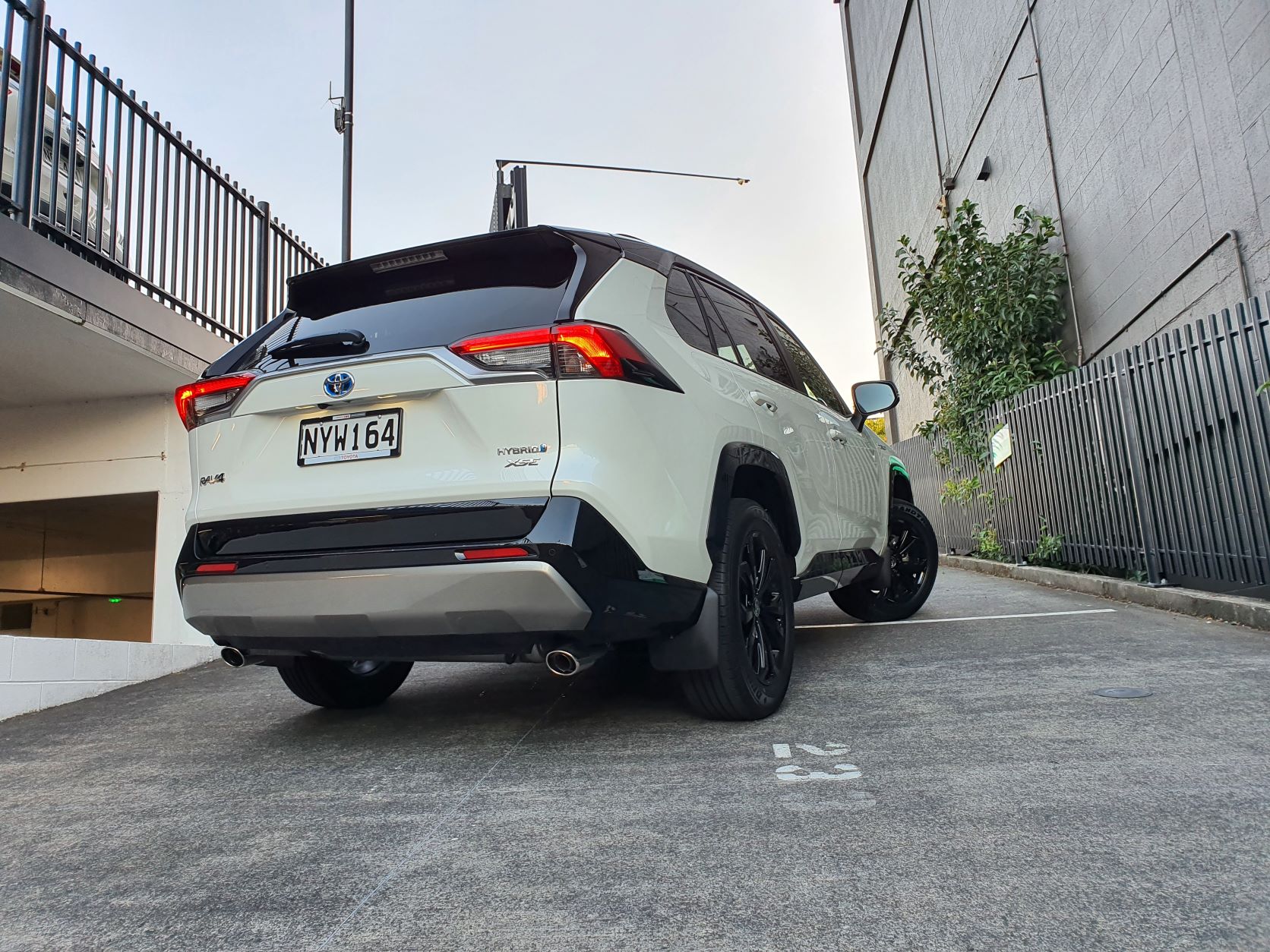 The Verdict
In all honesty, I really liked my week with the RAV4 Hybrid. Normally I feel rather guilty about commuting in an SUV by myself but the fuel sipping ability of the car lessened that weight on my conscience. Apart from being more planet friendly, it sort of covers everything you may ever need from a family SUV! Space and comfort with a hint of luxury. The XSE package also adds a dash of style into the mix. As such, it doesn't take a great deal of effort to see why the RAV4 badge is still a Kiwi favourite.
2022 Toyota RAV4 Hybrid XSE: 4.5/5
Thanks for reading! For more Toyota news and reviews, check out Tarmac Life.
Words and pictures by Matthew D'Souza. Car Courtesy of Toyota New Zealand.