If Toyota ever made a greatest hits album from throughout the decades, you can bet your bottom dollar the Camry will be on the track list. For 2022, the Camry has been refreshed with the biggest change being the move to an all-Hybrid model range. Yep, that's right, there is to be no more V6 petrol Camry.
The move for buyers to go hybrid or go without is Toyota's response to most customers choosing fuel efficiency in the private and fleet sides of the market and to bring down their overall carbon footprint. The updated all-hybrid Camry was launched mid last year, but due to the unforeseen delays of last year's lockdown, I had to wait until early this year to get a taste. So without further ado, lets crack on.  
The latest generation Camry Hybrid range consists of three spec levels. This is made up of the entry level GX at $42,490 TDP (Toyota Driveaway Price), the mid-range SX at $46,990 TDP and the car featured here, the range topping ZR at $50,990 TDP. All models get the same 2.5L four-cylinder petrol and electric motor combo producing a combined 160kW of power. Toyota also claim combined fuel consumption figures of between 4.2-4.7L/100km and C02 emissions of 96 to 107g/km.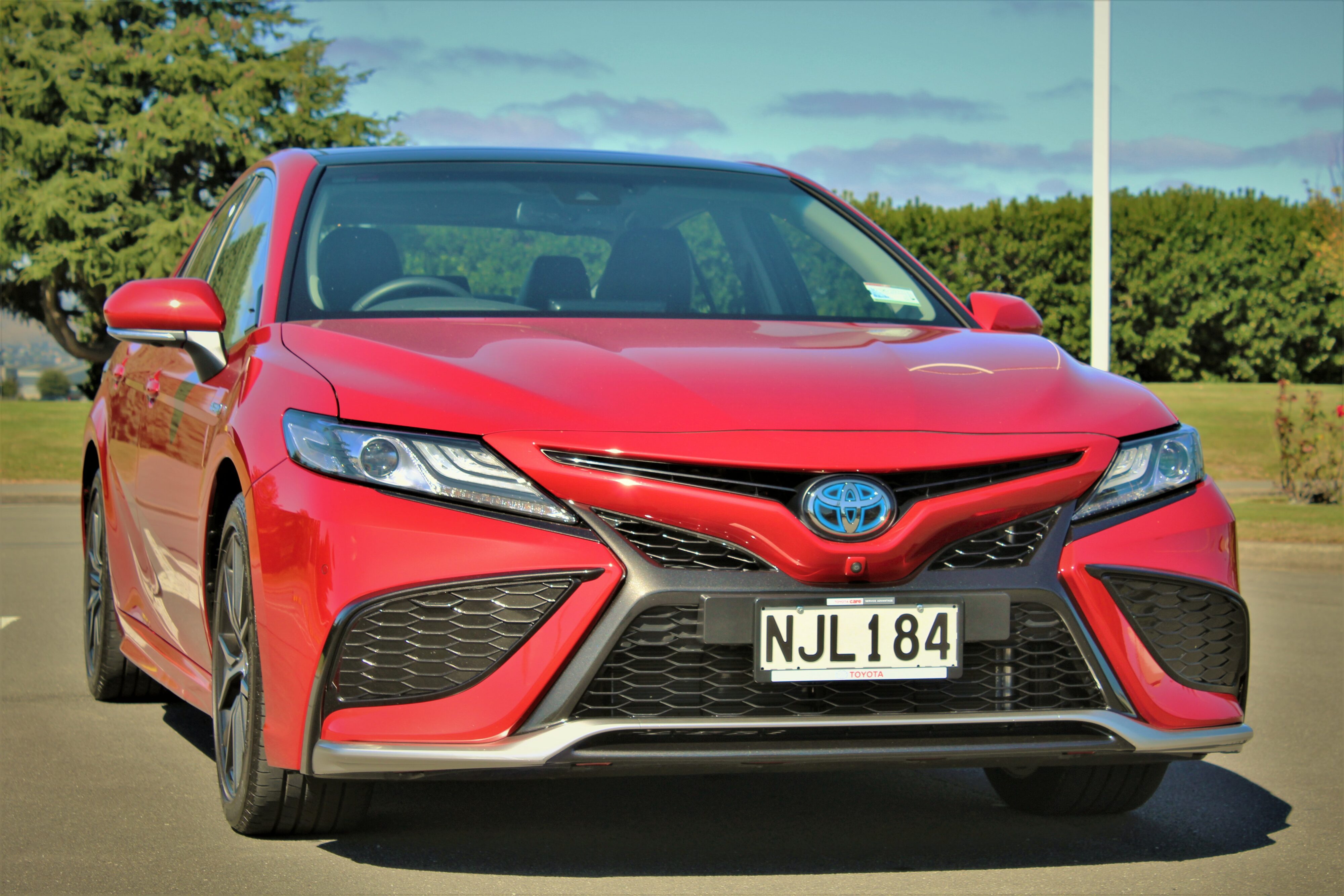 On the styling front the 2022 Camry has a lower and more planted stance. The ZR gets a more pronounced front lip and honeycomb grill. There are also some new skirts, a lip rear spoiler and rear diffuser to go with its black accents. Several times I had passing comments of "that looks pretty flash, is that a Toyota?"
Inside the Camry ZR sports a sumptuous cabin. Everything is laid out well and there is just the right number of buttons to complement the 9-inch touchscreen infotainment system. The switchgear feels very durable as you might expect and the driving position itself is very well sorted.
Apple CarPlay and Android Auto come as standard, as does Toyota's Safety Sense System. The latter has been given a once-over and now features Pedestrian and Cyclist Detection, Emergency Steering Assist, Intersection Turn Assist, Lane Tracing Assist, Road Sign Assist and the Dynamic Radar Cruise Control system adds Curve Speed Reduction. This slows the car in a corner when the Radar Cruise is active.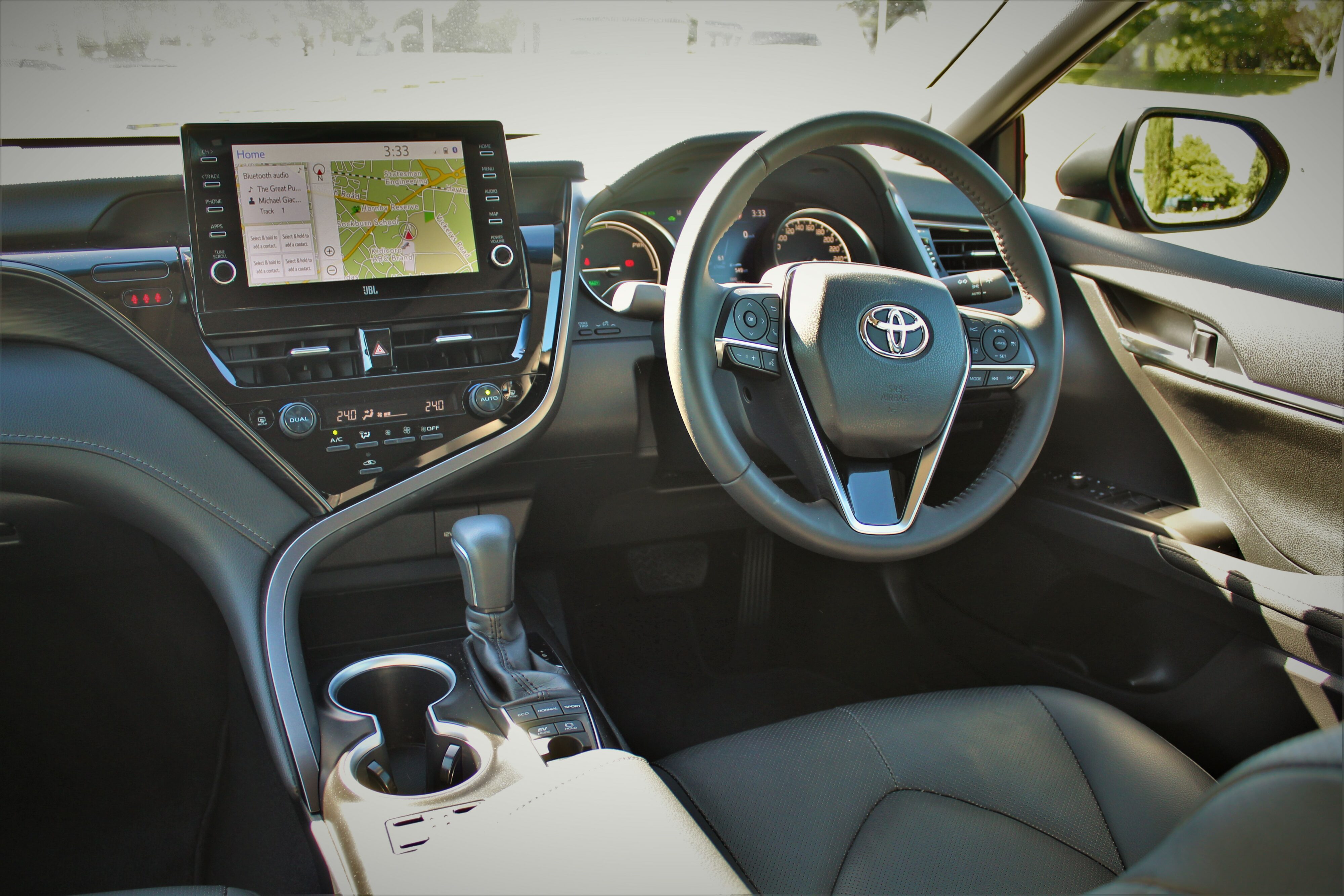 The SX and ZR get additives like shift paddles, leather sports seats, two rear USB charge ports and chain link interior ornamentation. The ZR gets more fruit thrown at it, including a panoramic Sunroof, Black Wood Interior rim, Heated and Ventilated Leather Seats, Head Up Display, Bi-Beam LED Headlights, 18-inch alloys, and a rather good JBL stereo system which is more than capable of bringing extra oomph to any Hans Zimmer composed soundtrack.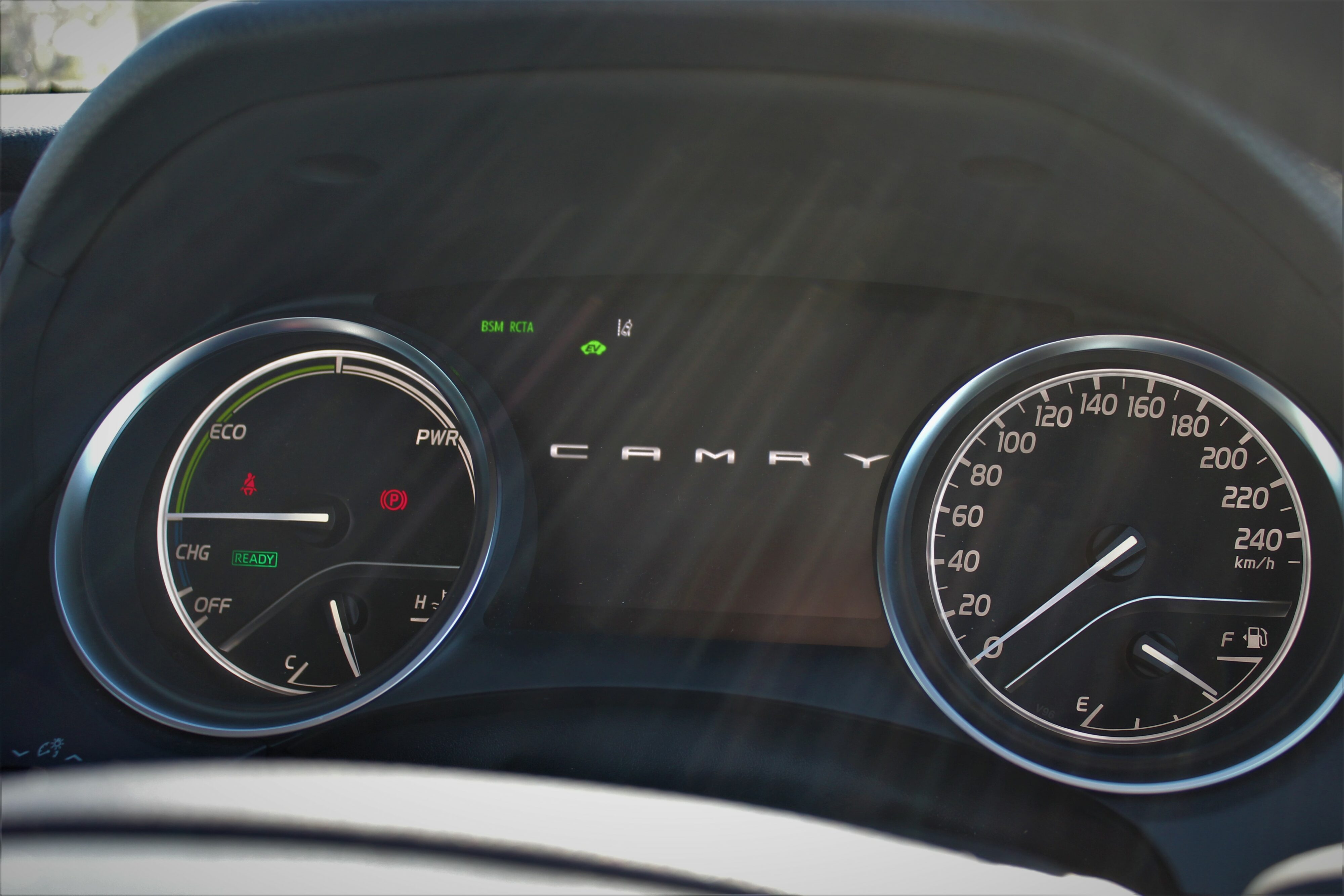 Something which the Camry has always excelled at is interior space and it is very much the same here. Rear seat passengers are able to slob out easily and those leather seats provide a great deal of lateral support without swallowing you up whole. There are plenty of hidey holes and storage compartments to, well, store stuff and 524L of boot space is nothing to be sniffed at.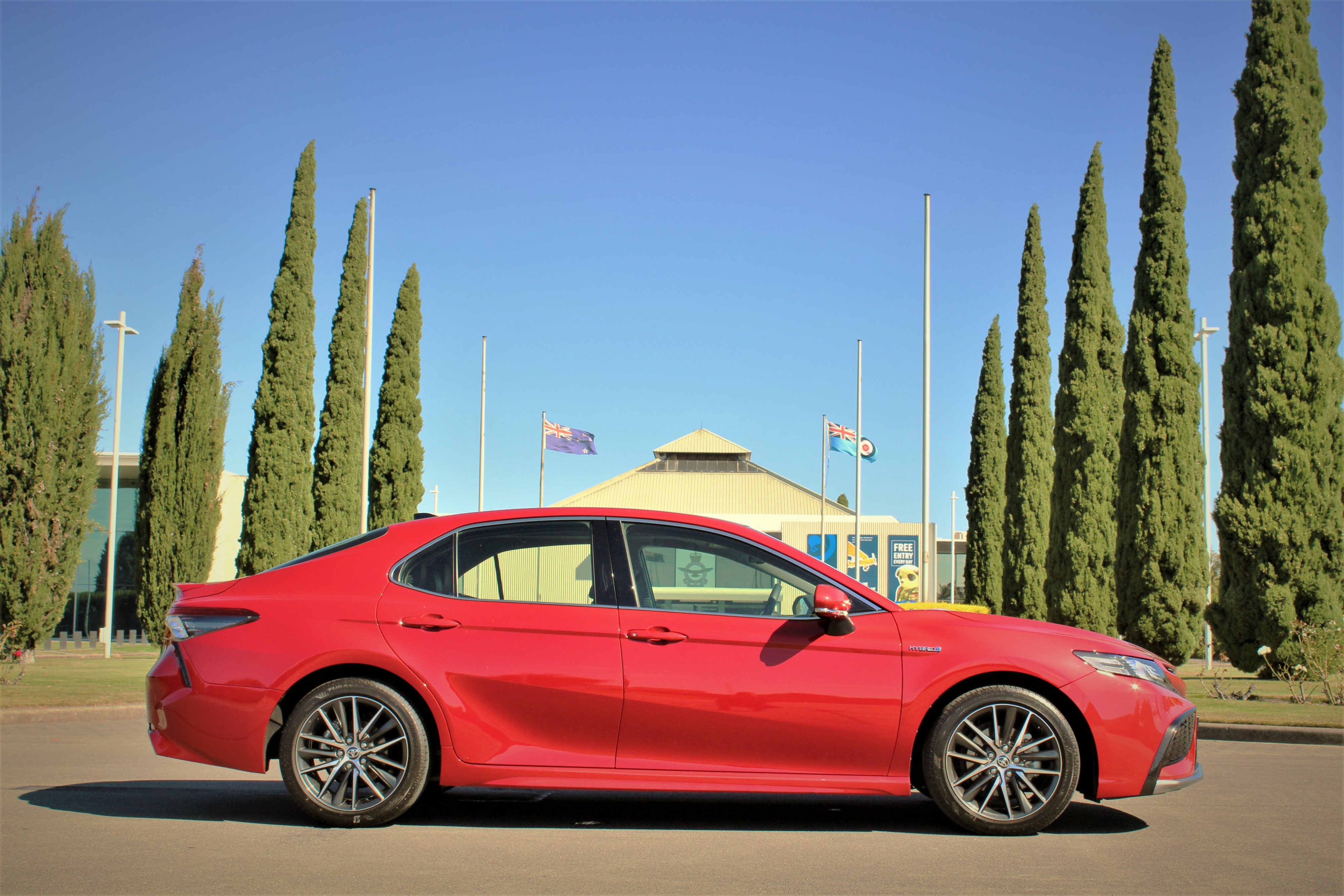 Moving off and it behaves just like you would expect any Toyota Hybrid to perform. You can creep along at speeds of less than 50km/h or so in silent running EV mode before giving it some more and having petrol and battery working in tandem. It is also relatively brisk too.
The Camry ZR Hybrid is a natural cruiser. These days it sits as a bit of an underdog in the range with many clamouring for the RAV 4 or Highlander, and fair enough. However, in my mind a gentle cruise just feels the best in a spacious saloon. The ride is supple and while you do feel the merest sensation of the bumps, it is very pleasant overall. The right A-pillars can obscure your vision when turning right at a junction but there is a good amount or rear visibility.
Naturally as the Camry is now a Hybrid only, fuel economy is the name of the game. It is a game the Camry manages well. Throughout my week with it I was able to average between 6.1 and 6.4L/100km which isn't too shabby. Cycle across the instrument cluster menu screen and it becomes fun to try and get a perfect eco driving score of 100, something which I failed every time to achieve. Maybe the reason was not applying the right amount of braking when needed?
You can have an engaging drive in the Camry Hybrid too should you want it. The sports tuned suspension allows you to corner with a certain degree of vigour and there is a more than adequate supply of grunt when you flex your right foot somewhat.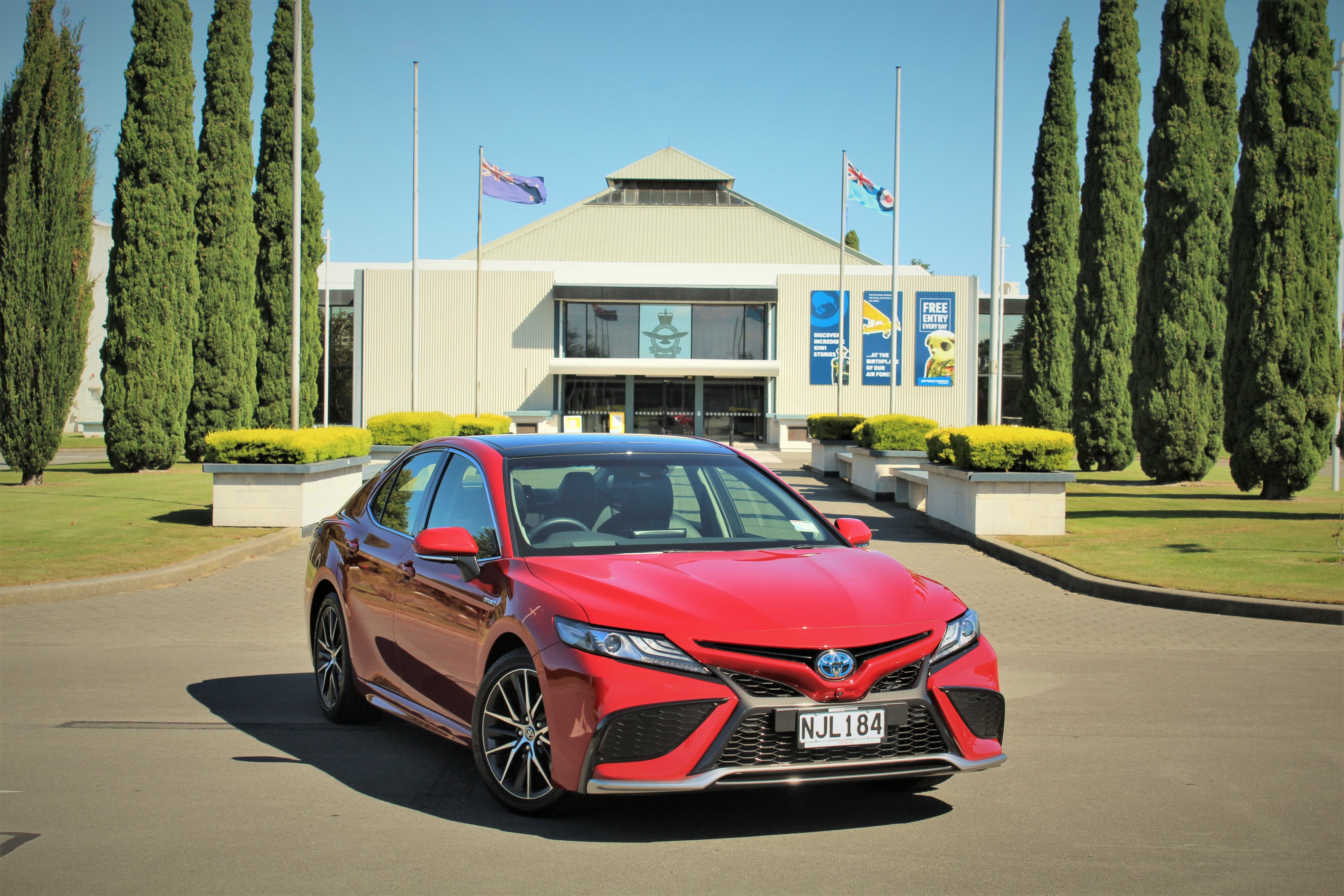 In Sport mode the steering weights up and gives clear communication on what those front wheels are up to. Honestly though, after a few goes, I quickly reverted back to that aforementioned cruise. With either a motorway or urban setting as the canvas, the Camry ZR Hybrid paints a colourful and inviting picture.
The 2022 Toyota Camry Hybrid manages to do nearly everything very well indeed. While part of me does miss the noise of the V6 just a tad, it has to be said, all things considered a Hybrid Camry just makes way more sense as a fleet car or daily driver. It's a great cruiser, well equipped, comfortable and if the comments of those passers-by are anything to go by, looks more expensive than it actually is. All in all, there is very little not to like here.
RATING: 8/10