There is something really cool about a sleeper car. What is a sleeper you might ask? It is a car which looks unassuming on the outside but within beats the heart of very different animal. In cinema terms, it's like combining the looks of Eddie Redmayne with the outrageous acting energy of a young Jim Carrey.
Such is the case with the new BMW M550i Pure, it doesn't scream performance when compared next to the M5 Competition, but it does have one or two tricks up its German sleeves.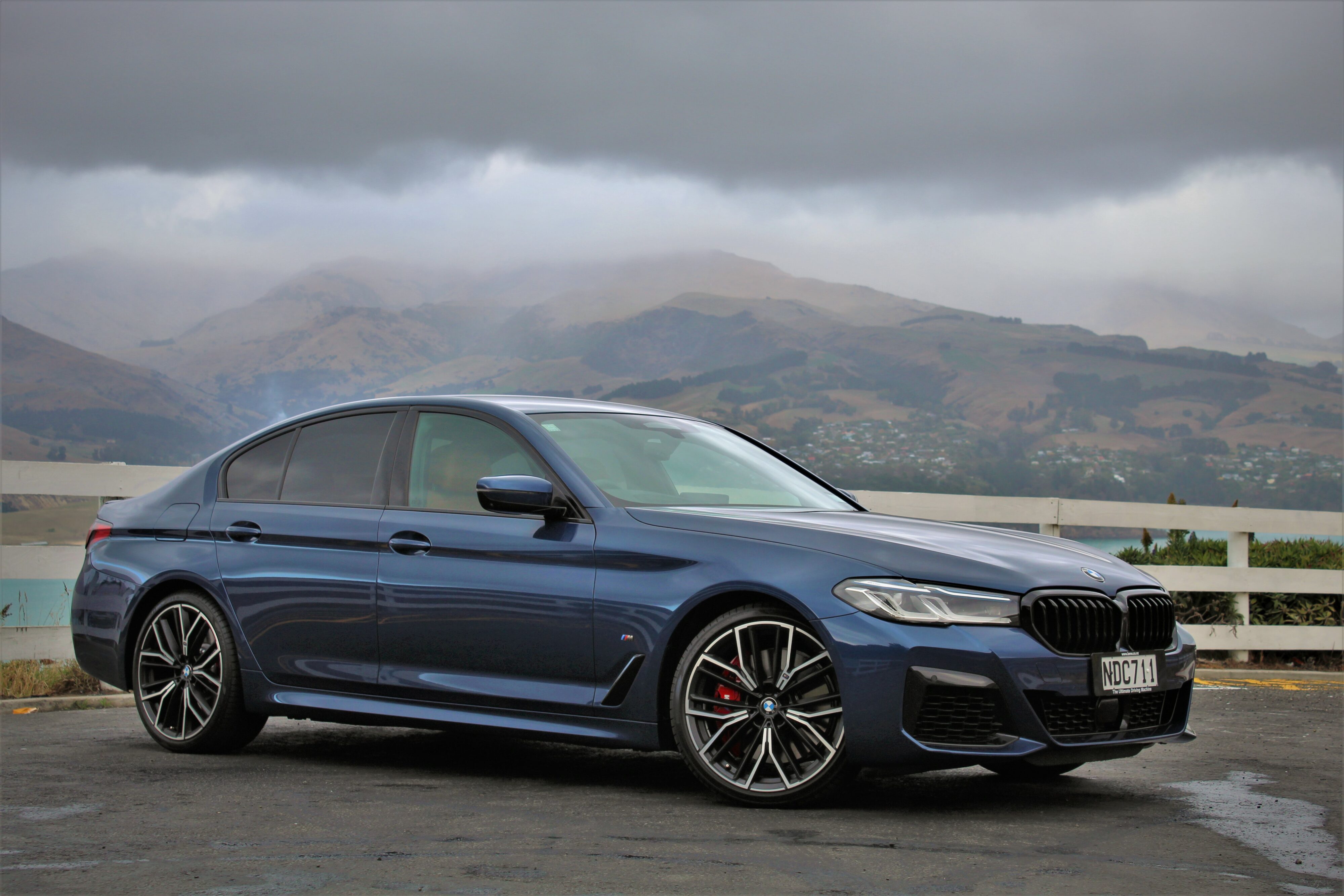 The Looks
As we have established, the M550i doesn't scream performance in the looks department. Its 20-inch M-Sport alloys, blacked out kidney grill and tiny lip spoiler at the rear being the only sporting features. Apart from this, it's very much a run of the mill 5-series. So, that is the looks of the sleeper criteria filled, but does it possess both sides of the coin? Is what lurking under the bonnet an engineering equal of Ace Ventura?
The Power
The M550i shares the same 4.4-litre TwinPower turbocharged V8 found in its bigger M5 brother. However, as the M550i is very much the M5 Lite, it has been de-tuned to produce 390kW and 750Nm of torque. BMW's eight-speed Steptronic Sport Automatic transmission makes a welcome return and drive is sent to all four wheels via BMW's X-Drive AWD system.
Inside
Inside, it is very much BMW. My test car came with the rich tan leather which looked great against the dark blue paint scheme. You get all the fruit you would imagine in an executive class BMW of course, and everything is intuitive and easy to use.
The fruit bowl of standard kit includes Adaptive M-Suspension, BMW Laser Headlights, BMW Gesture Control, M Sport Brakes, BMW Live Cockpit Professional and M Sport Diff to name a few. There is a tonne of space to make use off and the 530L of boot space at the rear is pretty impressive.
A firm press of the starter button and cue the V8 bellow. Yes, a lot of the NASCAR soundtrack is amplified through the speakers, but drop the driver's window and the noise coming from those quad pipes is still a decent one, though rather subdued compared to how it sounds inside. It still sounds good though.
The Drive
On the move the M550i is a heck of a lot fast than you might think. It might not have the same "pinned back in the seat" acceleration as the full on M5, but it's still way faster than fast enough. When you have X-Drive sending that 390kW to all four wheels, getting to 100km/h from a standstill becomes an addictive pastime.
There is a slight delay from when you give it welly, but once in the power zone, you really are seeing triple speed figures in less than four seconds. The power delivery itself is not punchy but more of a gradual surge. This gives you more control of dialling in just how much power you want to put down without it getting away from you.
The M550i feels somewhat soft when you decide to push hard in the twistiness. It is a heavy car, and it feels it. Its softer set up leaves you not as composed as an M5, but you can still corner well enough. That said, you seldom get the impression it enjoys it. The M550i claws back points by having direct steering and a very slick upshift and downshift via the eight-speed auto box.
When you have finished trying to clown around, the M550i shows its real colours and becomes a rather sublime mile muncher. With the engine in Sport Plus and the damping in Comfort, it is a very brisk way of getting from point to point. The softness, which was a hindrance before, is now a huge plus, for the ride is supple and comfortable and everything feels as tight as a drum.
Fuel consumption is rated at 10.0l/100km but if you creep along and keep the revs low in ECO mode, you can get this down to as low as 9.3L/100km. Not bad considering this is a twin turbo V8.
Change over to Adaptive mode, which allows the car to detect which mode suits your driving mood the best, sit back and just drive. Not crazily so, but with verve and panache. Doing this, the M550i will settle down and reward you. That monster 750Nm is there for the often compulsory overtake, but you will be surprised at just how much ground you can cover. I would happily take the M550i to Lake Tekapo, only to find I had forgotten my togs for the hot pools and quite happily drive back again to collect them.
The Verdict
The M550i is nowhere near as hardcore as the M5 Competition, then again it was never meant to be. The M5 Competition will set you back $234,300, the M5 Pure at $189,900, while the M550i Pure retails at $152,900. That is a considerable difference when you consider the M550i can still match its big brother in terms of real-world driving. If all you want is a fast 5-series which can give you a thrilling drive while still offering a bundle in practicality and comfort, the M550i can do all that and more.
All in all, the BMW M550i Pure is a heck of an all-rounder, and easily one of the best sleeper saloons on sale today. One might say Eddie Redmayne can well and truly play The Cable Guy.
RATING: 4/5