The Toyota Corolla has been a crowd pleaser for the masses ever since it first rolled off the production line in 1966. To me it's a non-threatening nameplate that's in many ways 'satisfyingly vanilla' in its performance and appearance (this is a good thing) and as such an easy choice when looking for a rental – That is until you put 'GR' in front of it, two letters that make the 'Rolla rock!
Simply put, GR or Gazzo Racing is the motorsport side of Toyota. The brand itself has been racing in some form or another, for over six decades, however, in 2016, Toyota's Chairman Akio Toyoda decided to create an all-encompassing motorsport 'garage' and named it Gazoo.
Since then, GR cars have been seen on poles and podiums at some of the most challenging and respected races that motorsport has to offer, but the GR ethos has also found its way to the road too – with the GR Supra, GR86, the GR Yaris and now, the GR Corolla.
The reason that I mentioned car rentals earlier, is that there is a train of thought (albeit very tongue in cheek) that rental cars 'are the fastest cars in the world', and since the GR is by far the fastest and best performing Corolla – well I'm sure you get the point.
Having a 'track ready' Corolla, complete with a manual gearbox clearly makes the GR a standout in its class, however, due to the individualised nature of its production, global numbers are limited too, meaning desirability for the GR Corolla is through the roof. To combat this, here in NZ, Toyota has only made them available via a ballot, but they also kept one back for the press to drive, and that 'emotional red' one is what I finally got my hands on.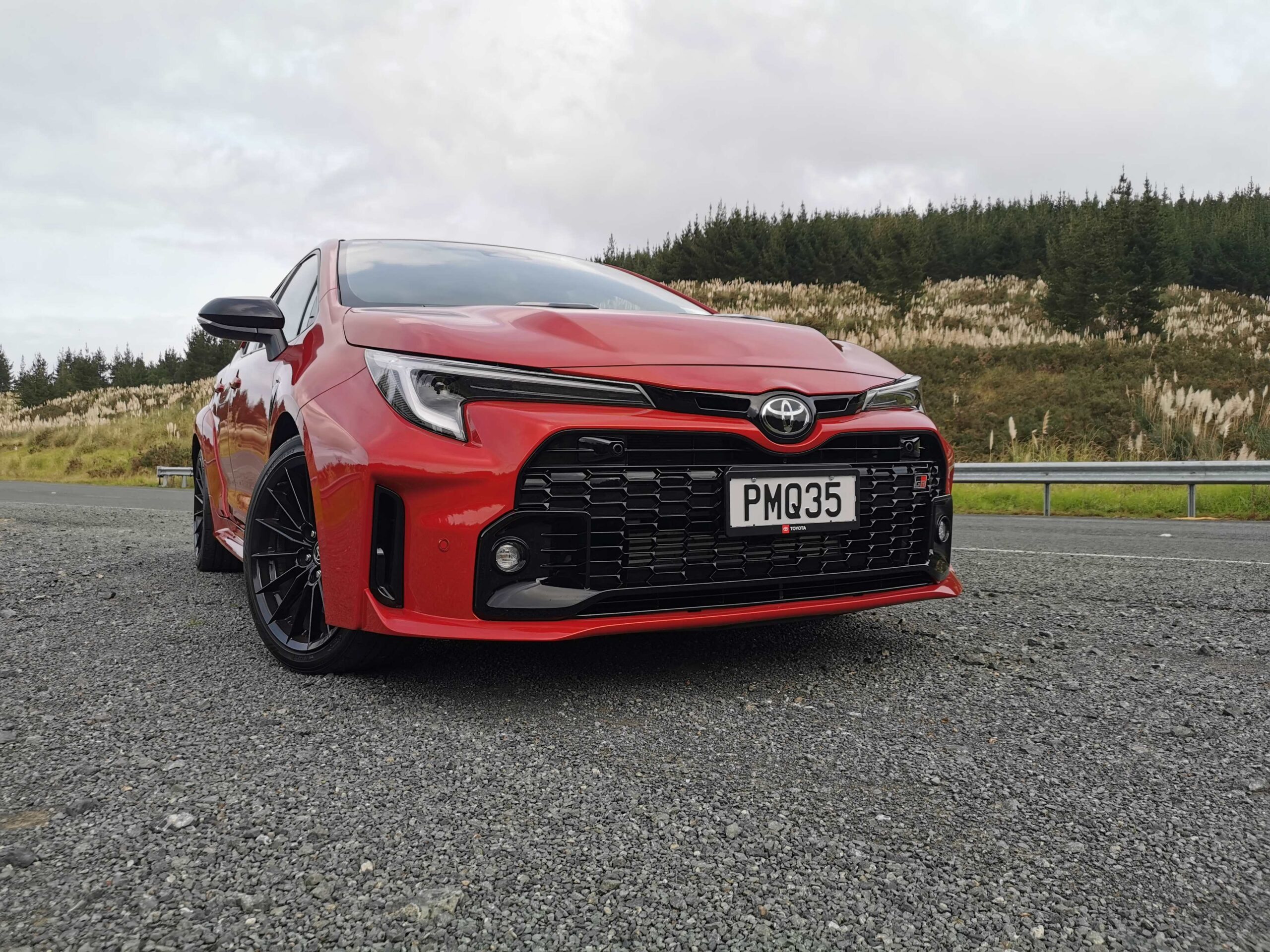 Aside from the name and the rear tailgate, most, if not all of the GR Corolla has been changed, certainly on the outside. With a GR specific bumper It looks wider and more fierce, with a power dome and vents on the bonnet, an aggressive looking grille (complete with GR badging) and large lower air vents to get airflow into the engine bay and around the hot hatch.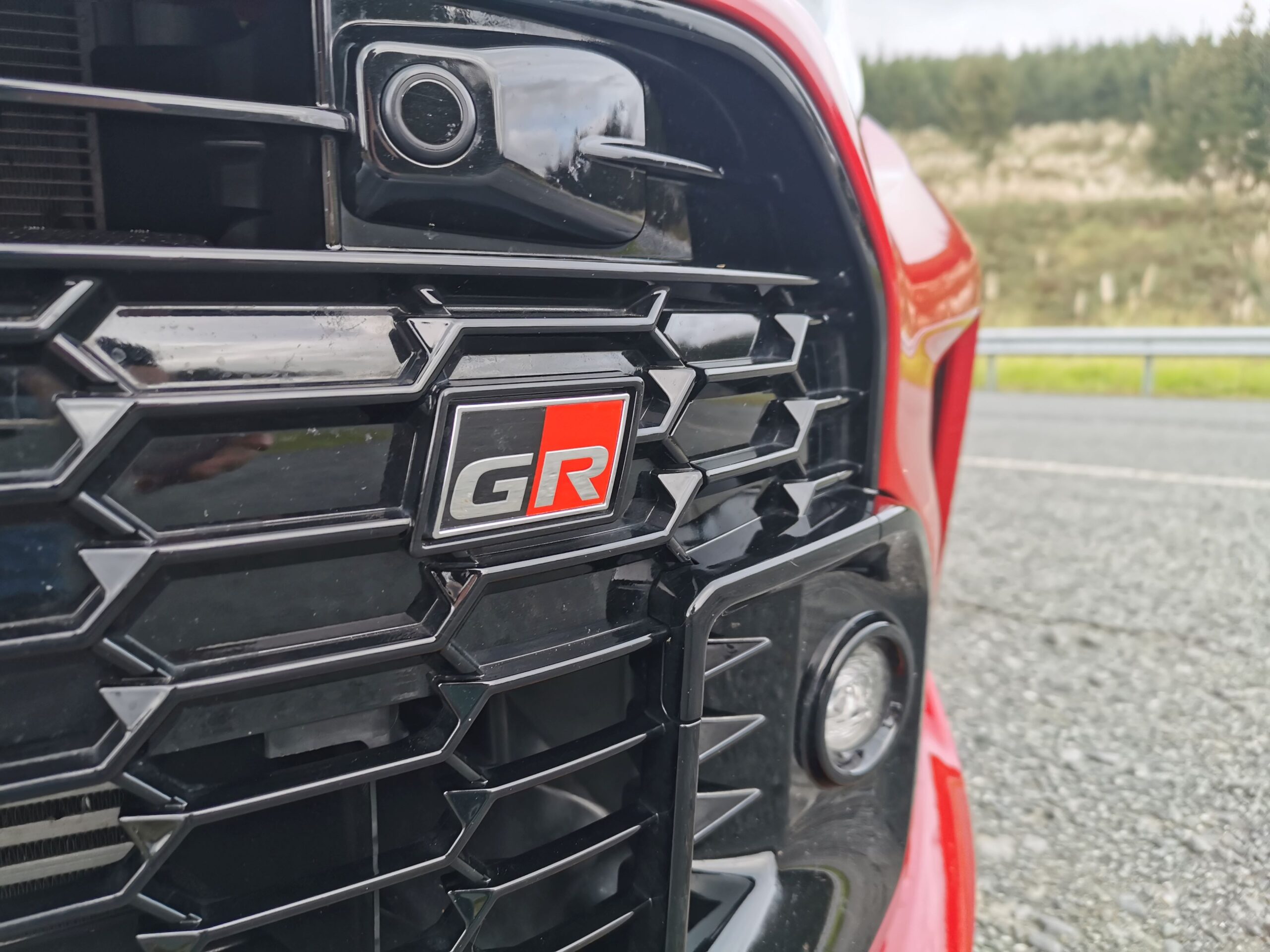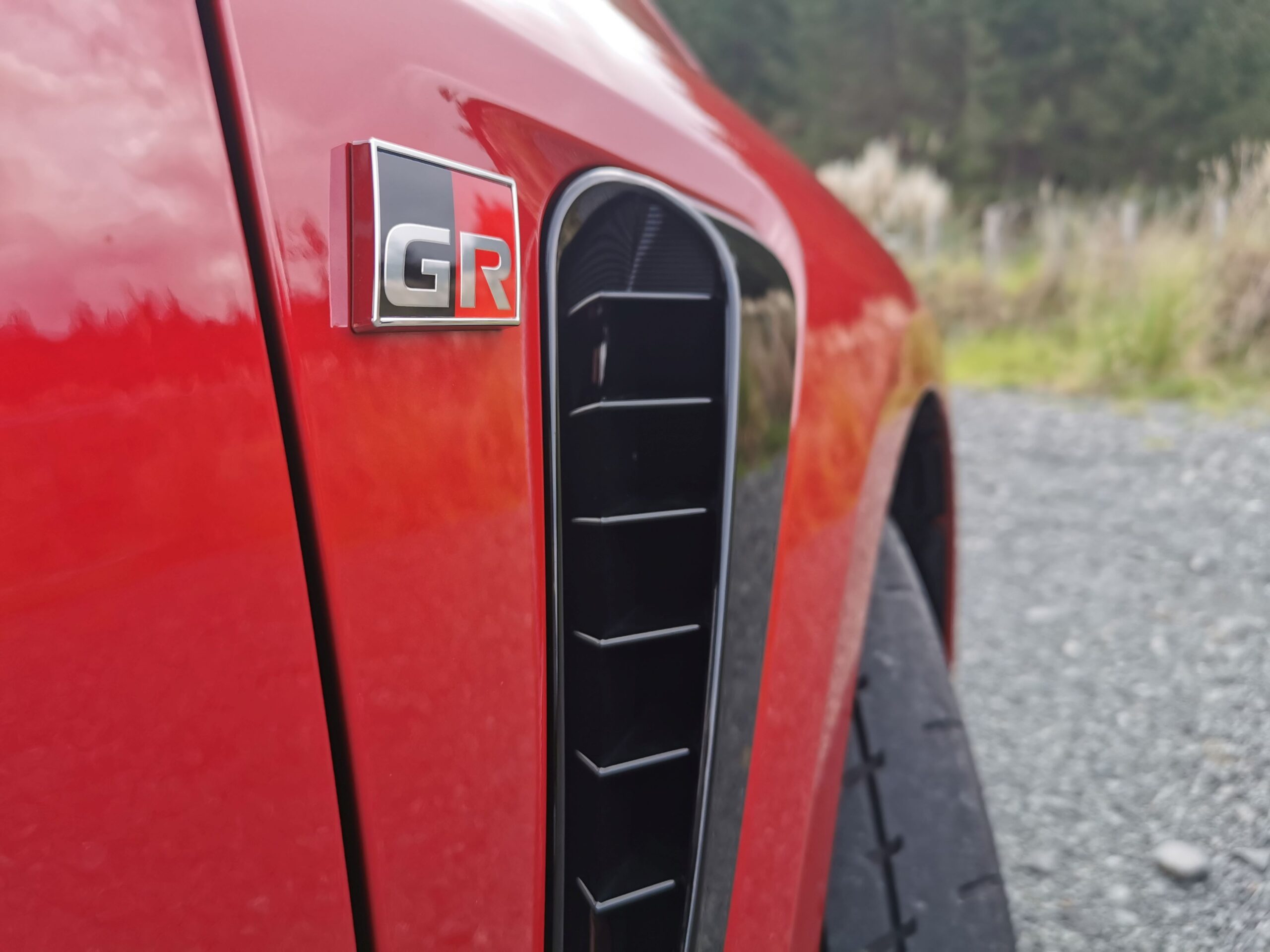 Its 18-inch multispoke wheels come wrapped in 235mm-wide Michelin Pilot Sport 4 tyres for added tarmac adhesion and behind them, racing red calipers to ensure you stop on the proverbial dime. The side air vents are functional and not just there for looks (although they do look good), the lower sills have GR-four embossed in them (referring to its very entertaining all wheel drive ability) and the roof is made of carbon fibre that has been exposed for all to see and revel over.
The rear is a peach with an extended roofline spoiler, a flared GR specific bumper, a diffuser and get this, three exhaust tips, one for each cylinder!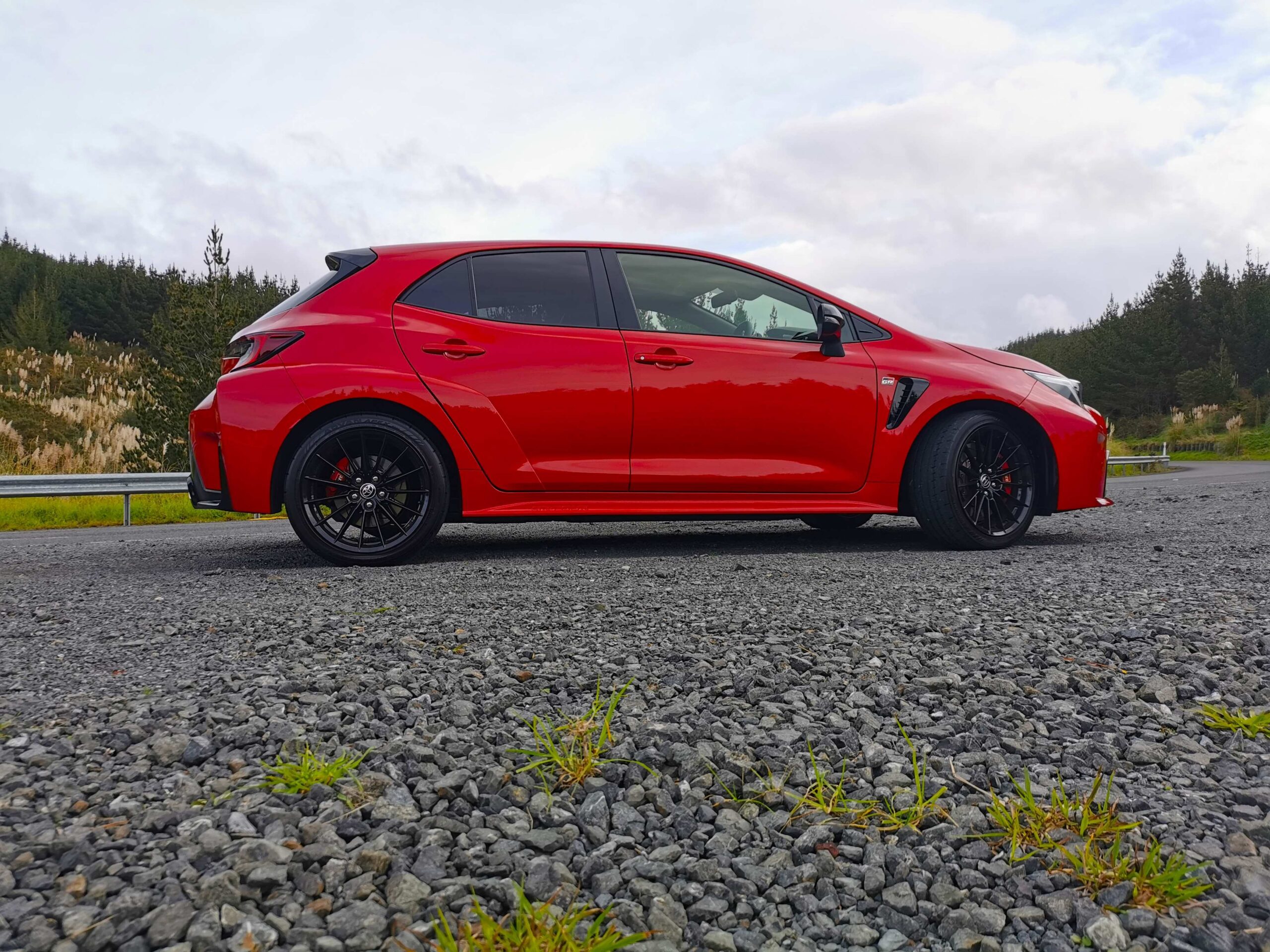 Under the bonnet lies a very eager to please 1.6l, 3-cylinder turbocharged engine that's mated to a six-speed manual, yes manual gearbox. Together they give you 221kW of power and 370Nm of torque, more than enough for this impressive 4-door hatch.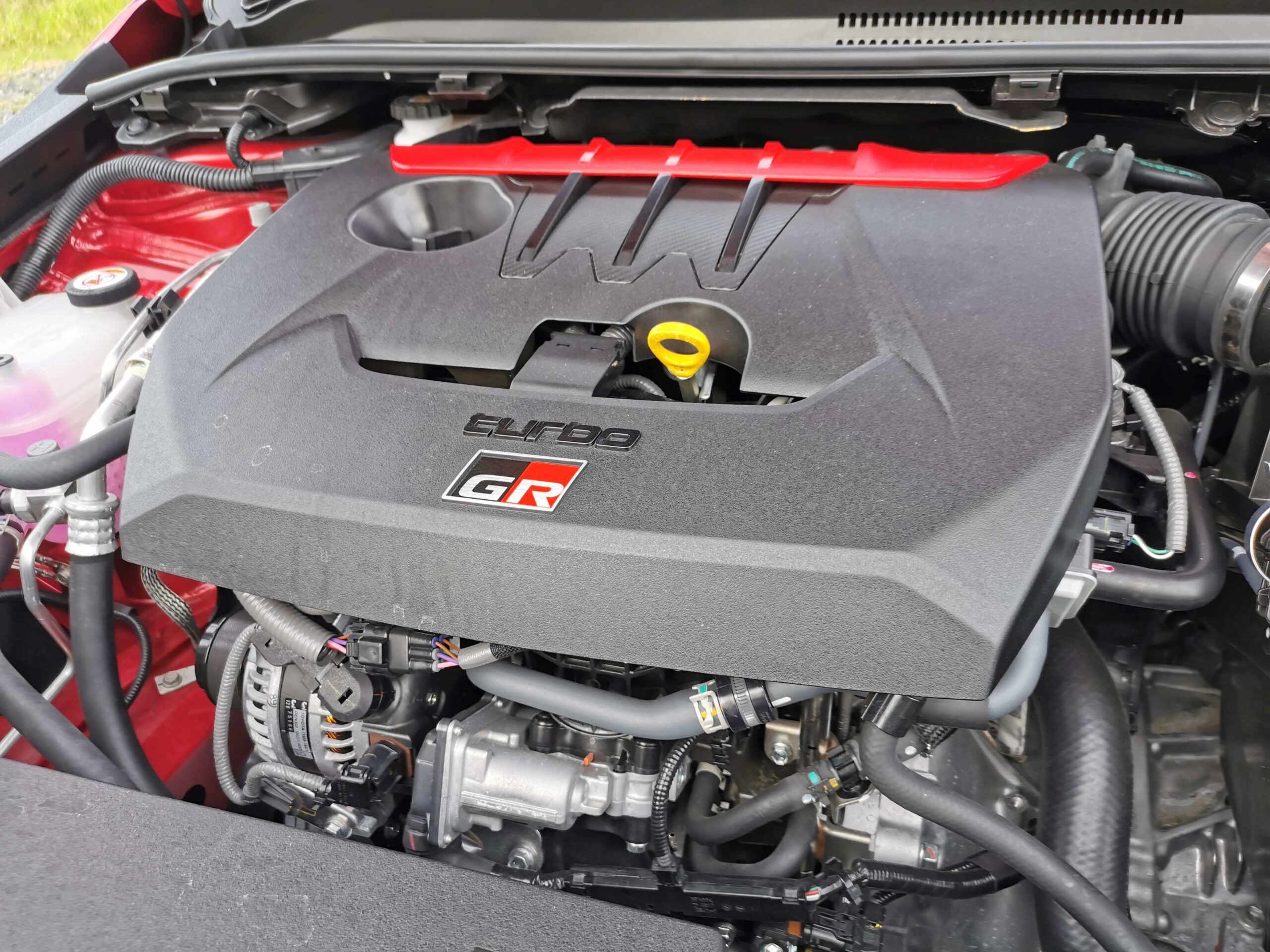 Step inside and you're greeted with bucket-style sports seats that have been finished in an Alcantara-style material, they've also been GR embossed. Much of the rest of the interior has a regular Corolla theme, with a few hints of GRness, however, cast your eyes to the centre console and you know you're in something different.
The gearstick takes pride of place and gives you access to a tight-gated six-speed manual transmission, there is no AT option, it's manual all the way baby. The gearbox itself has a mechanical feel to it and also has an IMT button (Intelligent Manual Transmission) that has it rev-matching when downshifting – for those of us that can't heel/toe.
Beside the stick is a traditional handbrake, for those moments that require a handbrake turn (how are your parking skills) and towards the rear of the car, there's a knob marked 'push track' that allow you to direct all that under-bonnet power to the wheels (via its two torsion limited slip differentials) to suit your mood, front, 50/50 or 30/70 to the rear – did someone say drift?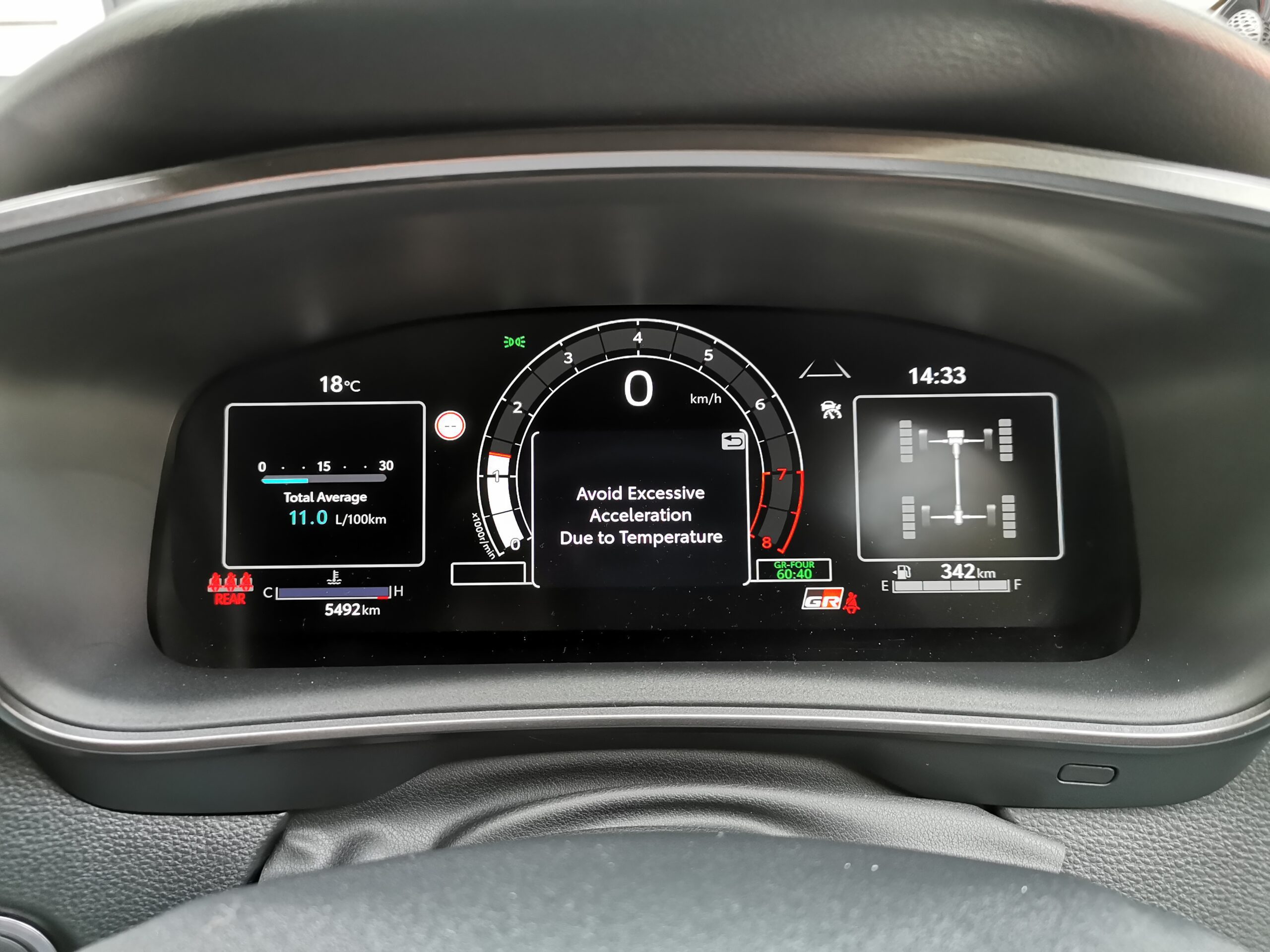 The instrument cluster has been remodelled to suit the GR's sporty prowess, with electronic gauges that swap from traditional, with personalised data such as turbo boost, to a more track ready mode with an emphasis on revs. There's also an axle diagram in green that informs you of what your power bias is.
Having a GR Corolla for a week meant that I ducked in and out of town with the regular commuters a number of times, and in all fairness, it's not where this high performing rocket should be. The ride is too firm, the economy is not ideal and the constant gear changing starts to annoy. BUT…
The manual gearbox comes with a clutch which means that you can drop it, and just like that, my mind, body and soul jumped back in time three decades and was joined with a smile that would shame a Cheshire cat.
Visceral, violent and vivacious are just a few words that spring to mind (although greatly gratifying is probably more in keeping with the GR theme). Of course you can change gear whenever YOU want, holding when necessary heading up and even skipping gears, plus there's a glorious rev blip that joins the downshifts. The steering is so solid with minimal effort required to corner and the way it sticks to the road, is enthusiastic to say the least.
The powertrain offers such a huge amount of depth, with torque coming in low and gathering momentum as the revs increase and the joy of the 3-cylinder note is frequently joined by the whooshing sounds of the turbo going about its business.
Road and wind noise are ever present companions, but to me that just adds to the flavour of this sporty machine, as I want to feel connected to what's going on under foot, and the GR Corolla serves it all up with glee.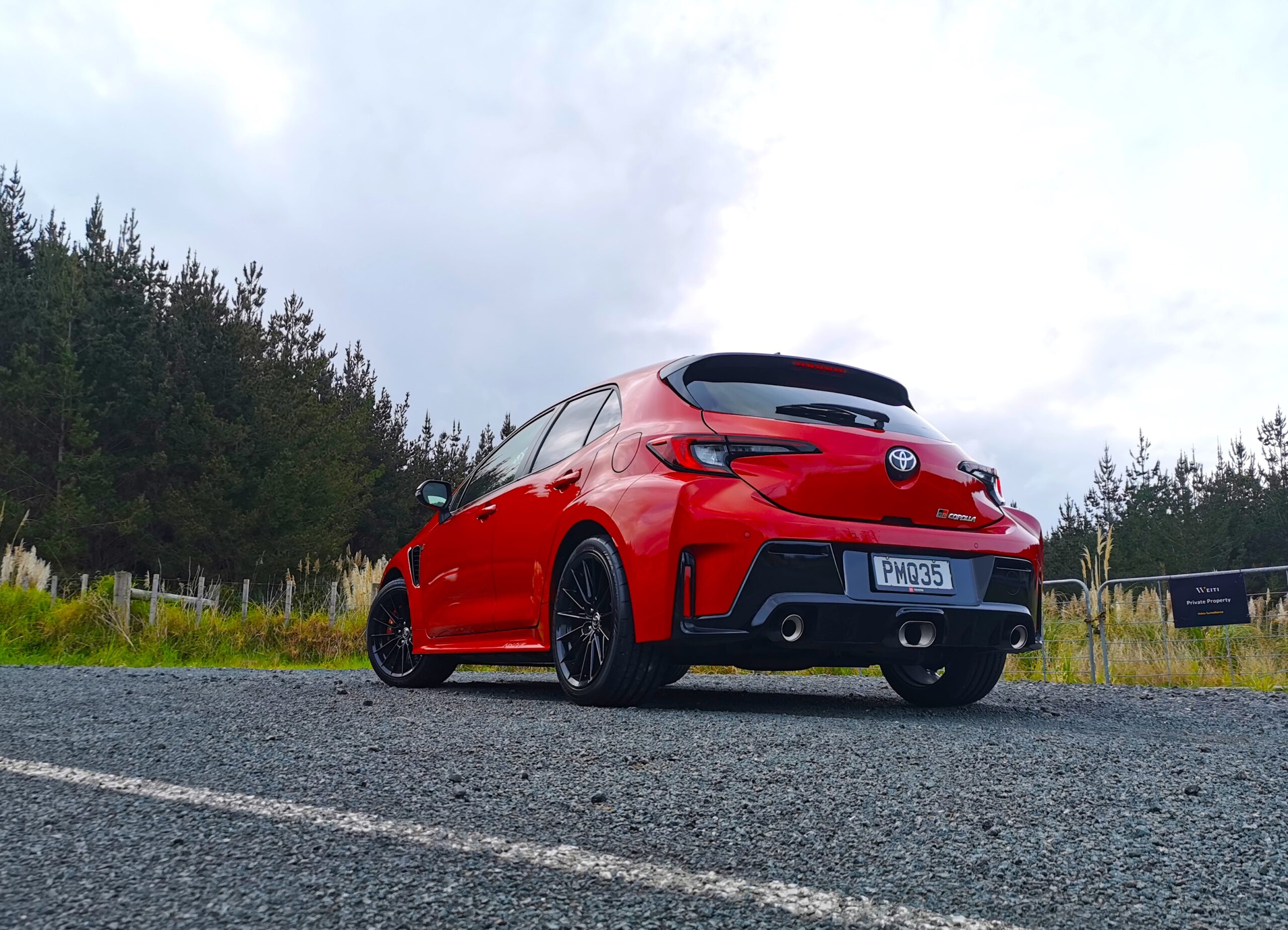 GR may be the name of Toyota's motorsport division, but when it comes to their road cars it should be the shortened version of GRin, especially with the likes of the GR Corolla. With its corner hugging prowess, delightful soundtrack and involving manual stick and GR-four combo, it really guaranteed to make you smile.