Traditionally, the word 'Elite' has had a negative connotation to it despite that fact that to be elite means to superior to the rest. So, I went with high society as the title instead. Both because the Kona is an elite car in more ways than one and it also rides higher. See what I did there!
Becoming an instant crowd favourite from launch, the first generation Kona found fans across all demographics in the crossover/small SUV segment. Now in its second generation or 'Series II' as Hyundai calls it, I can only see that fan base continuing to grow.
Why then is the Kona elite you might ask? Let me put it this way, there are few cars as well suited to urban life as this is.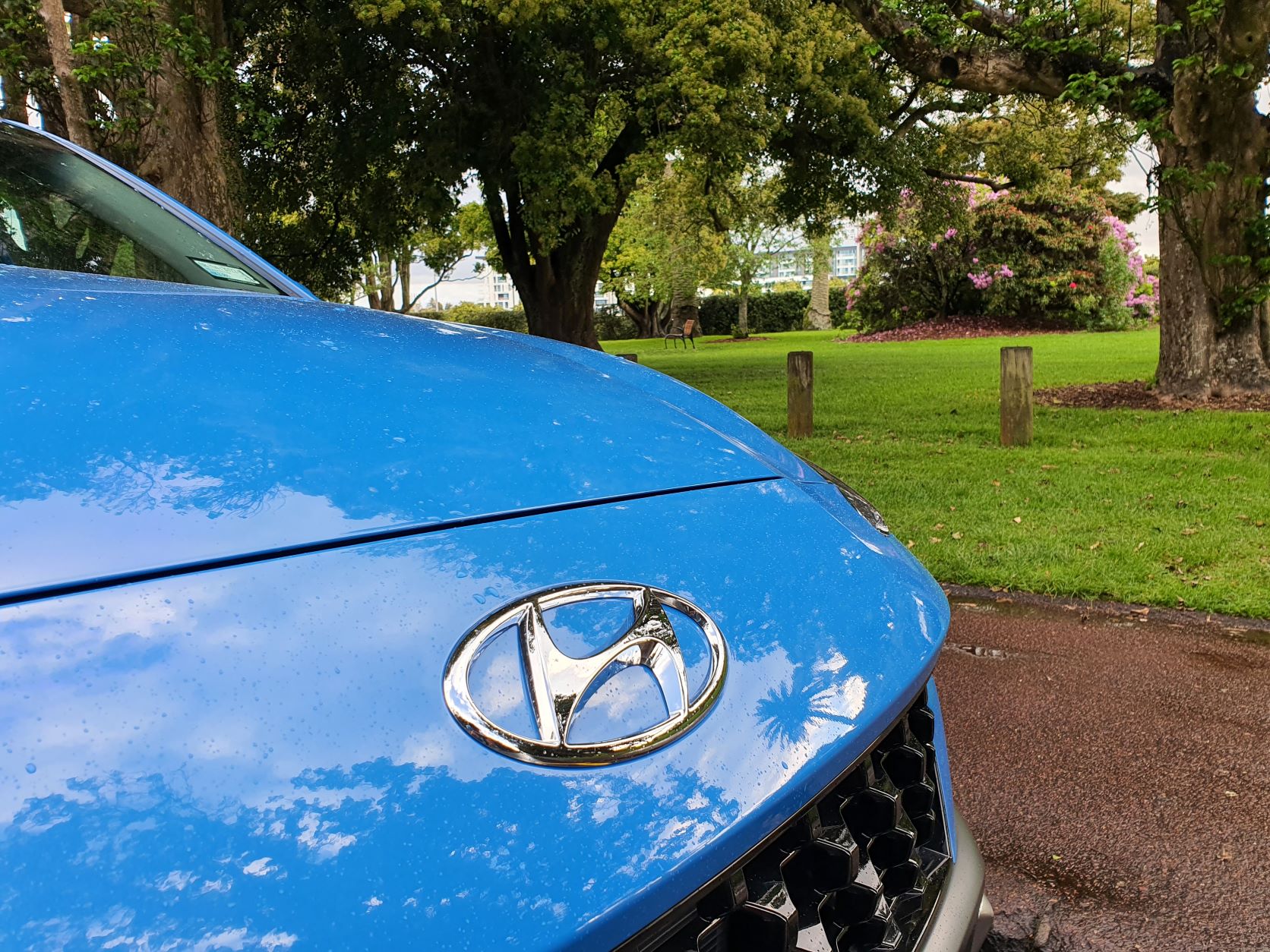 For starters, I loved the blue colour that my review model was finished in. Named "Surfy Blue", it drew the eyes and admiration of many onlookers. I even got a few thumbs ups in this car! Wherever I went, people seemed to like the bright character of the car, a welcome standout amongst the sea of grey that one might find in the city.
While the colour might give it a friendly demeanor, the Kona's black bumpers outline the fact that it's still tough enough for life in the concrete jungle. At the same time, those polished wheels give the Kona a certain flair of pizzazz. A package that makes this car at home in even the high society suburbs of Auckland!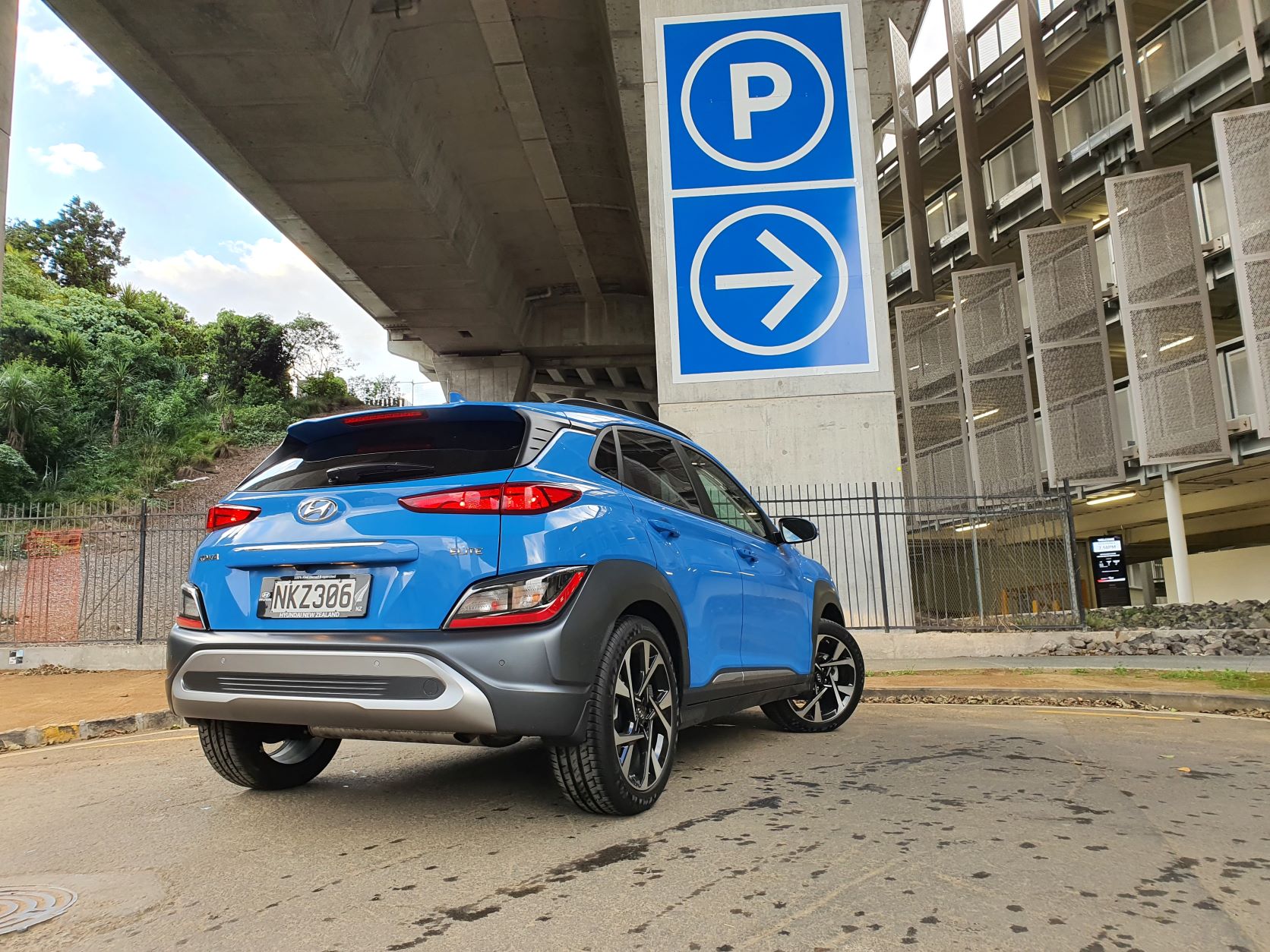 Continuing on the subject of those wheels, they are wrapped in 235mm width Continentals which give it a supple ride but one that can still hold its own when the road gets twisty. A factor that is helped by the Kona's ride height which isn't SUV tall but still more generous than a hatch can offer. Essentially, it offers the right balance of comfort and handling! This was a welcome change from my normally low cars, no longer did I have to worry about the steep ramps and speedhumps that the city throws at you. The blue Hyundai will comfortably navigate those for you.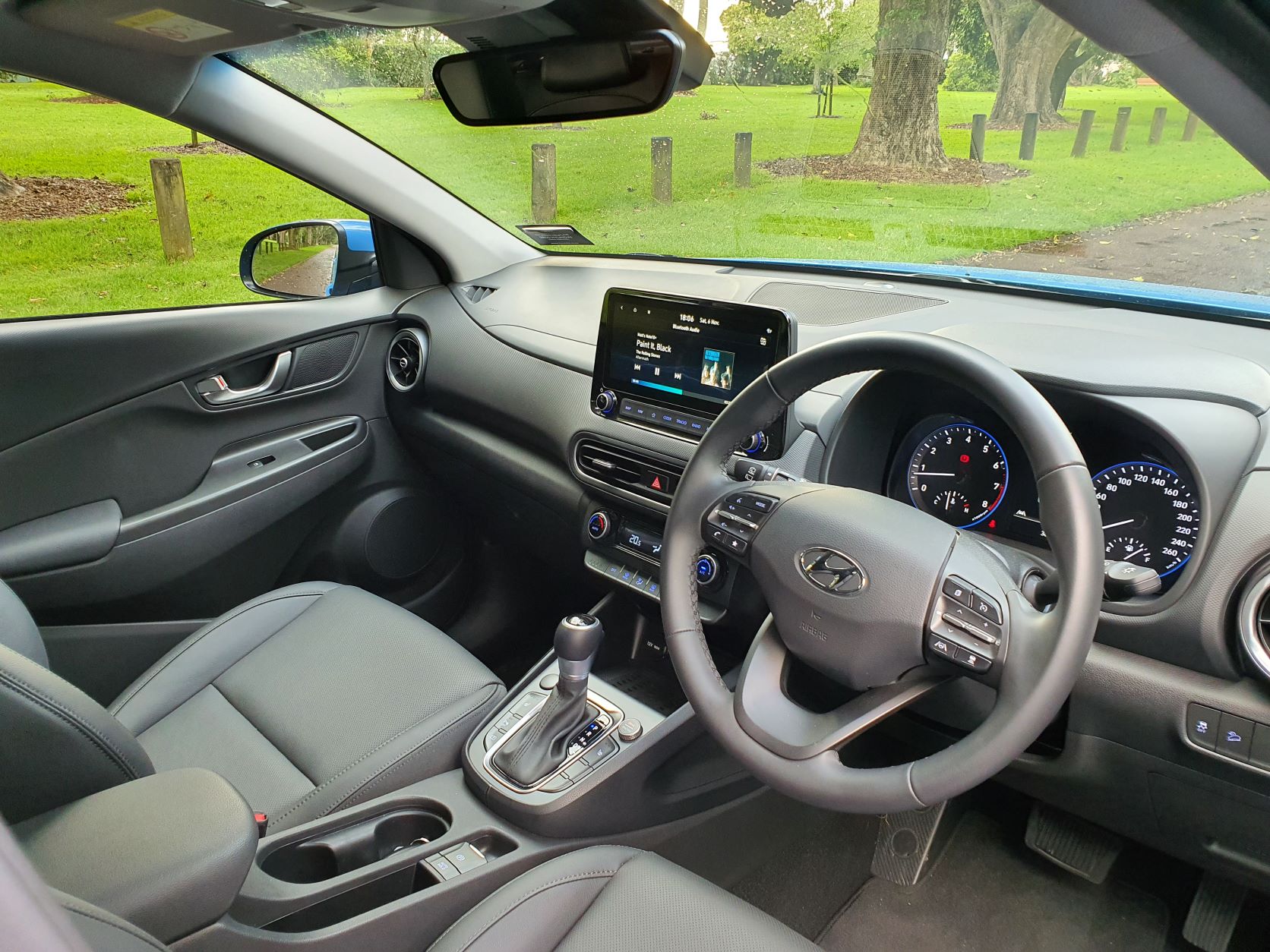 Set the destination for the interior and once there, the level of comfort comes as a pleasant surprise. It ticks the right boxes with its leather appointed interior and sweet Harman Kardon audio system. Build quality is definitely a strength of this interior as everything is well screwed together and most of the contact surfaces are soft which is nice. While it wouldn't hurt to have some of that colour flow through to the interior, the blue backlit buttons make the cabin come alive at night.
It ticks all the right boxes and Hyundai's intuitive infotainment system is a breeze to use. It's well laid out and works in conjunction with the shortcut buttons below. Phone connectivity is good with both Apple CarPlay & Android Auto supported and when you run low on battery, there's a wireless charger to help you out there as well. Safety is another strong suit of this model with a reversing camera, forward collision assist, lane keep assist and more as standard. It's a car that will keep you safe no doubt, though you may want to turn off the overly intrusive lane keep assist.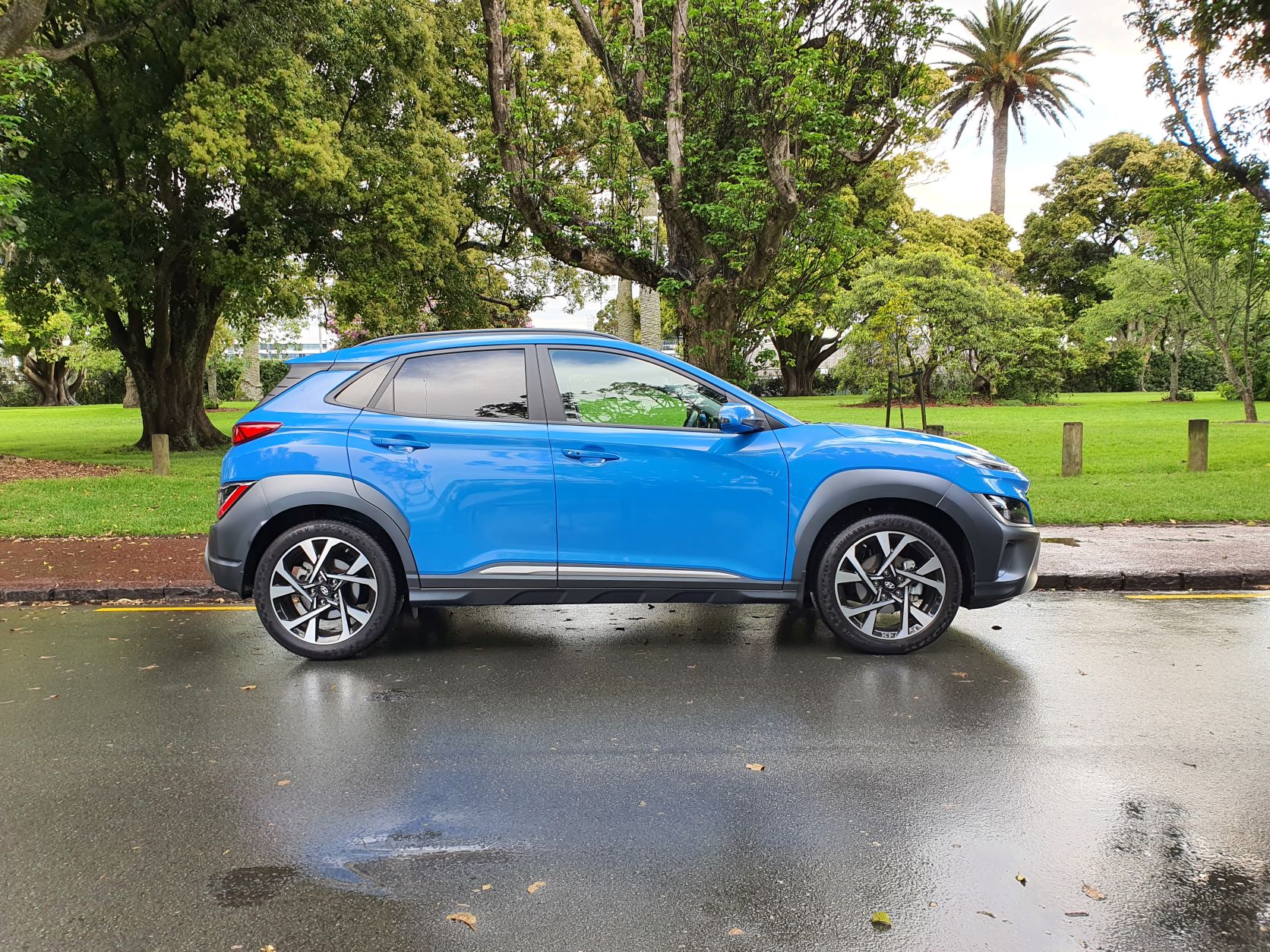 I have long held the opinion that 2 litre engines offered the perfect sweet spot for Auckland driving, they have enough power for the motorways and aren't too thirsty in the city. Well, the Kona Elite has does exactly that! The naturally aspirated 2 litre four pot puts out 110kW of power and 180 Nm of torque, which means it does have power when you need it. With a very impressive combined fuel efficiency rating of 6.2l/100km, you can go longer in between fills and you will want to when you see what petrol is priced at these days! The fuel efficiency comes courtesy of the engine's VVT (variable valve timing) system but also the intelligent variable transmission or 'IVT'. A gearbox that mimics a traditional automatic so well, you would be forgiven for mistaking it as one!
As I mentioned earlier when I pointed out the tires, the Kona Elite has a soft ride which makes it perfect for the sudden potholes that you find in the city post winter. In saying that, the slightly elevated ground clearance offers an engaging drive on the backroads while still offering you that SUV ride height that people so crave these days.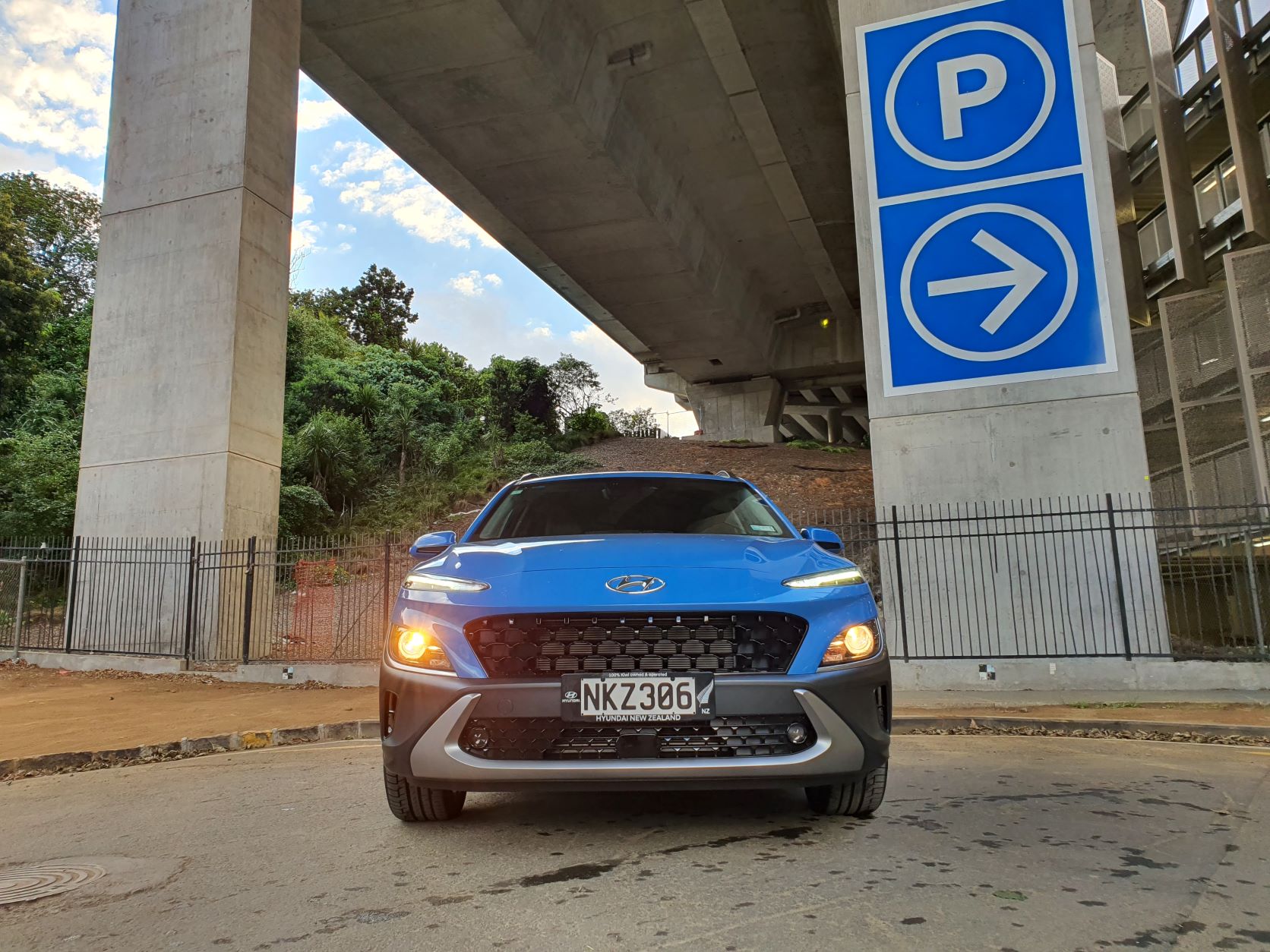 The Verdict
Ah yes, my love affair with the Kona continues. I have reviewed the N-Line, N and now the Elite. All good cars in their own right. Though this model is a little special because of its excellent price tag. At NZD $39,990, the Kona Elite redefines what value means. Don't be fooled into believing that it's compromised in some way to achieve that figure because it hasn't. That Elite badge is there for a reason, because this Kona has the equipment to back it up!
2021 Hyundai Kona Elite: 4.5/5
Thanks for reading! For more Hyundai news and reviews, check out Tarmac Life.
Words and pictures by Matthew D'Souza, car courtesy of Hyundai Motors NZ.