The Toyota GR Yaris. What can be said that hasn't been said already about this, dare I say it, epic WRC bred petrolheads dream? We drove it for the first time on New Zealand shores back in 2020. The hype was there, and we were happy to report the not only lived up to said hype, but surpassed it.
Soon after, it became abundantly clear this turbocharged, manual, old school, homologated road going rally car was already a classic. Its original list price of $54,990 plus ORC was quickly disregarded as demand greatly outgrew supply. With only set amount of GR Yarises, Yarisesses? Yaris? Allocated for New Zealand, Toyota fans and car fanatics in general were fighting tooth and nail to get one. At the peak of the hype, cars were changing hands for almost twice the price.
Any respective GR Yaris owner who put down their name for one before the car went on sale made good on their investment almost immediately. The owner of this GR Yaris was one of them. When he asked if I would be happy to experience the GR Yaris all over again by lending me his pride and joy for an afternoon. Naturally the response from this automotive scribe was a resounding yes.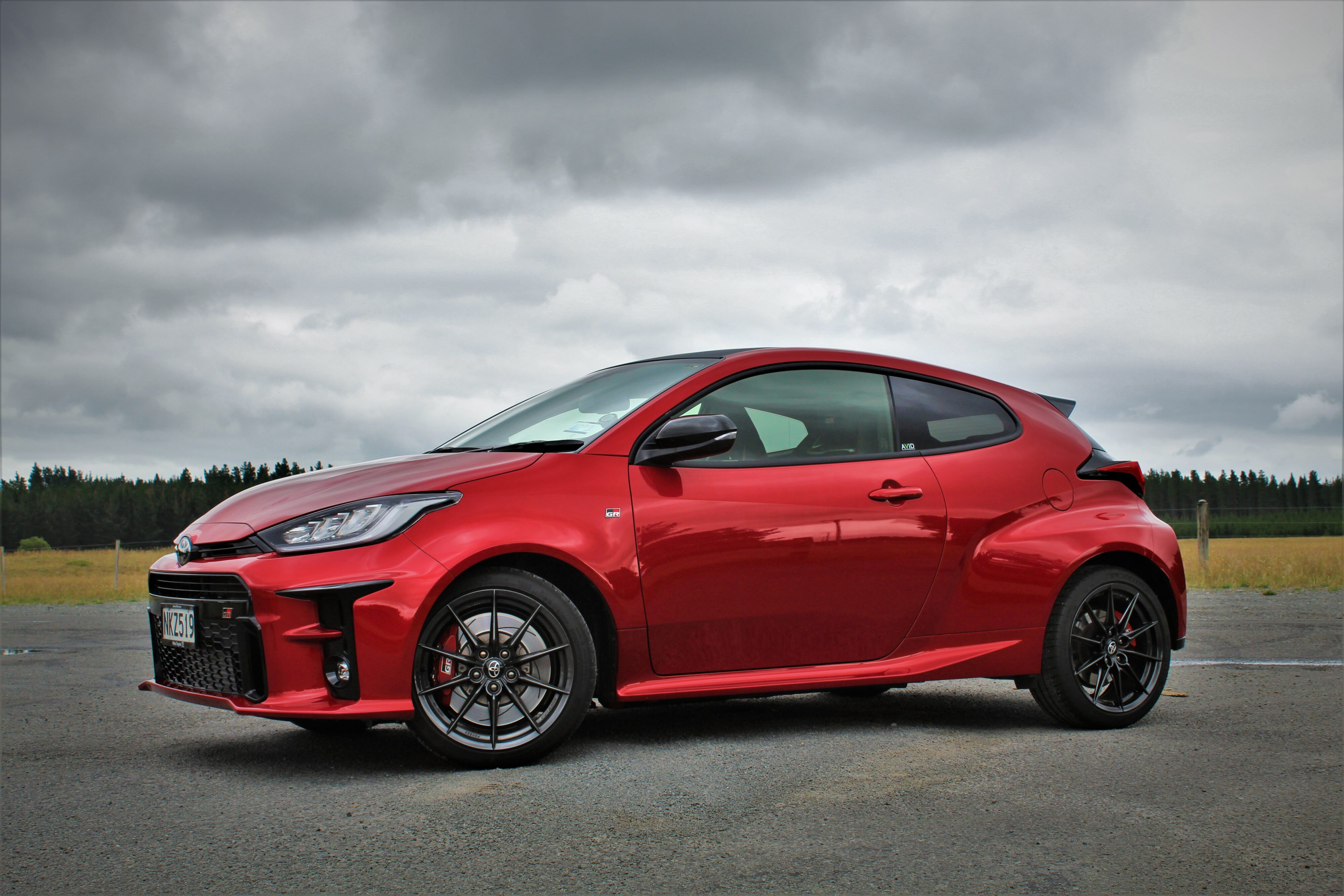 For the uninitiated. The Toyota GR Yaris, or Toyota Gazoo Racing Yaris to give its full name, is a homologation special for the World Rally Championship. As a result, the GR Yaris shares almost nothing with the regular Yaris hatch. The only similarities are the wing mirrors and taillights, that's it. Everything else is bespoke and built-in conjunction with WRC legend Tommi Makkinen and his company Tommi Makkinen Racing.
Two doors, front and rear scoops, oodles of intakes, a squat stance thanks to a 55m lower ride height, carbon roof, twin exhaust tops, and 18-inch forged BBS alloys with Michelin Pilot Sport 4S tyres.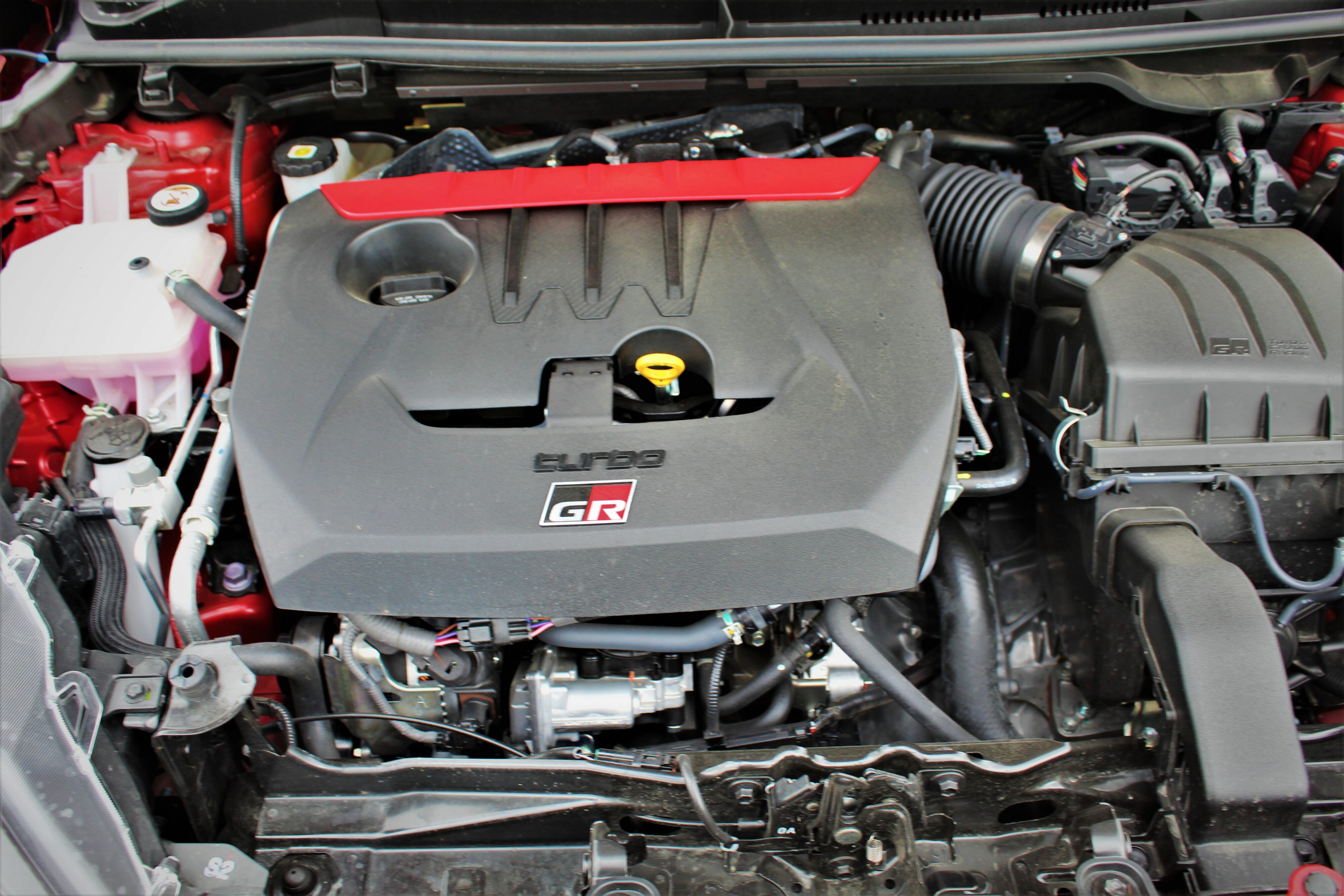 Under the bonnet sits a honey of a 1.6L turbocharged three-cylinder engine. This features multi-oil jet piston cooling, large diameter exhaust valves and a part-machined intake port and a hefty intercooler. The result? 200kW of grunt and 370Nm of torque. There is no dual clutch automatic here, instead a conventional six speed manual gearbox sending drive to all four wheels. Oh joy.
While you still get plenty of run-of-the-mill Yaris features like the in like the infotainment screen, air con controls etc and switchgear, one immediately notices the GR badging, classic white on black analogue gauges, a nameplate showing its WRC affiliation and some of the most sublime sports seats you will find in any hot hatch. Oh, and Toyota have also ditched the electric parking brake for a proper hydraulic lever. Nice.
The GR Yaris also gets Toyota Safety Sense package with all the safety fruit like Toyota's Pre-Collision System, Lane Tracing Assist, Radar Cruise Control, Automatic High Beam, and Blind Sport Monitoring. Its JBL audio system with Apple CarPlay and Android Auto also sounds good, but the best noise comes when the GR Yaris wakes up.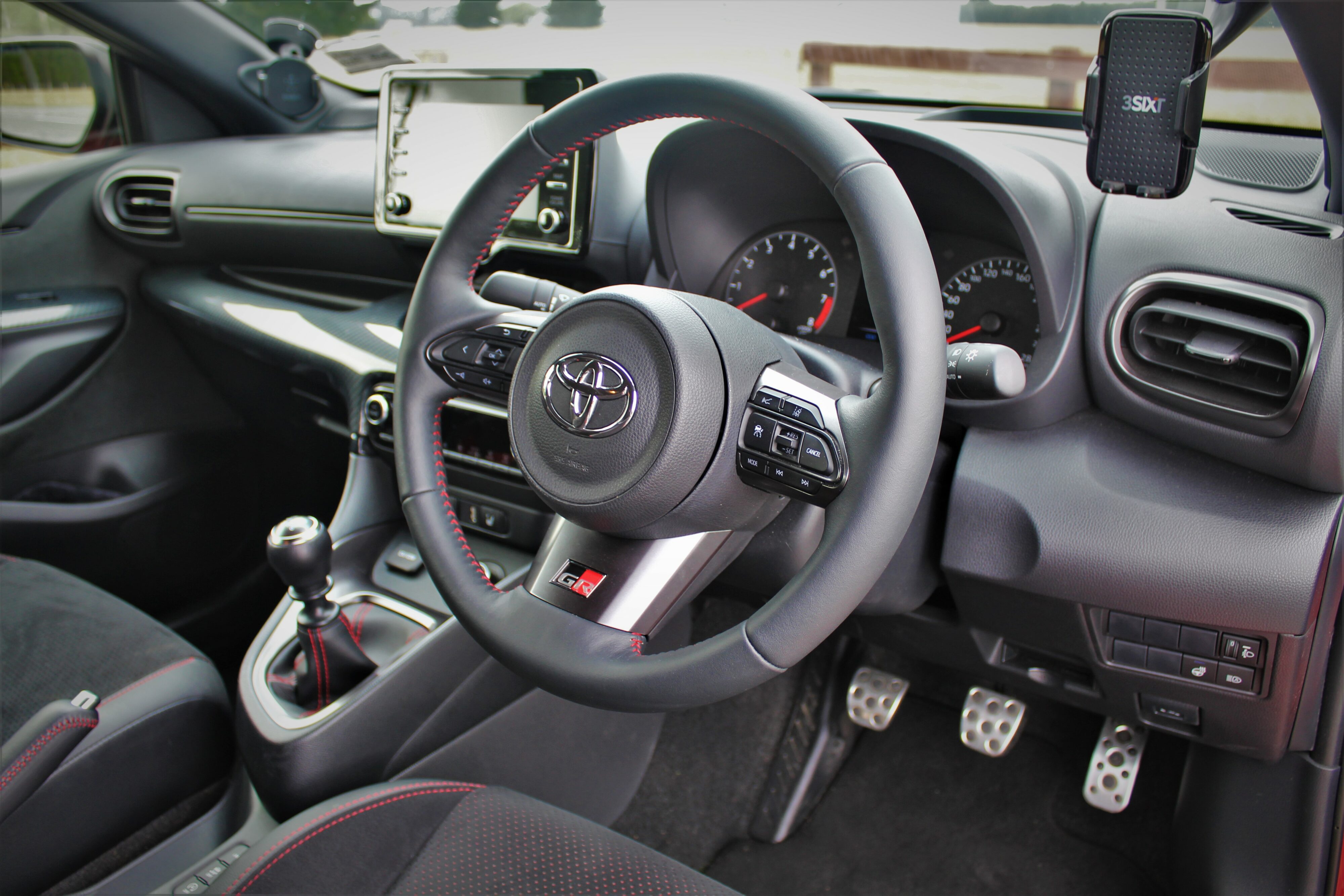 However on start-up, the GR Yaris is somewhat lacklustre in the noise department. Idling is quite subdued but things get better when you flex your right foot. That said, due to a soft limiter, the highest you can go is 4000rpm. Select first from that slick six speed box and it isn't long before you are venturing forward to 4000rpm and beyond.
Rising through the rev range and the marriage of turbo induction and three cylinders produce the kind of mechanical soundtrack we haven't heard since the days of the Celica GT4. It's a great noise, enticing you to wait as late as possible before shifting up. Each shift feels so satisfying too. I can remember the first time I tested a GR Yaris just going from third to fourth and back again just for the sake of it.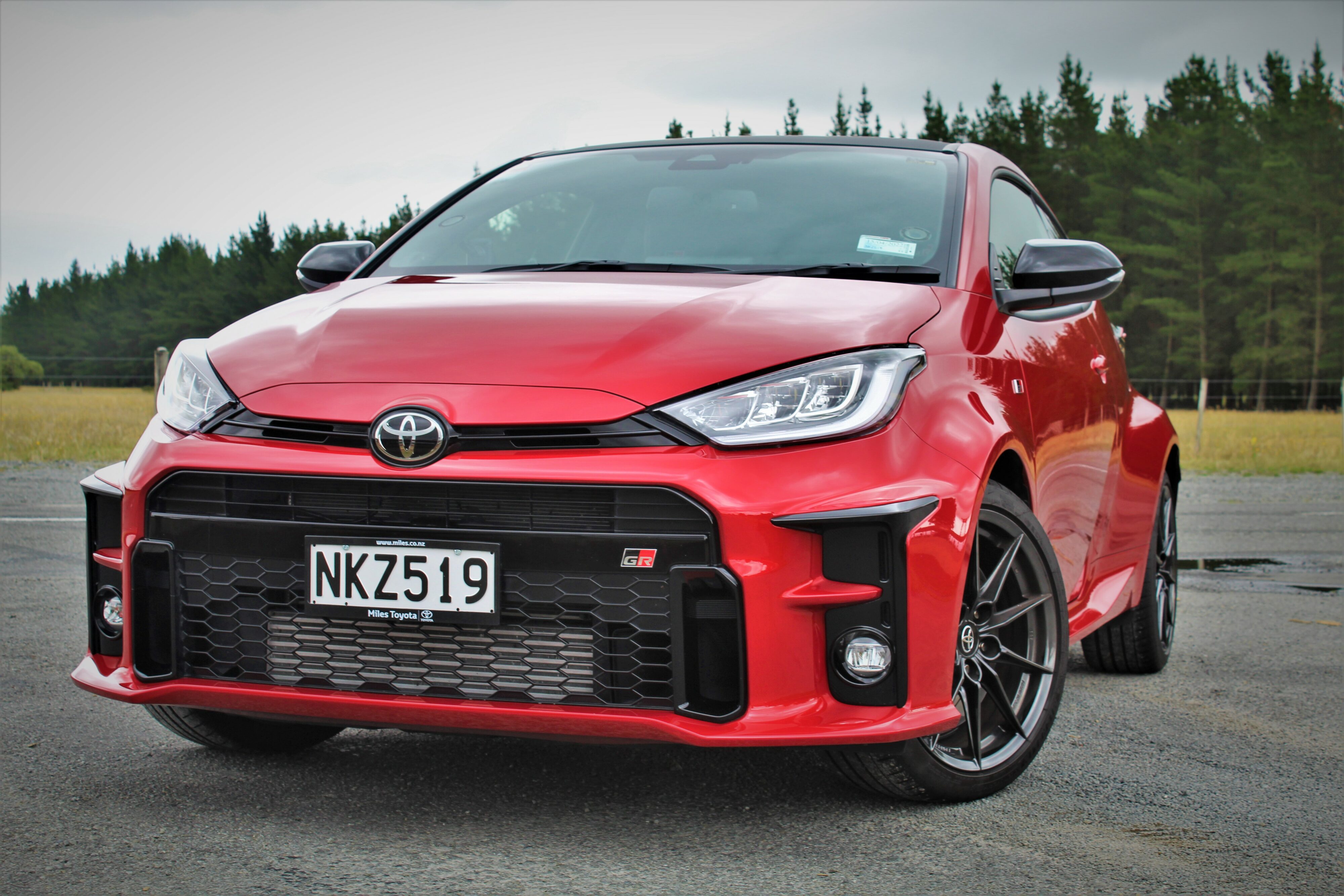 Switching between normal and sport mode is easy by turning the drive mode dial to the left. It is here where you can get in touch with your inner Tommi Makkinen. Or Didier Auriol, or Juha Kankkunen or…
Between 4000 to 6000 rpm, the GR Yaris shoots forward like a hungry terrier on caffeine. Zero to 100km/h in 5.3 seconds is pretty brisk in anyone's book but in the GR, it feels just that little bit faster. If you are useless at heel and toe shifting, you can select iMT on the transmission and the GR Yaris will rev match on the down change for you. It's very similar to what you would find in a dual clutch automatic, with a blip of the throttle every time you go down the gears.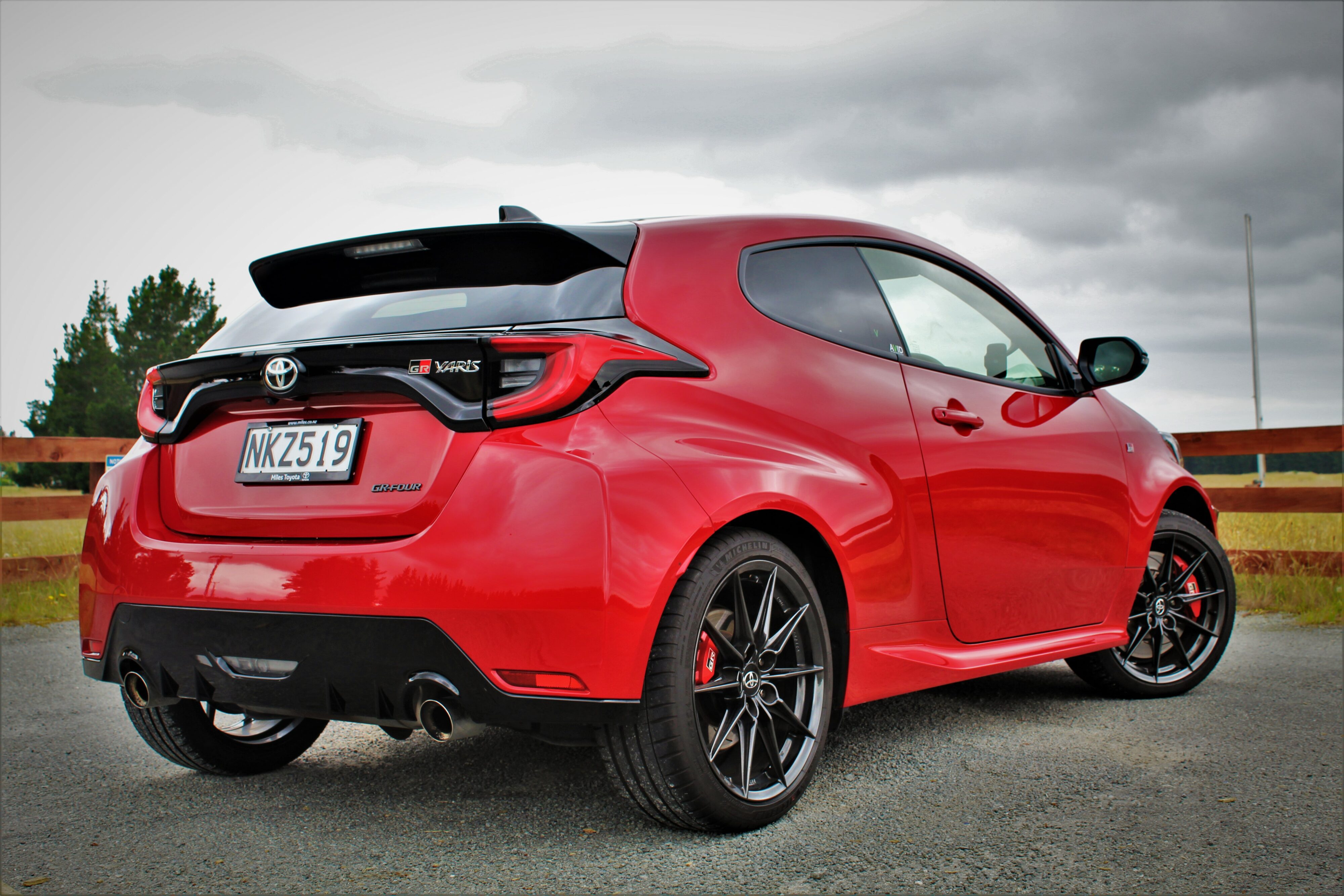 Where it differs from this set up is between shifts. Getting back on the power is met with a slight delay as the boost from the turbo builds. This is a nice touch and reminiscent of cars like that old Celica GT4 and others.
In Sport mode, torque is split 30-70 front to rear, but switch up to Track mode, that split becomes 50-50. You can feel the difference too. Hard cornering in Track and you can feel the back being pulled into line, with the GR staying on track and cornering flat. You now have even more courage to push harder. Stand on the anchors and you slow in quick succession before the temptation to give it death rears its head again. It is still a seriously exciting ride.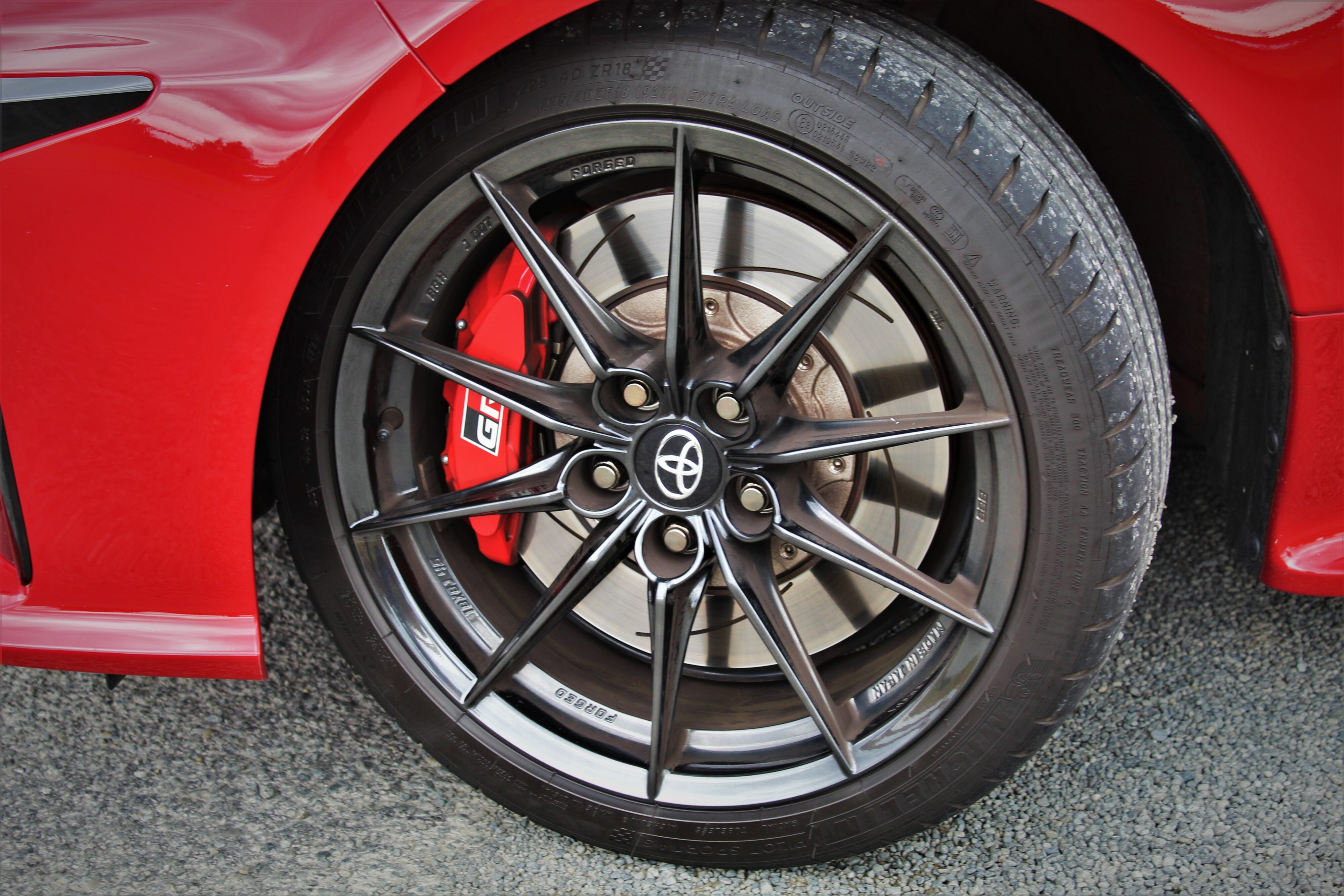 The GR Yaris also has the distinction of not being as rough as guts when you have finished partaking in driving exuberance. The ride manages to be firm yes but far more supple than other cars like this. Its certainly feasible to daily this road going WRC car. Visibility is great looking forward but behind you is compromised. Also, boot space is pretty limited too. However, the obvious solution would be to fold the seats down and use it as a two-seater.
It also is quite thirsty. After a combination of performance driving and commuting, one can average 9.4L/100km which isn't the best. Then again, GR Yaris buyers surely wouldn't have fuel economy high on their list. The GR Yaris is a car we want, not one we think we need.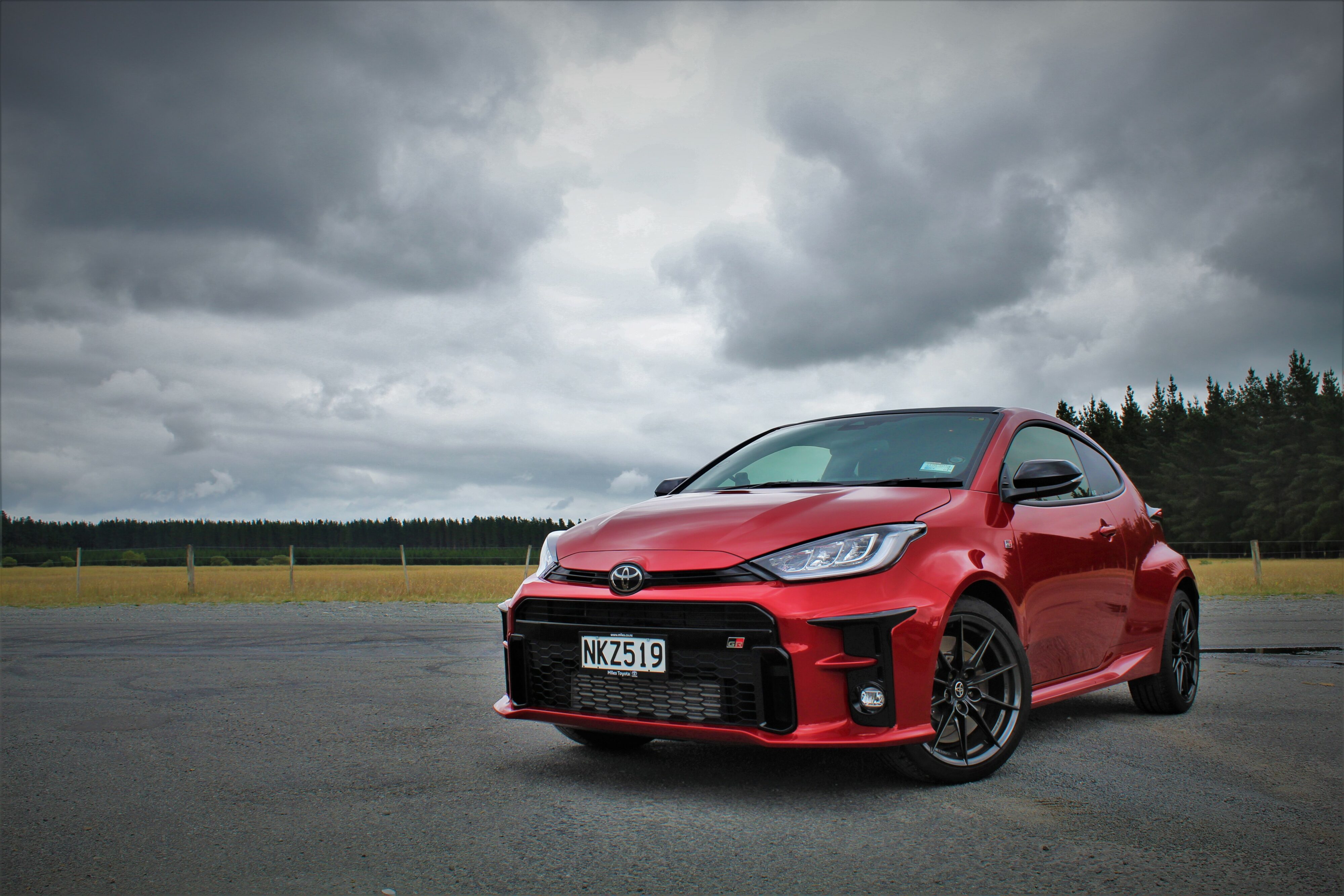 So, after a year with us, is the GR Yaris still every bit as awesome? Yeah, I think so. The recent news of Toyota New Zealand confirming there are an additional 100 units on their way here will also give those who missed out the first time another chance. While this extra batch of cars may affect the values of those currently in the hands of die-hard fans, the owner of this GR Yaris isn't fazed. He is just more than happy to hang on to it long-term and enjoy it as much as possible.
I was just very happy to once again experience what was and still is one of the most exciting cars of recent years. The Toyota GR Yaris is still epic.