When the first Porsche Panamera was launched back in 2010, I was certainly not sold on the looks. Its design cues in my view made it look rather bulbous and awkward. Thankfully the new Panamera is far easier on the eye than the original ugly duckling. Plus, with the incorporation of an estate, the Sport Turismo, and electric drive in the form of the Panamera E-Hybrid you see here, Porsche have made their four-door super saloon even more relevant in the modern world.
Despite the all-electric Taycan grabbing the headlines, the Panamera is still selling steadily. After being blown away by the Taycan Cross Turismo last year, the time had come to experience another Porsche with some form of electric drive. So without further adieu, here is the low down.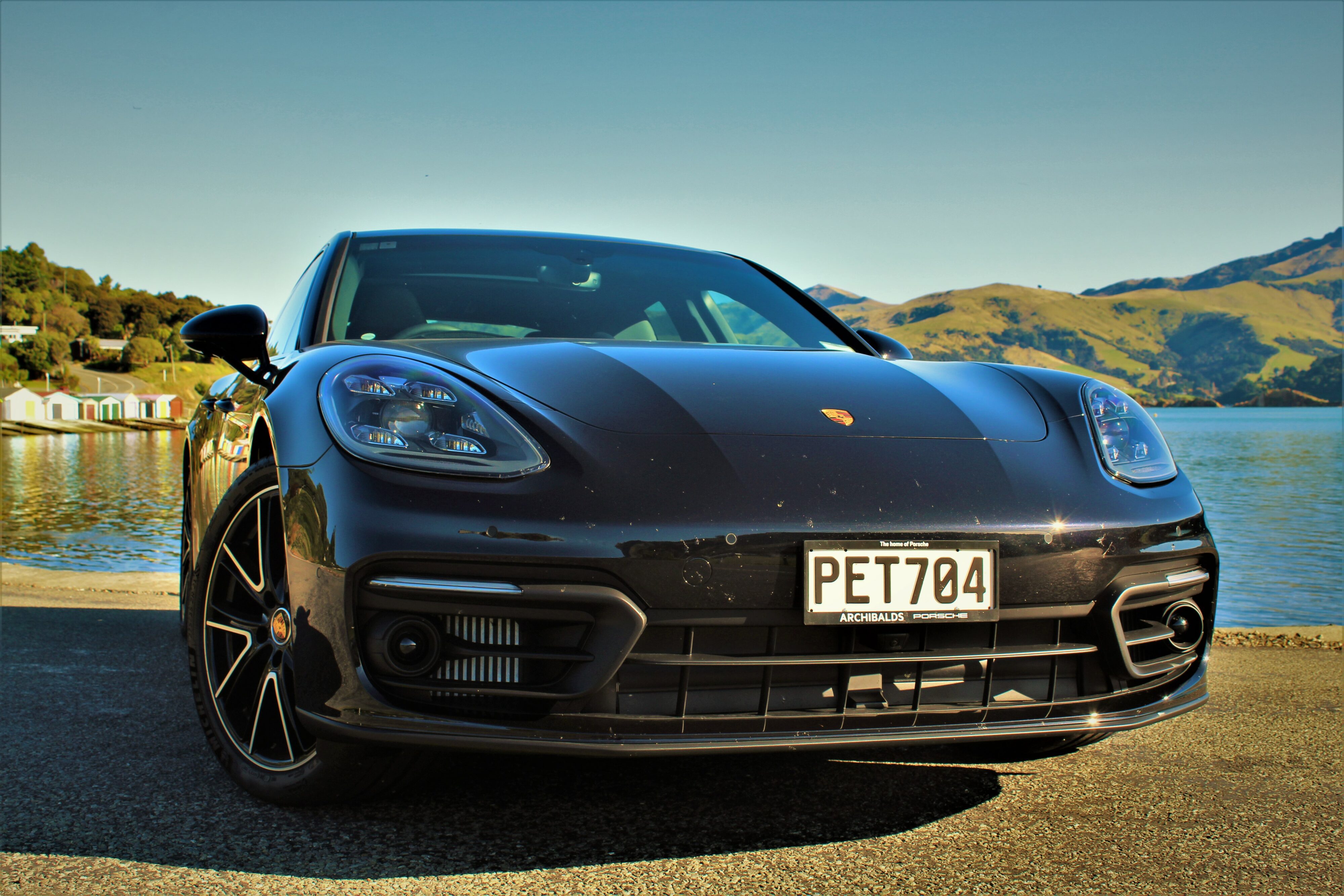 Sitting roughly in the middle of the Panamera family, the 4 E-Hybrid is the entry point if you want your Panamera as a PHEV. Under the bonnet we have a 2.9L twin-turbo V6 petrol engine which on its own produces 243kW and 450Nm. However, the E-Hybrid also features a 100kW electric motor which when combined with that turbo V6 gives a total power output of 340kW and a hefty 700Nm of torque.
Naturally, that torque figure is heavily influenced by that electric grunt being sent to all four wheels via Porsche's eight-speed PDK transmission. Porsche claims a zero to 100km/h time of just 4.4 seconds and a top whack of 280km/h.
On the electric front, Porsche also claims a range of 50km/h which isn't too bad but I was expecting a tad more. The E-Hybrid's electric motor is powered by an 18.1kWh lithium-ion battery. It takes six hours to charge via a 230-V, 10-A connection but if you use the optional onboard AC charger with 7.2kW this can be reduced to around two hours.
Because of the electrical influence, the Panamera 4 E-Hybrid has a combined fuel consumption figure of 2.6L/100km and will churn out 59g/km of CO2. Oh, and just so you know, the E-Hybrid can touch 140km/h in EV mode, though one would have to find the appropriate setting to test this claim, ie a track.
The E-Hybrid might look very much like the rest of the Panamera clan, but it's the green brake calipers and green detailing around the badging which gives its more eco-focused game away. Well, that and the fact it says "e-hybrid" on the front three quarter. Features like LED-matrix beam headlights and rear adjustable spoiler complete the ensemble, plus the fact my test car sported Jet Black Metallic paint with $9,080 optional 21-inch Exclusive Design Black alloys gave it a more menacing edge.
Inside the cabin is one of form and function. Everything is clean cut and devoid of any unnecessary add-ons. You can tell from the get go Porsche is continuing their mantra of having driver focused interiors. While some might argue it is lacking a certain degree of flamboyance which you may expect from a car from this price point, what cannot be argued is the level of quality in here.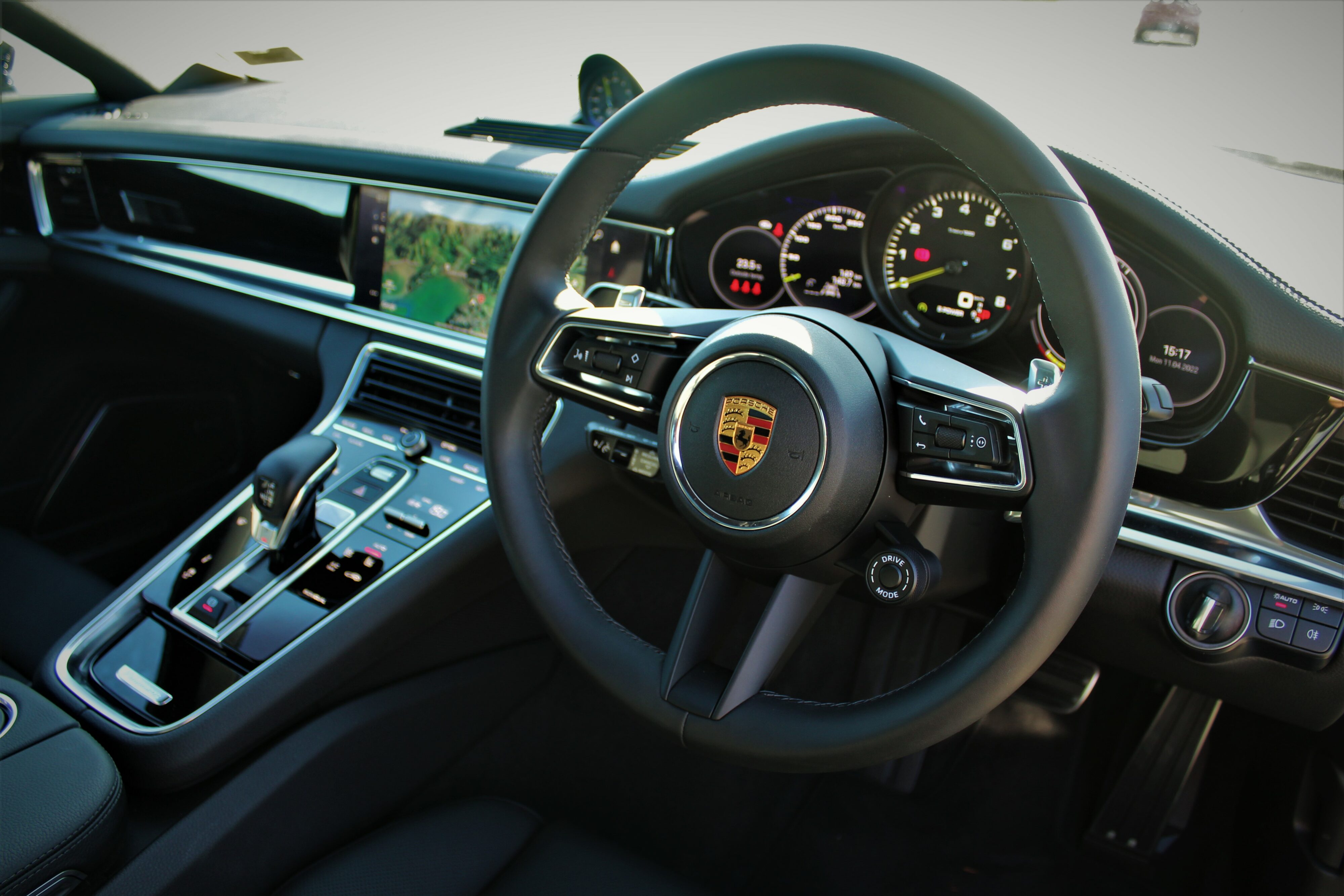 The Panamera's touch-buttons look great against the piano black centre console and feel solid and satisfying to use. The layout of the dash fascia which includes an incredibly clear and intuitive touch-screen infotainment system mimics that of its fully electric Taycan sibling.
Ahead of you sits the classic Porsche instrument cluster with the rev counter taking prime position right atop the other four gauges. The others are made up of digital screens which display a variety of information including battery usage, range, audio features etc. The three spoke Porsche steering wheel doesn't feel distinctly tailored for your hands but it does still feel good in your mitts. The driving position is also pretty much perfect and you sit low without sinking into those optional Adaptive Leather Sports Seats.
Talking of space, whether in the front or rear, there is significant space for four plus one adults. The door bins are also able to swallow up a decent sized water bottle and there is a good amount of storage space. Opening up that automatic tailgate reveals 401L of space. This grows to 1,242L with the rear seats folded away.
As you might imagine, the E-Hybrid gets a tonne of technological goodies thrown at it. While there is only so much time in the day to talk about all of it, here are some highlights. You get things like, Ambient Lighting, Four Zone Climate Control, a Dual Panoramic Roof, Heated and Ventilated Leather Seats, Traffic Jam Assist, Lane Change Assist, Lane Keep Assist, Soft Close Doors, Apple CarPlay and Android Auto, Two USB Ports and a seriously good 14 speaker BOSE stereo system. My test car had a few cost option extras thrown at it, though I wonder why a rear window wiper was one of them.
Defaulting to E-Mode on start-up, the only noise you hear is the uncanny sound of electric quiet. Thanks to that air suspension and being able to raise and lower the car to suit, the entrance to driveways with a slight incline isn't much of an issue. That said, it still pays to tackle your entrance and exit on a bit of an angle or very slowly.
Once you leave the confines of your home and head out onto suburban streets, the Panamera is a doddle to drive. If you feel like minimising the time you spend charging your Panamera, you can select E Hold which retains the charge you have available and doesn't you use any, but if you are a bit low and want to charge up to full without stopping to plug in, the "E-Charge" lets that V6 do the charging while on the move.
If you switch over to Hybrid Auto mode, then the electric motor and that twin-turbo V6 begin to work in tandem with each other. It behaves just like a regular hybrid would, starting up the petrol engine if required or sauntering along electrically if not.
The transition between electric drive and petrol power is done very seamlessly. If you remove the obvious of a V6 burble and that rev counter springing up to 2,000rpm, you wouldn't know. There is no shuddering, vibrations, or any sensation which declares "I'm now using fuel."
Forward visibility is good but thanks to its coupe like rear quarters, your rear three quarter vision is somewhat compromised. Despite this, the Panamera 4 E-Hybrid claws back points by being remarkably comfortable. The heated/ventilated leather seats are pretty much perfect. There is a perfect blend of lateral support and overall comfort.
In regular driving modes with suspension and dampers at their "real world" setting, it far less jarring than I thought it would be. You would think by looking at the Panamera's stance that it would be anchored more towards the edgy sporting side of things on a constant basis, but this is not the case. Things are actually very supple and while you do feel it's 2,210kg weight, you feel planted, solid and even the most uneven surfaces aren't a bother.
However, if you decide you want to firm things up a bit, flick up to Sport or Sport Plus. The bellow from that sweet turbo V6 gets louder and louder still in Sport Plus. The fact my test car had the optional $6,000 sports exhaust certainly helped this no end. The air suspension hunkers the Panamera down to be as slippery through the air as possible, the steering weights up beautifully and while you won't be experiencing neck-snapping acceleration, the combo of petrol and electric torque can still leave you pressed back in that aforementioned comfortable leather seat.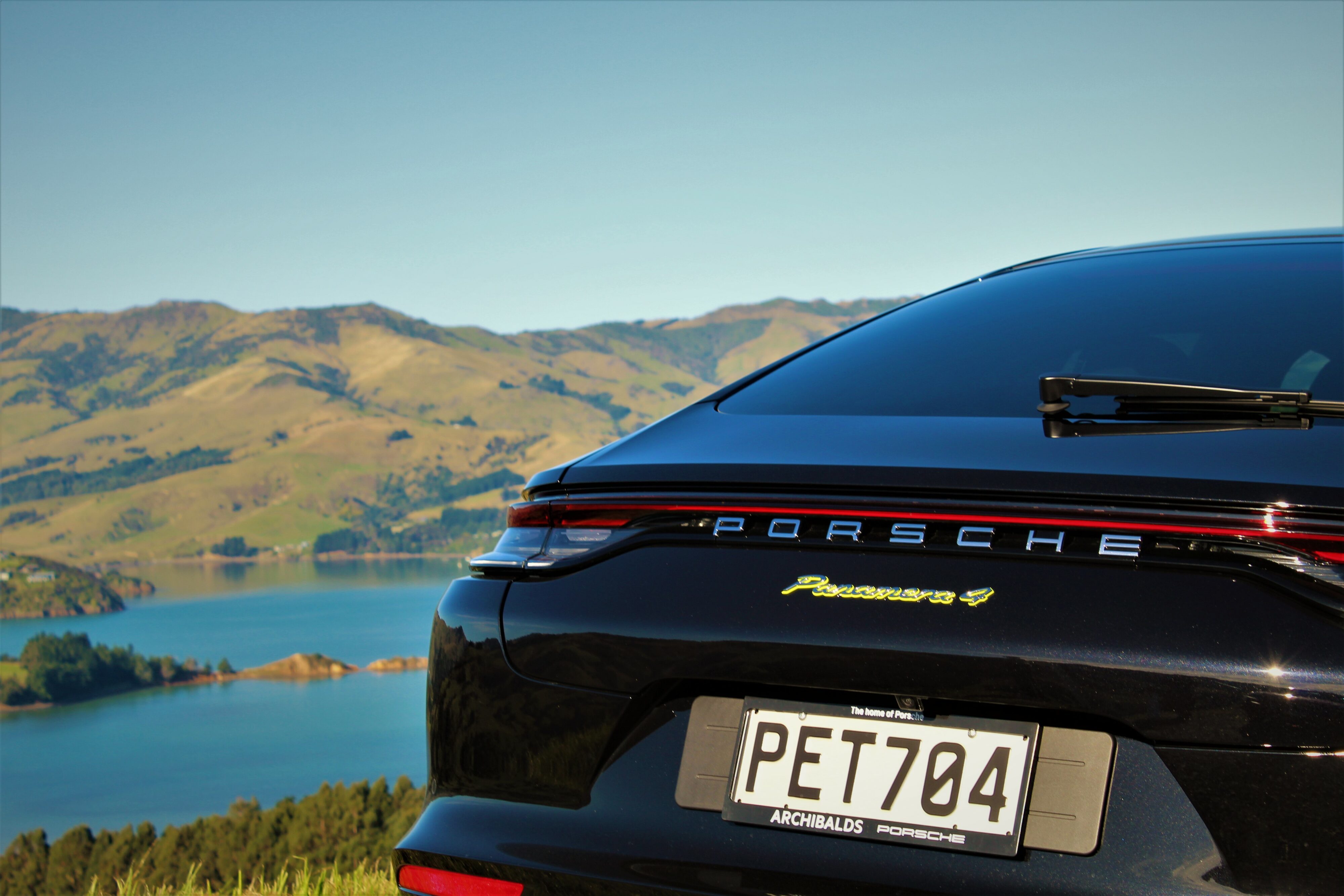 Also, if you need some instant power for overtaking, you can activate something called "Sport Response." Press the button housed within the drive mode toggle switch and the revs rise to 6,000rpm instantly and you dart forward. While it only lasts for 20 seconds, it is pretty fun and gives off some Fast and Furious NOS button vibes.
While there are faster tools to live life a quarter mile at a time, the Panamera 4 E-Hybrid is still able to run rings around many other performance luxury saloons when it comes to slice of twisty hill top road. That beautifully weighted steering gives plenty of feedback and with the suspension and dampers all firmed up, you very quickly find yourself giving it plenty of stick in each corner. It also sports the kind of crisp turn in usually reserved for an all-out sports car. One could say there is plenty of 911 in this beastie.
Another aspect which only helps with moments of driving exuberance is the noise of that twin-turbo six pot. While it doesn't shout, its primeval howl is best enjoyed above 5,000rpm and when you button off, the faintest crackle can be heard from that handsome set of dual exhaust tips. The eight-speed PDK box is very crisp changing down but experiences the merest of delays on the way back up. However, this can be rectified by keeping it in Sport or Sport Plus, which I must admit I spent plenty of time enjoying.
With a base price of $231,300 plus ORC, the Panamera 4 E-Hybrid certainly isn't cheap. However, for those not quite at the point of going full electric and buying a Taycan or similar, the E-Hybrid is still an immensely likeable package. Its pretty quick, a riot when pushing hard, comfortable, refined and makes the most sense in the real world. Basically, this Panamera-can.
RATING: 8.5/10