It was only a matter of time before Lexus would give us an all-electric offering of some kind. The brand has been going all-out in recent months and years with promoting their most fuel-efficient powertrains like their proven and capable hybrids. Now, with the UX300e, Lexus has their first plug-in BEV. Have they nailed it first time out?
Well, it was certainly a smart move from the Lexus execs to choose the UX as the base for their first venture into pure EV motoring. It also means the UX300e's list price of $79,900 plus ORC just sneaks in under the limit for the Government's Clean Car Rebate of $8265.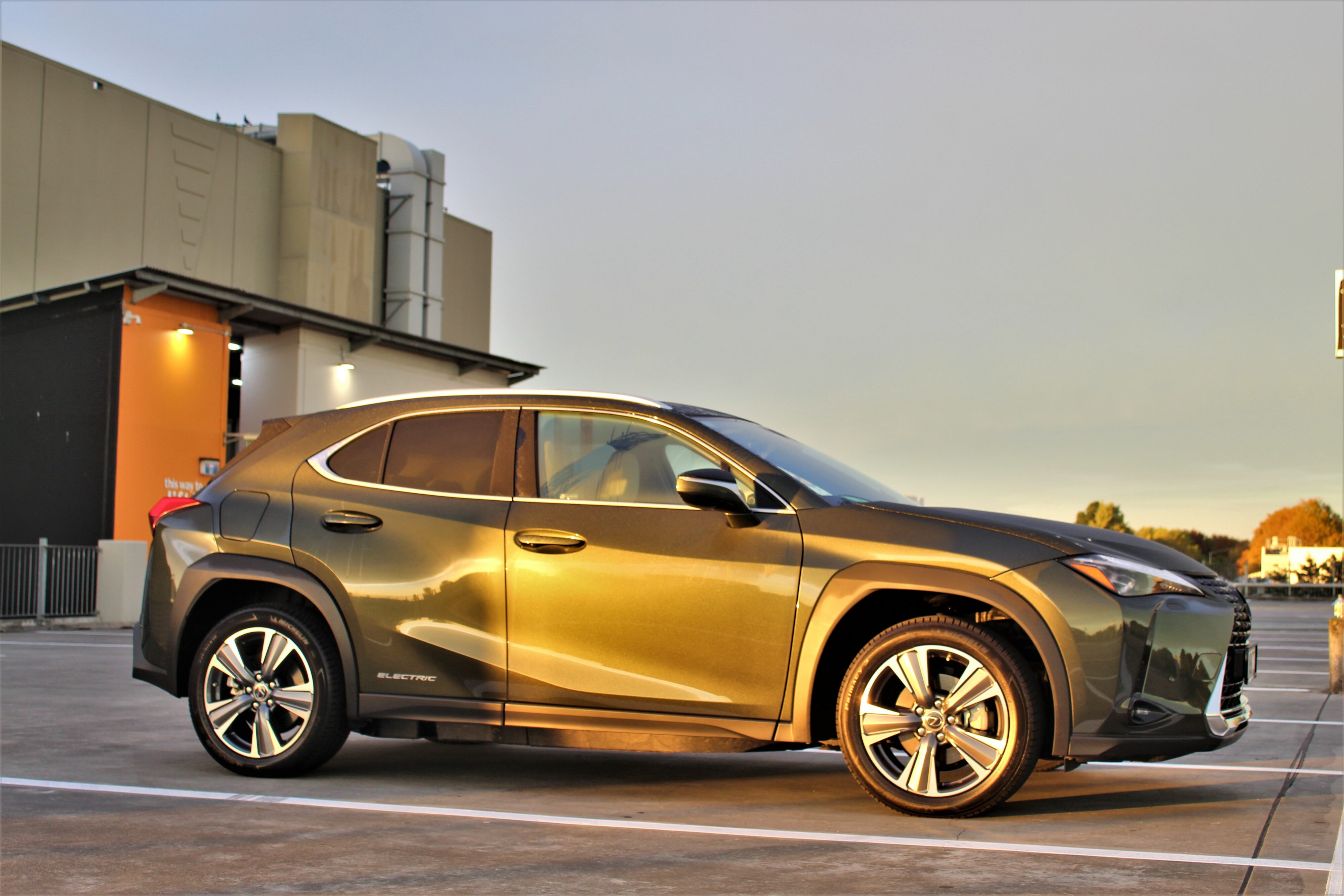 There are actually two versions of the UX300e available but the base model is only available for lease through the fleet and company vehicle sector. You and I will only have access to the flagship UX300e Limited you see here with all the fruit.
The UX300e Limited gets a 54kWH batter pack with a combined 150kW. Torque is rated at 300Nm and Lexus claim a zero to 100km/h time of 7.5 seconds. It certainly makes it the zippiest UX out there. Lexus claim range of around 360km but in the real world, this is closer to 300km.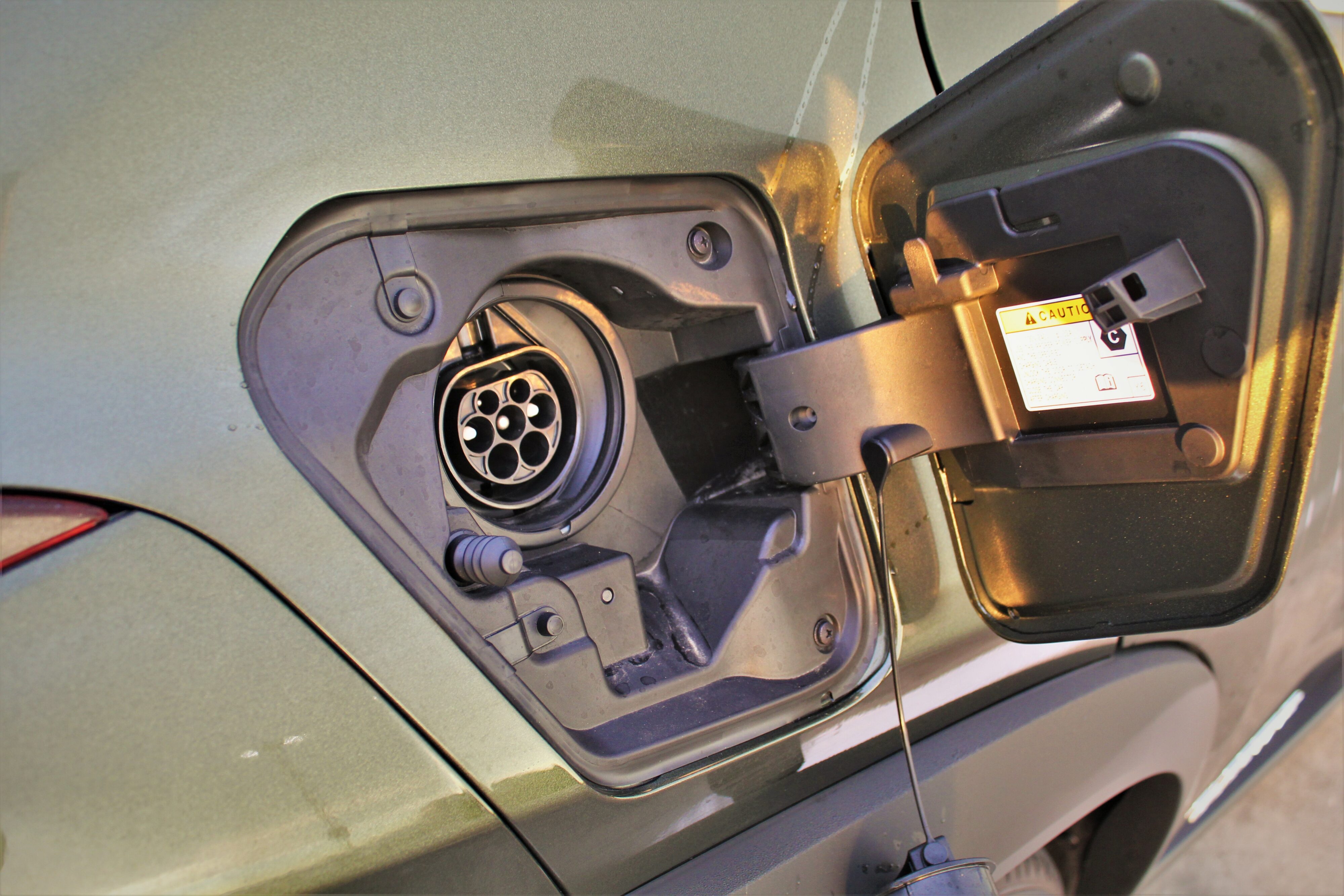 Getting that full charge is done courtesy of either a Type 2 AC charging point for home charging or a CHAdeMO connector for DC fast charging. Sadly, the UX300e is not compatible with the more widely used CCS Type 2 plug. Charging time with a 32A plug is around 6.5 hours and it would be worth getting yourself the Wallbox home charging system for $3137.
The UX300e shares pretty much all the same visual cues as the regular UX Hybrid Limited. Stuff like 18-inch alloys, roof rails, rear privacy glass, sunroof, cornering lights, adaptive high-beam triple LED headlights, roof rails, rear privacy glass, a sunroof and power tailgate. Also, so others can see what your new Lexus runs on, there are some electric badging on either rear three quarter.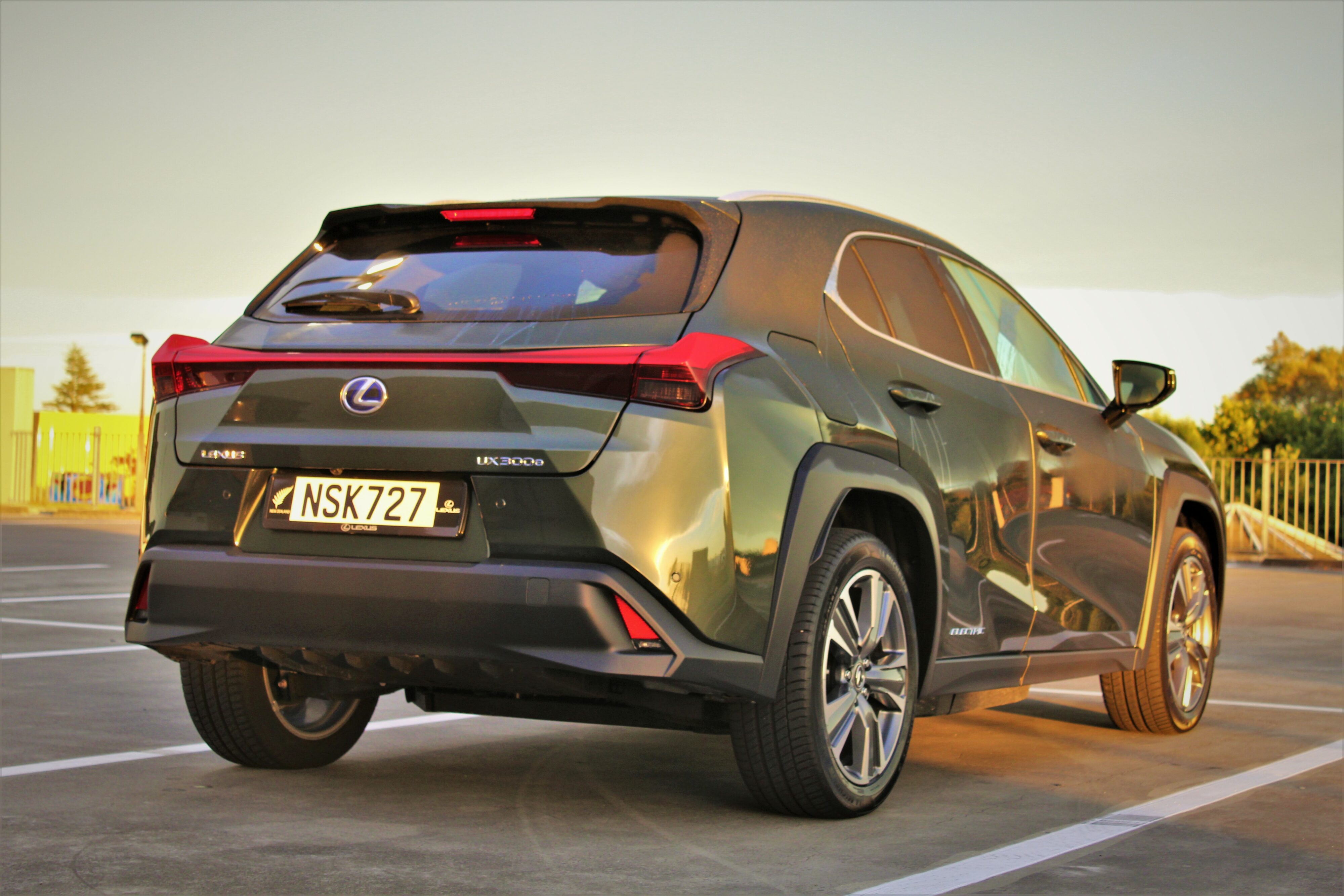 Inside it is very plush and the build quality is excellent. Lexus say the UX300e is a "Lexus first, EV second" and you can see what they mean. You get goodies like 10-way powered heated and ventilated leather seats with auto function, a heated steering wheel, a head-up display, rain sensing wipers and a 10.3-inch infotainment display with Apple CarPlay and Android Auto.
The system's touchpad makes a return which still isn't quite a slick or responsive as I would have liked. Happily, the UX300e claws back points with an audibly good 13-speaker Mark Levinson sound system. Wagner's Prelude to Act III from Lohengrin sounded very good indeed.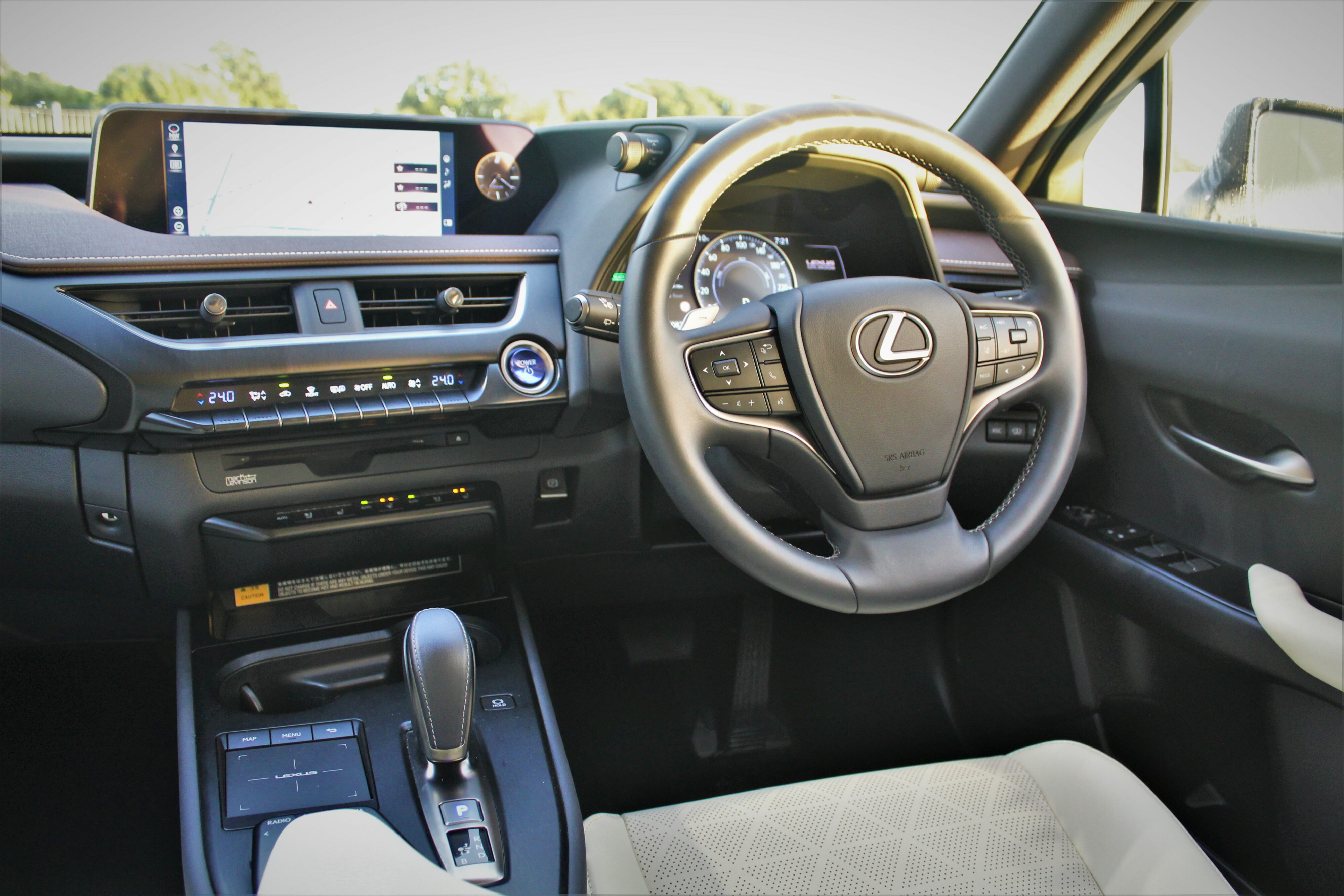 You also get the complete Lexus Safety System + which includes a pre-collision system with autonomous emergency braking, vehicle and pedestrian daytime and night-time, bicyclist daytime detection, lane tracing assist, lane departure alert, steering assist function, lane centering function, all-speed dynamic radar cruise control and road sign assist.
The rear seats managed to fit an average sized adult but those of a lankier frame still may find it a bit cramped getting in and out. With the hybrid powertrain and fuel tank delete, the UX300e has more cargo space, 310L over the 268L found in the regular Limited.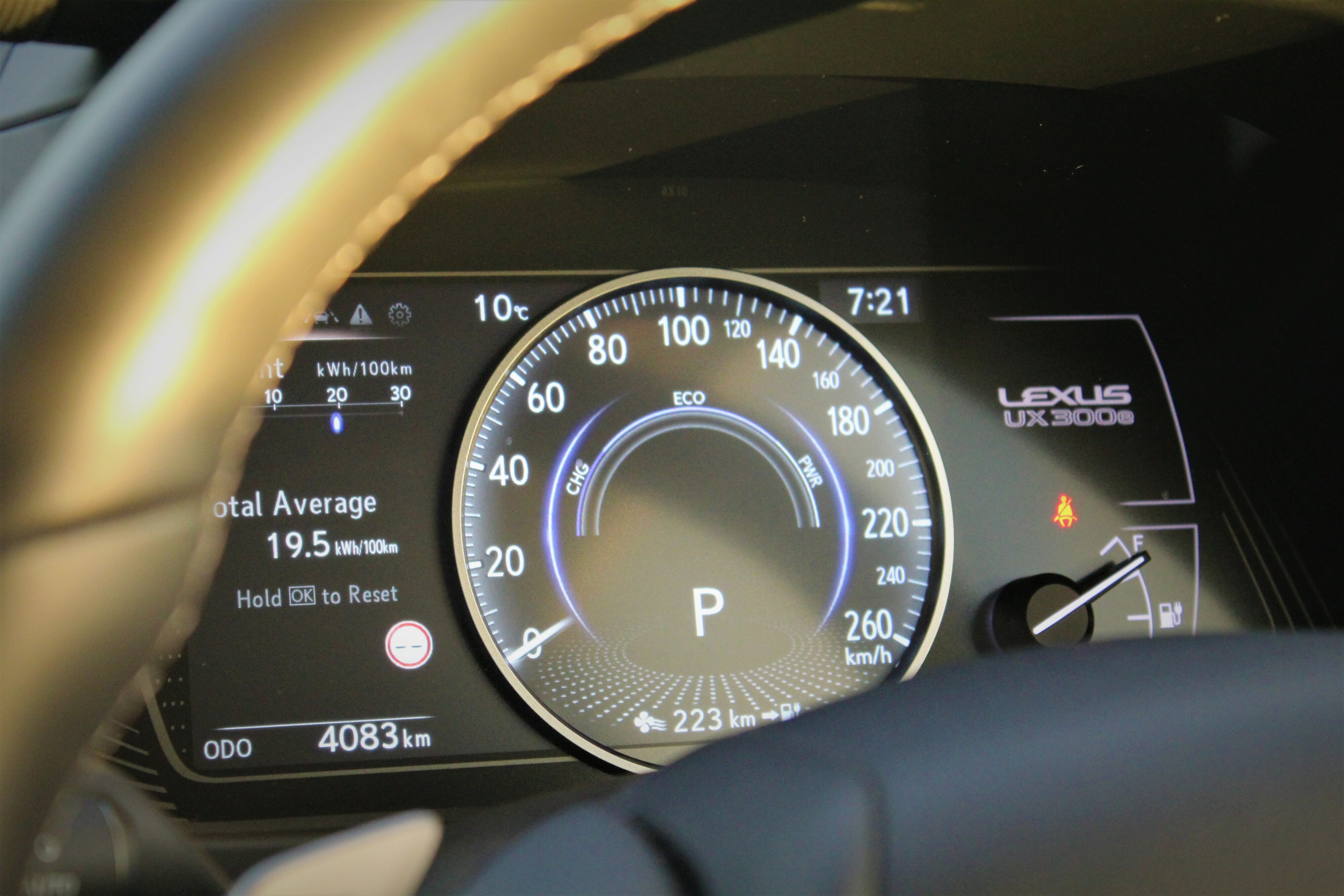 EV silent running is initiated the moment you press that blue starter button. The instrument cluster reads 300km left of charge. However, turn on the aircon and this naturally drops by 30km or so. Therefore, if you really want to get the absolute maximum from a full charge, you may have to wear more layers if it's really cold out.
That said, even without the air con on, it feels pretty cosy regardless. You can also tailor the air-con to maximize efficiency if you drive with the seater heater on. Sitting low and slightly laid back. Its almost coupe like rather than SUV. Visibility is generally pretty good all around too.
Pull away and the UX is actually more engaging than you might think. In Normal drive mode it scoots along nicely but switch to Sport via the toggle switch fixed to the instrument pod and the change is immediate. It gets along very well with just the right amount of oomph needed to get up to speed or, dare I say it, have some fun.
When it comes to bringing things to a stop, you must feather the brake pedal as those brakes are sensitive to a firm shoe and bring you to a stop quicker than you may think. However, you also have the three stages of regenerative braking on hand. Flick up and down on the shift paddles to switch it on or off. You can also flick that short throw gear lever, which bears a striking resemblance to the shifter found in the LC500 sports car, backwards into B mode for the ultimate in energy regeneration.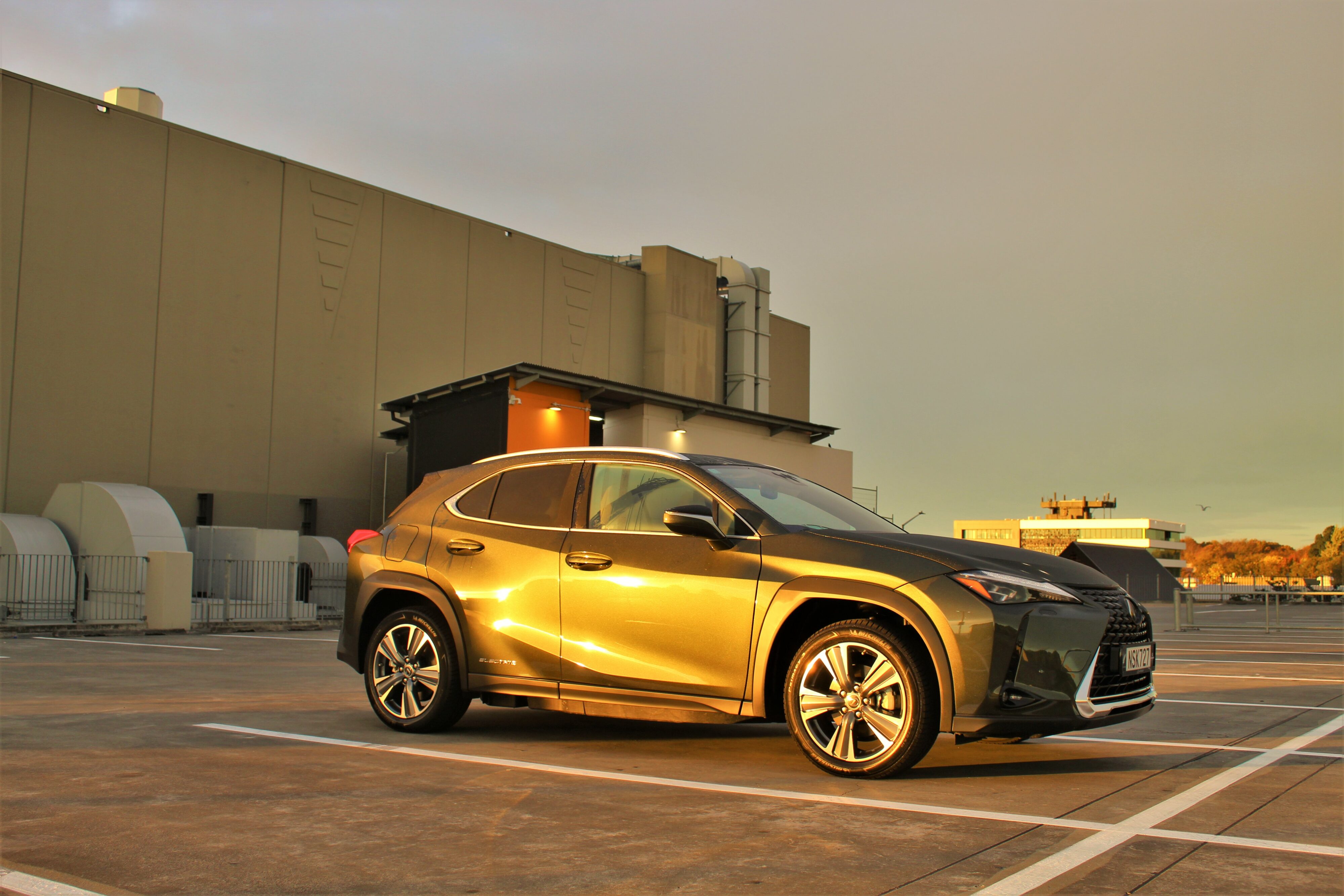 Pretty soon you realise the UX300e sports a comfortable ride. Despite its somewhat lower stance there is plenty of travel in those springs while still retaining a sporty-ish feel. The fact that Yamaha were brought in to fine tune the springs and dampers might have something to do with it.
These tweaks underneath also mean the UX300e holds its own in the corners. Everything feels nicely weighted and balanced, despite a kerb weight of 1840kg. You do get 20mm or so less ground clearance than the UX250h but your average UX buyer won't be roughing it will they?
The range of 300km may deter some. The UX300e is angled more towards urban commuting with the odd day trip outside city limits. When you do have that day trip however, your premium surroundings are sure to make it a bit more of an occasion.
Despite the above average range, the fiddly touchpad and feeling somewhat behind others in this ever-growing segment when it comes to charging capability, the Lexus UX300e is still a solid first effort for the brand.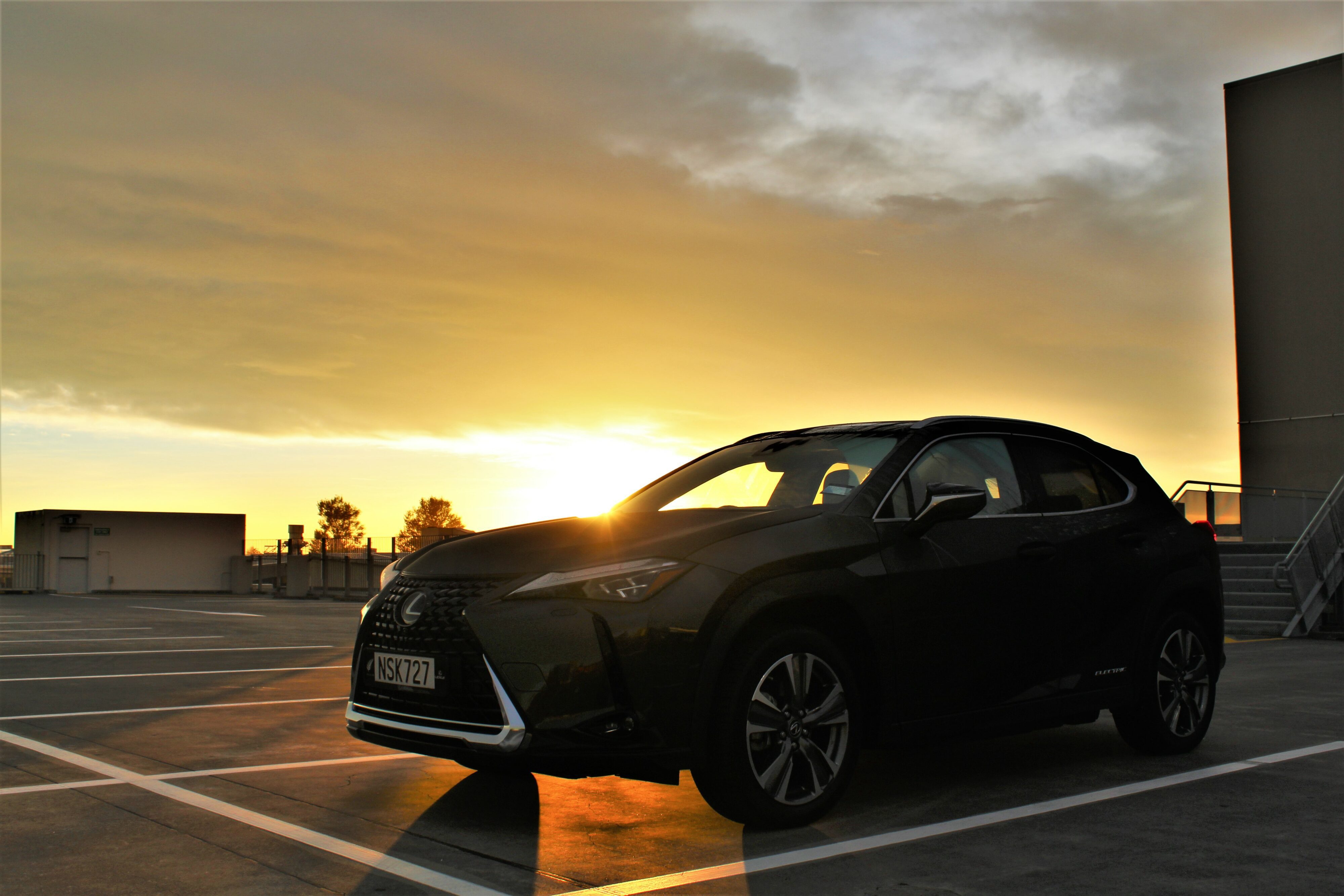 It has been a long time coming but the dawn of the BEV era at Lexus has begun and the UX300e, with its premium feel and decent driving dynamics makes for a well-rounded way of getting the ball rolling.
RATING: 7.5/10