As the automotive world moves towards becoming electrically powered, ute-eating truck maker RAM has just released 'the fastest, most powerful mass produced truck in the world'. With a supercharged-HEMI V8 under the bonnet, the RAM 1500 TRX is bold, obnoxious, jurassic and yet brilliant – and thanks to RAM NZ, we tried to tame it.
On the face of it, adding a supercharger to a V8 HEMI that already produces 291kW and 556Nm would seem unnecessary, but 'necessary' has nothing to do with this. What RAM has done is produce a lust-worthy statement that's out to conquer whatever terrain it rides on.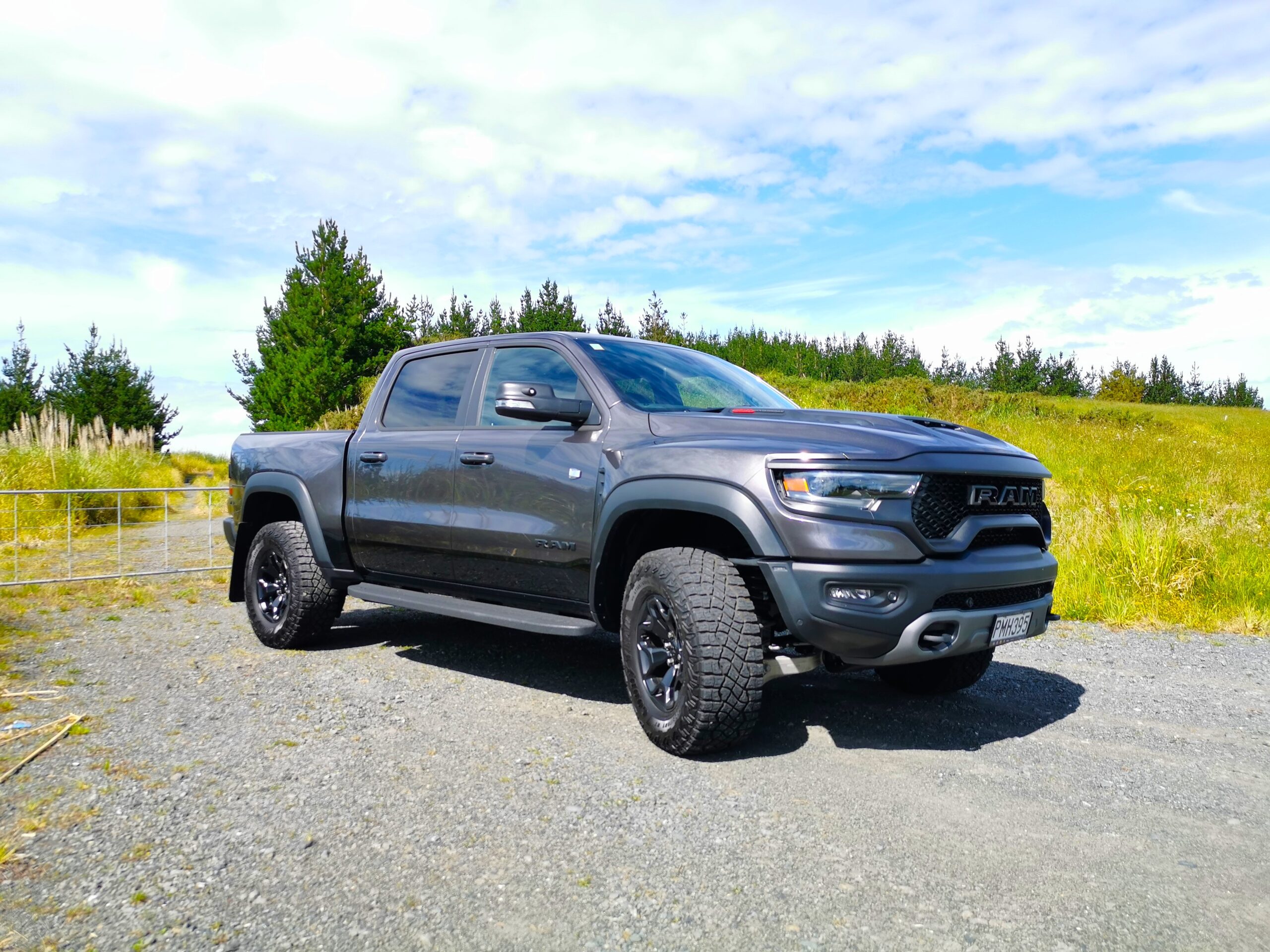 Firstly let's talk about the power, it's epic. The RAM 1500 TRX boasts a segment-leading, SRT-developed 6.2L Supercharged HEMI V8 that almost doubles the 'regular' 1500's power to 523kW and adds an extra 326Nm of torque to create a whopping 882Nm. To put that into perspective, that's like having four RAV4's under the bonnet!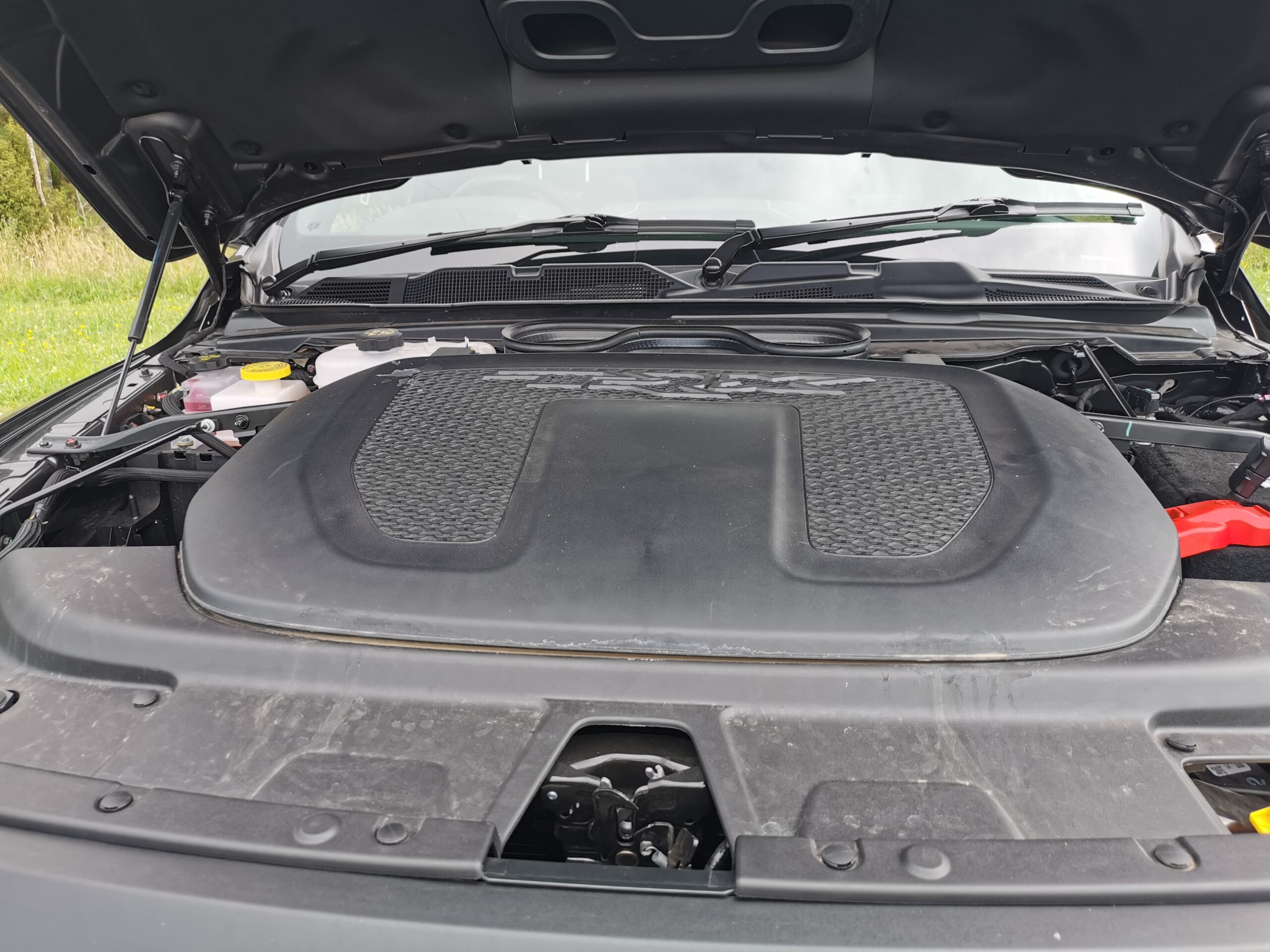 The beast of an engine is strapped to a performance-proven TorqueFlight 8-speed auto transmission that together offer a 0-100km/h time of 4.5 seconds, a top speed of 190km/h, launch control, 8 drive modes, a 'wet your pants' exhaust note and a supercharger whine that would put an Englishman to shame (of course I can say that with personal experience).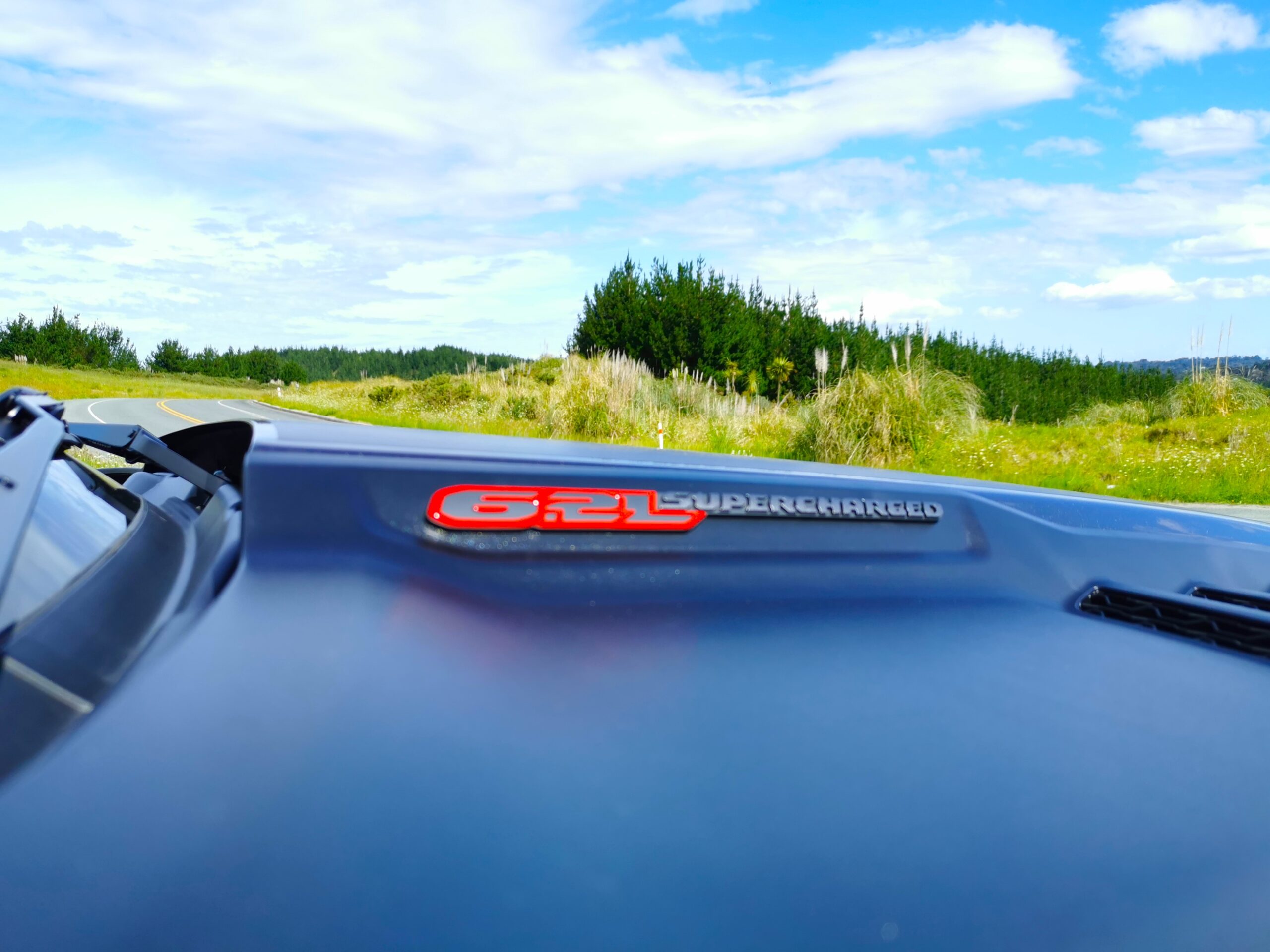 But it's not all about the power though (although that is a huge part), there's the airflow that feeds the supercharger, the suspension, the premium feel and overall design that have all been enhanced in the TRX too.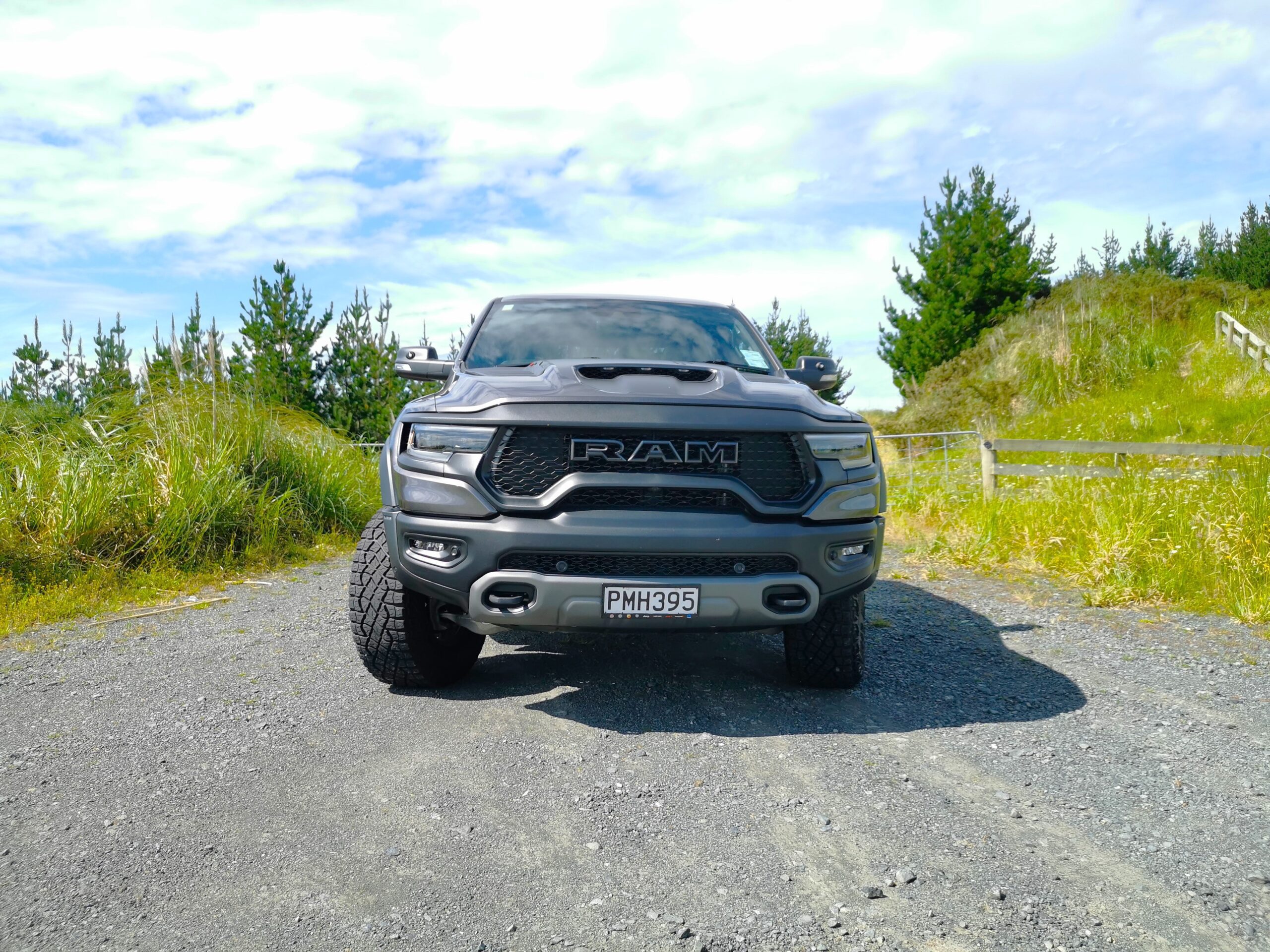 RAM calls it a dual-path air induction system, where 50% of the supercharger's oxygen is gulped down through the modified RAM grille and the other 50% comes through the performance-bonnet's air scoop, which also comes with a few LEDs to help grab your attention.
The TRX shares design features with their rugged desert-racing trucks with eye-catching elements such as a matte, powder coated bumper, front skid plate, composite flared arches, and of course, TRX badging and decals.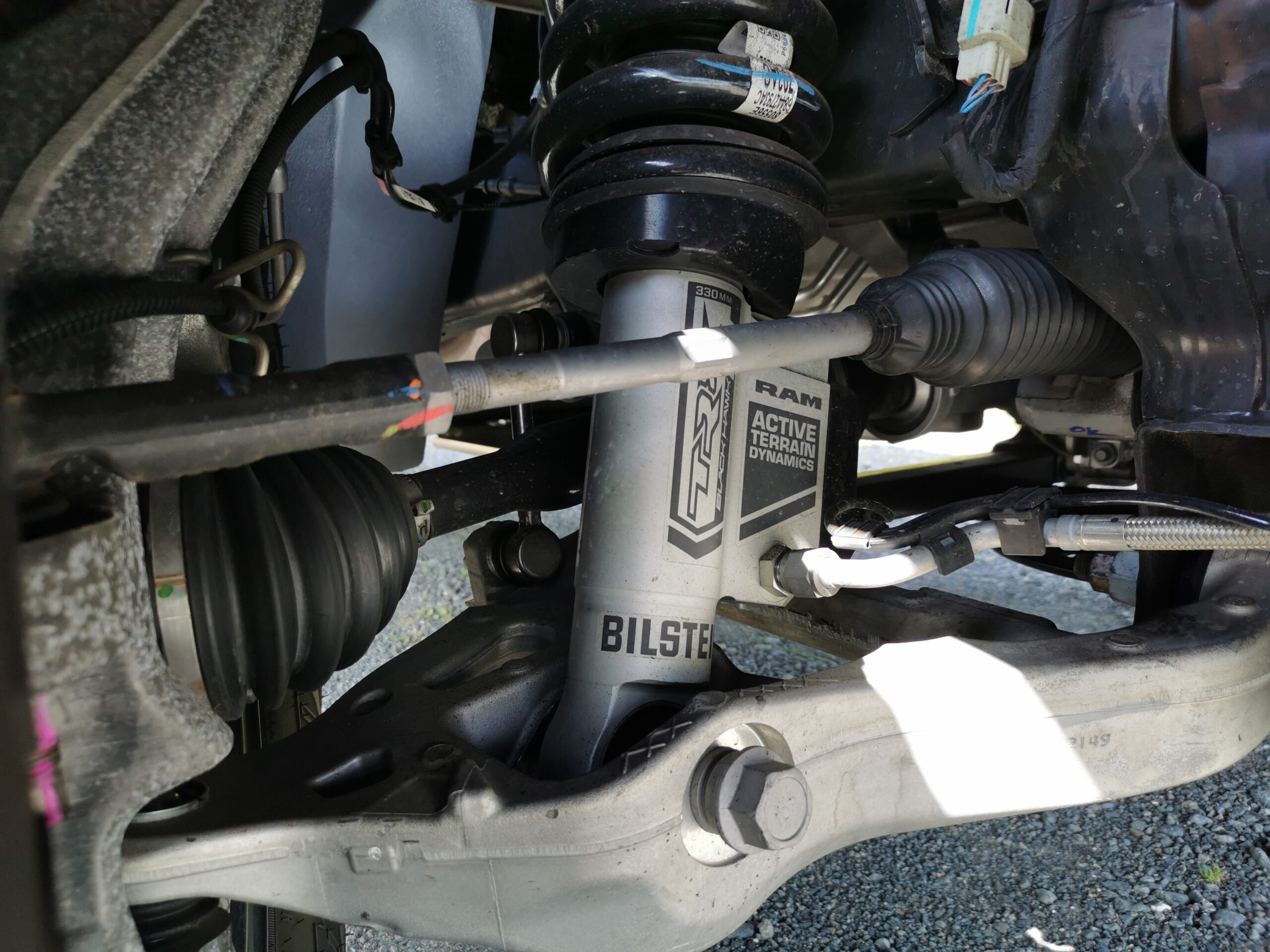 To underline its all-terrain conquering status, the RAM TRX has a wider track and been fitted with exclusive Bilstein Black hawk e2 performance shocks (I'll leave you to look them up) which are then effectively connected to massive 35-inch Goodyear Wrangler Territory tyres and therefore creating a ground clearance of 295mm – take that speed bumps!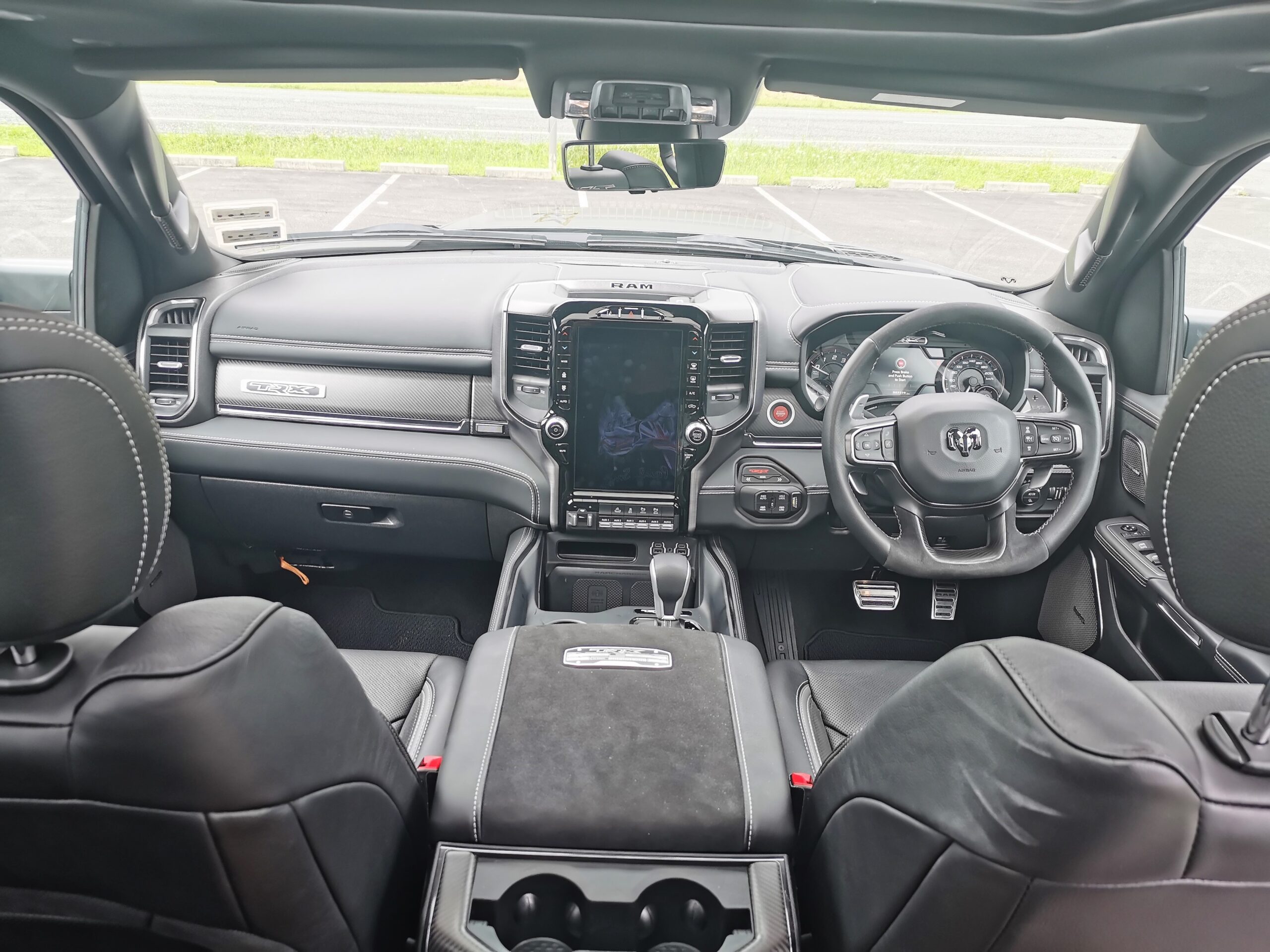 The interior hasn't gone untouched either, the seats are leather and suede-trimmed with four of the five seats being heated and ventilated. The trim is premium, with carbon fibre accents and exclusive TRX plates and badges are there for all to see. The steering wheel is flat bottomed in true SRT signature style and for the first time in a RAM, gear-selection paddles sit behind it.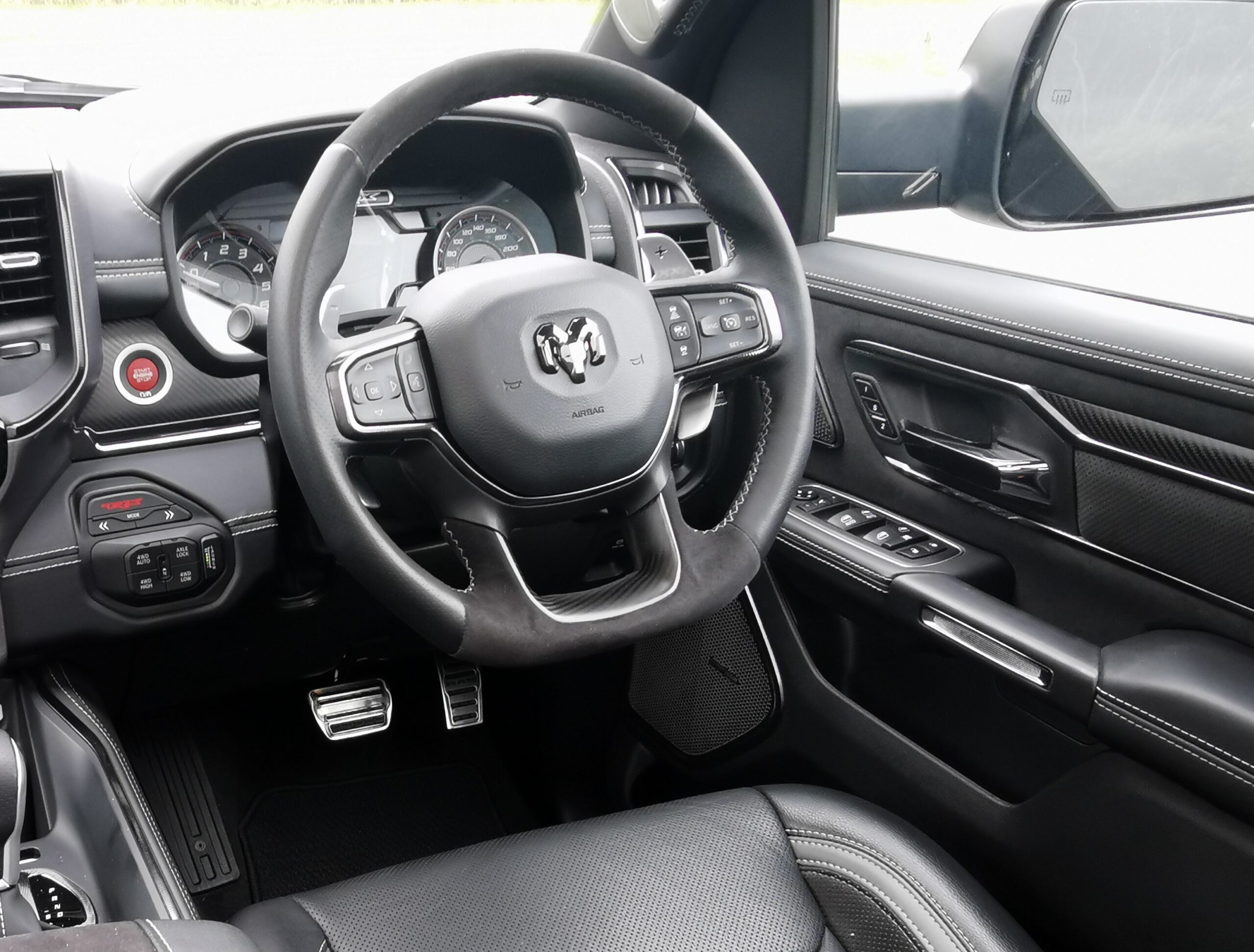 As with the latest RAM 1500, the Uconnect system comes to you via a 12-inch touchscreen, however, the TRX comes with the addition of performance pages to ensure you know what and how your high-performance truck is operating and a 900-watt Harman Kardon sound system should you wish to try and drown out the vehicle's awesome soundtrack (as if).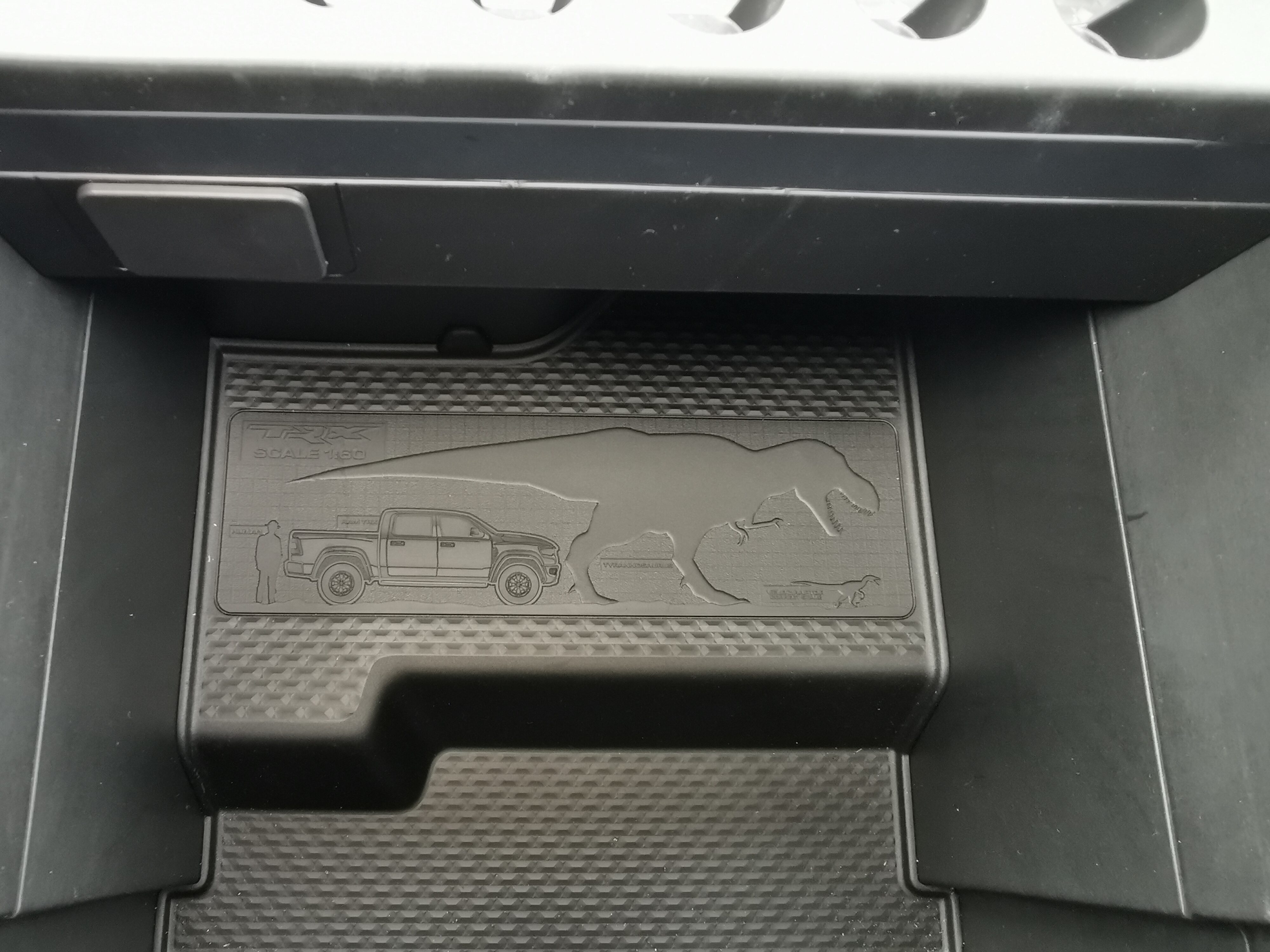 Taking to the Auckland roads in such a mammoth truck is one thing, but taking to Auckland roads in unrelenting rain is another thing altogether, and to say I was a little apprehensive at first would be an understatement, but it doesn't take long to (semi) get to grips with. Yes it's overall size and power is formidable, but unless you are stamping on its throttle, it delivers its potential fury in a respectable manner. In fact, once comfortable, you (I) began to really enjoy both its whine and supportive V8 grumble – oddly, it's a combination I don't enjoy from the family.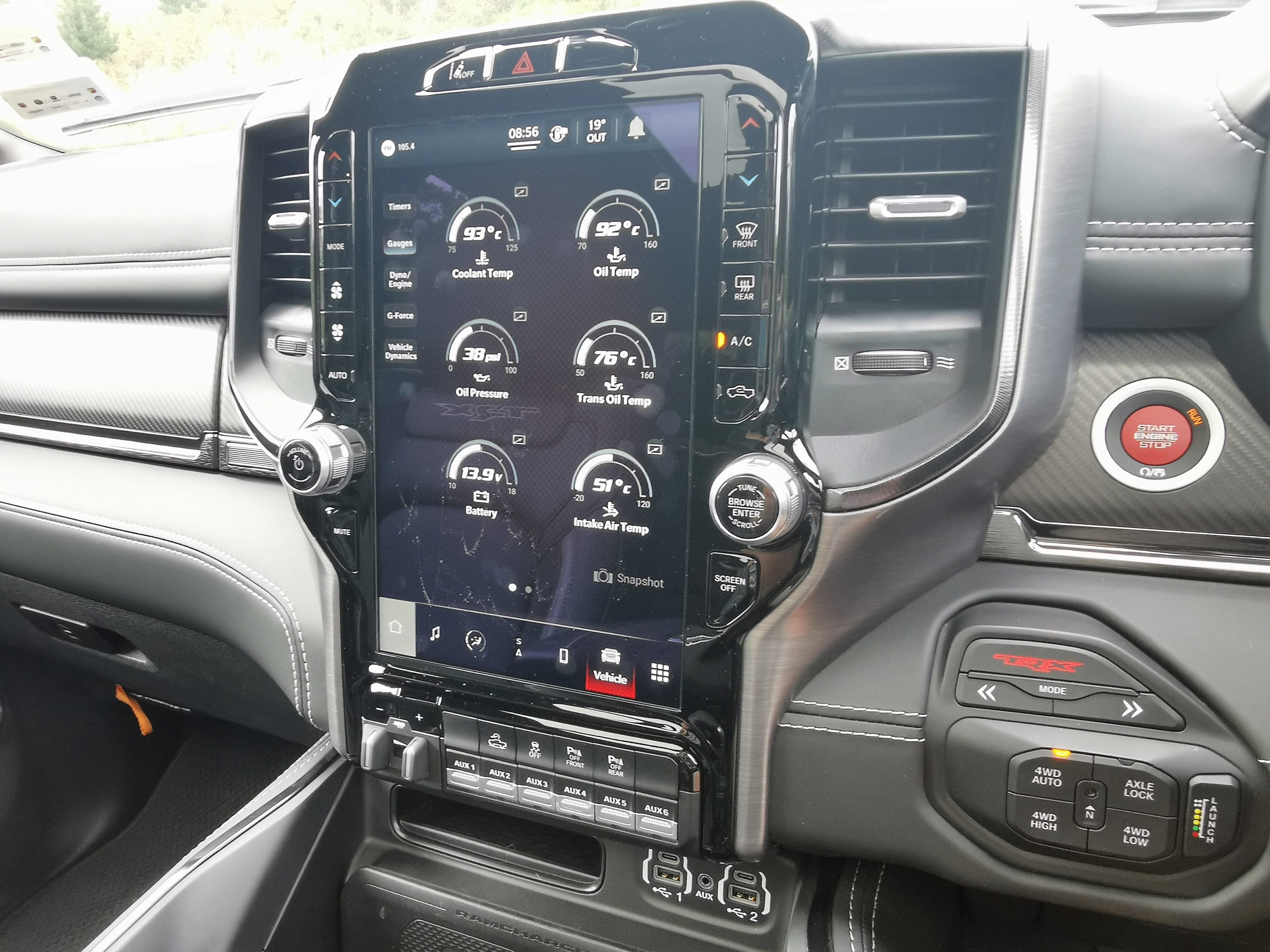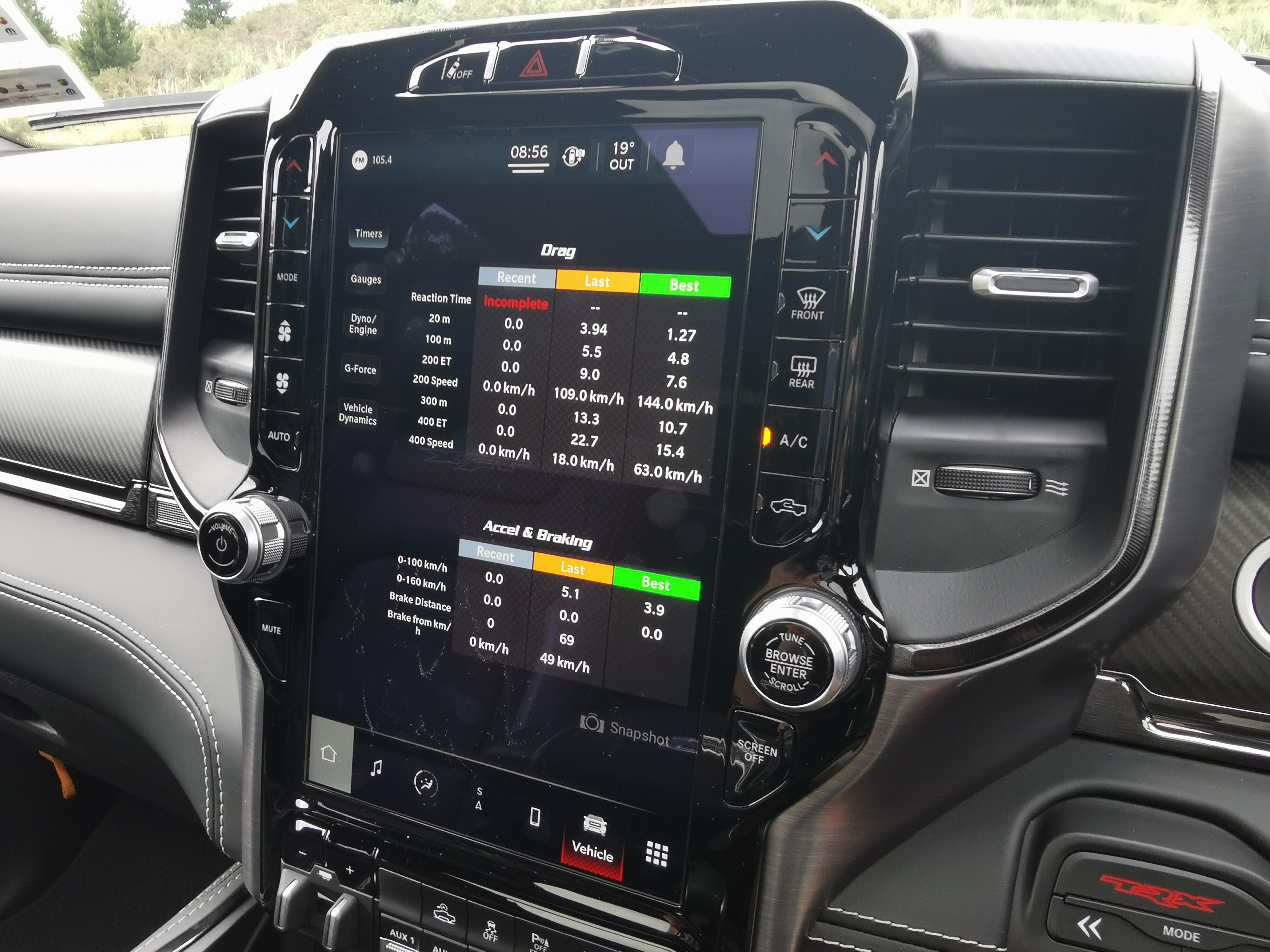 Around town (or on SH1 not under heavy throttle), the TRX goes about its business with the rev needle low and the engine often working on reduced cylinders, I won't for one moment claim that it sips fuel, but the fuel gauge doesn't shock, however, when the opportunity(s) arose to test out both the 0-100 time and unleash hell, believe me I took them.
Down beside your knee is the drive mode selector where you can toggle through (Sport, Tow, Snow, Auto, Custom, Mud/Sand, Rock and Baja) each of them alter the likes of steering, transmission and acceleration inputs. There is also a TRX button that acts as a shortcut to your favourite configuration set up and last but not least, a launch control button for use at those times that you need to get up to 100km/h as quickly as possible – in other words, most of the time.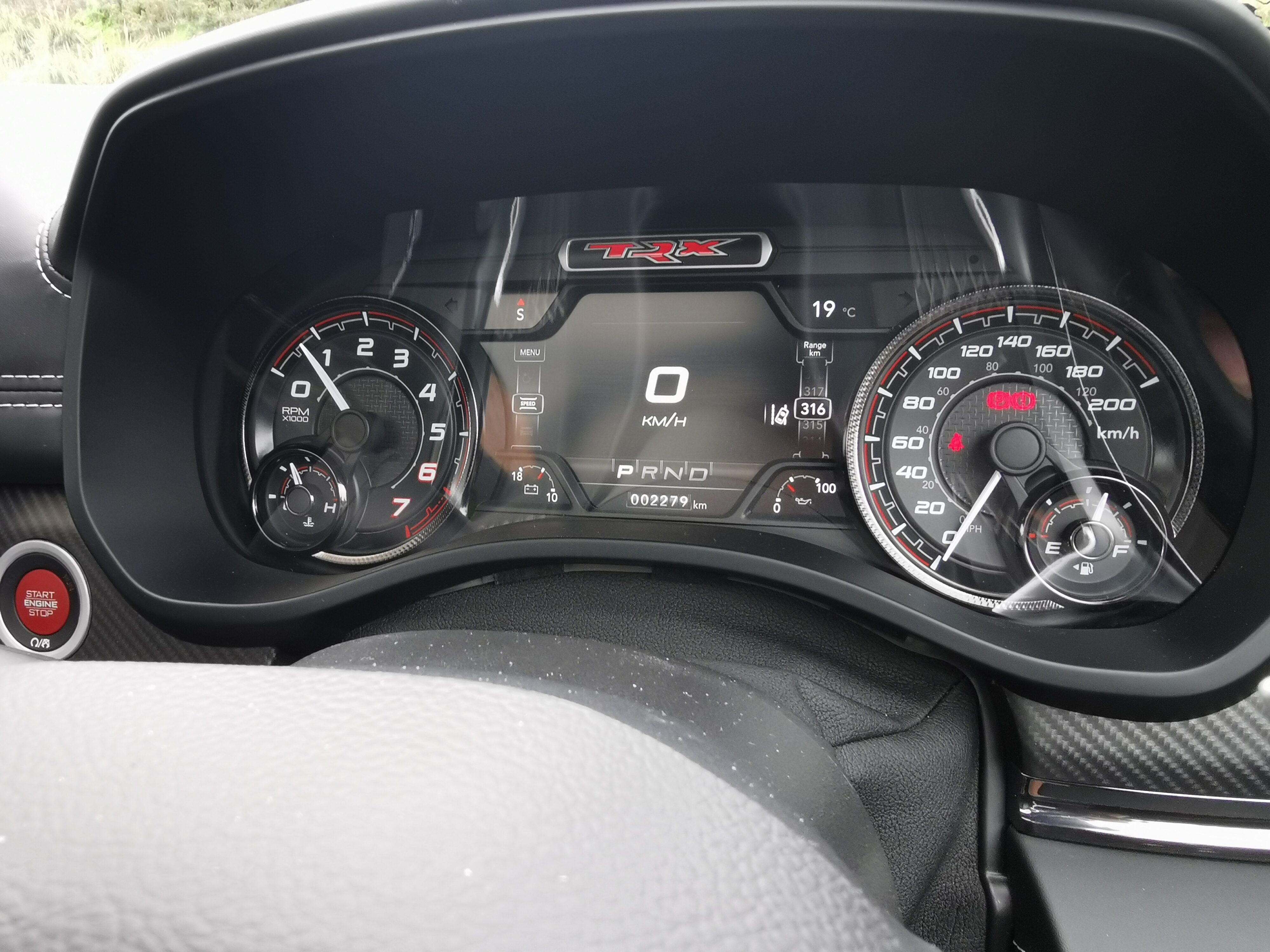 I have to admit that during my time behind the wheel of the RAM TRX I drove poorly (what's new right?). I raced off the line as many times as possible, used the paddles to ensure that the revs stayed well north of where they would prefer (making sure that the engine and exhaust note sang) and took corners at 'non recommended' speeds. Despite its size and weight, the TRX shafts its mass at ridiculous speeds and actually takes bends with a kind of cumbersome ease (I know that doesn't make sense but the TRX is far more secure than you feel it should be). There is a little play in the steering, maybe due to those huge wheels. The speedo needle is quick to rise but it's also (thankfully) quick to drop too, with the TRX boasting class-leading brakes.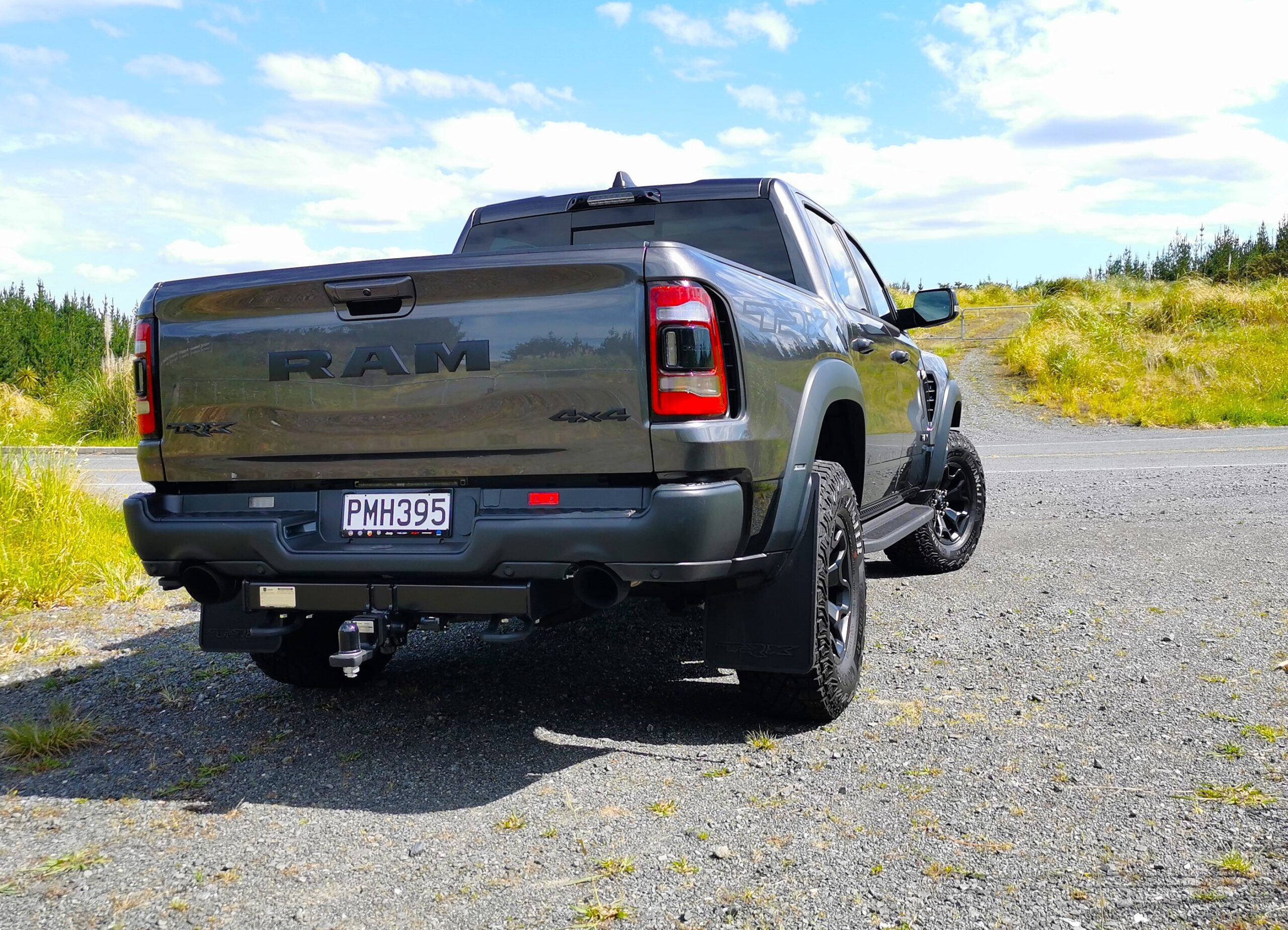 Make no mistake this is a big truck and takes a fair amount of concentration when heading into tighter spaces, but the joy it brings is just as immense. It turns heads virtually wherever it goes and as I found out (after several 10-15 minute conversions with 'knowledgeable' people) has already gained a bit of a local fan base. It's a rambunctious and at times ridiculous RAM, but damn it's most excellent too.