Over recent years, despite being 'rather substantial' when it comes to NZ's narrow roads, RAM (the truck that 'eats utes for breakfast') trucks have actually become quite a regular sight on our highways and byways. They are obviously easy to spot due to their size and chrome grilles, and that they are probably towing something of equal girth, however, there's a new model in town that may have slipped by unnoticed. The 2022 RAM Limited boasts 'stealth' looks and a massive leap in cabin refinement – and RAM NZ let us try it out.
To get one thing out of the way up front. Thanks to it detouring to Australia to be professionally (with the manufacturers blessing) converted to right hand drive, in terms of RAM model years, we play a bit of catch up here in little ol' NZ which means that the 2022 model is the 2020/1. BUT don't think that it's lagging in up to the minute features in any way, shape or form. Believe me, for those that have crawled over the impressive previous model, you will be delighted with what's now on offer.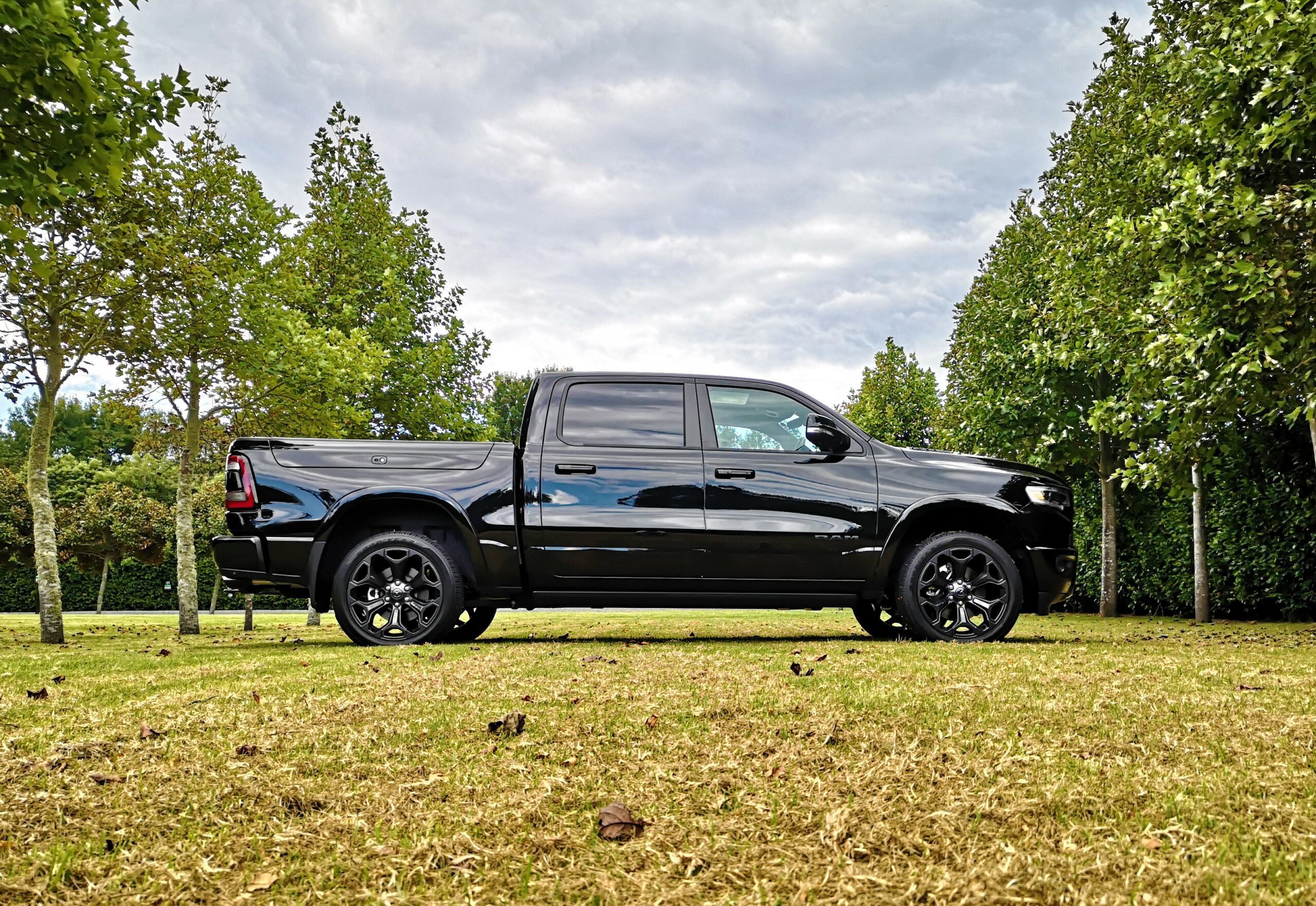 The 'walkaround' takes a little longer than before as this new RAM 1500's exterior dimensions have increased to 5.97L (+27mm) x 2.47W (+447mm), but easier for those basketball players out there, as it's now 1.97m tall (-44mm). Personally, I appreciate the extra width, but I'll get to that soon.
The overall body style remains truck/ute like but now, thanks to some clever smoothing out and wind redirection, it slips through the air with a drag coefficient of 0.357 – so equal to a mountain bike rider (but this is way more fun).
Gone is the chrome bling on the nose, replaced with a blackened out 'stealth' grille (with active grille shutters) and black air vents down on the lower valance. It's profile now comes with electric auto deploy side steps that flick out when you open the door, like rolling out the red carpet – although they're black not red.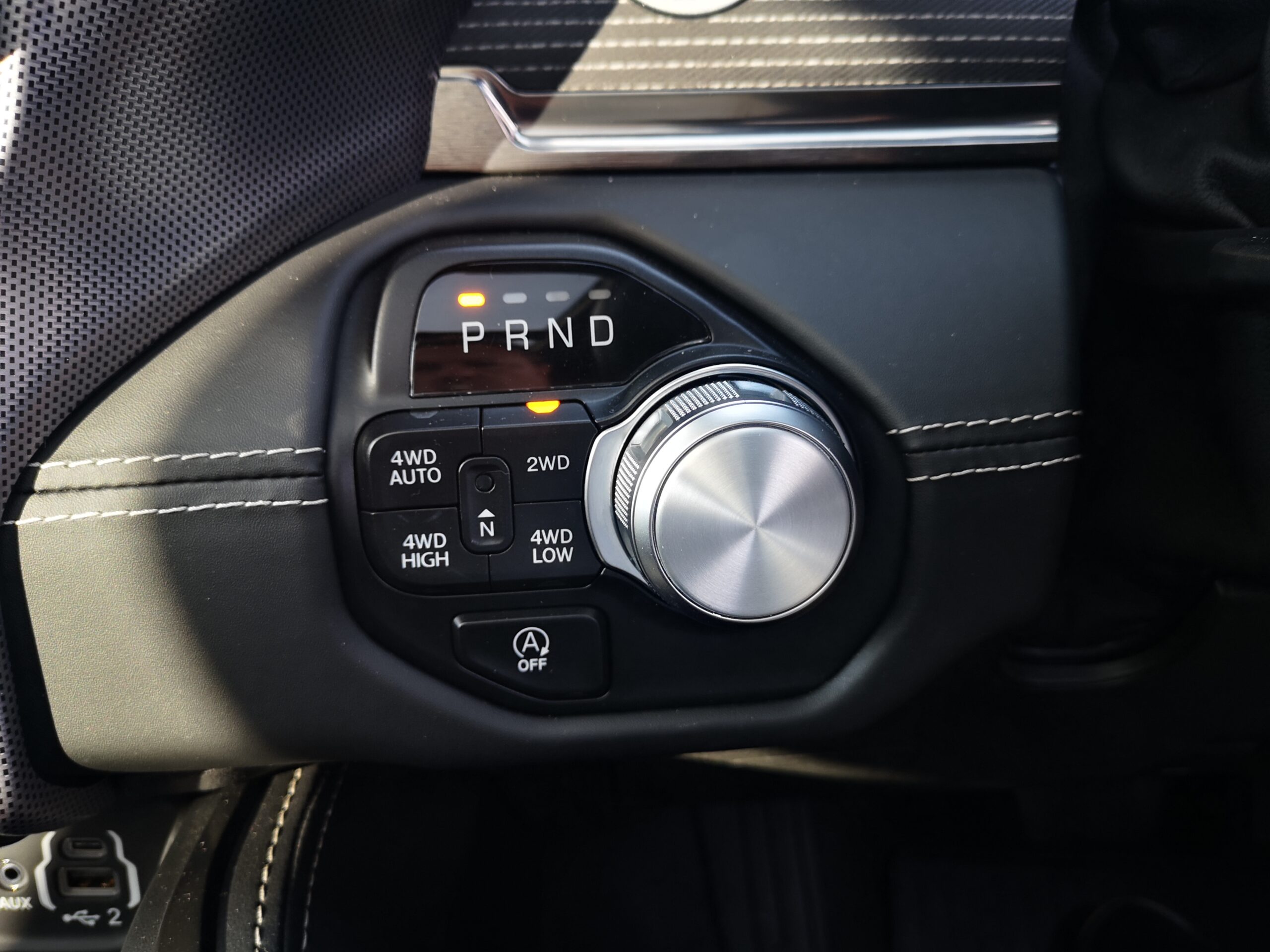 The rear features a 5'7" bed, flat bed that is, which is about the same size as a double bed, and Ramboxes each side for those smaller items, they're drainable too so can be filled with ice for beverages. And the tailgate can now be opened using the keyfob.
On the subject of its keyfob it's very multi-purpose, you can start the engine, open the tailgate and even lower the suspension making it easier to load.
Under the bonnet lies a 5.7L V8 Hemi (291kW/556Nm) which may seem like a bit of middle finger to the environment and a shocker at the pumps, but thanks to its eTorque system which offers longer '4 cylinder only' stretches and 48v mild-hybrid system that stops and starts engine (+12kW of boost) whenever required, RAM are claiming that this new 1500 will do around 13L/100km which is pretty great for a truck that has class-leading tow rating of 4.5-tonnes – that's more pulling power than Brad Pitt! (although for the record, I only managed around 15L).
There's lots to talk about outside, but what's more evolved is the interior. A musky leather scent greets you upon entry and the surprises grow from there. The new RAM's dash, despite being a tad busy, has been completely modernised and upgraded, with a whopping 12-inch portrait style infotainment screen taking pride of place in the middle. It's surrounded by buttons and dials, however, it doesn't take long to know how to navigate around the functions and there's a one button 'home menu' button should you venture too far off the beaten track.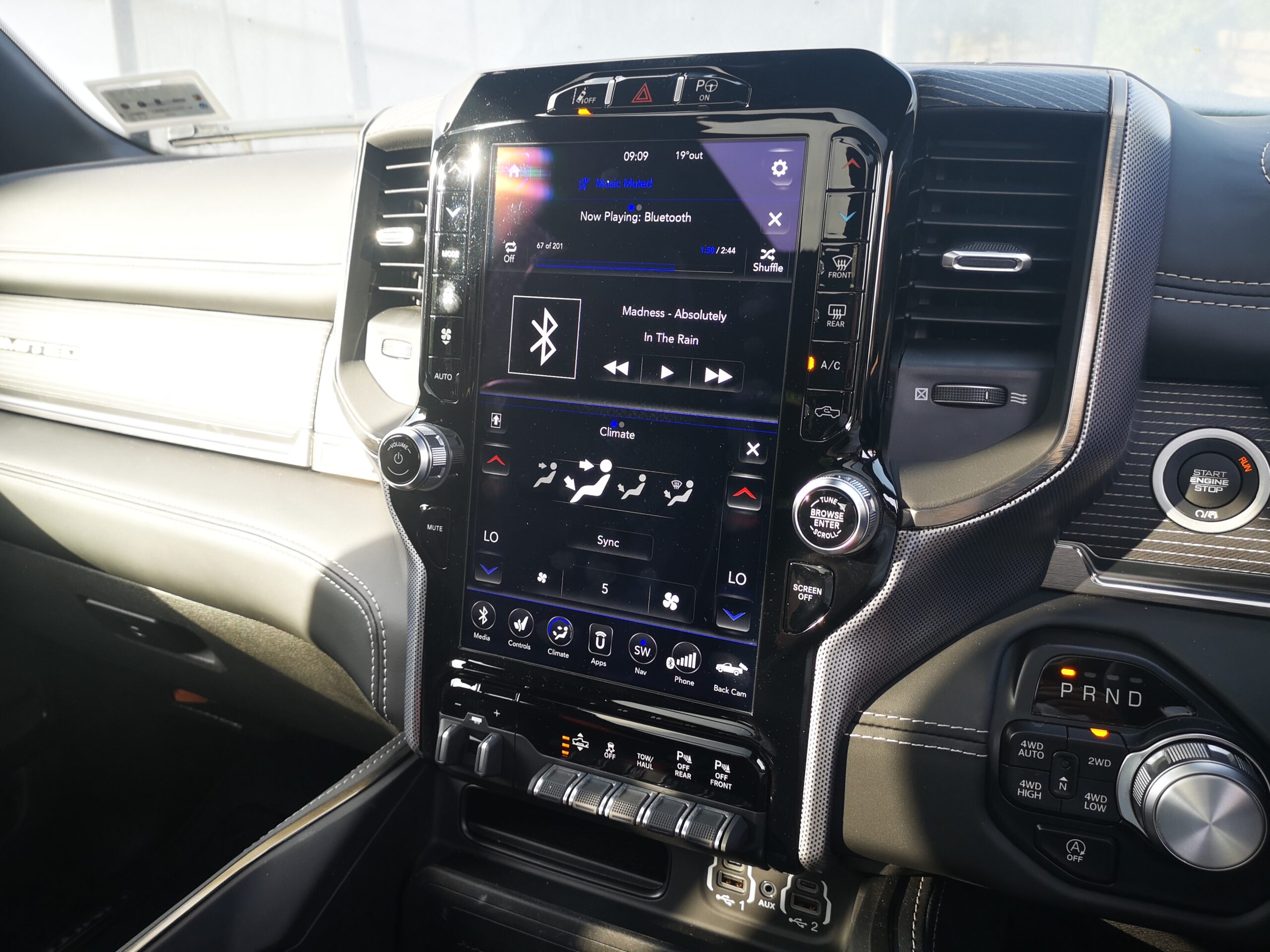 The Uconnect platform is faster than before and responds well to both Apple and Android, Navigation is good and the Harman Kardon Stereo in an 'ear-bleeding' 900w, or is that whats? with 19 speakers littered around the cabin.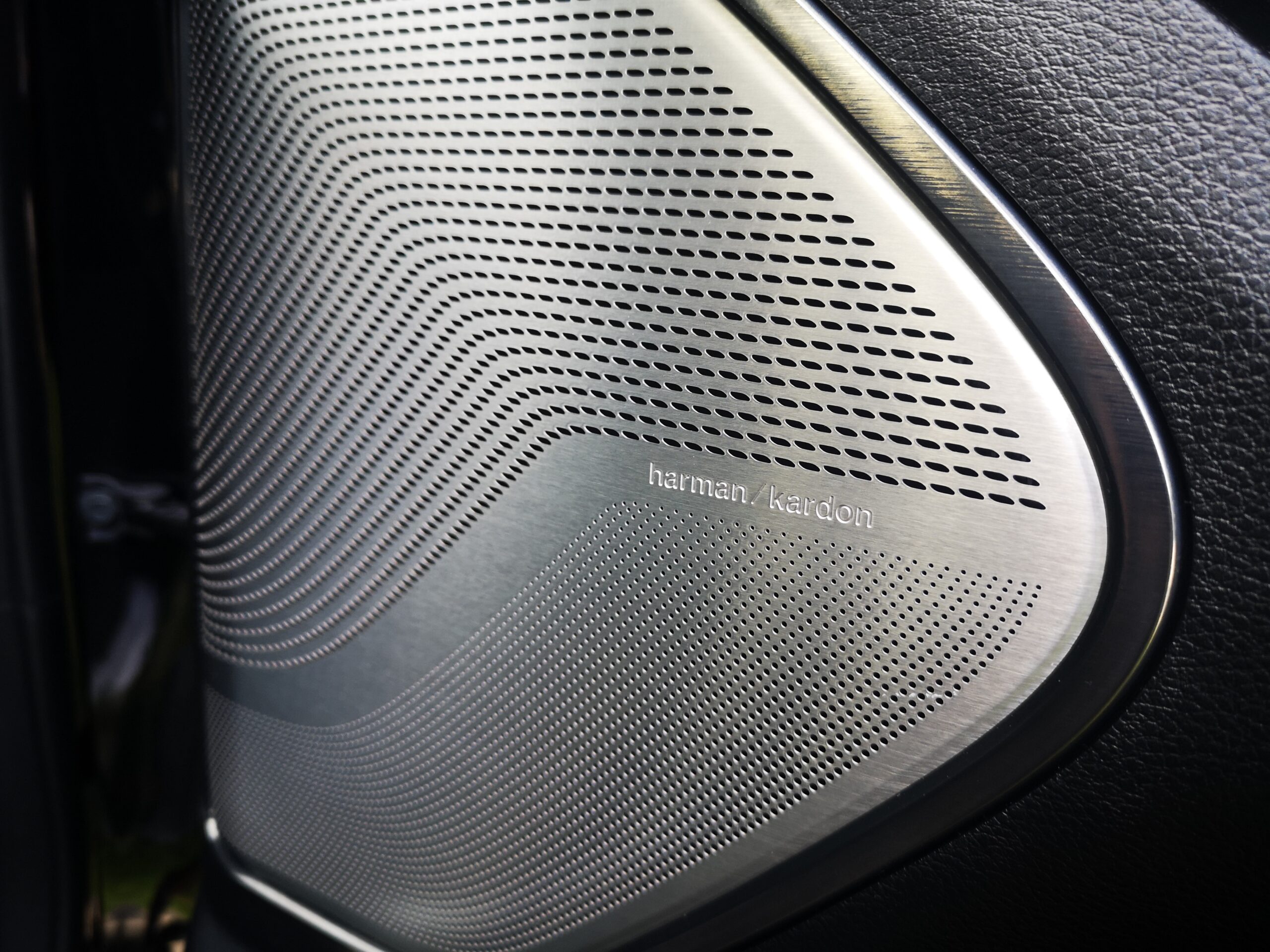 The cabin itself has grown, with an additional 80mm of room to play with and for those in the rear 1147mm of legroom. Thanks to active noise cancelling, acoustic glass and upgraded materials, it's been made quieter too, so with the stereo off it's only 67.1db, not enough to raise a librarian's eyebrows.
The new RAM 1500 may be big but it's very polite on the road. The stronger chassis, smart shocks, progressive-rate rear springs and four corner air suspension combine to make this truck ride freely regardless of the terrain below or what you have loaded in the bed. It's self levelling too, so if you're sitting up higher for rugged off-road surfaces, the RAM will automatically hunker down lower when you head down the highway at 100km/h.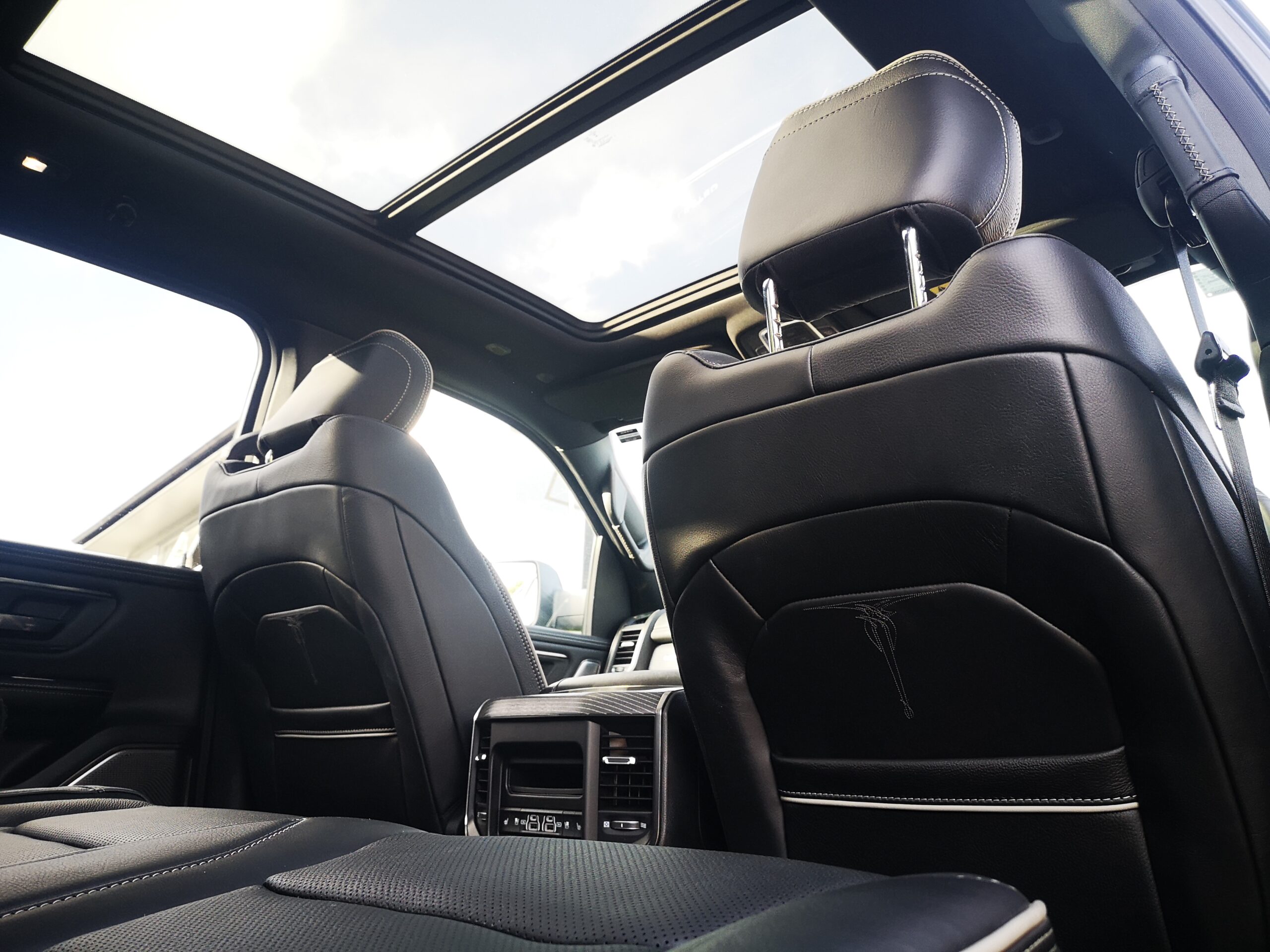 Ok, so as a family ute the new RAM is probably a bit overkill. It will go anywhere you wish to take it and grab the attention of all while it's at it, but it does find mall parking a 'snug' fit and did take up most of my driveway. However, on the flipside, it does have the ability to assist in your parking chores and will fit in everything from a pram and three kids to their bikes, football gear and, well in fact their entire bedroom.
It's safe too, aside from being hard to miss and having a birds-eye view of the road ahead (and therefore an elevated sense of safety), it comes with crumple zones, side impact door beams, sensors throughout, multiple airbags, lane sense to keep you between the lines, forward collision warning, rear cross traffic detection, blind spot and trailer detection and cruise control AND adaptive cruise control – yes both.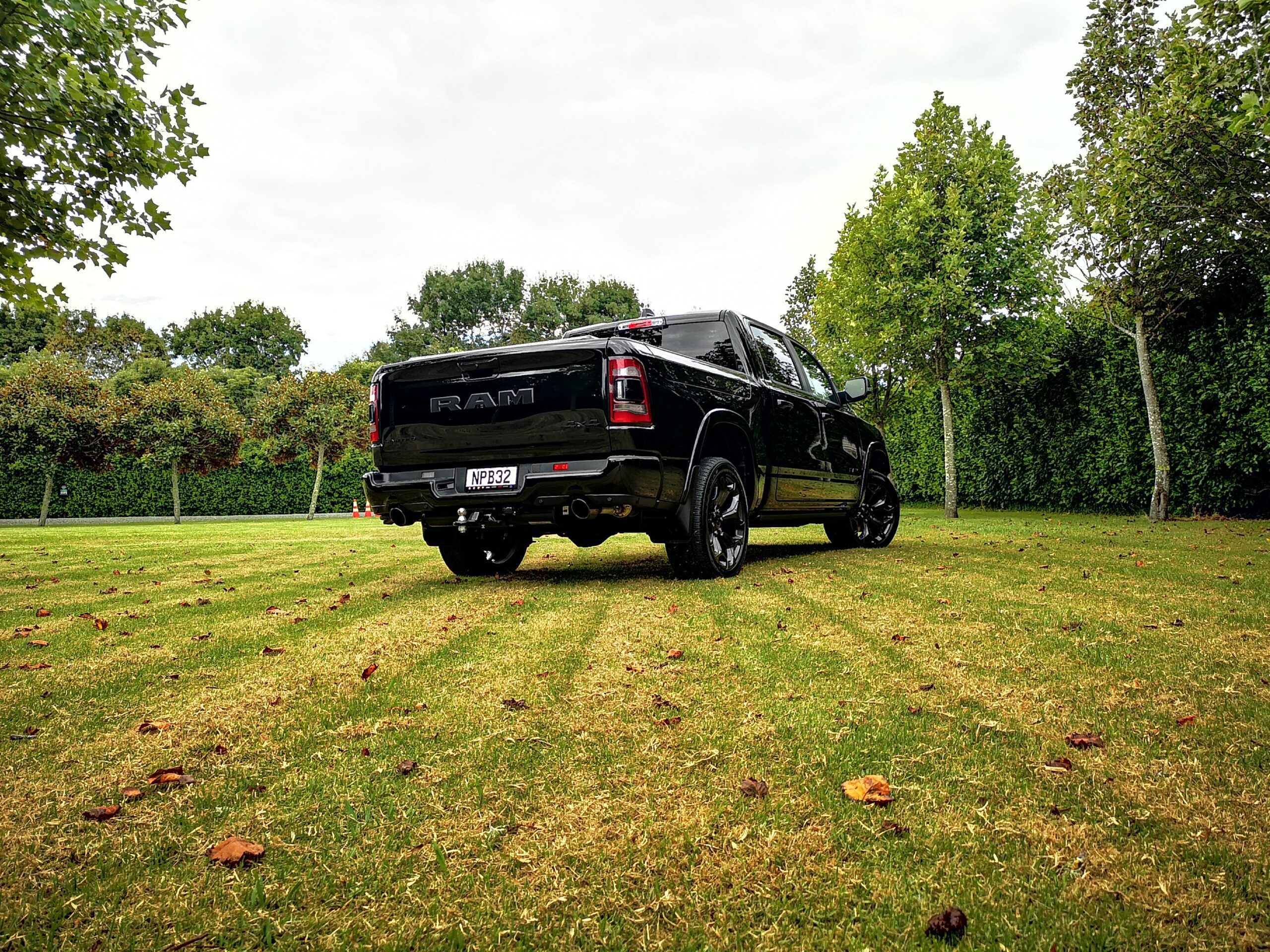 In all honesty, I liked the big and powerful previous model of the RAM 1500, but this new one takes things to a whole new level. It sits nicer on the road, is spacious to a fault and oozes opulence from its panoramic sunroof to its electric side steps – sure It may be too big for NZ parking spaces and have a thirst for fuel, but like me, I'm sure you'll find a way to justify it being on your driveway.