Subaru never attempts to play down its image as a brand with serious talent when venturing off the beaten path. Such is the case with their range, with just about every model in the family able to boldly go where few in their respective segments have gone before, or will go.
Look at the XV for instance. Since introduction in 2012, the XV has prevailed as one of Subaru's biggest sellers and its firm foothold in the SUV crossover segment cannot be understated. The combination of its symmetrical AWD, strong boxer engines and off-road tech has resulted in many XV owners have been able to have the best of both worlds. Commuting during the week and roughing it on the weekend, so to speak.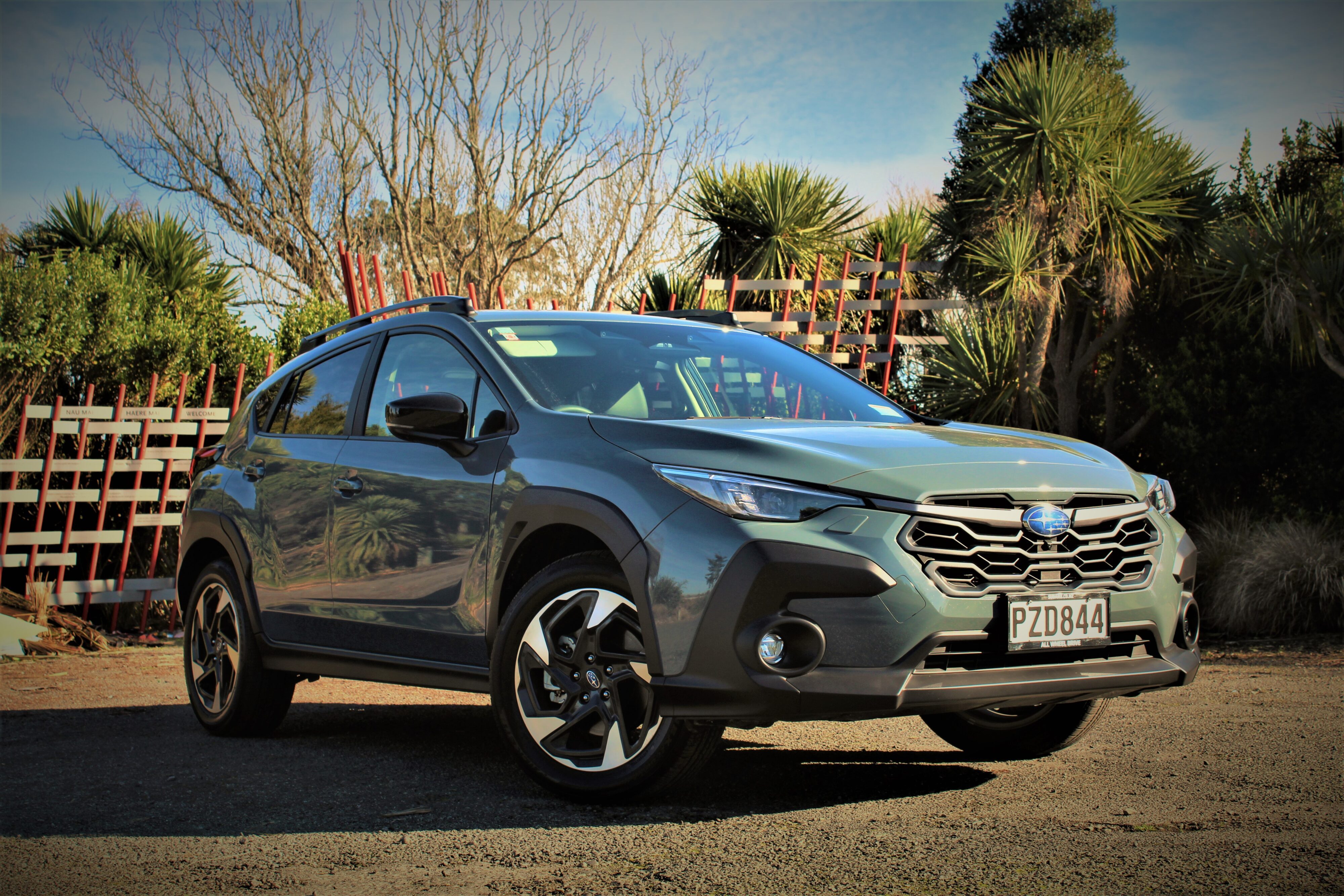 Now, the XV has entered into its third generation, except now it isn't an XV at all. Called the Crosstrek, Subaru claim it will give buyers that best of both worlds, striking the right balance between being everyday use and off-road capability. Though the inner geek in yours truly just thinks of the exploits of the Starship Enterprise every time I hear the name Cross-Trek.
The Crosstrek range is a three-tier lineup, with two hybrids and a petrol variant available. The family consists of the Crosstrek e-Boxer Hybrid at $46,990, the Crosstrek Premium at $48,990 and the flagship Crosstrek e-Boxer Hybrid Premium at $51,990. My test car was the middle child, that is the sole petrol offering and straight away you can tell things have changed over the XV.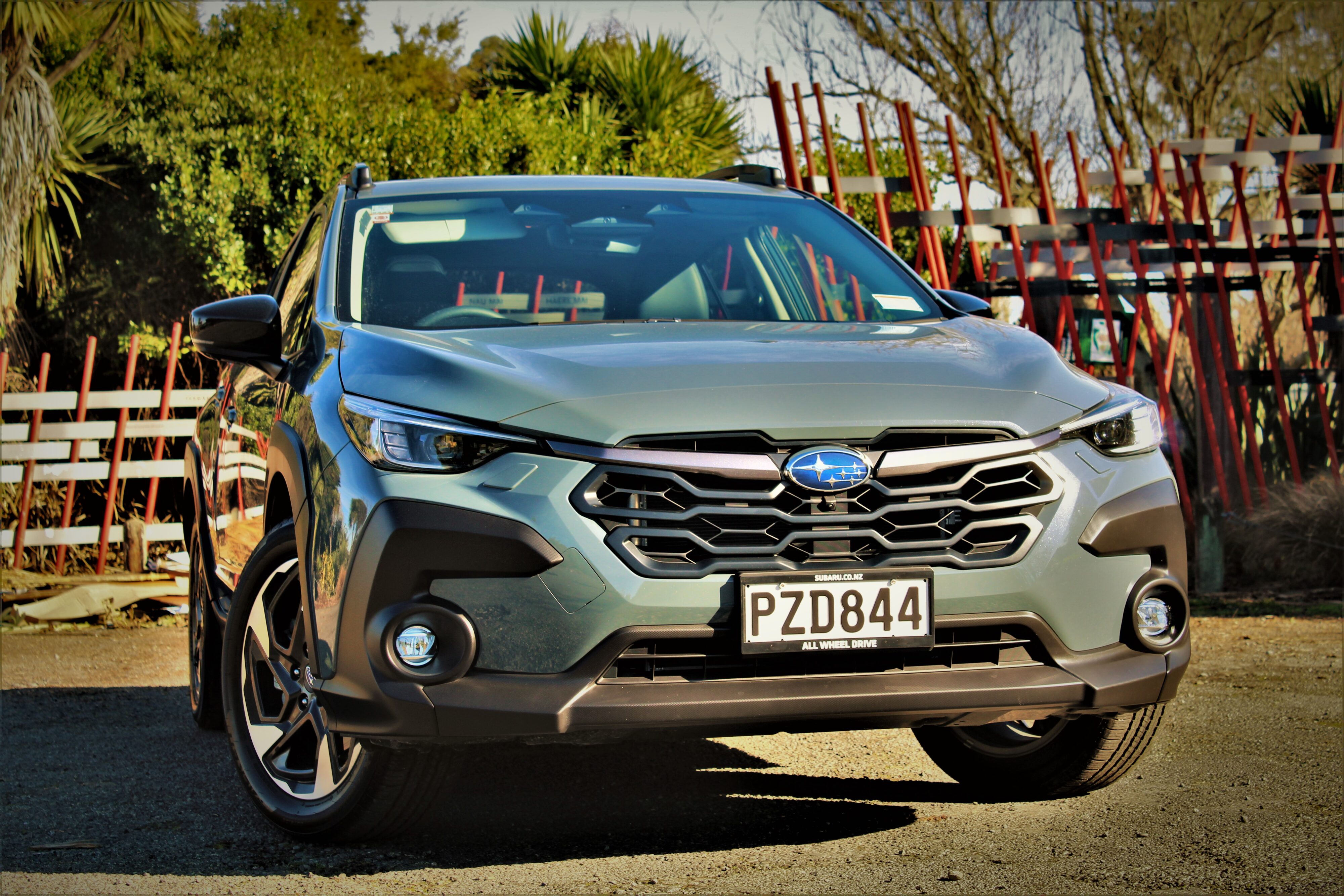 Despite sharing the same underpinnings as its XV predecessor, the Crosstrek incorporates plenty of new styling cues seen on the likes of the new Outback and WRX. Its LED headlights have been slimmed down and look more edgy than before and you have a revised front grill, new texture wheel arch cladding, a more chiselled looking front lip, a revised taillight cluster and new front C-shape accents which house a pair a set of additional lights.
You also get a quartet of 18-inch dark metallic alloys and a set of roof rails which have been reduced in height by 5mm over the XV to aid in aerodynamics. The chassis is also stiffer by 10 per cent and you have 220mm of ground clearance on tap.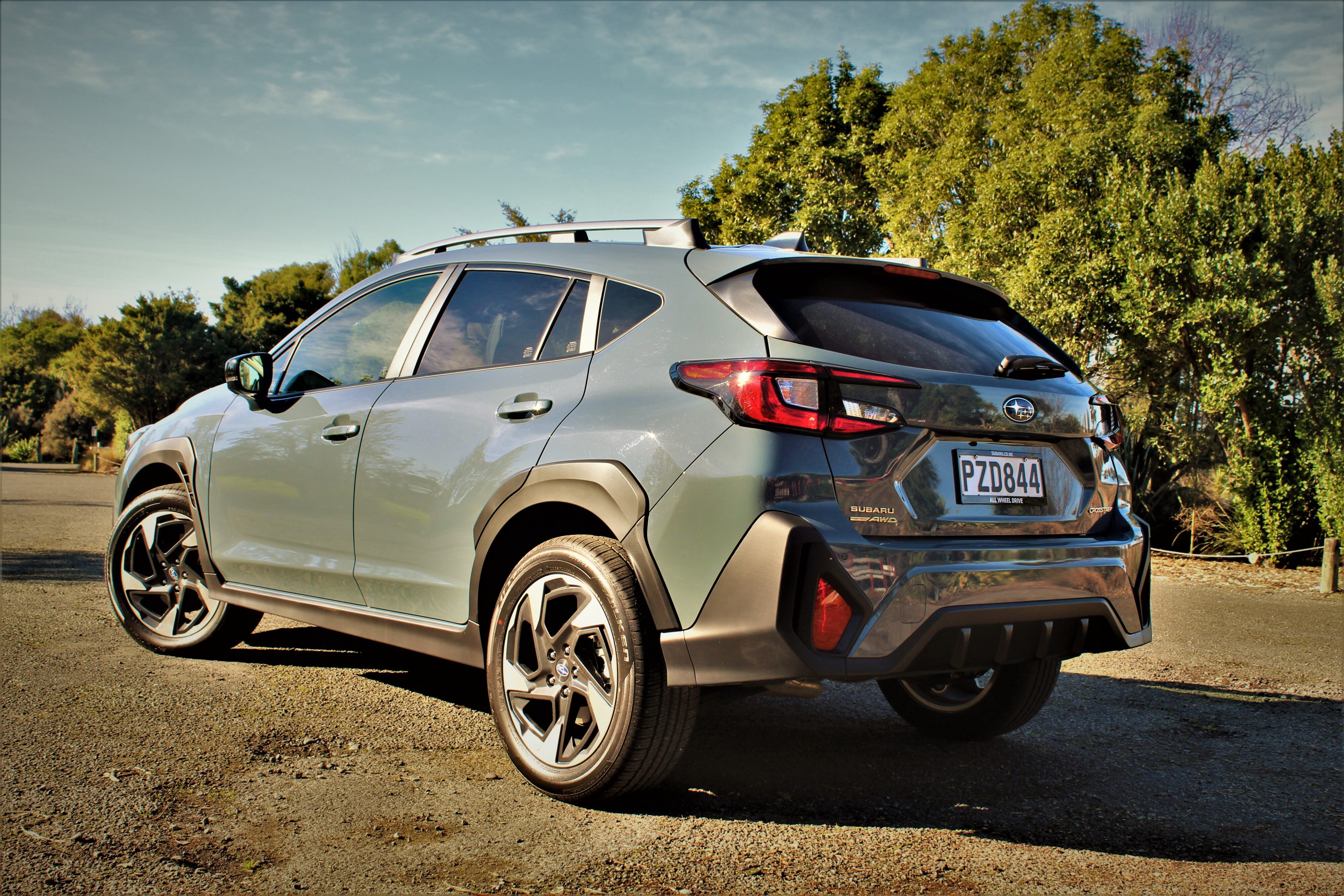 Under the bonnet sits Subaru's 2.0-litre four-cylinder boxer petrol engine mated to the latest generation eight speed Subaru Lineatronic Transmission (SLT). Power is rated at 115kW and torque at 196Nm. The petrol Crosstrek will also churn out 165g/km of CO2.
The tweaks continue inside too with the Crosstrek now sporting a host of new features. Chief of these at first glance is the 11.6-inch touchscreen infotainment system which is widely featured across the Subaru clan. It serves up sharp graphics and manages to be both responsive and concise. You get a whole host of features including wireless charging and Apple CarPlay/Android Auto as standard. You also get features like heated and ventilated seats for both driver and front passenger and a 10-speaker Harmon Kardon sound system, which is rather nice too I might add.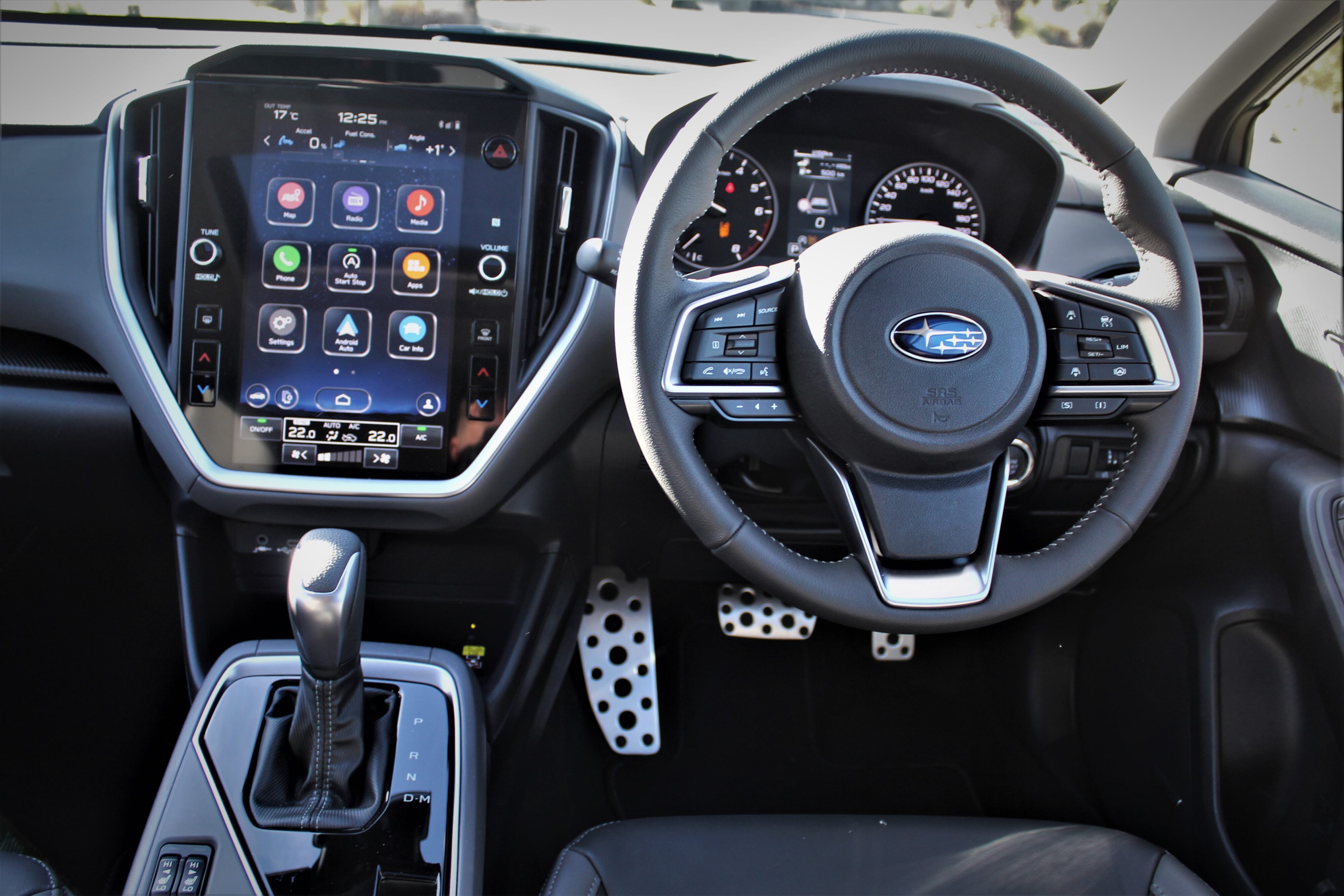 Now when it comes to safety, you are well covered. Subaru's latest generation Eyesight safety system makes a welcome return with the addition of new features. These included a new 360-degree camera, blind spot monitoring, lane keep assist, adaptive cruise control, autonomous emergency steering, pre collision braking, cameras for detecting unseen hazards at intersections, Subaru's Driver Monitoring System to remind you to keep you eyes on the road ahead, nine airbags and pedestrian and cyclist detection. There really is too much to list here.
Front and rear passenger access is easy and head and legroom is decent. Boot access is also wider by 3mm over the XV, but you only have 295L to play with which is disappointing.
Immediately one notices how well those 115kW are put to pavement via that asymmetrical AWD system. The Crosstrek isn't rapid but it pulls strongly and the SLT box is far more responsive and immediate with each shift than previous Subaru systems. It also features widened gear ratios so you can make the most of that aforementioned grunt. The petrol variant isn't all that frugal with a combined fuel figure of 7.2L/100km but thanks to the refinements in the engine and transmission, you can certainly make good progress.
Cycling between the two different drive modes, the strength of the boxer engine increases and the throttle response sharpens up nicely too. However, I spent most of my time out of Sport mode as, while it performs well, regular Intelligent mode provided more than enough all-round performance for my liking.
What also is worth mentioning is just how well the Crosstrek handles. Its asymmetrical AWD keeps things tight and together and, dare I say it, it even corners relatively flat. In fact, it is probably one of the nicest handling crossovers out there.
What is also quite impressive is the lack of road noise. Whether sauntering to work or munching up motorway miles, the Crosstrek is very quiet indeed, even in terms of tyre roar and filtering out the outside world. In fact the only time you hear a significant noise is when the emergency lane keep assist feature beeps to let you know you are venturing out of your lane. Nice to know Subaru was looking after me.
Fun fact. The Crosstrek was actually designed in conjunction with a medical school with the aim of ensuring both driver and passenger are as comfortable as possible. Its seats have been redesigned completely, including the seat rails which have been mounted directly to the chassis, to ensure body sway is kept minimal. It is really comfortable and when negotiating corners, you certainly aren't swaying about nearly as much as others.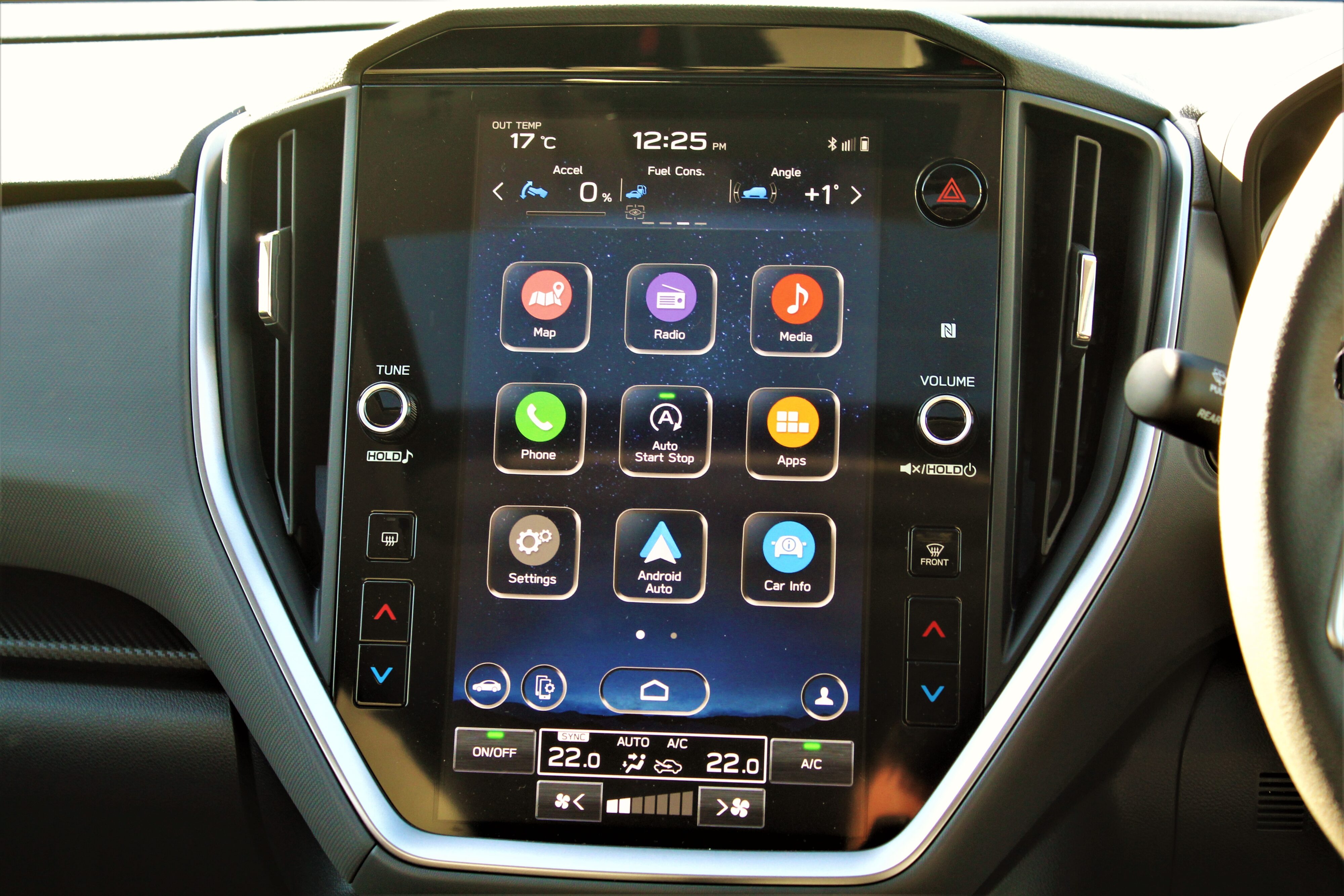 When venturing away from the smooth stuff, the time is ripe to engage X-Mode. With modes for mud, snow and dirt, even the most treacherous of Kiwi weather isn't likely to phase the Crosstrek. Though I wish you didn't have to go into the infotainment system each time to select a different mode.
That aside, X-Mode is still a very good system. When coupled with the symmetrical AWD system which ensures that all four wheels are working in unison at every give moment, you can munch up any form of rugged terrain.
While not perfect, the new Subaru Crosstrek Premium is a fitting successor to the outgoing XV. It has plenty going for it in terms of a willing powertrain and solid levels of standard kit. While I can't yet comment on the Hybrid just yet, those wanting to hang on to ICE adventure motoring in a package which is both well priced and very well equipped, and also manages to be a good drive too, will find much to like here.
RATING: 7.5/10