According to Honda, when creating the 11th (yes the 11th) generation of their longest-running nameplate the Civic, the engineers and designers took a Zen moment and focused their efforts on making it more Sokai – which as we all know means (amongst other things) 'to yearn for' or 'be more attached to'. Now although this may sound a bit touchy-feely for many, what has transpired is a new Civic that's very easy on the eye and more importantly, thanks to Honda NZ I found out that it's quite the blast to drive.
While globally customers have purchased more than 24 million Civics since 1972 (making it one of the top six best-selling passenger cars in the WORLD ever). Personally, I have a bit of a soft spot for Honda as for many years they have had a base in my hometown of Swindon, creating jobs and a lifestyle for many. But NZ too has an affinity with the brand as the Civic was actually assembled here up until the 6th Generation.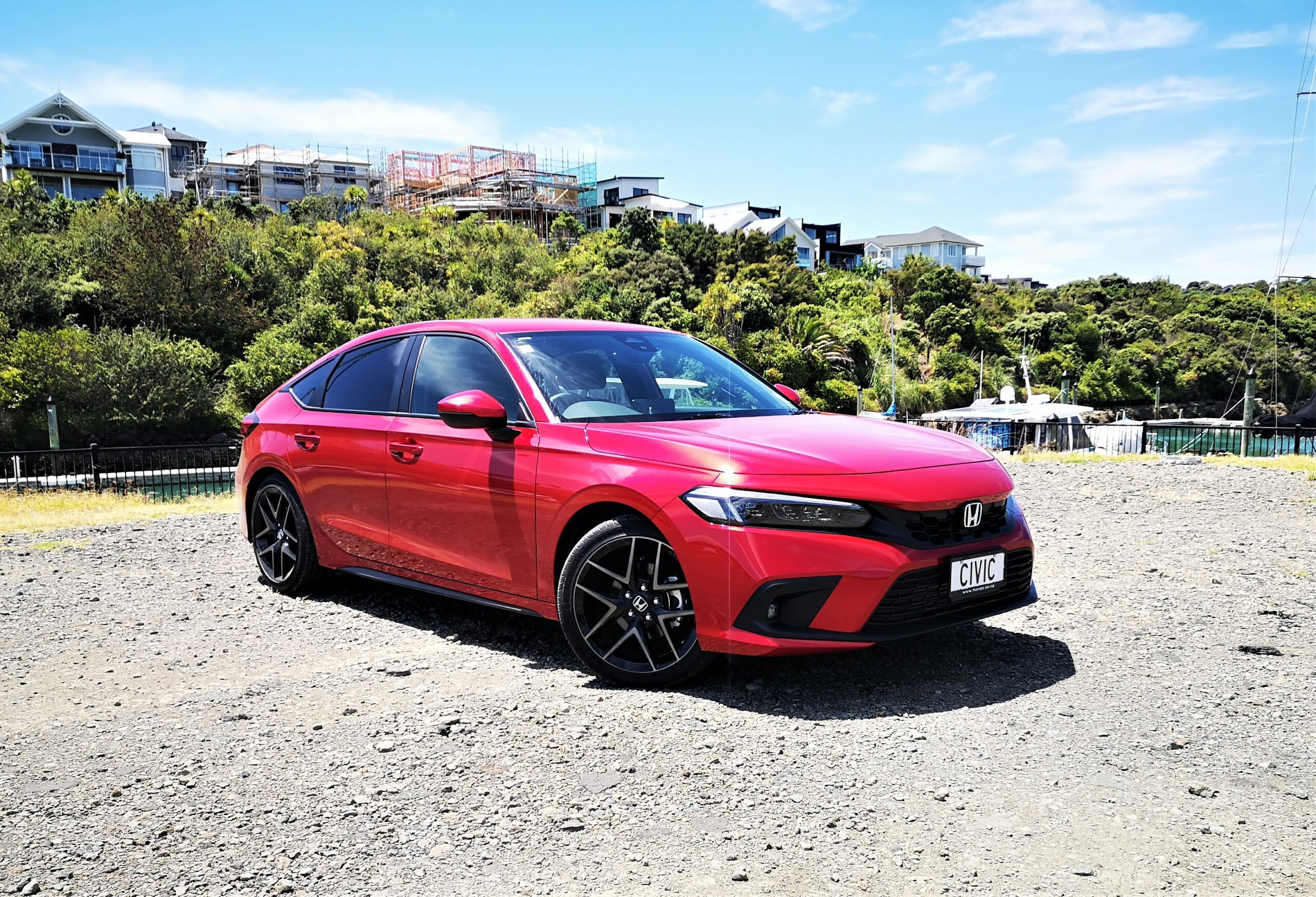 Anyway enough of all that, there's a new generation Civic in town and it's better than ever.
Design-wise, the 2022 Civic hatch has taken inspiration from the Euros and isn't really a hatch at all, more of a Sportsback or Coupe. In terms of silhouette, the nose and wings start down low, there's a sweeping flow to the A-pillar and the roofline meets the tailgate (hatch) that progressively slopes away to the tail.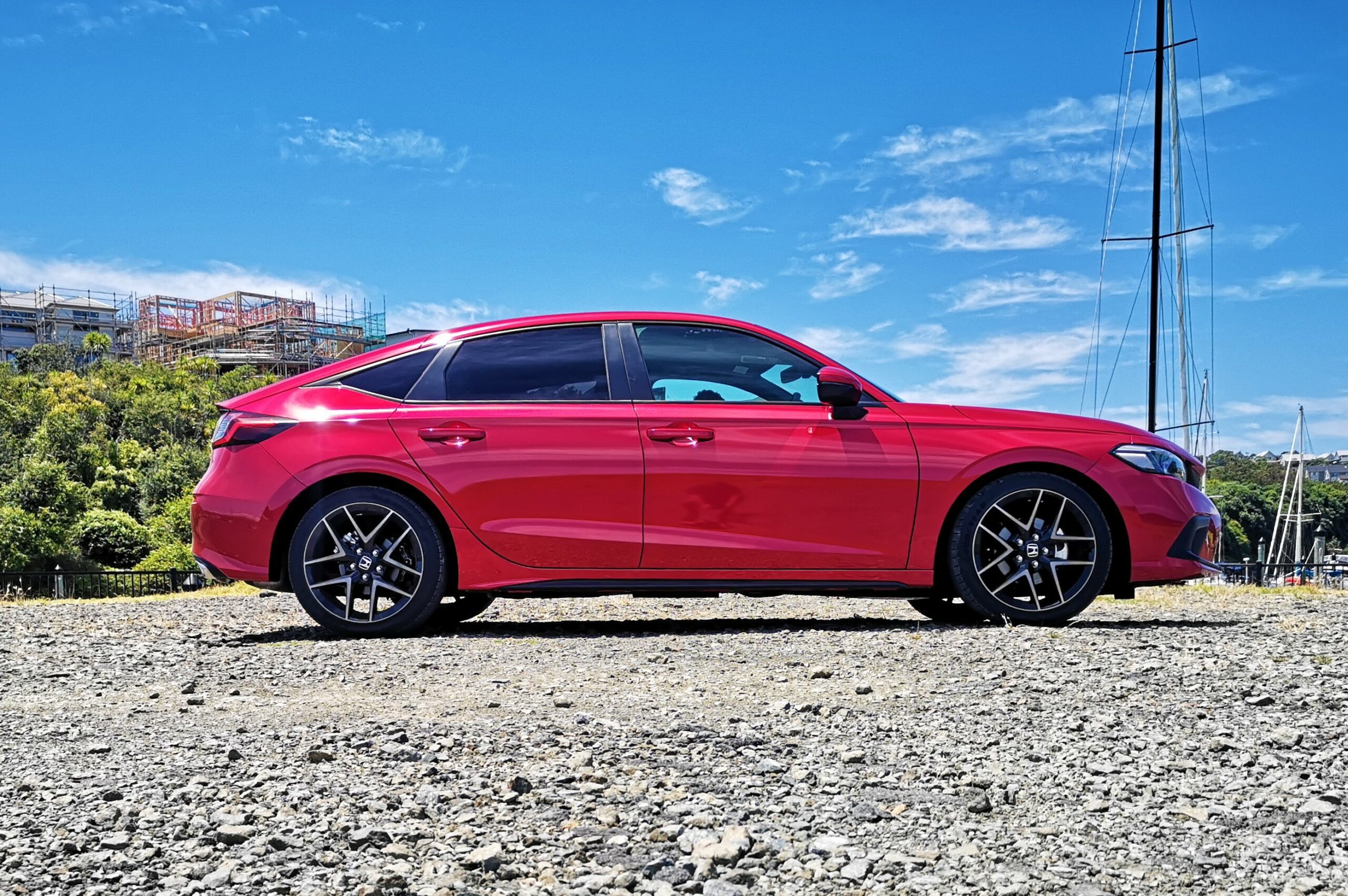 The front grille has a hexagonal 'mesh effect' to it (something that can be seen in the cabin too), and ventures out to meet the redesigned head and running lights, while the black lower valance and blade style rim, really narrows the look of the bumper.
More improvements can be found at the rear with a new lightweight composite hatch and a luggage space that boasts 693L and a 4cm wider & lower hatch opening and low lift-over height for additional loading freedom.
My review model came in crystal red which catches the sun from all angles and contrasts well against the black exterior trim.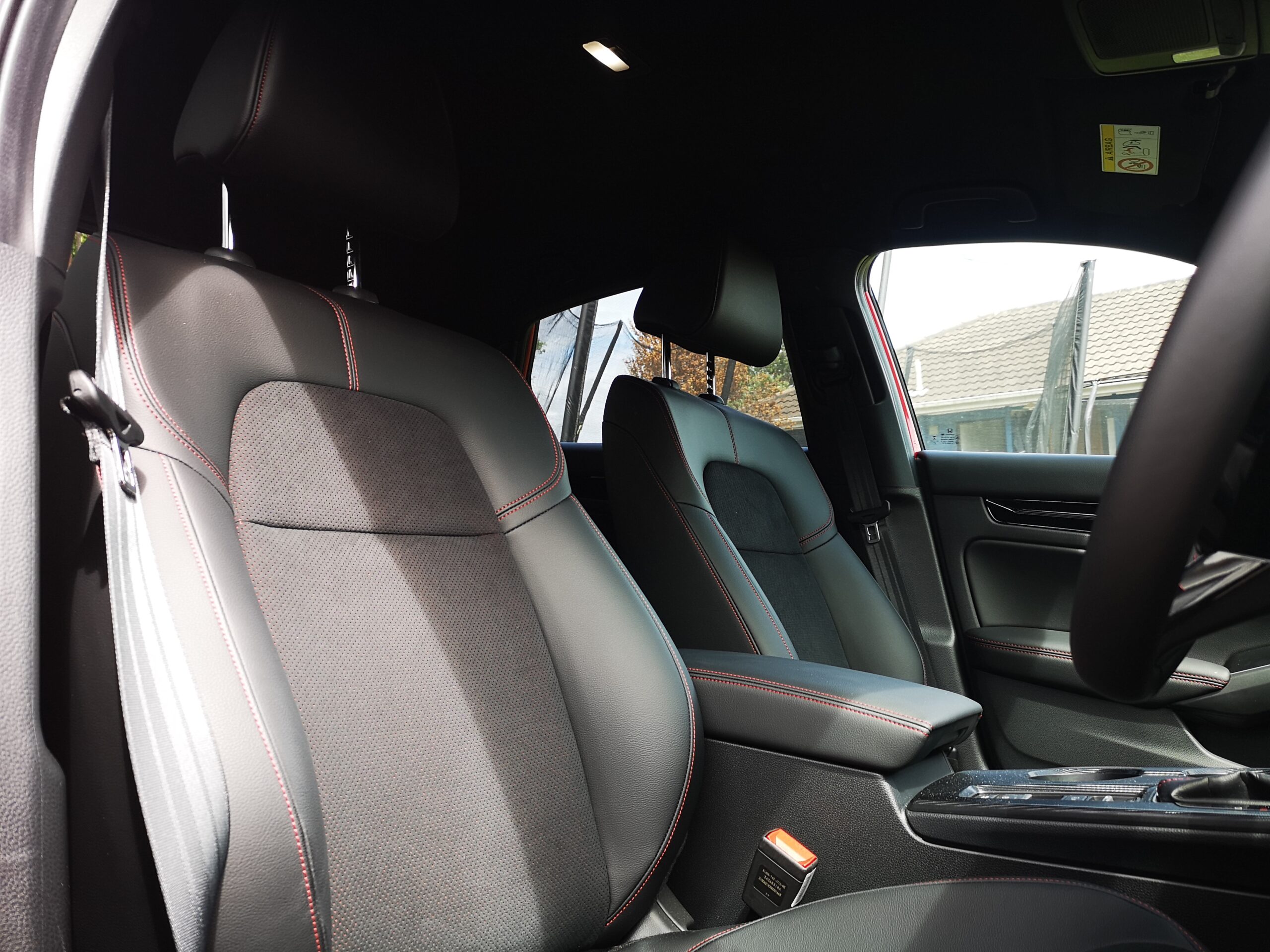 The improvements continue on the inside, beginning with new anti-fatigue sports seats that are both comfy AND supportive, a uncluttered dashboard and a mesh trim that incorporates toggle style air vents that are so easy (and simplistic) to use. It's the little things right?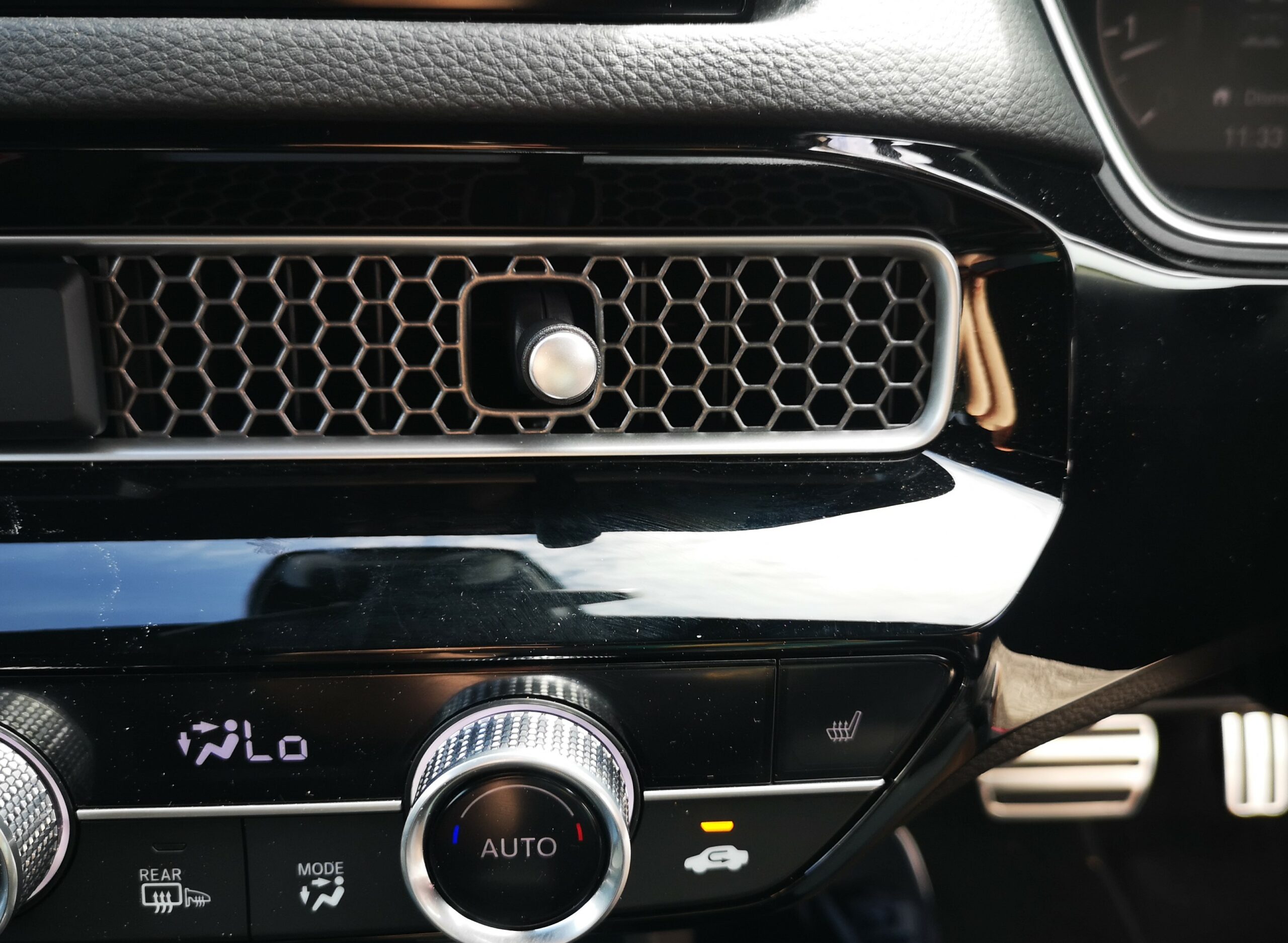 Another "little thing" that lit my fire was the AC dials, they make a satisfying click as you rotate them, akin to cracking a safe in a western movie.
When it comes to driving data' and entertainment the Honda boffins have upgraded this too. The instrument cluster is clean and clear with a 7-inch LCD colour drive information interface, while the 9-inch Next Generation Display Audio with Apple Carplay (wireless) and Android Auto (wired) sits profoundly up on the top of the dash.
Drill down into the tech and you find that the Honda sensing driver and safety suite has been further enhanced, with new front wide-view camera and Traffic Jam Assist to ensure you stay safe in commuter gridlock AND for those that like a good singalong, they've added a Bose premium sound system and 12-speakers!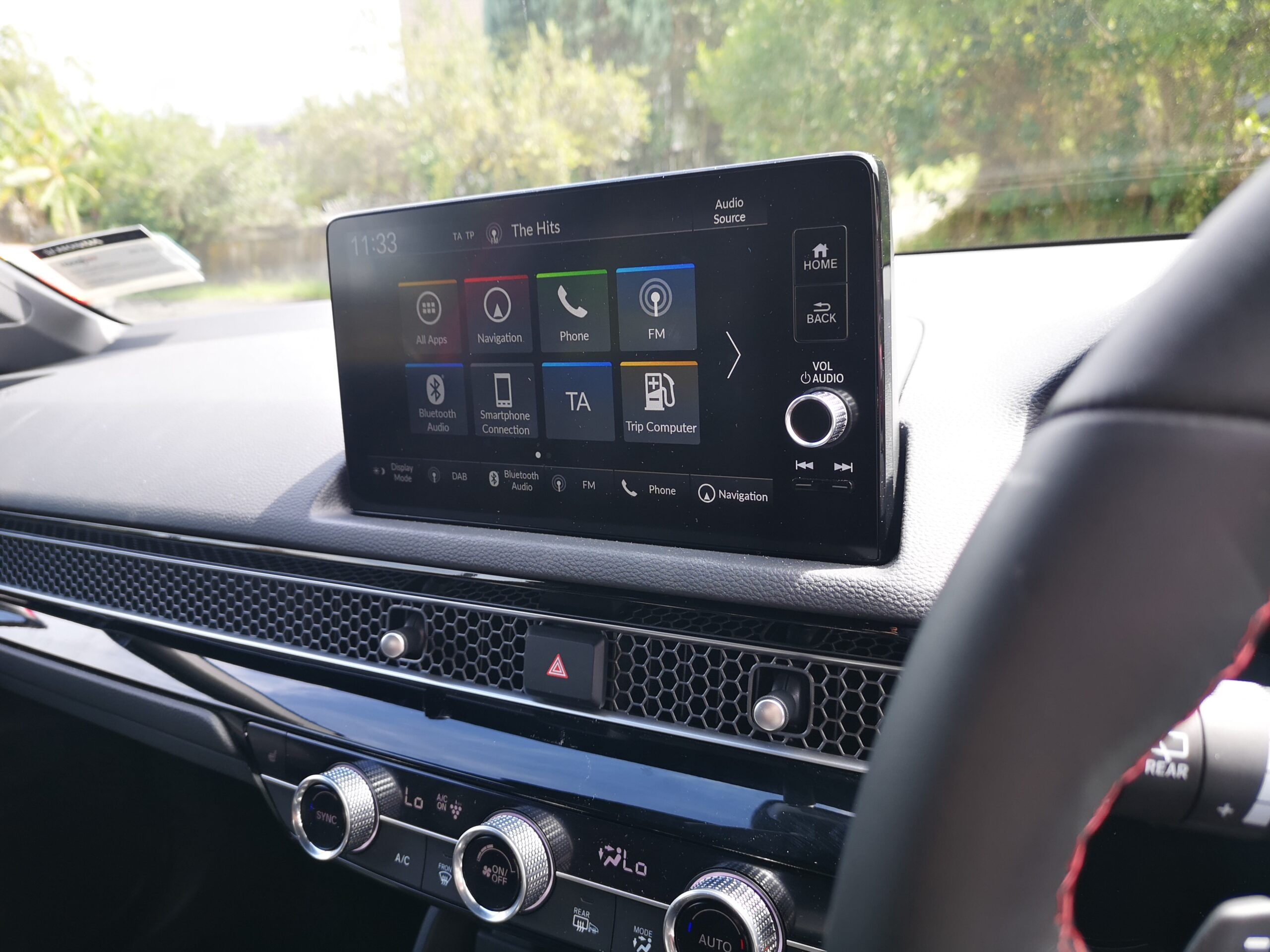 Yes there's a huge amount of technology and practicality about the new Honda Civic but there's also a lot of fun to be had behind the wheel.
Under the bonnet is a more powerful and fuel-efficient 1.5-litre turbocharged engine giving you 131kW of power and 240 Nm of torque, what's more, it runs on regular 91 octane petrol And although it's married to a CVT (not my favourite style of transmission) it has the ability to push you back into those very sporty seats.
To add to this increased driving pleasure, behind the scenes the core structure has been enhanced with a 19% increase in torsional rigidity, meaning that you can happily take those corners without being thrown from side to side across the cabin.
According to the Honda literature, not only  did they approach this new model with a Sokai attitude, but have also interwoven this with a 'Man-Maximum, Machine-Minimum' (or for PC effect replace 'man' with whatever you choose to identify with) ethos, which uses technology and design to serve the needs of the driver and passengers. The result is a vehicle that not only has buttons and dials in really natural and intuitive positions, but also adapts and responds to the mood of the driver.
In car years, 11-generations is a monster and yet I have to say that the Honda Civic seems to be getting better and better with age and experience. Just quietly, I could learn a lot from it. Now I'm off to practice some yoga and meditate.