I recently read a list of '10 most re-watchable movies' and as usual I basically disagreed with most of it. It consisted of things like the Sound of Music, The Wizard of Oz and Lord of the Rings (aka 10 hours of my life I'll never get back) but it did have a couple that perked my interest, Shawshank & Godfather. I appreciate that Movies are a personal thing, so a general list like this will never please everyone but it got me thinking and I felt that there was one movie, in particular, that should have been on it, that movie is The Great Escape.
The Great Escape is a 1963 WWII true story movie based on a book of the same name. And was a film that, as I was growing up, aired every Christmas (I still have no idea why). As the title suggests, it's about a mass escape from prison camp Stalag Luft III and includes fence climbing, misdirection, treachery, comradery and one three tunnels called Tom, Dick and Harry. What's more, it featured cinema greats such as Steve McQueen, James Garner, Charles Bronson and James Coburn, in fact, the casting list was as impressive as the movie itself. One scene, in particular, had Capt Virgil Hilts (McQueen) attempt to jump a barbed wire fence to freedom on his TR6 Trophy motorcycle, it's a jump he never makes but every year (as I tucked into my Turkey leg) I hoped he would. I have just had a great Escape experience of my own, this time it was with a Ford and thankfully there was no fence jumping involved.
Having recently changed its identity papers from the name Kuga, the Escape has begun to blend well into Kiwi life. It's had a fair amount of cosmetics done too (large upper trapezoidal grille, new nose, and bonnet, new Bi-Xenon eyes. But don't think that it's only had surface 'disguise work' done, the Titanium edition I had been given came with plenty of new smarts. Intelligent AWD, Adaptive Cruise control, 8" colour touch screen (with Apple and Android connectivity), Emergency Brake Assist, Smart Key, Torque Vectoring, Full panoramic roof, even the seats were cleverly 10 way electric.
Unfortunately, we couldn't escape the confines of the greater city area but we certainly made the SUV do some hard time. Family chores can be rough on many a vehicle. Soccer duties consist of dirty boots and amped up players. Hydration and post match scoff all take their toll (the leather seats made for easy cleaning). Grocery shopping involves tight space parking (a breeze with the camera and sensors) and heavy laden bags (more than enough room in the rear – 406L). Clothes shopping at Dressmart included a parallel park experience, requiring an arduous (joke) push of the self-park button – the shopping itself was painful though (especially for the wallet).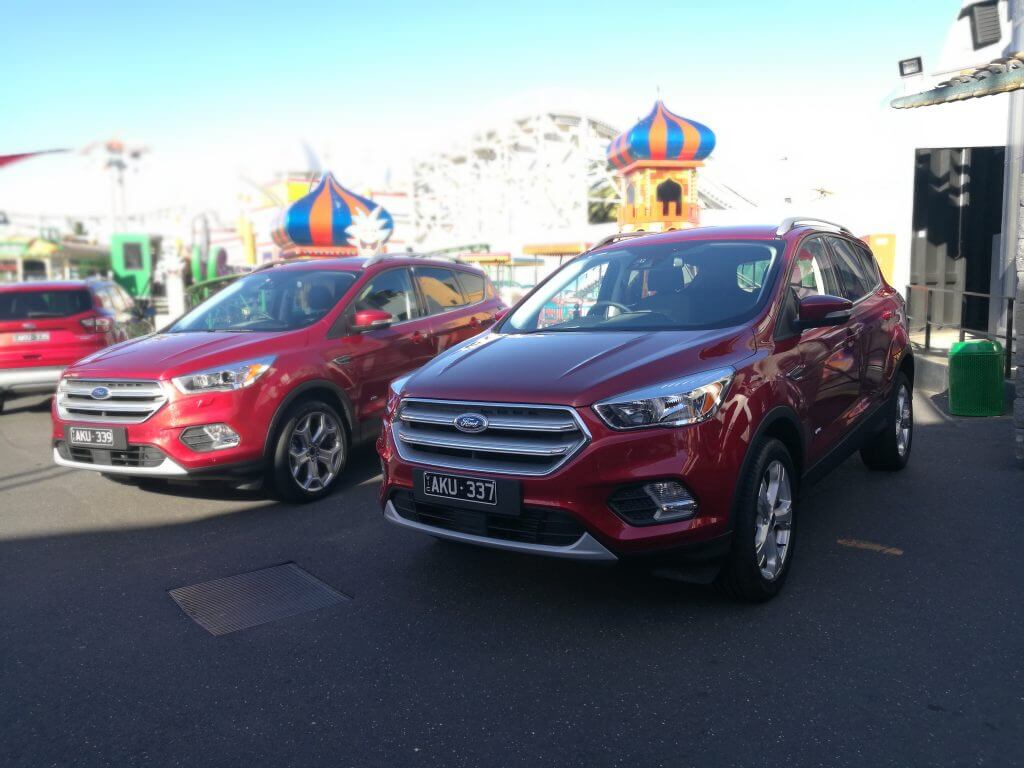 There may not have been huge long runs involved in this review but we did, however, do some tunneling, the new Waterview Tunnel, to be precise. Further to a specific request from my son, we drove both ways, in search of daylight – funnily enough, the lighting makes you think freedom is around every corner.
We traveled all over the length and width of the city and the torquey (400Nm from 2,000rpm) 2L diesel engine with 132kW's of power to play with and a respectable 5.4L/100k reported fuel economy handled each excursion with comfort and ease (even with the nasty downpours that we had). The 6-speed Auto box changes well both up and down the scale and there is also small paddles on the wheel if you feel like a change of pace. It does have the issue of going into 'S' initially as you try to select D but I'm sure I'd get used to it over time.
Many holidays or escapes include a flight. So, as we haven't been overseas for a while, I reenacted the inflight experience by getting the family to sit in the rear seats of the SUV and pull the tray tables down (it's not perfect as the Escape has more legroom – 938mm). I then produced a nondescript (and rather inedible) lunch for them to eat while I jumped up and down on the tow bar simulating turbulence – and who says you can't have fun on the driveway?
The 5 seat SUV Escape in a good all round family vehicle. Sitting on 19" Alloys it has around 200mm ground clearance and its AWD system will handle most general driving situations you can throw at it. There is more than enough room on the inside to not feel cramped and yet it's exterior is compact enough to take to the mall. I guess what I'm trying to say is that the Escape isn't just good, it's great. So much so; that in hindsight we should have eaten Turkey and popped some crackers – would have looked a bit odd wearing the coloured paper crowns in the SUV though.
For the record (and in case you had any interest), my movie top 10 would be, Shawshank, Godfather, Ferris Bueller, True Grit, Stripes, Rocky III, Exorcist, So I Married an Axe Murderer, Dirty Dozen and of course The Great Escape.
Never miss a review- Subscribe now