You can't think of Mini without thinking of John Cooper. His aptitude turned the Mini from an automotive shopping basket to a rally and track racing legend almost overnight. Probably even more famous than Cooper's back-to-back F1 World Championships with Jack Brabham, the Mini and the Cooper brand are inseparable.
This brings us jointly on to the Mini JCW Clubman you see here. While it has been with us for some time, it was inevitable the Clubman would get the JCW treatment. Now the latest F54 Clubman JCW has been reworked to give even more JCW-ness. Basically, Mini have turned up that performance dial.
What better way to start on the subject of performance than what lies under the bonnet. The 2.0L Twinpower turbocharged four-cylinder petrol engine has been revamped to give 225kW of grunt. This is an increase of 55kW of the previous generation. Torque now sits at 450Nm and Mini's All4 AWD system takes care of putting that power and torque down.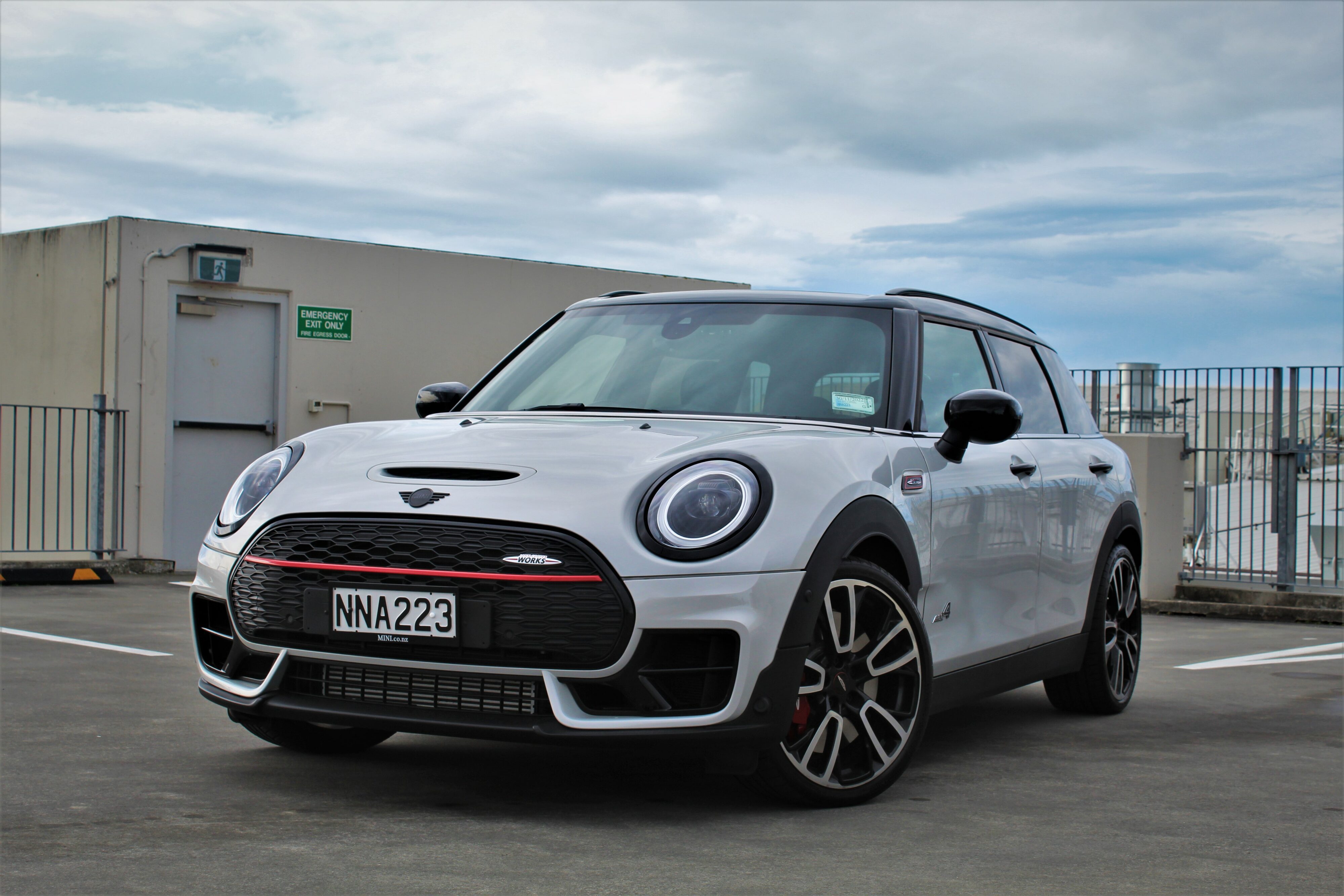 Along for the ride is an eight-speed sports automatic transmission which can transport you to 100km/h from a standstill in a claimed 5.1 seconds. I reckon that is still quite brisk in anyone's language. Mini claim combined fuel figures of 7.7L/100km and a WTLP CO2 emission rating of 148g/km.
The F54 Clubman is lower, wider and looks far more streamlined than the generation before it. I love how it has so much more presence and stance. This is helped by its 19-inch JCW Circuit spoke two-tone alloys housing red JCW brake calipers, a blacked-out grill with red accents, plenty of JCW badging, twin sports JCW pipes and the black "eye liner" around those wide staring LED headlights.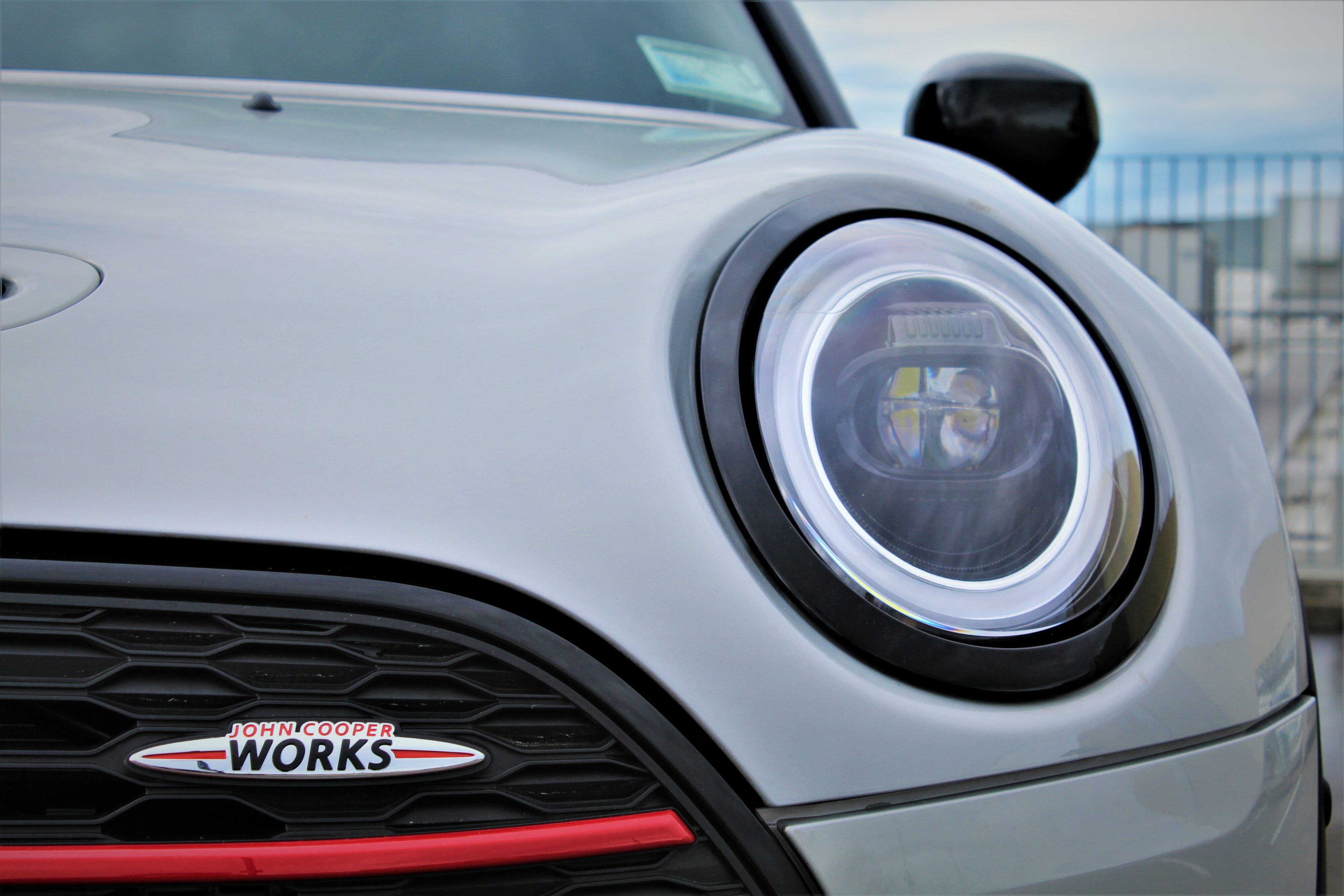 I love the "Englishness" of some of the design cues, for example the Union Jack in the LED taillights, on the headrest and the seat backs. Mini might be German and has been for the last 20 plus years, however, embracing the brands roots by way of these subtle details is pretty grand.
Anyone familiar with a Mini cockpit of the last 10 years or so will feel right at home the moment you step inside. However, the JCW gets some extra additives which give the interior a sporty lift. Things like carbon black leather JCW sports seats, piano black interior surface and more of those JCW badges.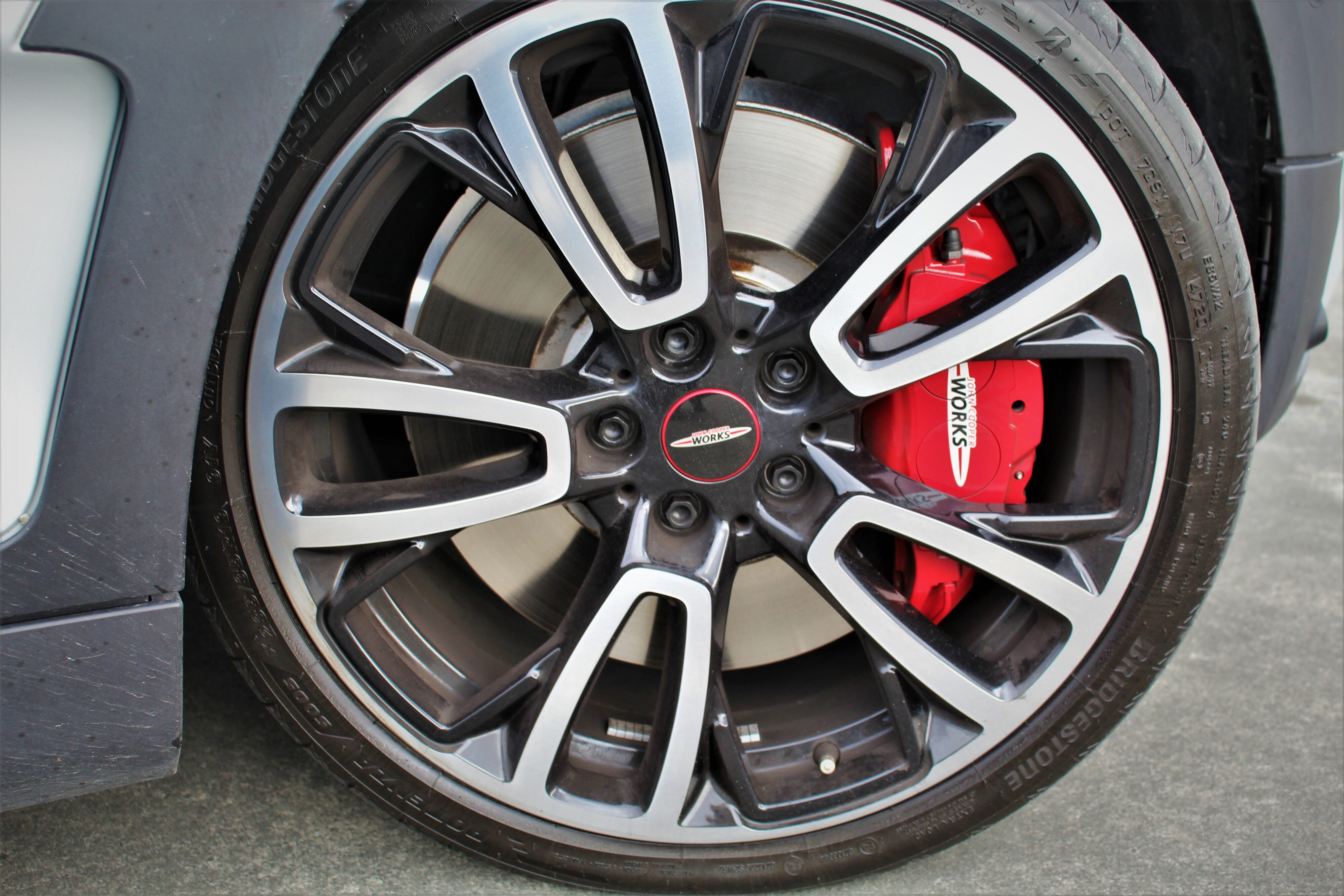 One aspect which is certain to keep some of us entertained is the level of ambient lighting you can choose from. Flick one of the toggle switches by the rear-view mirror while on the move and the footwells, door handle pockets and the designer door trim will change colours. You can even set it in rainbow mode and it will change colours at regular intervals all on its own.
In typical Mini fashion, the cabin ergonomics have a touch of eccentricity about them. Everything you touch has plenty of character, but I found the steering wheel mounted switches to be a bit flimsy. The 8.8-inch touchscreen display could have been bigger given the size of what was once the centre mounted speedometer pod, but it is very clear and easy to use. However, I found myself more than happy to use the toggle switch more so than touching the screen.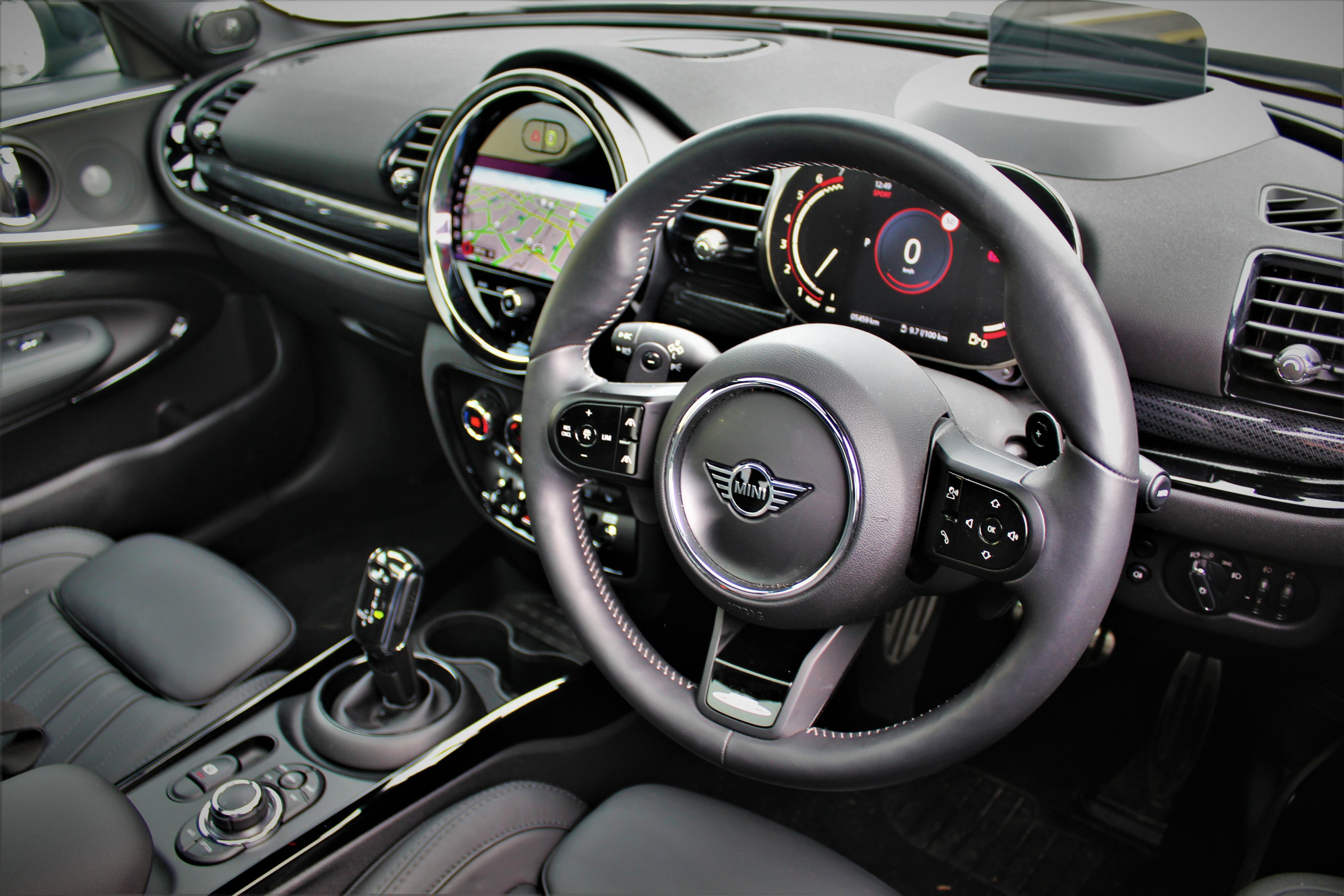 Cast your eyes ahead and the 5.5-inch instrument cluster is also very clear. The JCW's infotainment consists of a simply epic Harman Kardon premium sound system. When you have the bass and treble set up just right, it makes the works of Howard Shore sound very good indeed through those 12 speakers. You also have wireless phone charging, 2x USB ports, Apple CarPlay, Mini Connected Apps, heated seat and a head up display.
Safety gear is also quite comprehensive and includes, adaptive cruise control with stop and go function, autonomous emergency braking, forward collision warning, parking distance control, park assist, a very clear reversing camera, road sign detection and lane departure warning.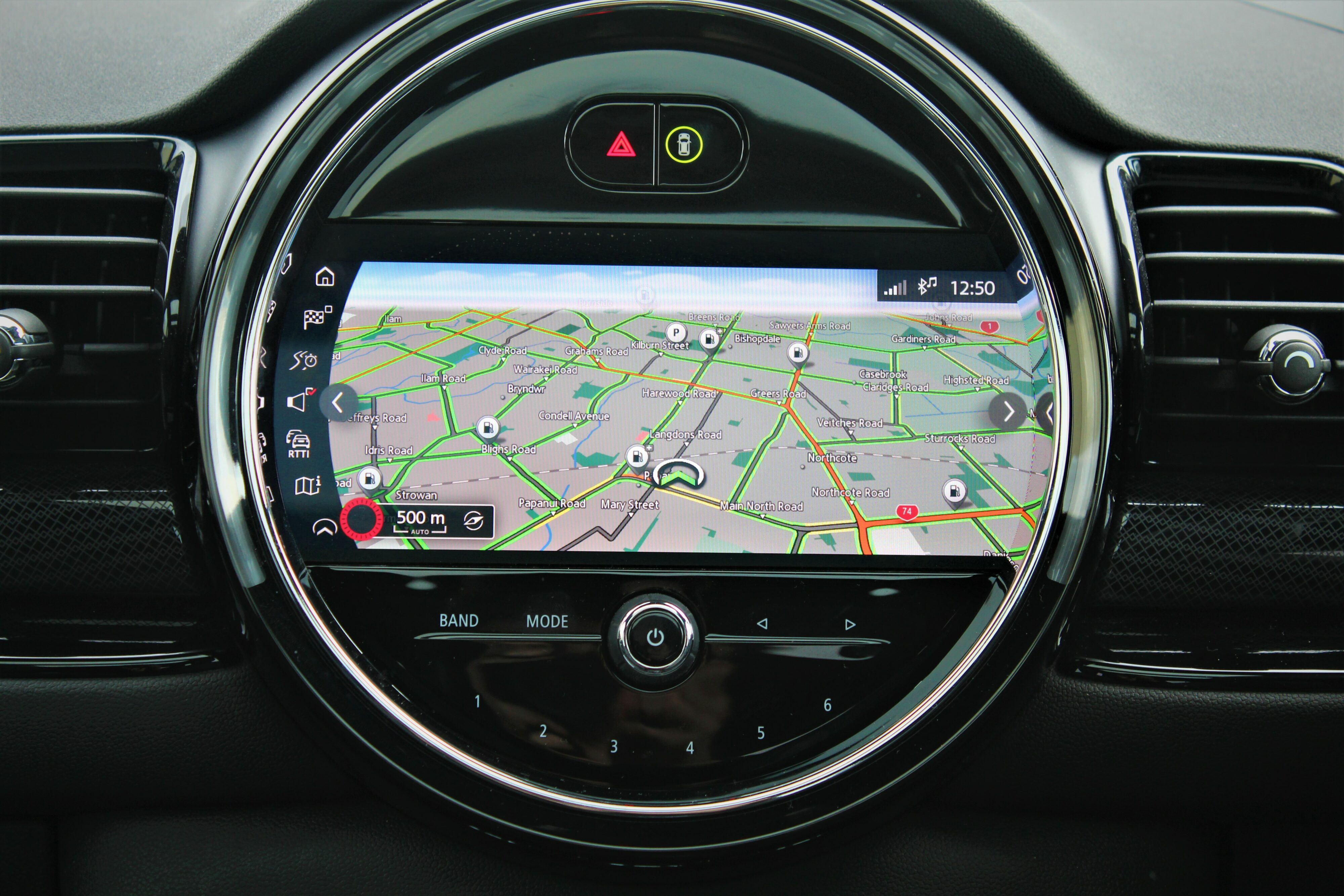 Being the Clubman, you would expect rear accommodation to be more generous than the regular Mini Hatch, and it is. My 5ft 10 frame managed to fit snuggly and I reckon those over 6ft would find room to move about too. Open the dual rear boot and you are greeted with 360L of boot space. This isn't too bad and its flat floor means you can load a decent amount. I found it handy when I had to transport a couple of old wall heaters to my local refuse station. Fold the 60-40 split rear seats and this space increase to 1250L.
In typical modern Mini fashion, getting started requires flicking down, or up should you want to, the red starter switch. Once you do however, the twin power turbocharged four-cylinder engine wakes up to a throaty burble almost like Barry White gargling with Listerine. This burble becomes a bark with the faint sound of turbo whoosh in the background. Build up those revs and it really is an angry sound.
Straight off the bat the JCW aspect of this Clubman makes itself known. Even in Mid mode, which is basically the normal setting, it feels eager and itching to go, much like a hyperactive terrier pulling at the lead. The combination of that turbo four pot grunt and "All4" AWD system means that once you do get going, you can certainly shift well.
As you may expect, the Clubman JCW does not have magic carpet ride comfort. It is a physical experience commuting in this thing. While it is certainly not jarring or rough to the point of being unbearable, every change in road surface is felt. That said, the JCW feels as tight as a drum and very well planted.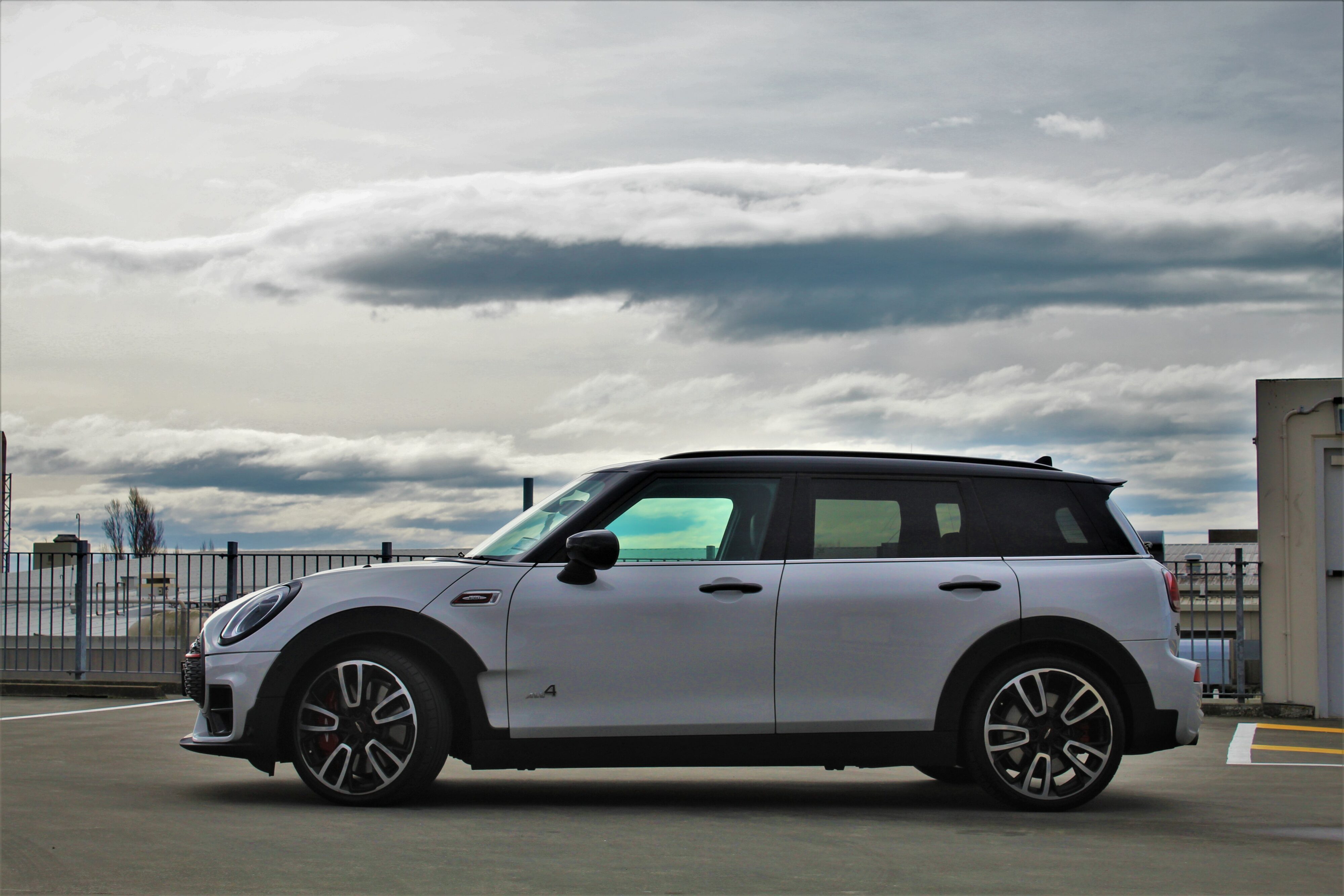 The eight-speed auto transmission offers up quick and precise shifts. Should you decide to venture through the cogs yourself, you have the choice of either the paddles or the shift lever. Oddly I found myself using the latter more of the time when shifting manually. The paddles did the job well, but the lever felt more engaging and solid.
If economy is the day's top priority, then one can flick over to the aptly named "Minimalism" mode. As it suggests, this dials everything back and you do your best to sip away at the go-juice. The best I was able to average after a combination of inner city and motorway driving was an average of around 9.5L/100km.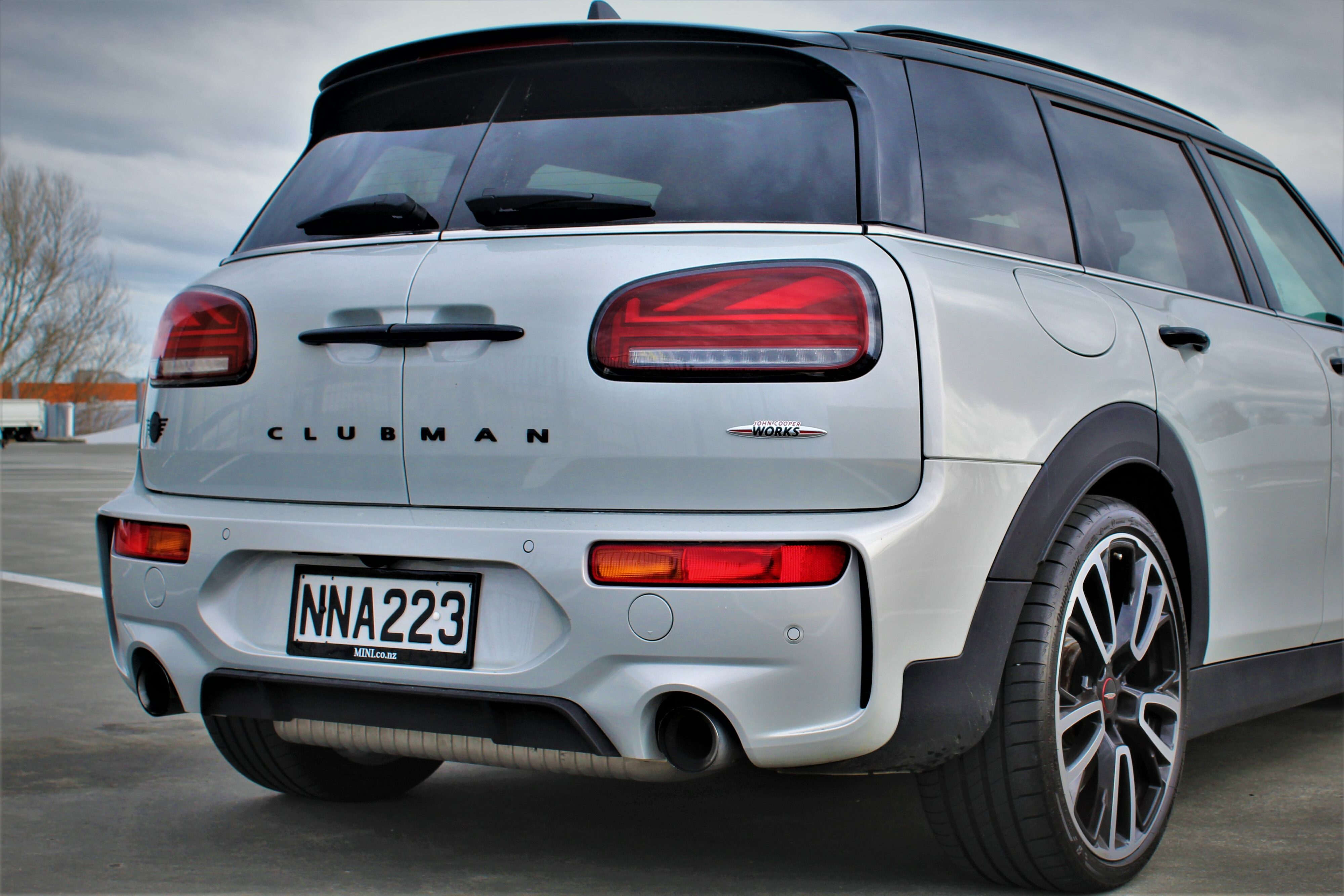 The A-pillars are quite thick which can impede vision when pulling out of a driveway or negotiating a hard right turn and thanks to the twin boot door set up, rear visibility isn't the greatest either. Eccentricities aside, the Clubman JCW growls and crackles its way around town proving that none of its Mini character has been lost in translation.
The steering is also beautifully weighted and communicative. With that chunky John Cooper Works embossed steering wheel in your hands, the feedback is very strong and you never lose track of what the front wheels are up to. You also sit quite low down and you feel cocooned by your surroundings, which is more than ideal for a spirited drive.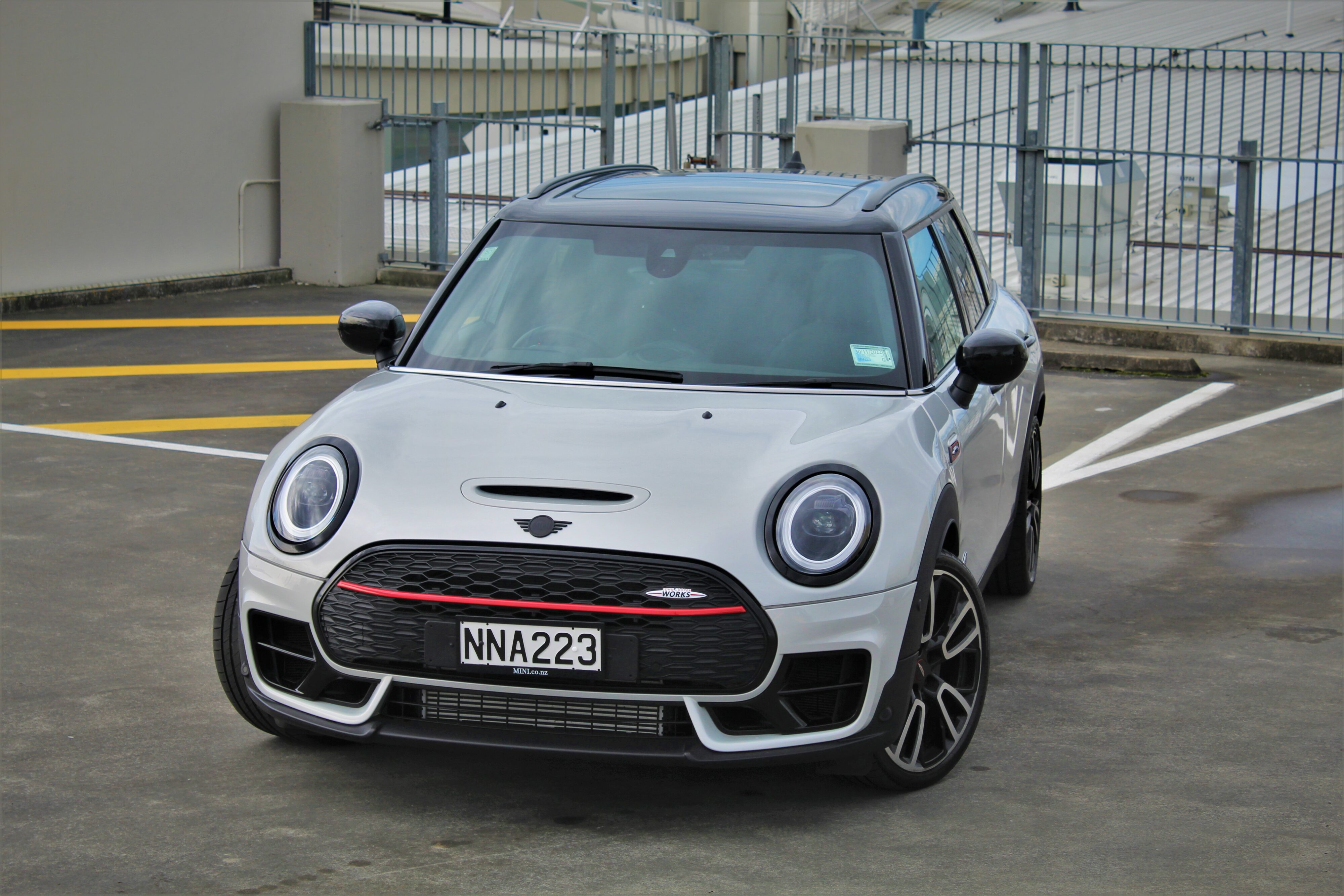 Talking of a spirted drive, the Clubman JCW is a stand out when it comes to do just that. Change over to Sport mode and the exhaust gets louder, the responses from the steering and throttle become more precise and each shift is accompanied by a substantial fart from those aforementioned exhaust tips.
Apply more than half of that right pedal and you can get on the wrong side of the New Zealand national speed limit quickly. Button off and amid a cacophony of exhaust crackle, I couldn't help but giggle just a bit. Anything with a Mini badge should be about making you giggle and its business as usual here.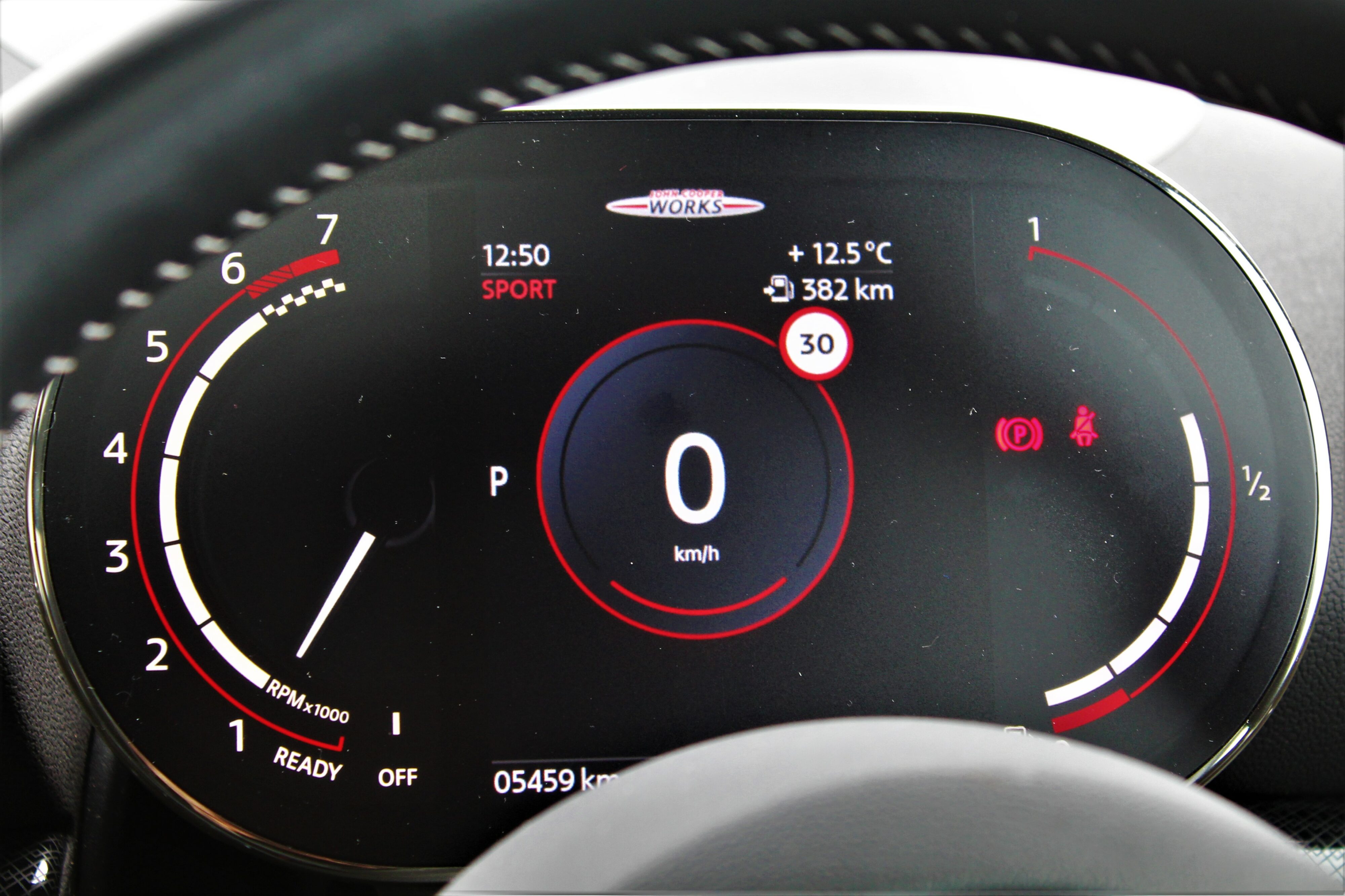 Corners? Well, they are just waiting to be eaten up. The Clubman JCW stays planted and grippy though all manner of twists and turns. I guess it does feel a bit heavy at times but the All4 system does a good job of keeping understeer to a minimum and things nice and tight when the temptation becomes too great to keep the power on. It's definitely one of the most fun cars I have driven which professes to be a wagon of sorts.
The Clubman JCW range starts at $74,090 plus ORC for the "Essential." The mid-level "Classic" sits $76,800 plus ORC, whereas my test car, the flagship "Yours" sits at a hefty $80,300 plus ORC. Not cheap, but it's hard not for it to get under my skin to a certain degree. All in all, the JCW Clubman has plenty going for it and certainly surprised me as to just how capable and enjoyable this package is. Its fun, very quick, relatively practical and on the whole, quite charming. It may not be Mini in size, but its certainly Mini in character.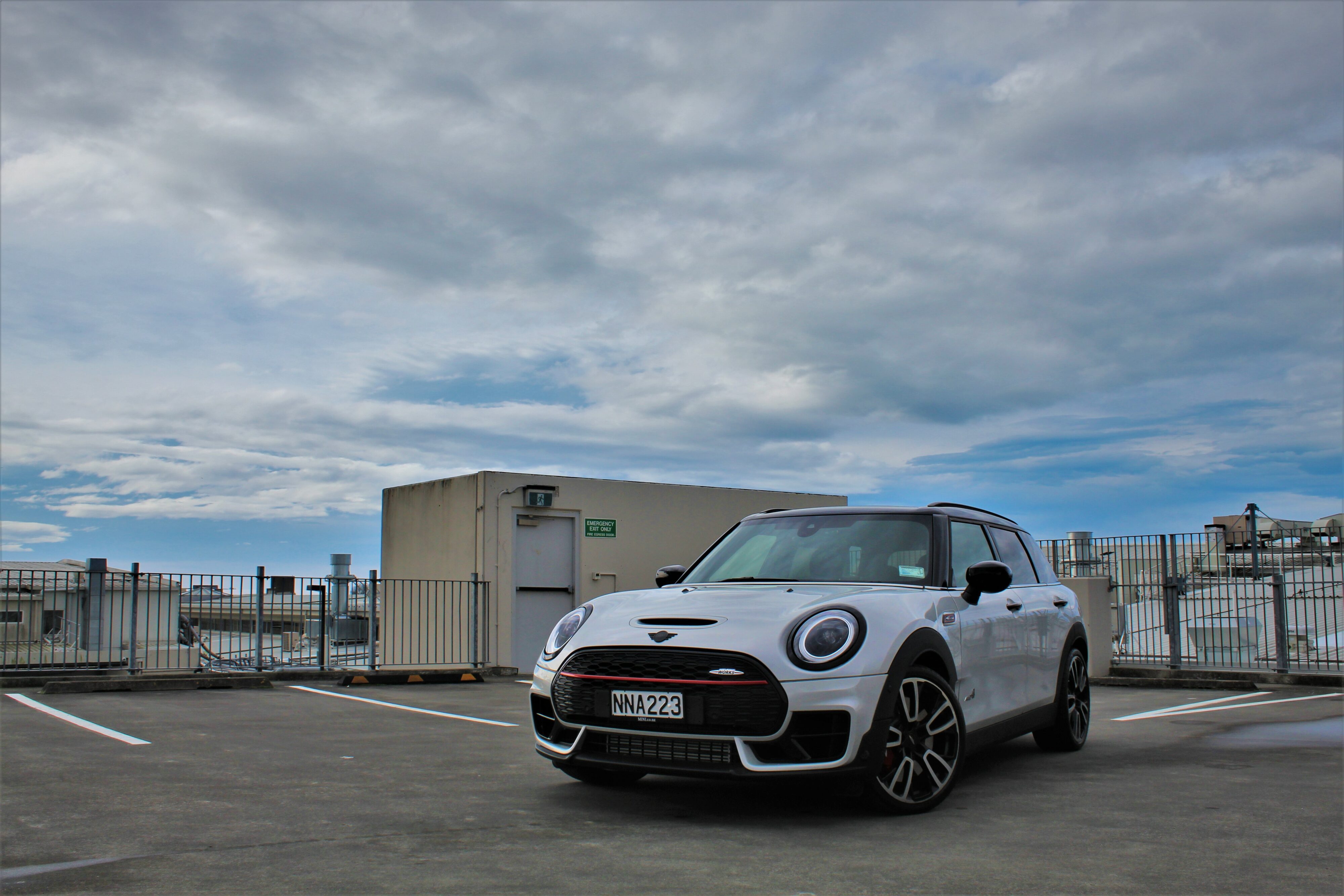 RATING: 8/10