Everyone seemed to ask the same thing, "Isn't this electric?' My response was "yes, but not this one." Mazda's MX-30 has been getting much praise as the Hiroshima based company's newest foray into BEV mass production. However, the version you see here is the entry level MX-30 Mild Hybrid. So, what exactly is this version all about?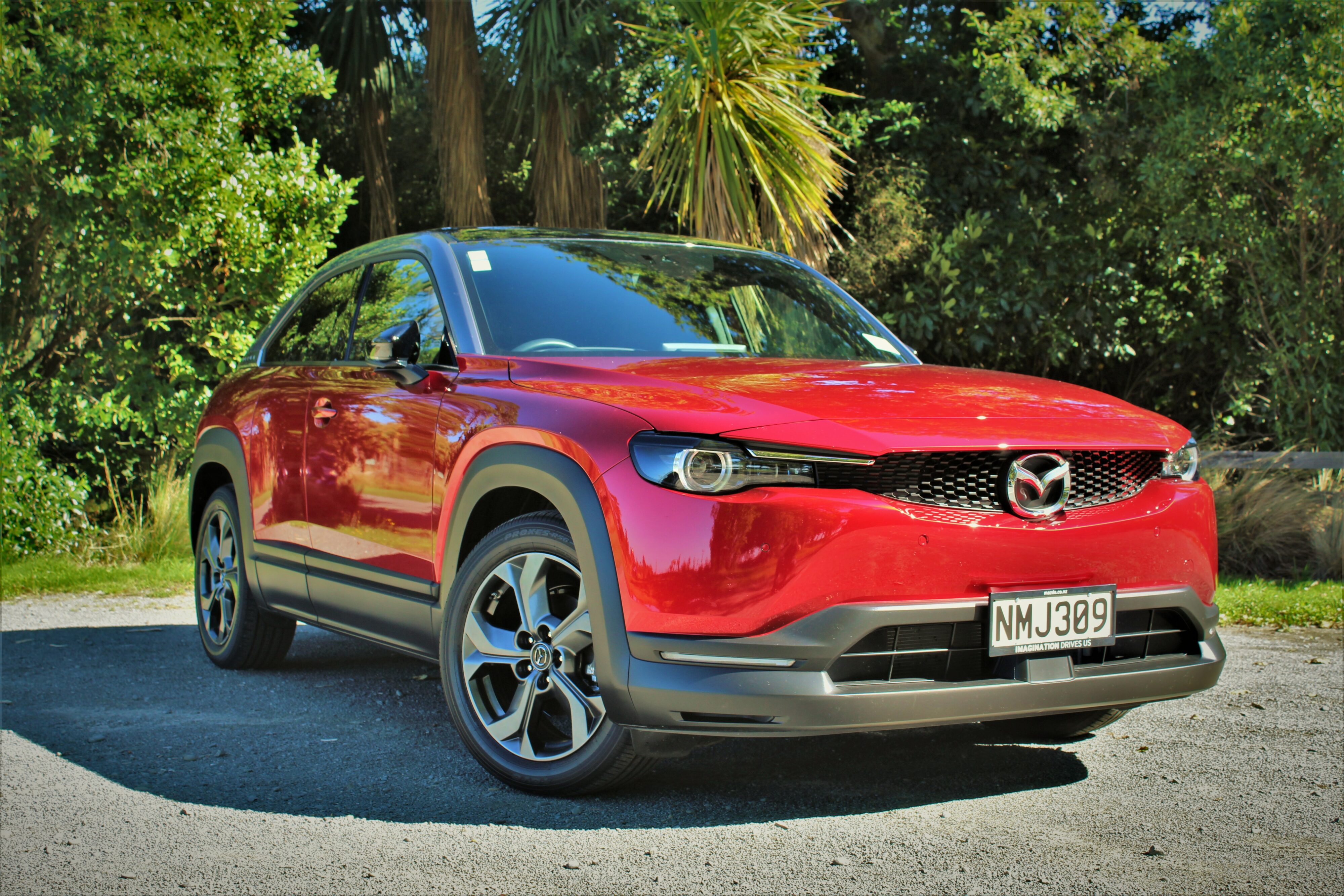 Well first off, it will save you a sizeable chunk of coin, as the MX-30 M Hybrid kicks off the MX-30 family at $46,790 plus ORC and looks no different from its EV counterpart, but it does still sport a smattering of electric drive. If fact, you have to look pretty hard to notice any differences such as the badging and that faint petrol burble on start-up, naturally.
In terms of the design, I have absolutely no qualms with Mazda wanting to carry the looks of the BEV version over, because the MX-30 is still a striking looking bit of kit. The two-tone colour combo, swooping coupe-like roofline and of course, those rear doors which open backwards and give a nod to the RX8 of yesteryear. With styling cues like these, it is easy to forget this is meant to be an SUV.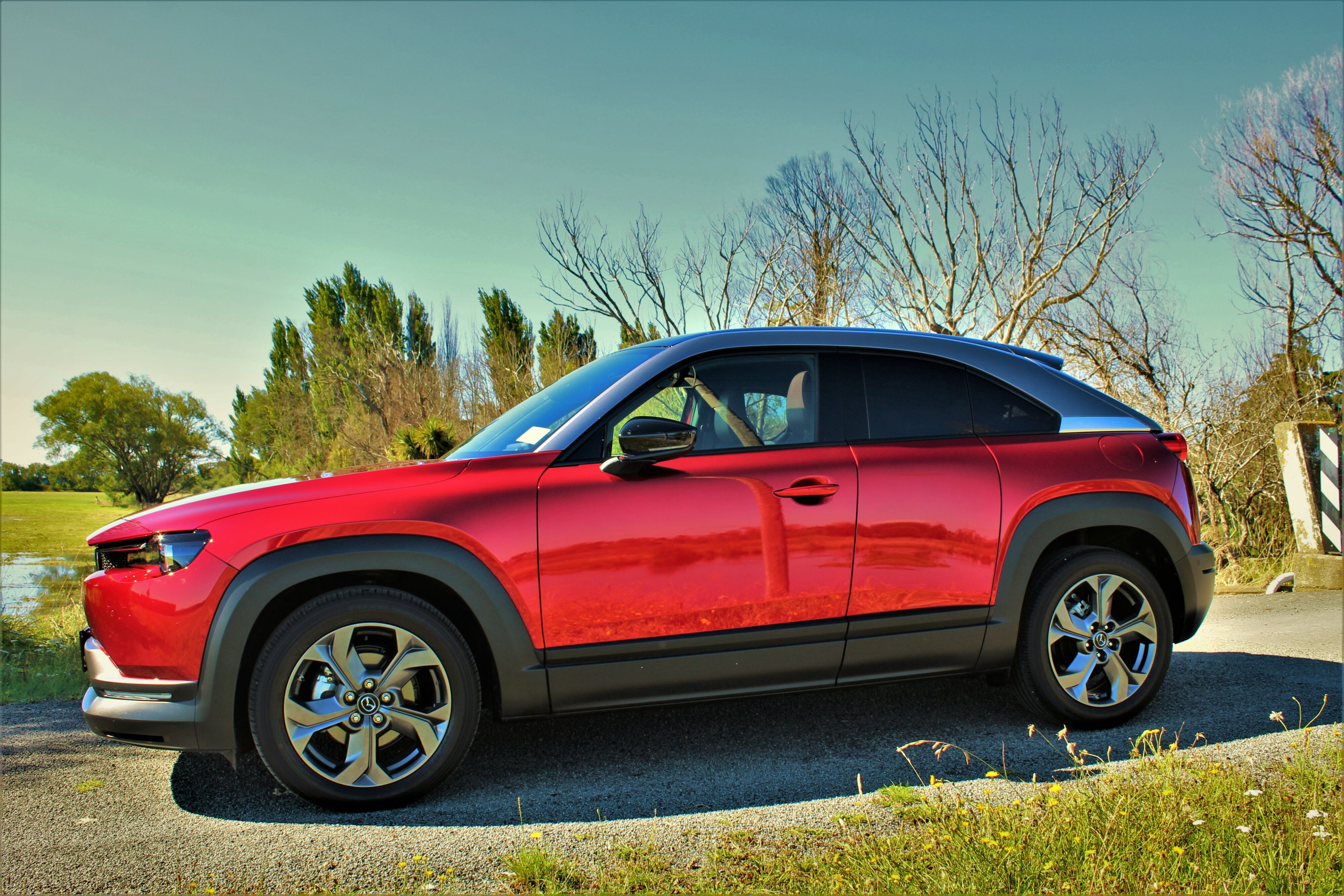 As the name suggests, the only form of electrification drive is the Mild Hybrid drive system mated to Mazda's e-SKYACTIV-G 2.0L four-cylinder petrol engine. Power is rated at 114kW and torque at 200Nm. Drive is sent to the front wheels via Mazda's six-speed automatic transmission. Mazda also claim combined fuel consumption figures of 7.1L/100km and C02 emissions of 167g/km.
It is also great to see the interior of the Mild Hybrid has not been tampered with either. The MX-30 gives you quality and sumptuous surroundings. The floating centre console which houses the touchscreen climate control and dial for the 8.8-inch infotainment system is a beauty to behold.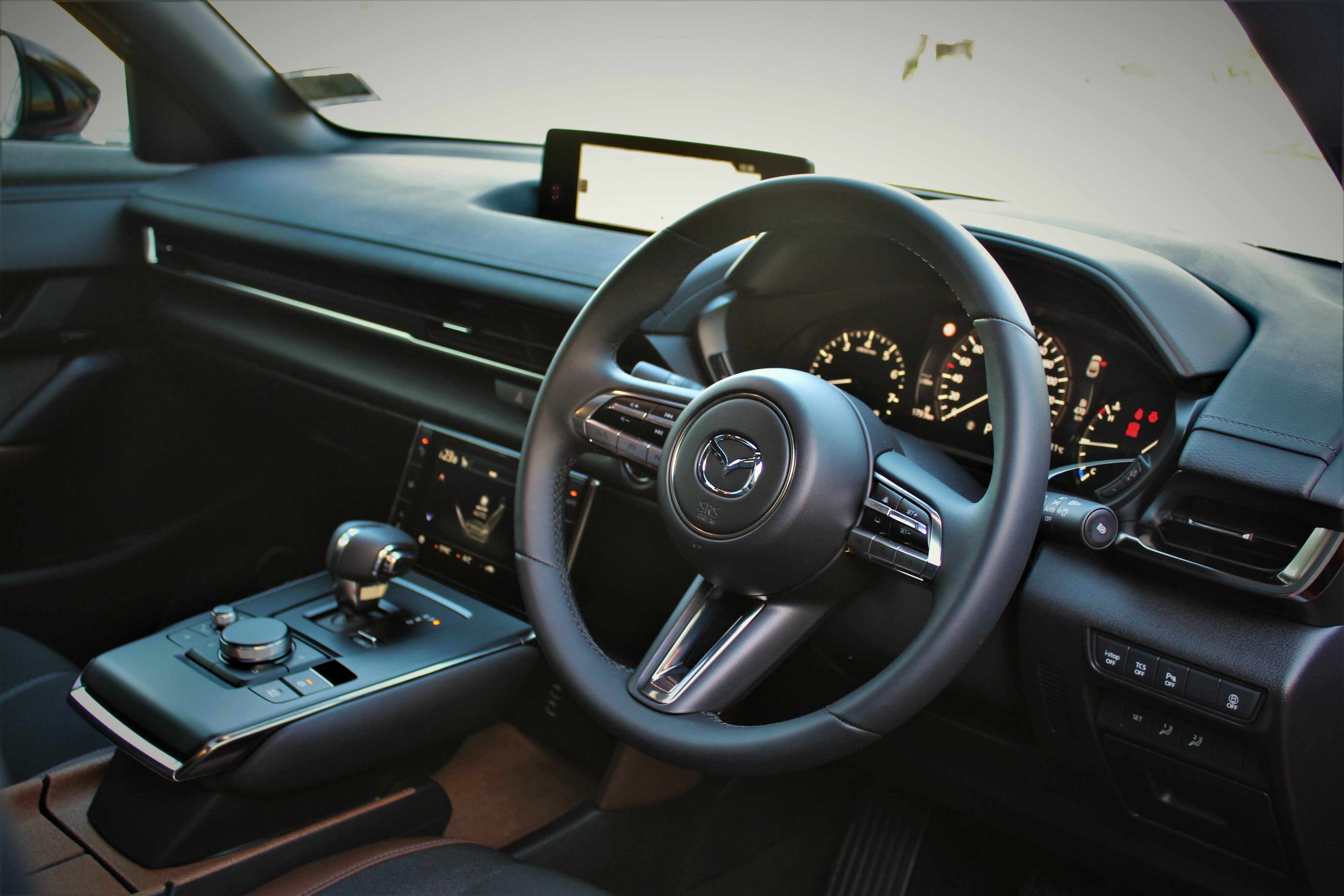 The MX-30 uses a variety of recycled materials including Heritage Cork for the centre console tray and door grips, to recycled and breathing fabric for the seats and upper door trim. Every trim piece used still feels very up market, like something costing more than twice the price. All the switchgear continues the Mazda tradition of being immensely satisfying to use.
You also get all the fruit usually associated with Mazda's Limited spec cars like adaptive cruise, i-Stop function, Head Up Display, a thumping BOSE stereo system, heated seats and steering wheel, blind spot monitoring, smart brake support and lane departure warning to name but a few.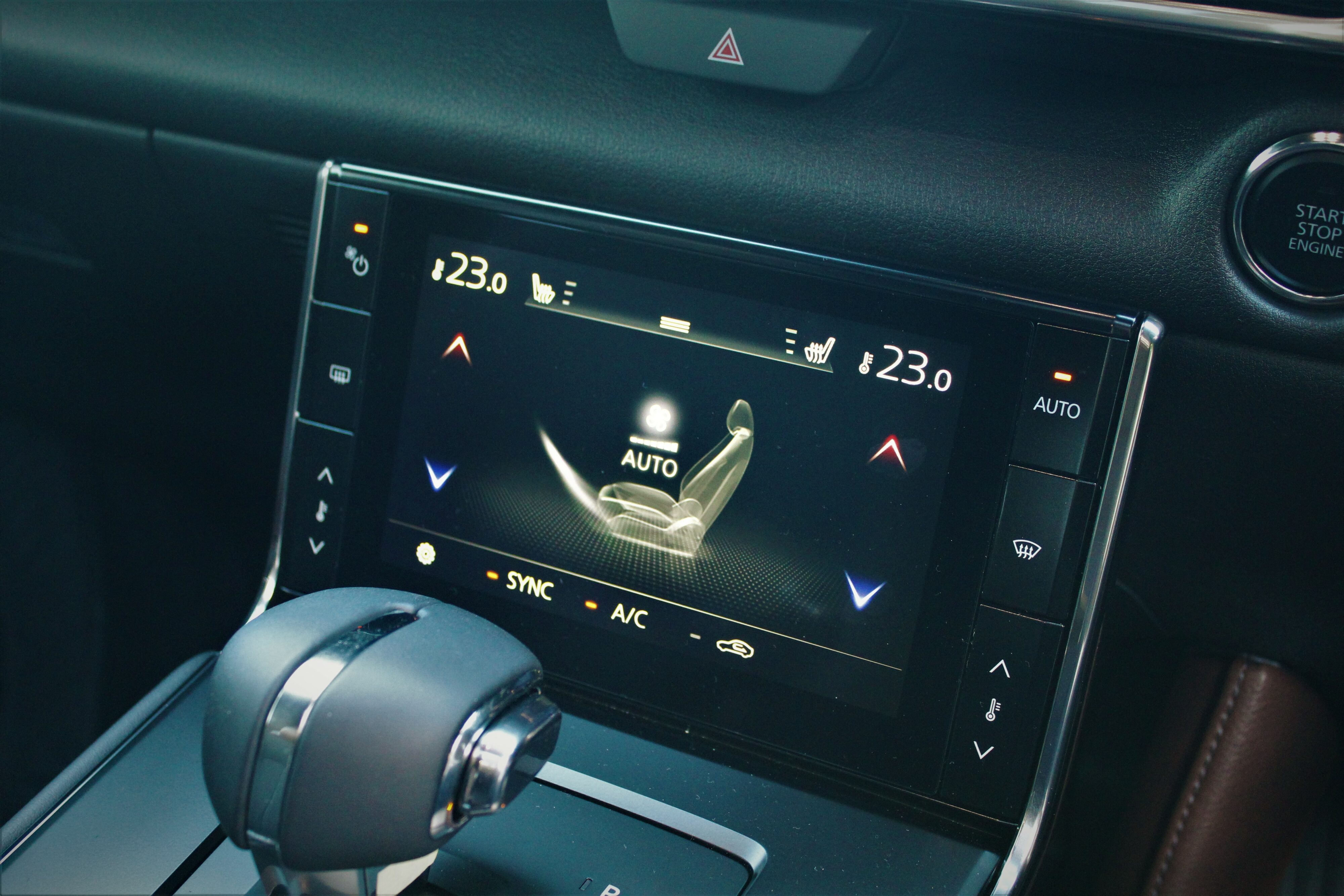 The driving position leaves you sitting quite high up and looking down on the instrument cluster and that minimalist steering wheel containing more of the aforementioned satisfying switchgear. Head and legroom offer nothing to complain about for those in the front and there are plenty of hidey holes around the place to store things.
While getting in and out is a doddle, especially with those rear doors opening out, folk of a lankier disposition will be hunched over in the rear seats. Because of that sloping rear roof line and its relatively compact size, the MX-30 doesn't fare well as a family car. That said, I always found myself chucking my belongings in the back seat via those doors anyway.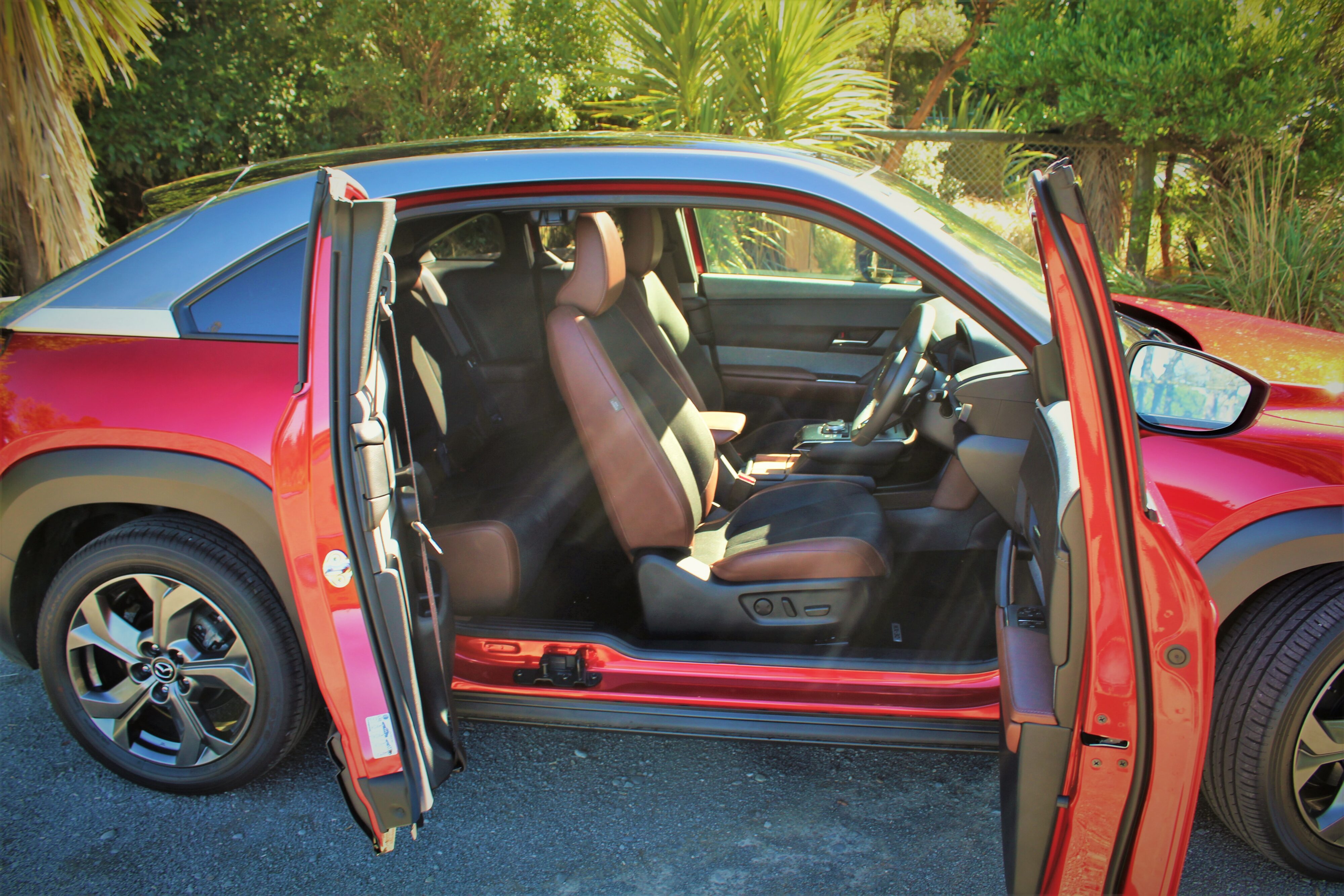 Its best to use the MX-30 Mild Hybrid as a two-seater and drop the back seats altogether. Plus, once you do that, you can vastly increase its 370L of boot space to a hefty 1171L.
As mentioned before, the MX-30's four pot engine note is quite subdued. Move off and there is a seamless delivery of power and torque. This is where the Hybrid part of the equation comes into play. Rather than give you the option of running solely on electric drive like a conventional hybrid, the M Hybrid system aids you in quicker and more efficient acceleration thanks to lower down delivery of torque.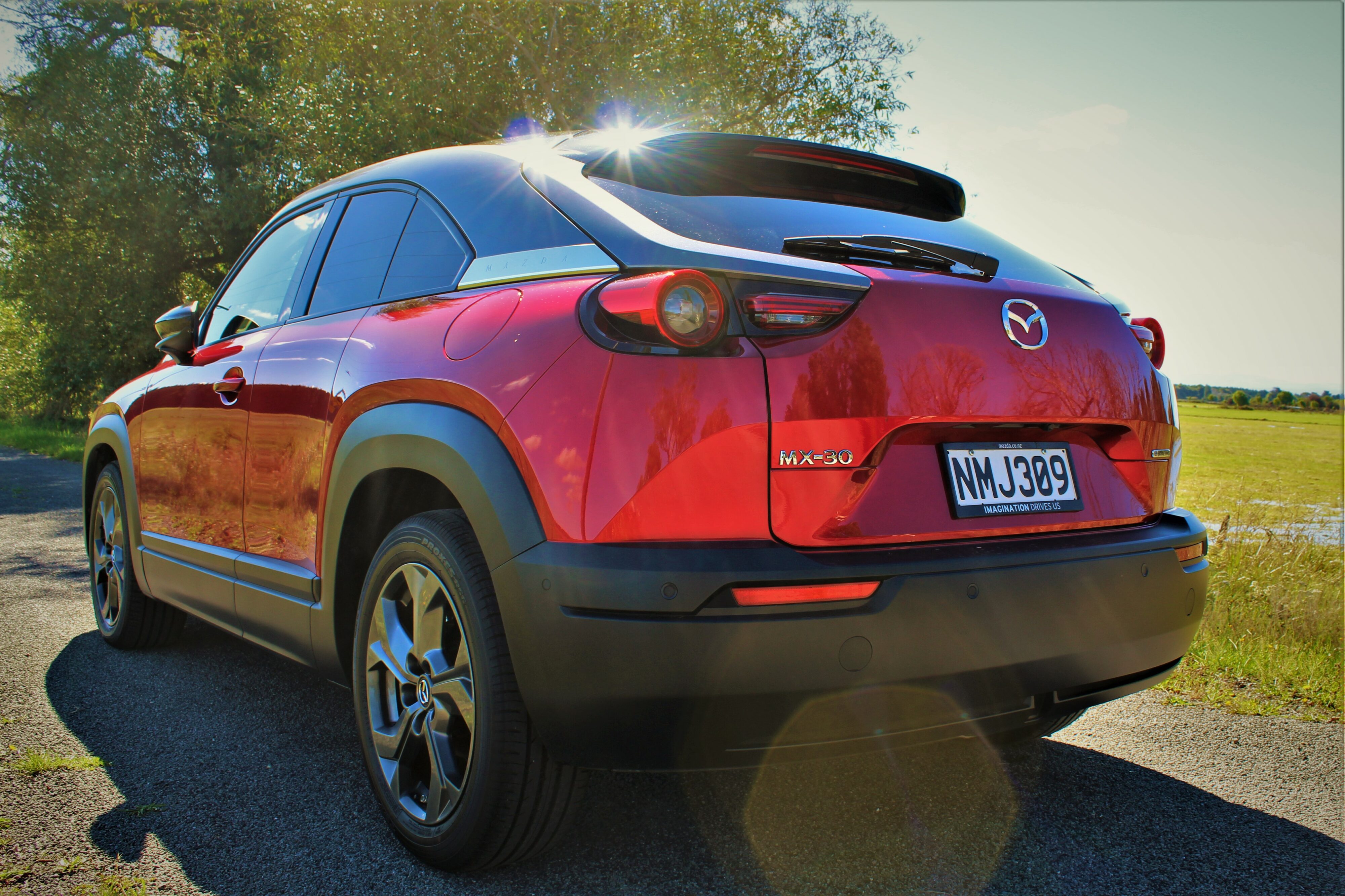 You do feel it too, slightly. From 1500rpm to around 3500rpm, the M Hybrid scoots along very well, all while dialling out road and outside noise. It is a very refined way of leaving your local. The M Hybrid also has the advantage of weight over the EV version. Thanks to the lack of batteries stored underneath, the M Hybrid tips the scales at 1492kg over the EVs 1670kg. Ride comfort is rather supple too.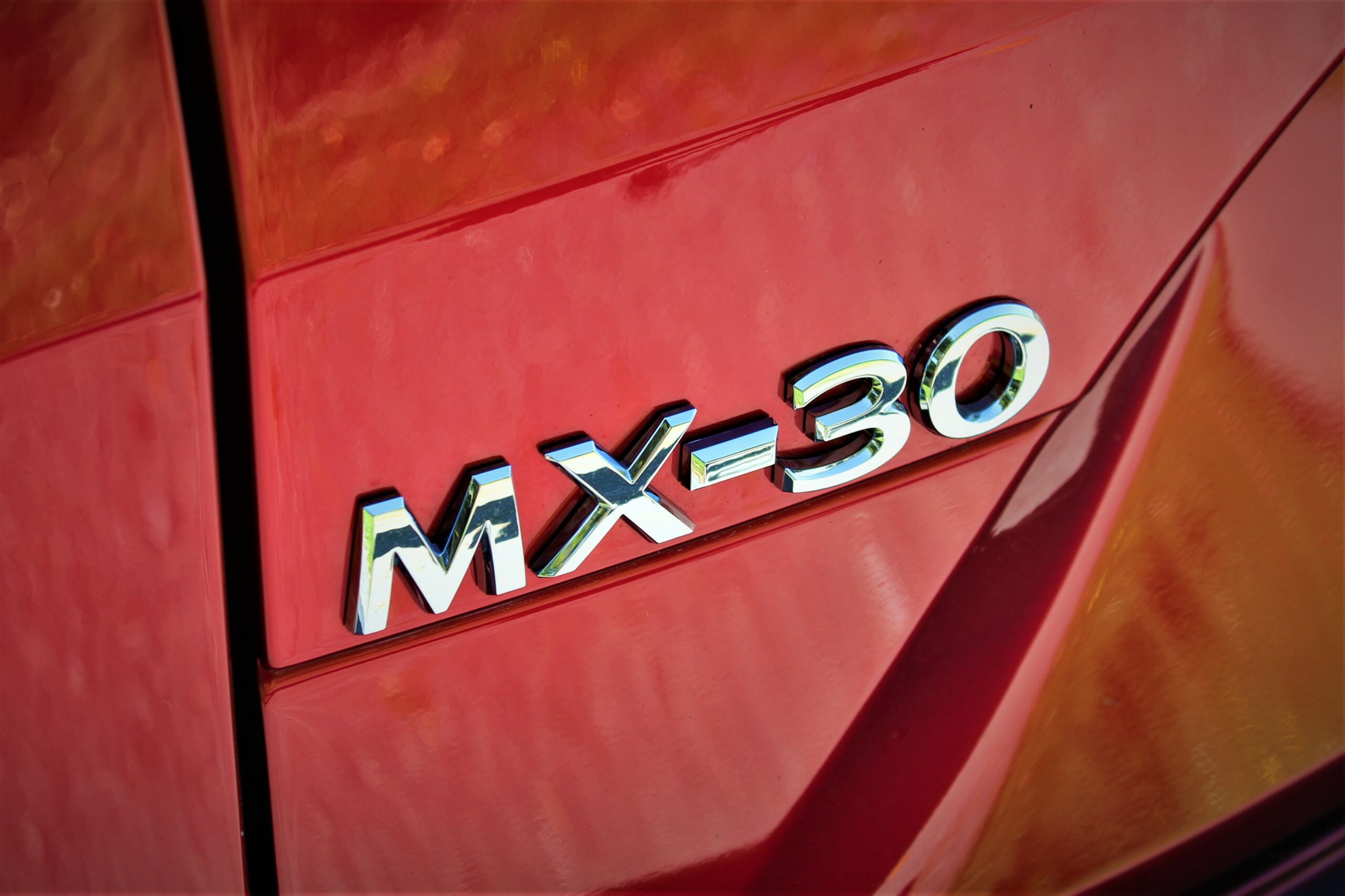 Mazda's G-Vectoring steering also means that changing direction in the M Hybrid is a doddle and doesn't require much effort on your part. Despite being raised slightly, it can hold its own in the twistiness too. While an off-camber B-road is not the ideal stomping ground for an MX-30, a twisty suburban road or urban back alleyway can be devoured no problem.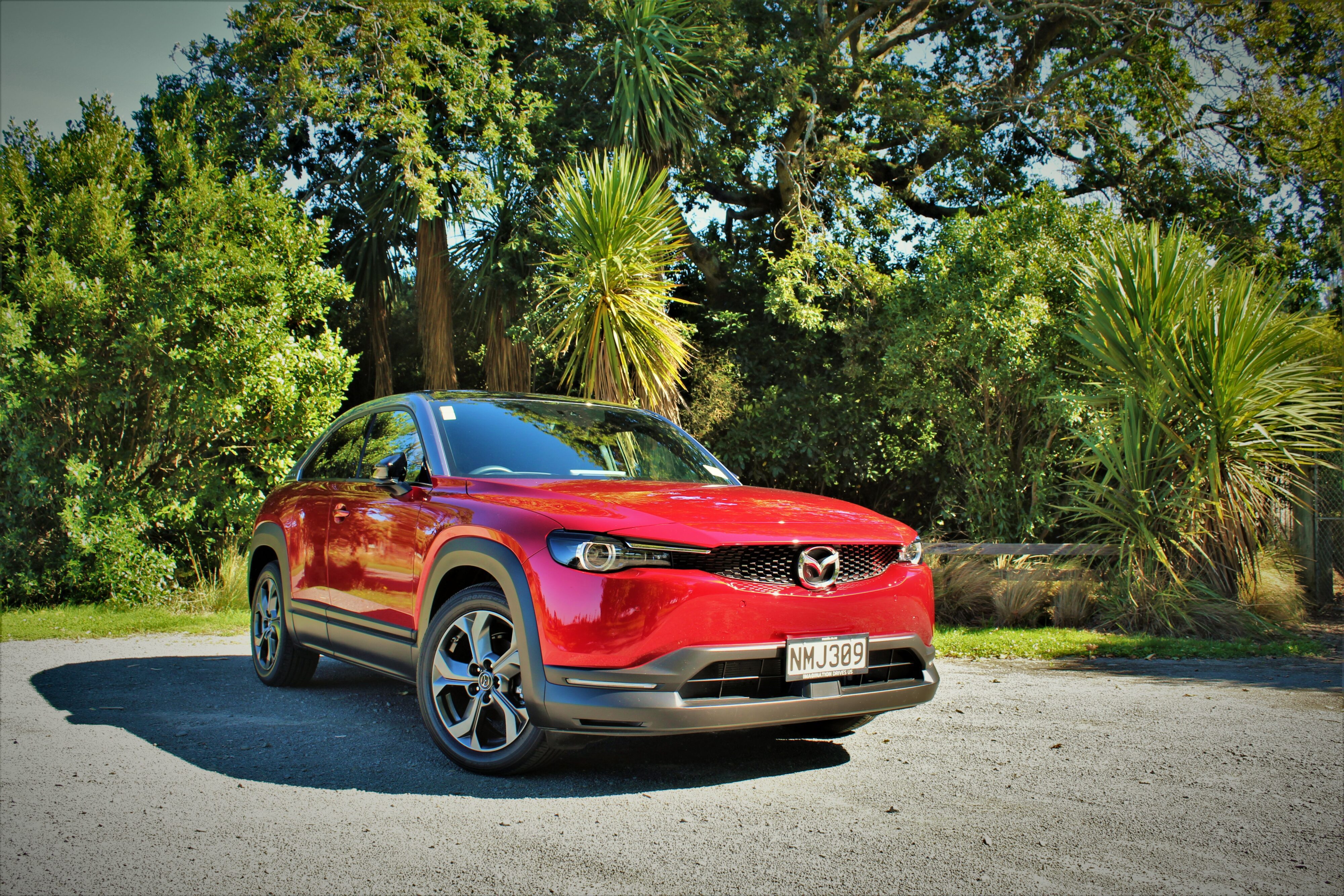 You may follow the mantra of "EV or nothing" when it comes to the MX-30. However, when considering the Mild Hybrid costs $28k less than the EV after the clean car rebate, it presents itself as very good value. Plus, thanks to the ever-increasing price of fuel, having that extra electric additive for this kind of money can only be a good thing. All in all, the Mazda MX-30 Mild Hybrid is a variant I didn't expect, but glad exists nonetheless.
RATING: 8/10