With more and more consumers feeling the bite of rising fuel costs, getting a hybrid makes more sense than ever. Toyota know this which is why their family favourite, the RAV4, has been given an extra boost of hybrid power. This boost comes in the form of hybrid variants of the range topping Adventure and the new XSE variant featured here.
The XSE marks the midway point in the RAV4 line up. With a Toyota Driveaway Price of $53,990, it bridges the gap between the hybrid GXL and Limited. Being a hybrid, it also qualifies for a Government Clean Car Rebate of $2,387.24. Having already test the Adventure Hybrid and come away being rather impressed, is it very much the same story with the mid ground XSE?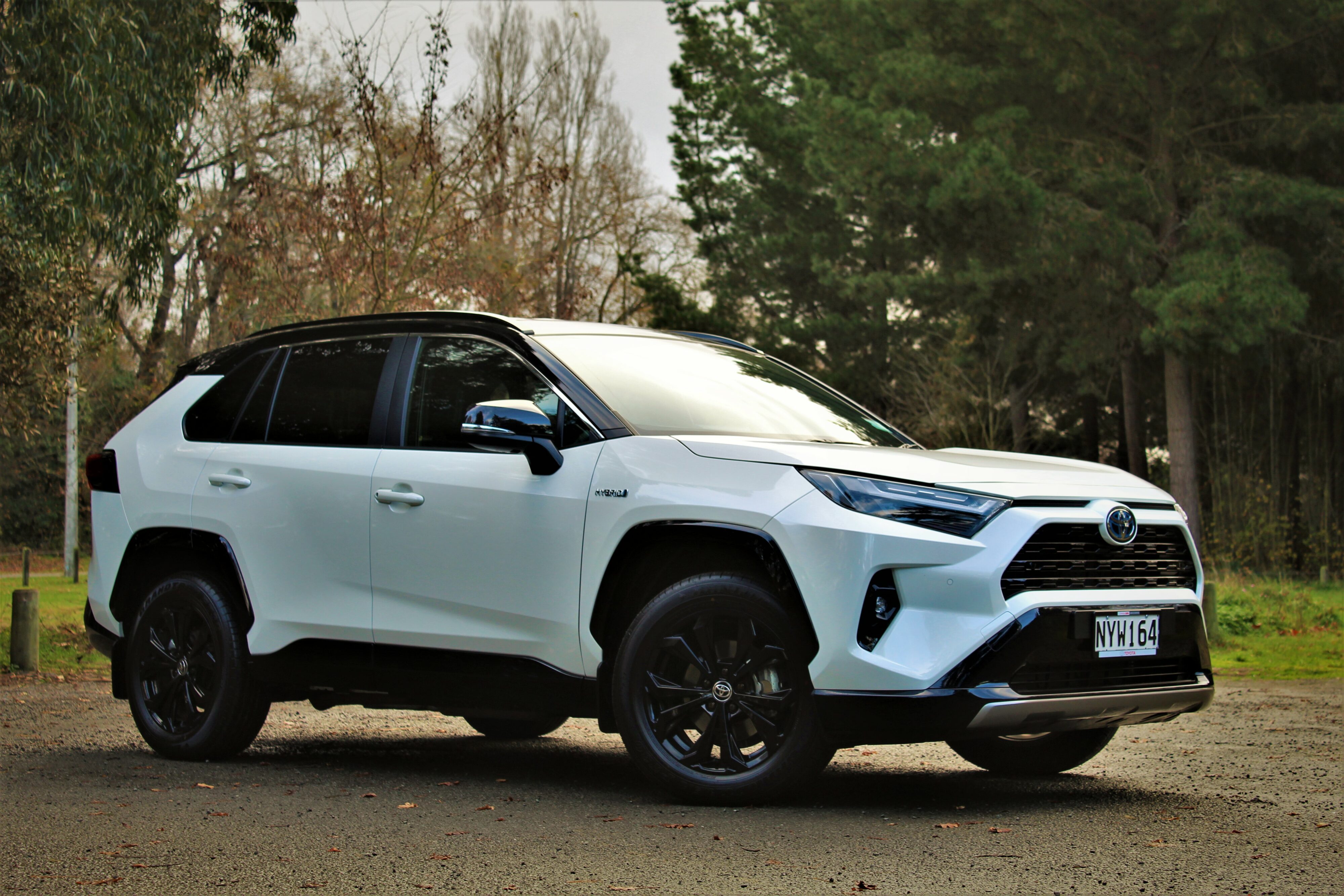 Well, it certainly is underneath. Toyota's 2.5L four-cylinder petrol and hybrid electric combo mated to a E-CVT gearbox produces a combined 163kW/221Nm. E-four-wheel drive sends said grunt to, well, all four wheels naturally and will return a combined 5.3L/100km and 110g/km of CO2. So, just as clean and green as the Adventure then? You bet.
When I collected my test car from the folks at Miles Toyota in Christchurch, I must admit a certain thought passed through my mind when I saw it sitting out front in its two-tone Eclipse and Frost White colour combo. In this guise and with its new standard projector LED headlight design, it does bear a striking resemblance to an Imperial Stormtrooper.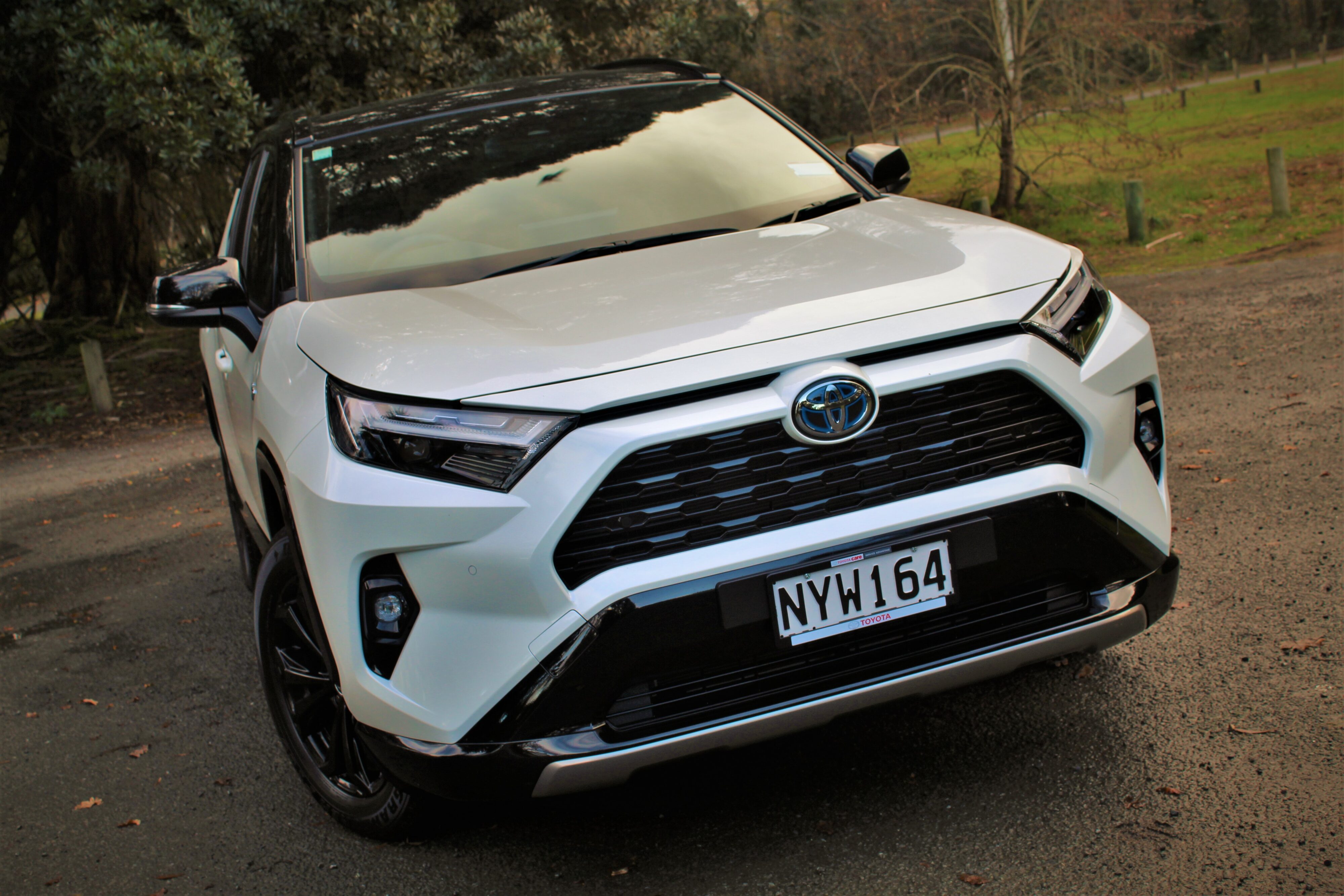 With gloss black finishes to the front grill, front and rear bumpers, rear spoiler, roofline, roof rails, door mirrors and its 18-inch alloys contrasting with its overall white paint scheme, surely one could agree? Or maybe this motoring writer/nerd will find any excuse to reference pop culture! Star Wars references aside, these tweaks have given the RAV a subtle, yet slightly sporting edge. Plus, you get an XSE emblem in sporty font to complete the ensemble.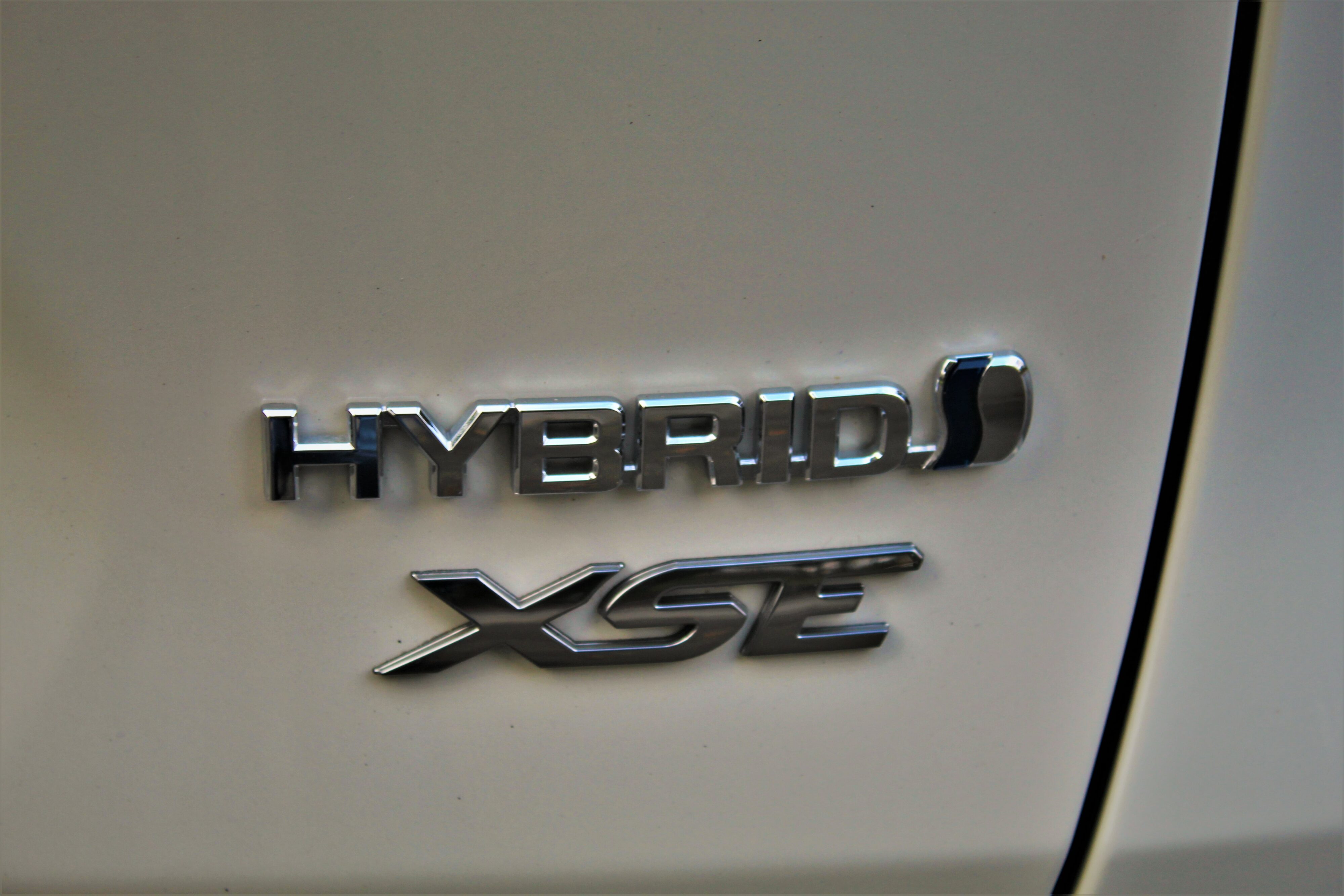 Inside the XSE feels quite plush for a mid-level entrant and is quite well equipped. The driver's seat is 10-way electrically adjustable and, along with the front passenger seat, is clad in leather with blue stitching and is able to heated to a low or high capacity. The Adventure differs from the XSE in this regard by offering three stage heating and ventilation but on a cold winter's morning in Canterbury, I certainly didn't miss the ventilation aspect of the flagship.
You also get 4x USB charging ports, Apple CarPlay/Android Auto, an 8-inch infotainment screen, dual zone climate control, wireless charging, a power boot lid and a 7-inch screen displaying your speed, average fuel consumption etc.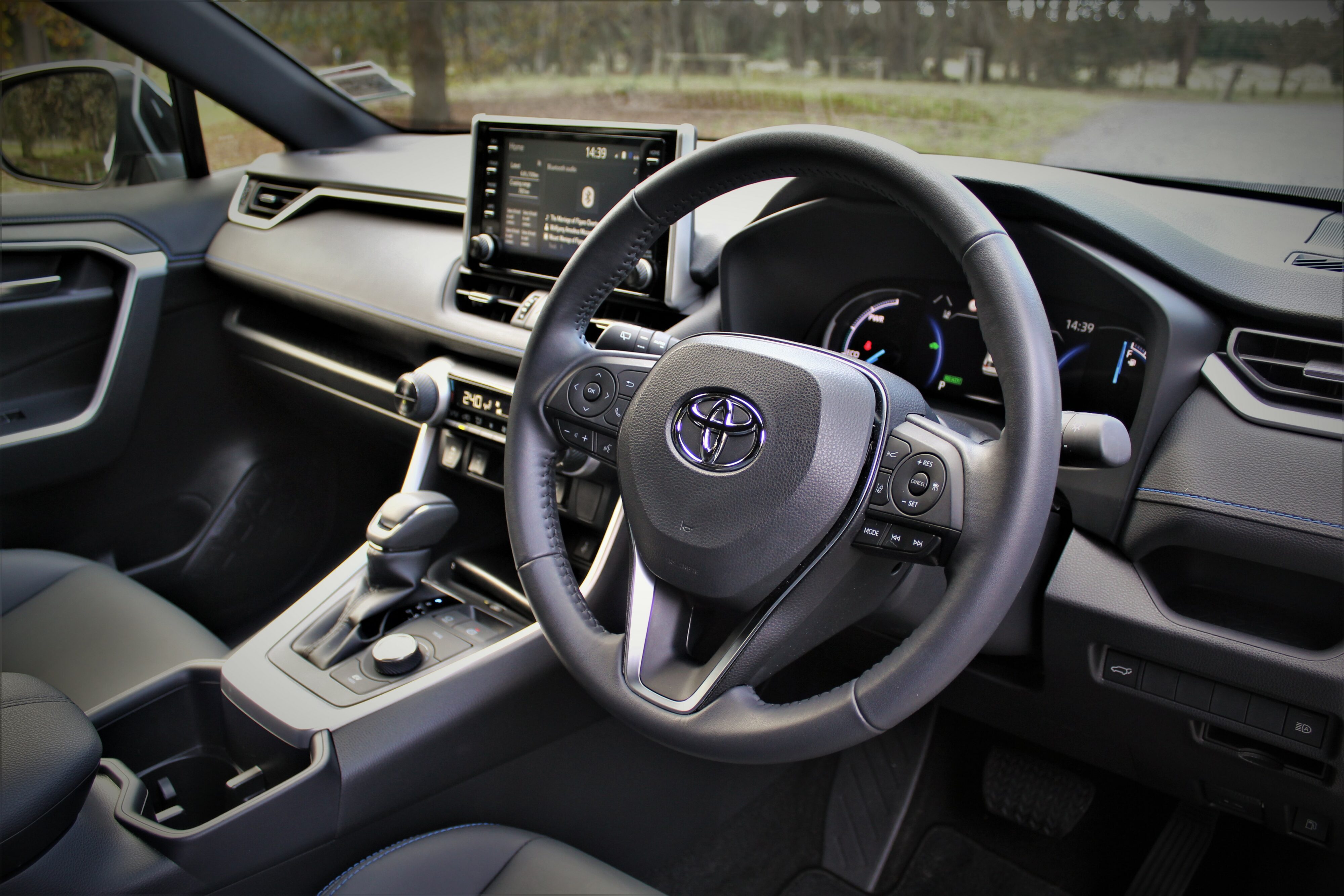 Toyota's full Safety Sense suite returns which means all-speed dynamic radar cruise control, a pre-collision system with autonomous emergency braking, road sign assist, lane tracing assist, automatic high beam, blind spot monitoring, rear cross-traffic alert, reversing camera and front and rear parking sensors.
Opening the power boot is accompanied by very loud beeping noise which declares to anyone in close range that you are accessing your XSE's cargo space. Payload of said space is around 542L which is certainly ample, though it would have been better a tad wider and with a deeper floor. The RAV4 XSE makes up for this with rear passenger comfort. Lumbar support is very good and those in the rear can feel cocooned to a certain degree and experience ample headroom.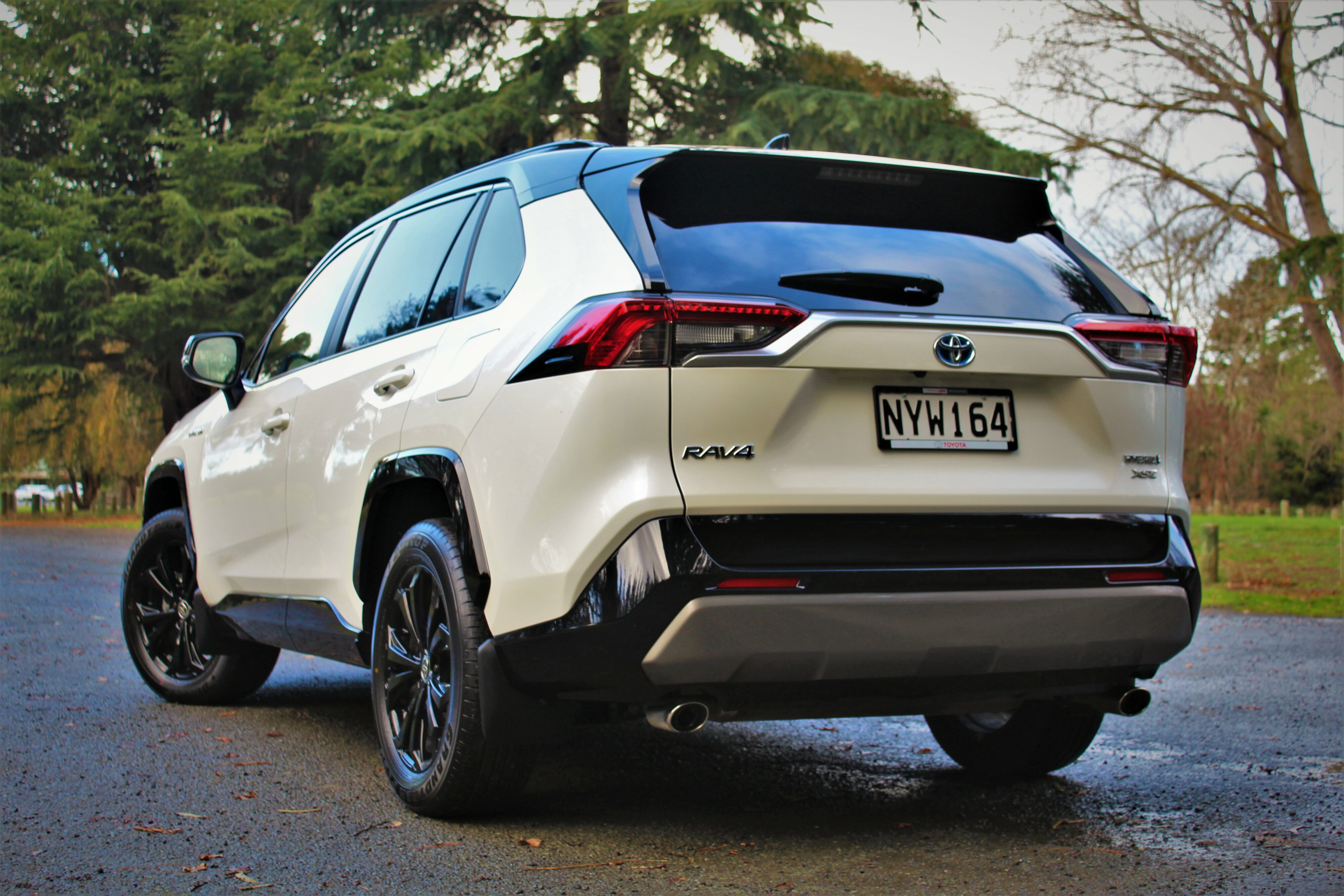 In typical hybrid fashion, the 2.5L four pot with electric aid starts in deathly quiet before firing up the internal combustion when a firm foot is applied or on a cold start. The XSE gets three on road modes, Eco, Normal and Sport. Flicking between them is achieved by turning the drive mode selector next to the gear lever which, as it happens, changes colour. Green for Eco, blue for Normal and red for Sport.
In Eco, you can get up to 60km/h on EV mode if you are gentle on the throttle. Toyota have a knack for getting the most use of the hybrid aspect over a number of their competitors. You want a hybrid to creep along around town in electric silent running as much as possible, and you can do this here. I was also able to average as low as 6.3L/100km which for a 2.2 tonne SUV like this, is pretty good.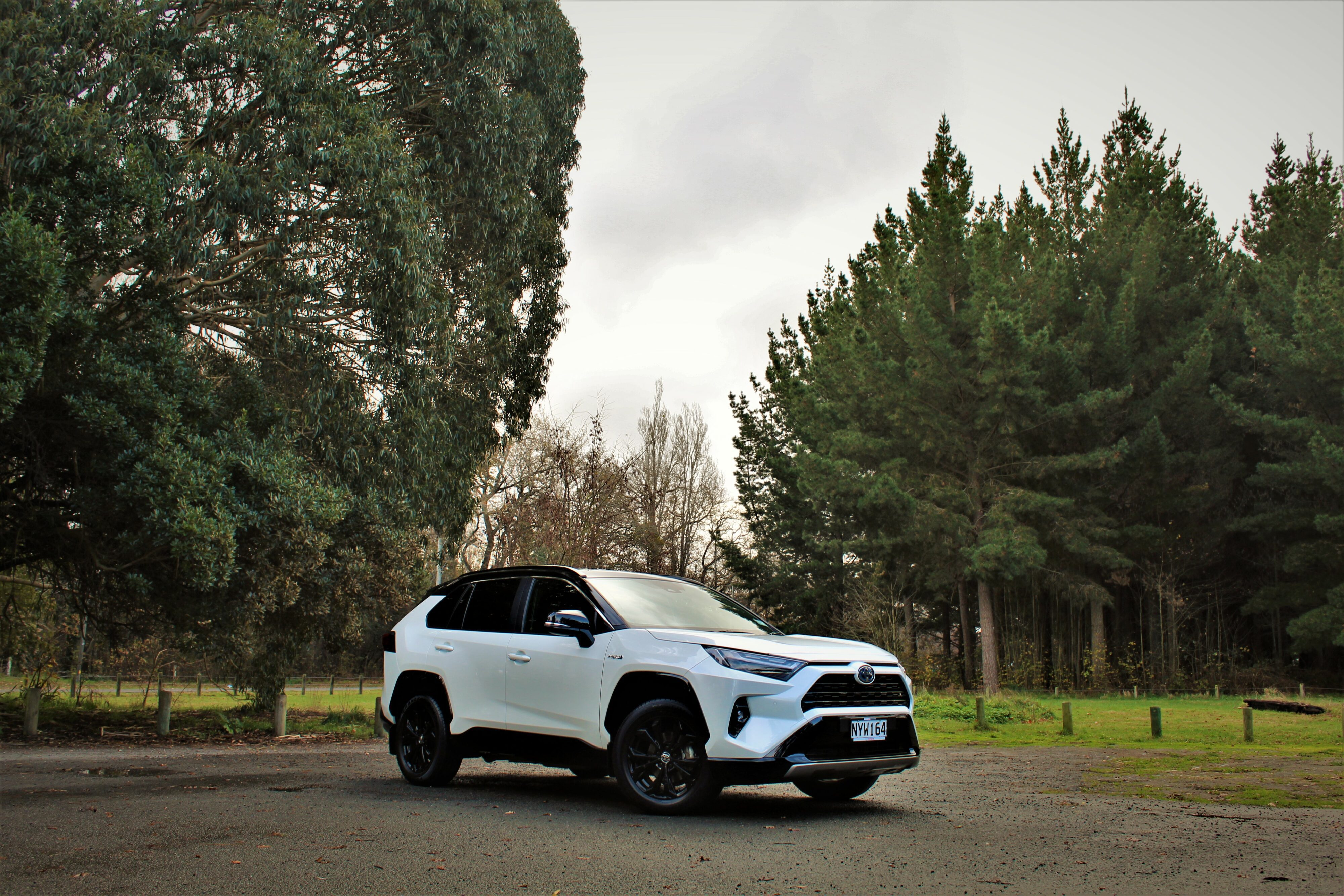 Sport mode is also quite surprising, in a good way that is. You have a very linear power delivery and overtaking as a result is a doddle, with that grunt there when you need it. The kick down is pretty immediate and while its probably not the most exciting engine note out there, the low-down torque of the battery only aids in your modestly brisk progress.
Feed in some left or right action and the XSE responds well. The steering is light and it doesn't feel underdamped in the corners. The RAV4 TNGA underpinnings are a solid base and equate to relatively balanced chassis with the ability to keep things stable at speed.
The RAV4 has the ability to mildly rough it in Trail mode, but its more than likely the full extent buyers will get to "roughing it" will be a leafy driveway or maybe a muddy farm paddock. Going mud-bogging is a job best left to others in the range.
That aside, the XSE has made the choice for RAV4 buyers even harder. This brings us back to that first question. Yes, the XSE does impress in the same way as the Adventure? The latter gives you more toys yes, but you get almost as much stuff you need with the XSE.
I would have no qualms if you chose the Adventure, it is the ultimate RAV4 available, but the XSE provides buyers with more than what you need and in a package which is just as compelling. Therefore, the XSE would be my pick.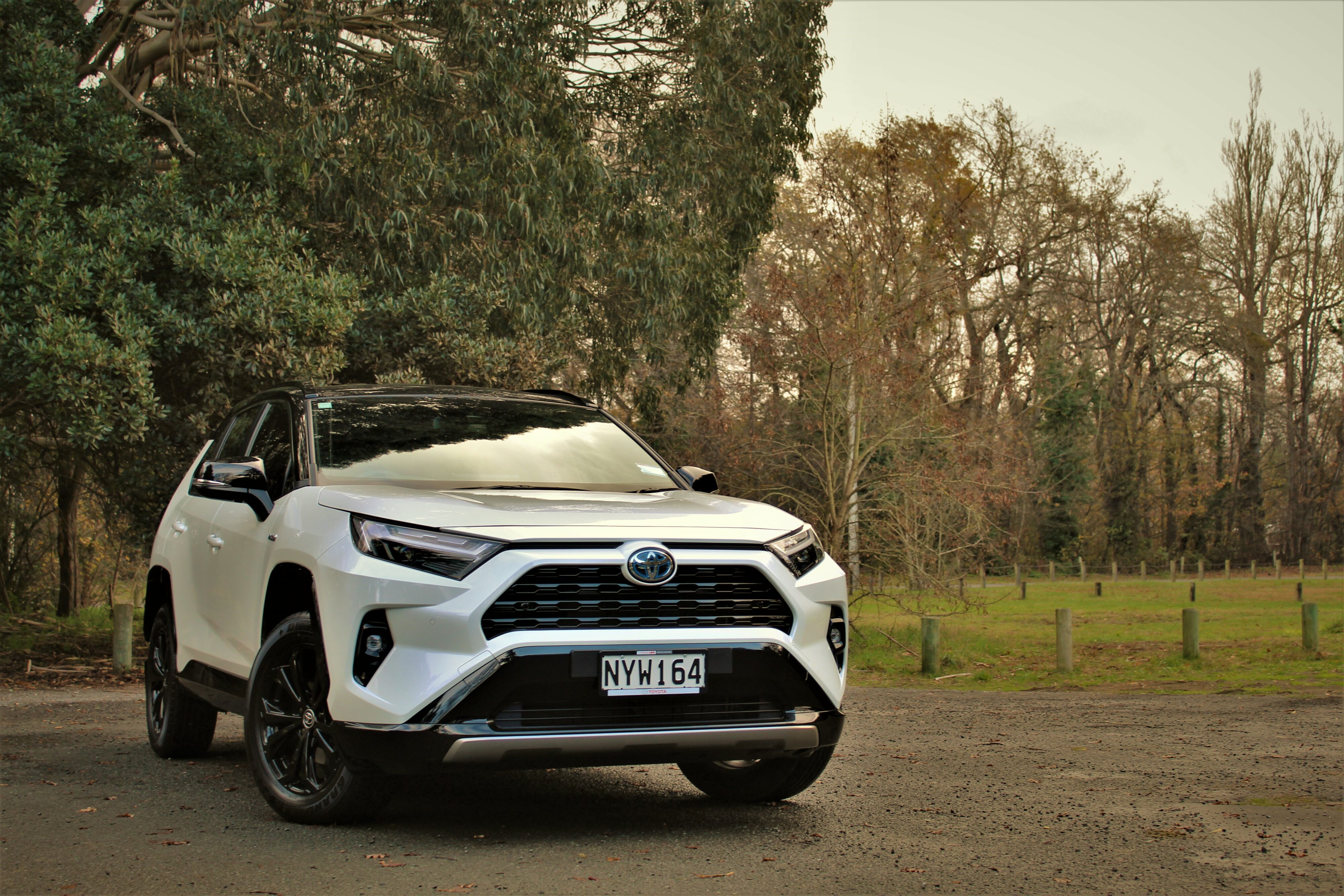 RATING: 8/10