Calling a front wheel drive electric SUV is a driver's car might read like a stretch to some, but hang with me while I make my case. I had the MG ZS EV Long Range for a while to help answer the question of whether or not there was a number to end range anxiety as I took it through its paces in both a week of city driving and a long-ish roadtrip up North.
By the end of this period, I feel like not only was I able to answer that question, but the MG managed to flip my expectations by quite a bit. At the risk of sounding repetitive, my partner's daily driver is a Leaf with around 100km of range, so we can confirm that range anxiety is very much a real thing. We use it mostly for city trips and charge it every other day, making use of a power plan that gives us free power from 9PM to midnight every night. This means we still need a car (or multiple, as I keep telling her) to handle the longer trips, and if a family wants to consolidate both use cases in a single car, then the range number positively needs to be over this 100. So, enter the MG.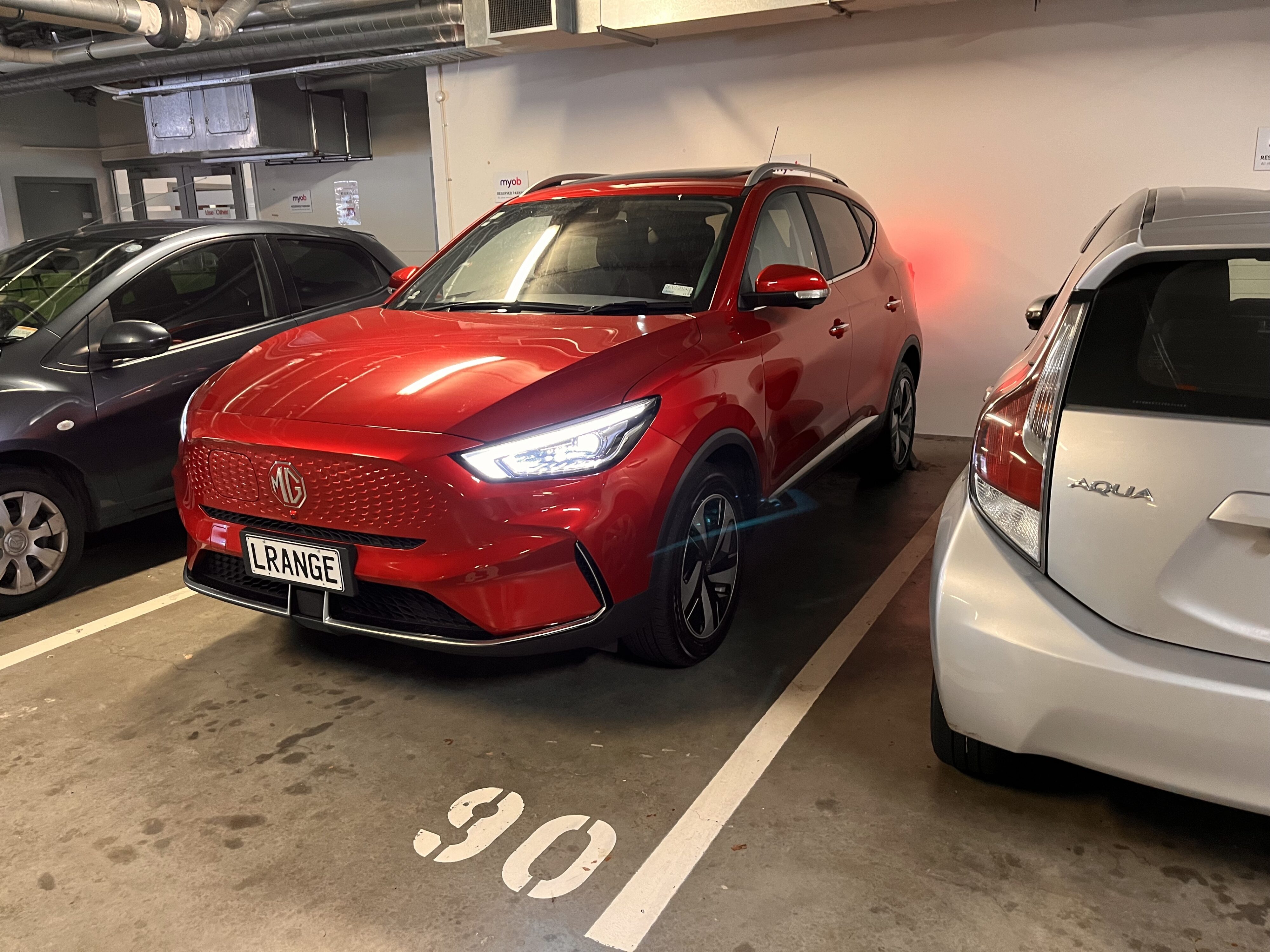 The small SUV uses a platform that can also be had as a PHEV to sport a 115kW electric motor paired to a 64kWh of usable battery capacity that will get you a claimed range of 440km WLTP. When my journey with it started at the beginning of the week, it had a tad over 80% of charge, which were good for around the mid 300 kms mark.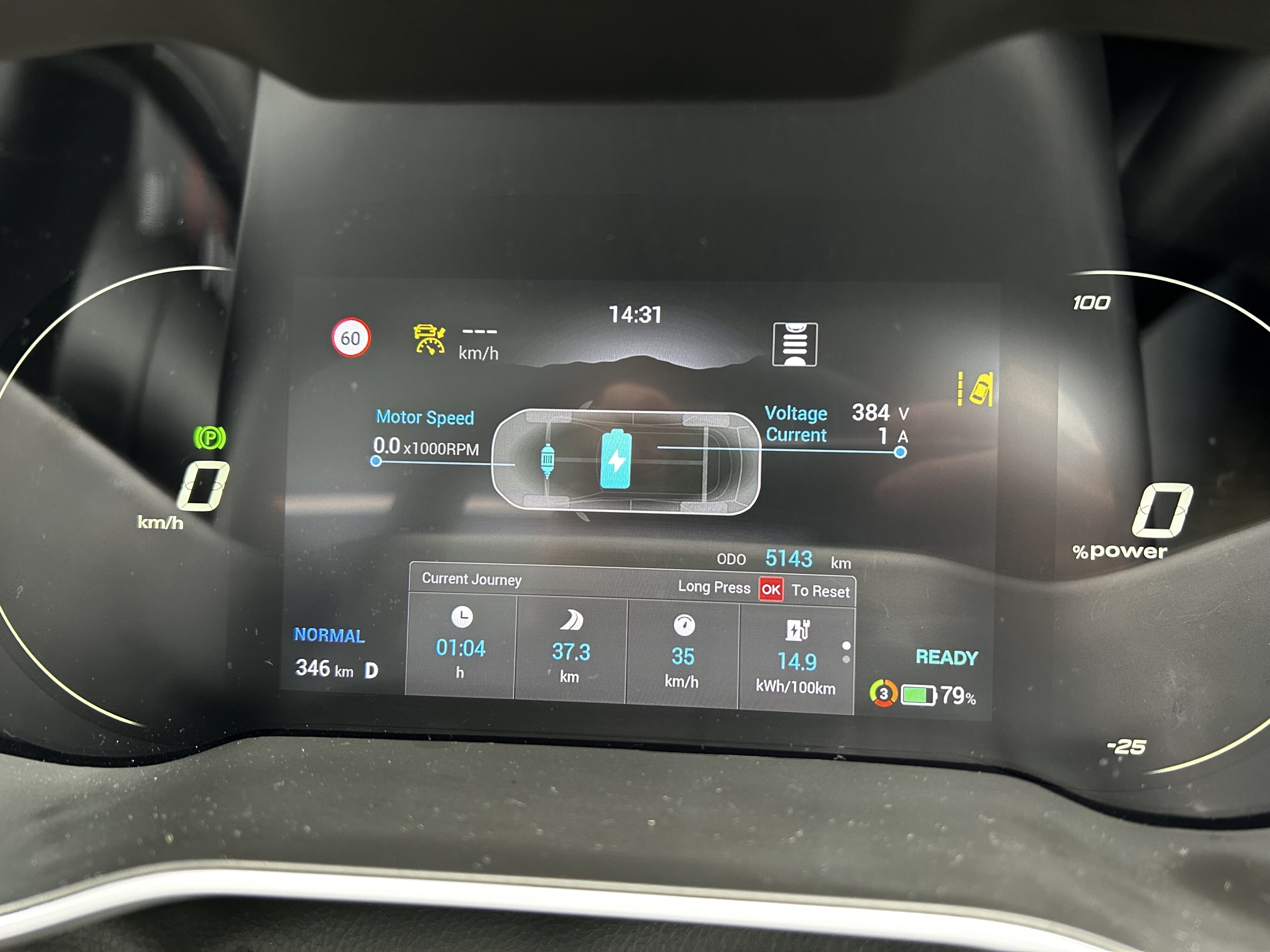 This was enough to get me through a whole week of driving, including visits to friends that lived far away so that I could give them an interview of sorts about the potential life with an EV. During this period, I was positively surprised with its city manners and livability. It is plenty nippy and predictable, and the choice of materials for the interior is good for the price point, including the seats that, albeit a bit short for me, were comfortable to spend time in.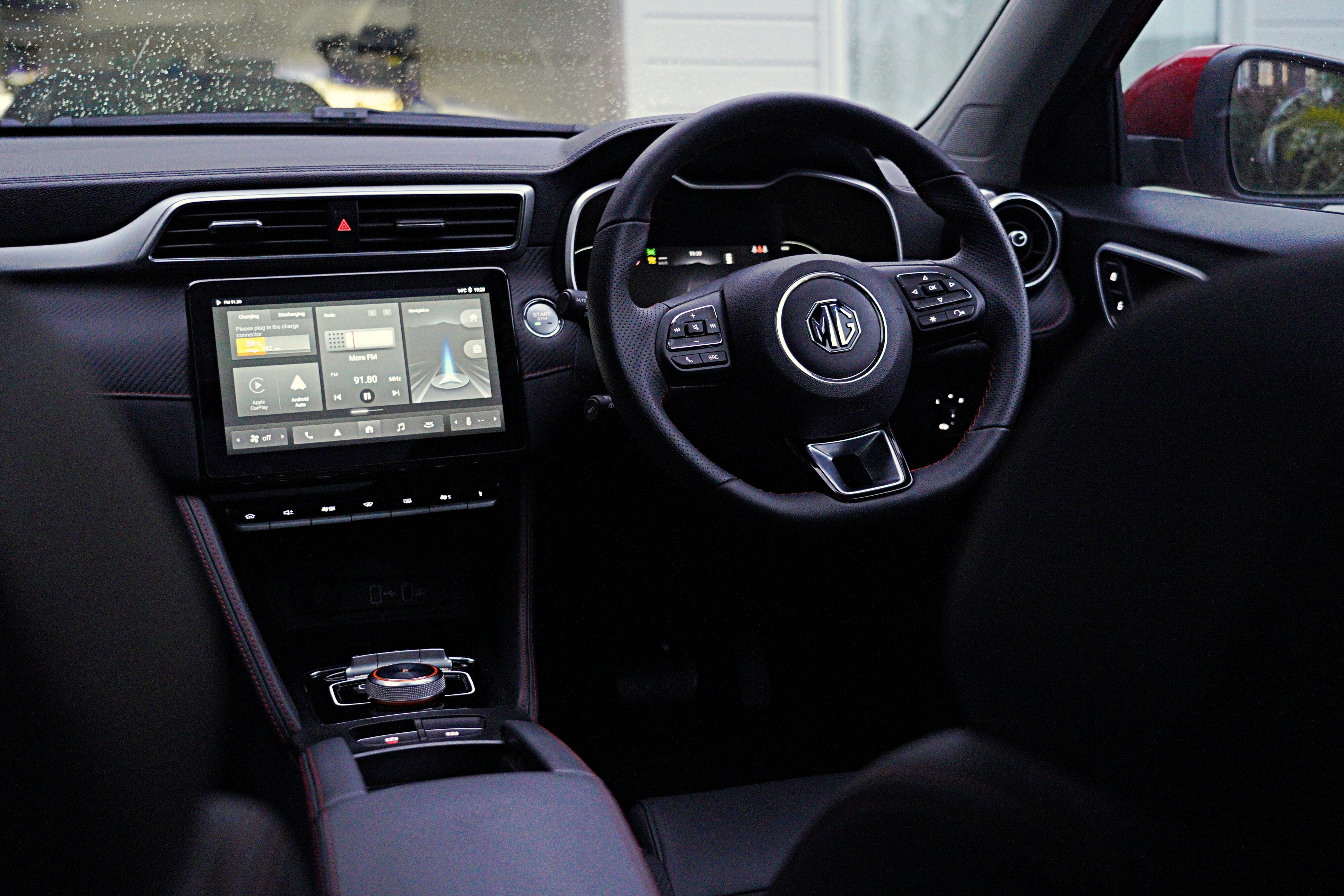 Its nimbleness and agility led to a great experience while driving around the city, making this an efficient, practical runabout car that still manages to be fun and entertaining. This is me starting to put some weight behind my driver's car claim.
And I got through all of this without a single recharge, which in itself was already a change in our usual modus operandi given the Leaf always has to park closest to the house because of the cord, while the MG could use the other spots most of the time. But evaluating range and dynamics in the city alone tell only one side of the story – many of the new EV prospects are concerned with their ability to go on longer trips, and that was the second part of the test.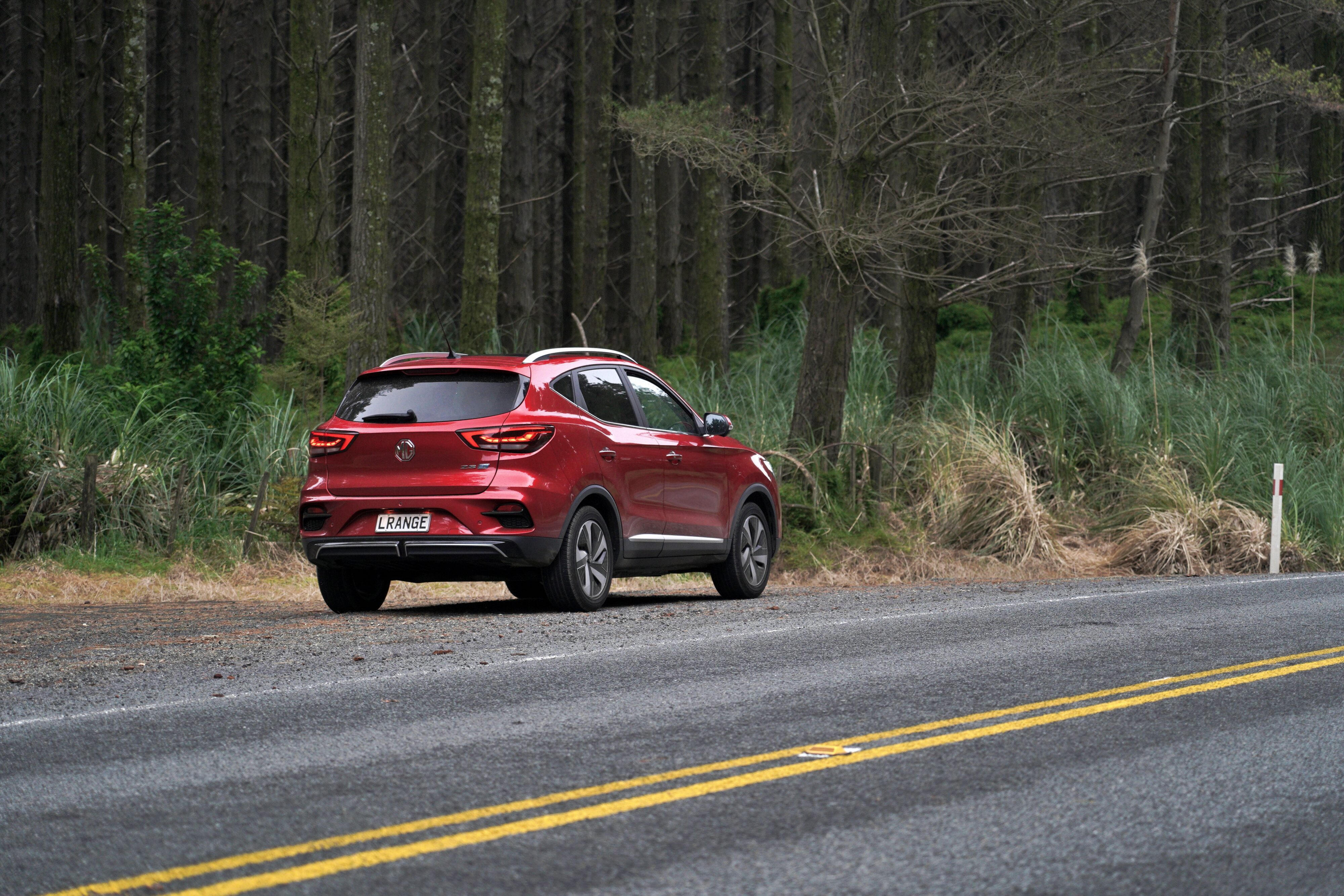 We had a lodge in the Pouto Peninsula called Henare on our radars for some time, and this felt like the perfect opportunity to go check it out. At around 240km away from home, it would be a good test of the car's ability to handle a longer stint of road.
The plan was to leave on Sunday morning, so I plugged the car in on Saturday night, with around 22% of charge left. And that was precisely when I was caught off-guard (for the first time) with the charging speeds. The trickle charger is rated at 7kW and asked for way more hours to charge than we had available. For an EV driver myself, I did a terrible job at planning my charging, so learn from my rookie mistake!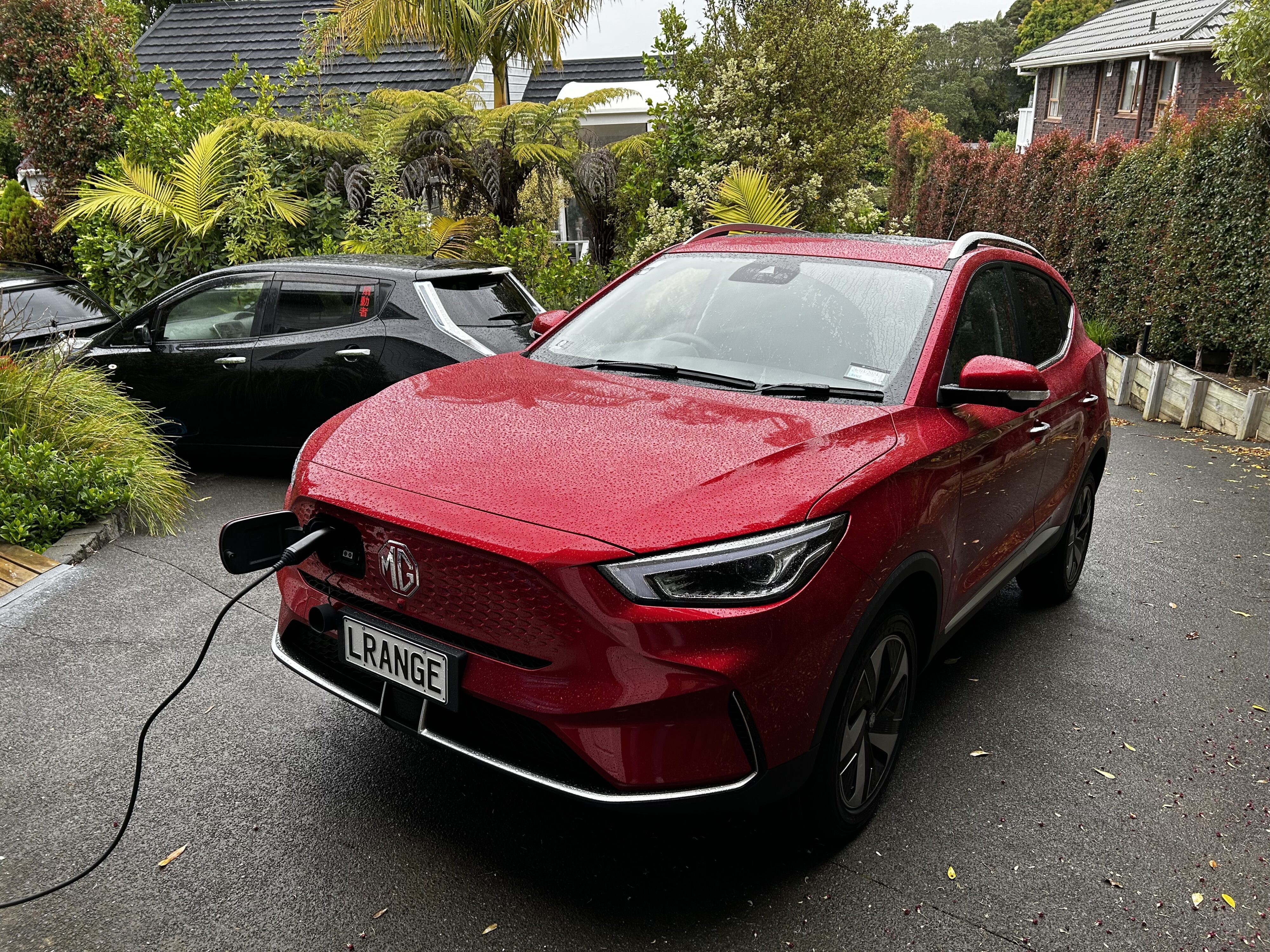 Not too long into the trip itself, thinking we still didn't have enough juice, we stopped at the Silverdale free fast charging station provided by Vector. These are usually super crowded, but for the first time in a long while, I was able to just show up, park and charge. I even had a cousin red MG plug-in hybrid as a neighbour, and we charged there for half an hour while many Leafs and Teslas joined the queue. That charger uses the 50k W DC functionality, and quickly gave us more than enough to basically forget the range topic until we got to our destination. So, it's only right that I flicked it into Sport and burned through electrons more fiercely.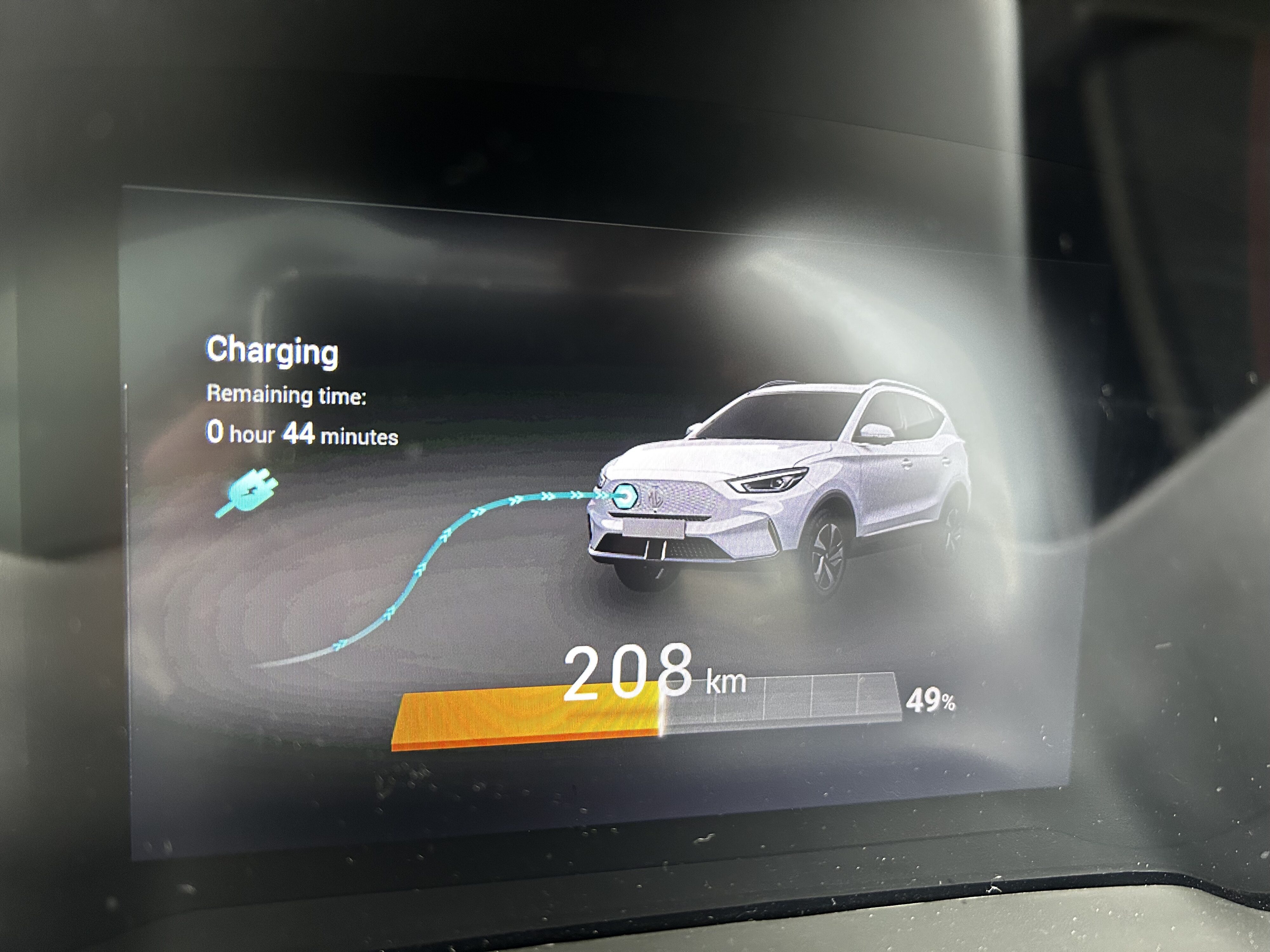 The Drive Modes change little about the behaviour, mostly throttle calibration from what I could tell. This means that the steering, which has just the right amount of speed and weight, is consistent across them, as is the suspension calibration. The latter is probably the highlight of my time with the MG and puts it ahead of the competitors I've tried out so far. It did go unsettled on me a couple of times during corners with irregularities due to the torsion beam construction, but the overall experience was overwhelmingly comfortable even for an ICE-based car having to deal with the added weight of batteries (I'm looking at you, my Leaf).
The technology implementation, however, was a mixed bag. The centre screen reminded me of an older Android tablet due to the content's layout and certain functionality quirks. The adaptive cruise control commands were probably among the easiest to use I've had recently, but after some ghost acceleration and braking and a few noisy, ABS-like stops for regular stop and go traffic, I decided to just leave it off and handle all the driving myself. Like you do in a driver's car!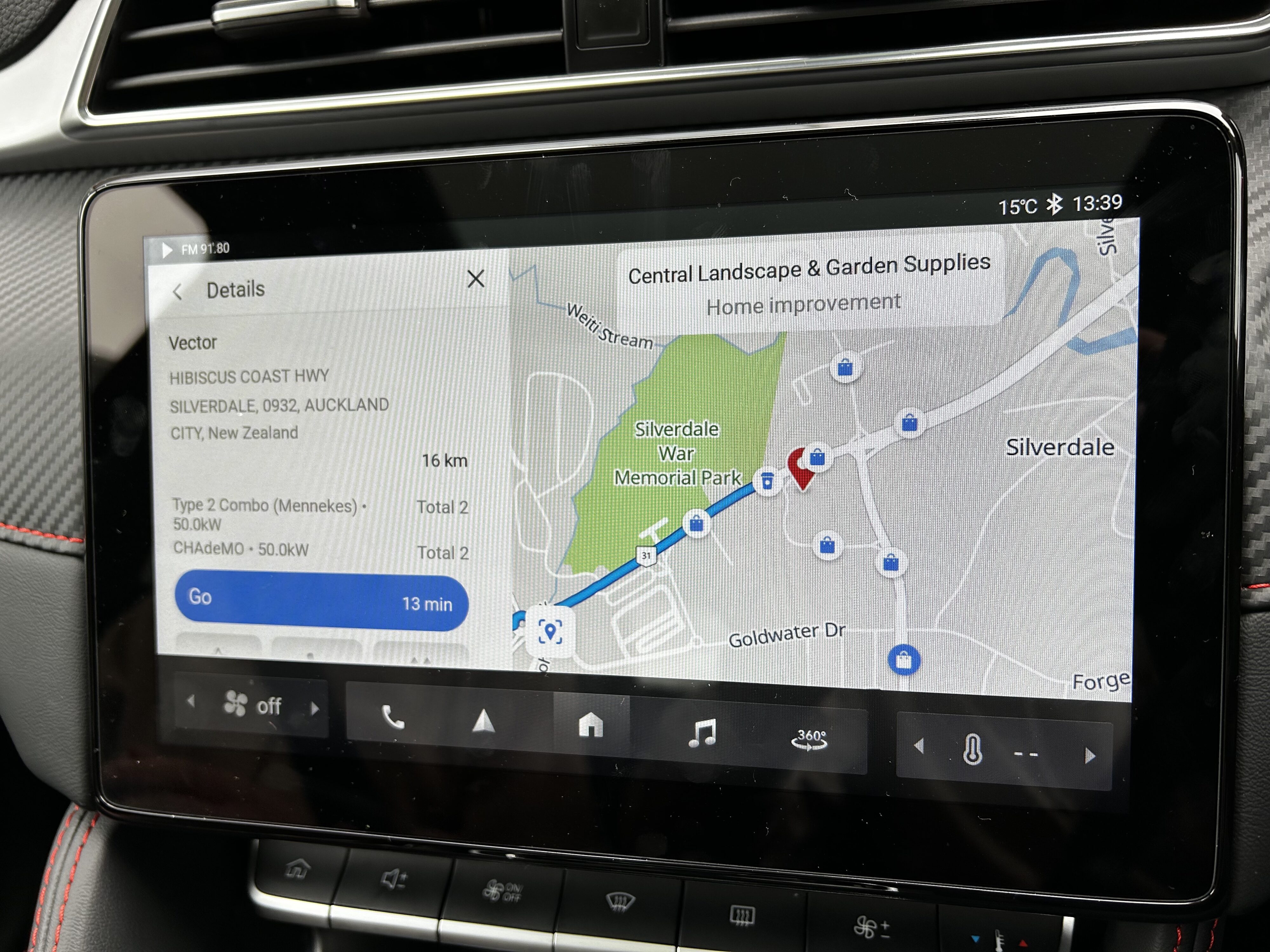 As the road gets further into the Peninsula, it gets slow and bendy, a great recipe for a small EV. The neck-jolting shove of electrons is barely perceptible here because of the (seemingly intentional) throttle lag, which allowed for very natural and progressive driving, using regen braking at max level and the gas to help the car keep its trajectory. The tyres handled the task very well and never said anything about the work I was giving them. My partner was fast asleep so I can say the same about her.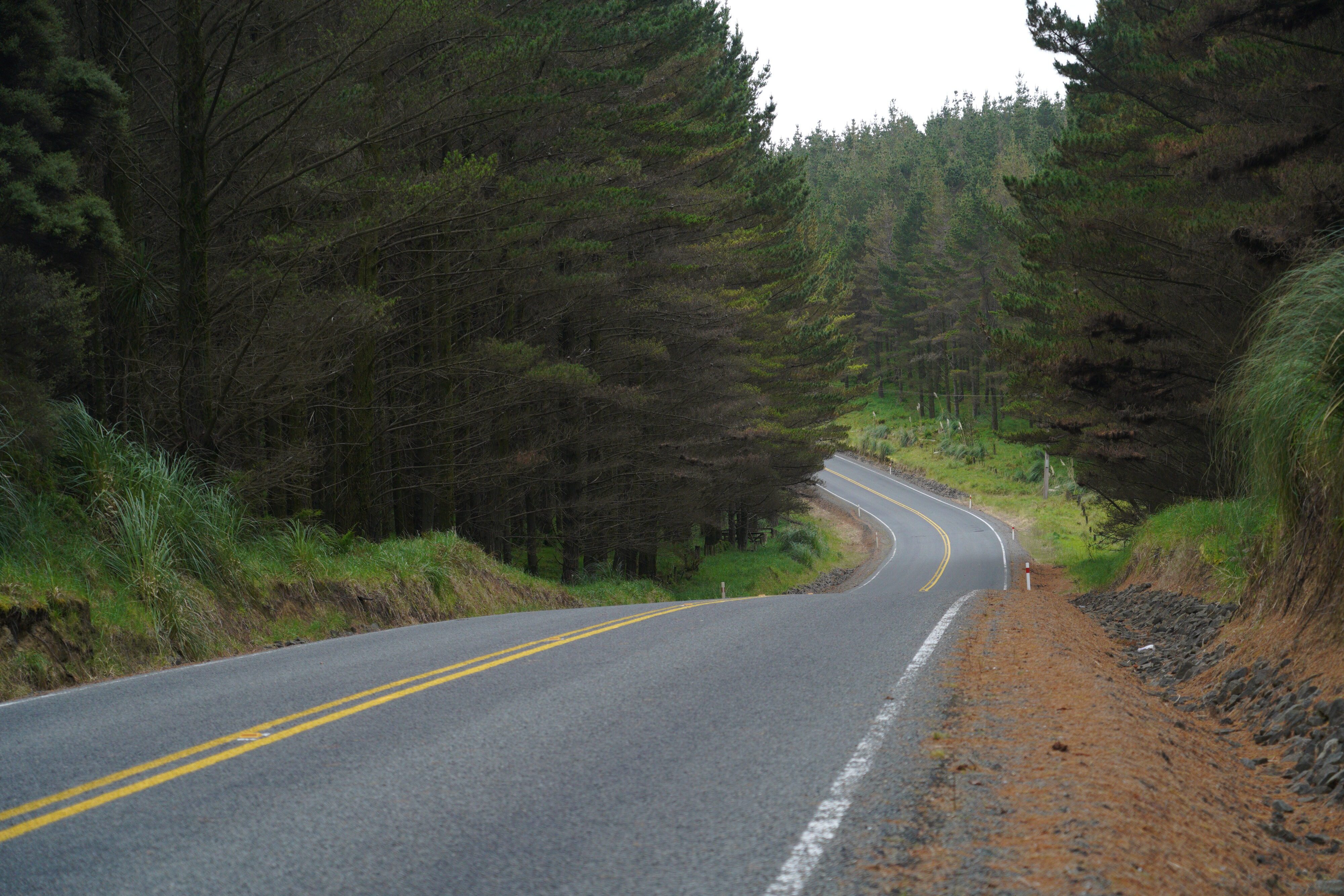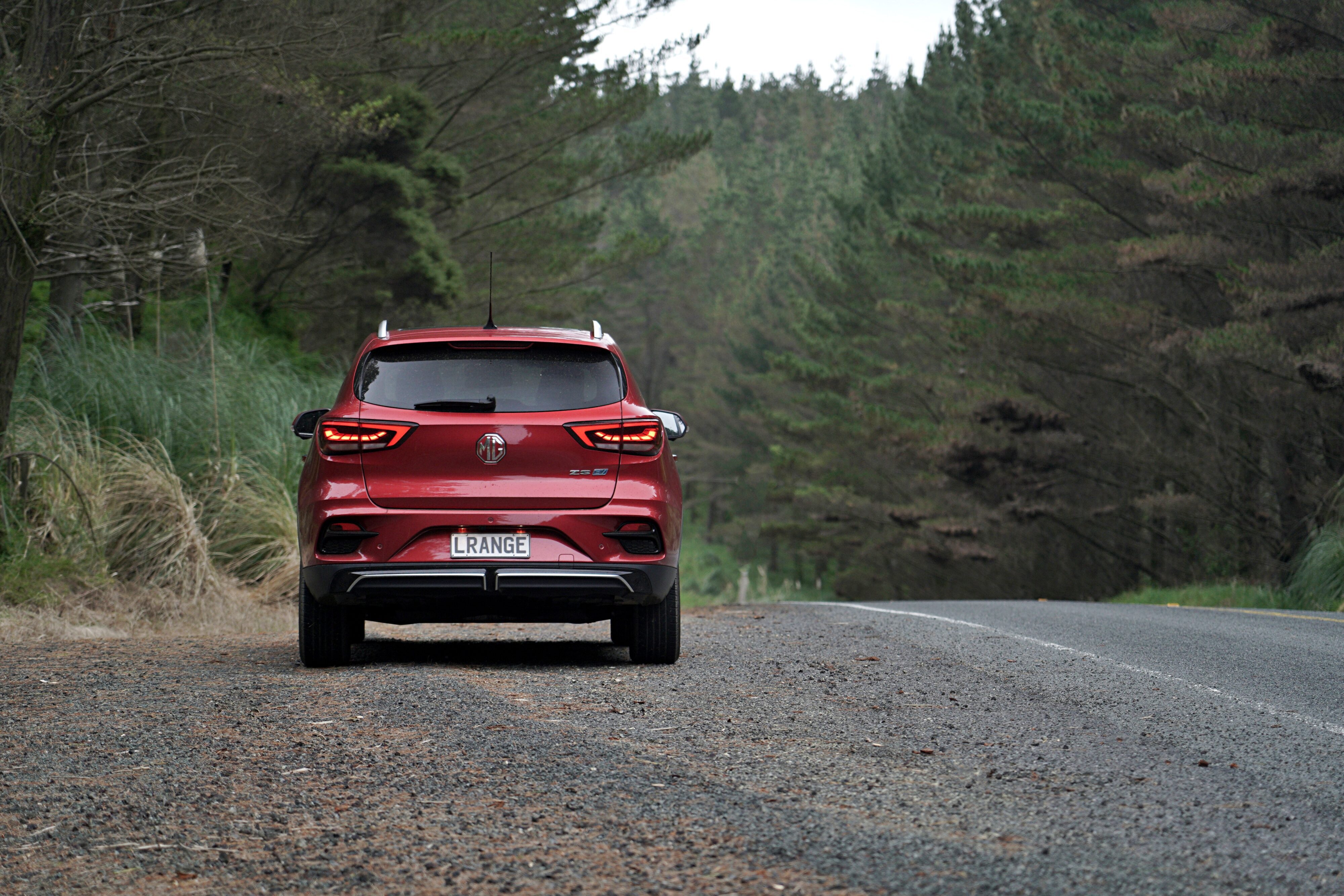 Some 60kms of that and we finally got to the accommodation, and I plugged the car in almost immediately. It showed 22% of charge and 79km of range left, with a total expected time to charge of 18 hours. I didn't want to interrupt this charge, which meant that the MG spent the evening of Sunday, the whole 24hs of Monday and the morning of Tuesday to accumulate a full charge!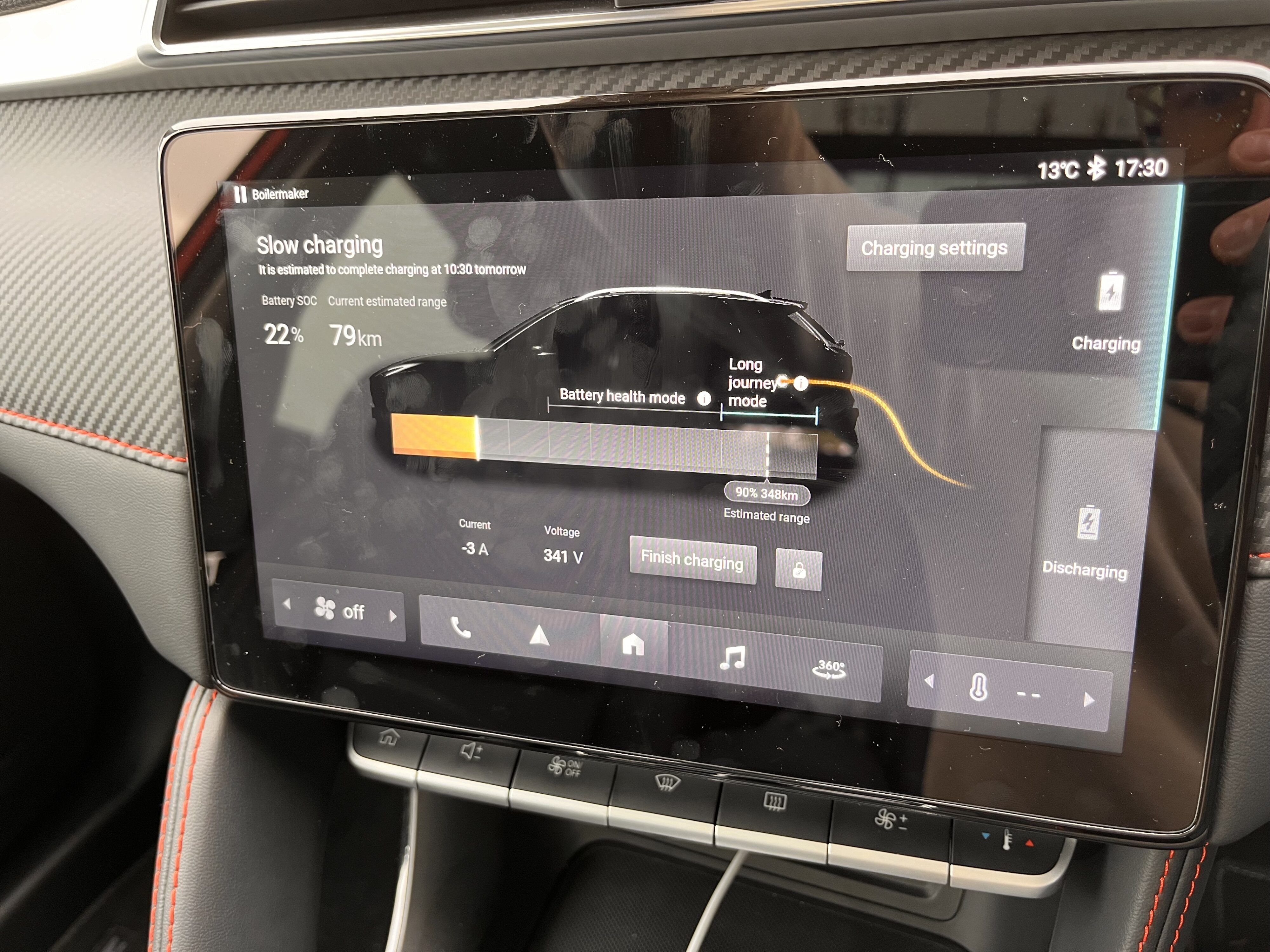 Thankfully, Henare offer guests a buggy (or is it a quad?) to use during their stay, a Kawasaki Mule, and it was an interesting change of pace. I have very little experience off-roading so I took it quite slow, but the Mule's 4WD made easy work of the soft sand and even the dunes when we wanted to do some beach driving around the seals to check the nearby lighthouse.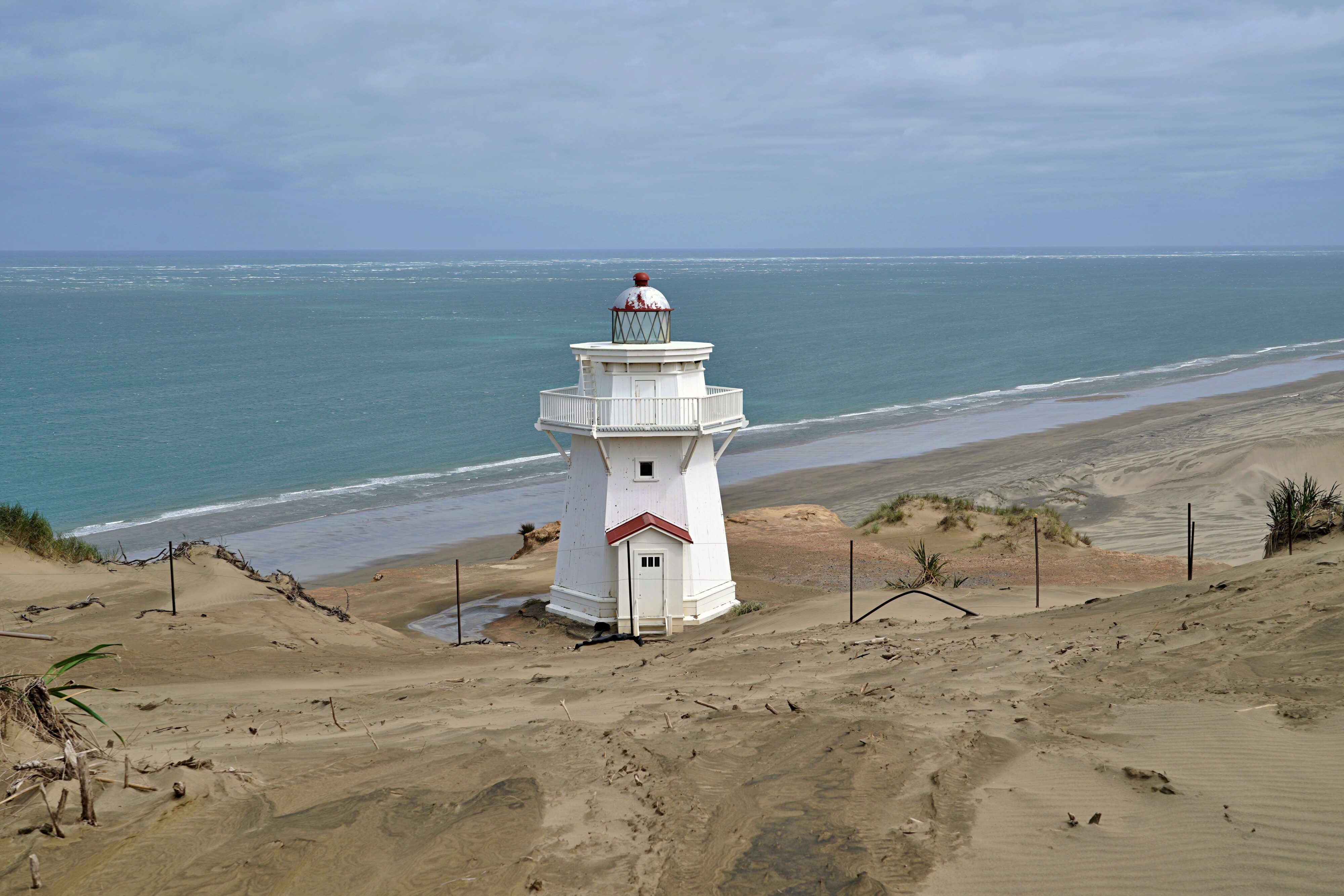 I would then alternate periods of enjoying the lodge's amenities with checking the MG's state of charge, and thinking that if it were mine, I would either go for a wallbox to have quicker charging at home or plug in more frequently and charge it, say, from 50 to 80% whenever I required. I am unsure, however, of the implications of doing this long term to the battery longevity.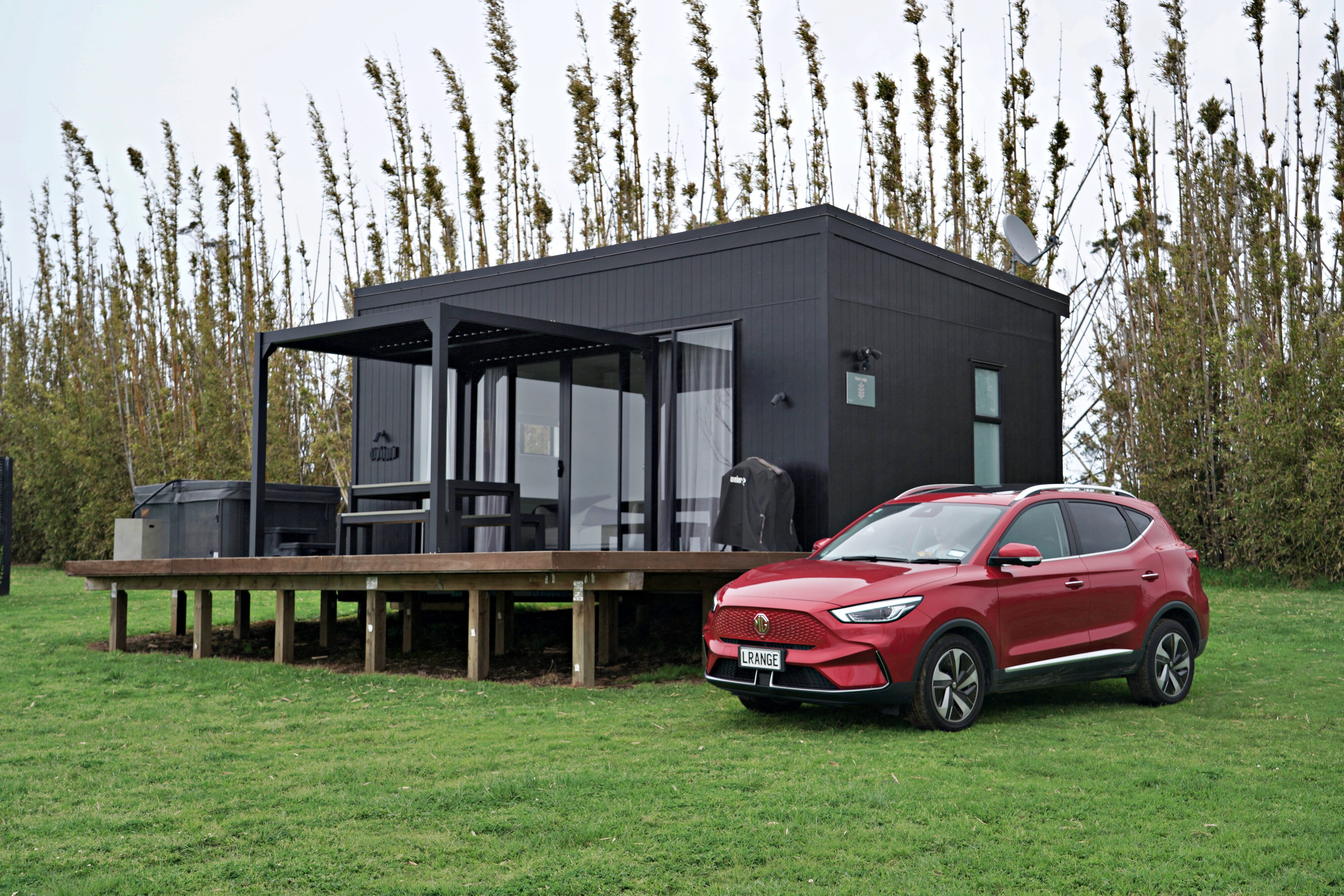 It was a very relaxing couple of days, but responsibilities seem to always find their way to us and we had to start making our way back. After departing with 100% state of charge, the car claimed a full range a bit below the manufacturer's figure, at 411km. So, I figured that on this leg of the trip, I would really try to hypermile it and see how accurate this number would be. A/C was off the whole time, I was gentle on the commands and even relinquished adaptive cruise, as when coasting it would only use the brakes and completely ignore regenerative braking. This meant the car was fully under my control during this time, further confirming my claim of it being a driver's car!
I recently upgraded my phone and it came with an USB-C cable, and while the MG had two compatible ports, the one that enabled CarPlay was of the USB-A kind, so no CarPlay for me. Thankfully, the onboard navigation system was good to the point that I used it the majority of the time, while having tunes streamed via good old Bluetooth. Just remember to tone down the volume before you turn the car off, otherwise the next morning the FM Radio will come on full blast before your phone connects. There was a setting for this, but even after properly adjusting it, I kept having issues.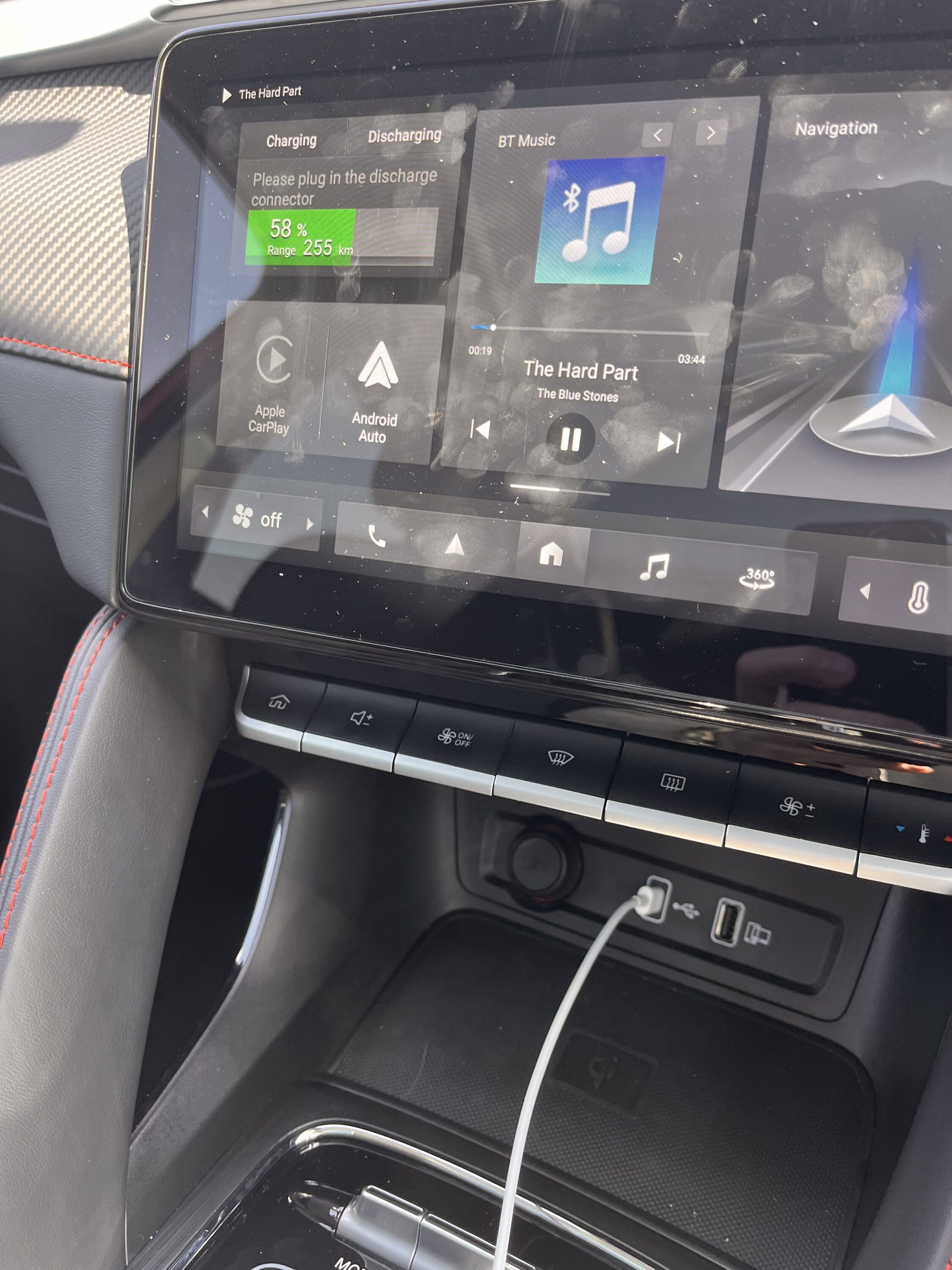 Eventually, we made it back to home sweet home. The instrument cluster showed me I used up 62% of the battery capacity, leaving me 150km left to use. These two numbers together would come to 361km, showing the predicted range was in fact somewhat accurate. This is really important when planning ahead and assertively using the maximum of the battery capacity to get you to your destination. Given at least for my use case, trips longer than 300kms without a single stop are very rare, and with a 20-80% charge taking around an hour, I would go on a limb and say that the Long Range in the name of this MG is enough to turn range anxiety into a thing of the past.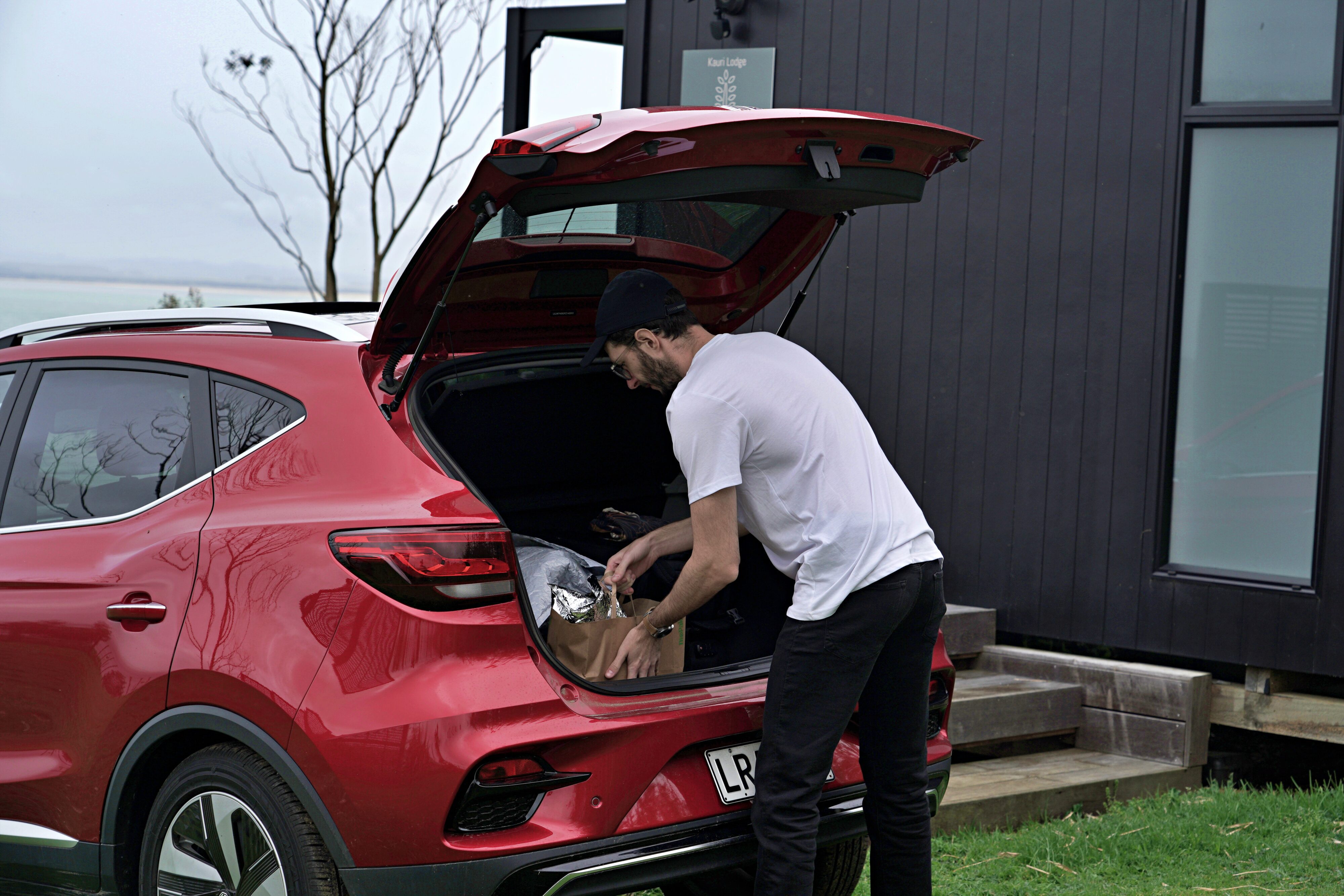 So, at the end of my time with the MG, it started making way more sense that I would see so many of these on the road. It's a fun-sized SUV that will handle basically everything you throw at it, unless you are a nerdy technophile like myself. It's comfortable, easy to live with and brings all the good (and very little of the bad) of that EV life. In Long Range form, it might be what it takes to sway nay-sayers into going to the electric side of motoring with heaps of fun times. Just forget about the tech and focus on the driving!
Thanks for reading!