While picking up the iX3 from BMW's lair in the UK last year, I stumbled upon their new iX (alright it was parked in the car park) and was hooked. They are calling it their new 'technology flagship' and a 'pioneer of a new era' which is all well and good, but whatever the marketers want to label it, this all-electric SAV seriously grabbed my attention. So now that I'm back in NZ, BMW thought it best I took a closer look.
Ok, so words like 'Monolithic' and 'shy tech' are not exactly common phrases right now, however, if BMW has anything to do with it, then they will be. You see, monolithic 'formed of a single large block of stone' is how they are describing the iX's exterior. It's a reduced design language that minimises panel gaps and offers up a kind of moulded appearance – yet clearly a BMW.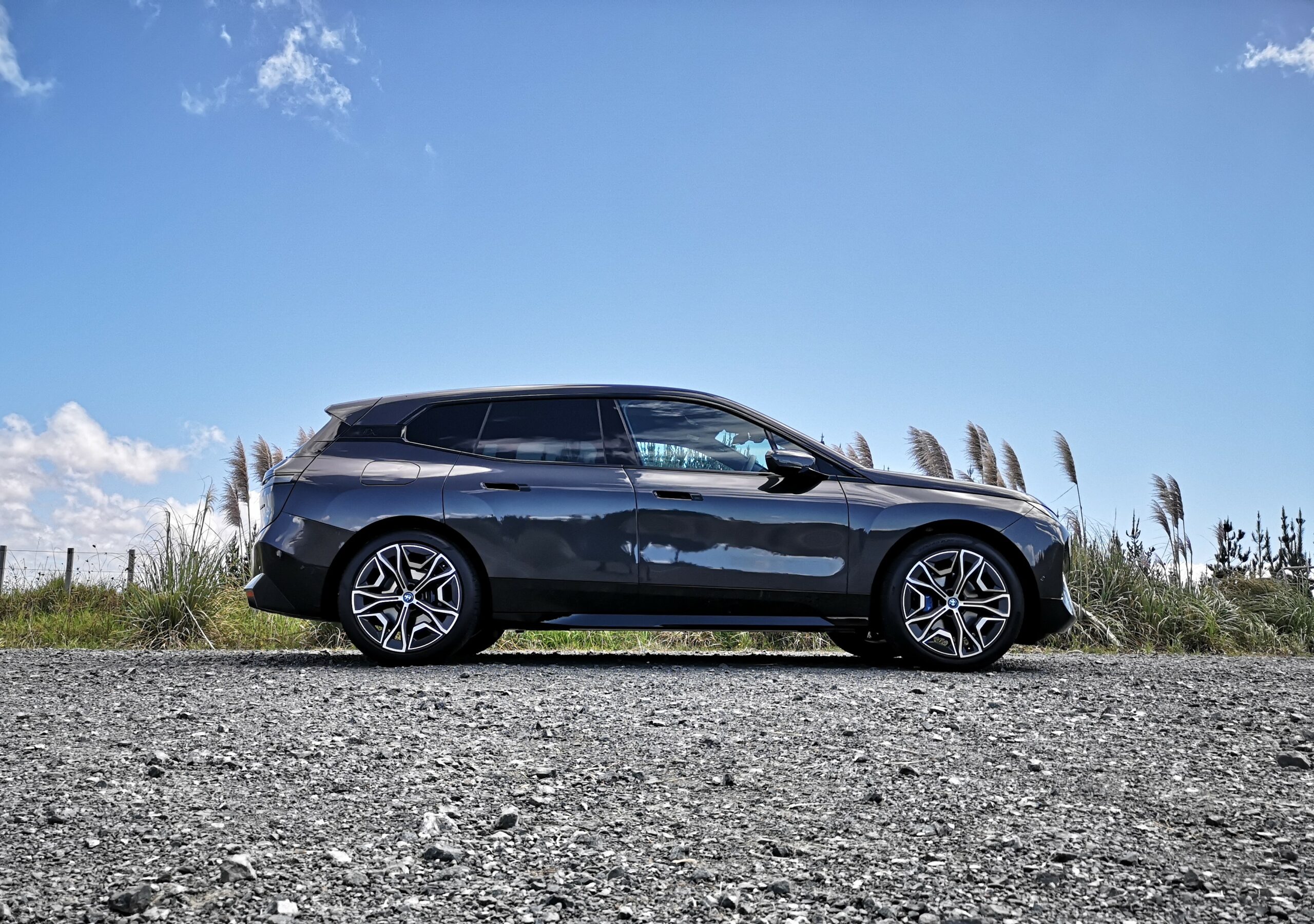 What helps its evident BMW family bond are its large kidney grilles, which (being as they don't have to cool an engine) are virtually sealed off and hide the cameras and radar tech – or cutely named 'shy tech'.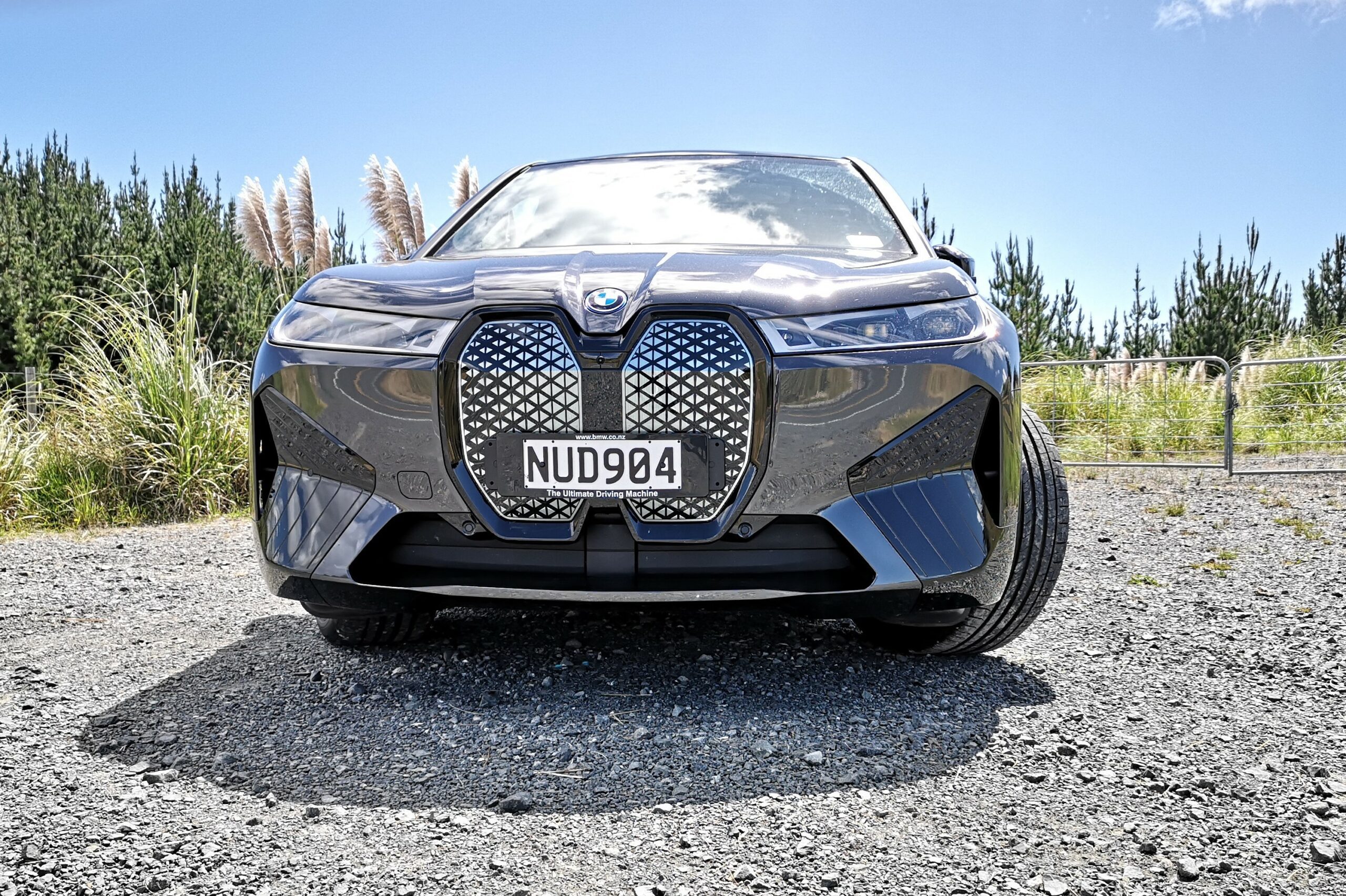 Above the kidneys is the BMW badge which sits proudly on a bonnet that doesn't open (so don't go spending time looking for the bonnet release like me) and doubles as a refill cap for the windscreen washer fluid. The headlights (and tail lights for that matter) are the narrowest BMW has ever put on a production vehicle and there are ample aero vents to ensure this new age Beemer slips easily through the air. In fact it boasts a 0.25cd which is a shade over a golf ball.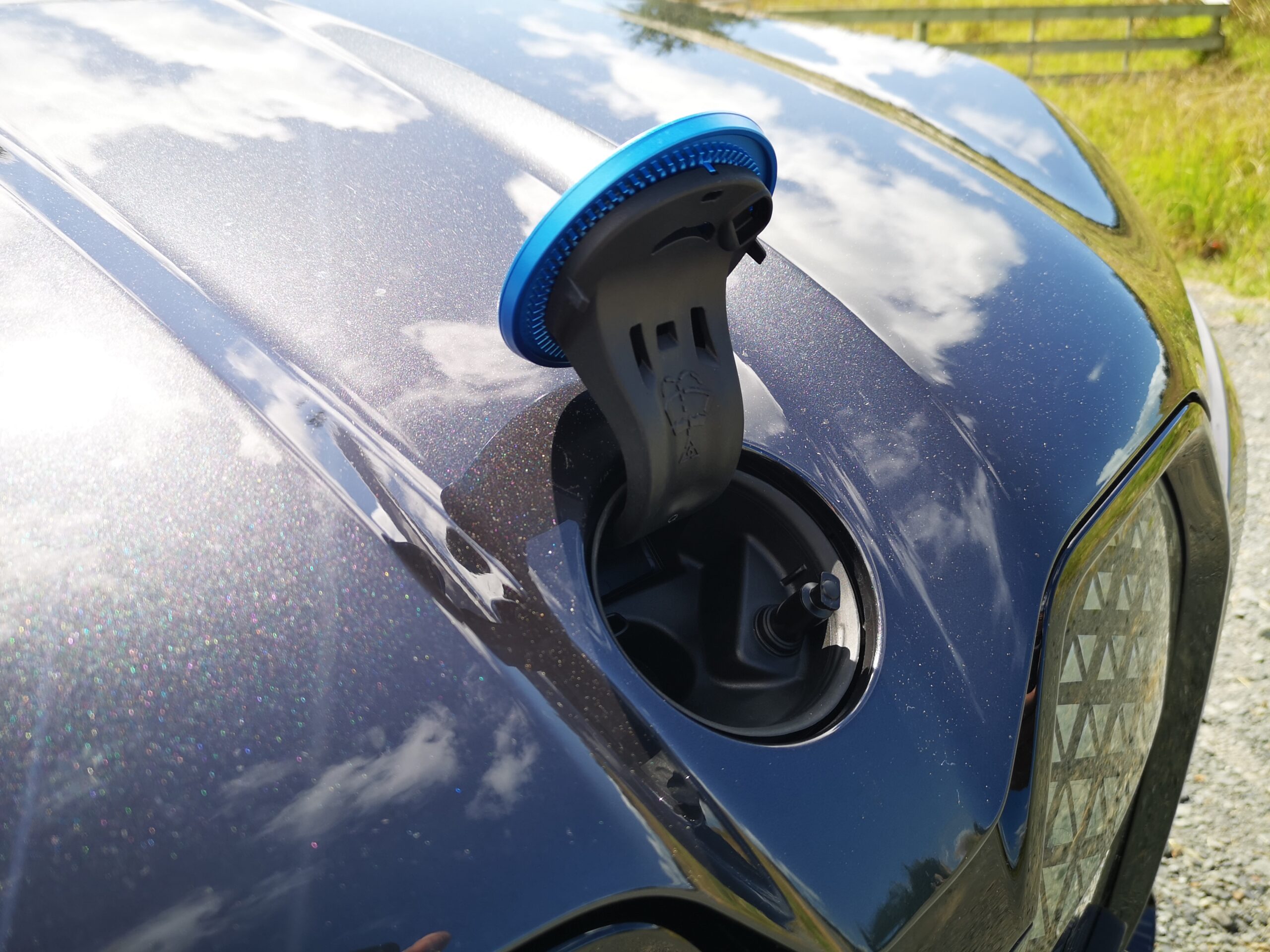 If I may get a little technical for a moment. The new iX is built of an aluminium spaceframe construction and there they have used an abundance of carbon fibre-reinforced plastic (CFRP) in the roof, rear and sides (you can see the weave when you open the door) which results in both increased rigidity and weight minimisation.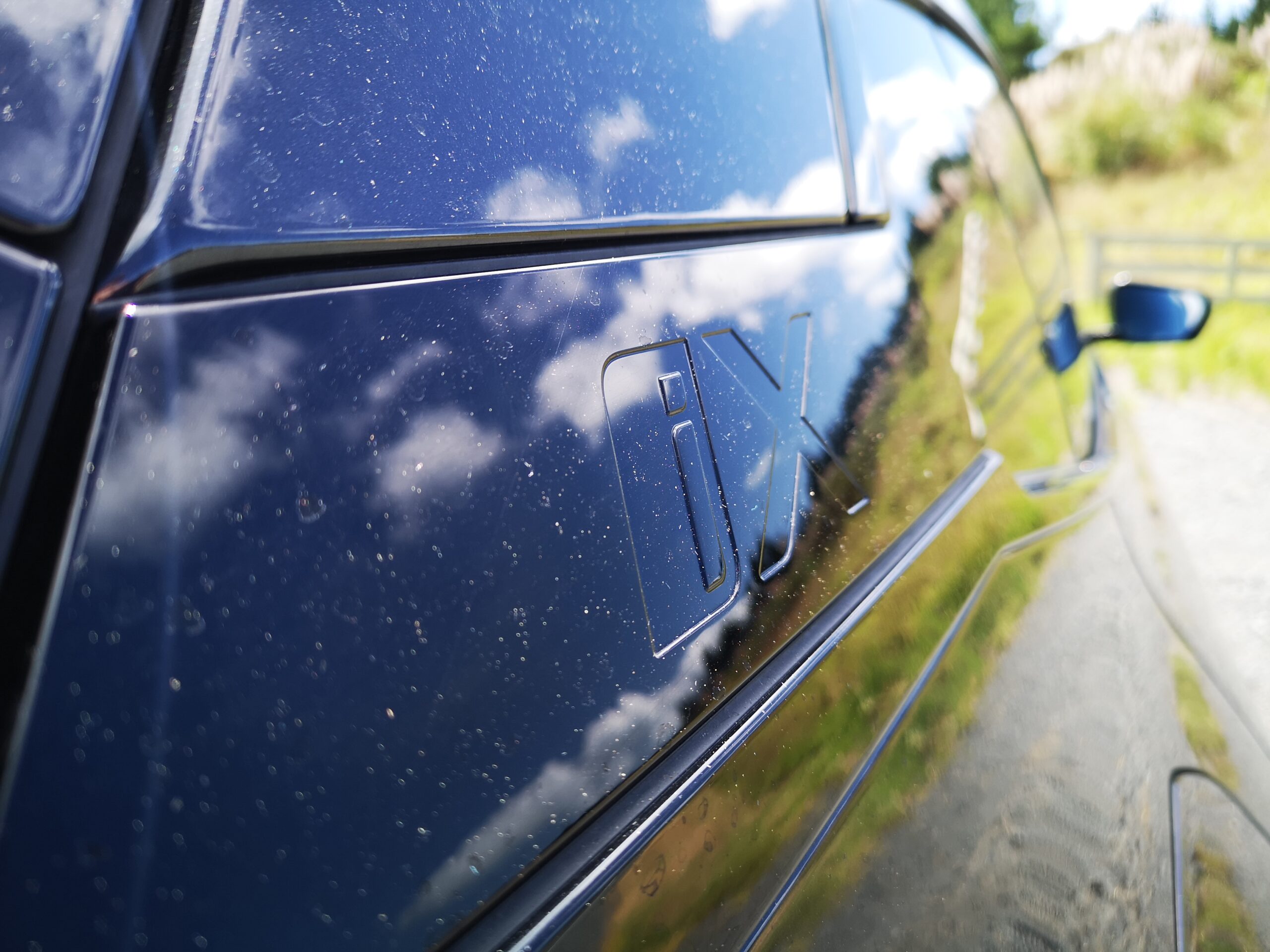 The electric beemer rides on 22-inch feet, with flush door handles and soft closing doors, and for those that wish confirmation that you are in an iX, it has iX embossed badging high up on the rear quarter panel and regular badging on the rear electric tailgate that opens to 500L of luggage space (not bad for a vehicle that's 4.5m long and 1.7m tall).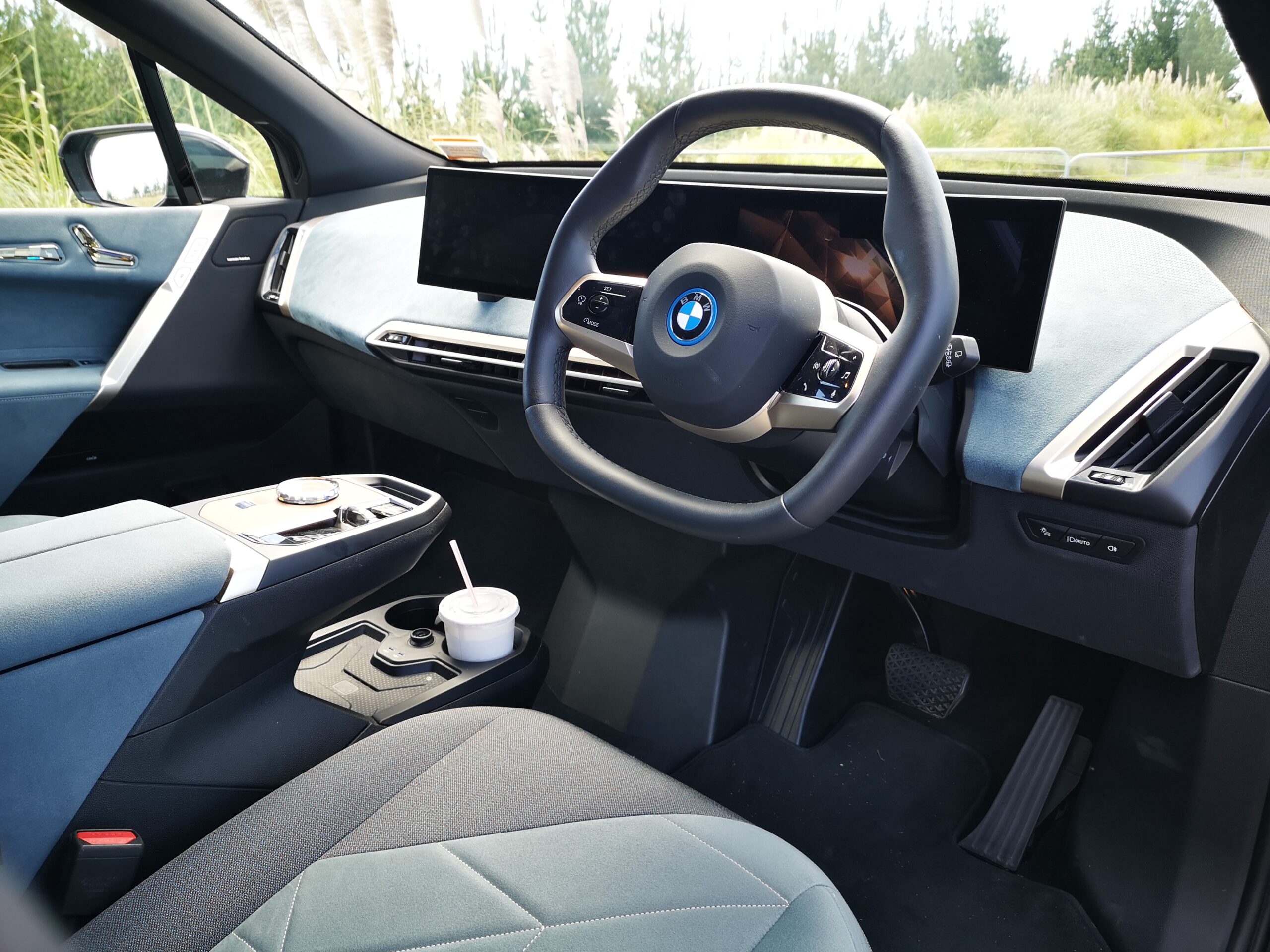 The exterior may be seen as a statement, but so too is the inside. Of course it's made of heaps of recycled and repurposed materials, but, it doesn't come across that way, with a more upscaled fabrics and wood finish – that's very tactile.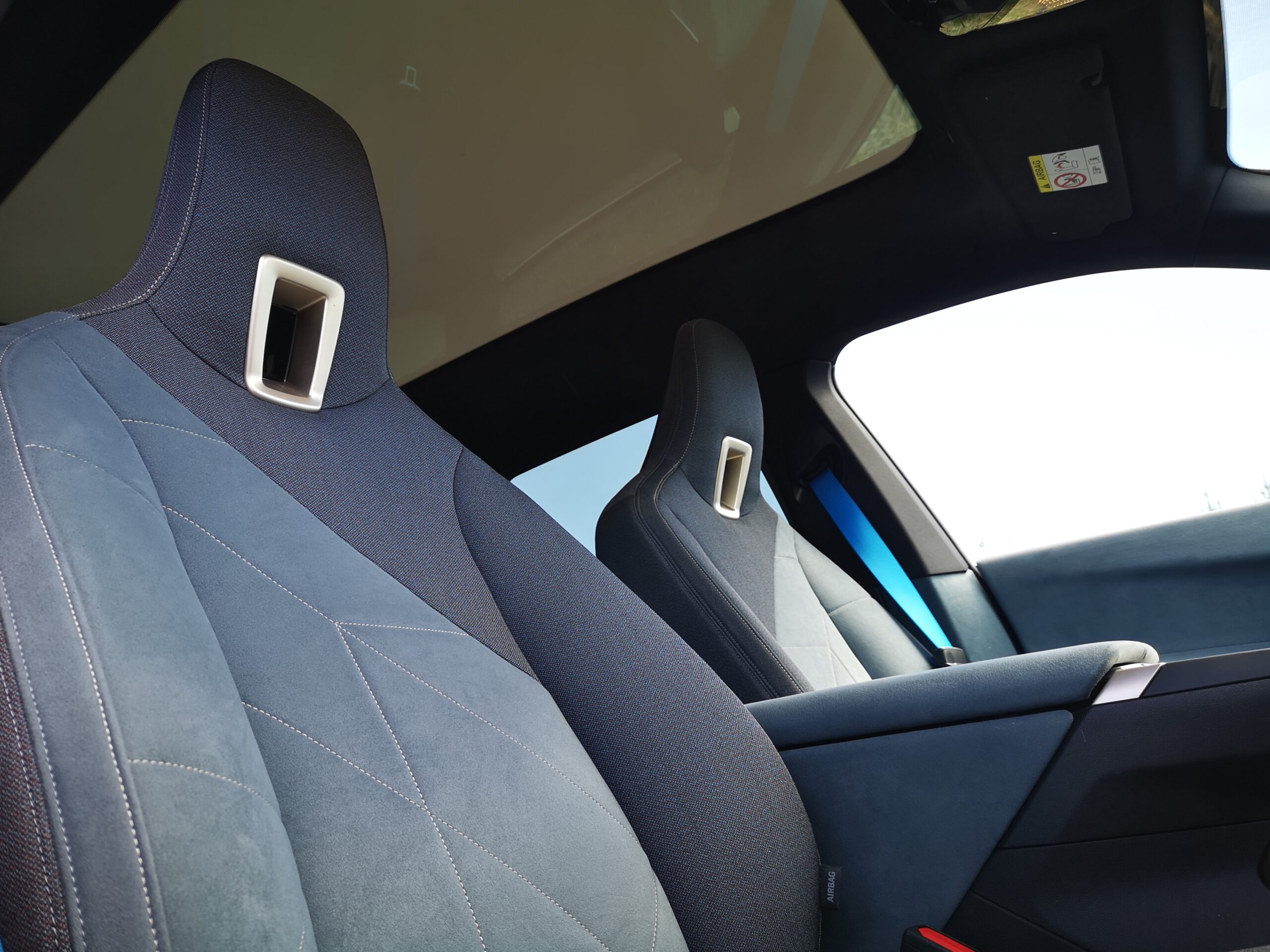 The seats are well bolstered and comfy with a dual level centre console that features a great place for your phone to sit (with the wireless charger on the second tier), a wood veneer with clear perspex dial for infotainment control, a clear start/stop button and a stubby gear selector that gives you a choice of reverse, neutral, drive and brake – no park (just switch off). It's a compact set up but I didn't like the fact that the coffee holder is hard to get at.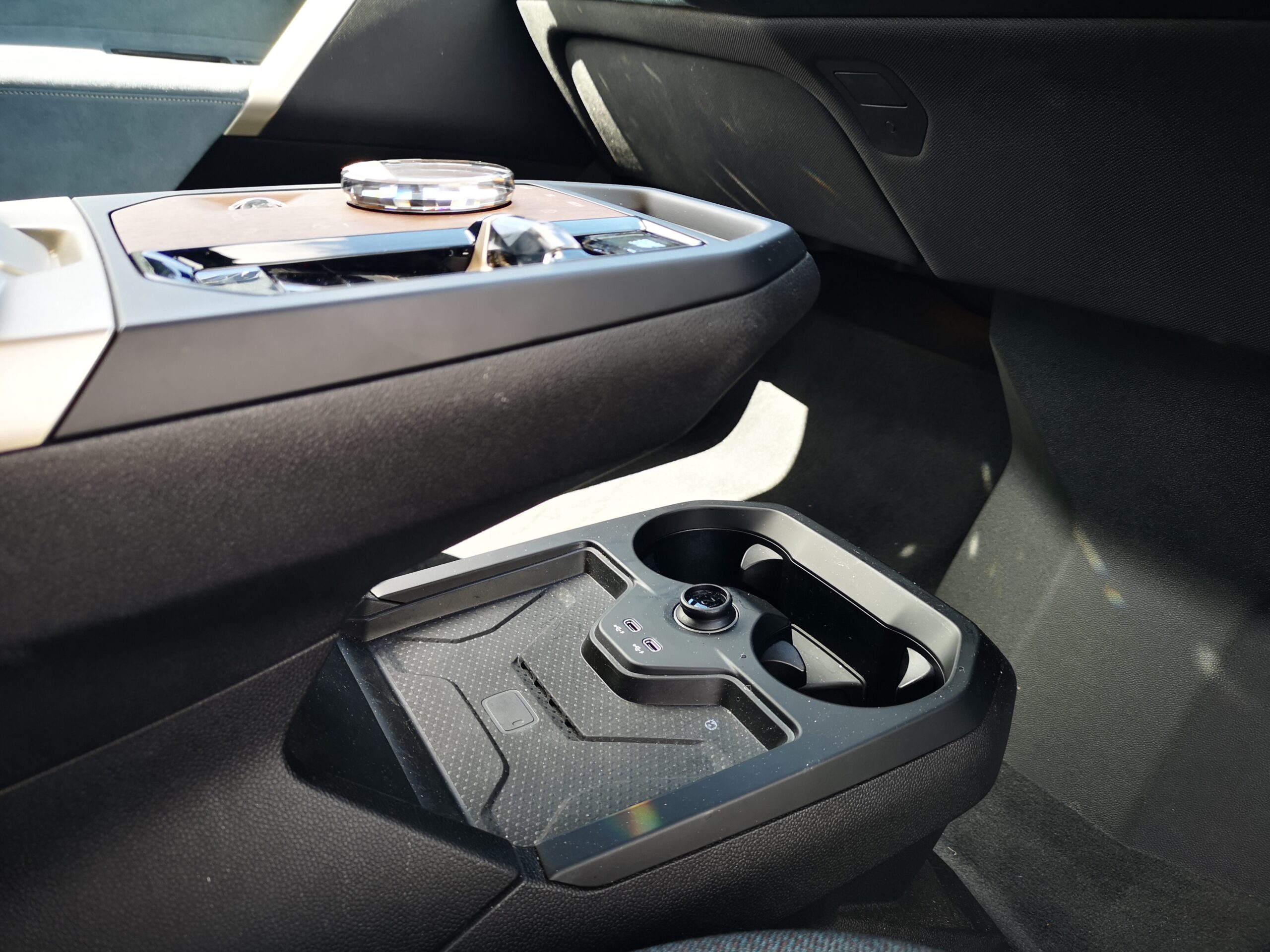 Aside from the screen (which I'll get to in a moment), two stand out features of the iX are the doors open from the inside with a button push and the panoramic roof is 'electrochromatic' so the roof goes from clear to frosted at the push of another button.
Then there's the 14.9-inch curved display that's holds both the 12.3-inch information display and a control cluster. It's angled towards the driver and really has every bit of data you need – and then some. Through a series of menus and apps you can get all the EV data, the news, navigation with augmented reality, weather – I could go on. The sound system is a VERY LOUD Harman Kardon and the spacious (and space age) cabin is chokka with hidden speakers that give off a chest beating bass. It has my favourite 'gesture control' too.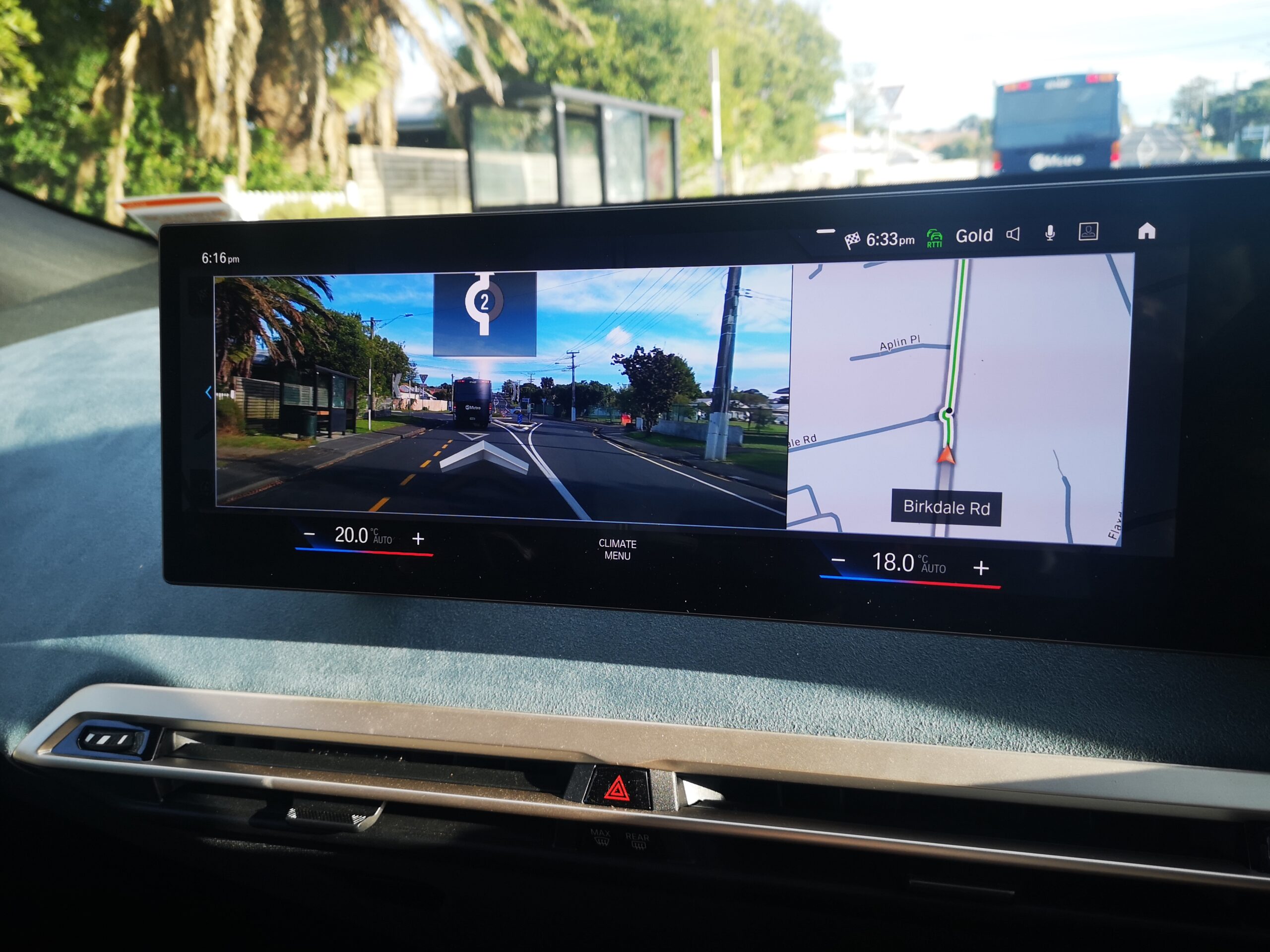 The digital personal assistant 'Hey BMW' is quicker and smarter and flashes up little bubbles when it hears you. It can do the usual temp and heated seat stuff, but will now tell you a koke and switch the driving mode to Sport if you're bored.
There are three iX's in the works. The M60 (which I can't wait for), the 50 and the 'baby of the bunch' the 40 which I had. The 40 has two electric motors and is powered by a 76.6kWh battery. Total output is 240kW and 630Nm and it will zoom from 0-100km/h in 6.1 seconds.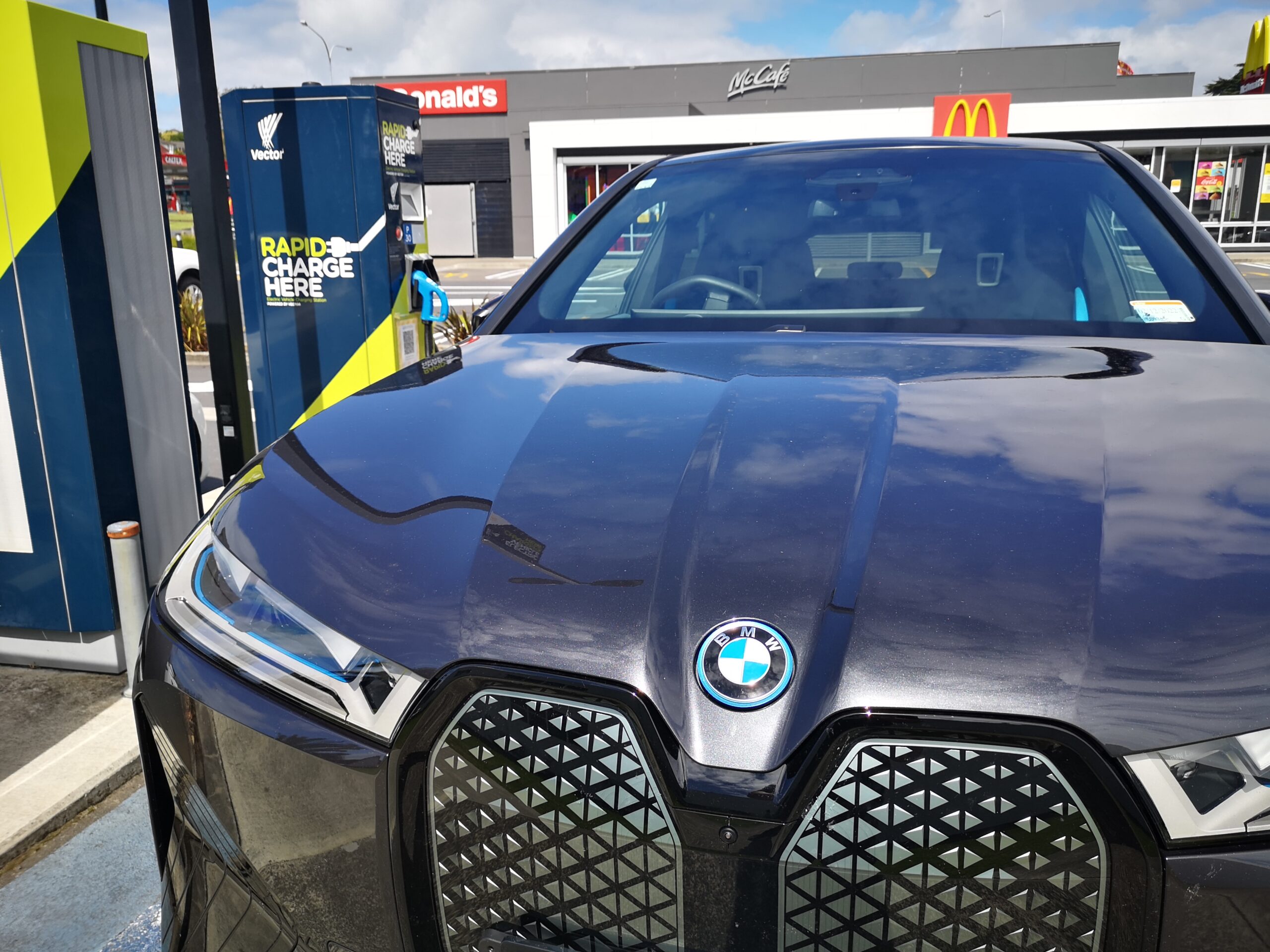 In terms of power consumption, 24.5kWh/100km (should you not be in Sport and pushing hard on the accelerator) so around 390km range, and the BMW iX will recharge/fast charge to 100km in just 8 minute (21 minute at 50kW).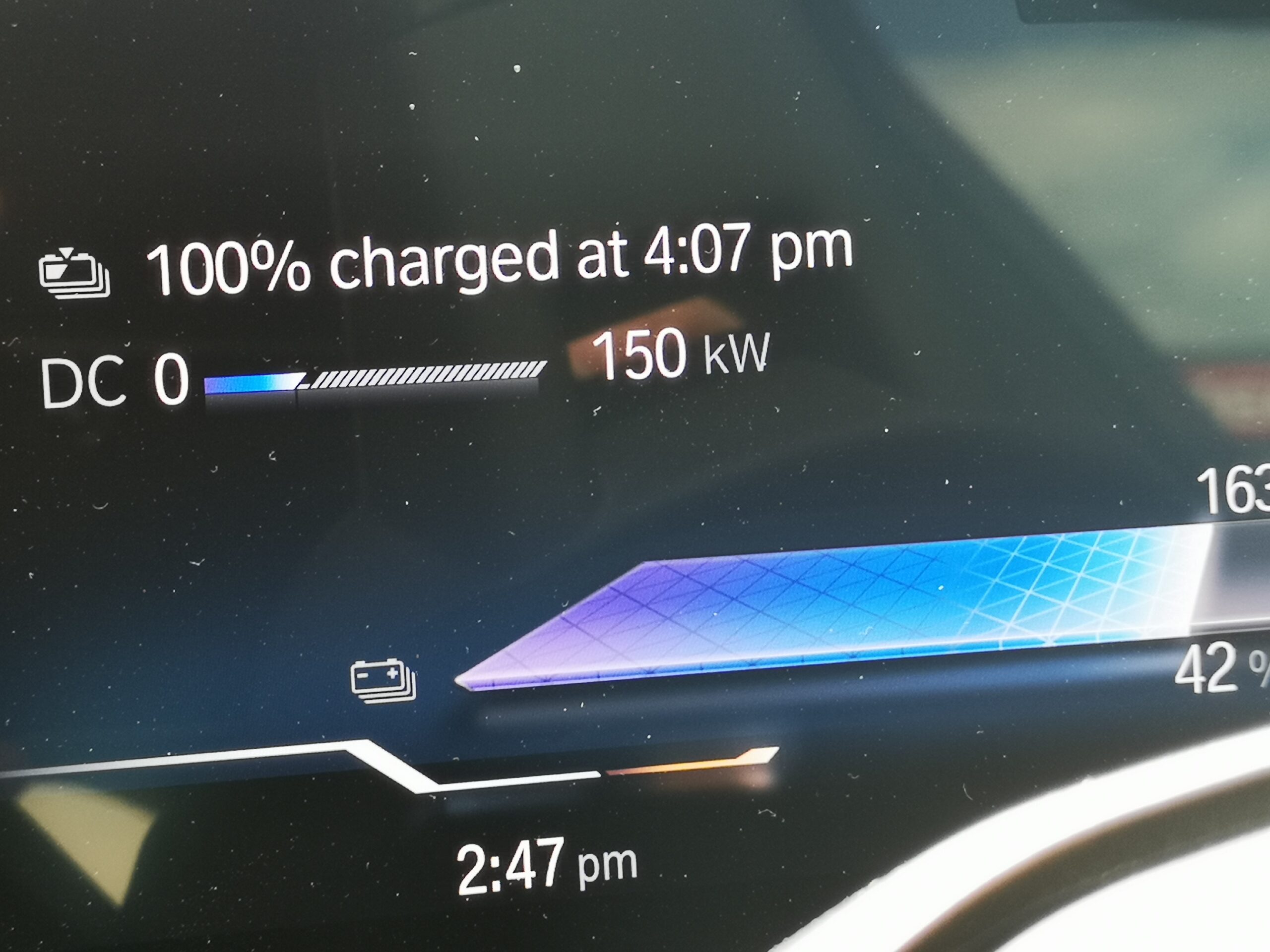 Driving the iX is an experience and a futuristic one at that. Despite its tuned chassis, electric all-wheel-drive system, double-wishbone front axle, five-link rear axle, lift-related dampers and electric steering system, It's not as dynamic a drive as many Beemer drivers will be used to. It's not that it's not rapid off the mark (especially as it's 2.5-tonnes) or more than happy to take corners at pace, the iX just lacks that BMW 'driving machineness'.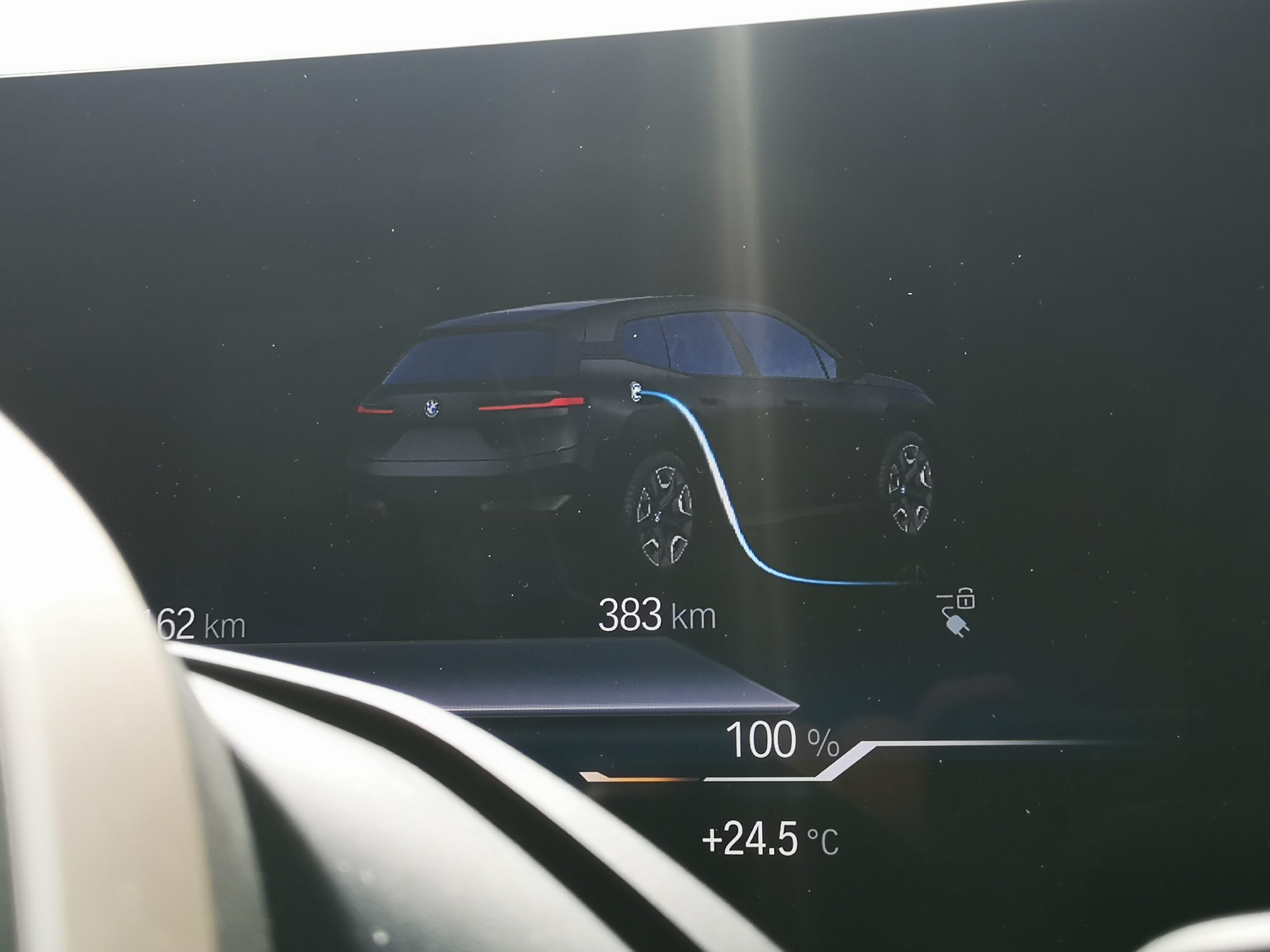 However, it makes up for this in so many other ways. You feel like you're in a vehicle of the future, you can chat to the iX and it goes out of its way to understand you, chastising itself if it can't help. It's spacious for all, front and rear, with a flat cabin floor and connection points all round. The roof is a talking point (how many times has that ever happened?) and it sips energy slowly so you never feel like you're not going to make it home.
I'm certain that many of the BMW fan club of old are going to detest its looks, powertrain and well, everything, but this is a new era and BMW are embracing it. Sure the iX has not got a loud  V8 or straight-six and its kidney's will continue to polarise, BUT, fuel prices look like they are going to continue to rise, rebates and penalties will come to the fore and we should all have some environmental conscience I guess.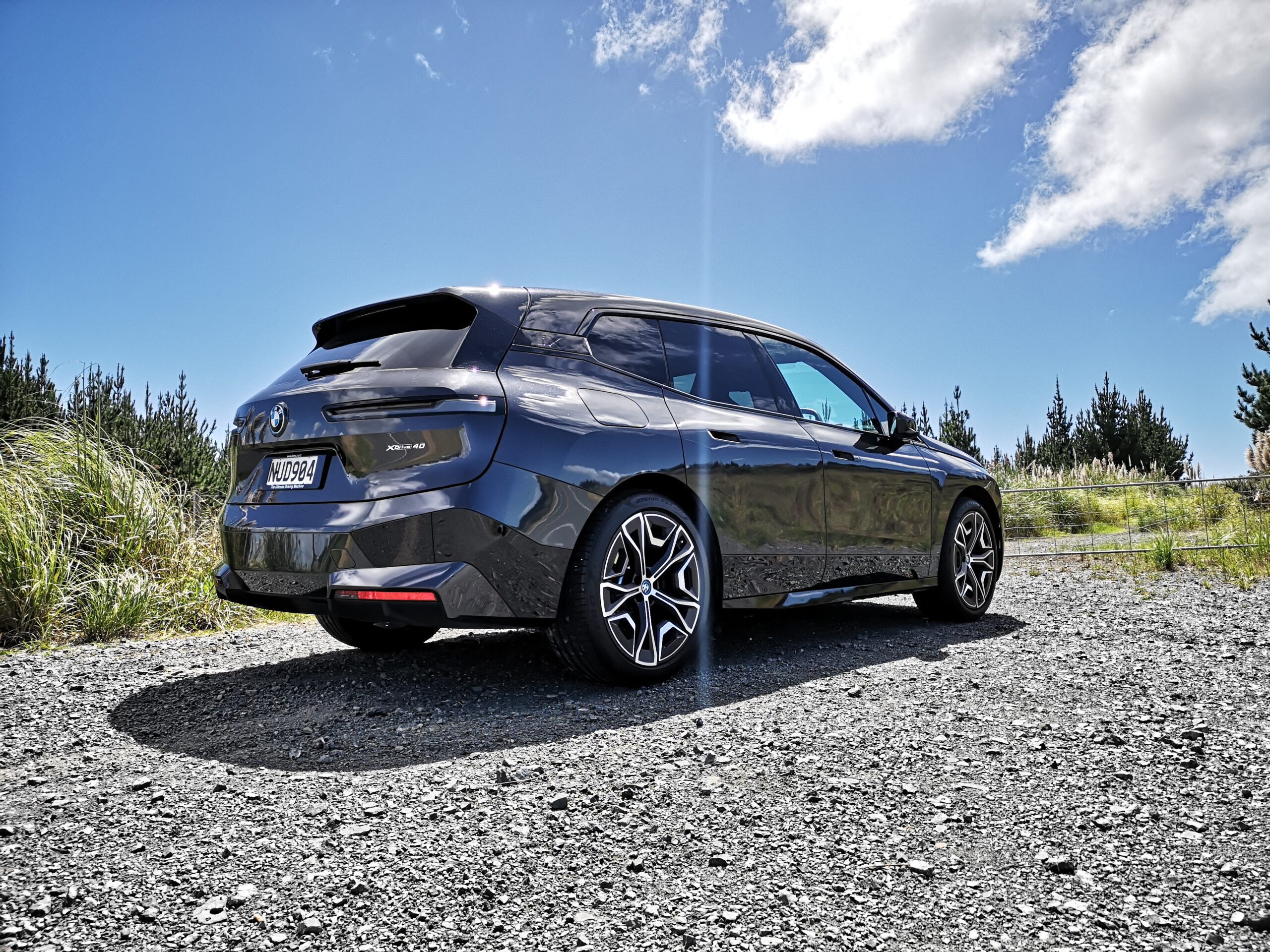 EV's are becoming a regular sight on NZ roads so why not make it a shy yet monolithic Beemer iX.