The BMW 7-Series has essentially been the German premium automaker's benchmark luxury nameplate from the moment it first rolled off the production line in '77. It's often been the model that showcases the latest in technology and innovation, is the ultimate in comfort and above all, simply oozes upmarket desirability. So how do you improve on such a decadent statement? Well apparently you make it all-electric – Introducing the BMW i7 xDrive60.
When it comes to luxury vehicles, BMW obviously has an ace up their sleeve as they also own Rolls-Royce. Now I'm not saying that the i7 and (presumably) the Spectre are one and the same, but having been behind the wheel of some 'latest Rolla's' I can tell you that there is definitely some IP-sharing going on.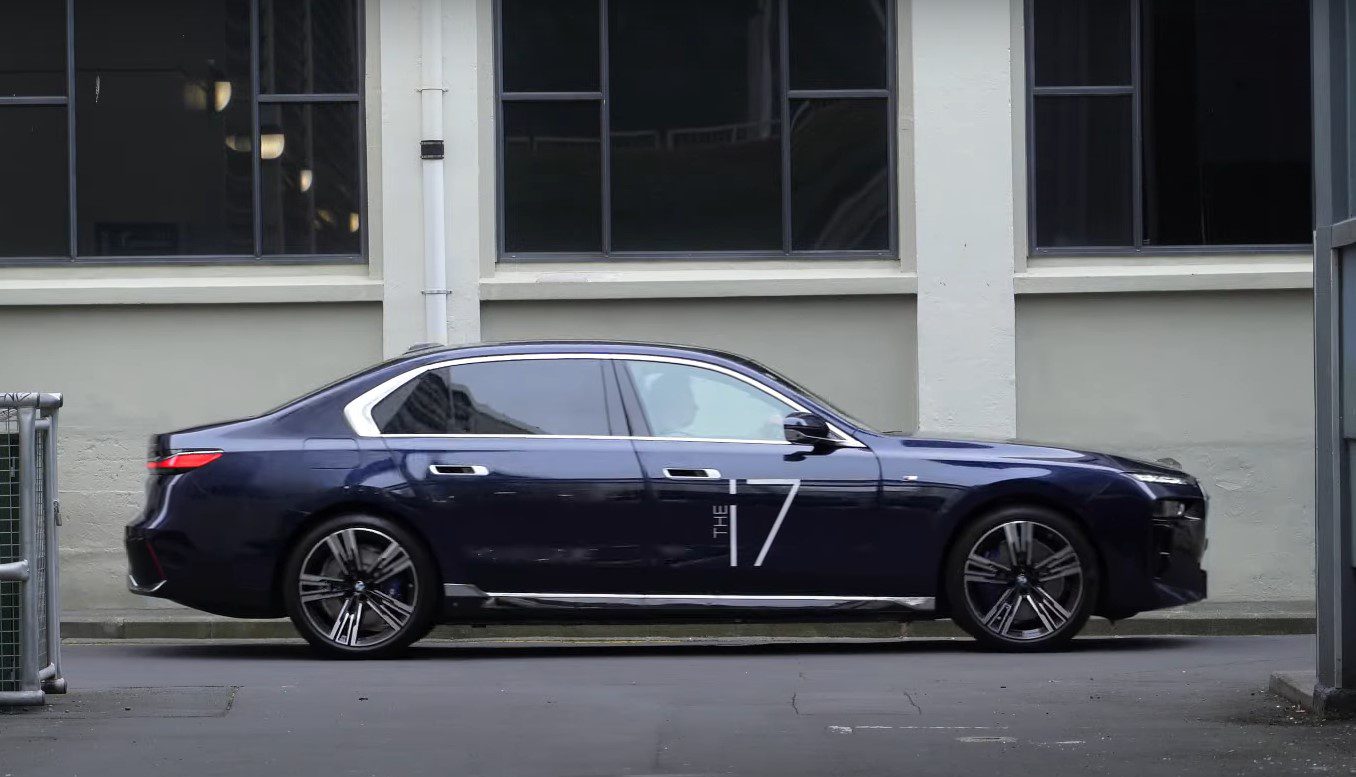 Anyway, back to the i7 review. As with the 'regular' 7-Series, the i7 is a luxury sedan with a sizable footprint. Its length is a substantial 5.39m and width is a shade under 2m, but more importantly for those on the inside, the i7's wheelbase measures 3.22m – did someone say roomy?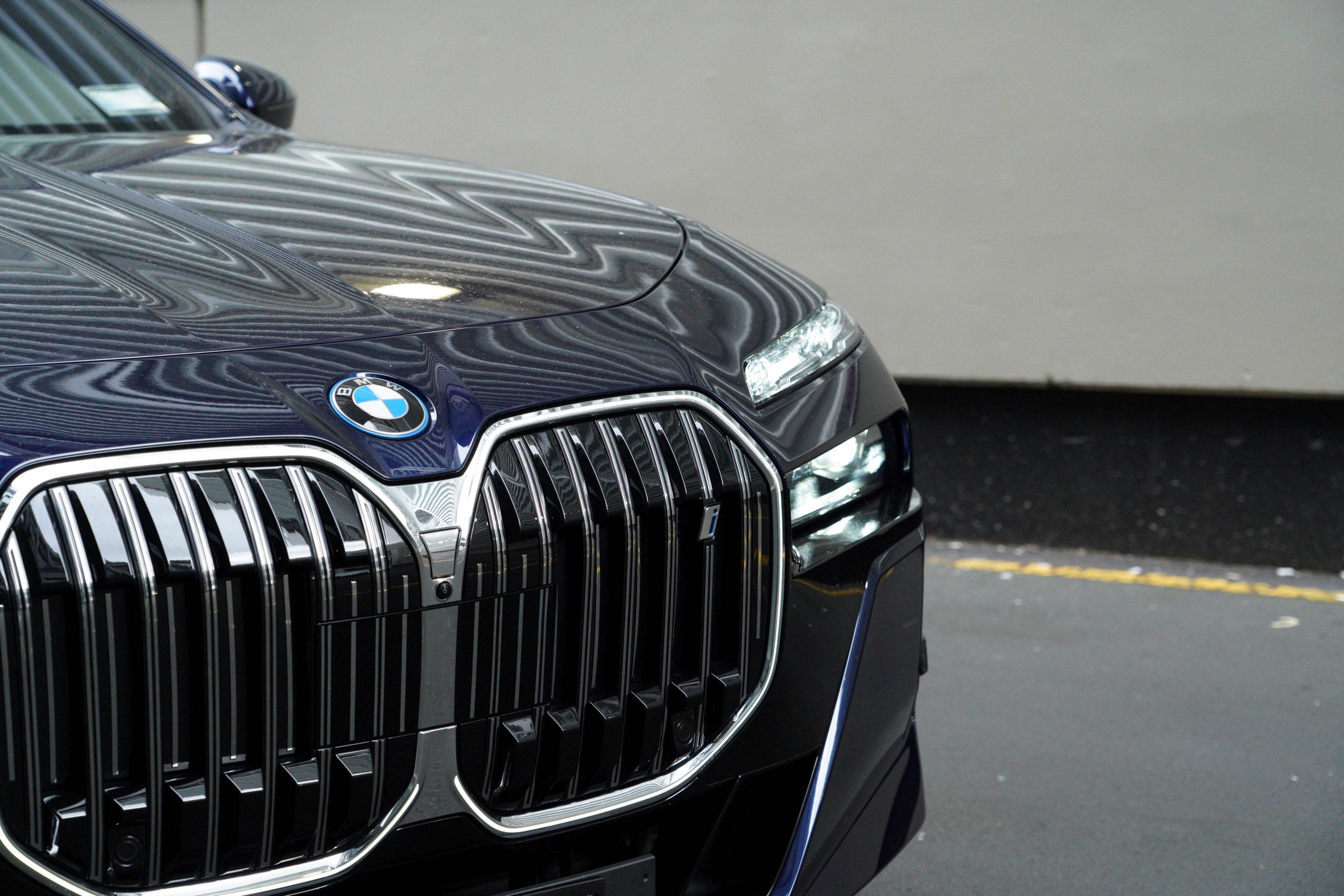 Taking pride of place on the nose of the i7 is the all-electric sedan's interpretation of the brand's kidney grille. To all intents and purposes it looks like a grille, but as with the iX it's more cosmetic than functional (after all it doesn't have an engine to cool), however, it does 'self heal' should it get scratched and has an iconic glow (the border lights up) making a really futuristic statement.
In keeping with being such a super-posh ride, the two-tier head and DRL lights are not regular either. It would appear that the i7 has been working with luxury crystal brand Swarovski meaning that the way ahead now has a unique look and shines as bright as a diamond, (if a diamond was also able to not dazzle oncoming traffic).
The door handles are now flush with the body, however, are now barely used. A simple push of a button has the i7 taking care of entry (just a top tip here, stand back as the door will sense you are there) and for the driver, a push on the brake pedal closes the door too. What's more, the keyfob can be set up to open ALL four doors at the same time – it's a real crowd pleaser.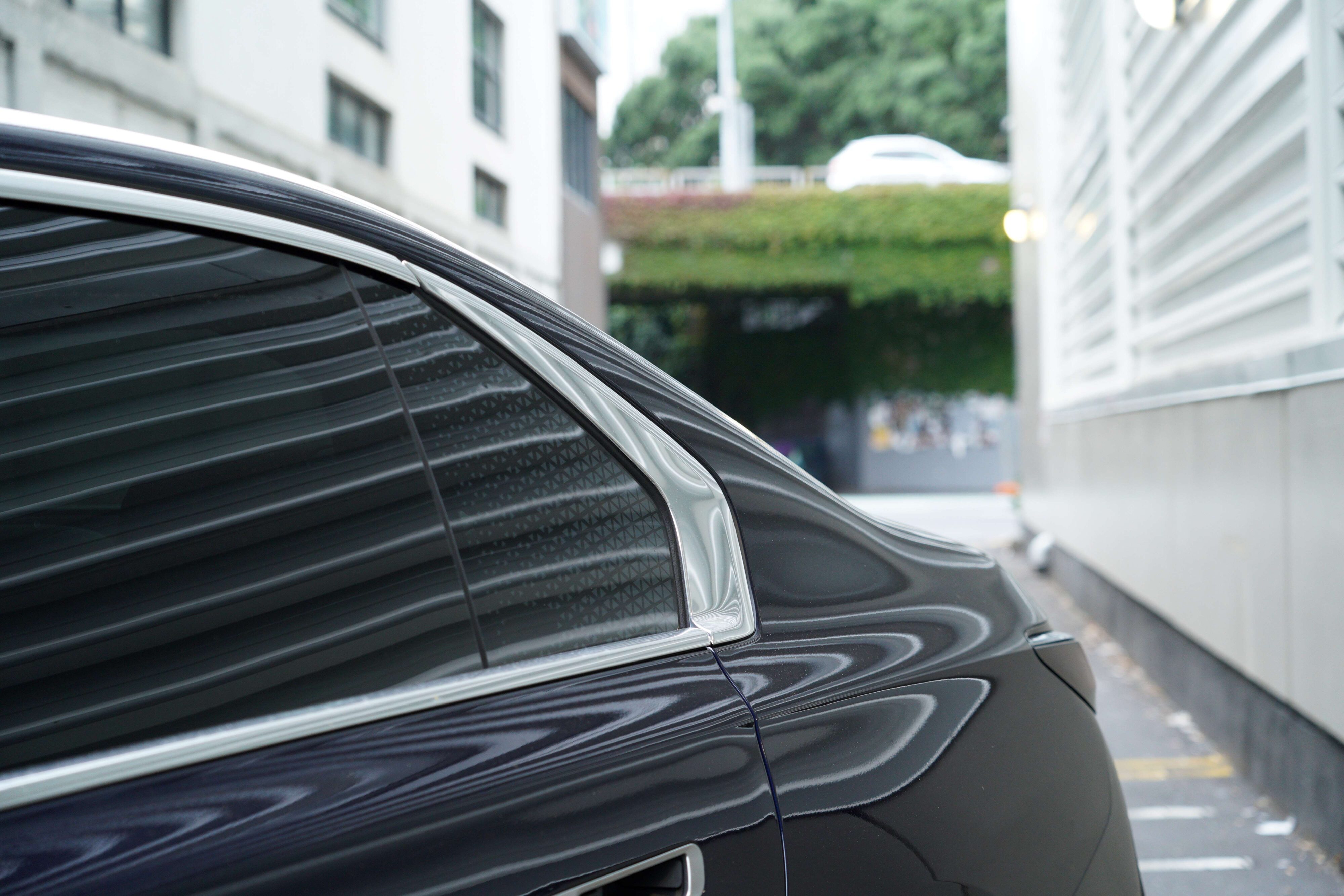 My i7 came with BMW's M body kit and 23-inch wheels (as if this luxury sedan needed any more extras) and a suspension that raised at the push of a button, should your driveway offer any access difficulty. Oh and the Hofmeister kink is now emphasised in chrome.
In keeping with the improved and upmarket theme, the rear comes with L-shaped LED lights (3D of course), expressive curves and a kicker tail that give you access to a substantial 500L of boot space – more than enough room for several golf bags (or something else more interesting).
As expected, the interior is something else. Firstly there is a full-sized panoramic roof that comes with tiny LEDs light strips that illuminate the view above at night. In keeping with the night theme, the driving modes (Personal, Sport, Efficient, Expressive, Relax and Digital Art) not only change the driving characteristics of the i7 but also change the cabin's ambient lighting, ranging from fridge-ice cool blues to red hot rouge (my names not beemers) and in the case of Relax, it also automatically closes the sedan's blinds – rear, side and roof.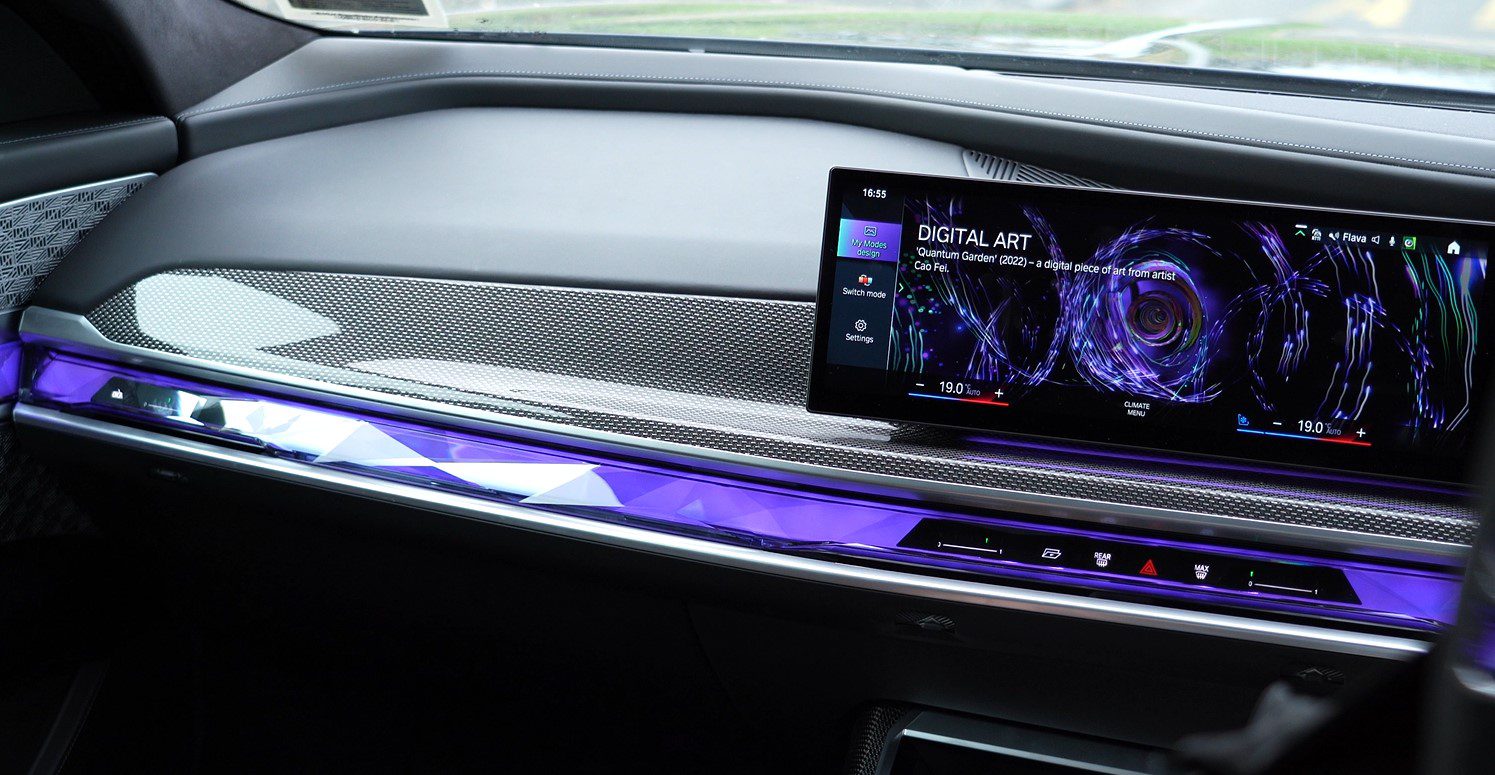 Presented as one long 27ish-inch panel (when off), the infotainment and instrument clusters are huge, and once on, the combined information they deliver is pretty much endless. Along with a myriad of connected apps and camera/sensor-linked driver and safety aids, you can get the latest news, weather and live-traffic reports. The finishes around the dash and centre console are a mix of creatively handcrafted materials and clear glass dials, while the seats come in fine leather and feature heated/ventilated/massage functionality – and that's just in the front.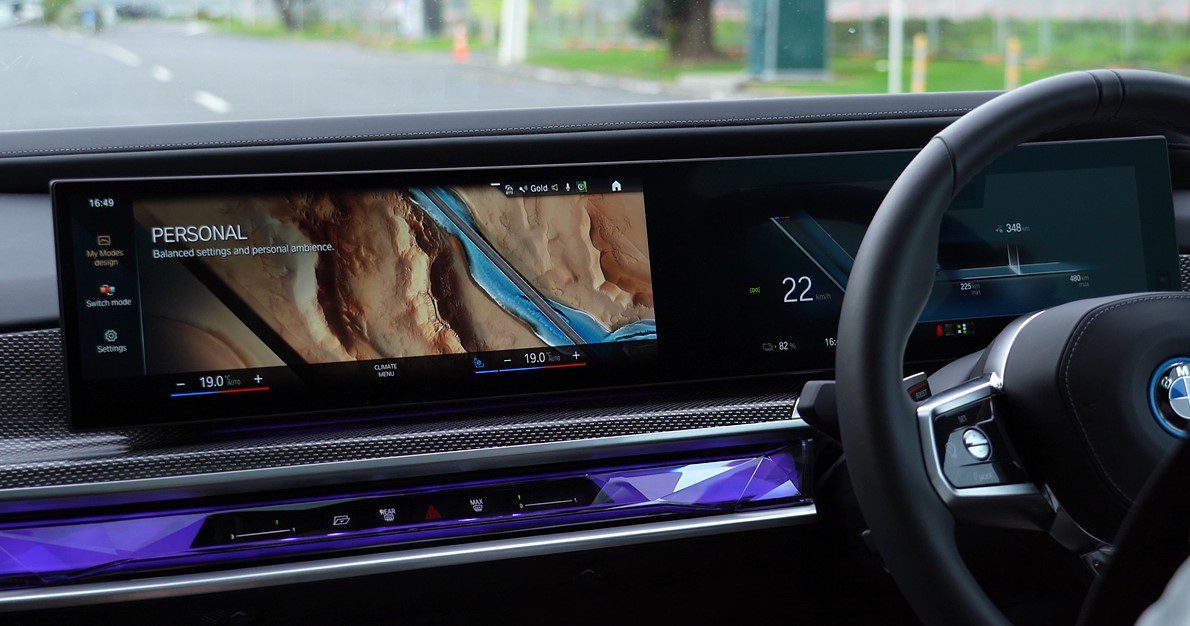 The rear offers a place of ultimate serenity. Huge amounts of leg and shoulder room, seats that recline (with knee rests), heated/vented/massage, blinds can be opened and closed, temperature controlled, phone charged and sound system utilised – and all without 'asking the driver' to do it. Two smartphone-sized screens are integrated into the door handles as controllers and 'Hey BMW' is seat directional, so it knows who wants what from where! The only thing missing was the (optional) cinema experience, a 31.3-inch Theatre Screen for those not interested in looking out of the window – It's a $10k option that I think should be a 'must have'.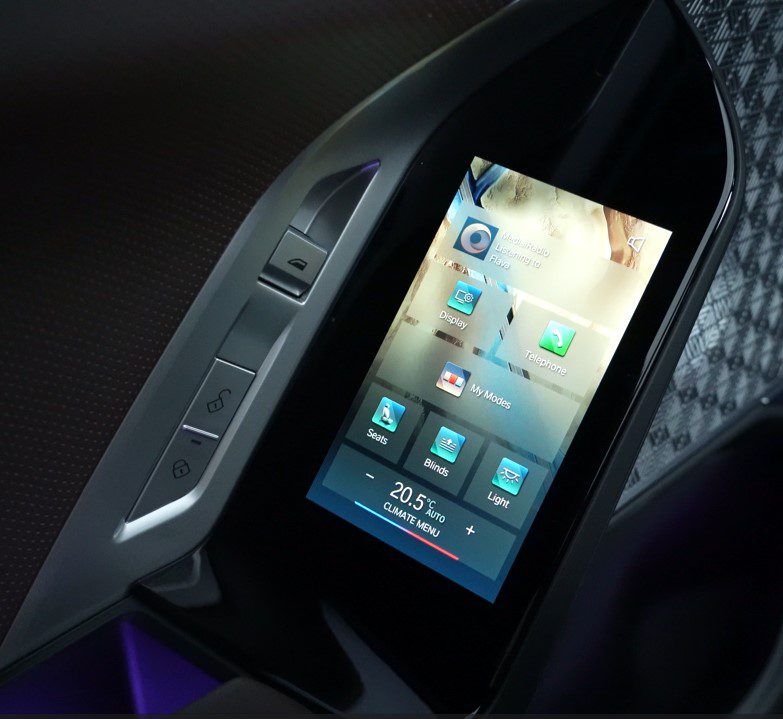 Being an EV, the power is there from the get go, and oh sooo much power. Behind the scenes is a 105.6/101.7kWh (gross/net) lithium-ion battery that provides power to two electric motors. Total power output is 400kW and total torque is 745Nm. These figures are impressive but it's the way that it's delivered that impresses more.
As a driver and with no-one in the rear seats to cater for, a switch into Sport and a stamp on the accelerator has the heavy (2640 kg) luxury sedan romping from 0-100km/h in a mere 4.7 seconds, but it's done in a more graceful than brutal manner – meaning rapid acceleration without the EV queasiness. Alternatively, should you have passengers (execs or otherwise) on board, Comfort will have you up to national speed limits without a drop of champers being unsettled.
While on the matter of chauffeur-driving, pull back on the glassy gear selector nub and you up the i7's regen braking ability and in turn its near one-pedal driving system. Ease off the accelerator the EV sedan will ease to a halt, it's a tremendously smooth way to drive this vehicle and oddly made me a more courteous driver.
There's an added bonus of driving this way too – range. BMW claims that the i7 has an EV range of around 590-625km. Mine was less (mid 500s) but I wasn't treating this grand sedan in the way it should be. 19.6-18.4 kWh/100 km (WLTP) is the projected efficiency and a six minute recharge can add up to 100 km at a high-power charging station – your barista takes longer to make a coffee!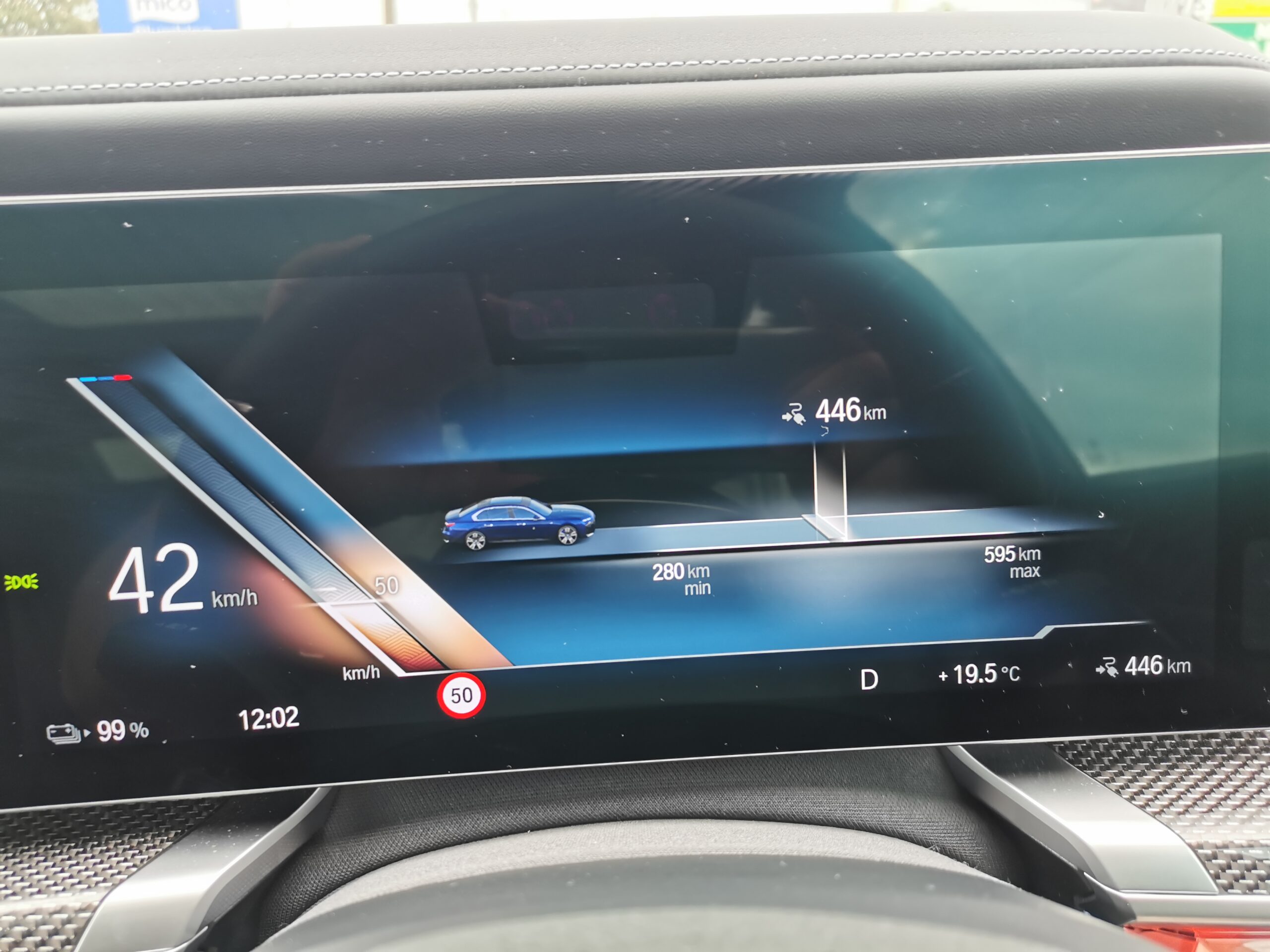 On the move, the i7's suspension has you gliding over our atrocious roads with ease and the likes of excessive sound deadening and double glazing means that the outside world remains outside – simply put, the i7's cabin really is a rather special place to be.
Spending a week with BMW's new luxury sedan benchmark did in fact leave me with a huge quandary. Of course I enjoy driving cars and that overall sense of control, but even in the driving seat I felt more like a passenger 'just along for the ride' – so why not just be in the back and be driven? Drive or be driven, what a great dilemma to have and what better way to underline just how luxurious and decadent the new i7 really is!