I have to say, when the offer of the new BMW M240i Coupe came into my inbox, my pulse started racing, after all, I still had fond (albeit violent) memories of being behind the wheel of the previous generation BMW M2 and the 'softer' M235 4-door Gran Coupe bouncing around my head – they're hard to forget. Well as I found out, so does the M240i Coupe x-Drive, as in many ways it showcases the best of both.
Let's begin under the bonnet. Now although BMW as a brand are embracing the world of sustainability and electricity, the M240i Coupe comes with a hefty 3L straight-six, twin-power turbo engine that may not be a glowing example of environmental-friendliness, but with 250kW of power and 500Nm of torque, it will certainly help the planet turn.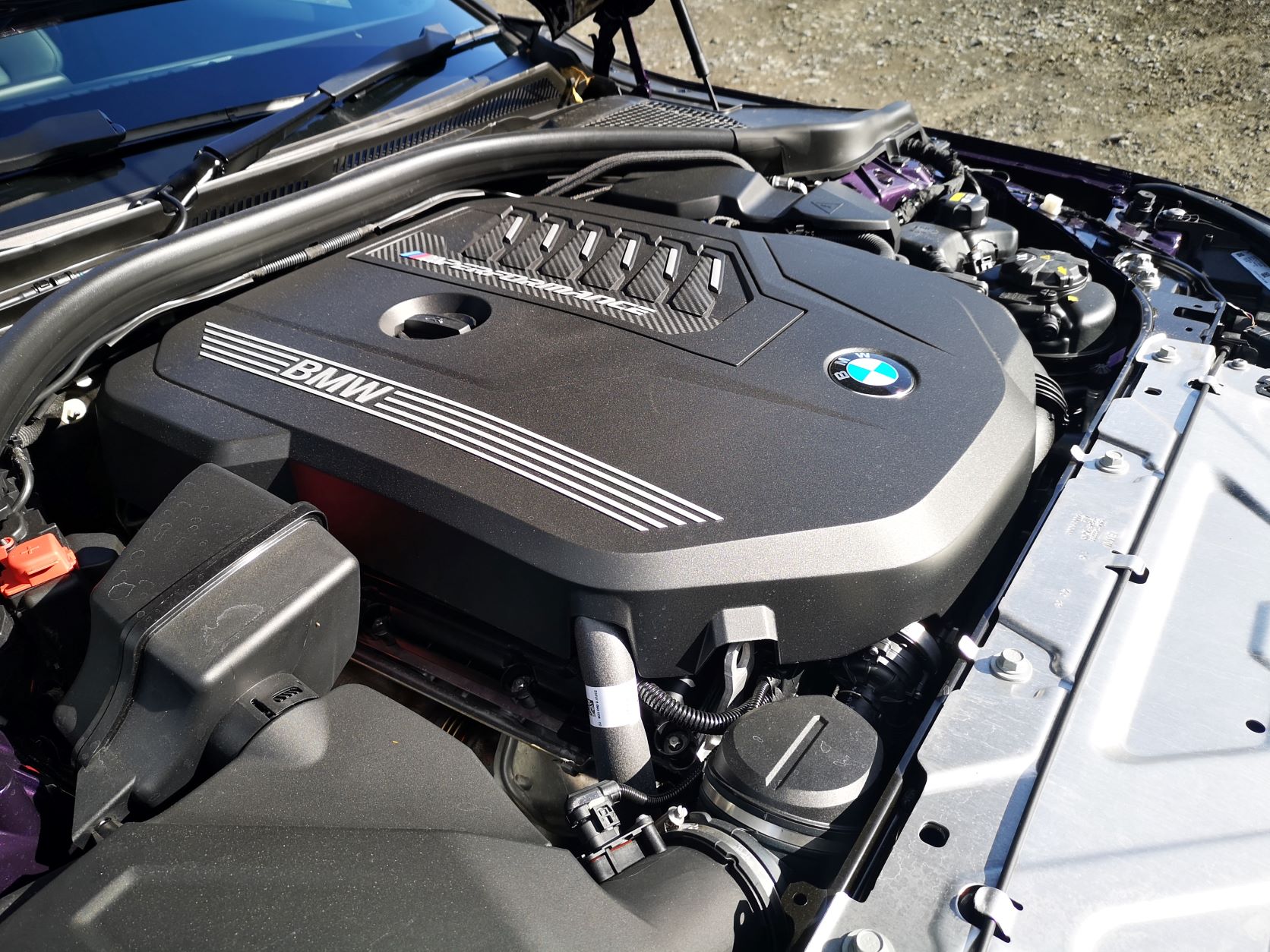 What's more, thanks to it being mated to an 8-speed steptronic sports gearbox and then delivered to its four fat-18" alloy feet via BWM's intelligent AWD xDrive system and M Sport diff, it will blast you from 0-100km/h in 4.4 seconds (faster than my aforementioned M2) and up to a restricted 250km/h – should you happen to find yourself on somewhere akin to the autobahn.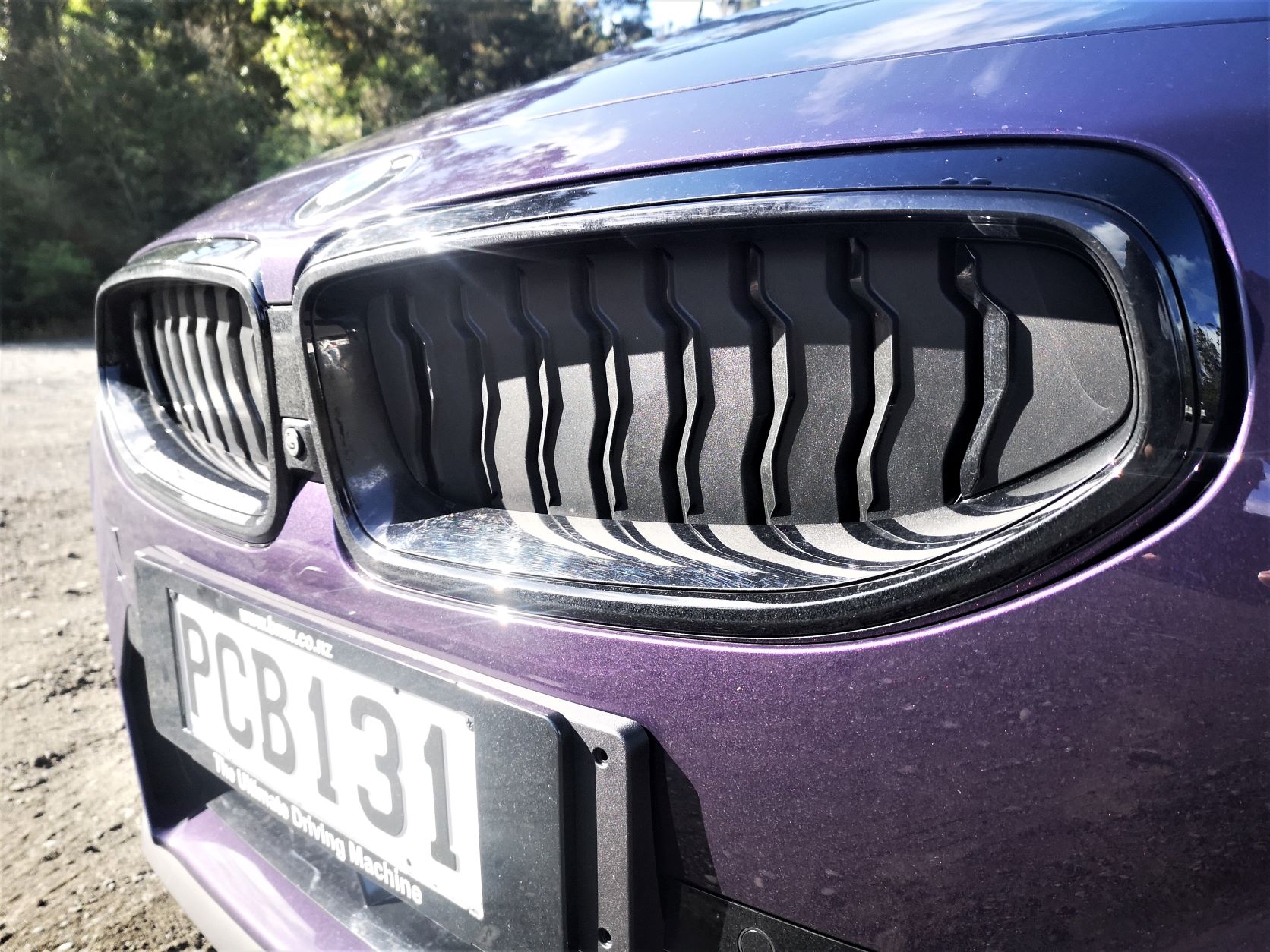 To keep this powerful heart hot or cool, the M240i Coupe's kidney grilles have been 'repurposed' and the regular 'slats' are now 'flaps' that are reminiscent of a turbine and automatically open and close when required – how clever.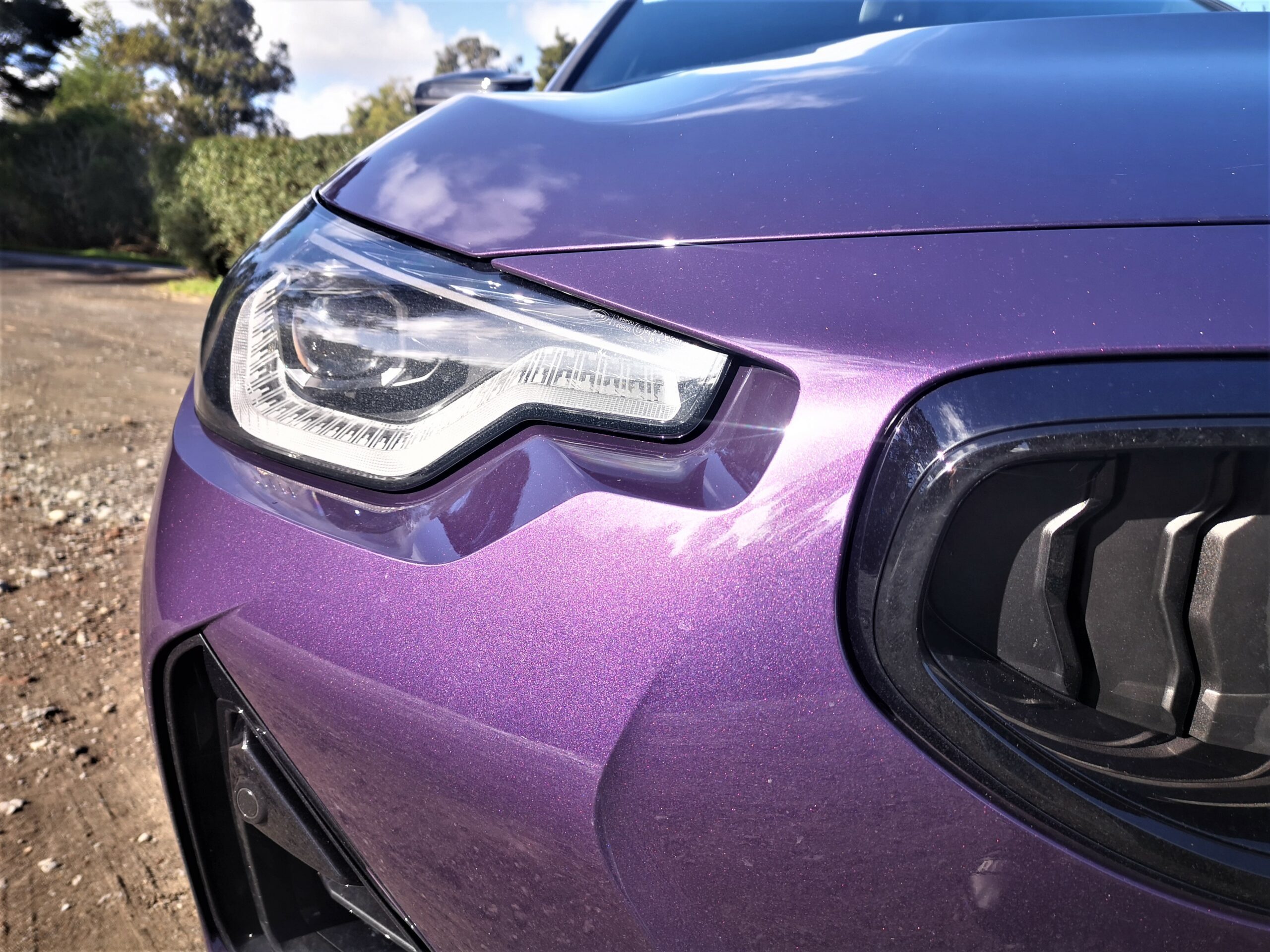 Rather than following the current 'twin-light' design, the headlights on the M240i are 'retro' single and are a nod to the 2002 (model not the year) and below them are wide triangular air vents that emphasise the Coupe wide stance.
On the matter of stance, BMW have added an extra 31mm to this muscular coupe's width, so it may well be a tighter squeeze in the garage but worth it for its added kerbside appeal and road poise. Look past the Coupe's rear haunches to the tail and the appearance of width continues, with LED lights that extend right out to the sides, a boot lid spoiler and two tail pipes to speed up the exit of the engine gases.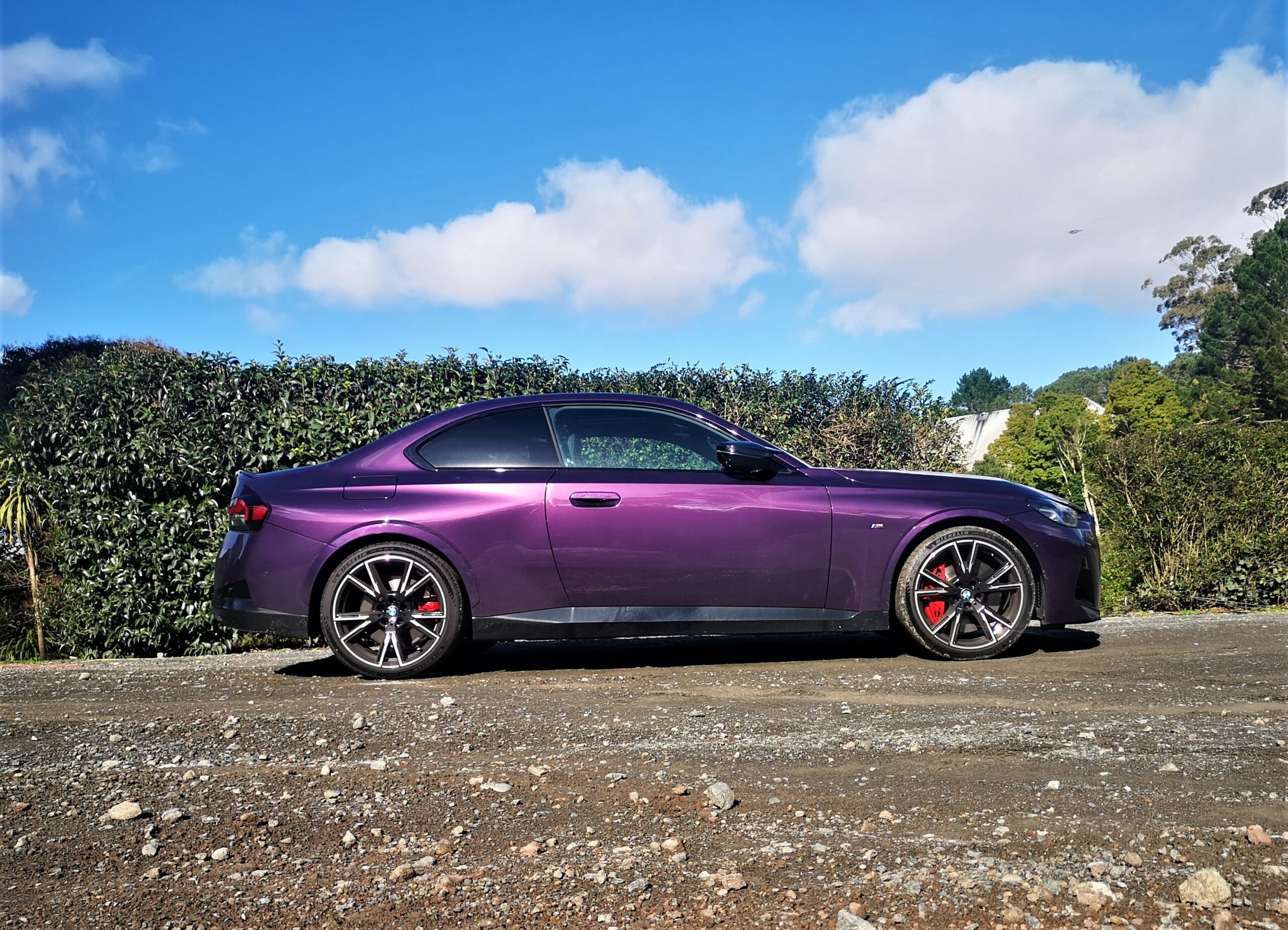 My review model came in 'thundernight metallic' which despite its name is purple. Now I know what you're thinking, 'a purple BMW' but for some reason the deep, rich hue suits this vehicle's style – it deserves better than a bland white or black that's for sure.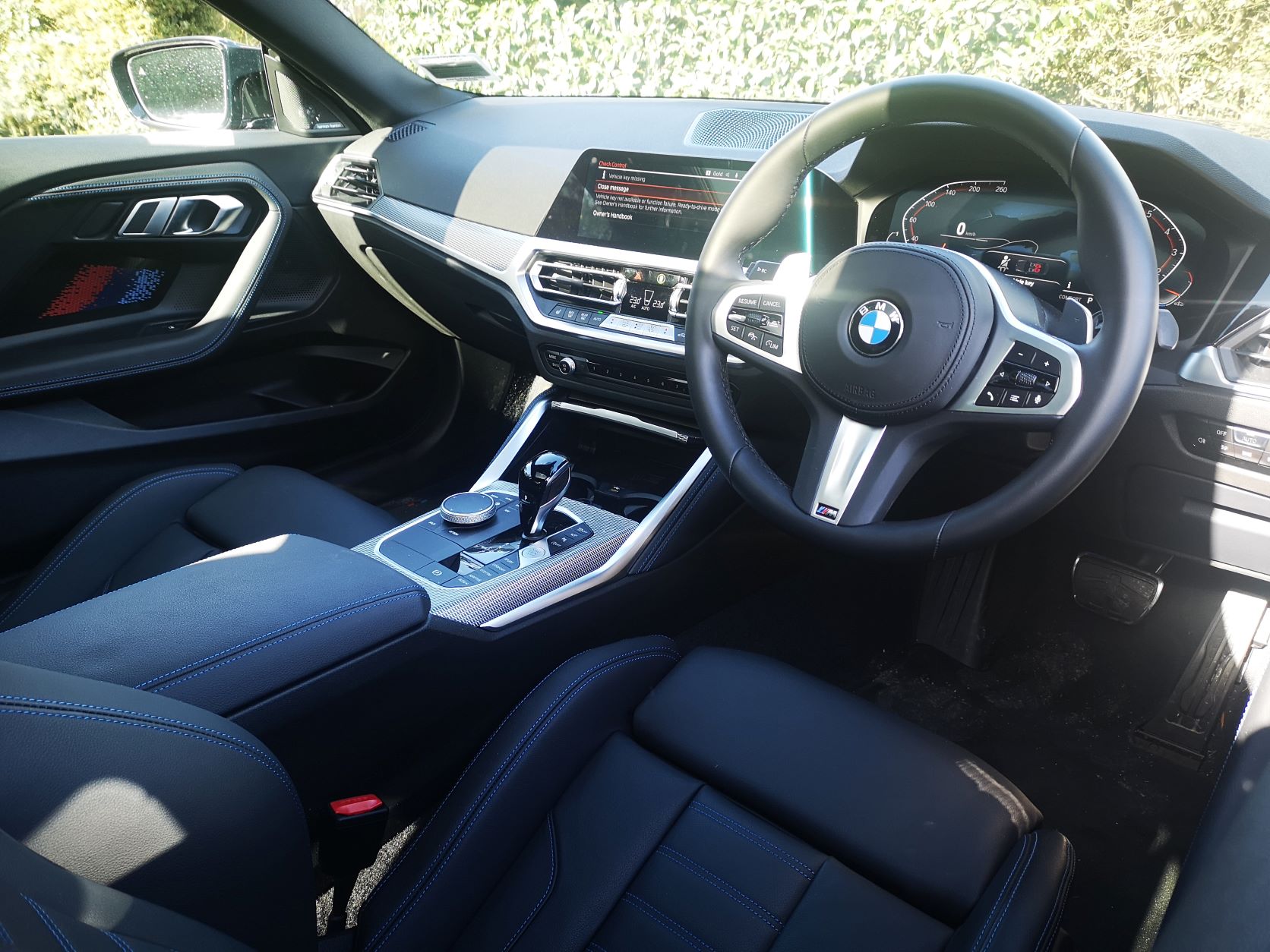 The interior, however, (in my case) was black, but to spice things up it came with a lighter blue contrast stitching and one of my favourite additions to this car, a BMW couloured motif in the door cards that lit up at night – it's awesome.
The remainder of the interior is very familiar for those that have been in a modern beemer, with plenty of digital screens, up to the minute infotainment and 'Hey BMW' to take care of your every whim.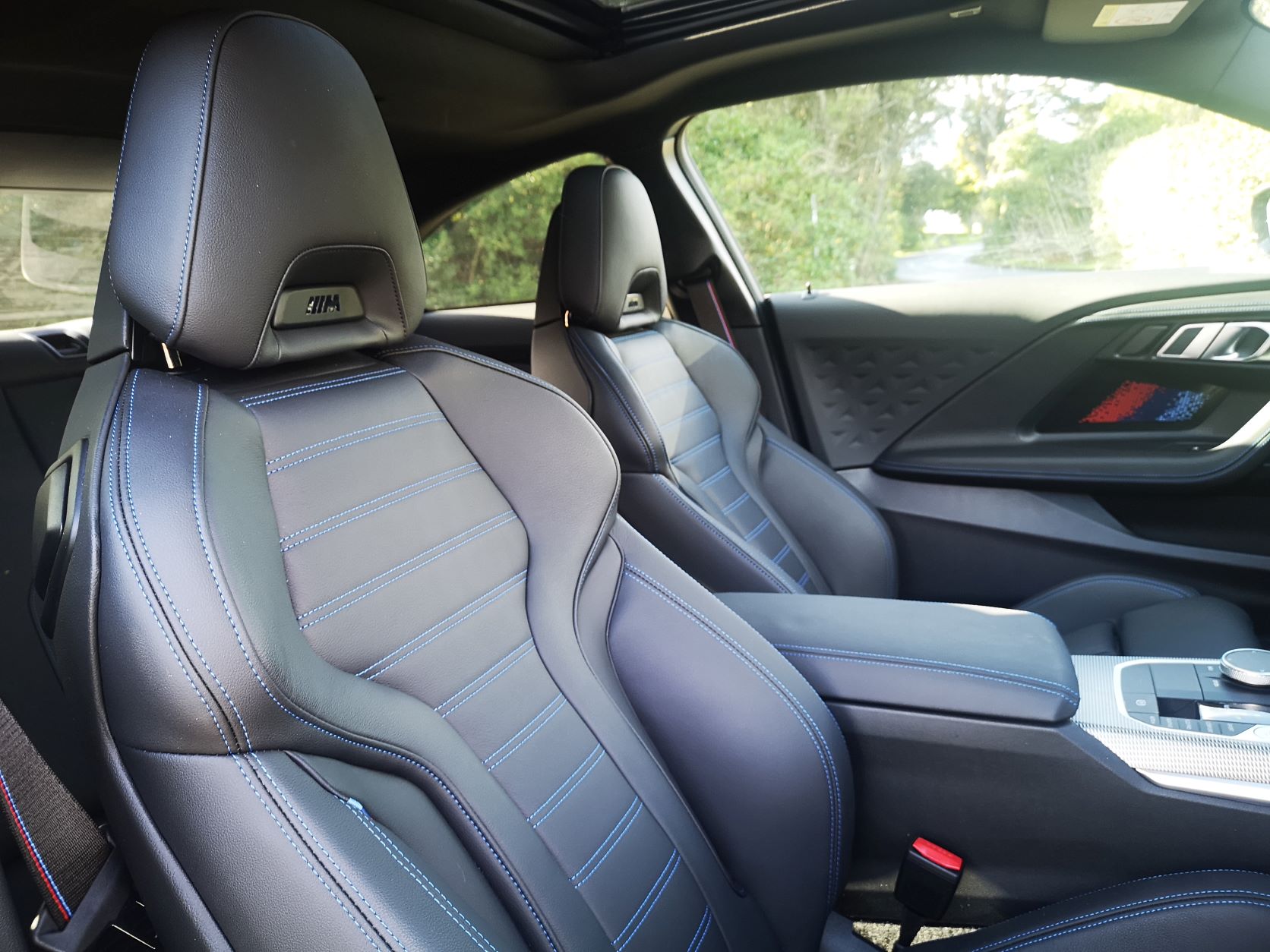 Obviously, for the best part of my time with this performance Coupe I stayed as far from prying eyes as I could, with my foot buried in the throttle and listening to the throaty roar of its straight-six as the rev needle raced north. It's a very playful car that although has four seats (well more of a 2+2) is a sportscar that prefers to be alone with its driver and searching for challenging roads to enthuse over – or maybe that's just me. But, it's also a bit of a tourer too.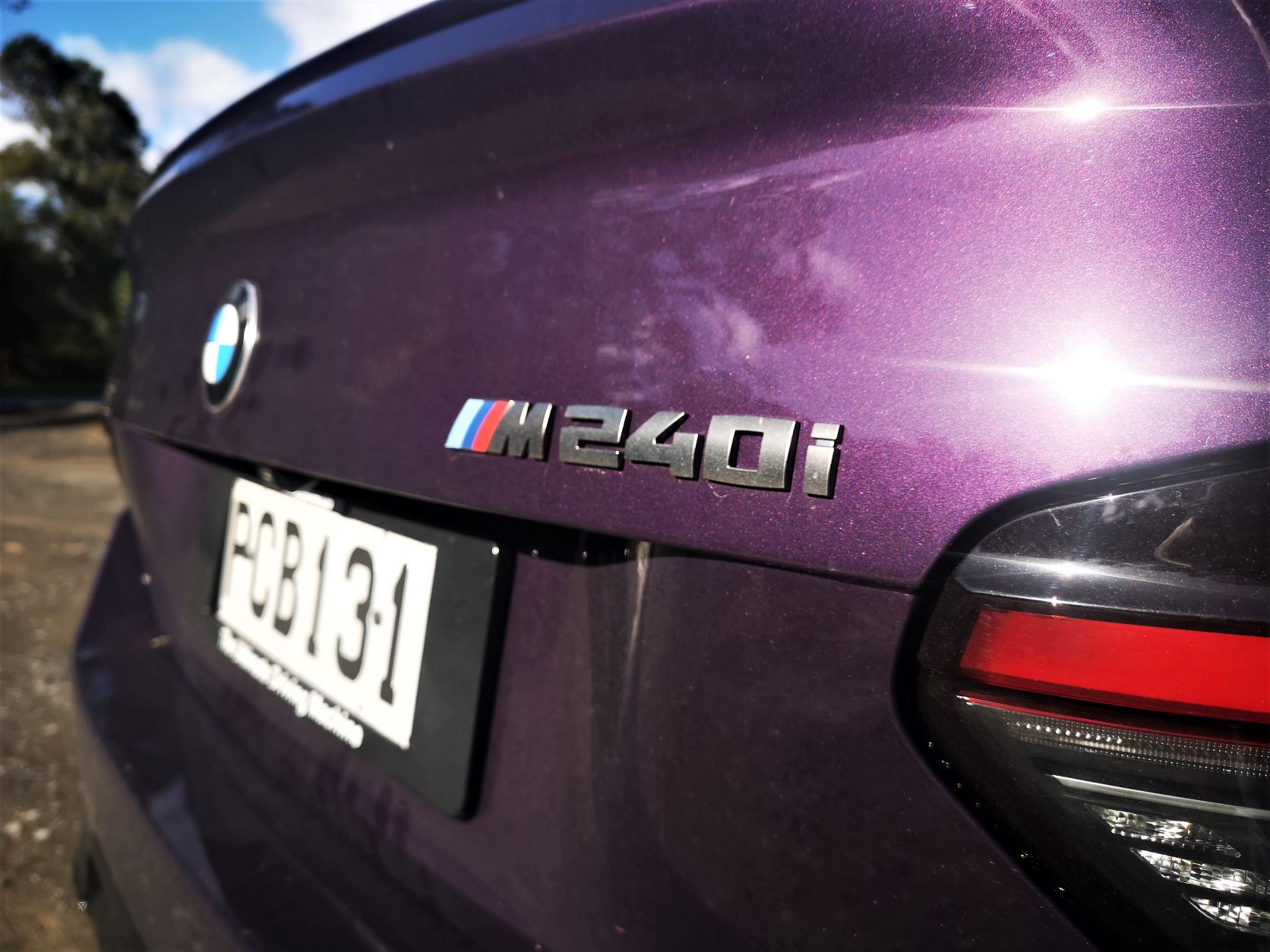 When not in Sports+, the adaptive M suspension softens (a bit) and it becomes a very usable daily driver, for me, evoking memories of the M235i Gran Coupe. Visibility is good for such a compact Coupe and even the front valance isn't too low, so no worries about speed humps or driveways. Thanks to the Michelin pilot rubber, the ride itself isn't exactly silent, but turn up the volume on the Harman Kardon stereo and you have a vehicle that you can happily commute in.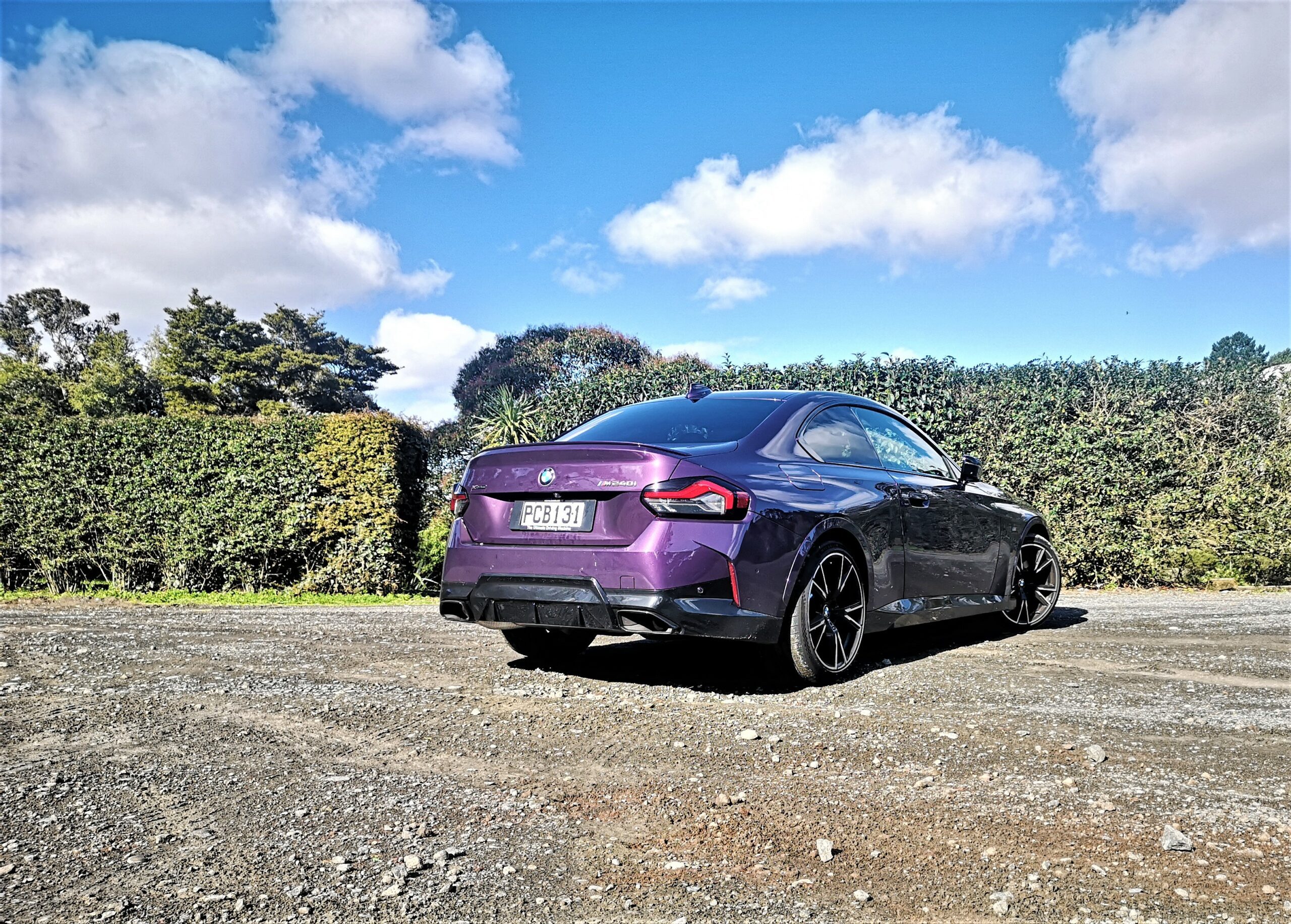 The new M240i Coupe xDrive is a blinder of a vehicle and for those that don't have kids or have the daily need for four seats (occasional is fine) then I urge you to check this (almost) M car out. When kicked, it's as nasty as a pitbull but should you so desire, it's also as playful as a pussycat. It's one charismatic Coupe.