Premium car brand Audi have added an extra touch of electrification to their popular family-sized SUV, and revamped its quattro-ness too. We discover just how smart and frugal the latest Q5 TFSIe really is.
The Audi Q5 50 TFSI e S-line (with Ultra and black pack) may sound like a bit of a mouthful when compared to the original Q5, but in fairness, despite still only being in the model's second generation, it's come a very long way since 2008. (Wish I could say the same). It's been a main stayer of the brand since its release with some figures showing that it commands around 30% of Audi's overall sales, however, although with the third (and last ICE version) on its way, Audi decided to plug this current model in – we're glad they did.
Let's get the powertrain out of the way up front. Under the bonnet lies a 2L, 4-cylinder engine that's mated to an electric motor, a 7-speed S-tronic and Audi's Quattro system with Ultra Technology – I'll get to the last bit later. The total system output is 220kW of power and 450Nm of torque, oh and a satisfying zero to 100km/h time of around about 6.1 seconds. Overall, Audi claims that the powertrain offers 1.6//100km and a mere 48 grams of CO2.
But wait, there's more. Since this is a plug-in hybrid, this TFSIe has a 14.4kWh battery nestled at the rear that will give you an EV only range of around about 62km, so many commuting Kiwi's will be able to go about their daily duties without any fuel or emission worries – how cool is that!
My review model came in Manhattan grey, it's a great colour but prone to getting dirty quickly, I also had the black pack option, so the grille and Audi rings were black, in fact all the monikers were black, the lights were LEDs, and the wheels were 21-inches (a $3k option).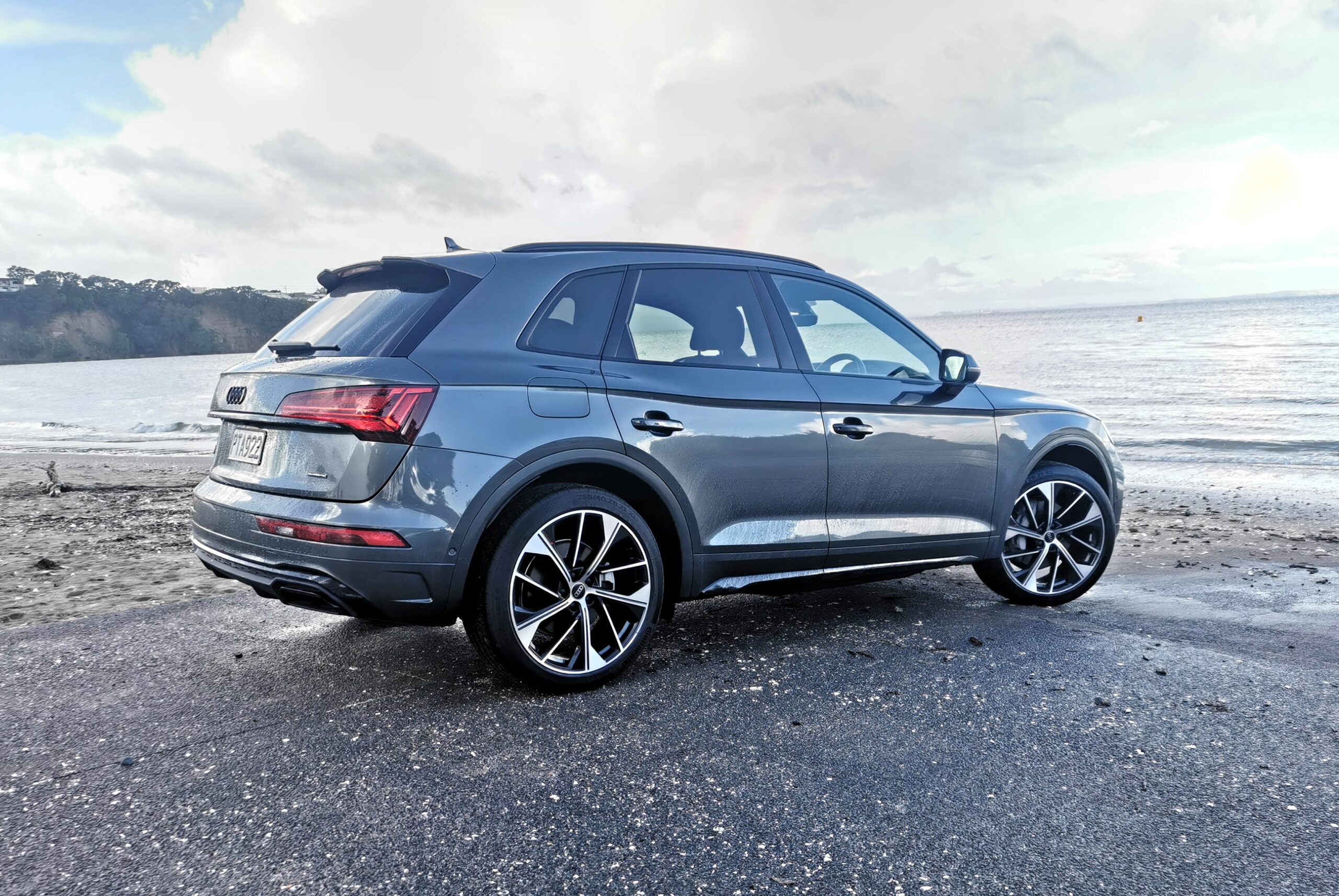 The door handles had me fascinated, they don't seem to open in a conventional manner, hard to describe and not unpleasant, just different, however, the doors do still close with a confident German thud – emphasising its terrific build quality. The rear tailgate has a 'kicker' function that opens up 465l of luggage space with all seats up, and there's a home charger that comes with the SUV.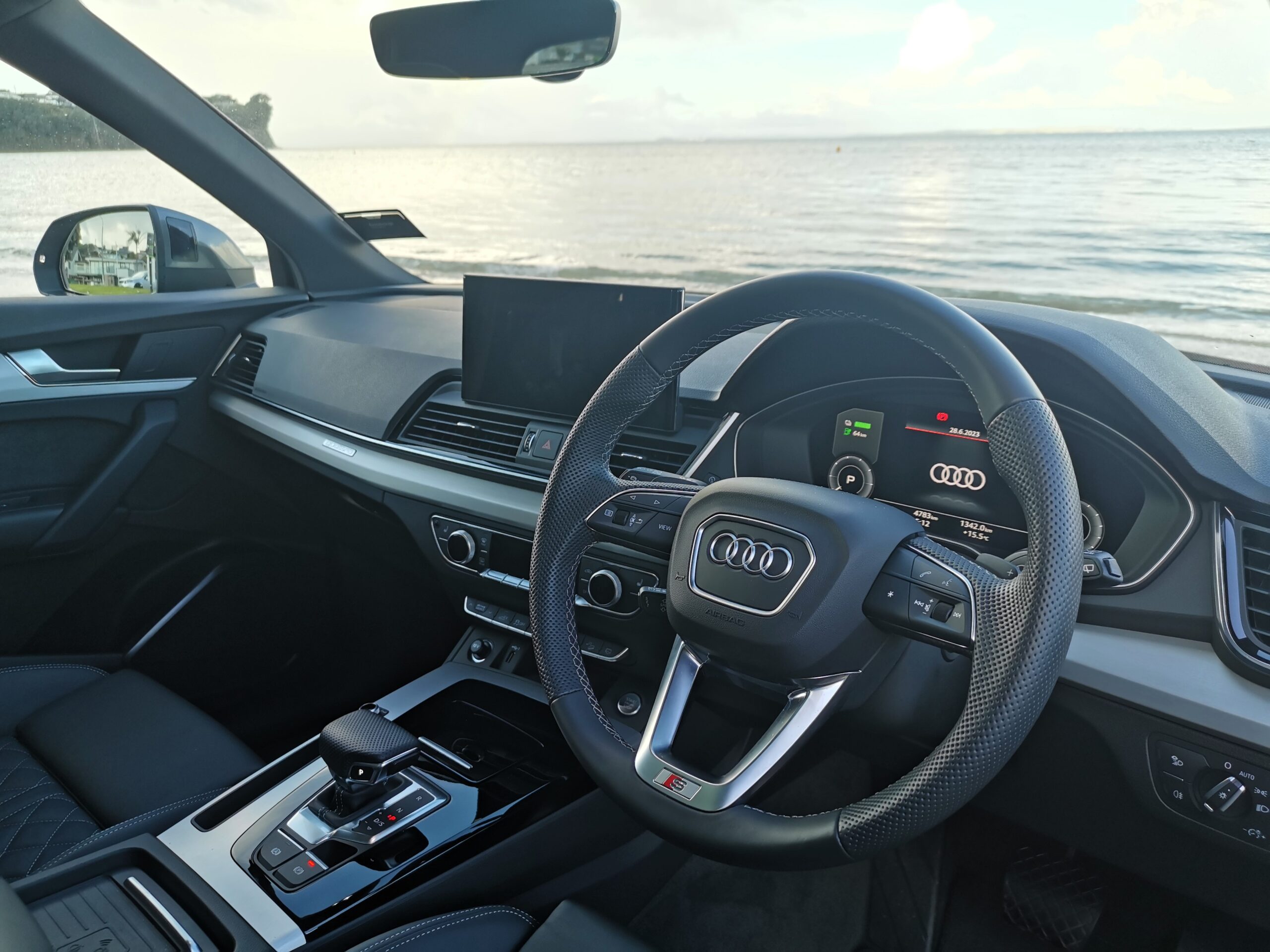 The Interior is unmistakably Audi with quilted leather, well-bolstered seats, and everything laid out in a very orderly manner. The materials are upmarket and refined, however, I do get the feeling that it's not as modern as other manufacturers offerings – particularly the switch gear.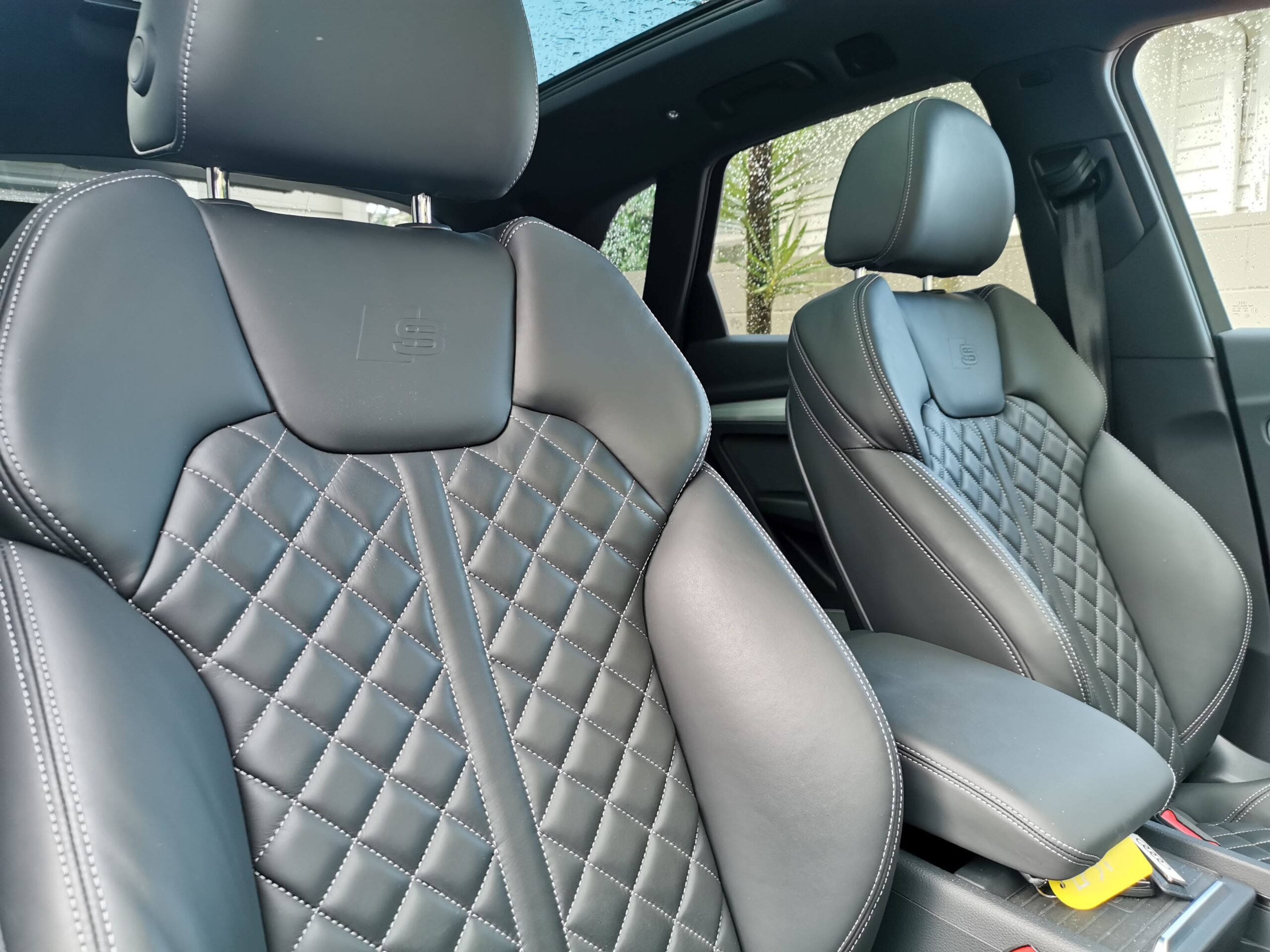 The infotainment screen is mounted on top of the dashboard and fits in with the sloping design of the dashboard. Of course it comes loaded with apps and information, including weather, navigation, and the various Audi Drive-mode selections. The additional charging/EV screen is where you'll find everything from the efficiency meter and programmable charge modes to the eTron mode where you can opt to maintain the battery level, charge it (using the regen braking and ICE engine), go Hybrid or go EV-only – which you can even use on motorway up to 120+km/h. There is also an EV button down below that offers a shortcut to the aforementioned info.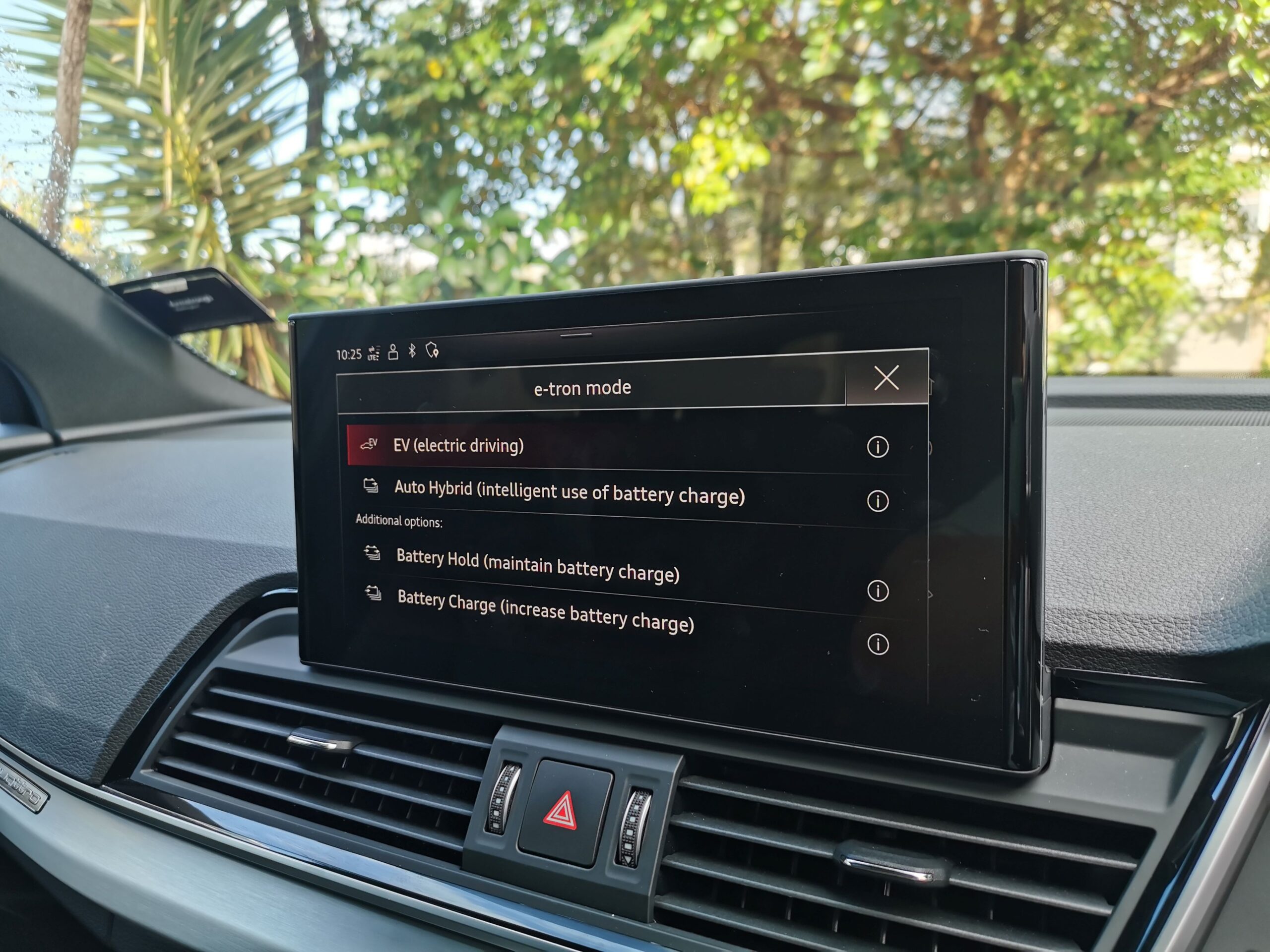 Audi's virtual cockpit sits in front of the driver and that comes with all the personalisation we've come to expect from Audi plus battery and efficiency indicators to assist with your EV driving skills (and remove any range anxiety).
Being a kind of EV, the Q5 TFSI e is quick off the mark, in fact it's almost a whole second faster than its un-electrified sibling (depending on whom you ask). The point being, that this upgraded Q5 pushes you back in your seat and performs overtaking manoeuvres with the aplomb of a hot hatch. But on top of that, it's the brand's Swiss army knife in terms of size and flexibility, so the whole family (and their dog) can experience that improved acceleration.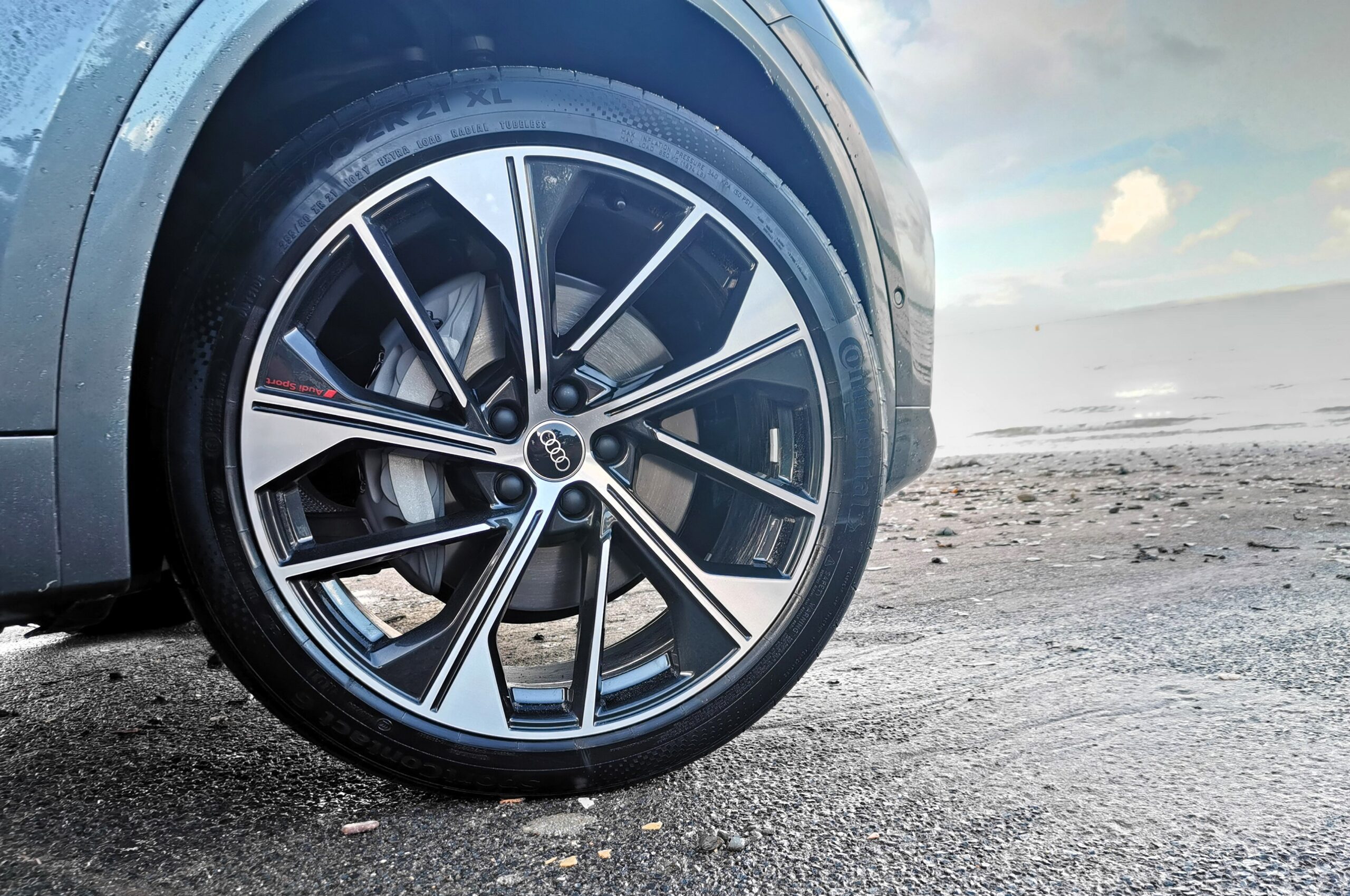 It's sure-footed too, thanks in part to the low centre of gravity, (the battery weighs a fair bit) and the improved 'ultra' Quattro. The Quattro ultra system is an ultra-smart system that takes all the information from the SUV's sensors, the maps, driving inputs and motors and both predicts and adjusts what power is needed for each wheel, and all in microseconds. It's not only there to ensure you stay pointing the way you should either, it also seeks to decouple the rear wheels whenever possible, turning your AWD SUV into an efficient 2WD SUV – And you don't have to do a thing (in fact you don't even know it's happening it's that slick).
Seating position is great with really good visibility. The S-line steering wheel comes as standard and feels just about right in the hand with really nice thumb grips. The paddles behind the wheel are there for when you want to take control but to be honest I didn't need them, ( the SUV does it all too well itself) and the same goes for the shift between EV to gas, on the whole it's all pretty seamless, (just the odd stutter here and there).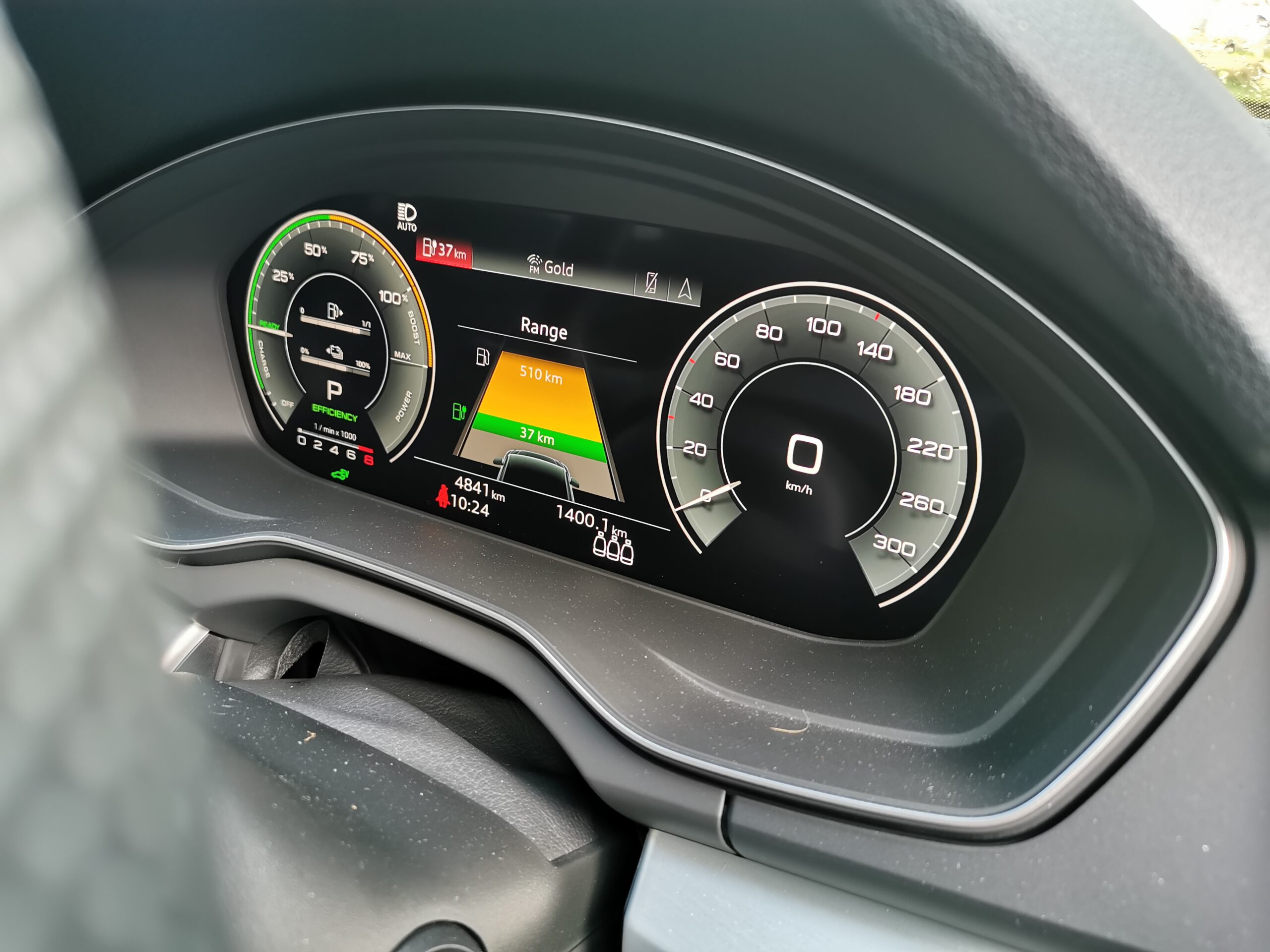 Audi NZ have reduced the Q5's range to just the one trim level but don't be alarmed, the 50 offers plenty and for those that do want a little more, you can get an endless amount of options, from the paintwork to a Bang and Olufsen audio system – so you can make it your own.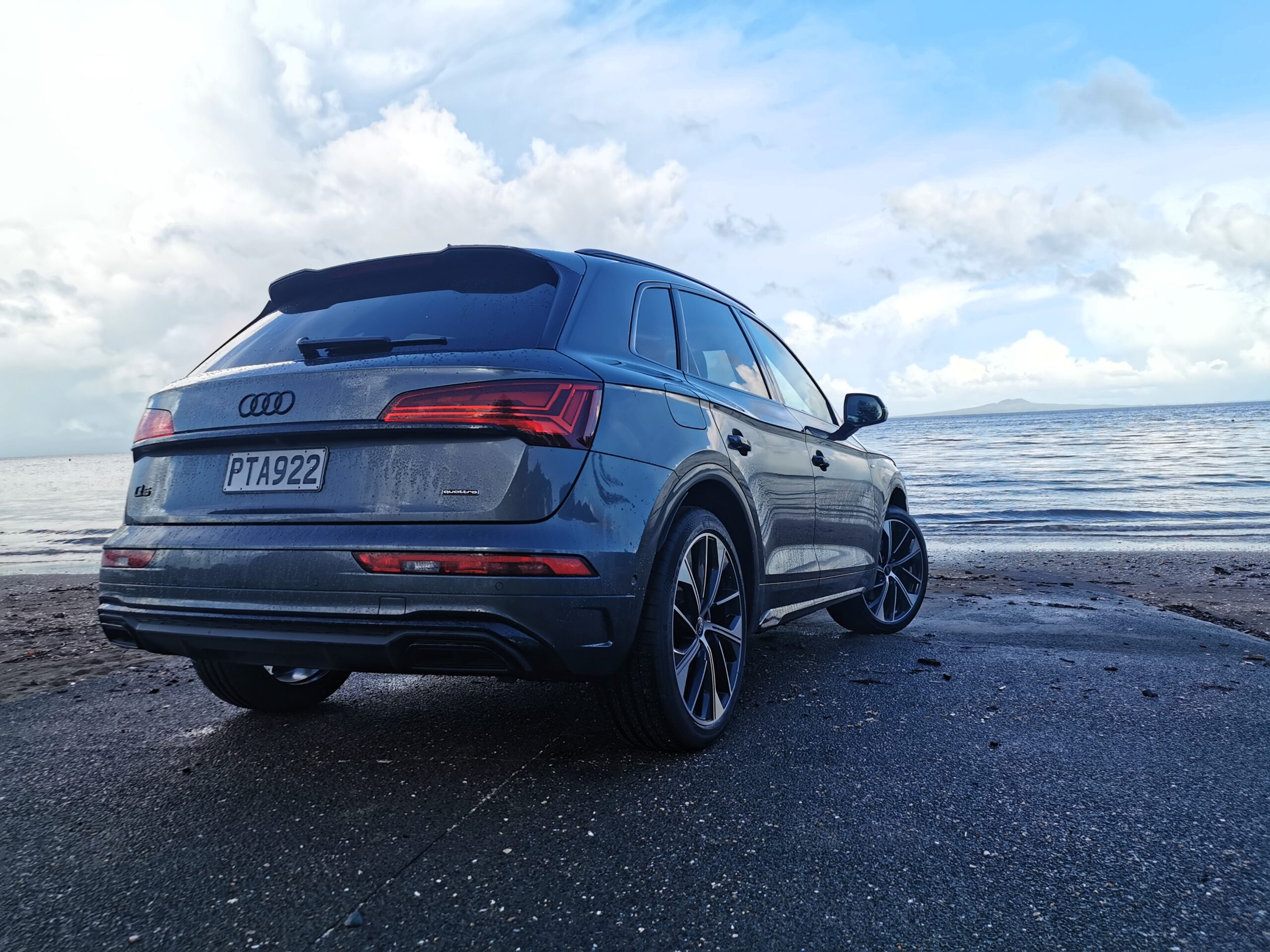 Due to unforeseen circumstances I only had the Q5 PHEV for a few days, but I really got a good taste of what it's all about. Much of my time was spent locally and in EV or hybrid mode with an emphasis on economy. But I have to say that it was all without the feeling of compromise, especially in terms of luxury and quality. It's so much more than a Q5 with a battery pack, it's a fan fave that has upped its performance and lowered its burden both on the environment and on the wallet.