The long-awaited and much-anticipated new VW Amarok has finally arrived on New Zealand shores and we couldn't be happier. It's bigger, bolder, more refined, better connected and more capable. Not only did the NZ launch have us test the all-new ute's mettle on an challenging off-road trek, but the weather gods opened up the floodgates and had us put its 800mm wading depth to work.
The VW Amarok was originally launched in 2010 and to give that a little perspective, it was the same year as Toy Story 3 was released, 1 Bitcoin was $0.30c (bugger), and the world got its first look at the Apple iPad – feeling old yet?
The rugged, yet car-like Amarok evidently became an immediate success, with the first generation's tenure selling 7,700 units in NZ alone. Anyway, the Wolf is back and better than ever.
Yes the all-new Amarok has been created with the aid of another well-respected vehicle brand, however, there's a very much a distinctive Volkswagen look about it and it's loaded with Vdub's 'must haves' including 3.5-tonne towing across the range, rear disc brakes and the ability to handle and feel like a Volkswagen. What's more, to make it even more antipodean-relevant, the new Amarok had twenty VW engineers working on it across the ditch in Australia – that's got to make you feel special.
VW New Zealand are launching the new Amarok with four separate model variations, and associated trims. The base-line 'Life' comes with a 2L four-cylinder (125kW/405Nm) married to a 6-speed auto. 'Style' is a four-cylinder too, but has a twin-turbo and mated to a 10-speed box (154kW/500Nm). The PanAmericana is a posh off-roader and as such comes with all-terrain tyres and a raft of upmarket goodies, a 3L V6 engine and a 10-speed box (184kW/600Nm). And last but not least, the 'Aventura' which is poshest of them all, featuring the same V6 powertrain (there is also a petrol engine option) and a host of upmarket extras including advanced park assist and a Harman Kardon sound system.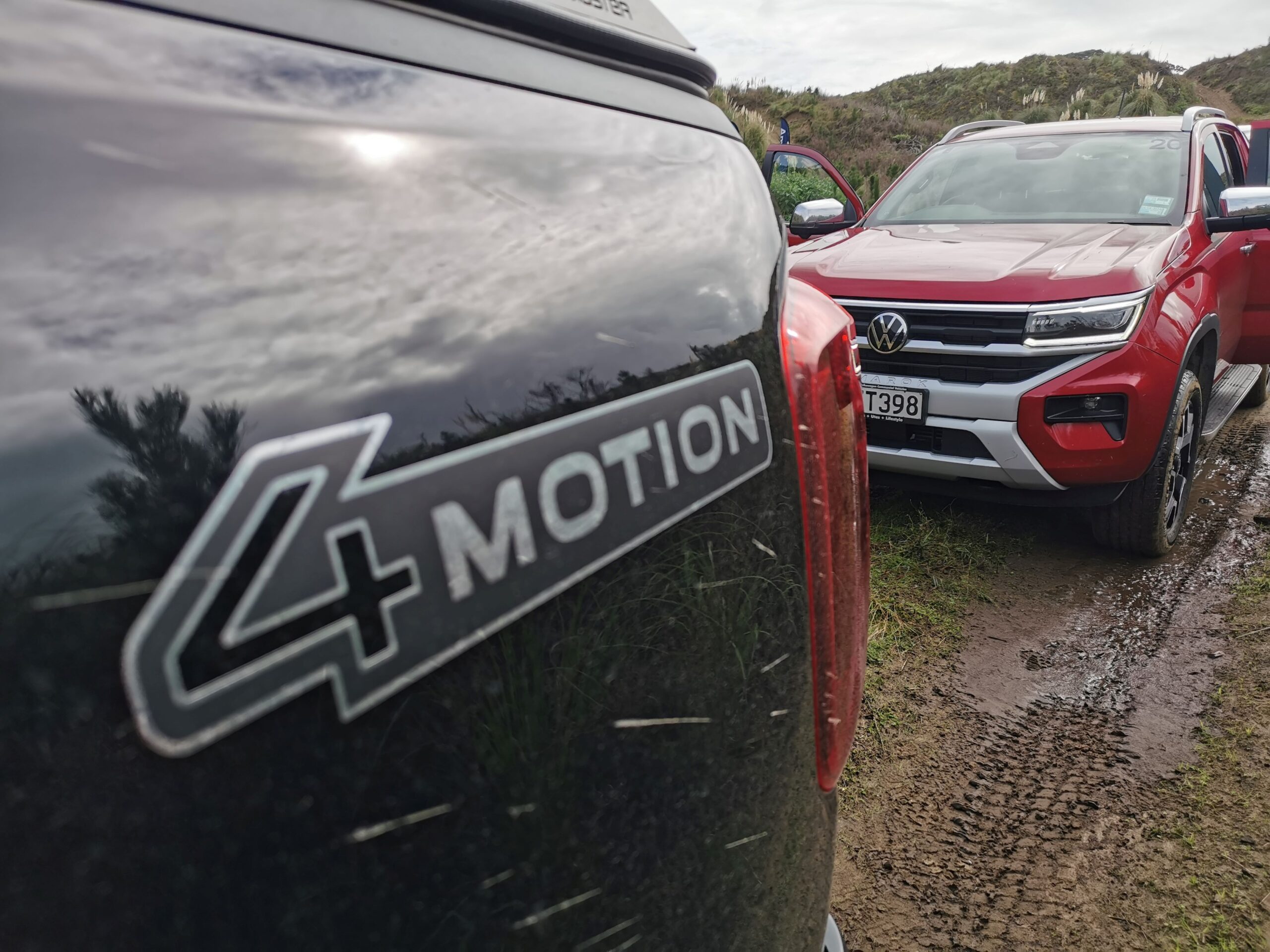 Dimensionally the Amarok has grown in size with a 5.35m length (+96mm) that fits snugly in your garage (or maybe not) and the 3.27m wheelbase that allows for plenty of room on the inside – an extra 45mm legroom for those in the back seat alone. The overhangs are shorter, meaning that the approach (30-degrees) and departure (26-degrees) angles are better, it boasts an 800mm wading depth and 3.5-tonne towing (tow bars fitted as standard).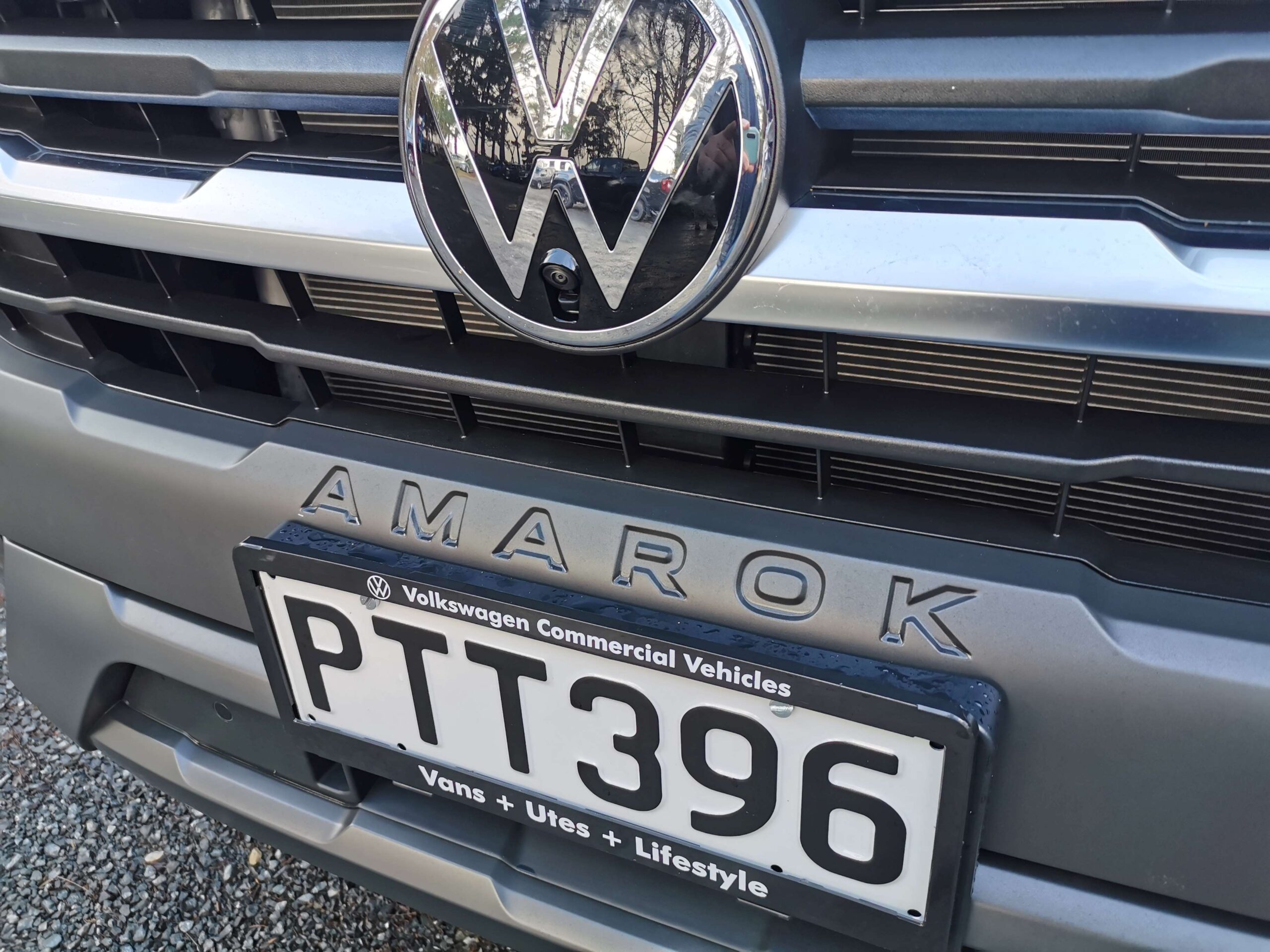 Aside from its footprint being different, its overall appearance has changed too, but still very much in keeping with the VW design language – it's clear to see that it's part of the family. Taking pride of place on the nose is the VW logo and along with the horizontal slats, the grille offers up an X shape that includes the lower valance and air ducts and pushes out below the (in some models IQ matrix LED) headlights. Something else worth noting is that the VW logo hides a camera to aid with the likes of parking and driver/safety assists.
The wheel arches have been squared off and (again depending on which model you opt for), the Amarok's feet vary from 17-20-inches with rubber to suit your own particular needs, road or off. 4Motion is standard across the range however, it's part time on the Life and Style, and selectable 2L, 4Auto, 4H and 4L on the PanAmericana and Aventura. Lastly, the tail comes with a large (Euro pallet fitable) tub (1.61m L x 1.23m W), C-Shaped LED lights and more cameras.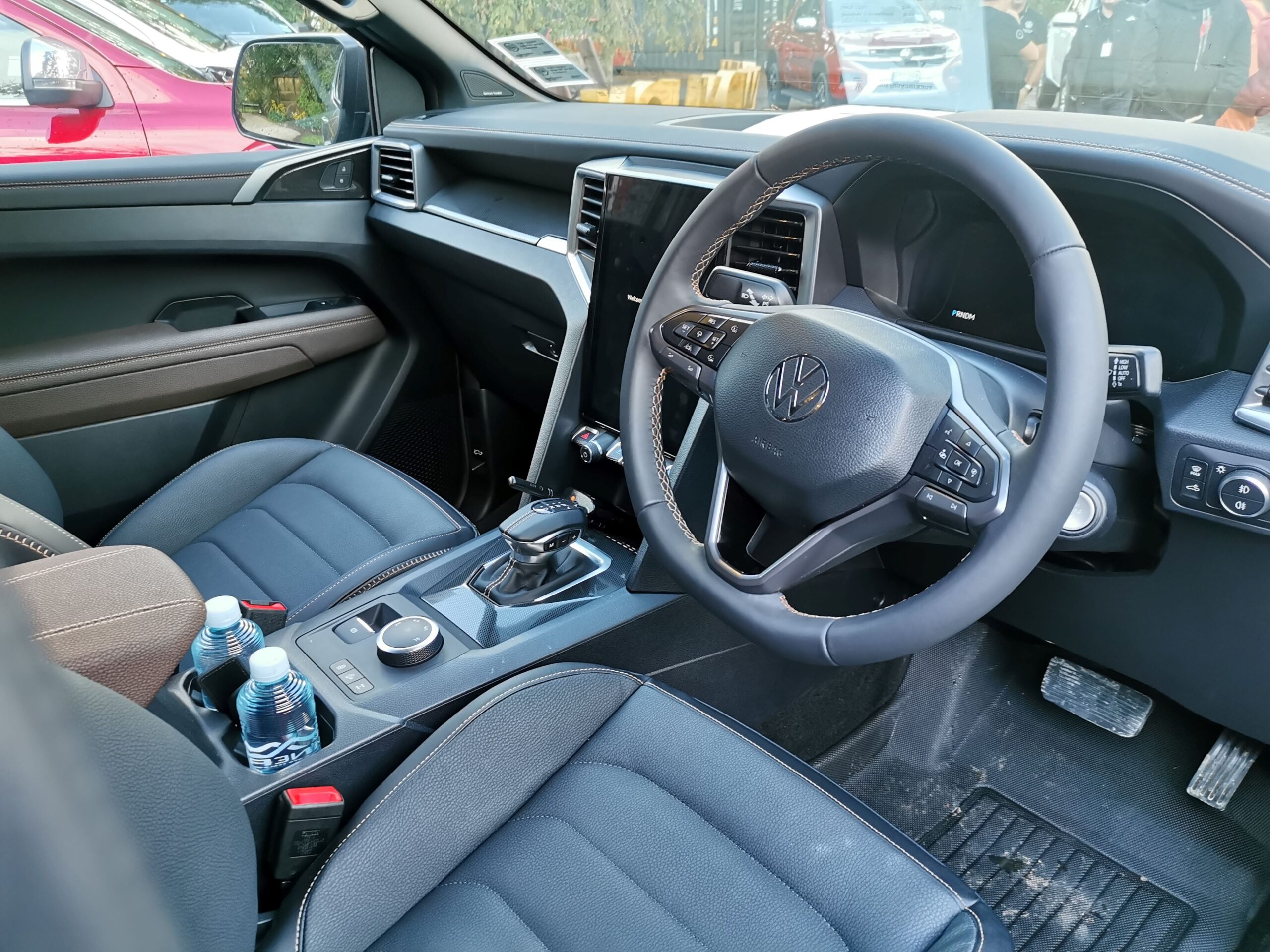 Venture inside and you'll notice the clever door handles that 'the other brand ute' has. From there on it's all VW baby. You could be forgiven for feeling like you're in a Tiguan or even a Passat Alltrack, plush leather (in the V6's) seats, hard-wearing but upmarket trim and two LARGE screens, a 12.3-inch 'digital cockpit' instrument cluster and a 12-inch portrait style infotainment screen.
those that have been in a uh a competitive ute recently you'll see the door handles here that come from there and also looking around the interior what you'll notice is a 12 inch instrument cluster and a actually a 12 point something in 12 point something inch instrument cluster and also a 12 inch infotainment system.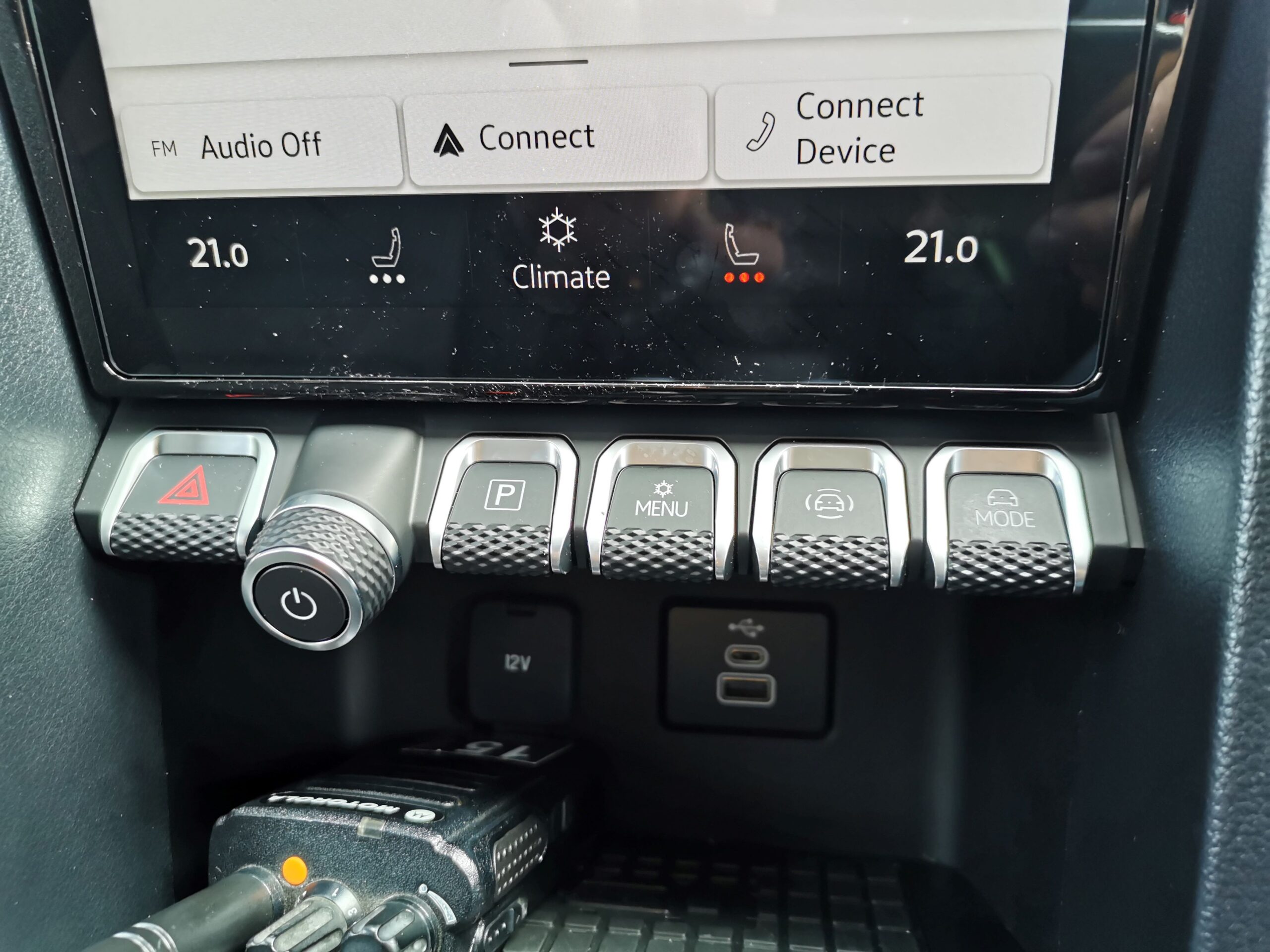 Both screens are completely personalizable, meaning you can just get all the information you want and however you want it, right down to off-road pages (pitch and roll) and even turbo boost. What's more, it's all very orderly (gotta love the Germans) so logical and menu'd – even I couldn't get lost. Throw in some nice tactile buttons below the info screen and you have a cabin that's there to serve you, and serve you well.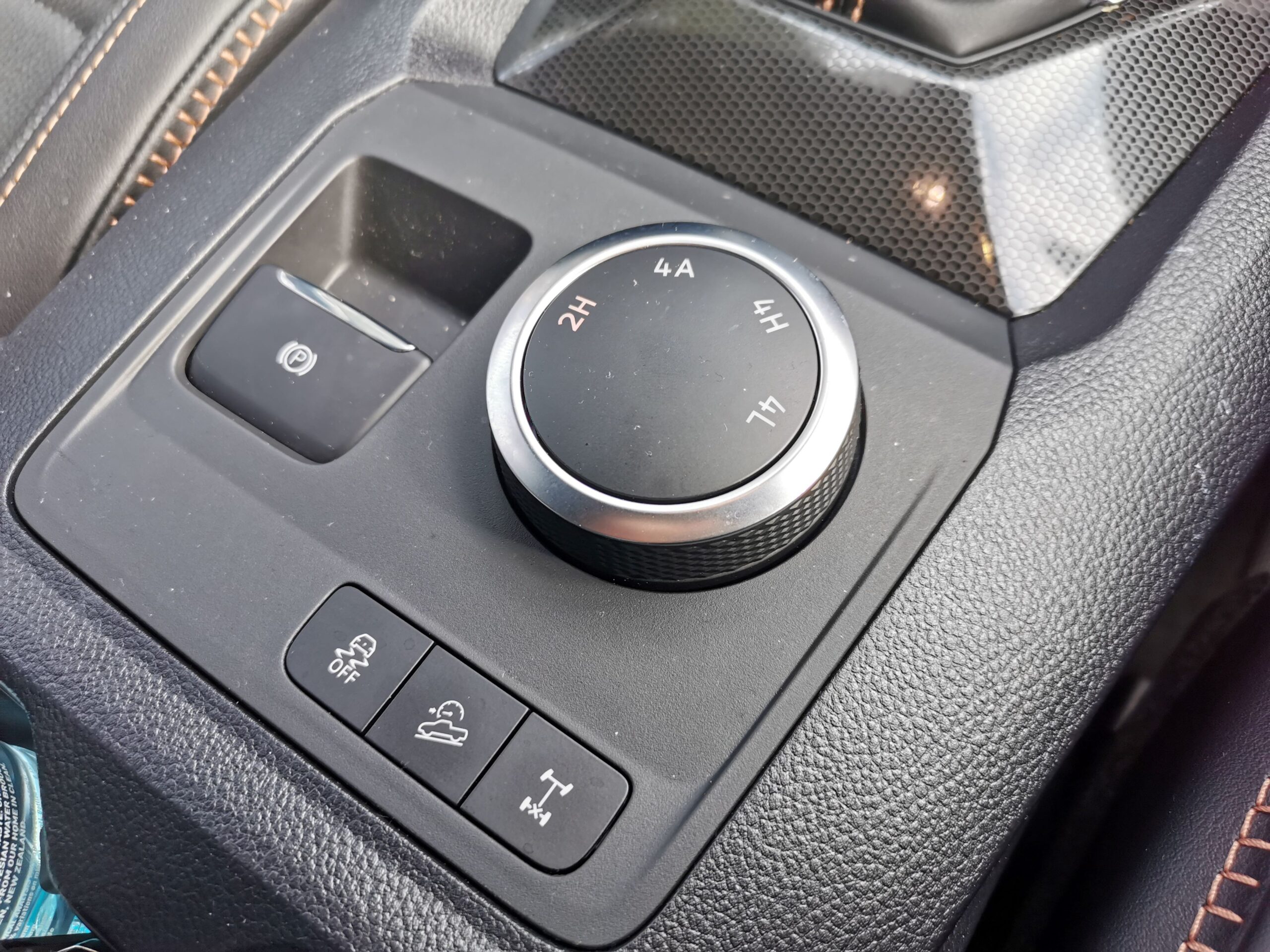 When it comes to drive modes, the 4-cylinders come with four modes (Normal, Eco, Slippery and Load/Trailer), and the two sixes come with six – adding Mud/Track and Deep Snow/Sand, and all come with downhill descent and difflock, this really is a capable ute.
The drive component of the launch was more based around the new Amarok's off-road prowess than on road which suited me just fine, but there was about a half-hour's drive to the Woodhill forest venue first which (sort of) meant some time on tarmac.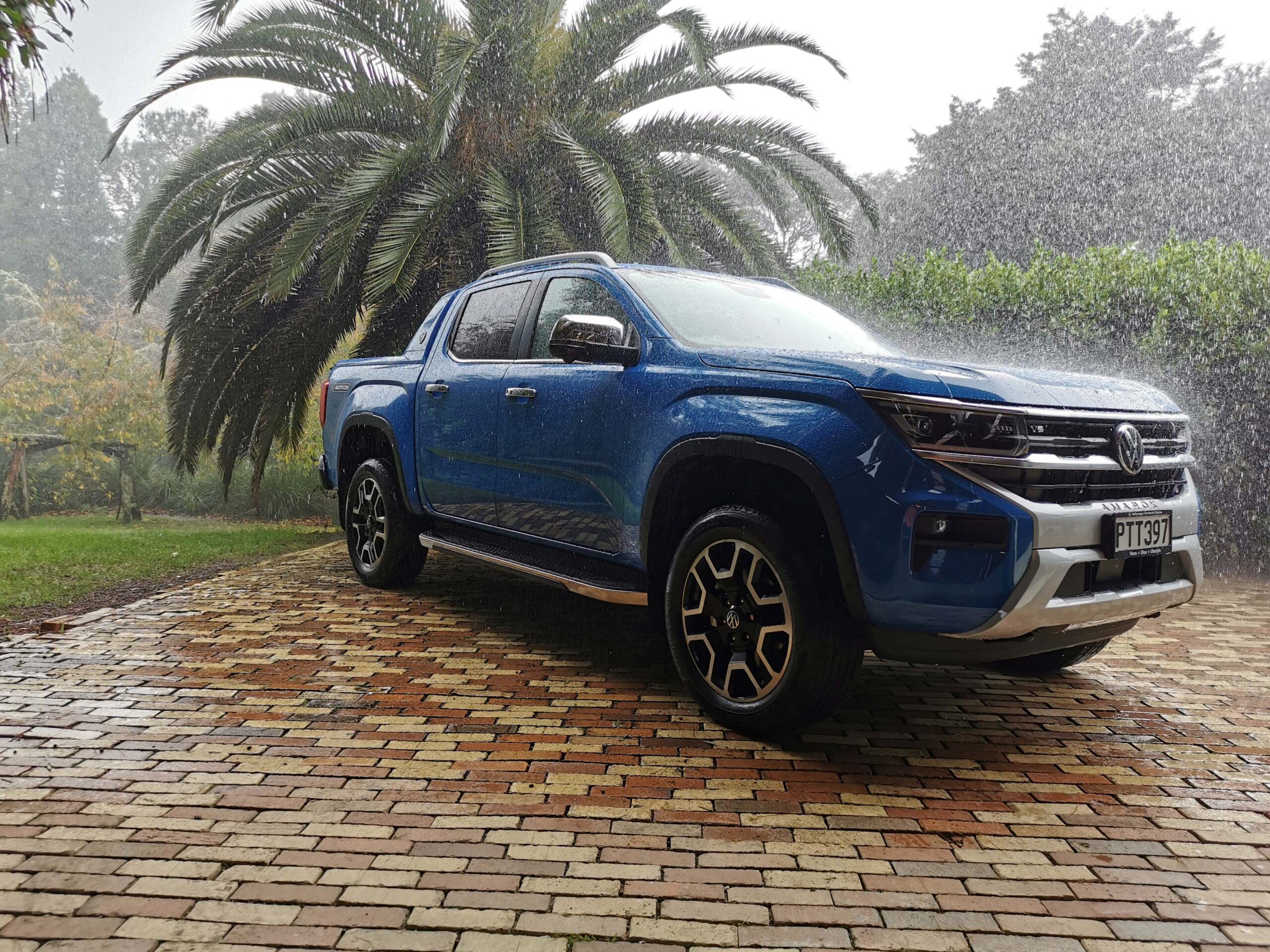 I jumped in the range-topping Aventura as an introduction and immediately felt at home. Like I said, it's very comfortable and has more electronic wizardry than many modern cars. What's more, the NVH has been refined to the point that I had to double check that the engine was on and that it was a diesel.
On the flipside, it has lovely road manners and plenty of grunt under foot, however, our on road time was cut short due to the recent Auckland floods – seriously the main road to Woodhill would have been better taken by boat.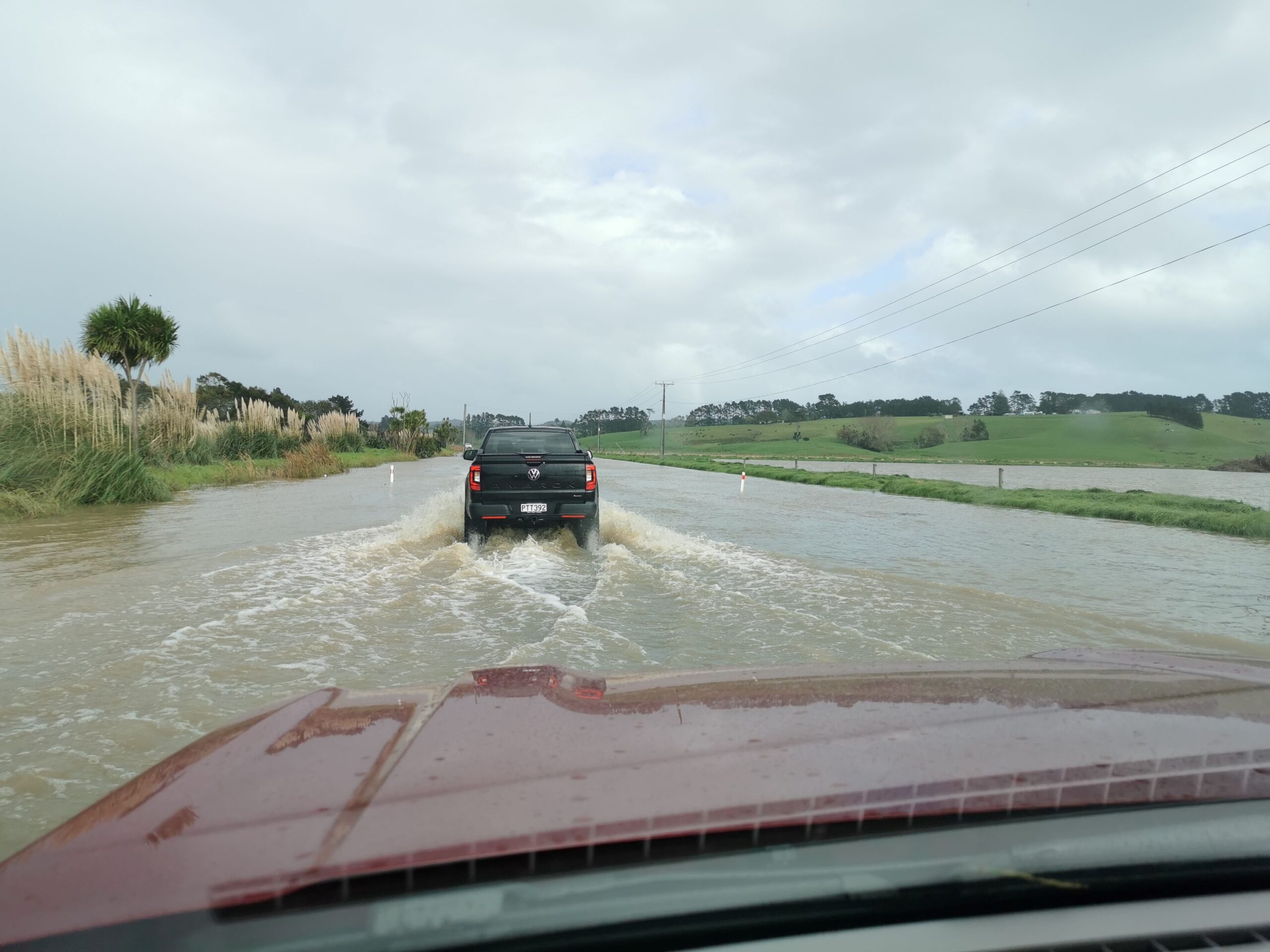 While many other, 'lesser' vehicles decided to bail and turn back, we, under the expert tuition of Downforce and confidence in the Amarok's ability ploughed on – a surreal experience wading through deep water on what was normally a road. And this was before we put the ute through its paces.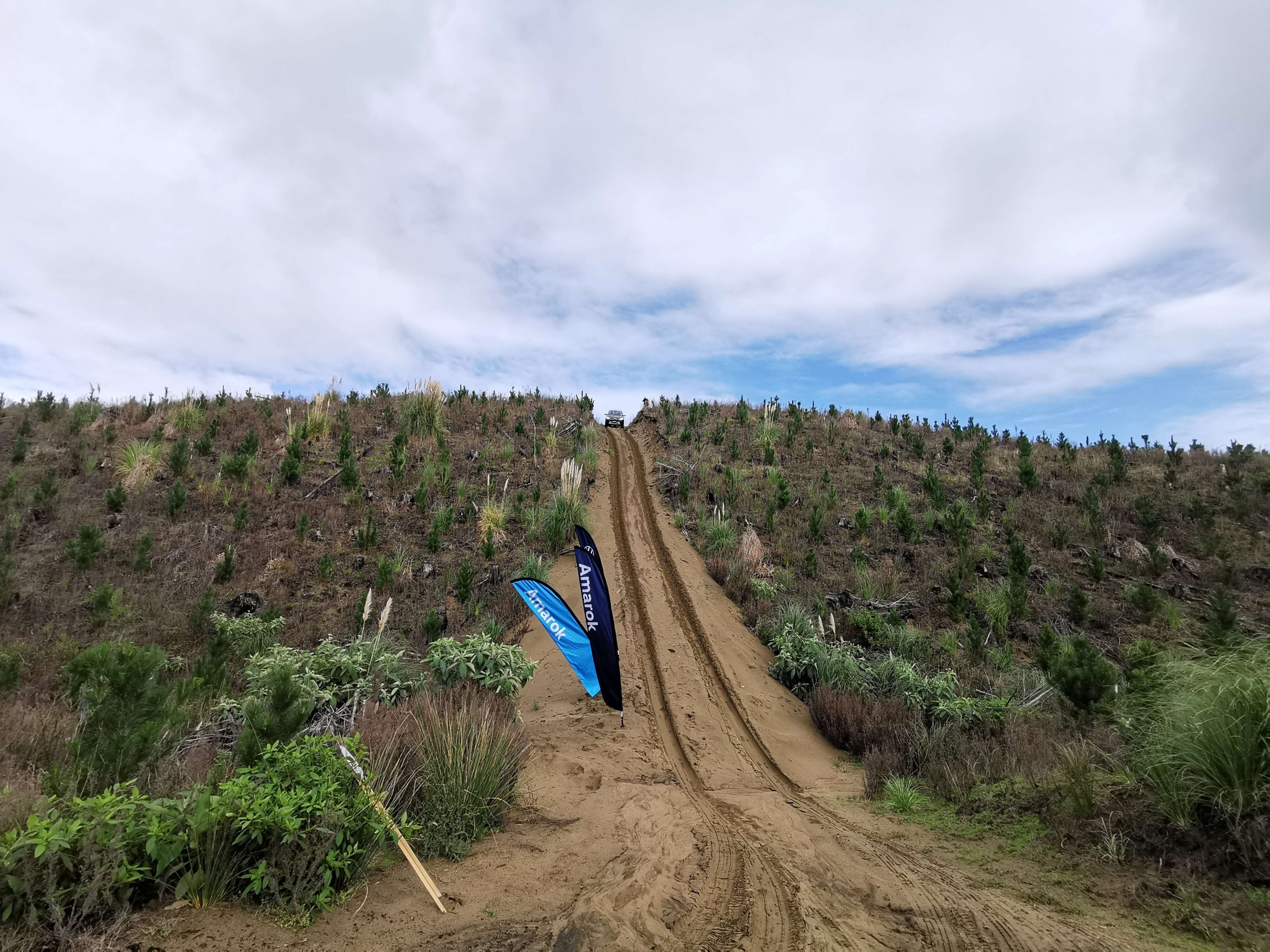 Upon arrival at the forest we vehicle swapped and over the course of the next few hours went up and down the Amarok range, all while conquering steep gradients, crawling over, through and around deep ruts, forging budding lakes (alright massive puddles) and negotiating tree stumps – all models (even the ones with road tyres) came out in one piece.
As expected, the launch and day was a hoot, fun and games with a few heart racing moments, but the new Amarok made everything just so simple. The upmarket goodies that come with the Aventura makes it easy to forget just how capable the new Amarok is, and even though it may never do what we managed to do over the day, it's reassuring to note that it can and will take you way out of your comfort zone – and keep you more than comfortable too.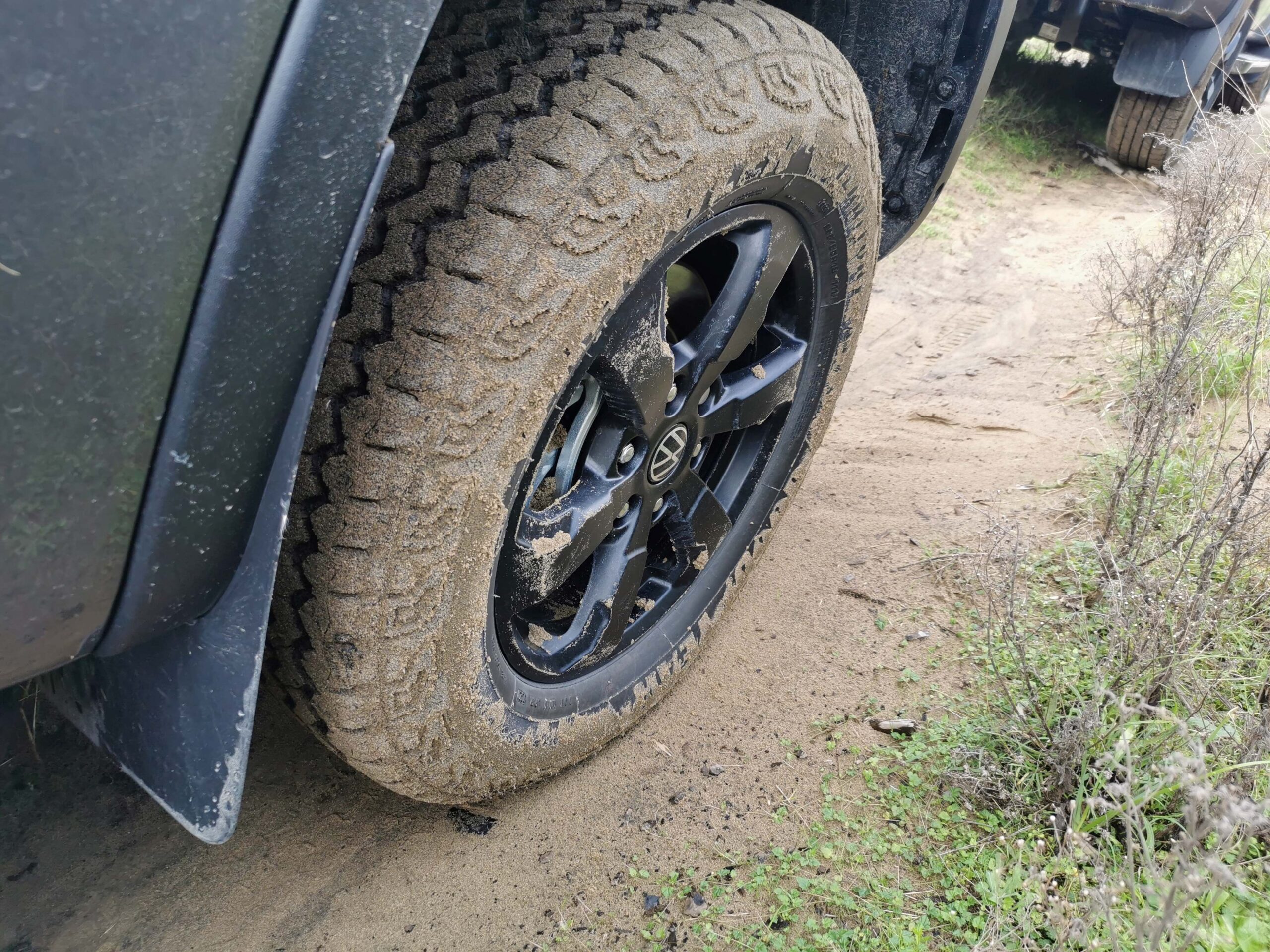 Really looking forward to a follow up drive, with or without the floods.