A whole raft of forces, including wind, water, technology, a boat and a tree came into play with the New Zealand launch of the next generation 2021 Toyota Highlander, oh and driving, lots and lots of driving too.
It began at the base (and in the base) of Emirates Team New Zealand's Cup defending boat Te Rehutai. It's unique 'crazy' design and efficient use of the elements turned heads and ultimately raised the Auld Mug (again). As a bonus, we got to board the boat and take some pics (they're up for sale Ben – just sayin') and we then got our first glimpse of the new Highlander.
Let's face it, the NZ motoring landscape is awash with SUVs (40 brands with 135 models we believe), so if you're going to add another one (even if it's a next generation model) it has to be good – well, thankfully for everyone, the new Highlander is.
Sitting on the TNGA platform and built in the good 'ol US of A, the 7-seat 2021 Highlander is 4th generation and is all new, inside and out. It comes with two powertrains including (a very popular) hybrid and a V6 and the range has been rationalised to just five.
Dimensionally, the new Highlander has grown over the previous model (+60mm in length/wheelbase and +5mm in width. The exterior comes with a bold new shape that sports chiseled lines, including a very aesthetic dip in the bonnet, LED lights and a new grille which is very much in keeping with the Toyota SUV family. Depending on the model, it rides on 18-20-inch feet, has a powered tailgate and a huge panoramic roof.
The interior is loaded with soft-touch materials and creative trim. Being a family-sized vehicle, there are cubby holes for Africa, (including a deep well for any sized mobile phone) and there are 5 USB ports for the occupants to stay charged and connected (just like the hybrid model itself).
Central to the dash is a large 8-inch colour display that comes with a variety of Apps and is Apple and Android compatible. It's Toyota easy to use, quick and responsive but the set up does look busy surrounded with the A/C and heated seat dials (the A/C is 3-zoned by the way). A joy for those that like their tunes loud, the Highlander's JBL stereo system has 11-speakers and 1,200 watts (or is that what's? Due to hearing impairment).
To ensure ease of entry, the 2nd row of seats open up 180mm and in terms of practicality, the middle row is 60/40 split – you can get those strange shaped objects inside and still carry passengers.
When it comes to passenger safety, the Highlander is all in, with Toyota Safety Sense and standard and a few extra features to boot. It's Intelligent Sonar will slap on the brakes should you decide to reverse into posts or other traffic in places like Malls, the Intersection Assist will also stop you from hitting vehicles or jaywalkers when turning into streets and when in Adaptive Cruise, the Curve Speed Reduction will slow you in the corners to ensure no-one spills their drinks.
We mounted up at Emirates Team NZ and headed towards Wellsford but not before taking a predesigned (and rather odd) tour of Auckland's inner city 'burbs and some twists and turns around Titirangi. For this first stint I grabbed the top of the tree Limited ZR Hybrid.
Quiet on start-up and rather silent around the town, the hybrid model with its 2.5L engine and (Ni-MH) powered electric motor nipped and zipped around the inner city with righteous aplomb. Boasting fuel-efficiency numbers of 5.6 L/100km (and CO2 emissions of 128 g/km) it made zero movement in the fuel needle but its 142kW/242Nm made plenty of movement in the big SUV. It's a soft, comfortable ride that (when in Sport mode) offers plenty of pick up.
The leather steering wheel felt nicely weighted and the large digital screen (nestled between two analogue dials) in the instrument cluster provided more than enough information to keep me entertained. The big windscreen and large door mirrors ensure visibility all round was great and the dip design in the bonnet really breaks up a normally bland bonnet/road landscape.
Free of the city, the Hybrid Highlander's ride is possibly a bit bouncy but only really noticeable when heading along undulated roads or around corners with vigour. On the subject of the latter, the 'Curve Speed Reduction' is a great new assist but it does take a lot of the speed out of the drive, maybe a little too much – but safety first right!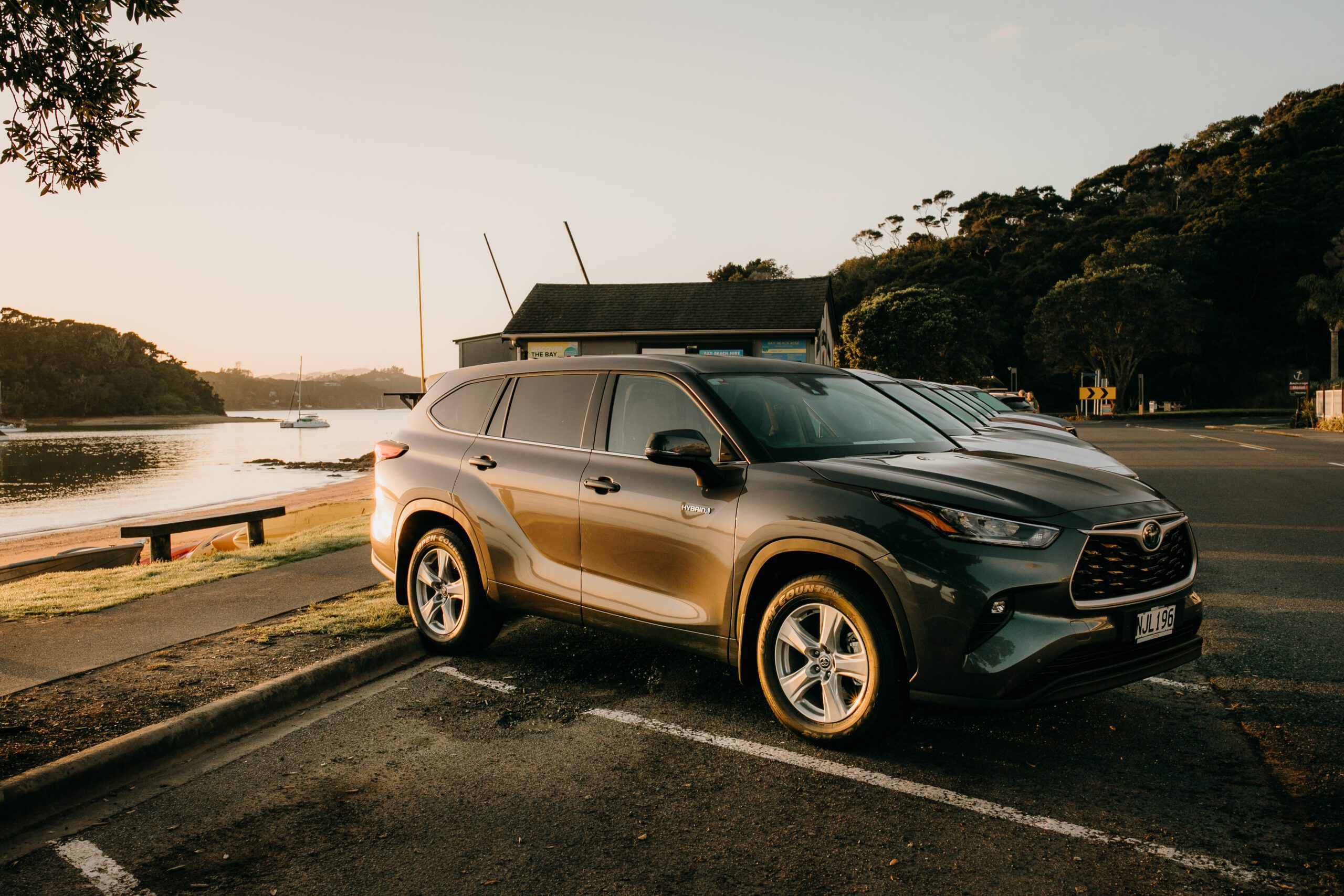 From Wellsford to Paihia I switched to the Highlander Limited V6 (218kW/350Nm). It's a different ride from the hybrid, with more of an audio track from the engine bay, a bit firmer in the rear and with different efficiency and eco numbers (8.8 L/100km/205 g/km) but, but equally as pleasant.
Following a good night's rest at Paihia, we headed out for more driving the next day and to learn a lesson from a 2,000 year old tree. I switched back to the Hybrid for the coast to coast trek across Northland and again it confirmed just how quiet and smooth the EV to ICE switch was. The E-Four All Wheel Drive and the Electronically-controlled Continuously Variable Transmission doesn't appear to drone on forever.
Now about that lesson. Tane Mahuta stands over 51m tall and has a width of almost 14m, it's the lord of the forest and is estimated to be around 2,000 years old, but as our tour guide pointed out, it all started with a small seed. He believes (and I'm adlibbing here) that it's the little things that count, and that life is given and flourishes by protecting and doing the small things.
And therein lies the moral of our Highlander story. Technological advances aside, the new Toyota Highlander is bigger than before but the small change of moving to a hybrid makes a huge difference to its eco footprint. And it's this change that many Highlander customers are more than willing to make, with 85% of the sales being hybrid.
I look forward to getting a closer look at this 'originally born in 2000' SUV.
Great pics SARAH WEBER PHOTOGRAPHY