It is very hard for a carmaker to have a proper grip on the market without having competitive offerings in the work vehicle segment, and the Hiace has been one of those for years running. Now with the new barn door layout, it should make for an easier more versatile work vehicle, despite the generous dimensions. Let's go ahead and try it out, then!
And I think I can definitely say I don't have "a type" when it comes to cars, because I was genuinely excited when I picked up this new Hiace. I have some good 14 thousand kilometres of experience driving them across different years, shapes, powertrains and layouts, so adding the newest, biggest and most capable of them all to the list was a cool opportunity.
For starters, there are the dimensions. At 1950mm wide, it puts a gigantic centre console in between the two seats and maximises every single square centimetre of the cargo capacity, sitting at astonishing 9300 litres. It is, however, quite a tall van even in this spec, so I had to be careful when driving it around to avoid getting stuck (although I could make it into all places I planned to, as opposed to when I had another big car recently).
To move all of this around, the Hiace uses the tried and true 2.8 litre turbocharged D-4D diesel 4 cylinder. It feels more torquey (at 450Nm) than powerful, and that's best for it. It's an engine that has become very respected in my home country of Brazil after powering Hilux pickup trucks and Hilux SW4 (our version of the Fortuner) for decades with a bulletproof record.
It is calibrated in a way to smooth out all harsh inputs, which is exactly what you want in a vehicle that is likely to be carrying heavy, delicate goods. However, with the engine being so close to you and a small amount of sound deadening, the Hiace will get quite noisy once you get moving, which is to be expected given it's not the most aerodynamic shape known to man. Not the reason you'd buy one, I know, so it gets an easy pass – just beware of the wind when the van's empty, as it becomes very susceptible to side winds and can sway around. I had to be extra careful when crossing the Harbour Bridge.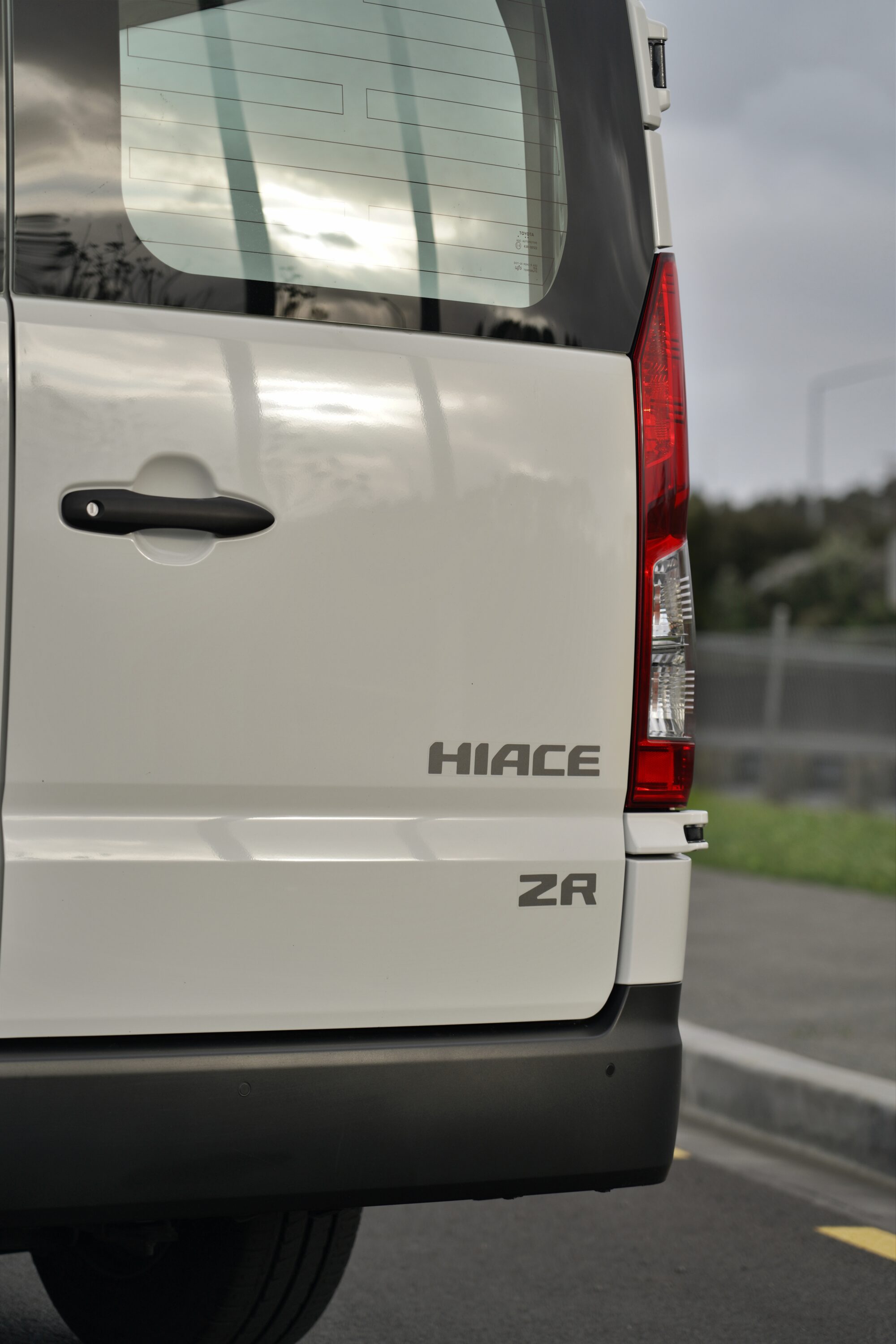 But the new addition to the Hiace I had was the new layout of the rear doors, now featuring a barn-style opening. That undoubtedly makes it easier to load in and out goods in tighter spots, as with a vehicle this tall, a door that opens up can become quite long (and hard to reach once it's fully open). The only compromise is the reduced rear view because of the additional pillar right by the middle of your mirror, but chances are you will load the Hiace all the way up and only resort to the camera anyways!
It makes the Hiace look a bit more thought-through (I promised myself I wouldn't call it Premium), especially because you still have the two sliding doors, one on each side. They are gimmick free, very easy to operate, and when everything's open the van looks like a proper Transformer caught off guard mid-transformation.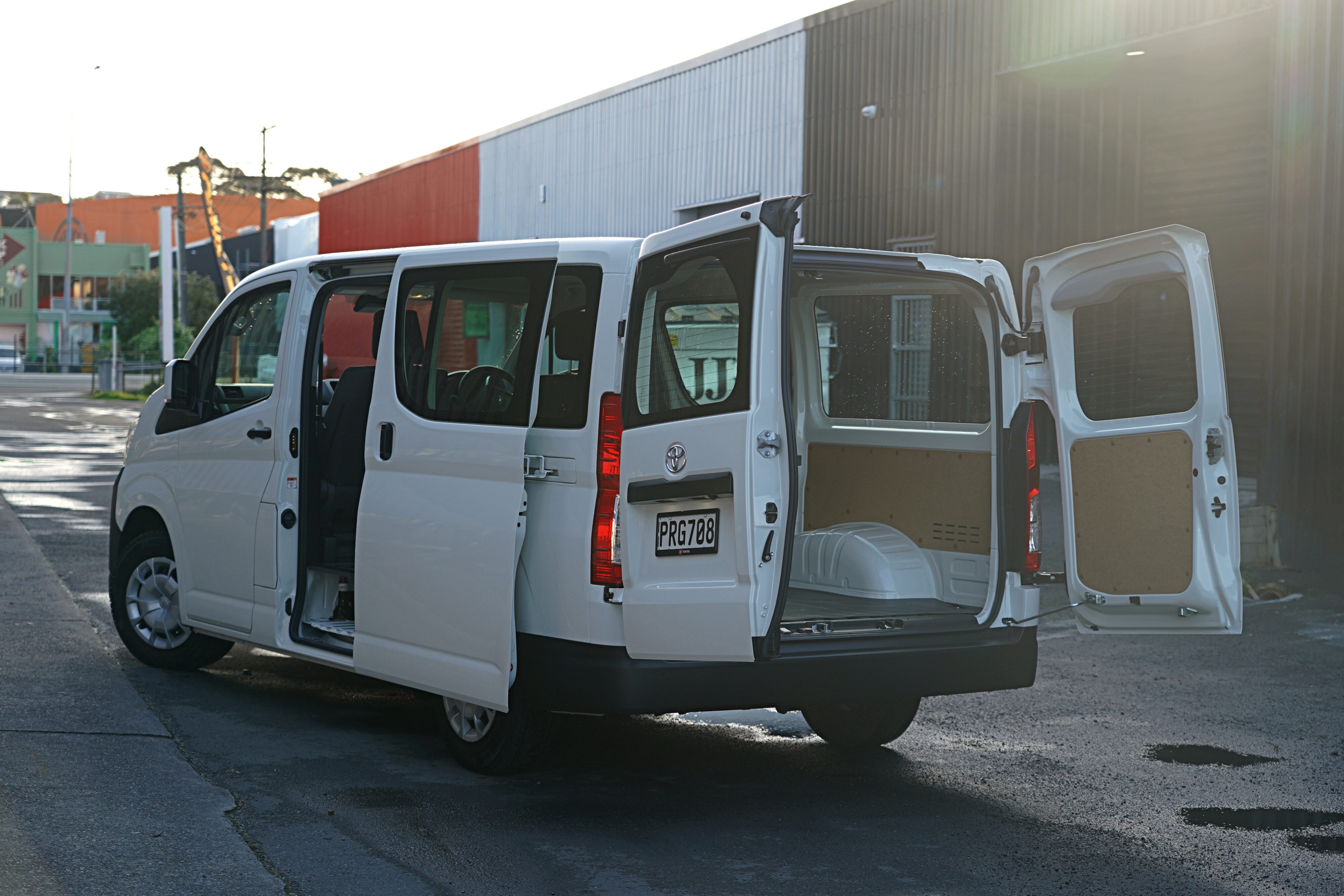 And I'm sure that loading it up will change its dynamics, but unfortunately I never got to test it. This meant the usual behaviour of a vehicle with leaf spring rear suspension with no weight above it was always there: some pogo-ing around and oversteer on demand. The Hiace would always spin one of the tyres on intersections if I wanted to, but not in a bad way: a helpful differential can sometimes be what makes a car like this get out of a tricky situation. Ask me how I know, some of the dodgiest moments I've had in cars have been in Hiaces. Work hard, play hard!
In terms of technology, the van sports Toyota's now previous generation infotainment system, and while it's becoming dated at this point, it still offers responsive navigation, plenty of connectivity and wired CarPlay/Android Auto. It is not supposed to be a tech flagship, so it gets most of the work requirements covered. There are helpful charging ports where you need them, and some features that make city life easy like a speed limiter and parking sensors front and back.
Material choices are what most other work horses get, with hard plastics on most areas and tough carpets. A welcome addition to that are the seats, that have lumbar adjustment and little bolstering, making for easy access, and a leather wrapped steering wheel for that added premium-ness (there, I said it). It is clearly focused on getting work done, but it was a welcome surprise to see some touch points like these getting some nicer surfaces.
It was not the easiest thing to photograph, with so many straight lines and the sheer size of it. Once on the go, however, it becomes much less daunting. It won't break records anywhere, but it is able to mask its footprint to a certain extent with great turning radius and super light steering. The helpful rearview camera and the big mirrors complete the package.
All these perks together make it as easy to drive and live with as a vehicle of this size can be. People that get a van want a vehicle that disappears around them so that they can focus on their business only to scale it up and end up buying more Hiaces, and there's no question this is the best one yet in that regard.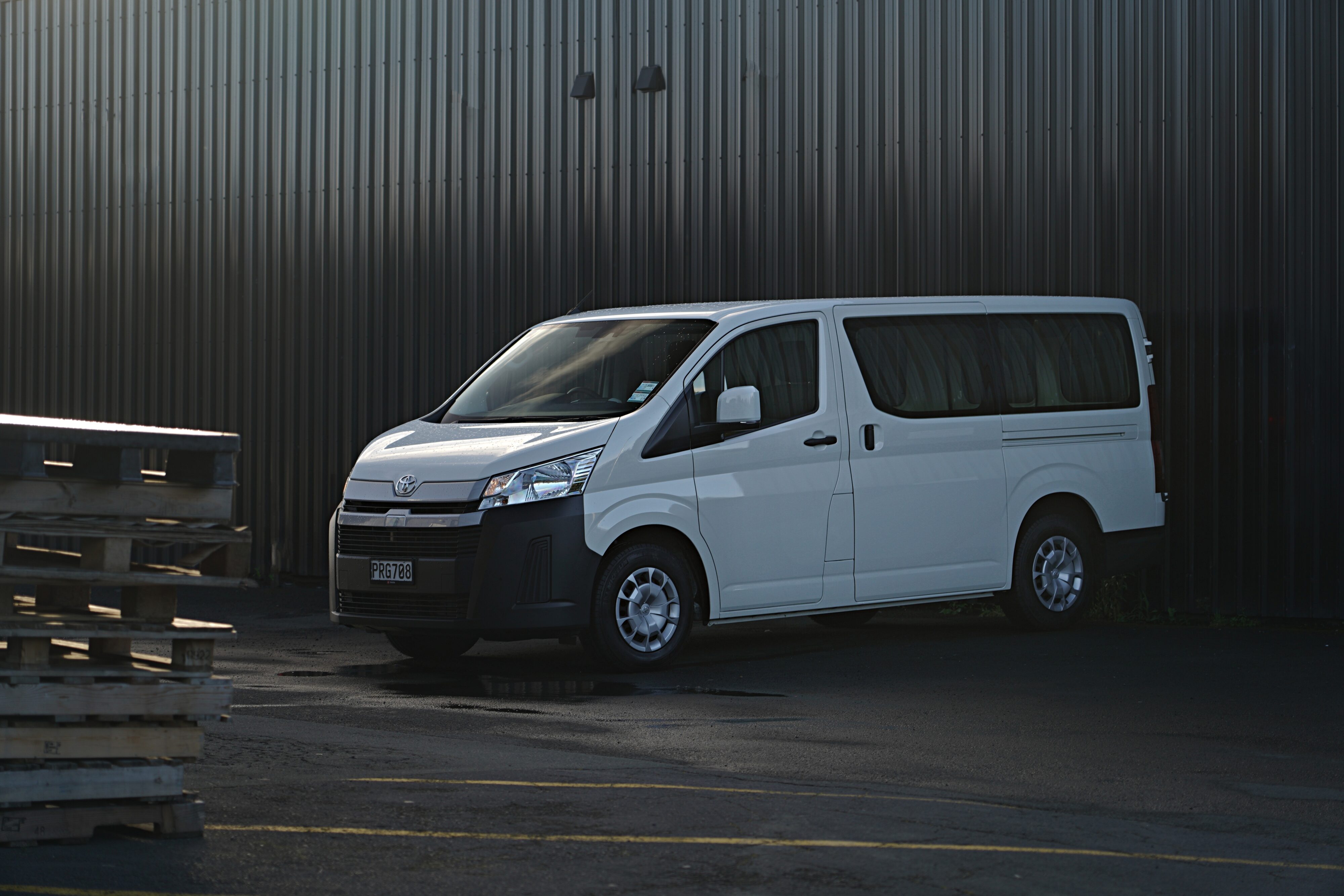 Few vehicles see as much actual, hard work than vans, so it's great to see brands putting the effort towards making good products in this segment. The Hiace is no exception, and while this one was no campervan, I had a great time with it! Thanks, Toyota NZ for the opportunity, and thank you for reading this far!