I can remember when Toyota first lifted the lid on the Toyota 86. We didn't get it here until around 2012 but boy was there a lot of hype. Here was a sports car made to bring back the fun to Toyota. Not to mention conjure up flashbacks of classic AE86 Levins and Turenos drifting their way down a Japanese mountain pass. The GT86 had hype and it certainly delivered. A Toyota was fun again.
Fast forward a decade or so and the GT86 has been reborn. Enter the new GR 86. Yes, the 86 is now officially part of the Toyota Gazoo Racing stable of go-faster toys, sitting in the middle of the likes of the GR Yaris and GR Supra. There have been significant changes from the outgoing 86, as you may be able to tell from the pictures. Here is the low down on this next chapter of a modern cult icon.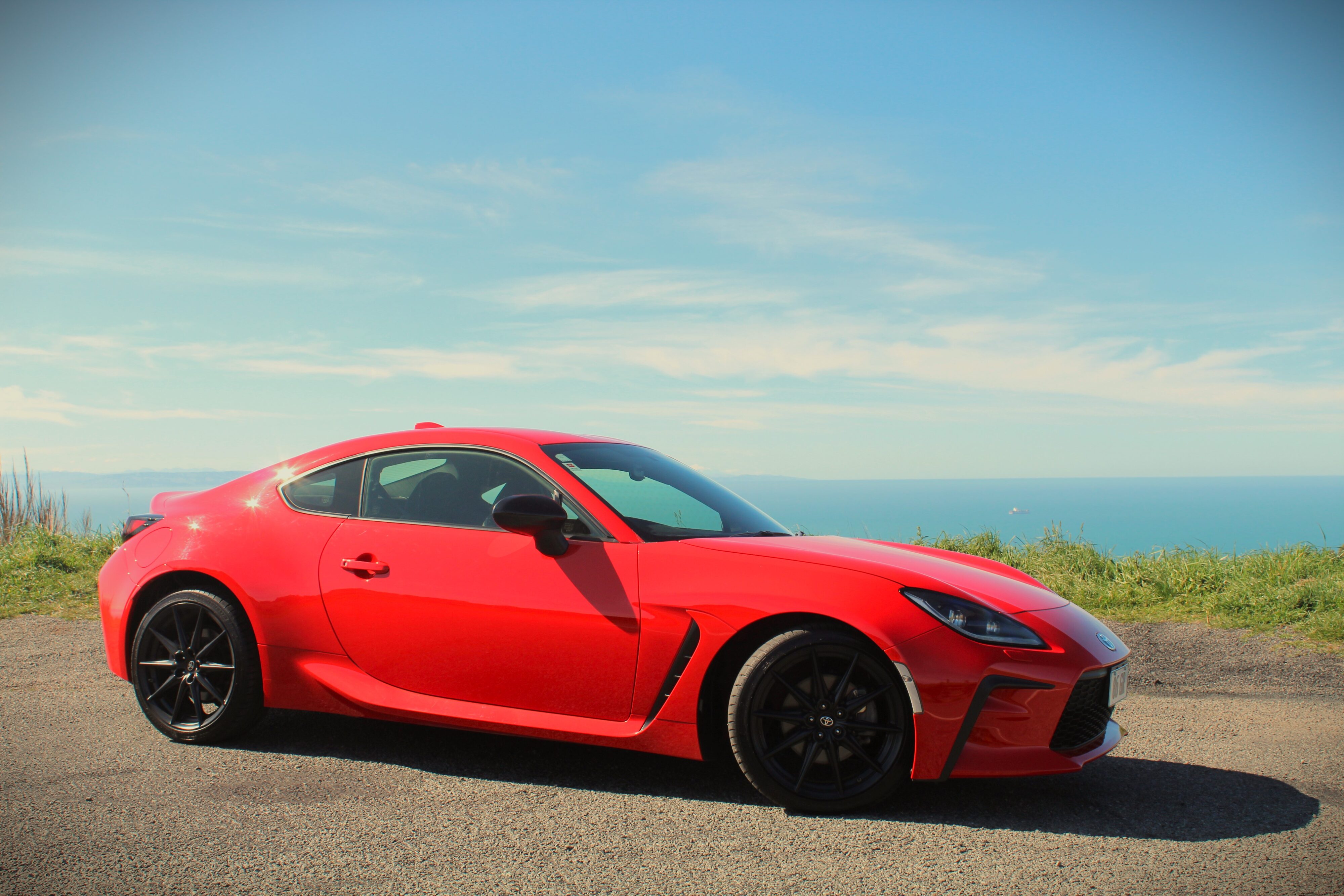 The GR 86 still retains its textbook coupe lines front to rear but the biggest changes have been the inclusion of a new matrix grille design, revised headlight and taillight cluster with LED daytime running lights, a more pronounced front spoiler, larger side rocker mountings and a new ducktail like rear spoiler. In fact, it's easy to see the family resemblance when you stick it next to a new GR Supra.
What also looks good is the quartet of 18-inch 10-spoke matte black alloys on Michelin Pilot Sport 4 rubber. These contrast well with the Spark Red colour scheme of my test car. You can also have your GR 86 in Crystal White, Ice Silver, Magnetite Grey, Midnight Black, Hyper Blue and Sapphire Blue.
If there was one downside to the outgoing 86 was that while it was a tonne of fun, some extra oomph would have been nice from the low to mid-range. Thankfully the TGR boffins have increased power of the 2.4-litre Toyota/Subaru boxer engine up to 174kW, which is an increase of 27kW. Torque has gone up too at 250Nm, an increase of 45Nm. Fuel consumption is rated at 10.4L/100km so not a sipper.
Buyers can choose from either a six-speed manual or six-speed automatic transmission. Regardless of which gearbox you opt for, though you can bet a penny to a pound that more will opt for the former, the GR86 will set you back a Toyota Driveaway Price of $58,490.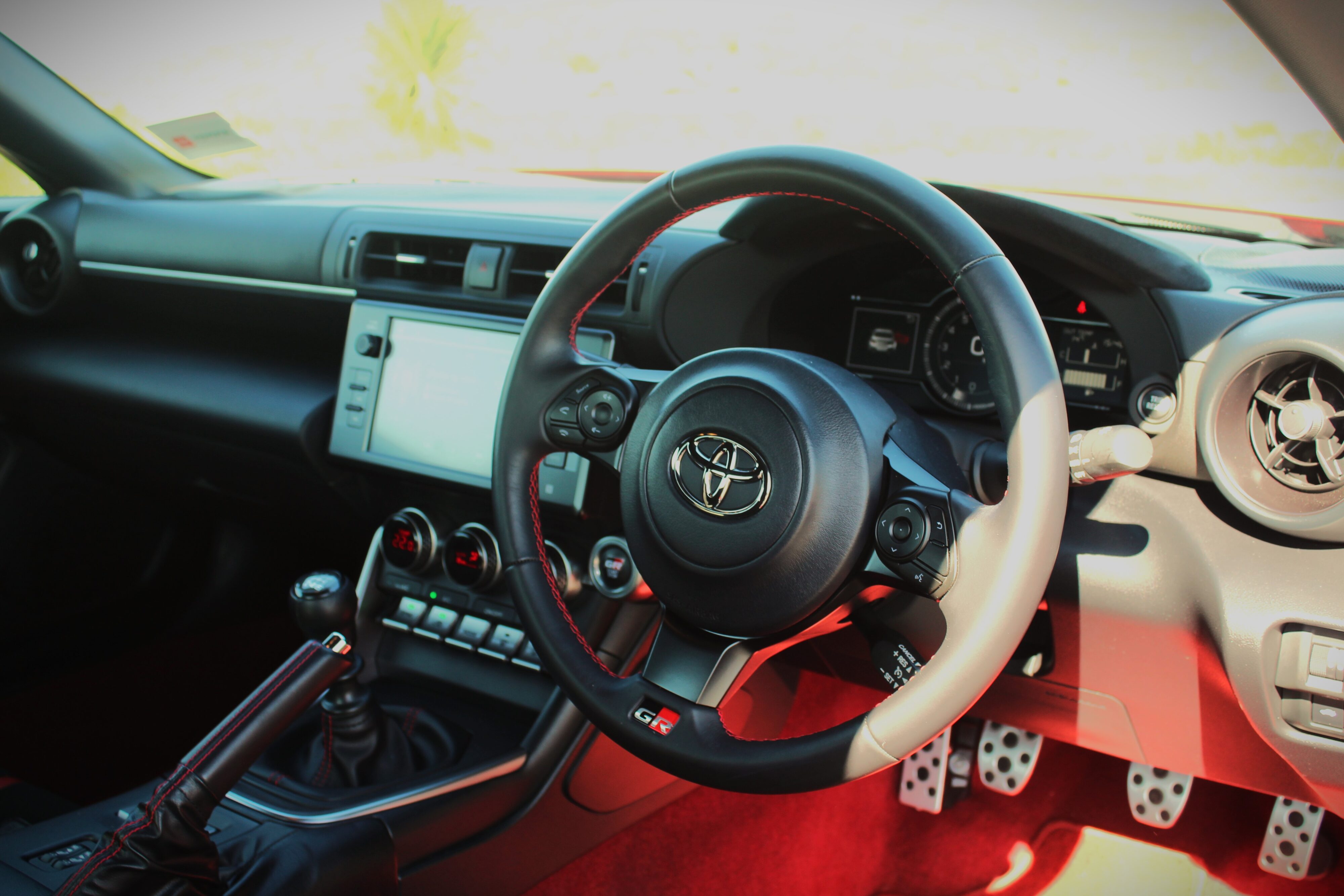 Inside, it's a GR fest of sports seats, red GR carpeting and GR emblems. The layout will be familiar to 86 owners, but the GR86 has a few extras thrown in to keep it fresh. Ahead a new 7-inch TFT digital instrument cluster replaces the old analogue dials and a new 8-inch touchscreen infotainment system takes centre stage and is a delight to use. You get all the gear like Apple CarPlay/Android Auto, heated seats, push button start and dual zone climate control.
The driving position is pretty much perfect. The redesigned GR embossed sports steering wheel feels great in your hands and you sit low and far back in the new Ultrasuede leather seats. Classic for a well thought out car of this type. Though those rear seats are still really only good for tots. Boot space is rated at 226L, but I still managed to conduct a weekly shop with space to spare.
There is plenty of safety kit. Blind spot detection, rear cross traffic alert, rear parking sensors, reversing camera and a tyre pressure warning system. Choose the auto and you get pre-collision braking, adaptive cruise control, lane departure warning, reverse auto braking and high beam assist.
The boxer engine still sounds mechanical. There doesn't seem to be anything fake or enhanced with the way to the GR 86 sounds. Throttle response is more immediate this time around too, even at idle. The gearbox is still a delight and often one finds oneself going up and down through the gears for sheer hell of it. A rare sensation in modern sports cars, got to say.
Move off and the extra low-down power becomes rather obvious. The power delivery is much more progressive and between 1500 to 3500rpm, you can make some good progress, especially as peak torque is delivered at 3700rm.
Steering feel? Yeah, that is very direct with oodles of positive feedback. Changing direction like a house fly is very much the GR 86's calling card and slicing through downtown Christchurch traffic becomes an unexpected pastime. You also need to be aware of that back end when giving it stick out of an intersection corner. It likes to step out.
Around town it still feels the bumps now and again. A tell-tale sign that while a GR 86 can be your daily, its happy place is on your favourite B-road or track. While I was not able to access Euromarque Motor Sport Park Ruapuna to put this GR 86 through its paces, I remember driving this very car earlier in the year at Highlands Motorsport Park for Toyota Fest 2023. Needless to say, the GR86's 60 per cent improvement in lateral bending a 50 per cent increase in tortional rigidity means everything feels so much tighter and more agile than the outgoing 86. Especially when one activates Track Mode.
Track Mode turns off the traction control off and on the right road with the right conditions at the right time of day, you would have to be coming down with a bad flu not to enjoy yourself in this car. Its just fun. You can also monitor the amount of G you are generating and record your lap times on the TFT display.
The GR86 is a considerable step up from the 86 which spawned it. These little changes inside and out all add up to make a rather big difference and makes this modern icon well worth your time and attention.
RATING: 8.5/10