Admittedly it's been a while since I've been behind the wheel of a Subaru, but I have to say that the evolution and improvements they've made during my absence have been quite outstanding. My case in point is the new 2022 Forester, it's got a refreshed new face, a variety of different terrain modes, countless driver and safety aids and it even makes sure that you're paying attention and watching where you're going.
Regulars to the brand would argue that not that much has been done for the refreshed 2022 model, but as I said before, I haven't tested the 2021 model so it's all new to me.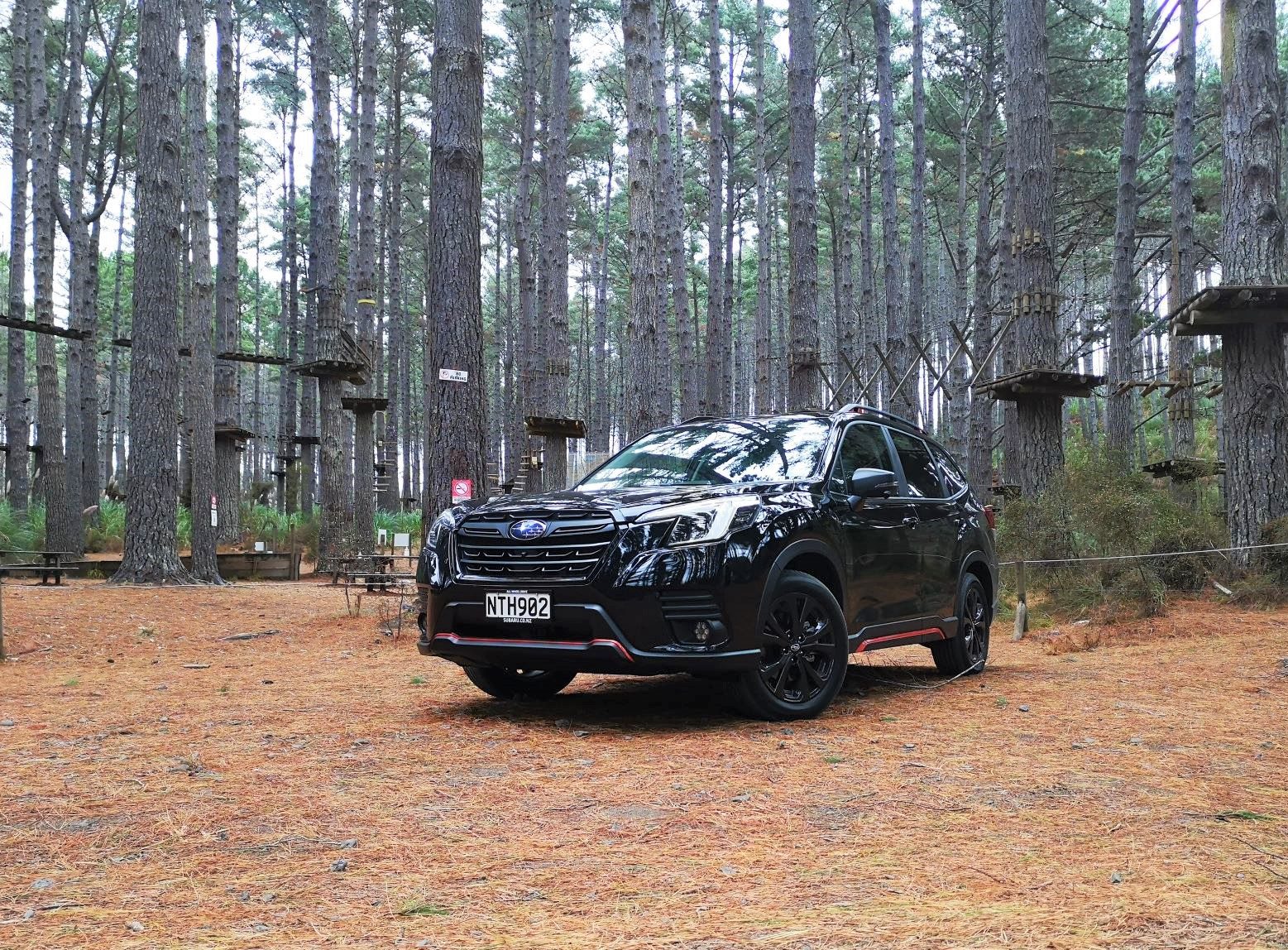 To bring you up to speed about the Subaru Forester, it first came into production in 1997 and back then it was more of a high riding wagon than an SUV. However, over the years it has morphed into more of an SUV and now, in its 5th generation/slight facelift, it has a more traditional medium SUV silhouette and less elevated estate car – yet throughout its adaptations the Forester has remained a Kiwi 'all-purpose' favourite.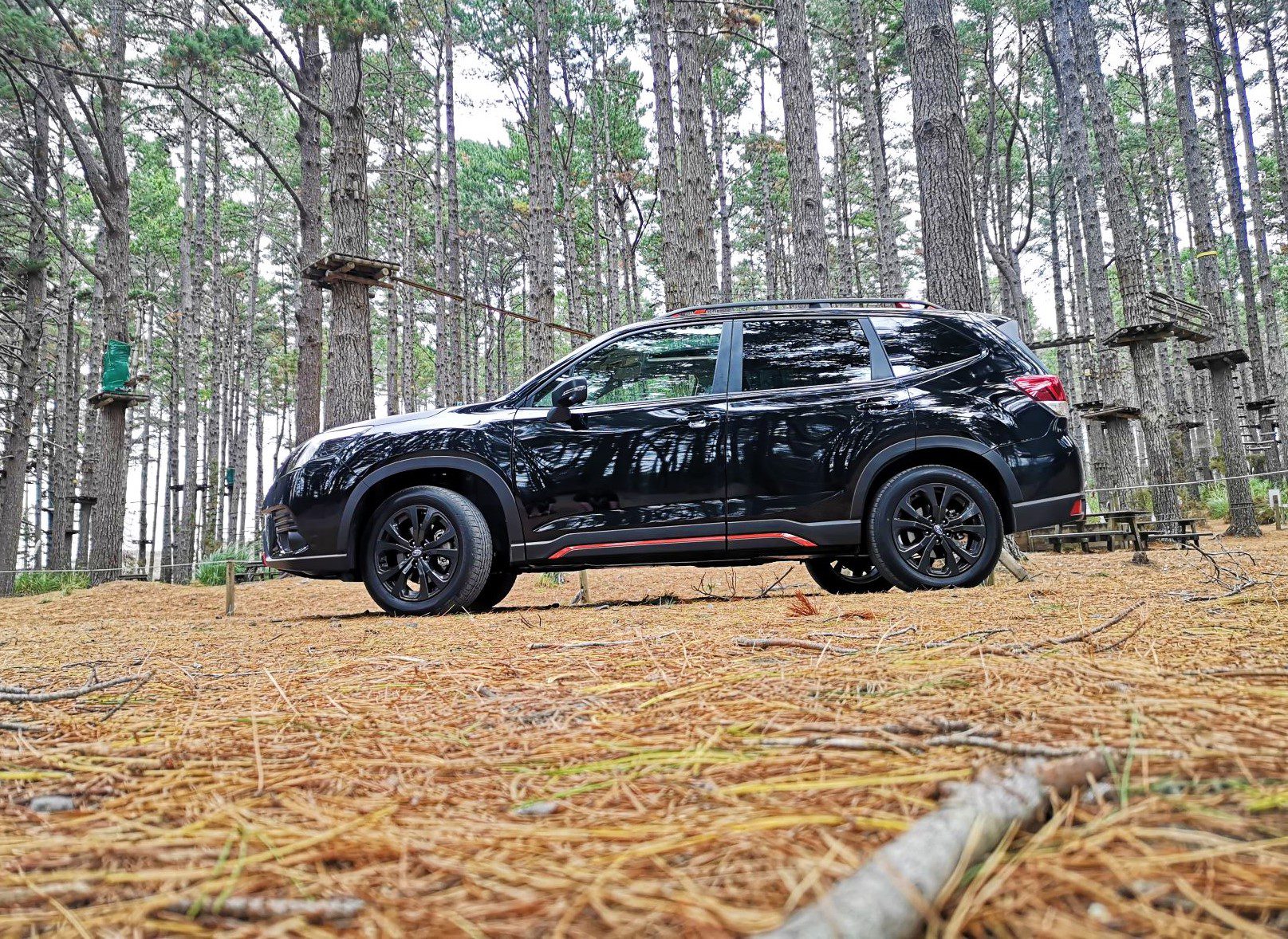 Its footprint is around 4.6, long x 1.6m wide and 1.73m tall, but for those that like to travel on the rough stuff, the good news is that it comes with a 220mm ground clearance, even when riding on 18's.
Now whenever possible, I tend to ask the sales person 'what they like' about the vehicle when picking them up (whatever the make or model) and in the new Forester X Sport's case he had plenty to say. According to him, the X Sport sits high up in the Forester food chain and is the perfect 'premium' option for those that aren't worried about leather seats and higher end stereos.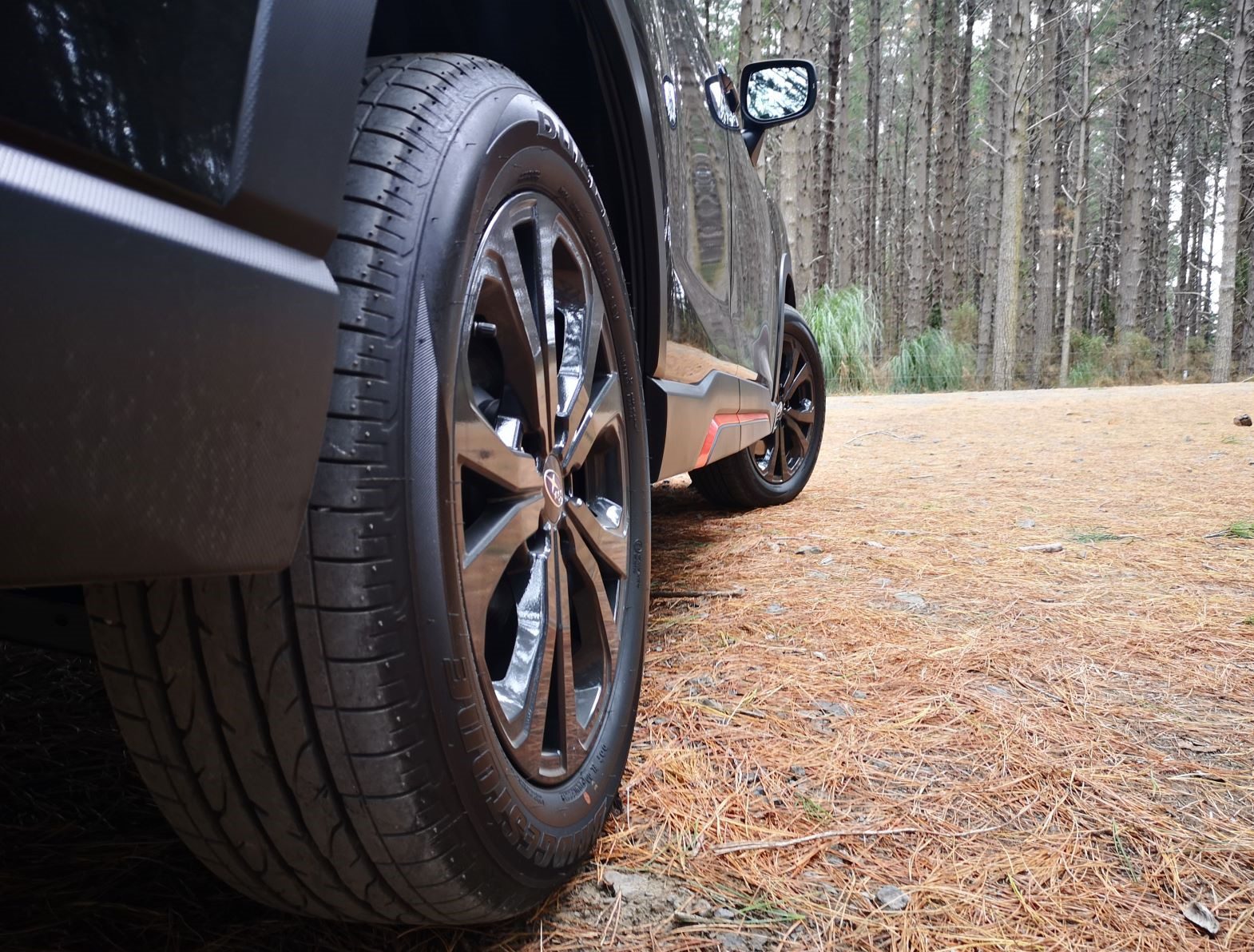 Much of the change for the 2022 model has been cosmetic and in particular the face. It has a redesigned, chunkier front bumper and sharper, squintier LED headlights. The grille also has new graphical elements too and the fog lights are LEDs. Apparently there are less orange trim parts inside and out, but if so there would have been tons as there's still a fair amount – not that I mind, I kinda like the sporty contrast.
The rear bumper has received a few minor tweaks, there's more orange trim back there and the electric tailgate opens up to around 500L of seat's up luggage space.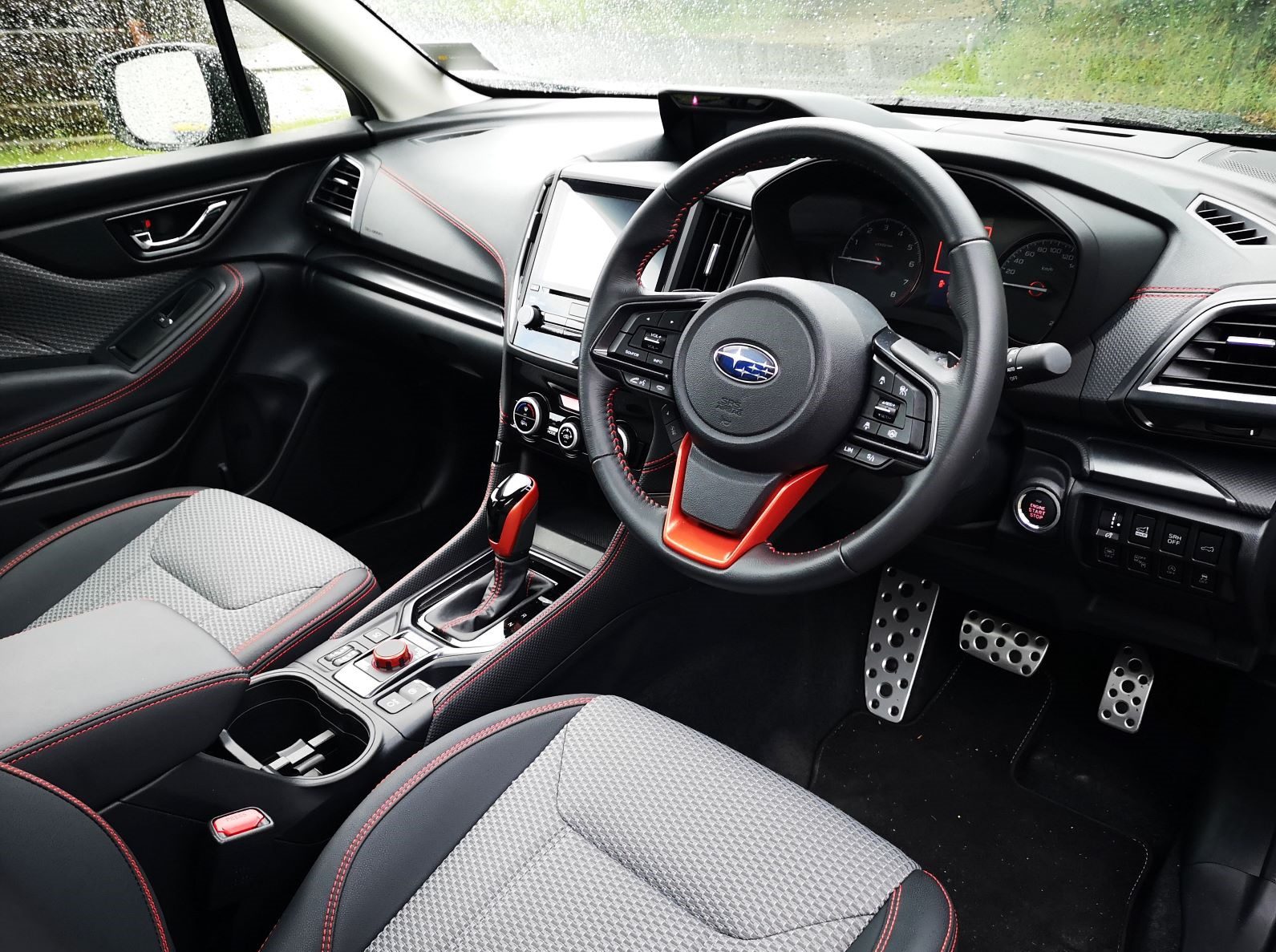 As expected, there's more orange on the inside including the contrast stitching on the seats and dash and some on the steering wheel, but they've also included it on areas that require special attention, such as the gear stick and X terrain dial.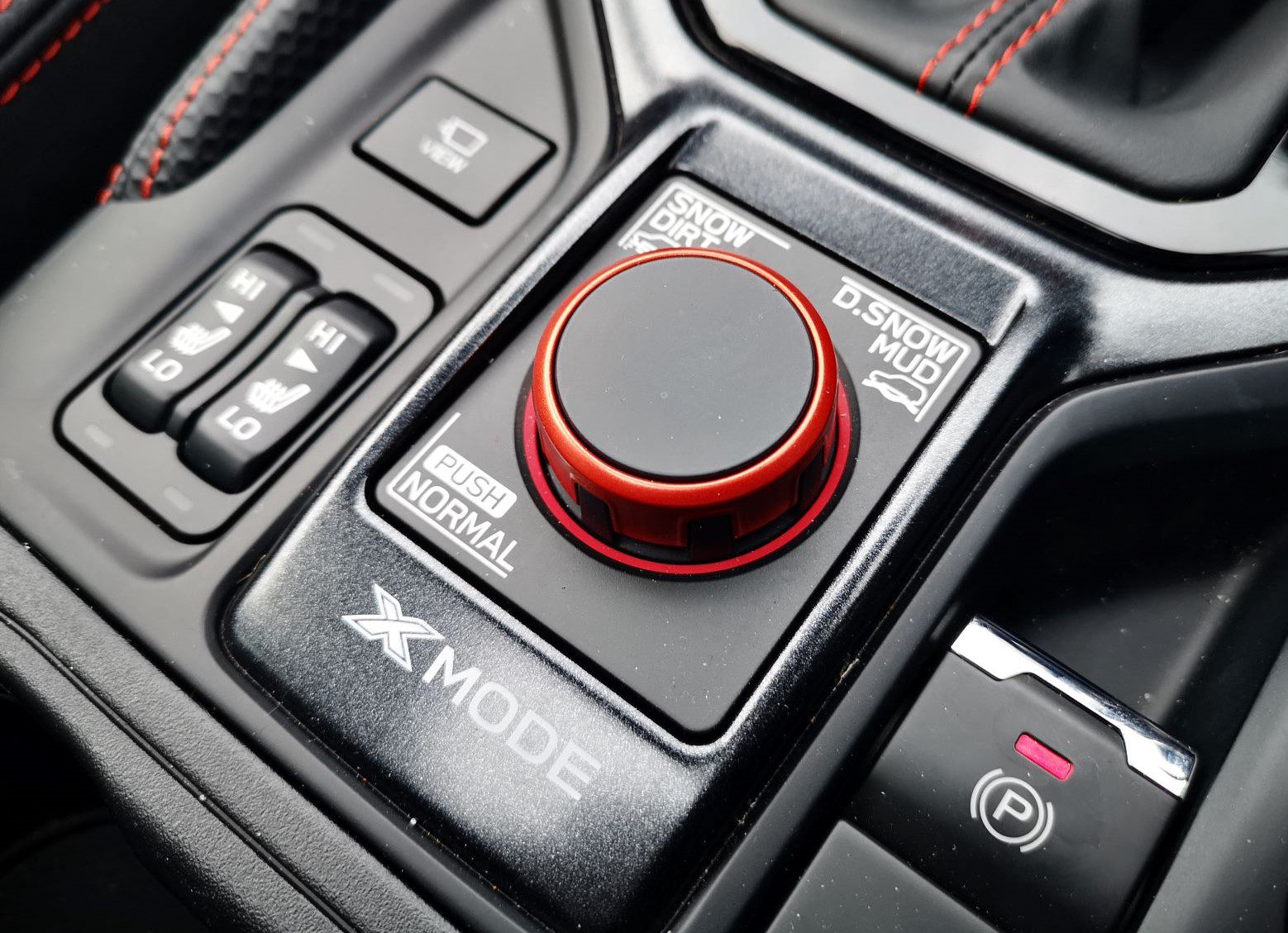 The cabin itself is spacious and full of robust materials, such as a stain resistant fabric on the furniture and hard wearing plastics in well used areas. You get the feeling that it'll just need an easy wipe down after a day out in the bush/or on the rugged west coast.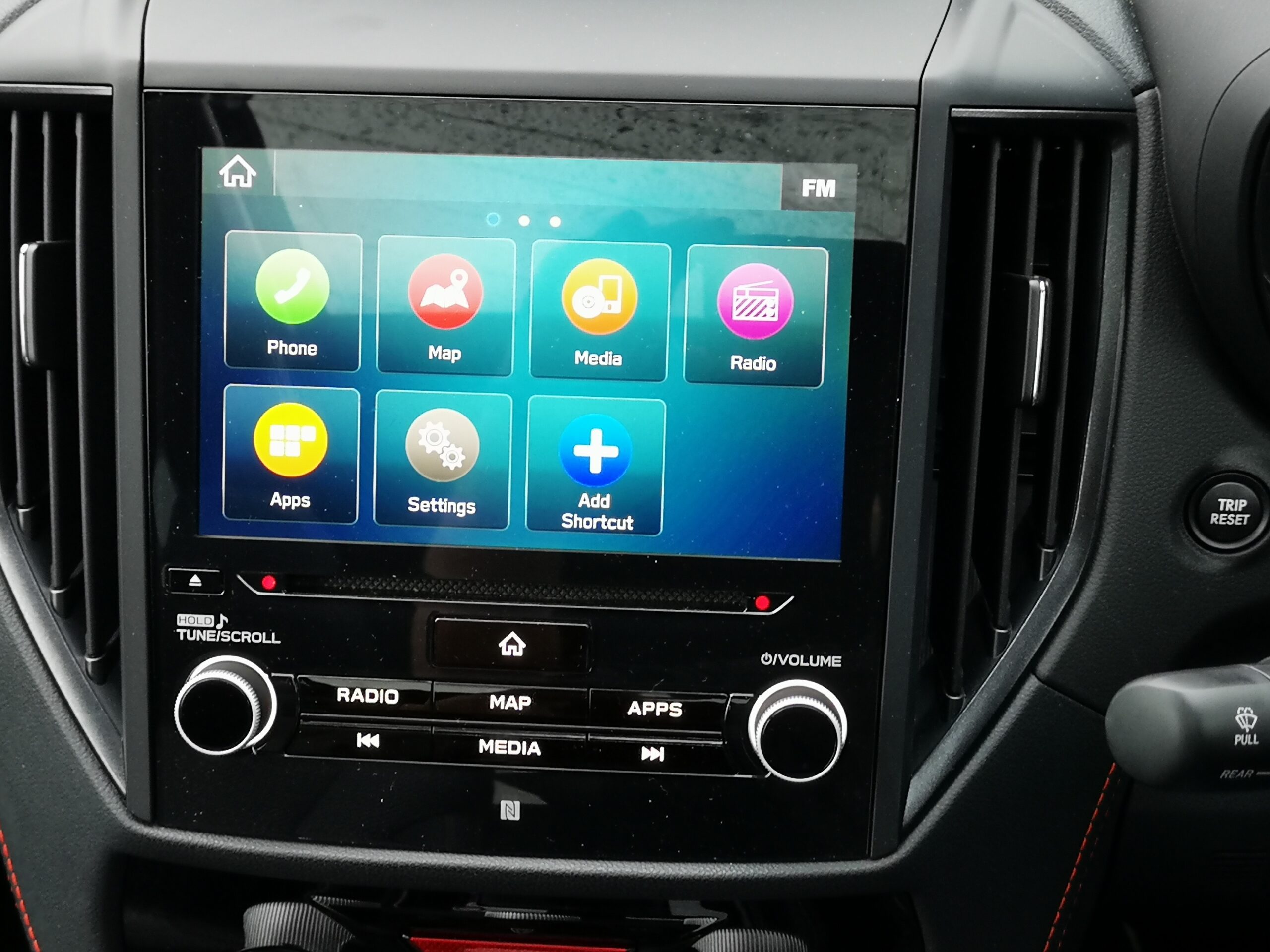 There are three screens in the Forester delivering plenty of data, particularly to the driver. The instrument cluster is traditional in its layout and easy to read. The Infotainment screen comes with a multitude of apps, phone, maps etc and a very clear reversing camera. What's more, when in reverse, images of the passenger side wheels flash up on the smaller screen on top of the dash, a screen that doubles as a fuel-efficiency meter, trebles as a camera that monitors your attention to the road ahead and quadruples as a screen that shows your pitch and lean degrees when engaging the X- (off road) mode heading into the snow or mud or 'deep' snow or mud – this is clearly an adventurous vehicle.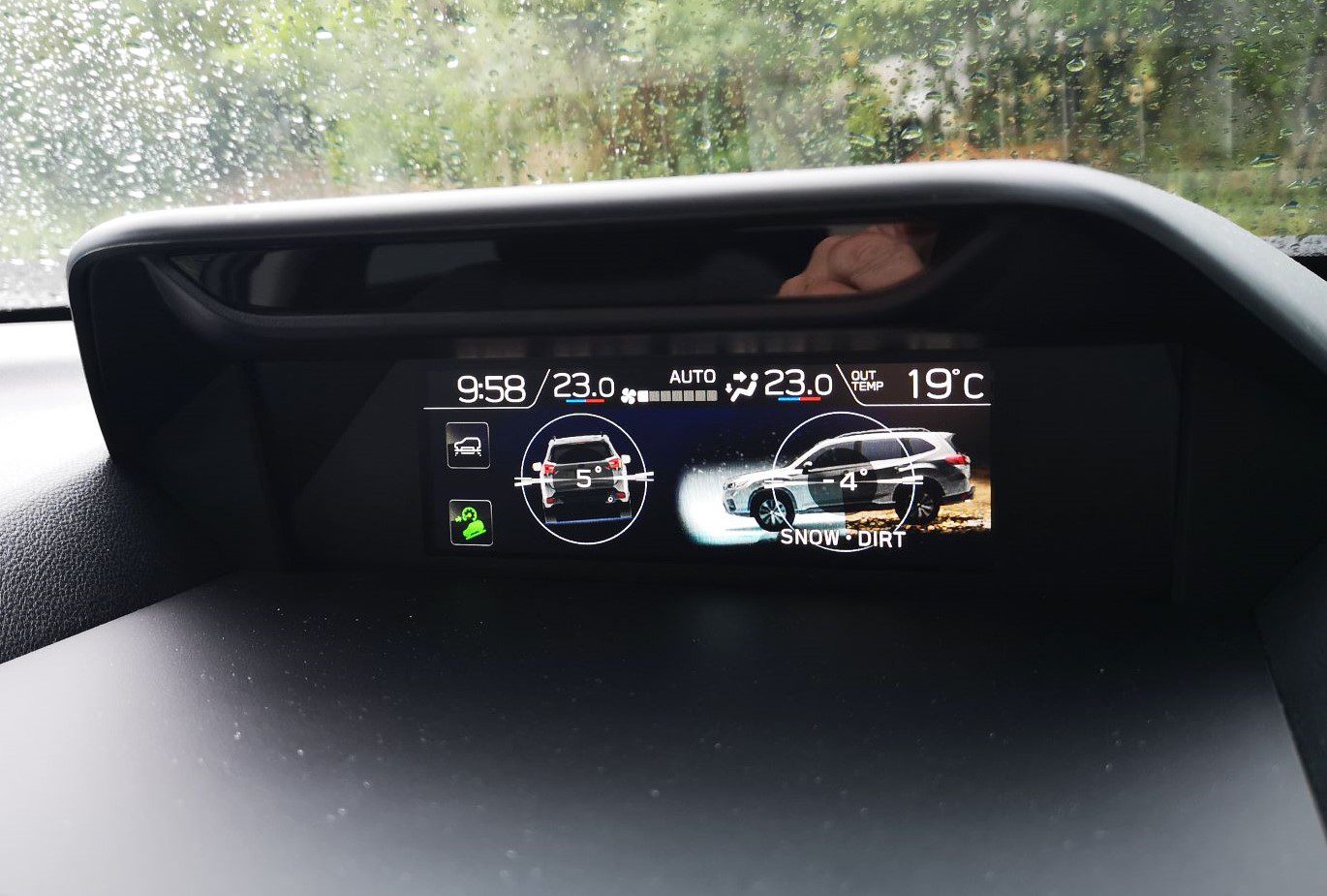 Under the bonnet (which has a bit of an overhang as you raise it) lies a tried and true 2.5L flat-four Boxer engine (136kW/239Nm) that sits very low in the engine space, and is married to a Lineartronic CVT (with 7 'gears') which combined gives you 7.4L/100km fuel-efficiency (I managed 9.9). 
I had the pleasure of the 2022 Forester's company for around a week and what a week it was in terms of weather. It went from late summer sun to rain and then (as some of you will remember) one of the biggest downpours on record.
Early in the week I headed out to Woodhill forest to gauge how this 'off roader' managed the corrugated roads that surround the trees. I have to say that it acted like a champ, and without the slightest hint of needing to turn the X Mode dial. The Subaru's Symmetrical AWD system simply welcomes the uneven terrain.
On the tarmac and around the corners, the Forester is a little soft in the ride and I guess that's the compromise for having an SUV that's so good on gravel and sand and snow and mud. Visibility is excellent, with big windows all round, large mirrors and even a big sunroof, but the seats were a little uncomfortable for my soft rear – I think it's more me than the Sube.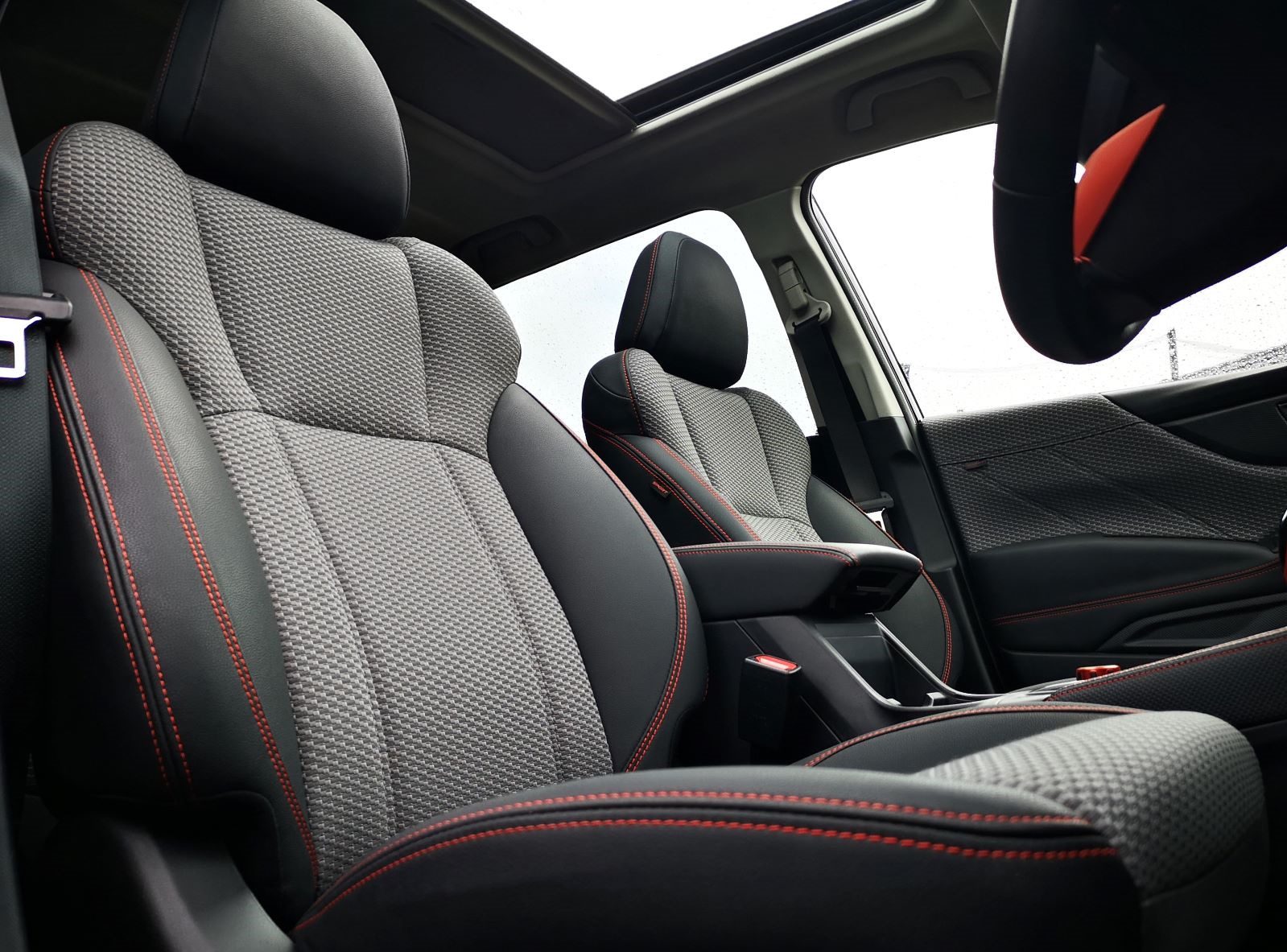 The engine feels powerful although I'm not a fan of the CVT (it still feels a bit droney – even with 7 'gears') but there's a confidence in the powertrain that lets you know it can do more than you (I) asked of it.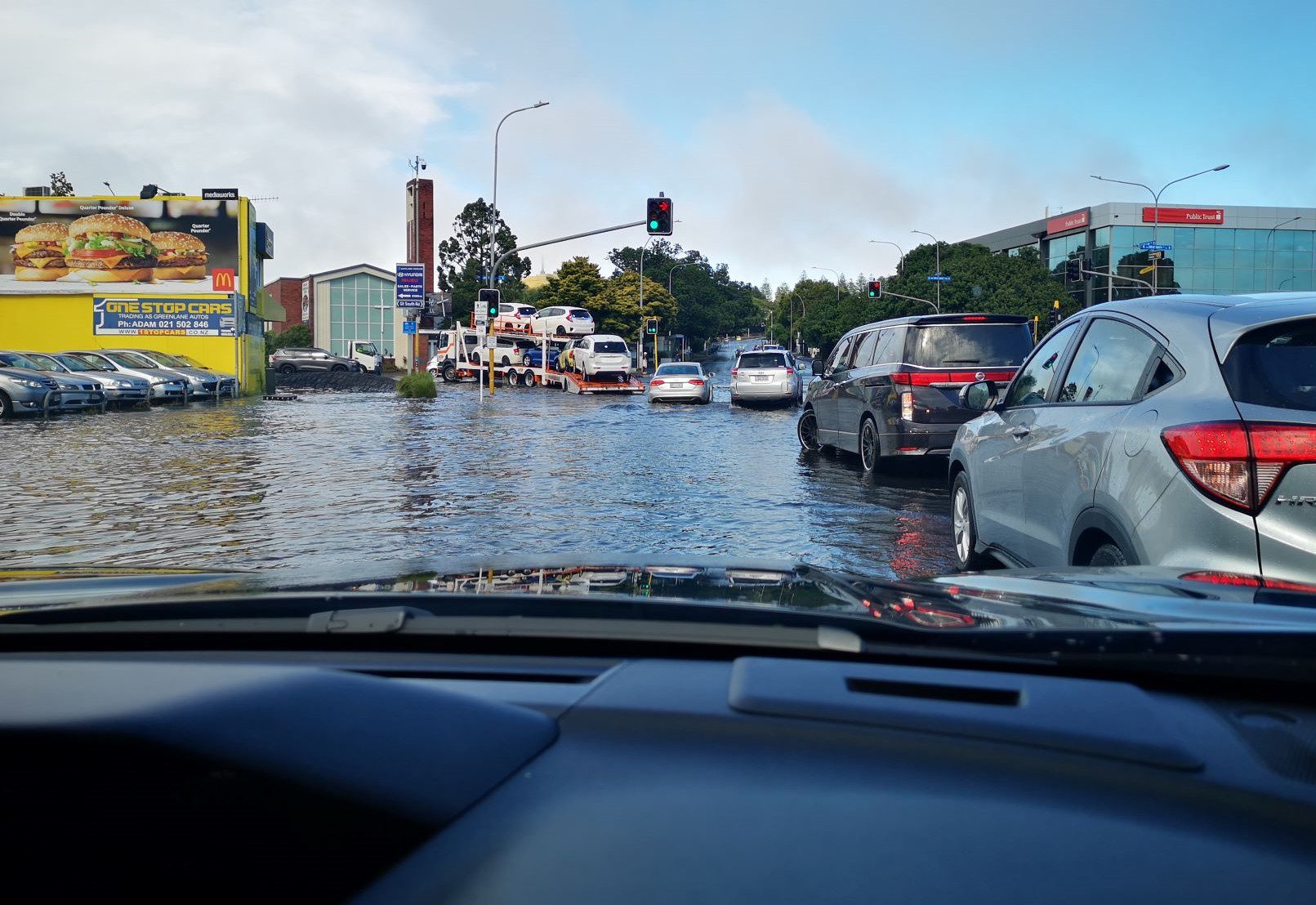 Having the 220mm of ground clearance came in handy, as when I was due to return it, there was a river of a puddle at Greenlane that I had to go through. The bow wave was great and the Forester simply forged ahead.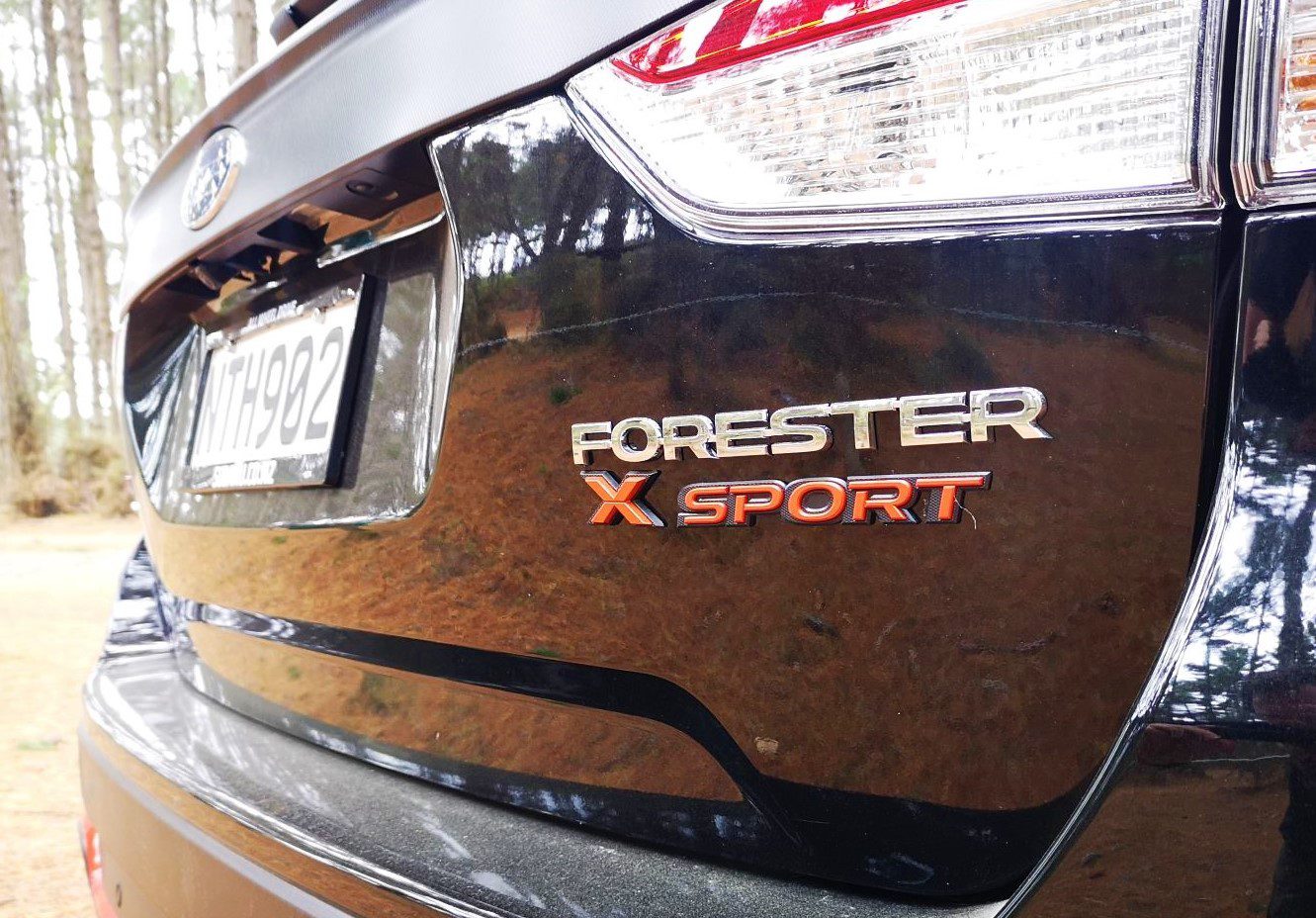 The changes for the 2022 model Forester may be minor with small aesthetic tweaks, and additions to the 4th Generation eye-sight tech, but together they make this Kiwi family fave Forester – rather treemendous.