After having a bit of an OE break, the ever-popular Astra hatch is now back in NZ, only this time it comes with an Opel 'blitz' badge and a cabinet full of awards. It's bold, it's pure and Opel says that it's autobahn-ready too – so best we found out what all the fuss is about.
The Astra boasts an impressive 30 year history and during that time (across the globe) has come under various car brand banners. Starting life as a Vauxhall, it's been a Saturn, Buick (sort of) and more recently here as a Holden, however, both in Europe and now downunder it 'stars' as an Opel and that makes it Berlina-cool.
Over the years the Astra has picked up a myriad of awards, from design to Car of the Year(s), but it's a nameplate that has never really rested on its laurels, and this 6th generation is no different – it's been a case of back to the drawing board and is all-new from the ground up, yet it's already a multi-award winner.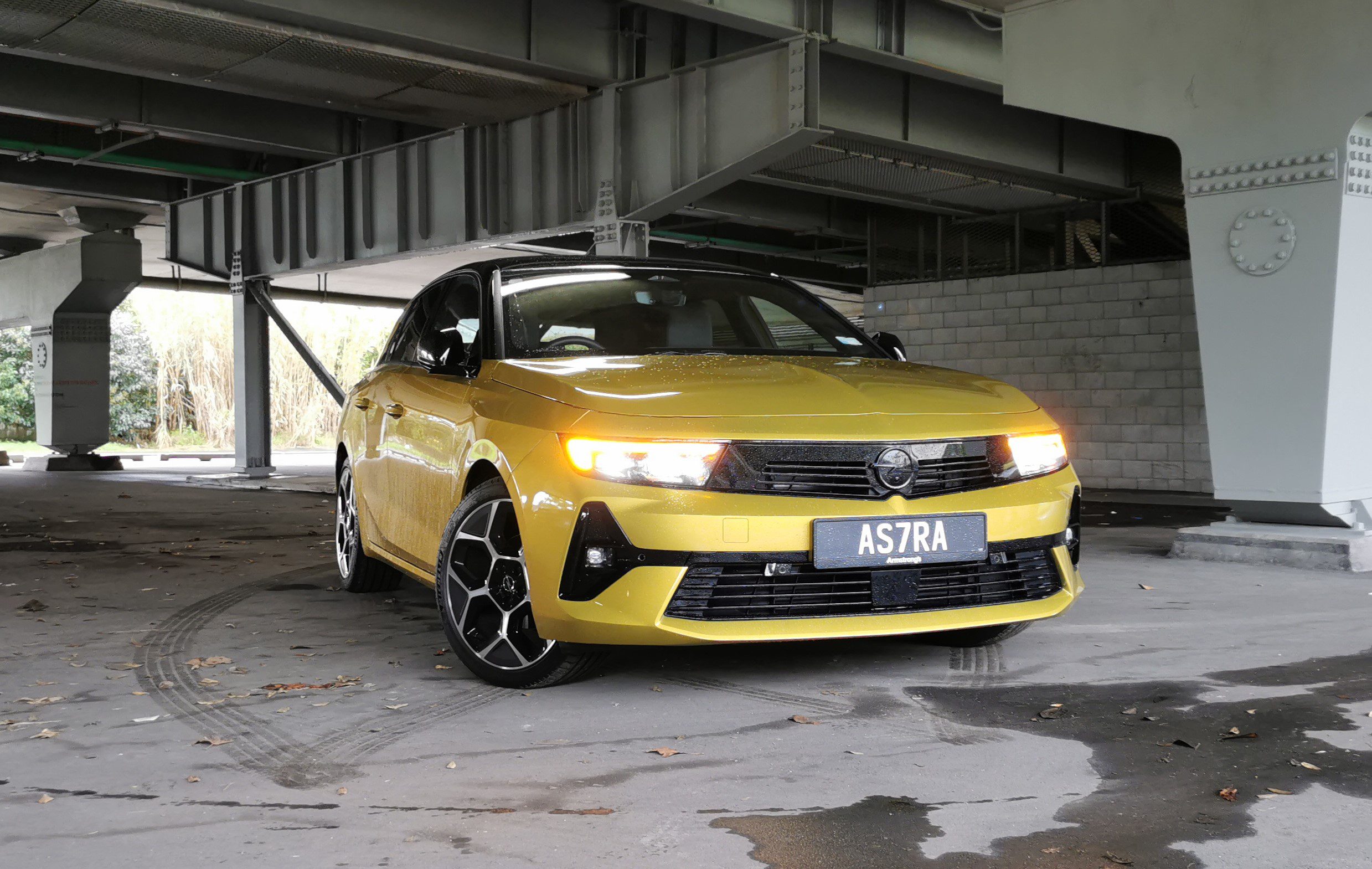 The new Opel Astra is the first car that's been designed, developed and produced in Russelheim Germany (that's what they tell us anyway) and it comes dripping in Opel's new look and design language.
Bold and Pure is the name of the game and both are visible from the get go. The nose comes with what Opel calls a visor, and this takes its inspiration from a motorbike helmet visor. It's protective and yet stylish and functional, with many of the model's sensors being held within.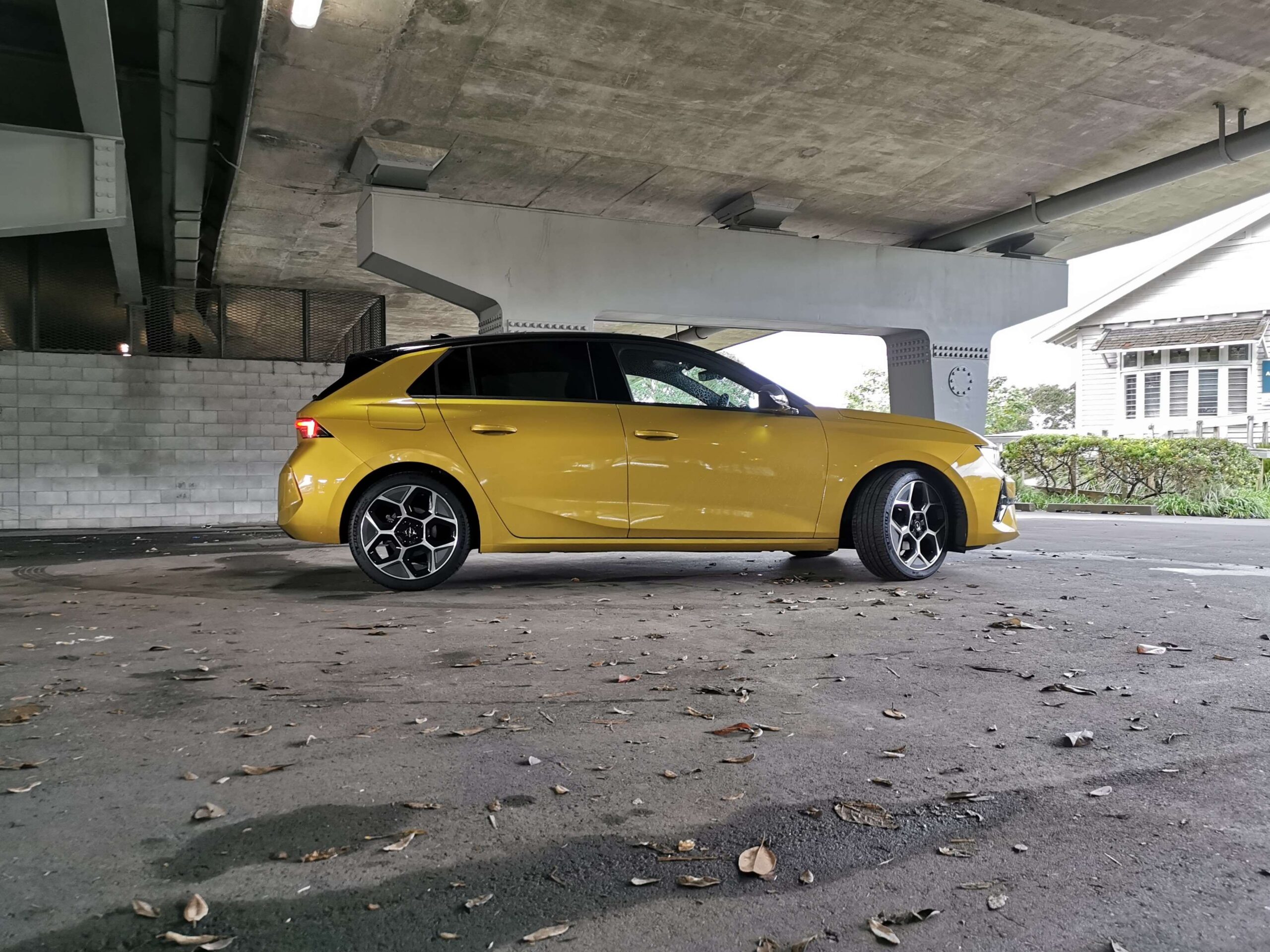 Front and centre is the new Opel Blitz logo and this acts as the focal point of the Astra's compass, where North, South, East and West converge and the whole face (we're told) adopts a sharky look (Sharks being Opel's easter egg theme). The headlights are 'Intellilux' boasting 168 matrix-style LEDs (a category first we believe) and I have to say, it's a handsome looking car.
Our review model came in Kult yellow (some markets are calling it electric or Amber yellow) and it's easy to see why it's the hero colour, especially as it contrasts so well against the gloss/diamond black roof that comes complete with a very large sunroof. The 18-inch feet are diamond cut and premium looking while the hatch's rear comes with LED tail lights, an F1 style vertical stop light in the roofline spoiler and a generous luggage capacity.
At 4.4m long (4mm longer than before) the Astra fits nicely into the garage, however more importantly, the wheelbase is +13mm so more room inside and the chassis itself is 14% more rigid, so the cornering is improved – more on that soon.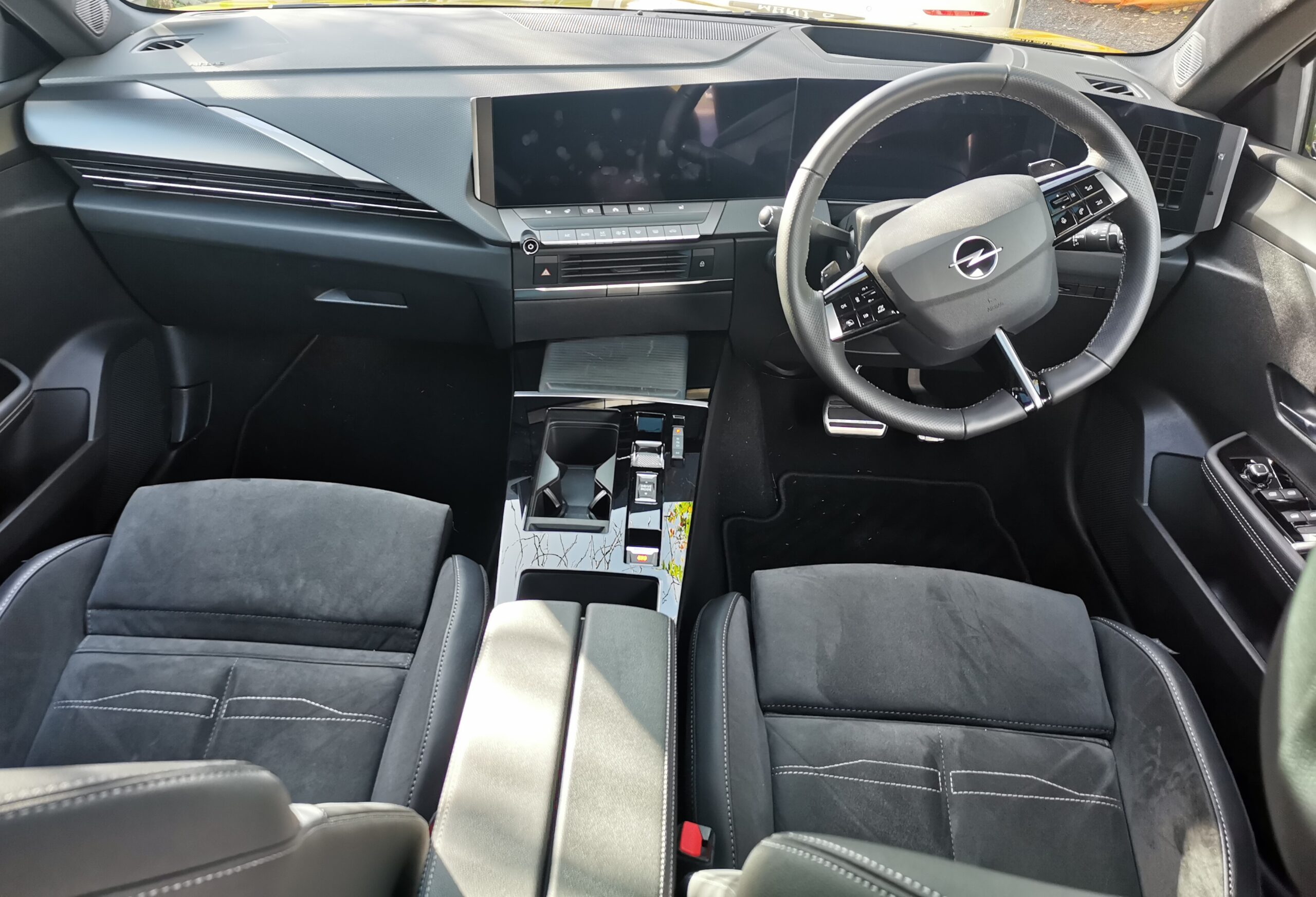 The first thing you notice on the inside is the Opel Pure Panel, over 20-inches (combined) of infotainment and instrumentation all angled (albeit slightly) towards the driver. The 10-inch infotainment system comes with all the apps you need/want, including a very clear 'Intellivision' 360-degree reversing camera, Intelli-air conditioning, Intelli-drive (driver and safety aids) and Intellli-Apple/Android connectivity (I made the last bit up). But suffice to say, it's all there and intelligent too.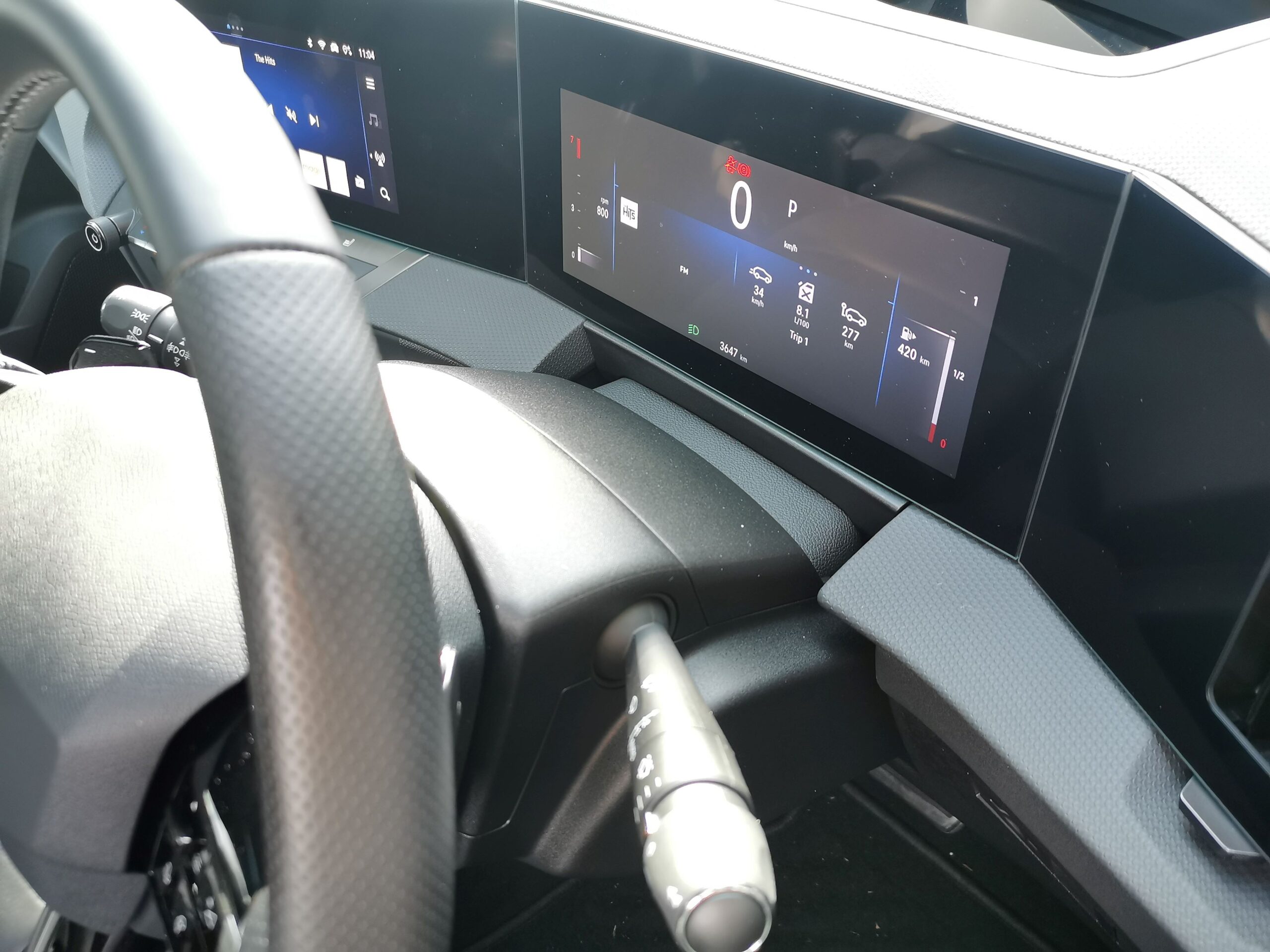 The 10-inch instrument cluster offers up all the vitals in a very easy to understand way, I'd say very German and orderly but there is a certain design flair to it too. You can adjust/personalise some of the data but I happily left it all as is.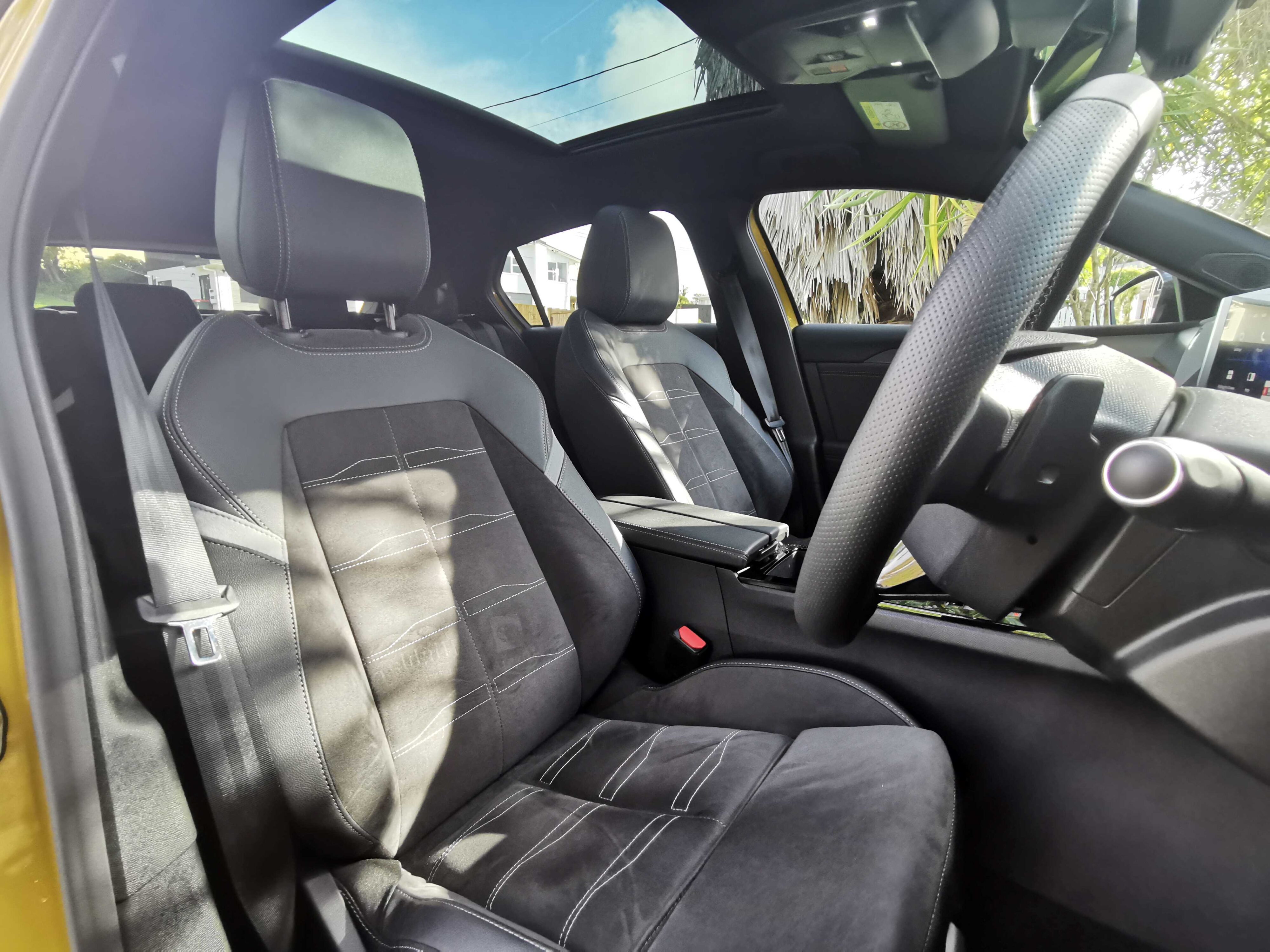 The other noticeable thing(s) about the Astra are its seats. Proudly coming with AGR labels, they have been certified as being great for posture and comfort while being supportive in the corners – seriously, these alone are worth heading to the showroom to check out.
The cabin is spacious, and not just 'for a hatchback' and should you have any free time on your hands, there are more 'shark easter eggs' hidden around the place (hint – you'll be warm if you hunt near the drink holders).
I have to come clean and tell you that I have a bit of a soft spot for the new Astra as I spent quite a while chatting with Mark Adams, Vice President Design Opel/Vauxhall when in Russelsheim, however, this was the first time I'd had the chance to get behind the wheel – thankfully it didn't disappoint.
Under the bonnet is a 1.2L/three-cylinder PureTech engine (but I don't think we call that here) mated to an eight-speed automatic transmission. Together they create 96kW of power and 230Nm of torque, but it also offers up a delightful off-kilter soundtrack when punished. It even has paddles so you can keep those revs up high. It gets up to the national speed limit in under 10 seconds and stays there, yet it also gives you 5.1l/100km in fuel efficiency (117g/km).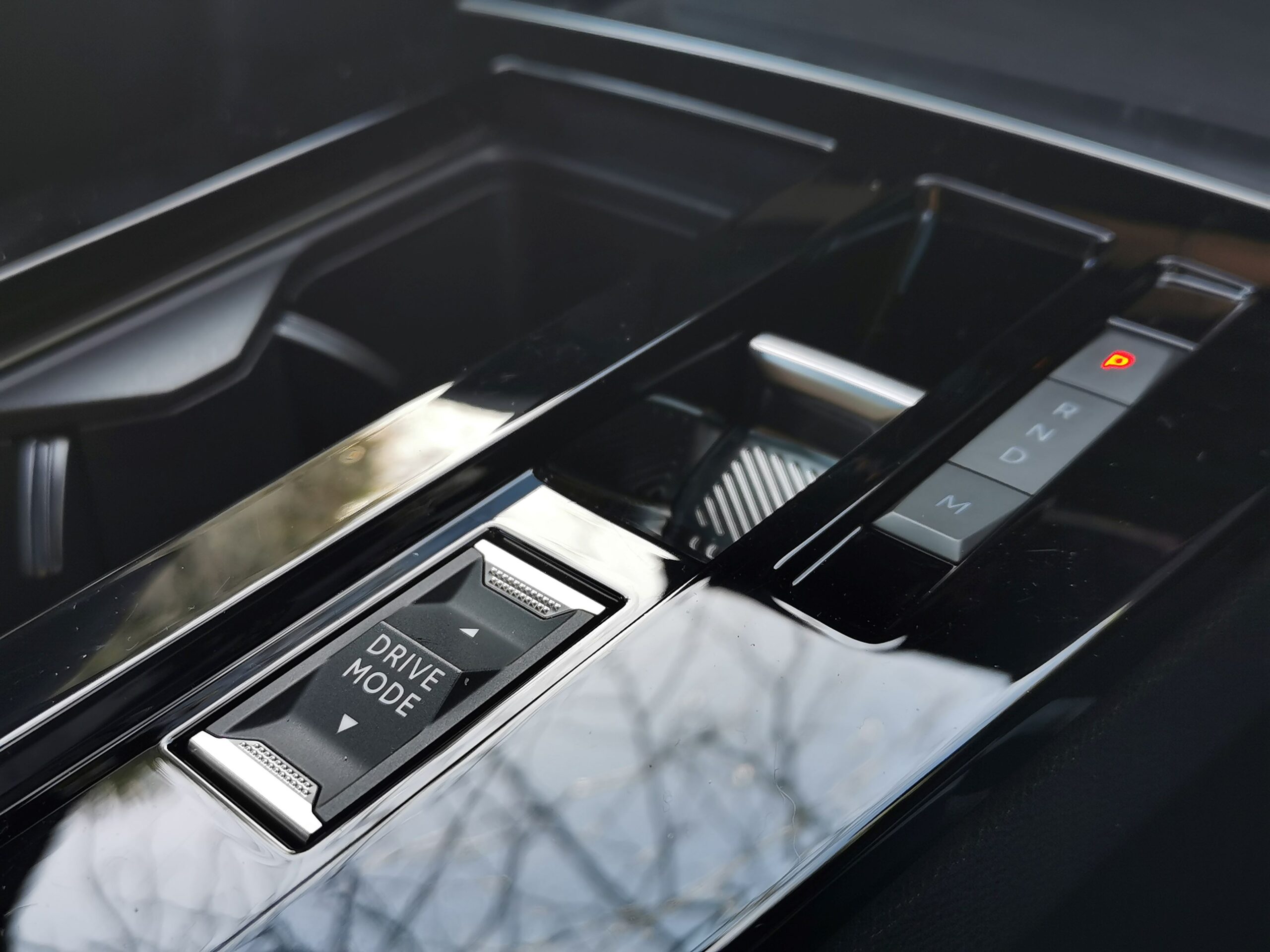 While on the matter of efficiency, we're told that the new Astra is way more frugal when it comes to sipping fuel, it's something ridiculous like a +40% improvement – your wallet will thank you.
My time with the Astra was equally split between family duties (taking the boy to footie and the wife to the store – sigh) and some expressive alone time, exploring the roads that run through Rodney, I assume you can guess which half I preferred.
As I said, getting comfortable in the Astra was simple and our small family of three had plenty of room to spare. Visibility all round is good and having the sun roof meant that the cabin was flooded with light and the Intelli-HUD (Head up Display) is a real unexpected bonus. Its compact size made downtown and suburb driving a breeze and parking was sooo much easier than in a big SUV that everyone seems to love right now.
There is a fair amount of turbo lag for those that are keen to pull out of junctions with pace, but once moving, it's a confident and rather nimble ride. It's reasonably quiet too, with an emphasis seeming to be on NVH, even our rough roads don't appear to faze the new Astra.
Out on the open roads I got the chance to stretch the SRi's legs and taking corners at twice the 'recommended' speeds was conducted with very little drama. It sits really well on the road with minimal (or at least unnoticeable) interference from the intelli-drive stuff, simply put, it allows you to enjoy the ride.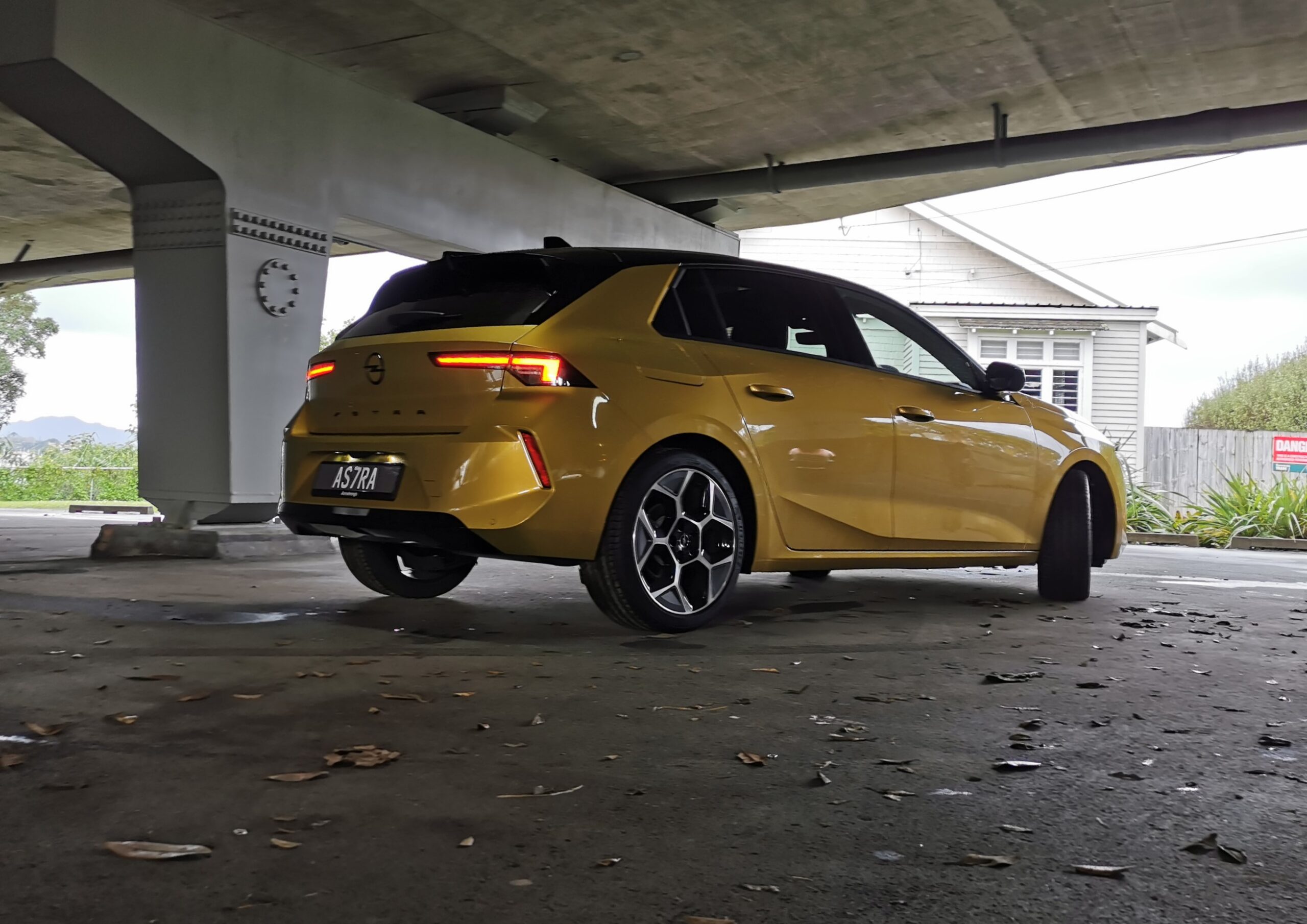 Sure the world is moving towards SUV's and EV SUVs at that, but how about a stunning looking hatch that takes up a minimal footprint, is as frugal as a Scotsman (I can say that) and yet has the looks of a supermodel (albeit wearing a motorcycle helmet). The Astra SRi is an important nameplate for Opel, and as the awards would attest, we still like it a LOT.