My first taste of the Mercedes-AMG EQE 53 was at the Hampton Downs racetrack where I got to try out launch control and whizz around the tarmac a couple of times. Fair to say that the experience was a thrill but left me wanting more – Mercedes-Benz NZ were happy to throw me the keys again – I'm very lucky you know.
As most of you would already know, the Mercedes EQ range is the brand's all-electric nameplate and the EQE comes as either a Sedan or an SUV (we got the former), and both targets the executives of this world, however, when Merc's performance AMG-side gets involved, the EQE really means business.
The EQE sits on Merc's increasingly popular EV2 platform, however, once AMG got their hands on it, the performance sedan may as well don a cape. They've changed the sound, the interior design, the exterior design, the suspension and last but by no means least, the power.
Up front it comes with a revised trademark AMG PanAmericana grille, however, it's more solid with its chrome vertical slats contrasting well against the jet black frame. There's an AMG badge to the lower right and a massive three-pointed star in the centre that hides some of its vast array of tech wizardry.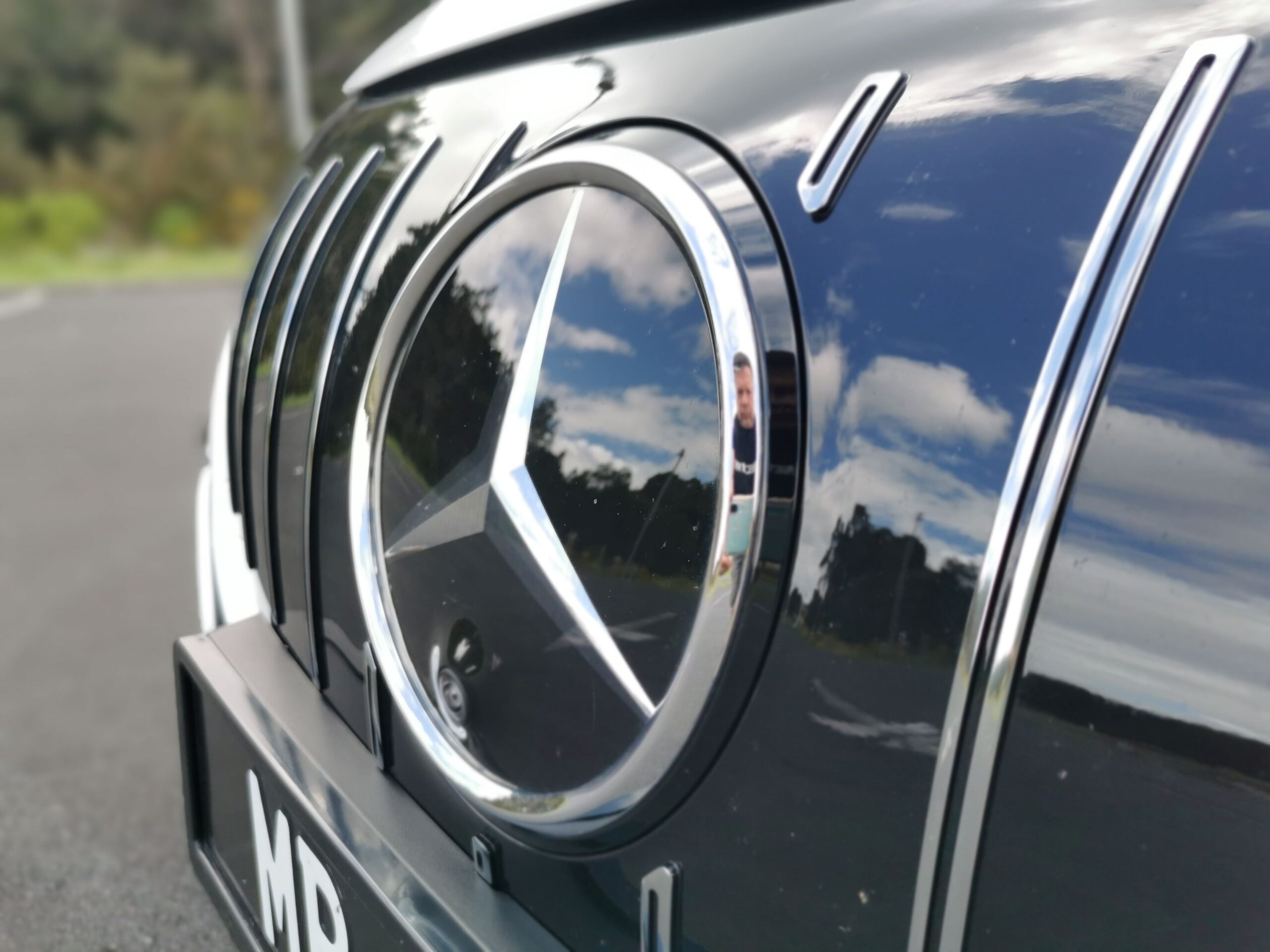 On the matter of badges, rather than the bonnet sporting another three-pointer, the EQE 53 comes with a Afflerbach motif, emphasising its AMG credentials.
The lights are digital to make sure you can see everything in front of you and it will also blink at passing pedestrians to make sure they can see you too, although not required during that day as the distinctive sedan is easy to spot.
My review model came in white (which you can actually have either as Polar white or Opalite white – for an extra couple of grand), which normally I would say is a bad colour for a sedan that's 4.95m in length and 1.5m tall, but with its contrasting black accents and 21-inch feet, it looks more than great.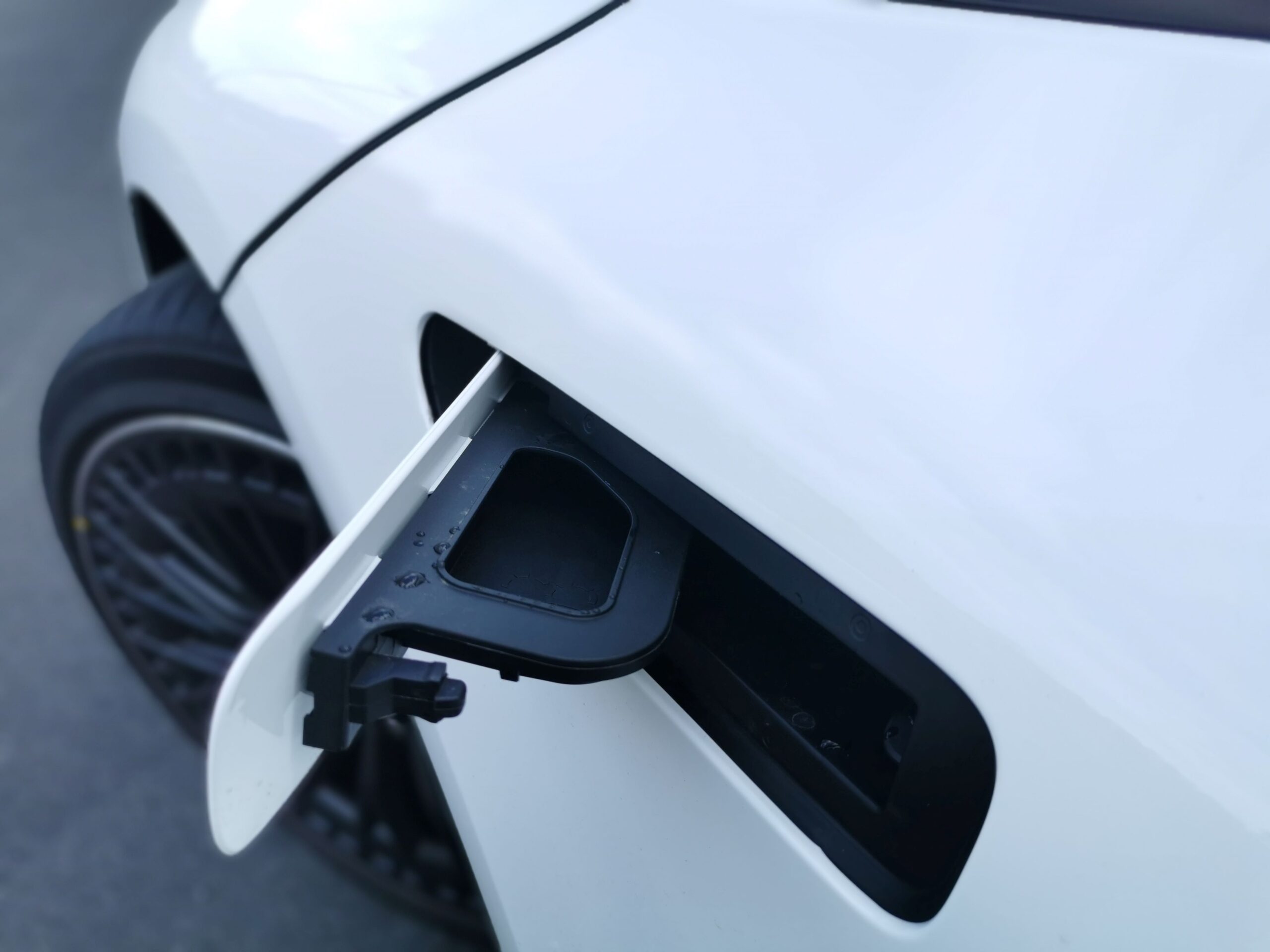 Venture down the side and you get a flap that allows you to top up the wiper fluid, (AMG seem opposed to you opening the bonnet), EQE badging, flush door handles and a gradual sloping roofline – it's all very sleek and aerodynamic. While around the rear you get, a bootlid spoiler, more LED lights, a light bar, more EQE 53 AMG badging and a Merc badge that doubles as a camera and boot opener that gives you access to 430l or luggage space.
As I said in the outset, this is an AMG performance vehicle and the numbers it produces in terms of power and torque are (literally) mind bending, basically 460kW and 950Nm – yes you heard that correctly (there's even a performance upgrade that gets that figure to 1000!).
Anyway, my model boasted a 0-100km/h time of just 3.5 seconds and with its ultra-thin 90.6kWh battery, will give you around 500km of range without needing to recharge – although not if you're doing those sorts of sprint times.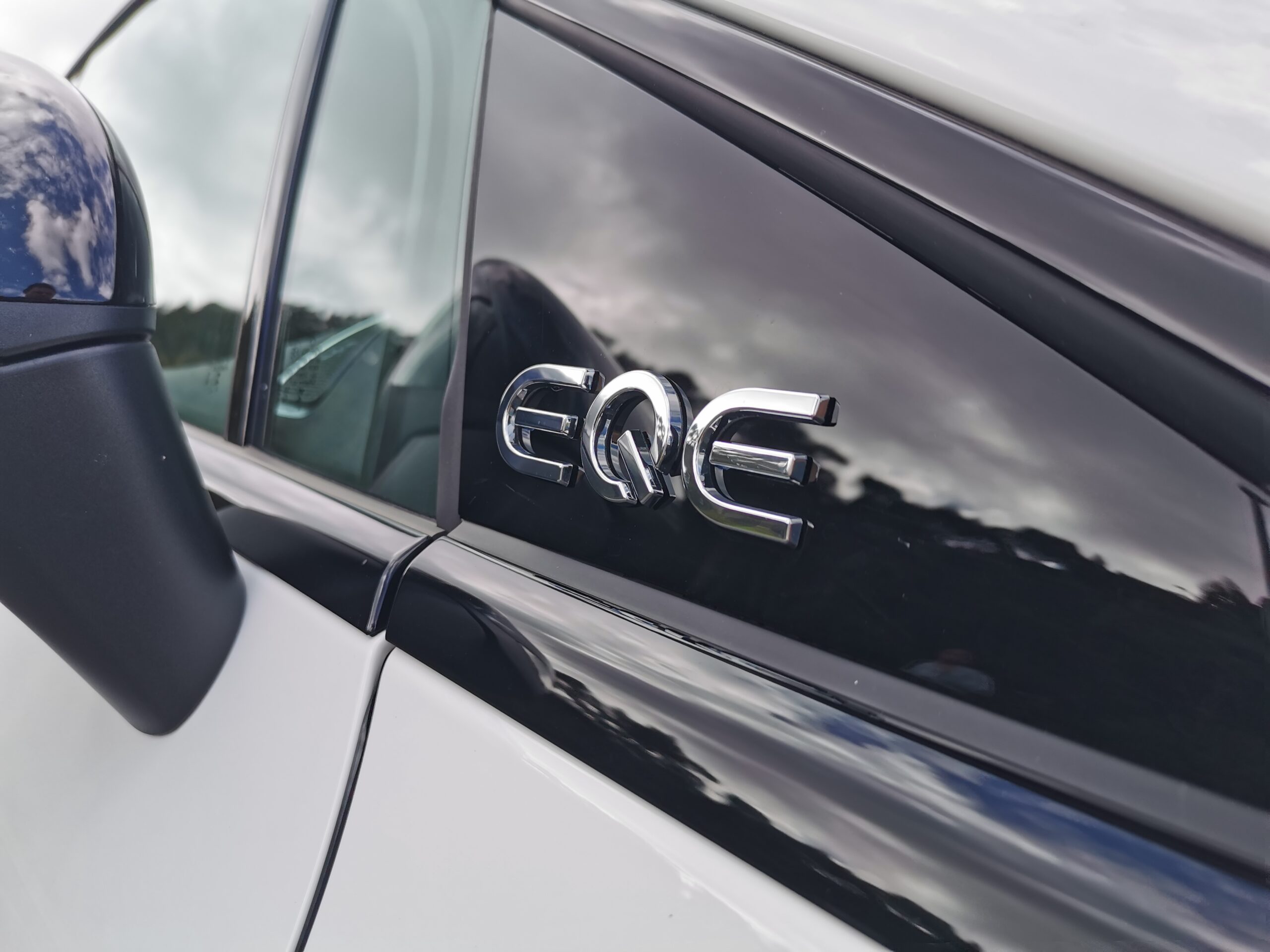 The interior is a mixture of space age, meets space, meets S-Class. It's spacious thanks to the big wheelbase, with sports seats that offer plenty of body support, which you're going to need.
The fit and finish is modern and comes with a copper (for electric) garnish. Leather of course, Alcantara, soft touch plastics and more than ample stowage space, even some under the floating console.
My review model also came with the Mercedes-Benz Hyperscreen, it's infotainment and instrumentation on another level with three screens all bound as one unit that stretches across the width of the front dash. Both you and your front seat passenger can utilise the endless amounts of options available, from setting seat and cabin temp, to watching movies (only the passenger when driving) and seriously EVERYTHING else – there's even an IWC chronograph menu for the time and lap time. Just one thing to note, although the passenger can see the powerflow, torque, speed and driving modes, only the driver can adjust the modes.
I could go on and on about what the screens have to offer but what I'm here to really tell you about is the drive itself – which is outstanding.
Bare in mind that the EQE 53 is no lightweight, in fact I believe that it weighs in at around 2.5 tonnes, but none of this seems to matter when in sports+ mode and launching off the mark. There is a special hypersonic style sound when launch mode is engaged, the seatbelt pulls you taut and then (when you release the brake) all hell breaks loose. The world goes by at a ridiculous rate of knots and your stomach takes an age to catch up – it's both thrilling and nauseating – brilliant.
But it doesn't stop there, the EQE 53 comes with 4Matic+, so it's all-wheel drive AND it has rear wheel steering too, so corners are irrelevant and so too is Newton's theory on physics- like I said, just as well the seats hug you (your family may not).
When not trying to break the land speed record, the EQE 53 drives like a normal EV sedan, it's quiet both in terms of road and wind noise and there's more than enough room for those in the rear.
The steering wheel is flat bottomed and gives you that sporty feel, with a nice weight to it and enough feedback to keep you involved with the road below. Visibility is good out front and to the side, just a little more limited through the rear glass, but who cares what's behind right. Brake regen can be fiddled with via the paddles, but in fairness 500km of range is enough not to be overly cautious about – just a way to save your brake pads.
When it comes to ADAS, the EQE 53 is all about keeping you and itself safe, without interfering with your driving pleasure too much, there are a few beeps, but these can be drowned out by the Burmester stereo or moving the driving modes up to sport/sport+ and listening to AMG's performance tracks.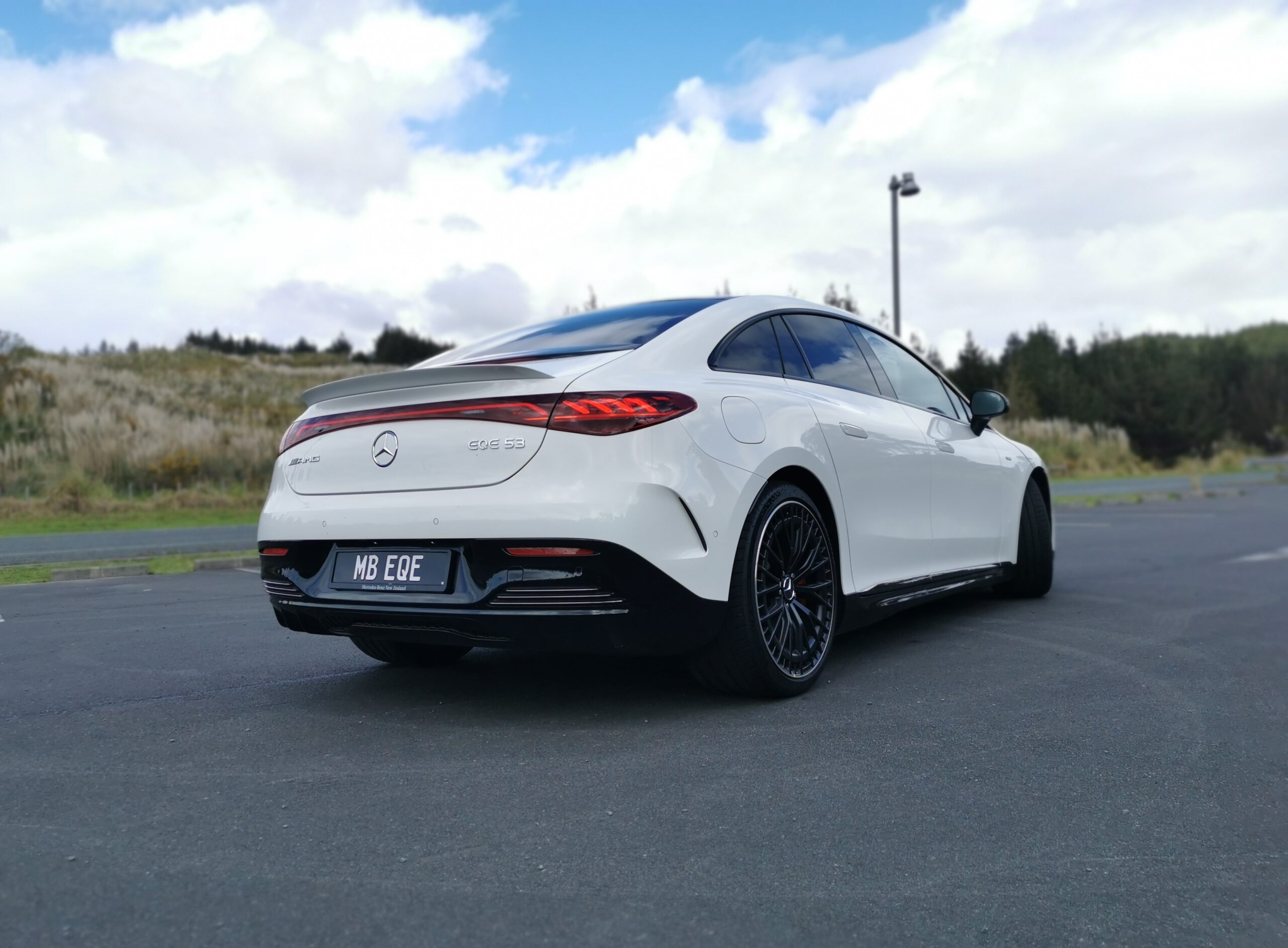 Mercedes and AMG are launching the EQE in both sedan and SUV shapes, I have driven both and can report that they both have their place – The SUV is quick and arguably more versatile, however, if you're looking for something that really means business, look no further than this sedan.