In what seems like a lifetime ago (lockdowns remove all concept of time for me) I attended the NZ launch of the Mercedes-Benz EQA 250. Just like the small EV SUV itself, the one day event had an environmental theme and gave me a great taste of what the EQA had on offer but left me wanting more – thankfully Mercedes-Benz NZ came to the rescue and gave me the baby EV SUV to play with for a week.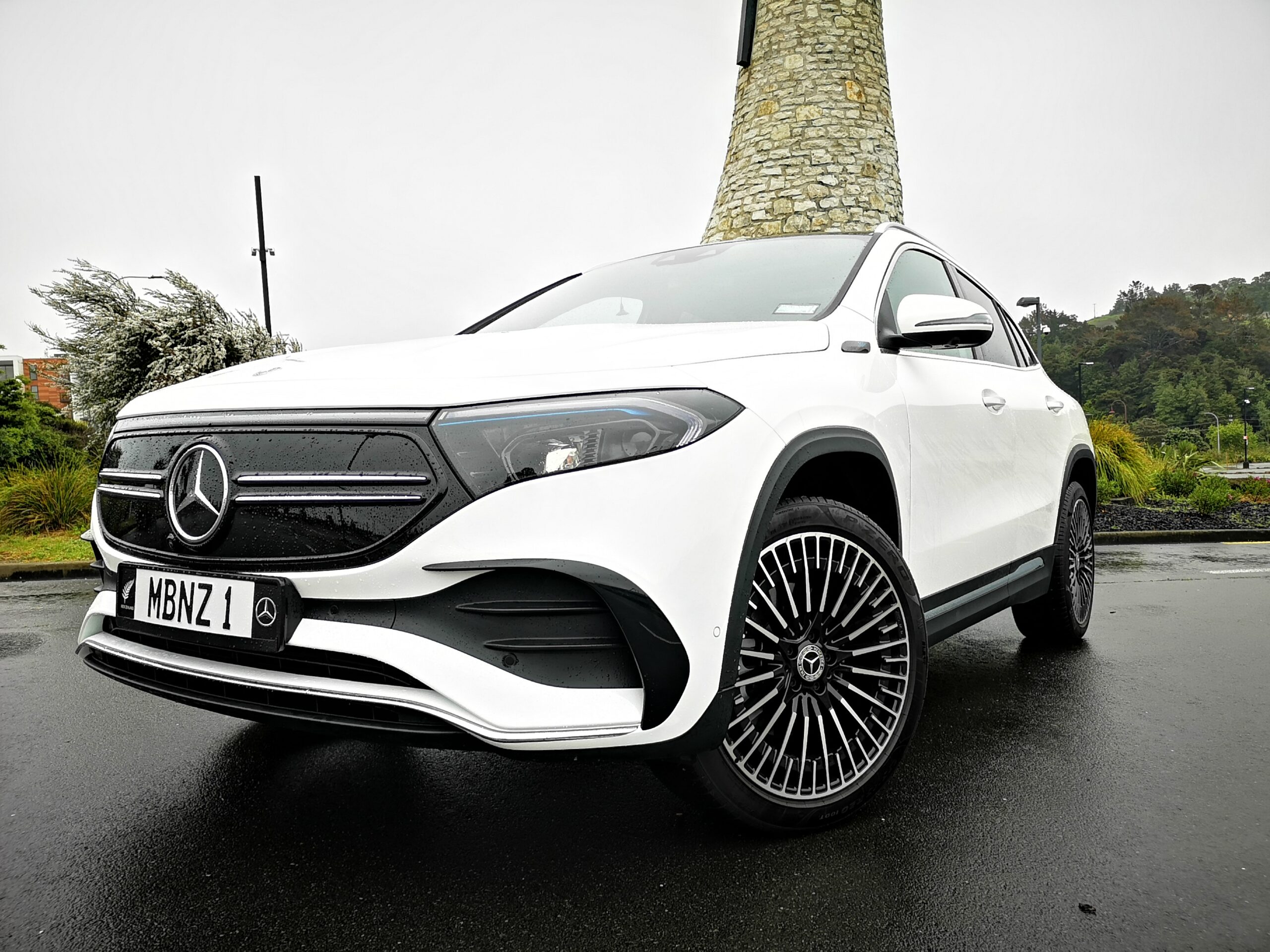 Rather than take you for another walkaround, all you need to know is that design-wise, just picture the award-winning (and current New Zealand Car of the Year) EQC that's been shrunk in the wash and you've nailed it. Basically, it's got virtually the same proportions too, it's just more compact and city-friendly.
However, what I was more interested in was how it slotted into my family life and how practical due to the fact that I don't have a home charger box to keep its electric fuel tank full.
As far as passenger practicality goes, my demands on a vehicle are minimal. Like the EQA, I have a 'compact' family dynamic, there are just the three of us and our boy is only eleven and svelte of frame (unlike his Dad) so doesn't take up too much space. That being said, the EQA's cabin offers up plenty of room in the front with endless electrical seat adjustment and with its 2,729 wheelbase, ample leg and head (955mm) space in the rear. The compact EV claims to seat five which may well be true, but if I'm honest, it would be a rather snug fit if they were all adults.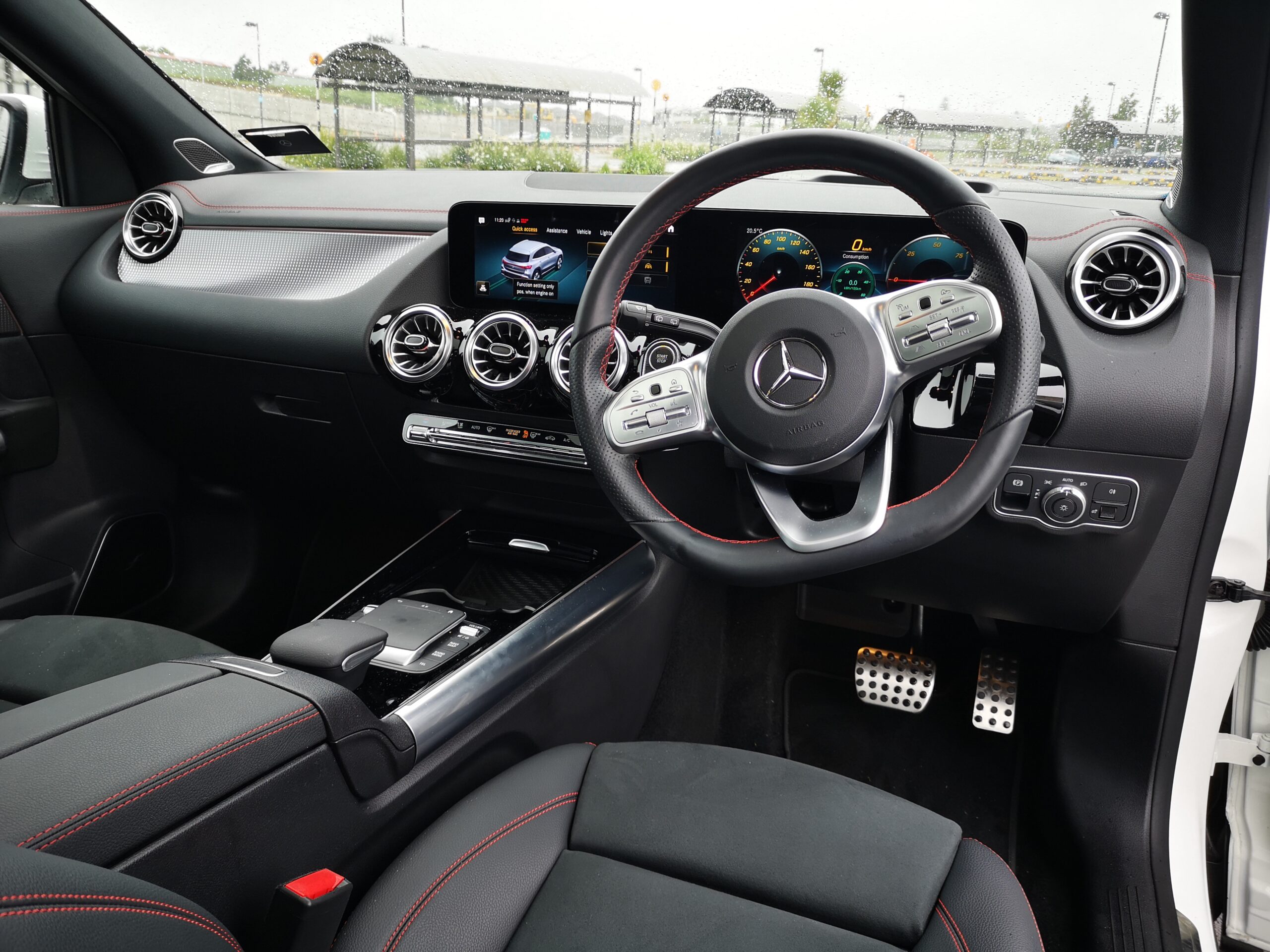 Bathed in leather, high-gloss piano blacks and chrome there's an upmarket 'Mercedes' feel to the finishing, this is mixed with some sporty red contrast stitching on the seats, across the top of the dash and wheel and 'jet-engine' air vents to keep you hot or cold as desired. As a driver, the visual landscape includes a bright head-up display and a wide instrument/infotainment panel that you can set to display virtually anything you wish in terms of driving data. Meanwhile, your shotgun passenger gets to see a textured concave panel in the dash (and enjoy the ride).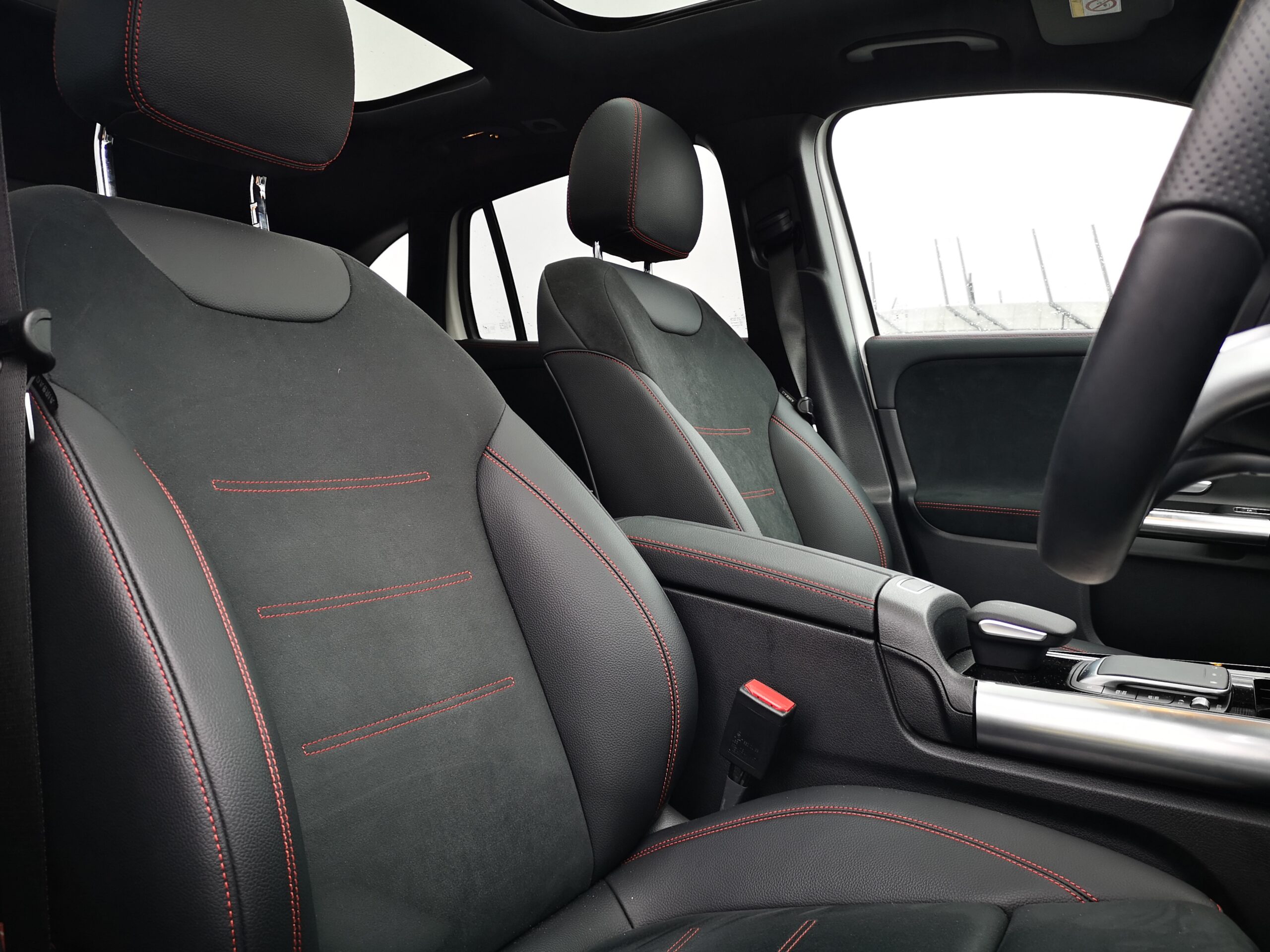 The EQA comes with MBUX which recognises voice positioning. So should your passenger require a temperature of 18-degrees or 'my heated seat on', the intelligent control system will do just that and not adjust the driver's comfort. To top off some of the EQA's cabin highlights, it comes with wireless charging and a two-panel sunroof to let the outside light in.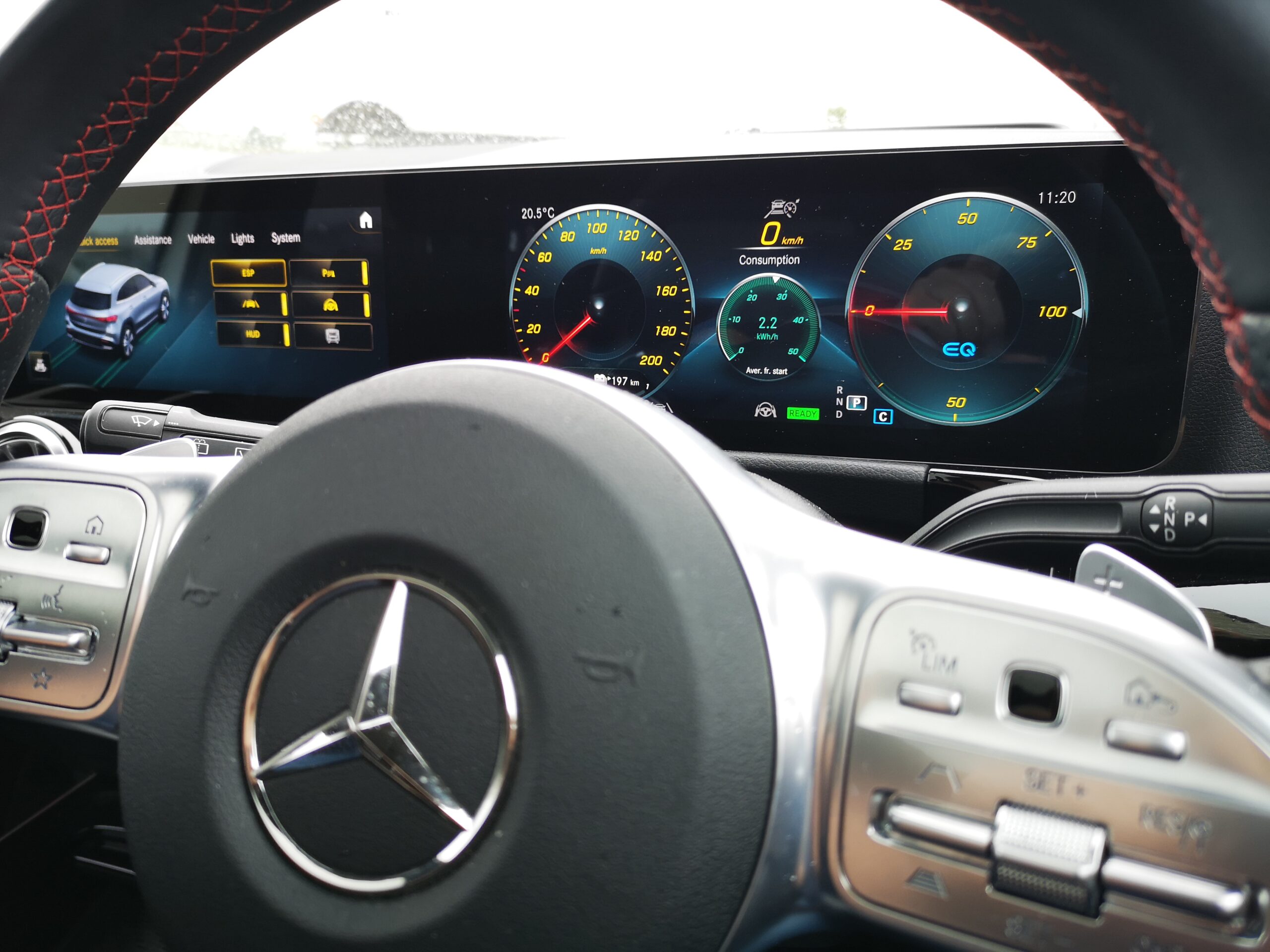 Behind the scenes is a 66.6kWhr battery pack, which to be honest means very little to me, but it offers up a range of around 400km (WLTP), which really is plenty (particularly if you charge at home) and can be plugged in to a 100KW DC charger.
The family and I used the EQA 250 extensively throughout the week, running errands, shuttling to school and work, a couple of footie (the round ball type) practices and of course grocery shopping where its boot space of 340L came in very handy. But thanks to its efficient use of power (16.2 kWhr/100km) it meant that I only topped up once – at the free fast-charger near Macca's.
While on the matter of charging, unlike some other EVs, the power power port in the EQA is easy to find (it's where a regular fuel cap would be) and well out of the way of the likes of front end impacts should they ever occur. And it's fast too, Mercedes claims 10-80% in 37 minutes, personally, I was down to around 100km in reported range and zipped back up to 300km+ by the time I'd finished listening to a handful of 80s tunes through the 9-speaker sound system.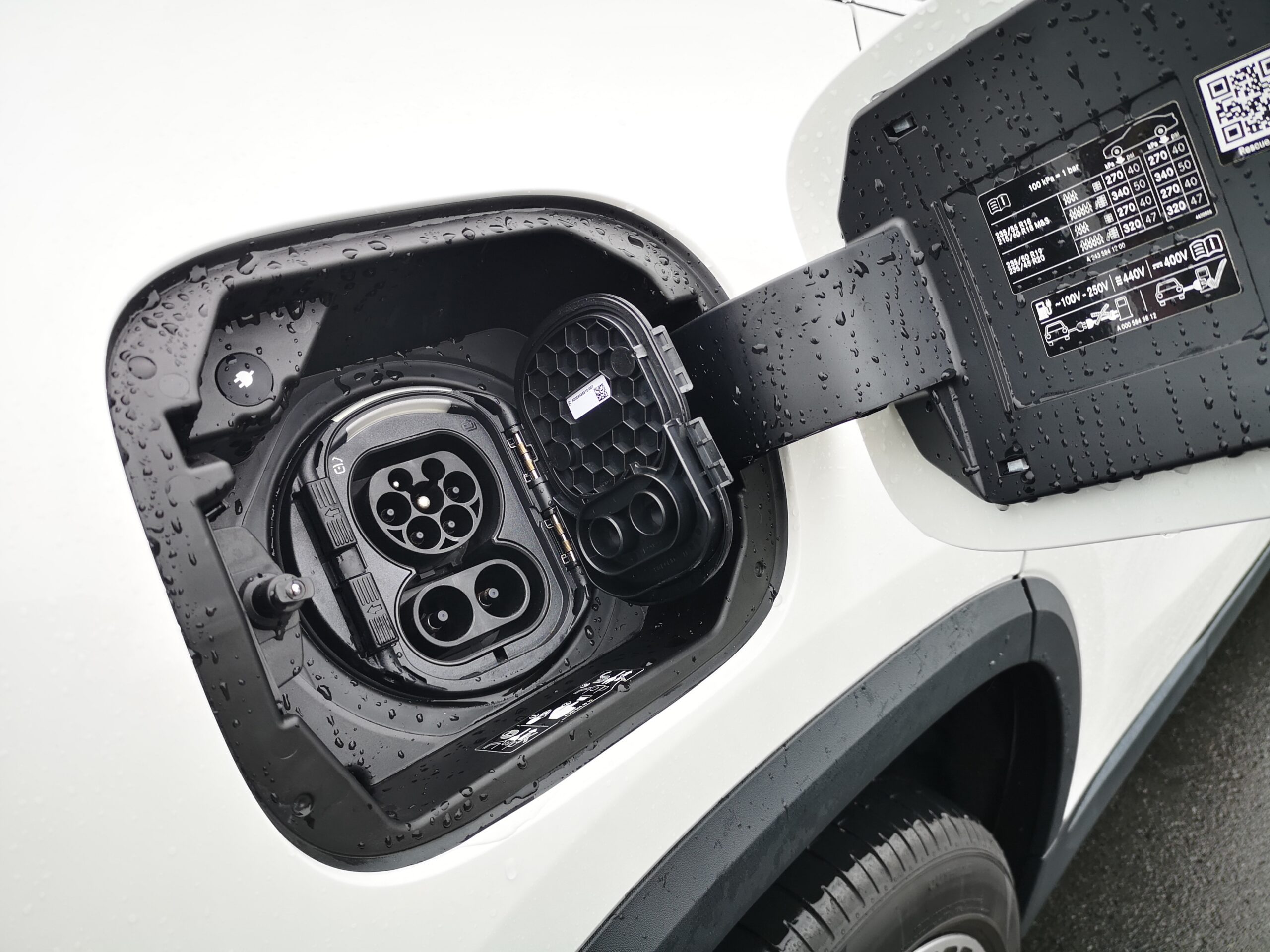 Powered by an electric motor, the EQA gives you 140kW/375Nm, its 0-100 time is 8.9 seconds (but this feels faster due to instant torque) and despite weighing in at a shade over 2-tonne, it feels really well planted in the corners.
The paddles behind the steering wheel are not for gears (as per a normal fossil-fueled vehicle) but give you access to the EQA's four stage regen braking system, which I used a lot. Tap once on the left paddle (-) and when you let off the accelerator the compact SUVs slows softly, tap again (–) and it pulls up harder while adding energy to the battery. It's quite fun to try not to use the brakes – man I need to get a life.
The EQA may be heavy but that's because it's loaded with extras. Aside from the Mercedes luxuries, it has a suite of driver and safety aids that would take too long to list, but there are acronyms for Africa (ABS, LKA, RCTA..) and you can confidently set aids like adaptive cruise control without having your foot hover over the brake pedal.
It was great to be back behind the wheel of the EQA 250 and I actually enjoyed the experience (I don't know why that sounds like such a surprise). It offers space and style and with 400km to draw from, plenty of range too.
As luck would have it, we actually had another c$90k EV SUV on trial at the same time – here's how the EQA 250 fared against it.