The fifth-generation Jeep Grand Cherokee is here and it's grander than ever. It's got a new chassis, smoother looks, a more refined drive and swifter tech – plus, unlike its reviewer, has lost a few pounds too.
Let's face it, Jeep has been an iconic name in the motoring landscape for around eight decades, and from their 'war-time' Willys to the 'fun in the sun' Wrangler Jeep's comprehensive model range have bossed terrains enriched lifestyles for those that have sat behind their wheels. Arguably, one mountain that had yet to be fully scaled for Jeep is luxury, that is until now.
The Jeep Grand Cherokee nameplate was launched to the automotive world in the early 90s with the primary mission of capturing the hearts and soles that frequent the luxury SUV market. Admittedly it's a big move to go from rugged to refined and in fairness it battled well against the more premium Euros. Gen 1, turned into gen 2 and over the next (near) three decades the nameplate has evolved and been enhanced to now, where the all-new fifth generation, a Grand Cherokee that takes the grandness to new heights.
We have already reviewed (and been impressed with) the new 7-seater L models (Summit and Limited) but we were keen to test the smaller, more town and country-friendly 5-seater, after all, not everyone needs a posh 5.2m long Jeep on their driveway!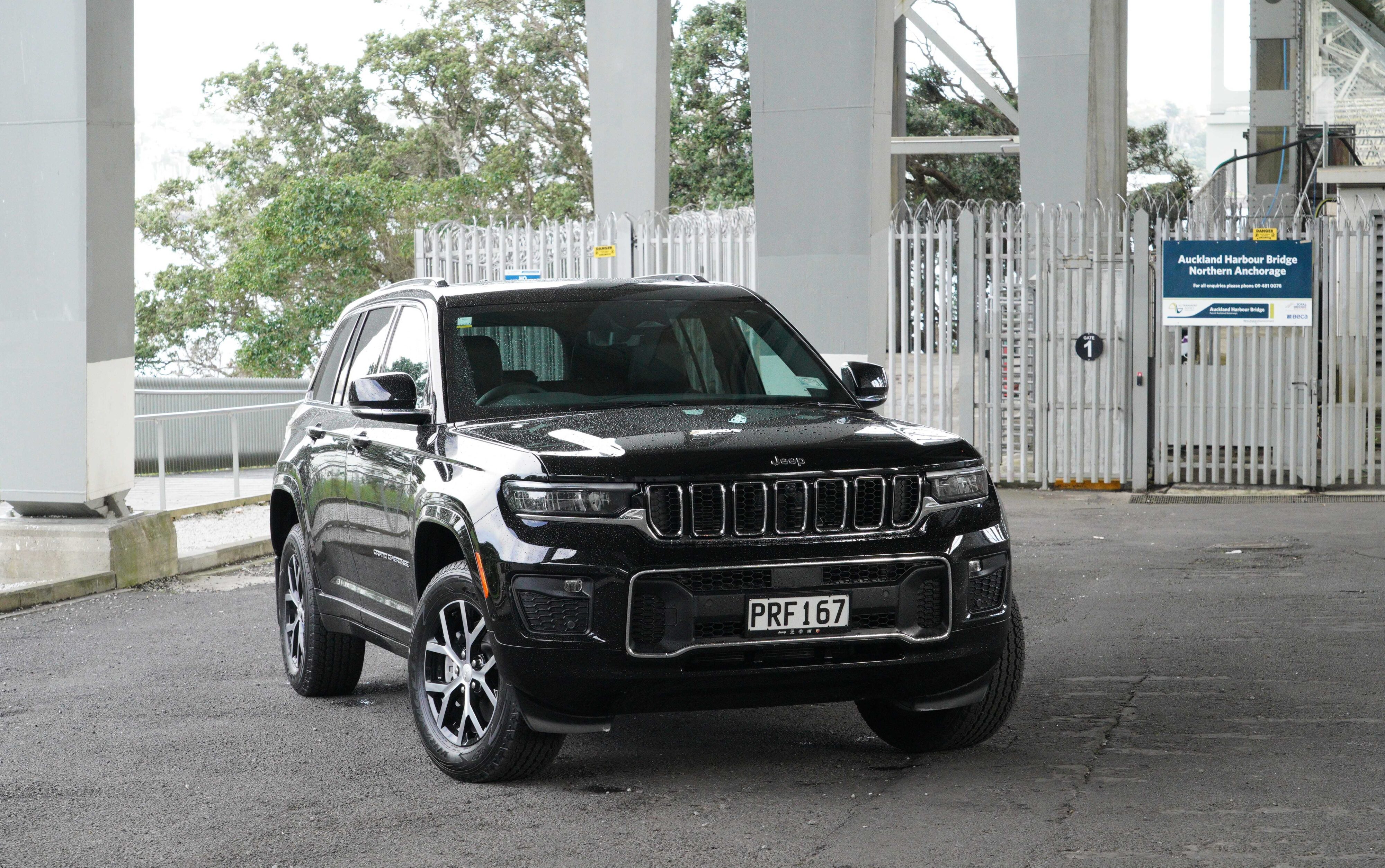 My review model was the 'middle of the lineup' Overland and came dressed in black, for which there are two options, diamond and midnight. First impressions are of how rugged yet more elegant it looks, offering a great balance of both power and style. The edges have been softened a little but it still casts a bold shadow.
The signature seven-slot grille and Jeep badge are hard to miss, while the sleek design and aerodynamic enhancements give it a modern edge, and despite its imposing presence, thanks in part to its new platform, the new Grand Cherokee is surprisingly lighter, making it more agile and efficient on the road.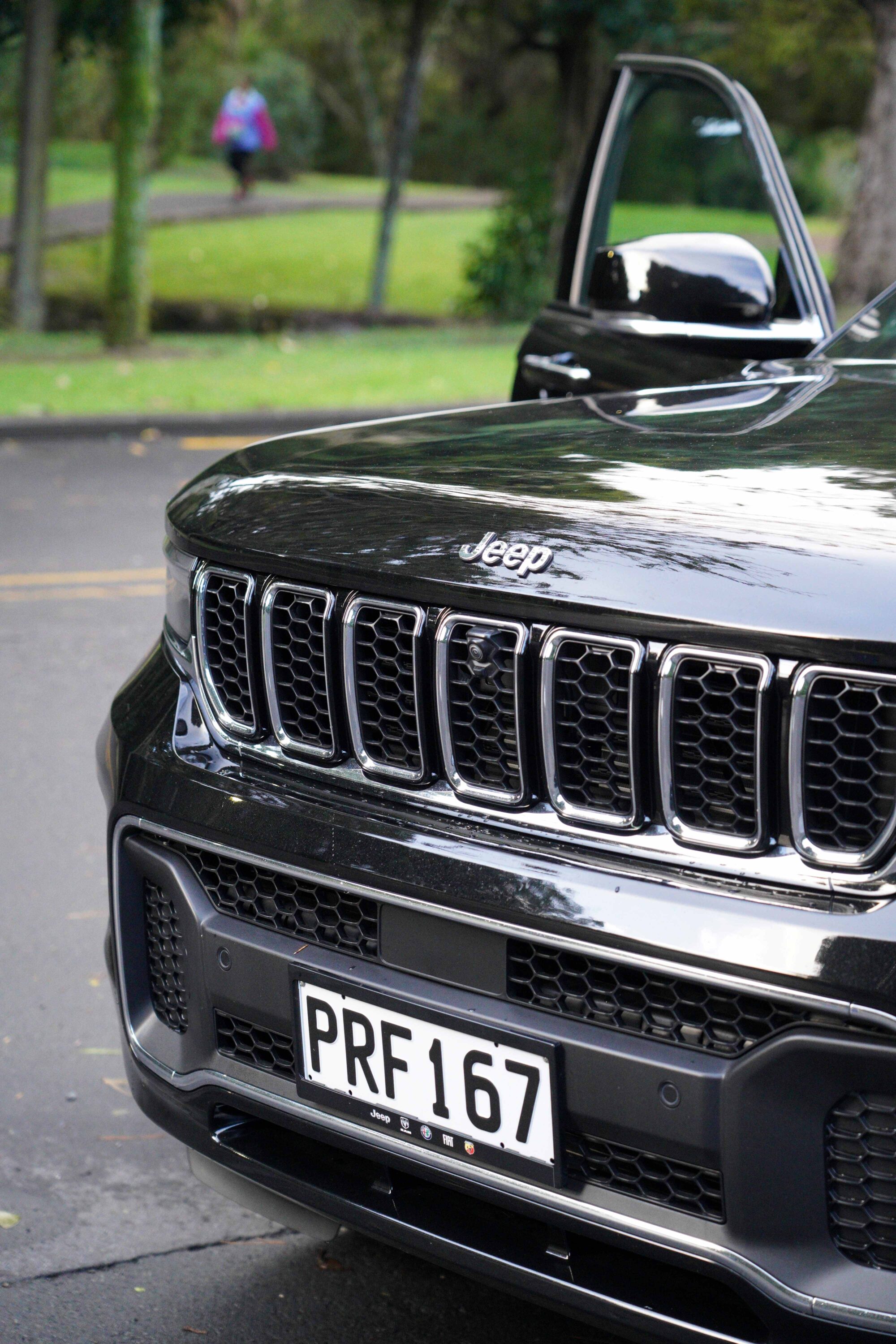 My Overland model was a trail-rated 4×4, and therefore ready to conquer any terrain. Short overhangs and tall approach and departure angles ensured that it would be ready for anything I would be comfortable driving on/over, and its 18-inch wheels were shrouded in Kevlar belted tires which aside from providing added durability in all terrains, conjured up a whole raft of shoot-em-up scenarios – I've got to stop watching action movies.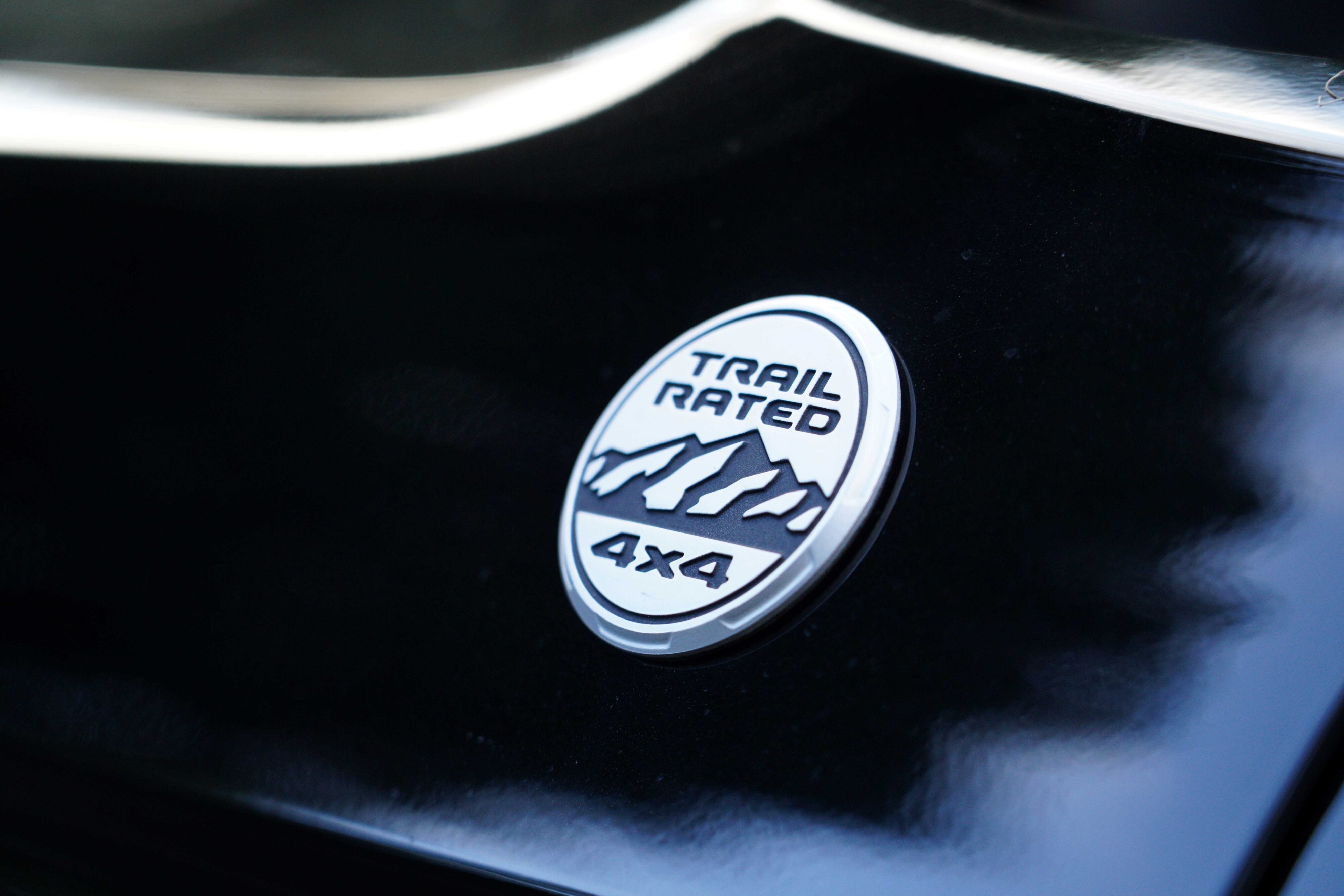 The Grand Cherokee's rear features distinctive LED tail lights and an elegant roofline spoiler, while the kicker tailgate opens up to reveal a generous storage area, perfect for all your adventure gear, plus there's roof rails to throw your oversized gear on.
Under the bonnet, the Grand Cherokee Overland boasts a 3.6-liter V6 engine paired with an eight-speed gearbox. Together they deliver 210 kW of power and 344 Nm of torque, and while it may not be the most fuel-efficient option out there (9.9l/100km), it's heading in the right direction over previous generations.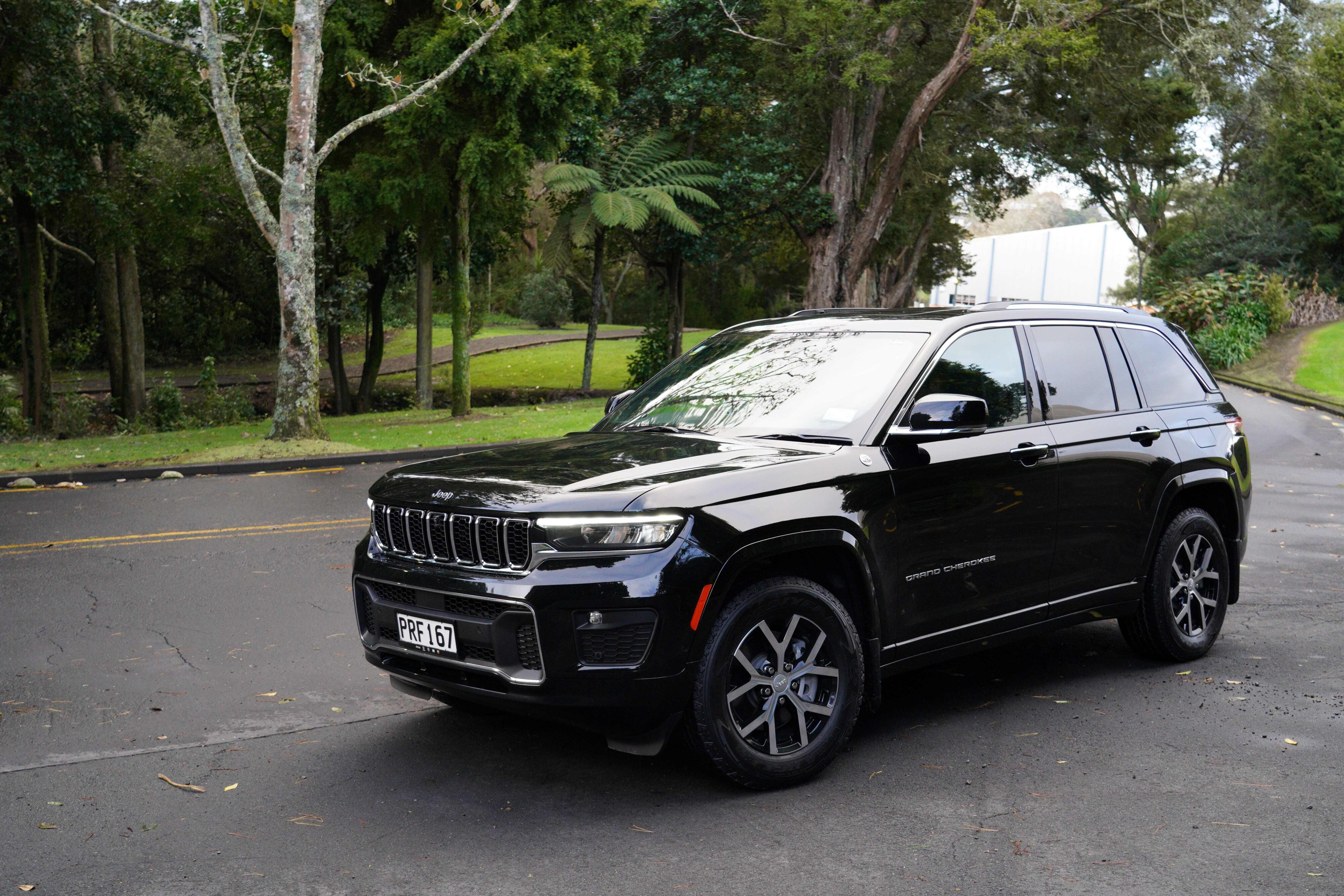 The good looking exterior is impressive but the interior impresses more, it's a blend of sophistication and practicality. The Nappa leather seats, with their bucket-like shape, provide excellent support during spirited drives and both the driver and passenger seats are 12-way electrically adjustable and offer various memory settings, while the four-way lumbar adjustment is great for those with bad backs. They're heated and ventilated too and a simple push of a button on the door starts the massage function that soothes and rejuvenates tired muscles.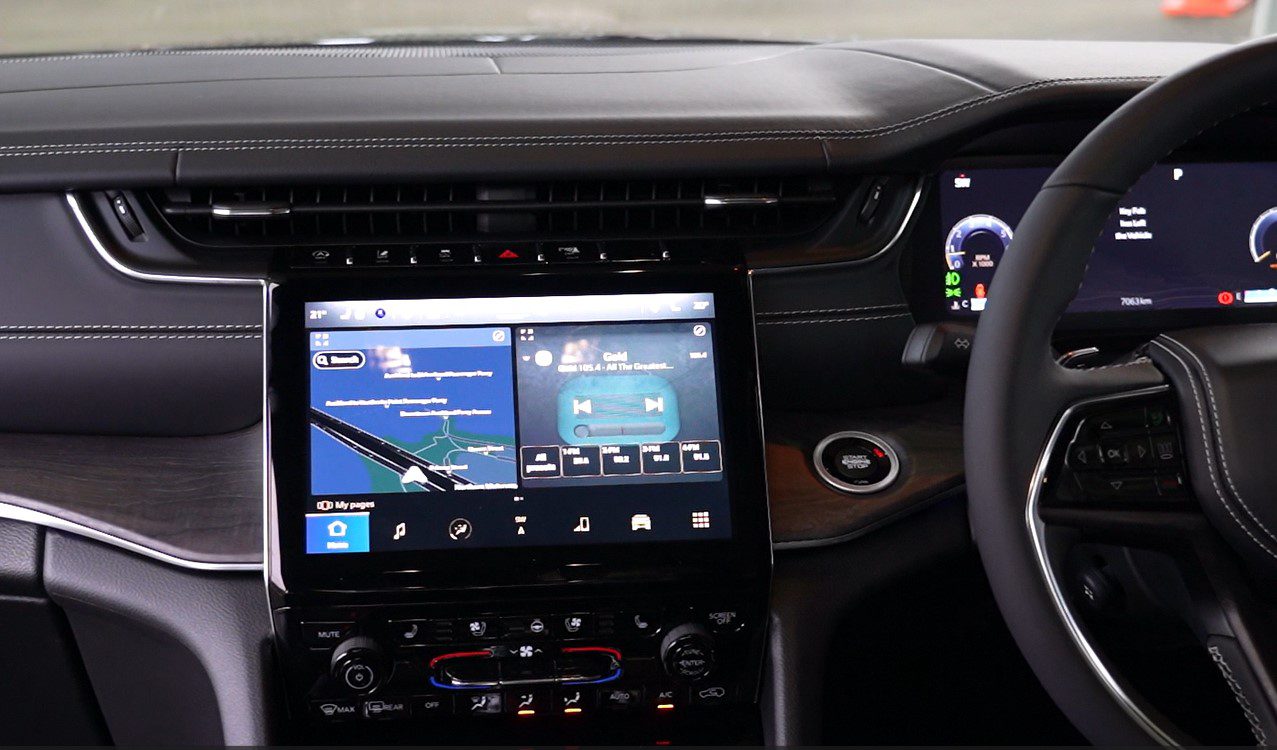 The dash is trimmed with upmarket dual stitching, with soft materials all around and a faux (or maybe real) wooden strip. There are some scratchy plastics below the belt line but this is a true off roader when it needs to be so it's forgiven.
Above the infotainment system are a panel of buttons that engage (or more importantly for the lane keep assist) disengage some of the driver assists. Of particular note is the Lane Keep as it really is a pain in the rear end, should you venture near a white line, it alarms and minimises the instrument cluster info – some may find it helpful, but in my opinion it's too much and a double tap eliminates it (again, too many action movies).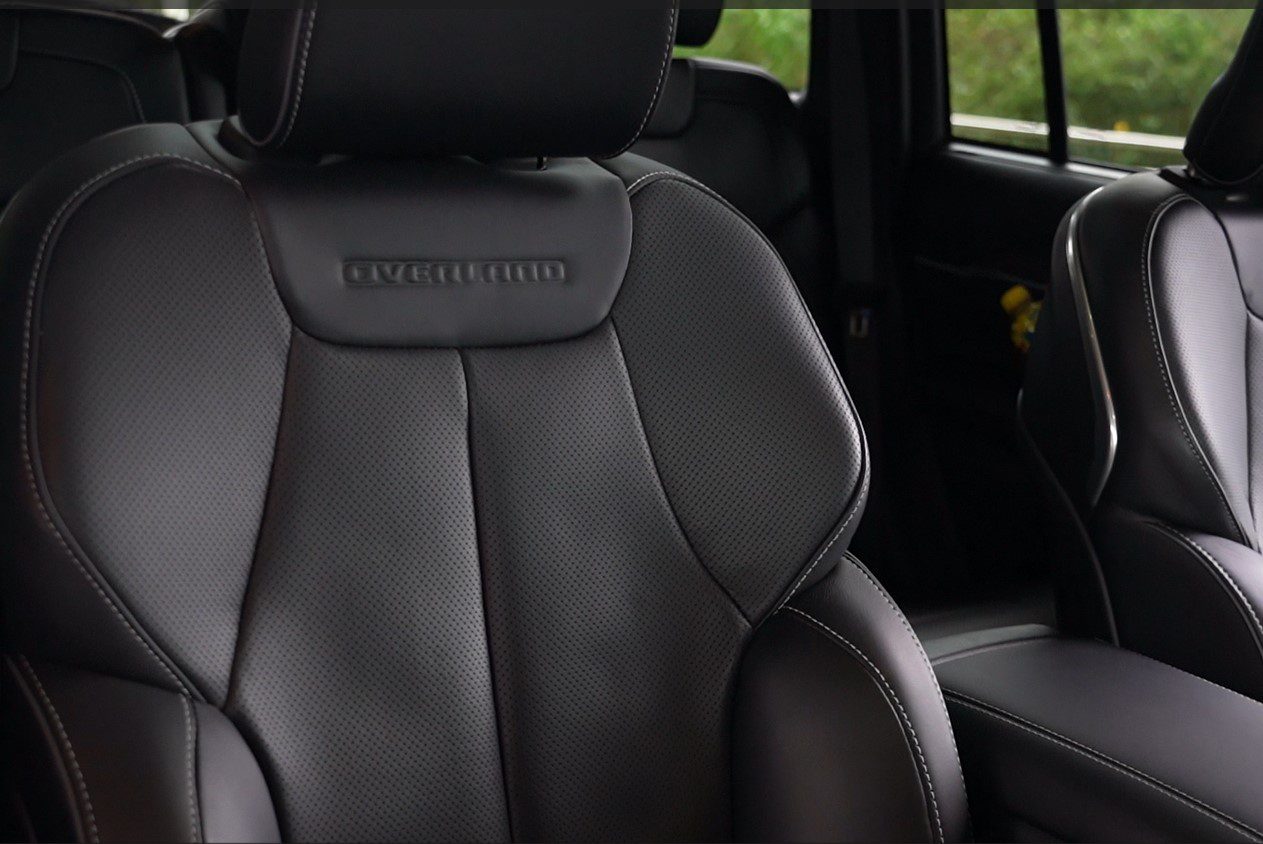 Jeeps U connect 5 system is a real improvement over the previous gen, specifically its response time. It's quick and easy to use with screeds of info, (on and off road), plenty of menus and direct access to the Overland's Quadra Trac II Active 4×4 system and Selec-Terrain. Yes there's Apple and Android connectivity and a wireless charger, but there's also a multitude of USB/C ports dotted around the cabin so everyone can stay charged.
For those in the rear, there's ample space for two and adequate room for three, however, only the two outer seats get the benefit of being vented.
Unfortunately my time with the new GC didn't include an off-road portion and for that I refer you back to the trail-rated badge – basically, if Jeep says it can, that's good enough for me. But I did get plenty of time on the road, which in NZ is a bit of an off-road experience too.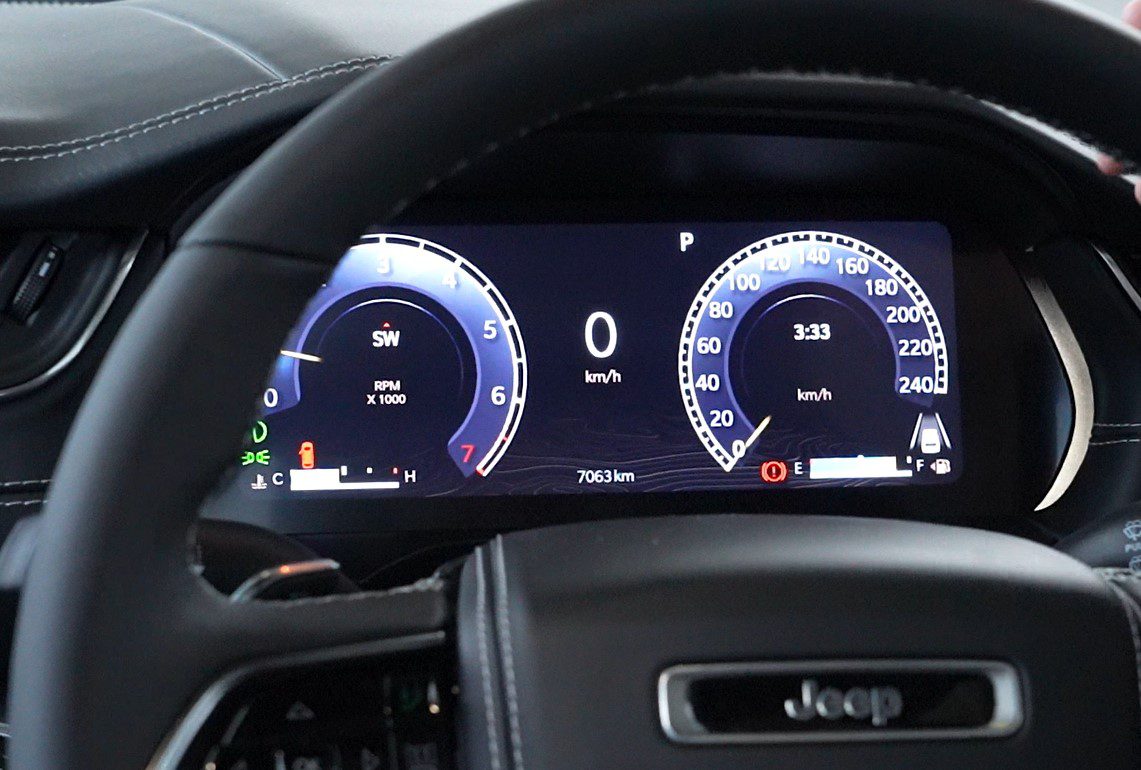 Simply put the Grand Cherokee is smoother than an extra whipped McFlurry, and quieter too. Jeep has focused on the GC's NVH (Noise, Vibration, Harshness) and either minimised or removed any interruptions from the outside world. The glass is acoustic, there's active noise cancelling and an abundance of sound deadening resulting in an SUV that's extremely quiet and well-mannered.
The hefty V6 motor goes about its business with seldom a peep (even when it receives a necessary kick) and the GC's Quadra Lift Air Suspension & Adaptive Damping ensures that whatever road surface you happen to stumble upon, is all taken in its confident stride. Added to this, the luxurious SUV's leather-wrapped and heated steering wheel offers a solid grip and enhances the driving experience.
Visibility all around is great, with a dual pane panoramic sunroof, big side mirrors and the rear view mirror featuring a camera view of the back, and even the front and rear cameras have their own cleaning jets for when you're venturing into places you possibly shouldn't.
Although the big Jeep offers up an elevated driving position, its cornering seems well poised and uneventful, with minimal body roll and zero passenger screams – I guess they'd save that for the trails.
Safety-wise, the Grand Cherokee is equipped with virtually all the latest features such as adaptive (and oddly non adaptive too) cruise control, blind-spot monitoring, traffic sign recognition and a bloody annoying lane-keeping assist, and although they do interfere, it's nice to know they're there and have your back.
The all-new Jeep Grand Cherokee Overland delivers a grand adventure on every journey. With its luxurious interior, smooth performance, and (although I only mounted a kerb) off-road prowess, it appeals to those seeking both refinement and excitement. Basically the rough and rugged Jeep has graduated etiquette school.