Since it first launched in early the 2000's the Isuzu ute has regularly been described as tough, rugged and durable but rarely ever striking, eye-catching or luxurious – that is until now. The all-new D-Max is all of the above and then some, and Isuzu NZ gave us the top of the line X-Terrain Double cab to prove it.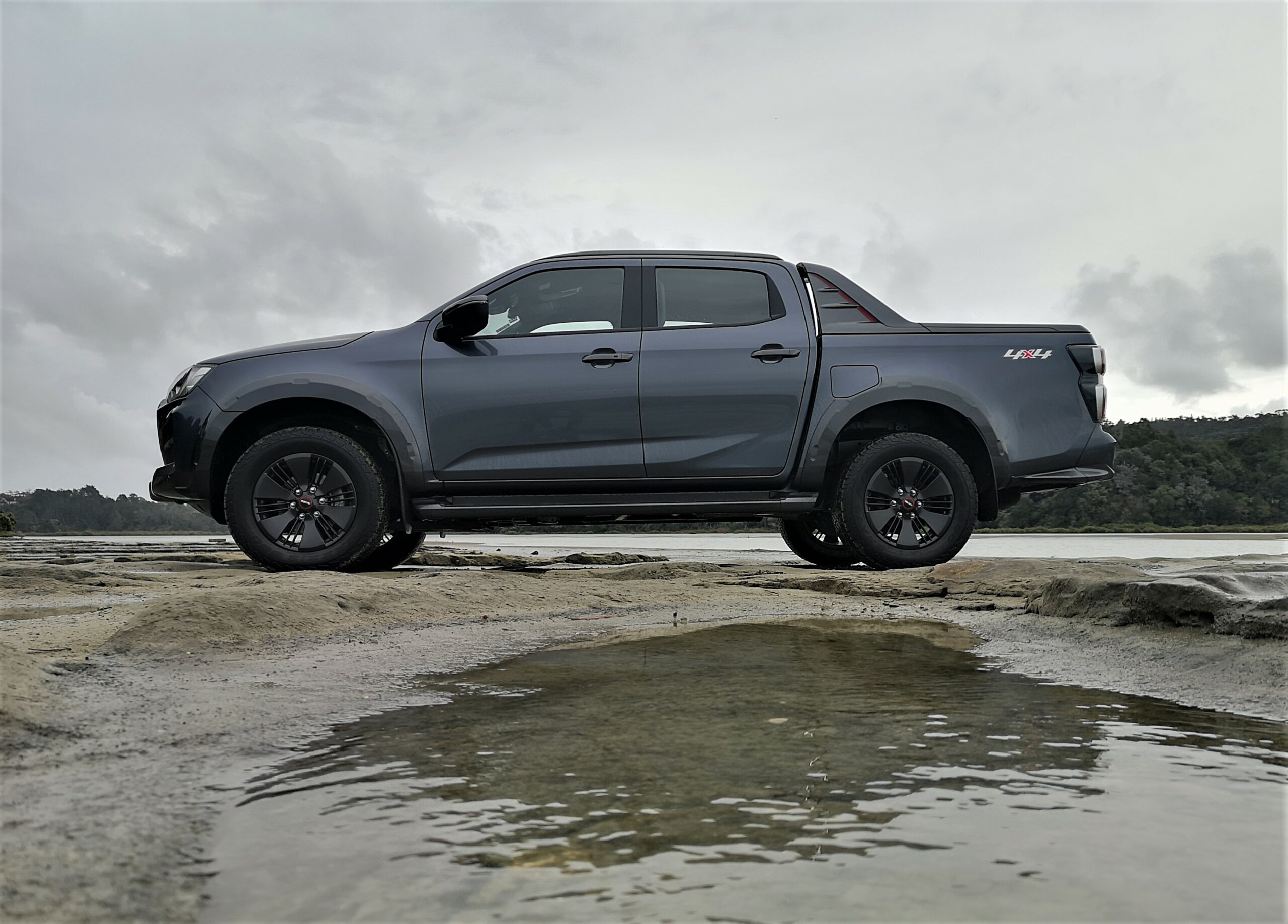 My review model came dressed in Obsidian Grey with gun-metal trim and near black 18-inch alloys – the contrast really works. The ute has a completely new styling which includes a bold new grille, a light grey skid plate, recessed LED fogs and angular LED headlights with lower wrapped DRLs.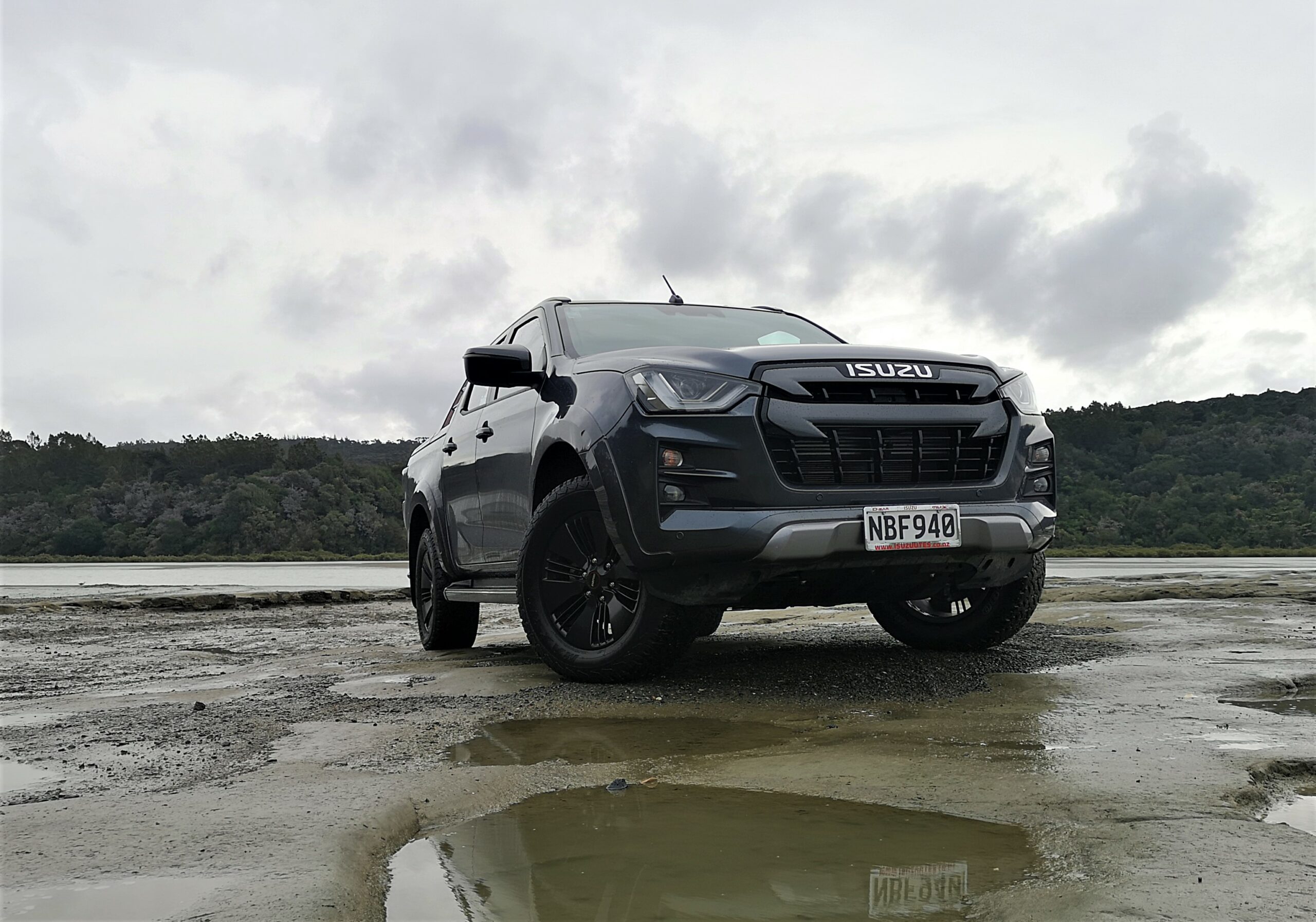 The D-Max X-Terrain's wheel arches have notches in them reminiscent of an upmarket watch bezel and the dark grey alloy side steps appear to join front and rear arches and underscore the dual cab.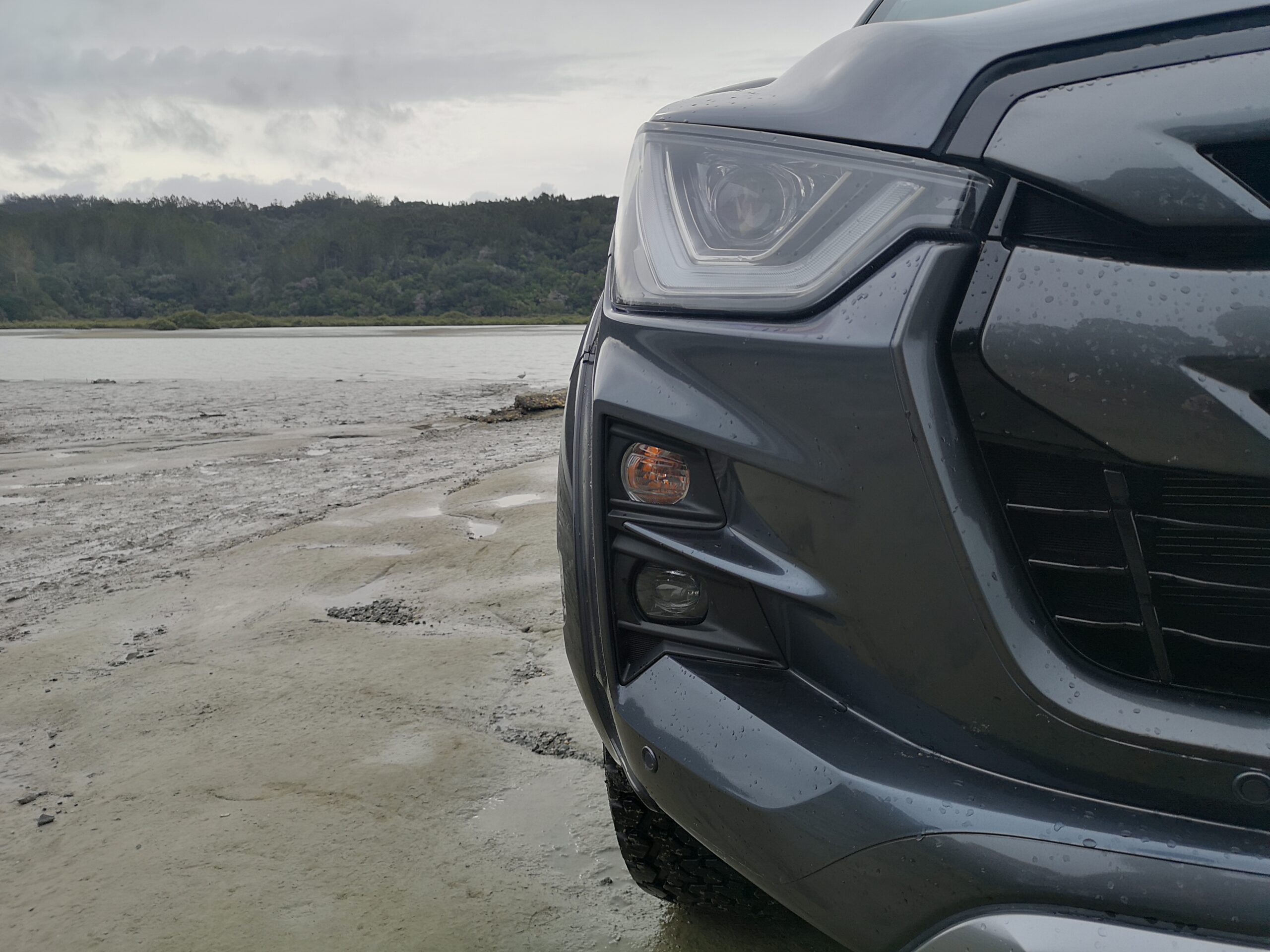 The rear boasts a sports bar above the bed with 'fins' that make it appear to be in motion (there are also small fins on the lower part of the back quarter), plus a sculpted tailgate and really pronounced LED lights.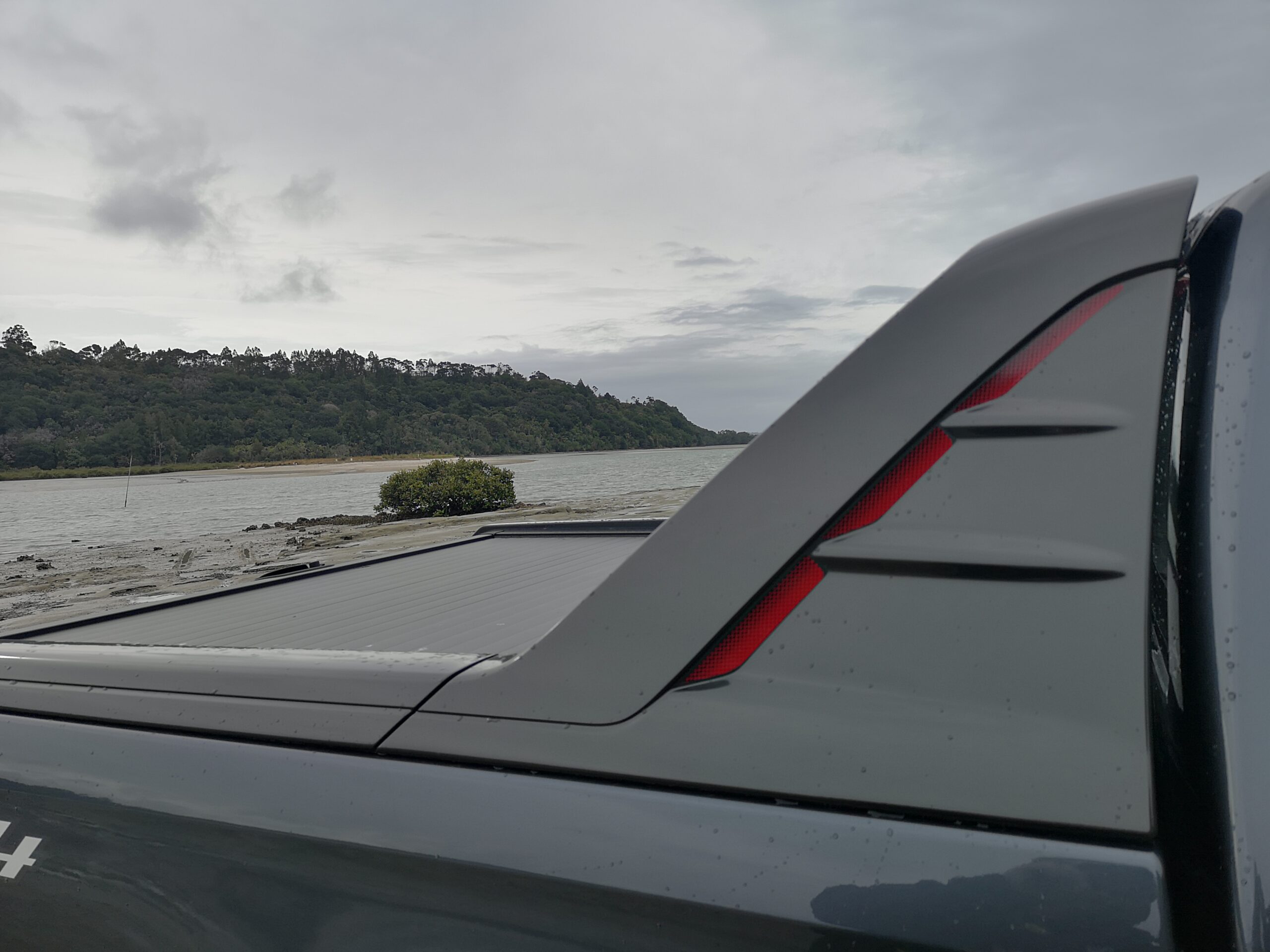 It's not all cosmetic either, as beneath it all the new D-Max's ladder rail chassis is now 8kg lighter but 20% more rigid which assists with the towing and on/off road performance – but I'll get to that soon.
Now the new exterior is great but the bigger wow is on the inside, it's got a really flash cabin that's loaded (and I mean loaded) with technology and is so NOT ute-like.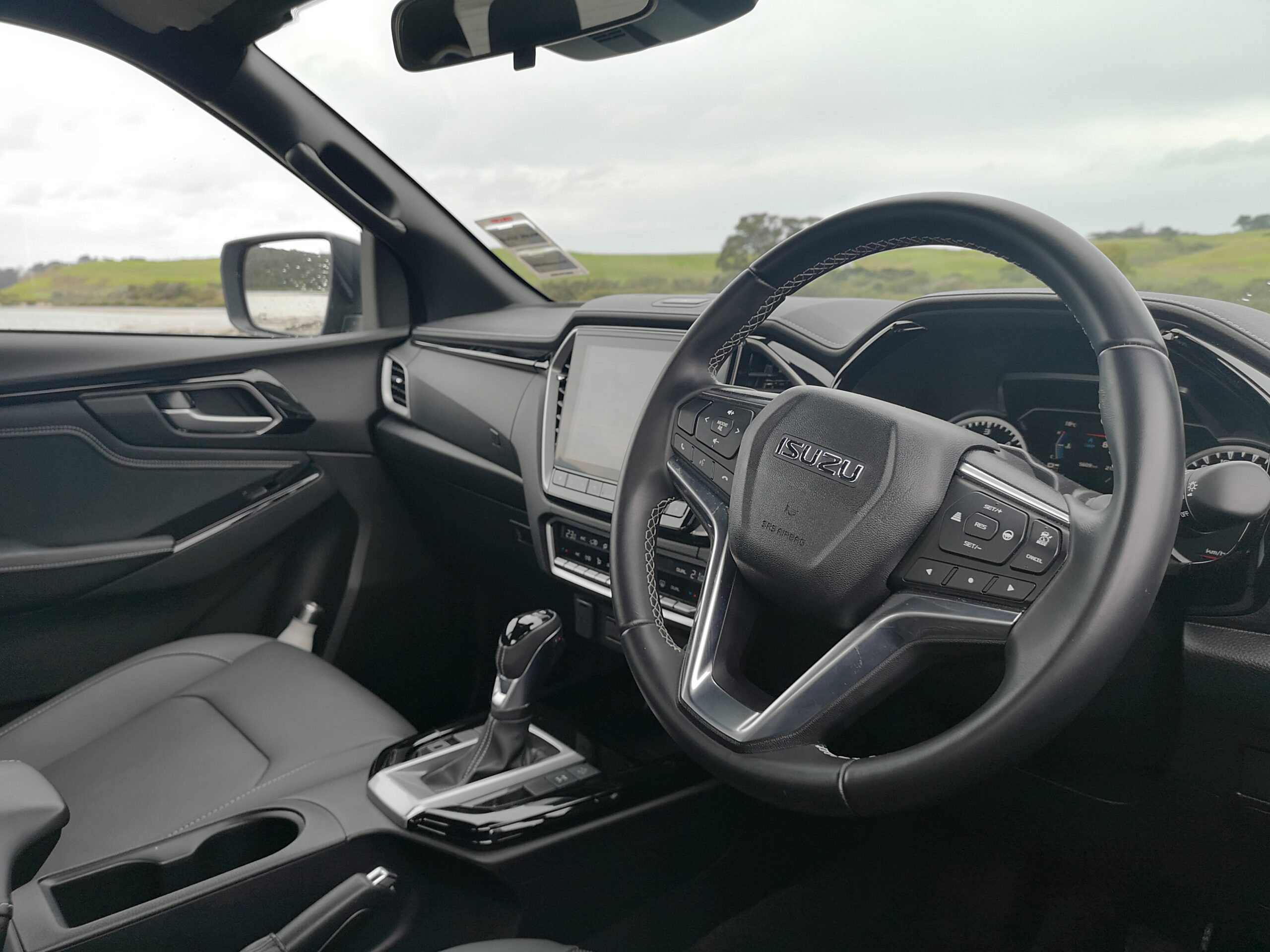 Apparently, the D-Max engineers were given a directive to use an airplane cockpit as inspiration and it shows, with the ute having things like ample places to stow your luggage (and other nic-nacs) including under the rear seats, under steering wheel storage and 10 different places for cups or bottles.
Yes there are a few bits of harder-wearing plastics but there's also an abundance of soft finishes, piano blacks and chrome accents. There's a nice, uncluttered flow to the dash with upper and lower glove boxes, the steering wheel is leather bound with numerous display, audio and adaptive cruise control buttons AND there's an unmissable 9-inch infotainment touchscreen with wireless Apple CarPlay and Android Auto phone mirroring capability allowing you to project sat-nav directions, play music etc. My X-Terrain model also had 'Sky-Sound' which is a roof mounted sound system and 8-speakers and sounds pretty powerful.
It may be a small thing to some, but the all-new D-Max's doors are wide opening so getting in and out is easier and they're double sealed with heaps of soundproofing making the cabin a quiet and peaceful place to be. The new ute's sculpted sports seats that await you in the front are comfortable and electric adjustable while those in the rear are a unique 60/40 split fold up/down configuration, so it's all very practical too.
It's also safe to D-Max with Isuzu's Intelligent Driver Assistance System (IDAS) as standard and it comes with a 5-star ANCAP safety rating. The list of safety and driver's aids is massive but a few points of interest are traffic sign recognition, driver fatigue assist and miss-acceleration mitigation (in slow-moving areas such as car parks, the stereo cameras determine whether the accelerator has been applied accidentally. Should a potential collision be detected, the brakes are automatically applied). As if to emphasise all the above, the digital instrument cluster lights up like a christmas tree on ignition with more checks than Scotsman's kilt.
It may be good-looking, safe and technologically advanced but it still has a 'go-anywhere/do anything' attitude. Under the bonnet is a tried and tested 3L turbo-diesel engine that has now been improved giving up 450Nm at 1,600 rpm and 140kW from 3,600rpm. It's Euro V and has a DPD (Diesel Particulate Diffuser) and all married to a 6-Speed Automatic.
The new D-Max can tow up to 3,500kg and comes with Trailer Sway Control (TSC) which assists with towing in high winds or on uneven surfaces. AND should you wish to go feral, the Terrain Command dial by the gear stick allows you to shift between 2WD and 4WD Hi mode on the move (up to 100km/h) and the 4WD low setting comes with a diff lock. Oh and for those that need to know, it has an improved wading depth of 800mm and a 30.5-degree approach angle (24.2-degree departure).
I am aware of how good Isuzu vehicles are off-road and although I really would have liked to have played in the mud with this model we actually stayed on the tarmac for our review. However, to make things more interesting, it rained a lot, which gives me the opportunity to inform you of my one (fun) negative. The new D-Max is a little light in the rear and when combined with Highway-Terrain (HT) tyres is a little loose in the wet in 2WD. Of course this is easily corrected with the turn of a Terrain Command dial but worth pointing out.
Other than that, I have to say I was wow'd from go, to whoa. Its looks are a break from the norm with its small design touches that keep you very interested. My small family network of three fitted into the cabin with ease and we quite simply forgot that we were in a ute. Aside from the elevated ride height, it's hard to believe that you're not in an upmarket sedan. The ride is comfortable and the tech (although slightly intrusive at times) makes you feel safe and secure. On top of that, the 3L engine just continues to give and give.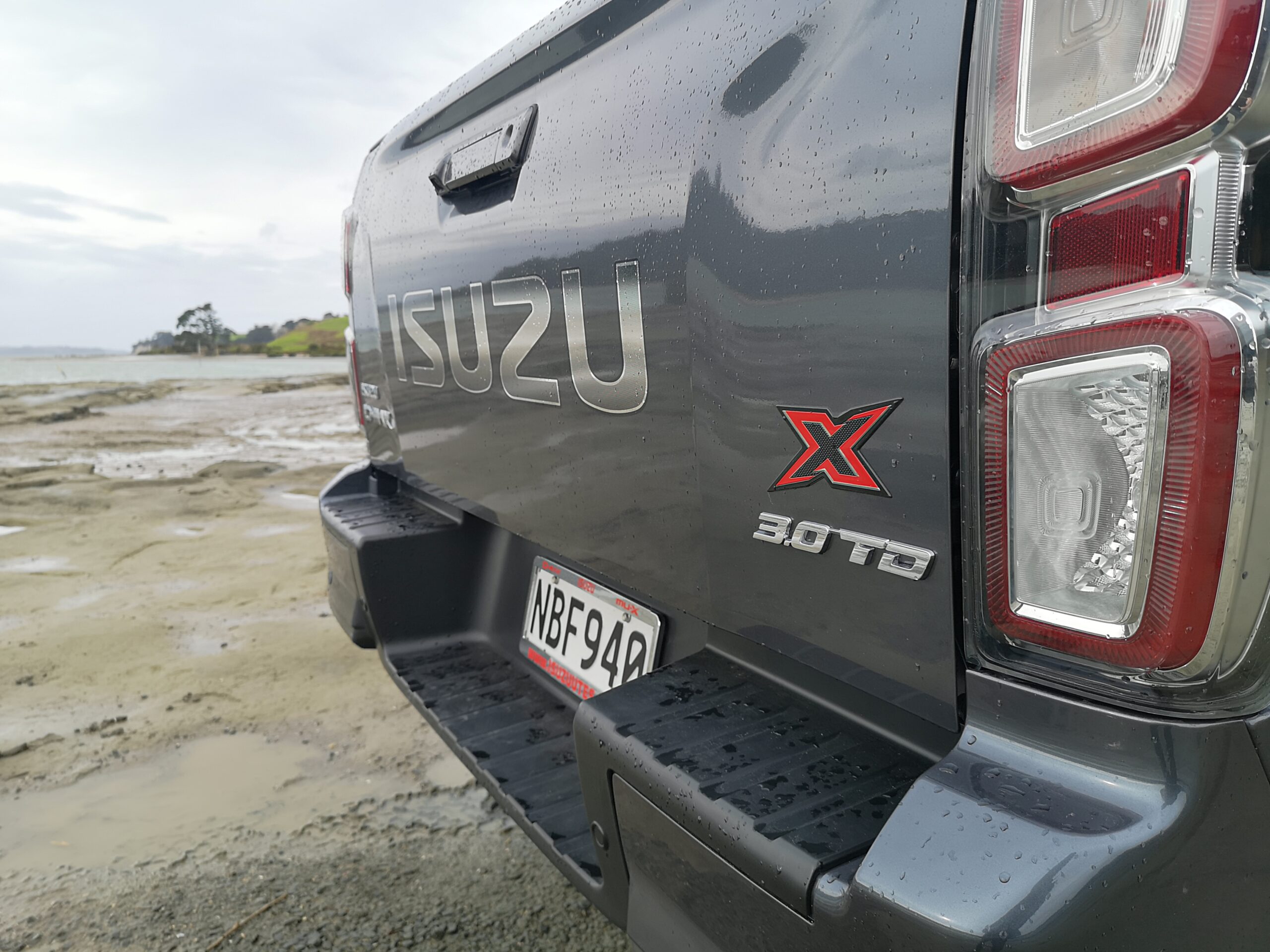 Due to its near 5.3m length mall parking takes concentration but again there are enough beeps and camera views to ensure you dock safely. Groceries do require thought though (otherwise your fruit and veg does seem to wander in the large tub).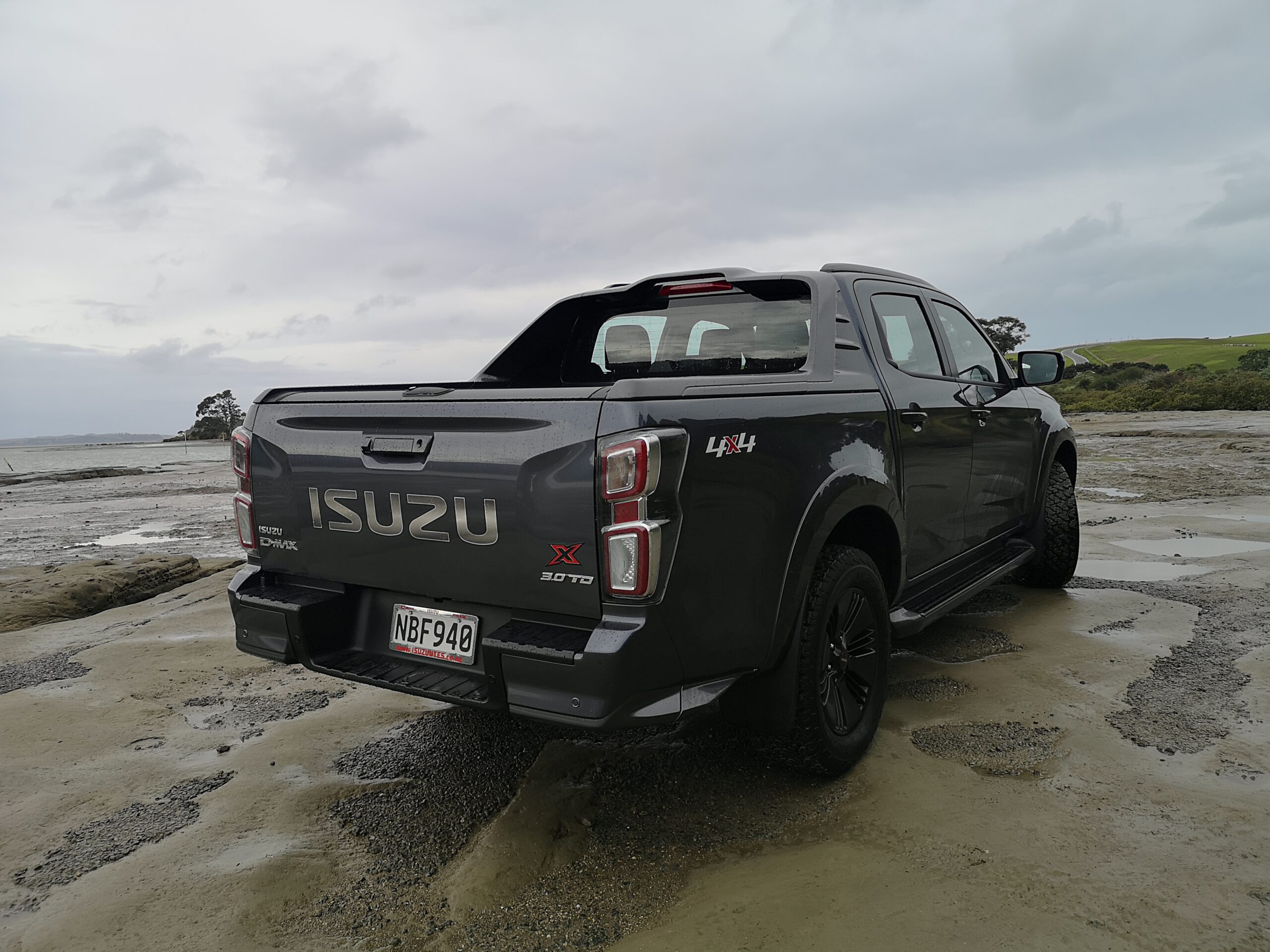 The all-new Isuzu NZ D-Max isn't cheap but the value is massive, a true contender for those wanting a durable ute that won't look out of place at a 5-star hotel – Wow!