Compact hatchbacks, hot or otherwise are becoming increasingly rarer to spot on NZ roads and don't get me started about manual gearboxes, so when a car company releases a new high-performance hatch that has a clutch and gear stick too, it had better be good – thankfully the new Hyundai i20N is really good, and then some.
The Hyundai i20N is the third model to join the brand's N performance range and what an addition it is. It's a small, 4-door hatch that promises a fun and involving drive and delivers both in spades.
Born from their re-introduction to WRC in 2012, Hyundai's 'N division' is essentially their performance arm. It's where their good cars go bad (but in a good way). So far, the Kona and i30 have both been 'N'd' meaning that their styling, drivetrain and suspension have been made more track-focussed and now it's the turn of the mild-mannered townie, the i20.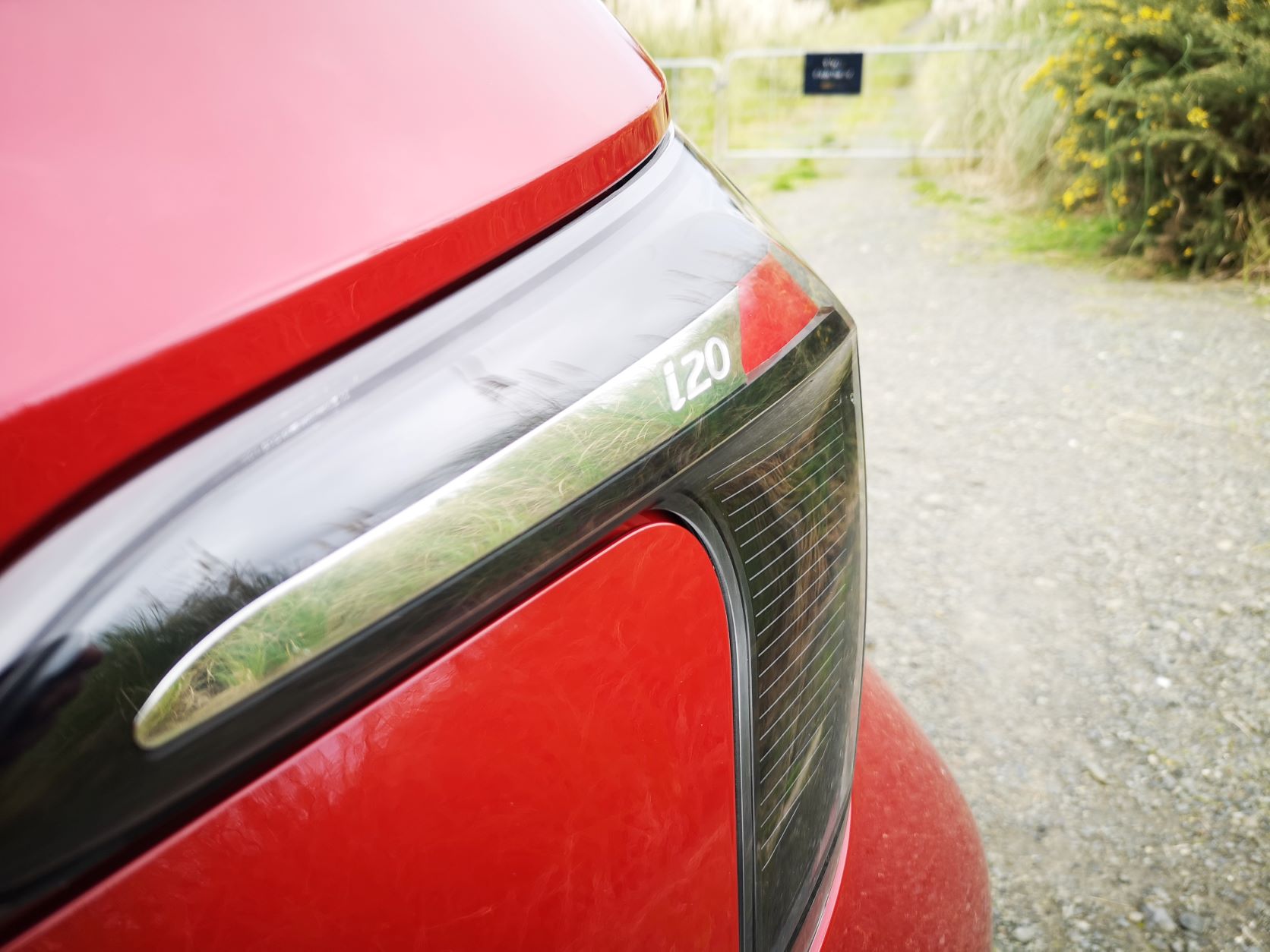 Several months back, I had the pleasure of taking the new i20N around Hampton Downs racetrack and the self-confessed 'corner rascal' set my pulse racing and had me grinning enough to make Cheshire tabby frown. But since screaming around a world-class racetrack is not exactly an everyday occurrence, I was keen to see what this red hot hatch was like to live with.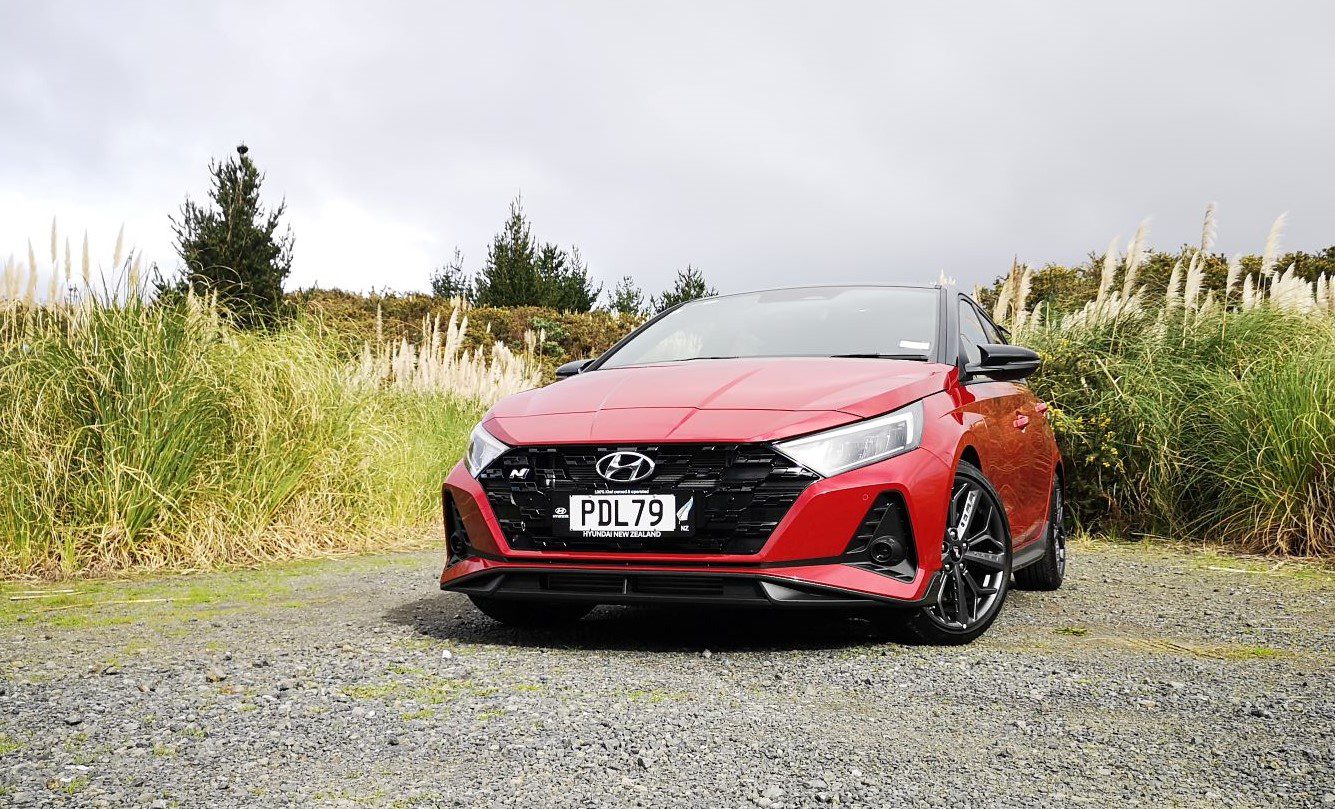 Let's jump right to the heart of this micro hatch, the powertrain and in particular, the 6-speed manual gearbox. As you are probably aware, manuals are becoming a scarcity in modern vehicles, after all, who wants to do something as labour intensive as going up and down six gear levels when it can be done just as well (and often better) automatically? Well me for one.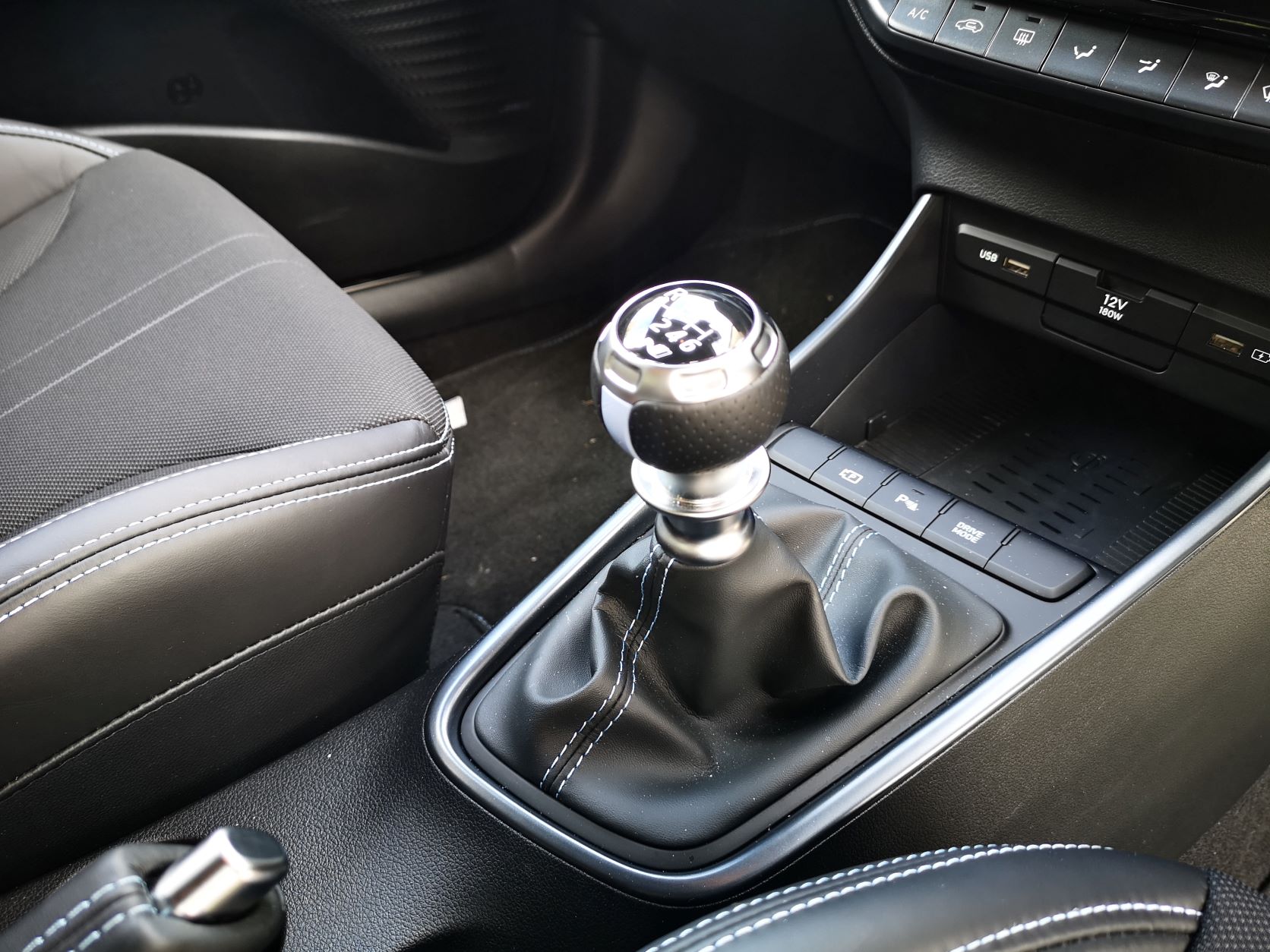 Autos, DCTs, DSGs, CVTs all have their place but if you're looking to underline your performance car statement, then it should be manual. A manual transmission gets your whole body involved in the driving experience. From dipping the clutch and finding the biting point with your left foot, to navigating the gate and selecting the right gear with your left hand, all while your right side operates the throttle and brake. Sure it's not as laid back as just needing to steer, but nor should it be. Whether around the block or on the track a manual box is driving and the i20N's 6-speed, with its rev-matching downshifts and tight gate is all that and more.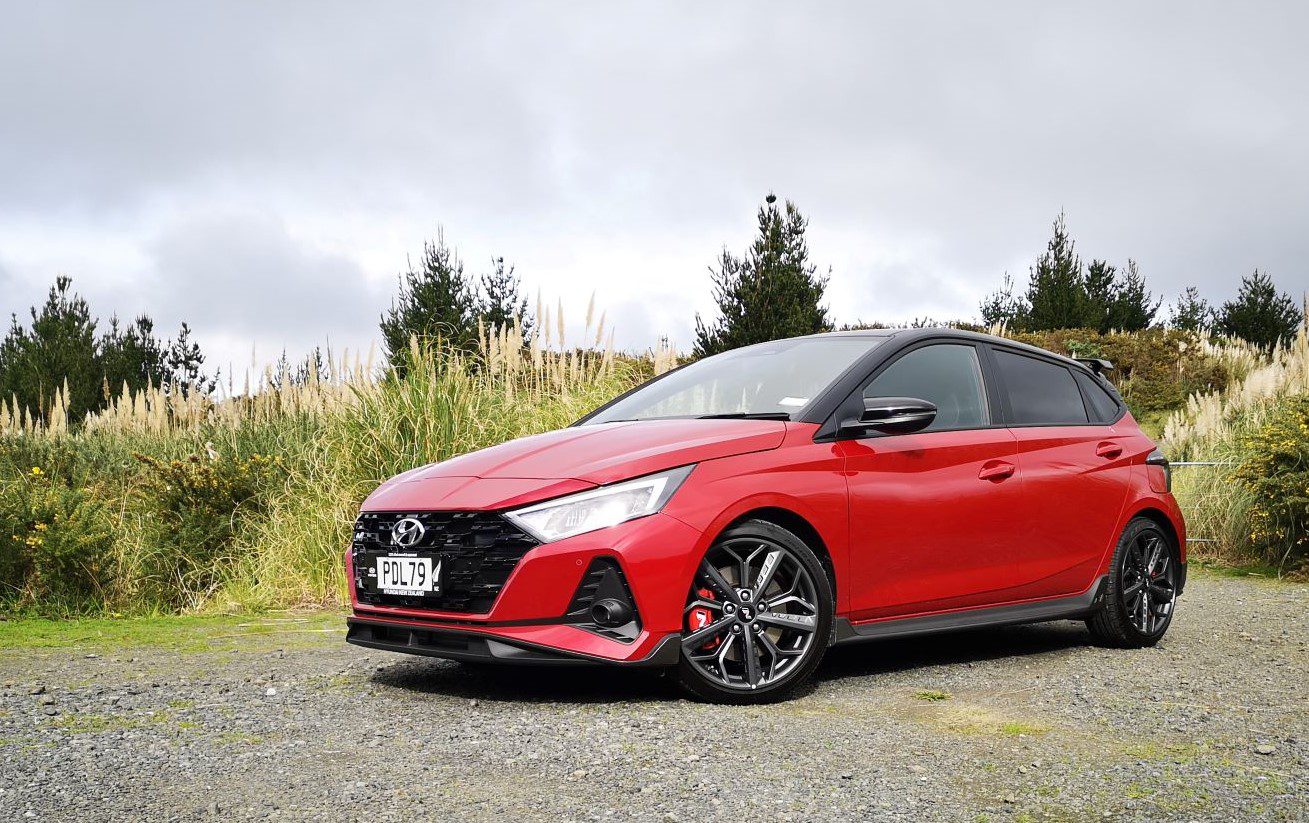 This in turn is married to a 1.6 litre turbocharged engine (150kW/Overboost: 304 Nm) with Continuously Variable Valve Duration (CVVD) and for the first time, VTC (Virtual Turbospeed Control) Tech that maximises the engine output by optimally controlling the turbo. What this all adds up to is a small hatch that will race from 0-100km/h in just 6.2 seconds and should you find a place that allows it (if you do please tell me), a top speed of 230km/h. It even has launch control, in a manual!!!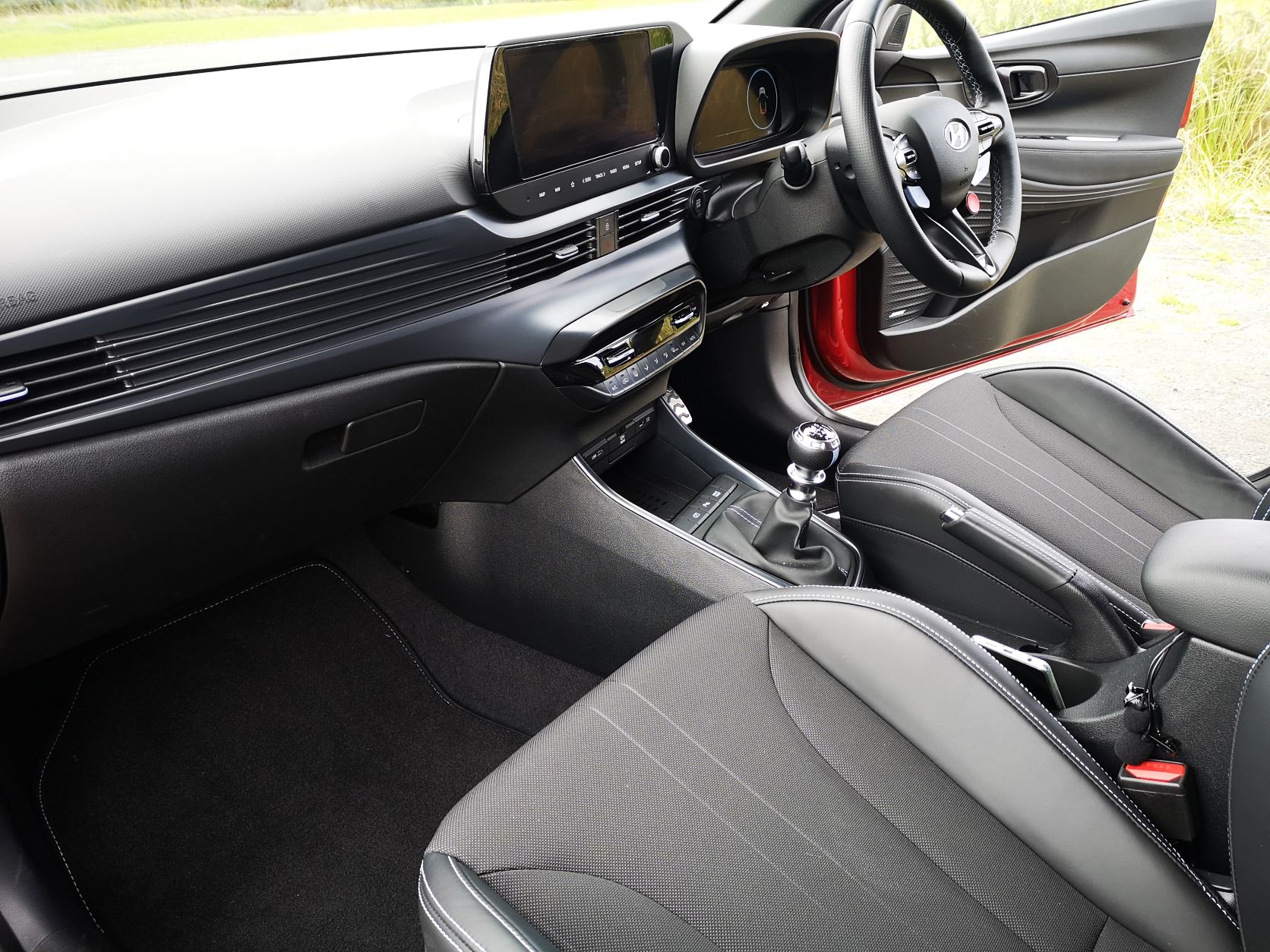 My review model came in 'fiery' red with a black roof which looked great, however, I would have personally preferred the performance blue option with red highlights. Either way, with its chequered-flag grille, larger air intakes, 18" forged alloy wheels and WRC-derived rear roof spoiler it's not exactly hard to spot in the car park.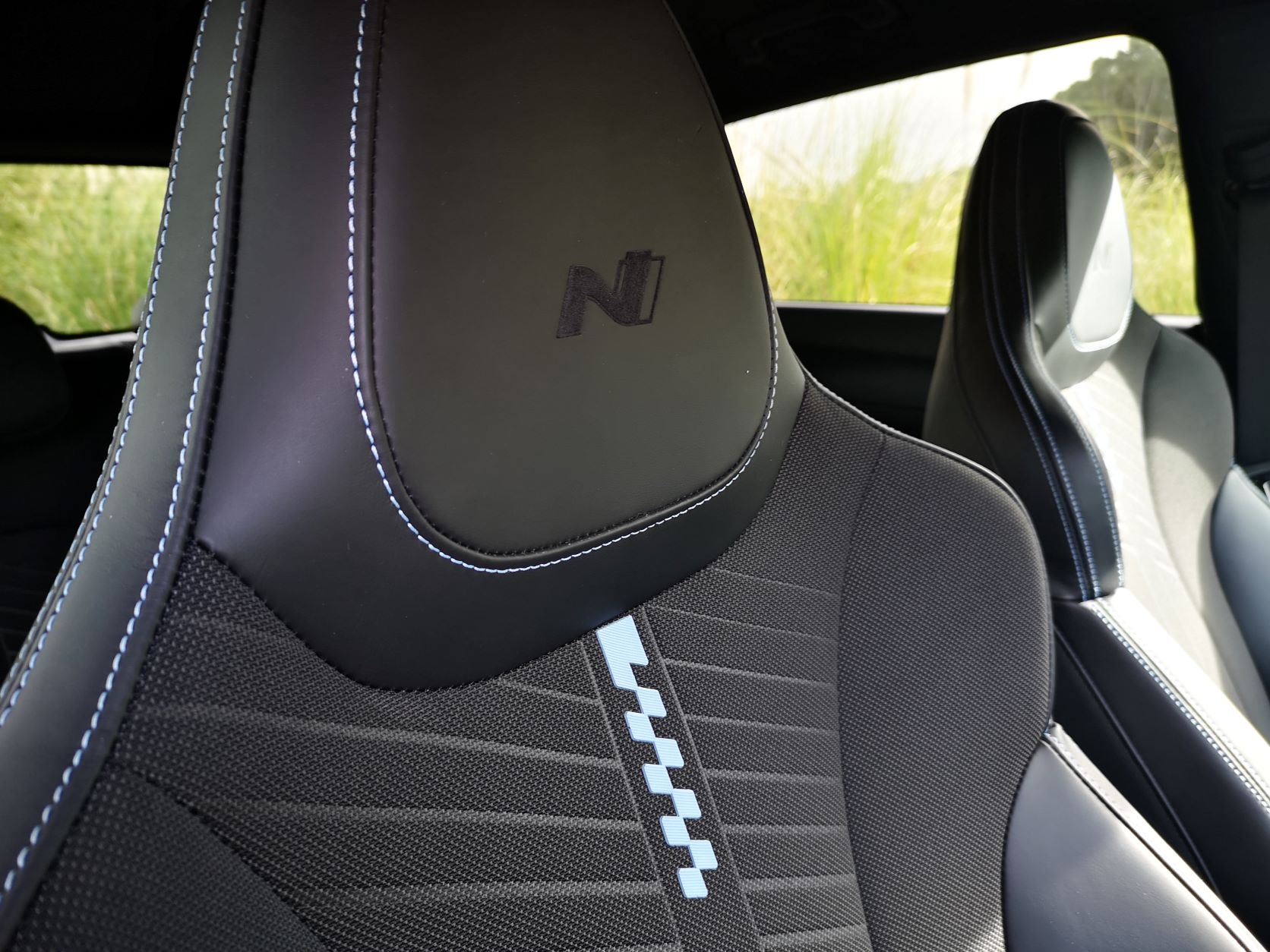 Step inside and you find a cabin that's both sporty and distinctive with a smattering of performance blue accents, sports seats, a 'N' steering wheel, (with two blue N and one red rev match shortcut buttons), a handbrake lever and the aforementioned gear stick – and of course a third foot pedal.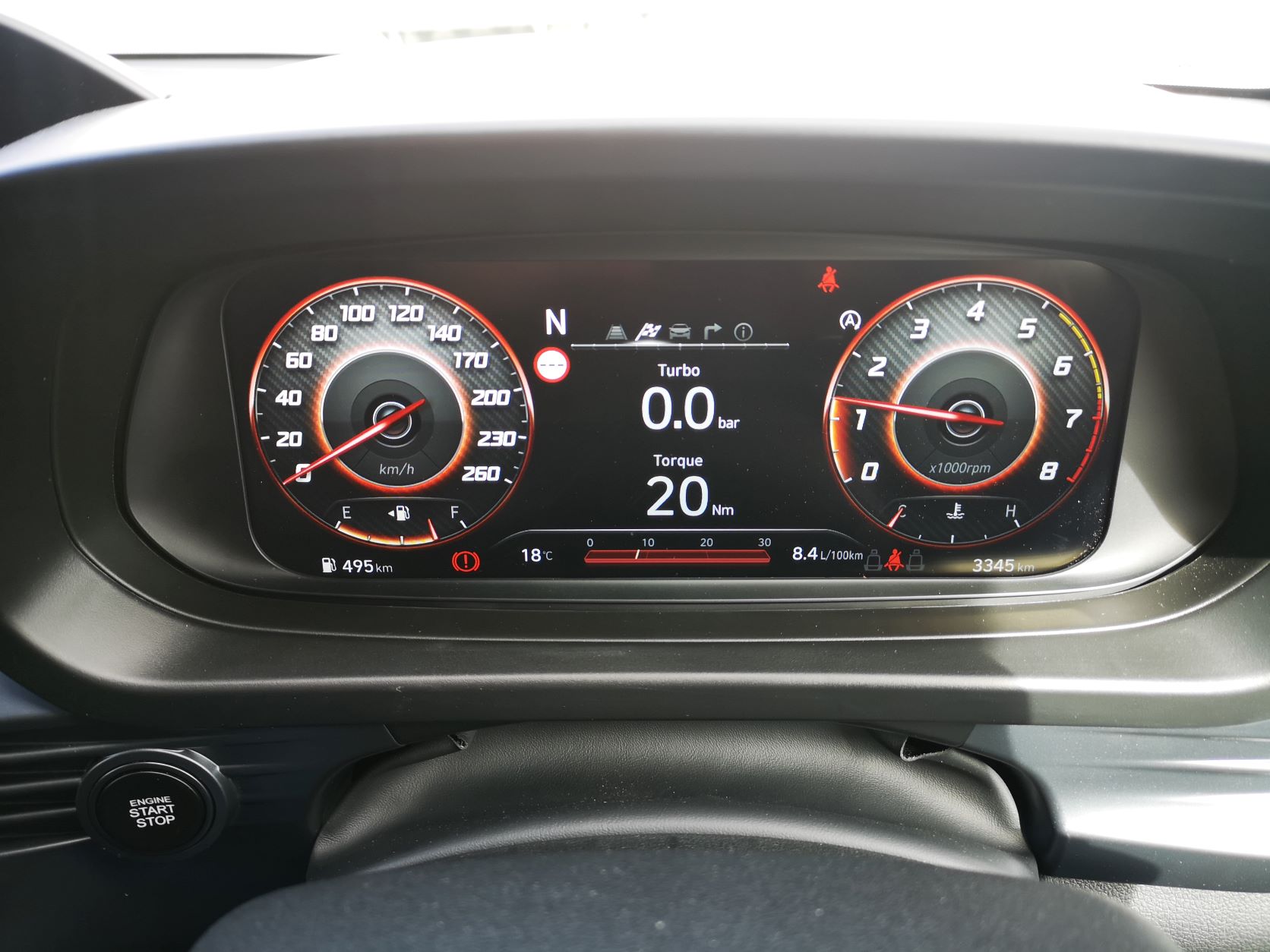 Take away the overtly placed performance highlights and trim and you still get a 10.25-inch touchscreen infotainment system with a host of Hyundai driver and safety aids, Bose premium audio, a 10.25-inch colour TFT instrument cluster but on top of this, you also get a performance data menu you that measures everything from g-force and telemetry to having inbuilt track maps to measure your times around five NZ tracks.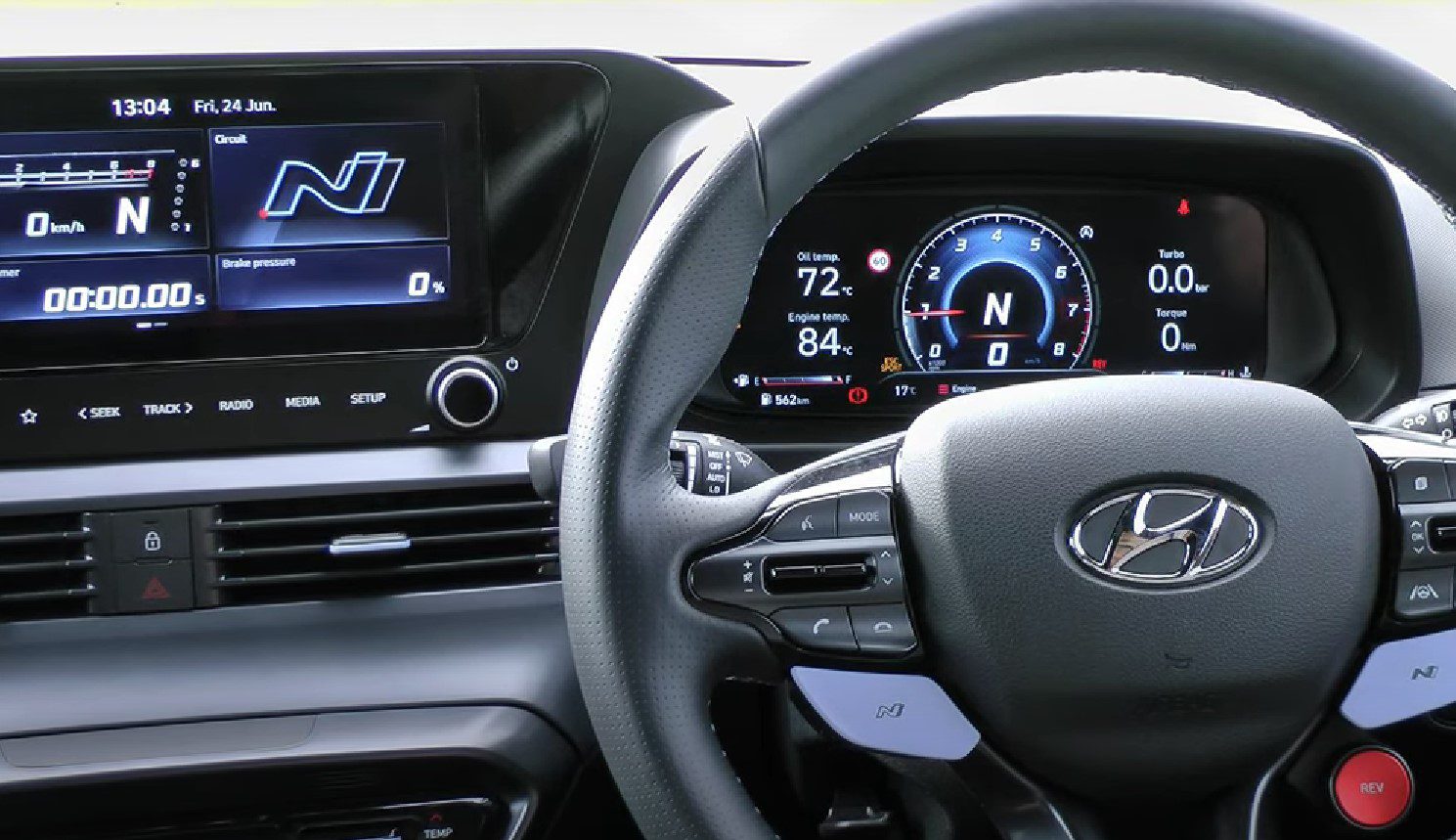 Admittedly the new i20N is a firm ride even in Normal and the thin strips of Pilot rubber offer very little removal from NZ's open pore tarmac and (if I'm really honest), a manual box is not ideal for bumper to bumper traffic. But, despite its lowness to the ground, it doesn't drag its bottom lip on speed bumps and its compactness makes it easy to use in and out of town – with the latter being much more fun.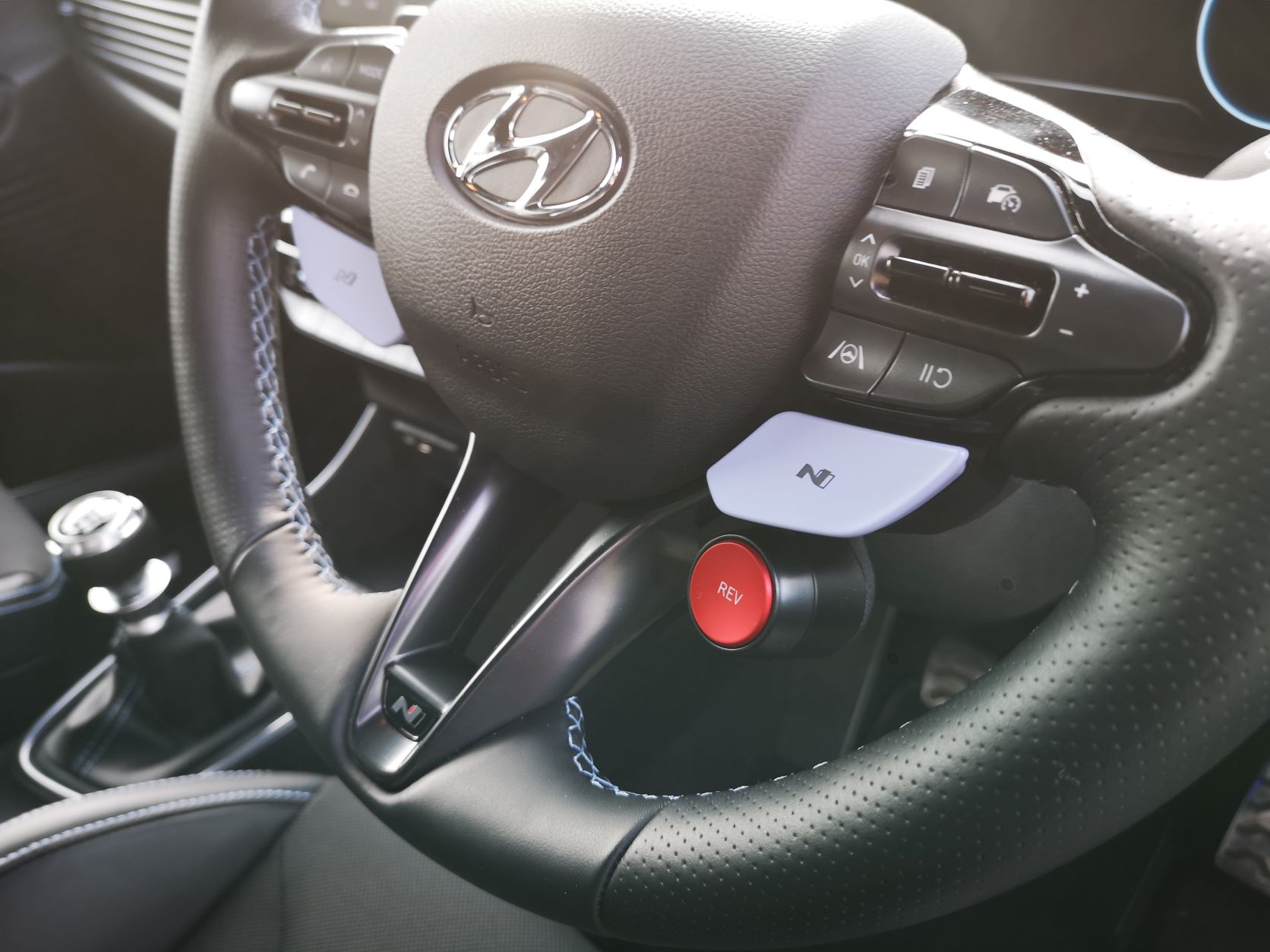 It's practical enough for most people too, with a 310L luggage space and a multitude of cubby holes and pockets for your shopping and variety of nicnacs. My regular duties of son's football training and games matched with office and mall visits offered more than adequate comfort for my small family of three.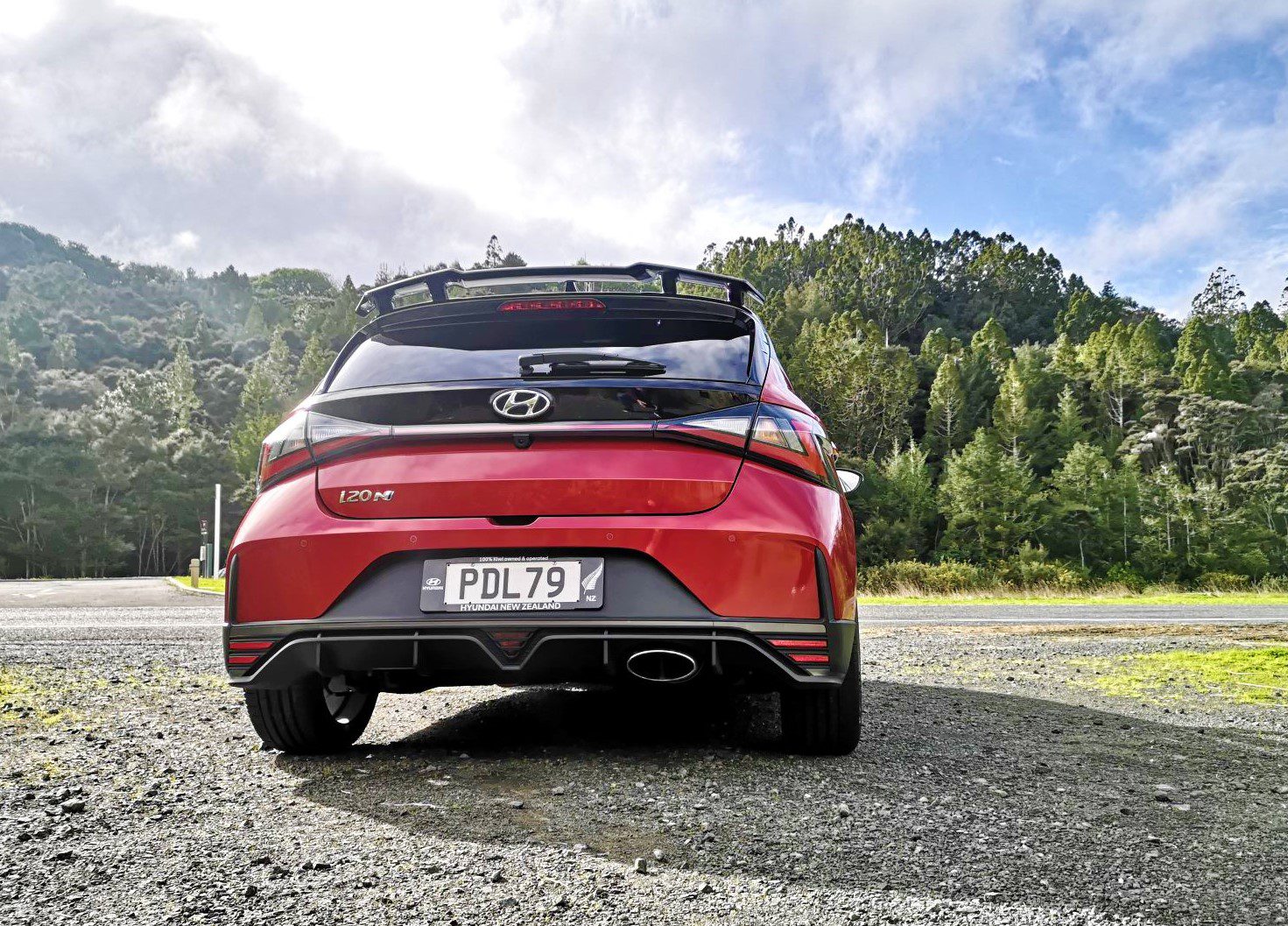 The new Hyundai i20N proved itself on the racetrack, with ample speed and cornering prowess, however, it's more than just good doing everyday life things too. It's nimble in close quarters with steering weight that doesn't require months at the gym. BUT for me, the best fun to be had in this mighty mini is all alone, in Sport+ and away from prying eyes; simply dapping up and down the gears while enjoying the gruff exhaust note as the rev needle heads north.