Okay, so small hatches might not be the biggest segment in New Zealand but that's where we often find some amazing cars that deserve more attention than they're getting. One of these absolute gems on the smaller size is the Hyundai i20 hatch. You can only get it in one trim here and that's exactly the one you want; it is, of course, the Hyundai i20 N from Hyundai's famed N-Division.
I'll be honest, I didn't actually expect an awful lot from this car, but having read Ben Selby's experience in the Hyundai i20 N, I just had to give it a go. I don't know where my preconception came from, but let me tell you, this car well and truly set me straight in no uncertain terms; it's an exhilarating ride!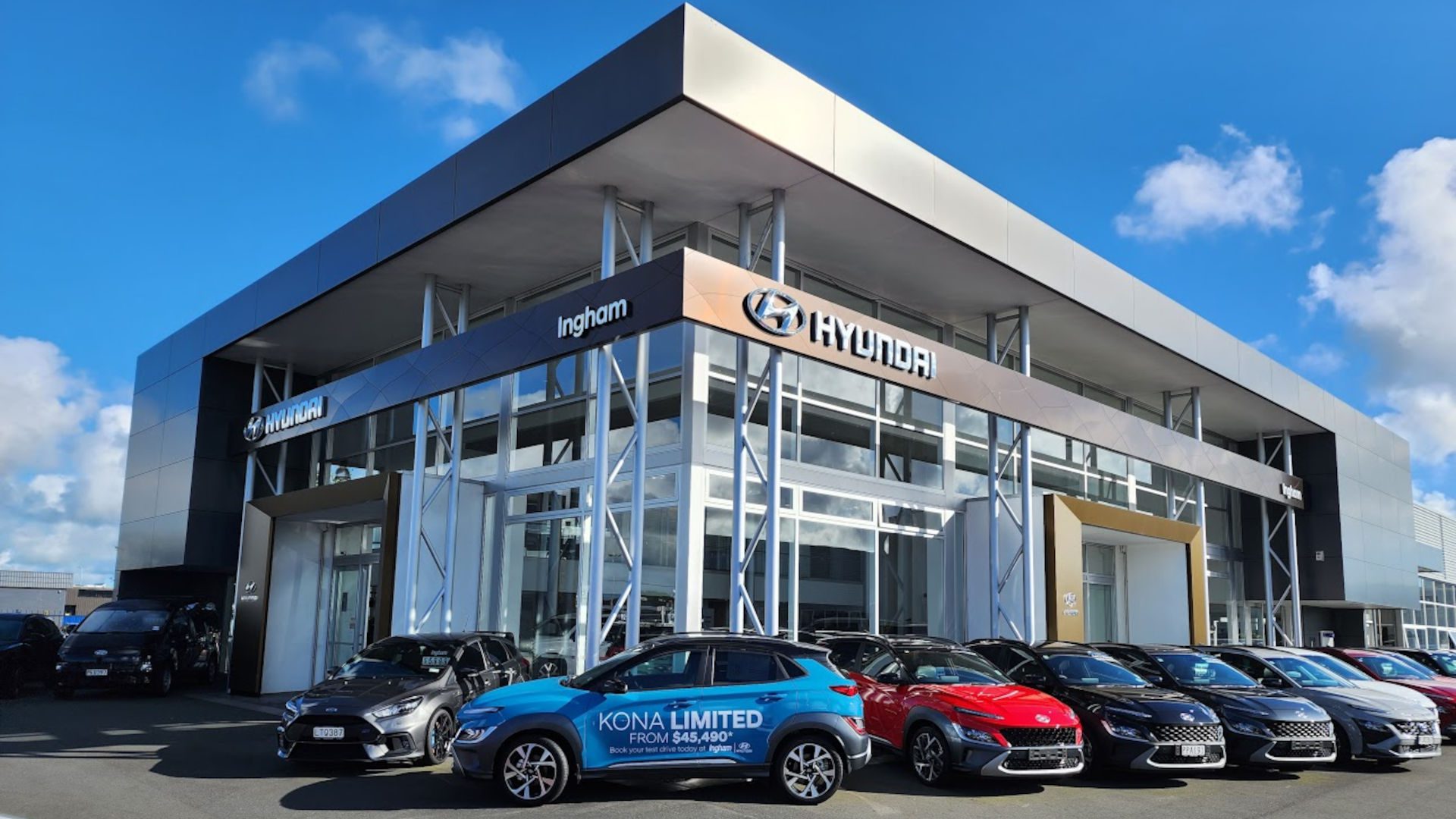 I picked mine up from Ingham's in Hamilton, the 2021 Hyundai Dealer of the Year and walking into their showroom it's immediately clear why. It's everything you'd expect from a top-tier 21st century new car dealership from the moment you drive into the carpark.
First impressions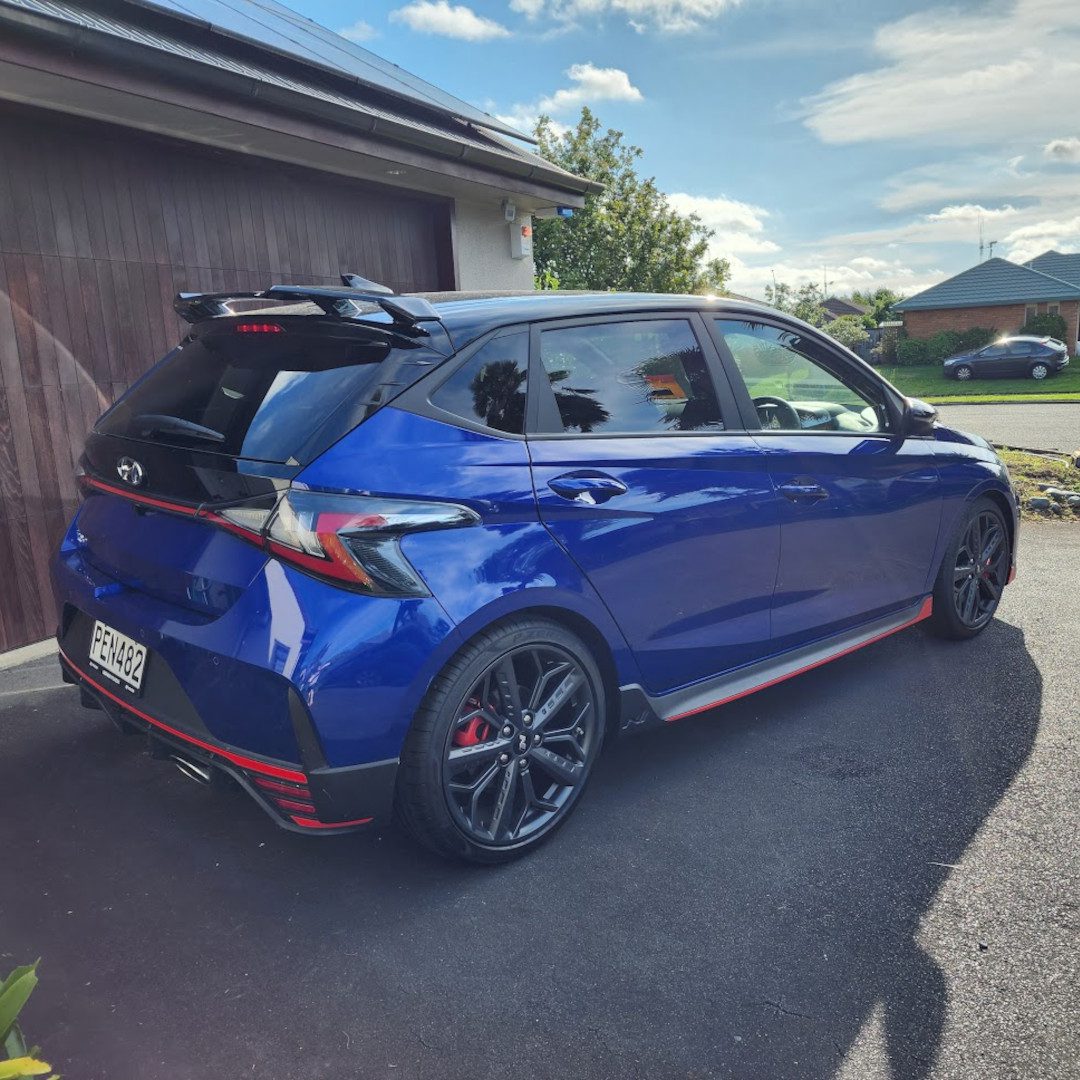 The Hyundai i20 N is the perfect blend of modern style and sporty edge. The exterior design features a bold front grille with two expansive air intakes, sharp headlight cluster, hexagonally shaped fog lamp housings and chiselled bumper making it look muscular and powerful. The silhouette is sleek and dynamic with a ground clearance of 101mm. The side profile also looks attractive due to its unique door cladding which has been inspired by Hyundai's WRC heritage. At the rear, there are dual-tone bumpers, spoiler and sharp angled taillamps giving it an overall aggressive look. Overall, the exterior design of the Hyundai i20 N offers an unashamedly sporty look that stands out from other vehicles in its class. People came to look at the car wherever I went, which is a testament to its design and desirability.
Hyundai i20 N on the inside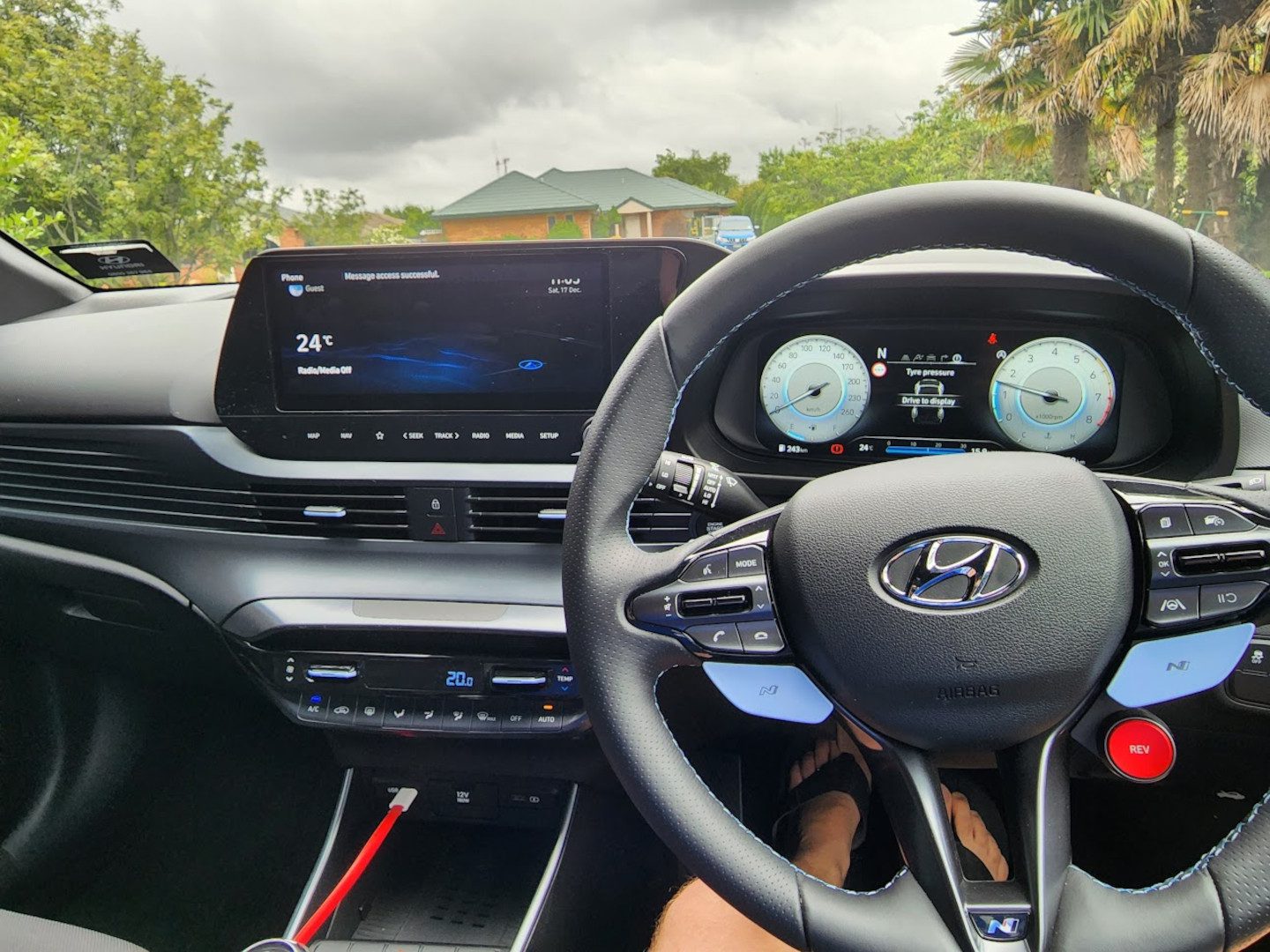 I love what they've done with the interior here. You get elements of luxury and everyday comfort with race-inspired performance. The interior of this vehicle is designed to give you a high-performance driving experience, executed through N-dedicated styling for an unparalleled level of confidence. Everything in the cabin has received the N-treatment. Steering wheel, seats, screens… even the gear shifter. It feels solid and comfortable to sit in the driver's seat and everything is clear and simple. Your buttons, dials and controls are where you'd expect them to be, even for someone like me who isn't used to driving any kind of Hyundai, and you're surrounded by high quality materials.
You get two 10.25″ screens in front of you; one for your usual multimedia where you'll plug your Android Auto or Apple Carplay in immediately and never ever once look at the built-in features and you get the N Supervision Cluster with all your driving data. It's a clear set of information, with graphics and transitions that have clearly been gamified, but it all just ads to the sheer fun of this car.
The sound system is an 8-speaker Bose setup with an external amplifier. I'm not an audiophile by any stretch, but it sounded great to me. Cranked up a bit of Guns n Roses and Crooked Royals and it's difficult to find flaws in the sound.
There's plenty of adjustments to get comfortable and enough space in the back to put two monstrously sized rear-facing safety seats to strap your little ones in for those kindy drop-offs taking the scenic route through the countryside.
You get a decent enough boot that takes 310L of life's essentials and that handy 60/40 split folding rear seat to create more space. It's not a cargo van, but absolutely sufficient for every day family needs.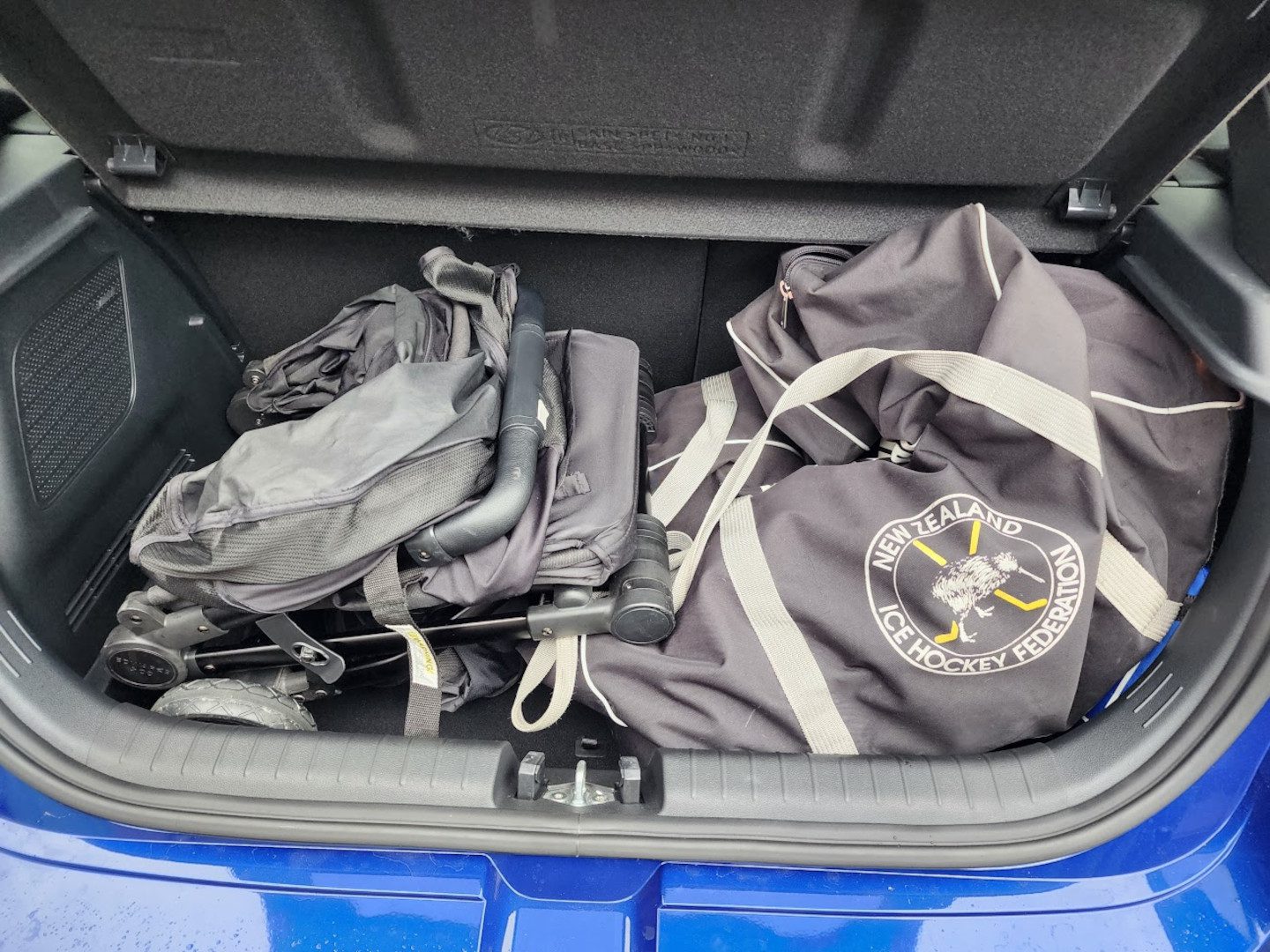 The stuff moving you forward
Under the hood, you'll find a 1.6L T-GDi petrol engine churning out 150 kW and 275 Nm of torque. The turbocharged power plant is connected to a 6-speed manual transmission, which I believe makes this car the absolute hoot that it is. It's been a while since I last drove a manual of any description… in fact, my last manual thrill ride was the SEAT Leon CUPRA R way back in 2019. I had absolutely forgot how much fun these things are to drive. Shame on me for leaving a gap like that!
What's it like to drive?
It's bloody marvelous, that's what its like. Driving the Hyundai i20 N is an active participation event. My normal daily drive involves turning the car on, setting the smart cruise control, pointing the car in the right direction and from then on I just supervise that the car takes me where I need to go. There's no shifting, no breaking or accelerating… I still have to operate the turn signals but I'm sure the next software update takes that away from me, too.
But driving the Hyundai i20 N is what driving used to be like! My kids will never experience it and that's kind of sad, but I have and I had forgot how much fun it is to actually drive. Granted, most of my driving in this car was some rather spirited travel around the Waikato countryside, but even when heading to the rink with the family onboard, it's a completely different experience. It's quiet enough in the cabin, but you'll want to go around bumps and potholes, because you'll certainly feel those in this car.
As always, I put my wife behind the wheel and she didn't notice it was a manual until she was turning it on. I expected to see disappointment, but she absolutely loved it! There was a period of re-learning and hesitation, but within minutes she began to appreciate what we've lost by moving away from manual transmissions.
Out and about having fun, the Hyundai i20 N is a bonafide hot hatch. It's not an explosive and difficult drive, but it is plenty fast enough to 100 km/h and for my "spirited driving" route you wouldn't want anything more. It wouldn't be my choice of a great track rocket, but it is capable of giving you a thrill ride and that's exactly what you want.
Why would you buy one?
You're not short on reasons why you might consider purchasing a Hyundai i20 N. You'll enjoy the increased performance and handling on offer, with its powerful engine and sport-tuned suspension. The Hyundai i20 N also has a more dynamic and aggressive design to your standard hatchback, which is definitely appealing, I don't care who you are. Most importantly, however, the Hyundai i20 N is far more practical than traditional sports cars, with more cargo and passenger space so it's not even a stretch to use one as your daily driver. You get that fun and sporty driving experience when you want it, but don't need to sacrifice fuel efficiency or everyday usability… well, maybe you sacrifice a little bit of the fuel efficiency if you drive it like I did. 😉
At that $50k mark, it's a pretty compelling proposition and how long do we have to buy cars like this, I'm not so sure.
It was definitely a downer of a morning returning my Hyundai i20 N to Ingham and it's been one of very few cars that my daughter has asked me to get it again. Turns out it was just as much fun for the kiddos as it was for dad.
If you're keen on spicing up your daily drive, it'll be hard for you to go wrong with the Hyundai i20 N. I'm sure the folks at Ingham can help you with that.