To many raised eyebrows, Ford's longest running and much loved nameplate, the Mustang, has been given a family-sized silhouette and an eco-friendly electric heart. But fear not my petrolhead friends, not only is it more powerful and quicker off the line than a V8, but it's just as 'tail-waggy' too. It's muscle with a capital E.
Most of you would know much of the history behind the Ford Mustang, but were you aware that it could have just as easily been called the Cougar, Torino or if Henry Ford II had his way, the Thunderbird. In fact, if it wasn't for their executive stylist John Najjar sneaking Mustang into the ballot… Anyway, the name stuck and for over half a century it's been the epitome of Muscle and cool, but the dilemma is, would it last another 50-years as a V8 – the simple answer being no.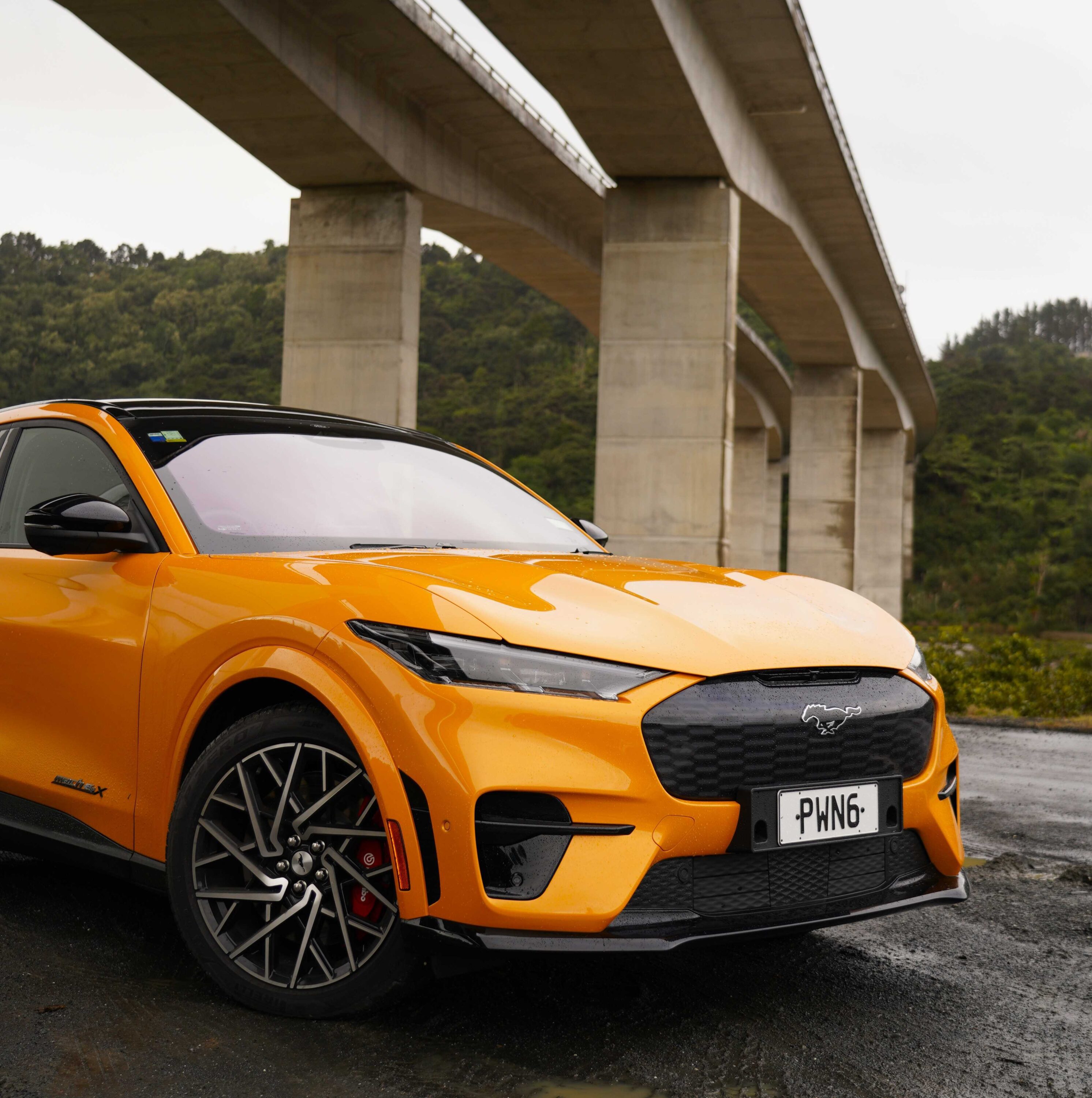 The Mustang Mach-E embraces both the global love of SUV's and the rapid move towards electric power, while the GT adds in a huge dollop of 'stang-ness (thrills and fun). In terms of looks, the GT comes with its own 'GT-only' colour, Cyber orange (over and above the other 5 options) but its grille panel is uniquely black the hoofs are 20-inch, the tech is state of the art and did I mention how powerful it is!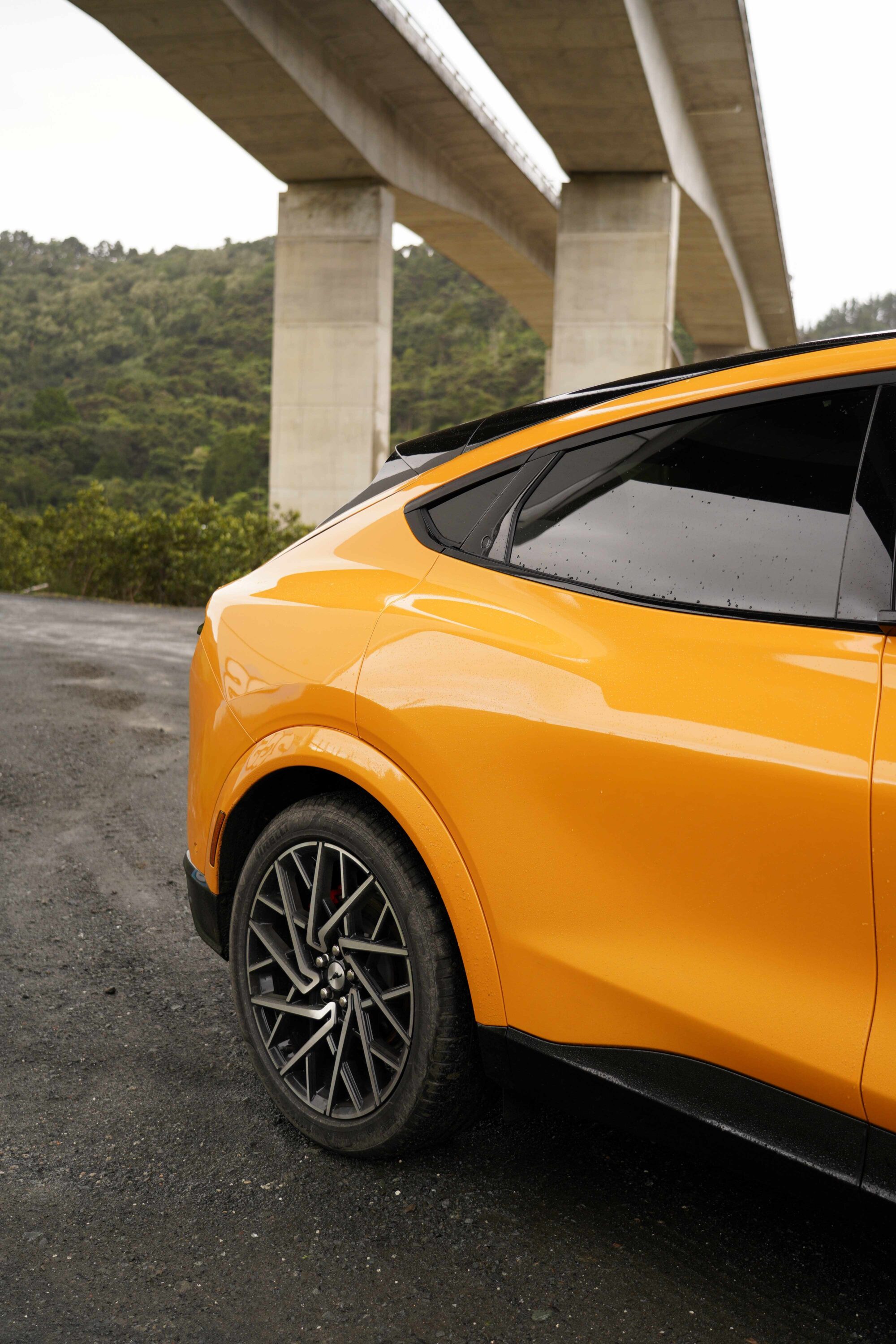 Although the Mach-E is shorter and taller than its two-door sibling, it does still come with a long-ish, shapely nose, wide haunches and tri-bar rear tail lights, And the designers have cleverly added a tapering look to the roofline while ensuring that there is room in the back seats for at least two '6-footers' to sit and 402L of boot space for, stuff.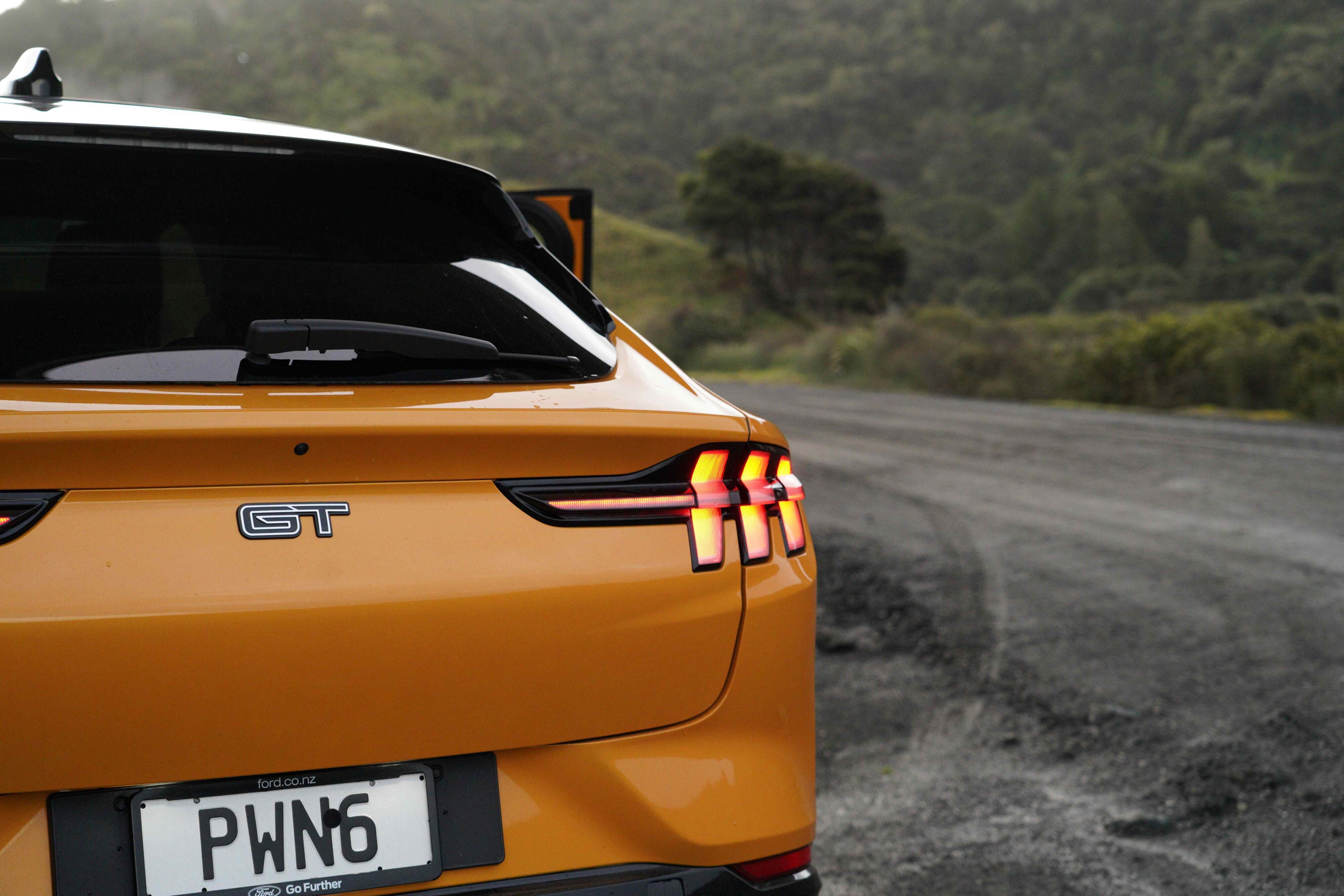 The headlights are LED and there are plenty of aerodynamic features such as vents, spoilers, and an 'E-Latch' door handle to give the Mach-E a 0.3cd drag coefficient and there's an 81L 'frunk' under the bonnet that's drainable for those that want to fill it with ice (for drinks) or put wet trunks in – 'trucks in the frunk' has a certain ring about it don't you think.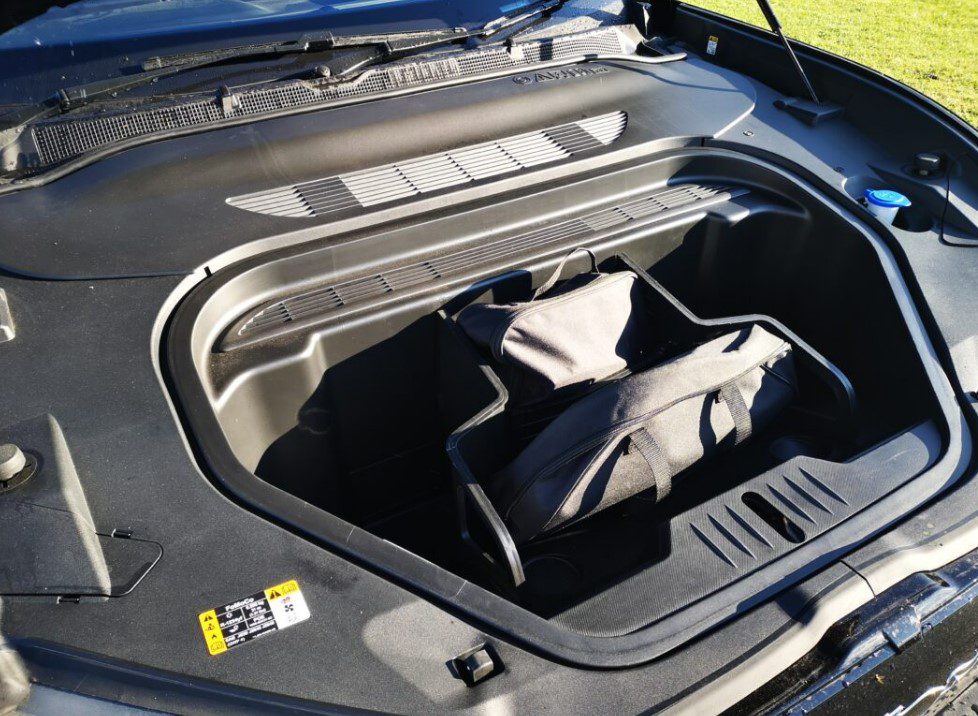 The interior is somewhat different from that of the V8, with the inclusion of space and rear seats that you can actually sit in. The front seats themselves are sporty and supportive for when cornering at velocity and the trim is modern but not futuristic. In a nod to the original, there is a double cowl dash, that actually doubles as a soundbar (it has an awesome B&O sound system) and then there's that infotainment screen.
Loud and proud (and in portrait style), virtually everything you need to do, driving modes, on-pedal driving, ambient lighting, propulsion sounds, driver and safety aids (the list goes on) is all handled by the 15.5-inch screen. It's easy to read, easy to use (Sync 4A) and seemingly endless in its functionality. Things of particular interest (to me at least), the large round volume dial doubles as a heated seat intensity controller AND an AC temp controller, the EV menus offer up screeds of information and the 'untamed' driving mode offers direct access to all the joy that this electric 'Stang can give.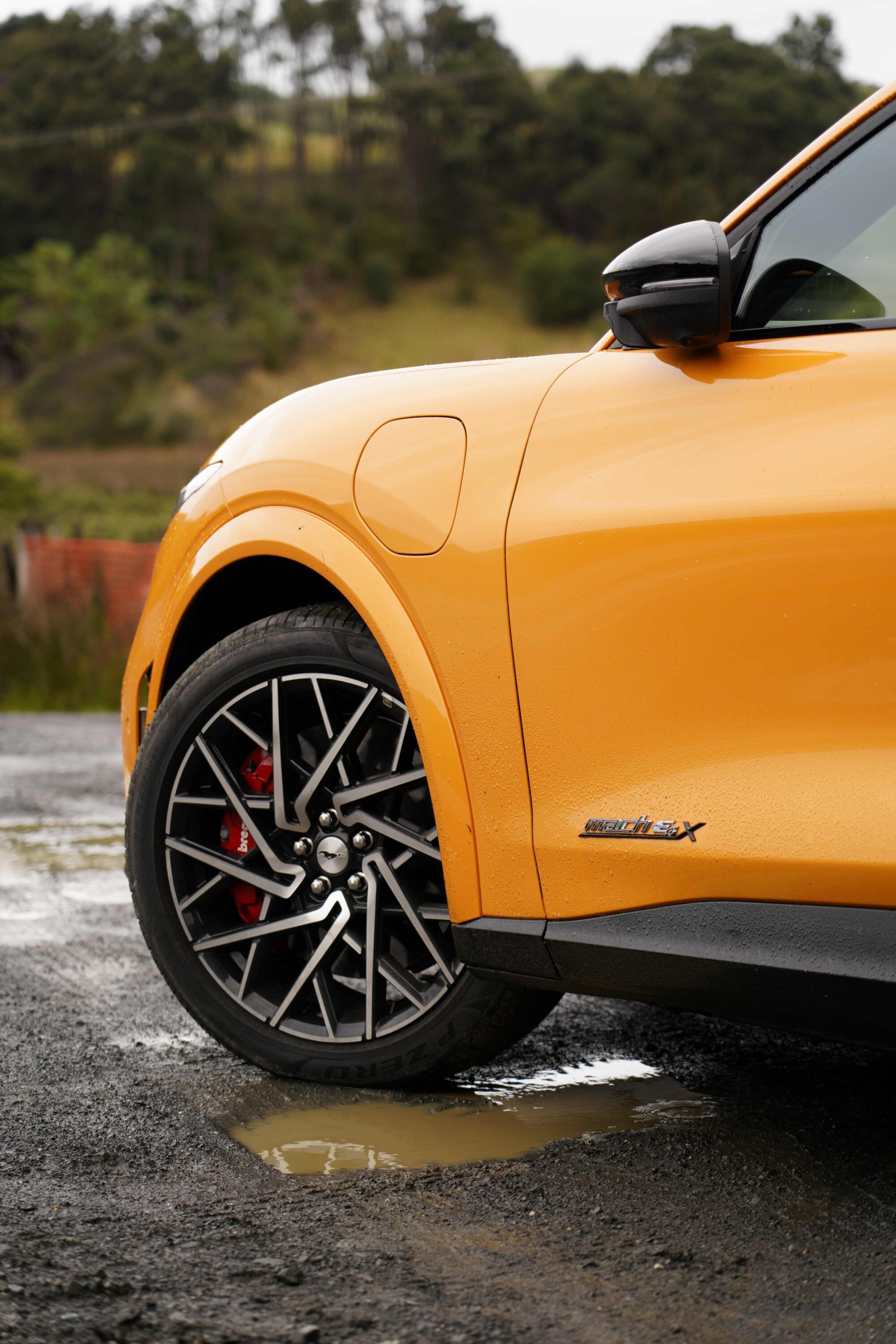 Now about that power. The charging point is on the front wing and behind the flap it humorously confirms that this is where the 'horsepower' is charged – it even comes with a horse pic. The GT has a 98.7kWh battery that Ford claims (WLTP do too) is going to give you 490 km of range. It's less than the non-GT AWD model, but even so, I assume that to get to that range you'll need to NOT drive it in the spirit that it's intended. And on that, the GT comes with two motors that when combined, gives you (are you listening V8 owners) 358kW of power and a whopping 860Nm of torque. Zero to 100 can be achieved in a mere 3.7 seconds and yes you can get the tail to wag should you find a legal place to do it.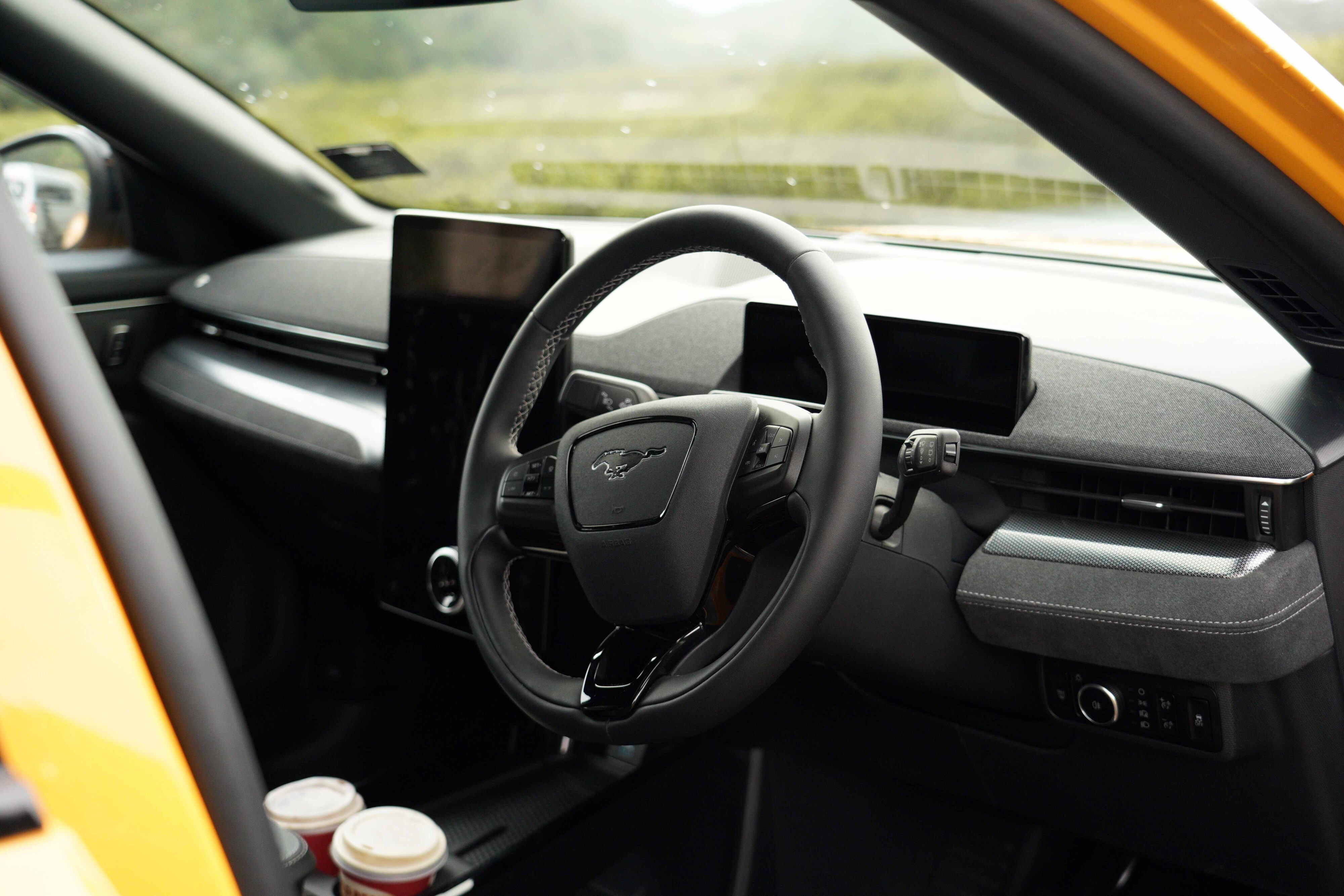 When not trying to beat land-speed (actually the Mach-E calls it groundspeed in true aircraft style) records, the electric Mustang goes about its SUV duties with ease. The cabin is well insulated and isolated from the outside (thanks in part to the acoustic glass), there are numerous camera views for tight spaces, it will self park, there are lots of cubby holes for family things and plenty of charge points for devices (and wireless phone charging). Seating position is good with visibility only slightly compromised by the wide A-pillar. The equally thick steering wheel feels substantial in the hand and steering gets more positive as you move through the driving modes.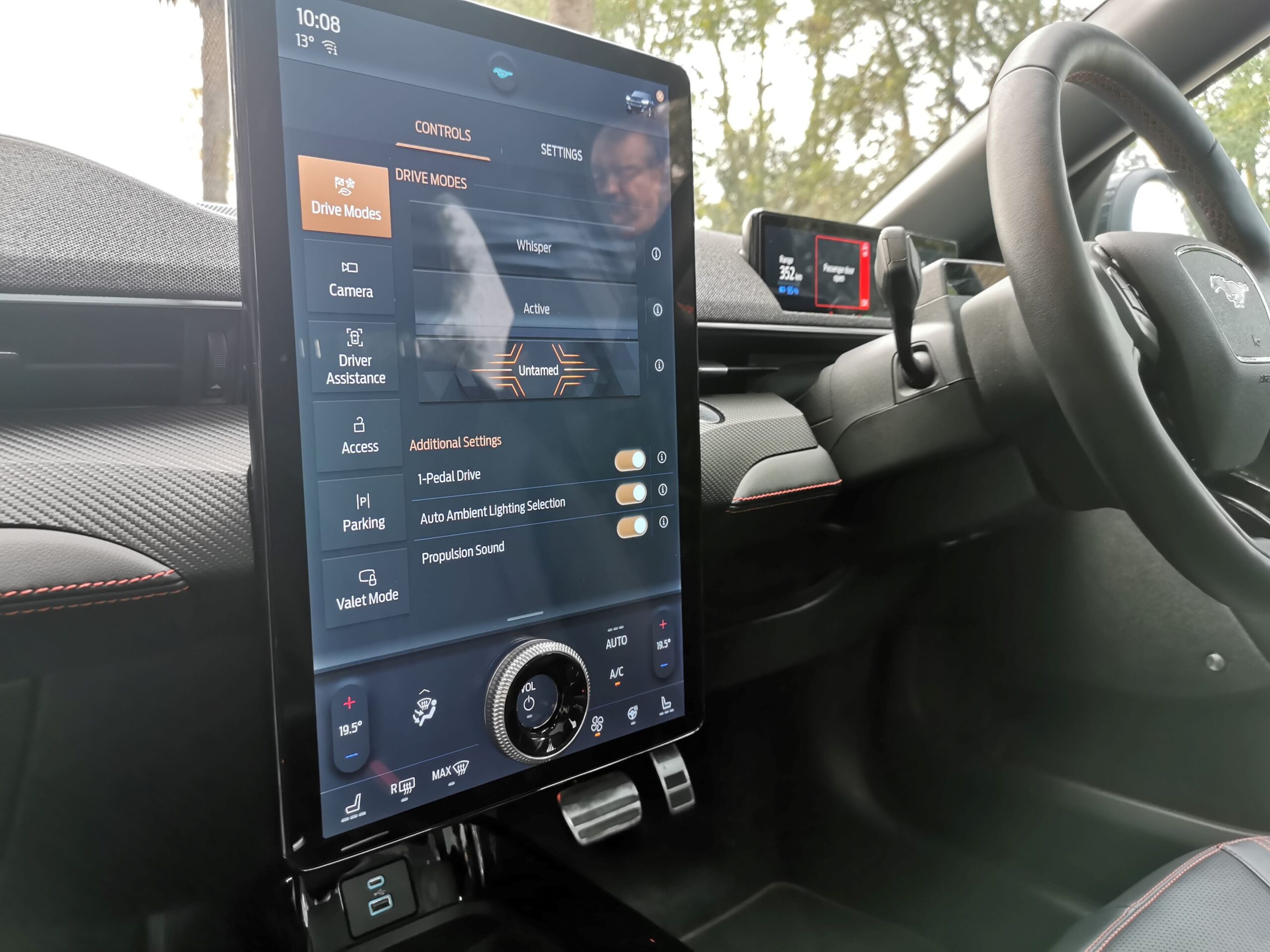 Regen charging is aplenty and the one-pedal mode means that you barely have to use those Brembo brakes much of the time, and the 10-inch slimline instrument cluster acts like a head up display, giving you the basic facts, speed, battery level, meaning that you don't have to look at the centre display as in some other EVs.
But to me, the Mustang is all about the thrills and for that, the GT simply excels.
Stamp on that accelerator and the world moves by at heart racing speed, plus with the slightly V8 sounding propulsion soundtrack, your ears are along for the ride too. I won't pretend that it's as guttural as the ICE motor, but it's still a VERY pleasing experience.
The chassis feels rigid and since the GT comes with Ford's MagneRide Adaptive Suspension (that adapts to its surroundings and driver inputs thousands of times per second), cornering is a positive experience and something to look forward to with gusto.
On that note, my first experience with the GT was on the Hampton Downs racetrack where we were encouraged to make the Mach-E step out, I can tell you hand on heart it does this with ease, but it also does it with full control and the moment you lift off the throttle it becomes more orderly than catholic nun – or even a hospital orderly (so car meet spectators can rest easy).
Having been behind the wheel of many EVs thus far, I can happily say that the Mach-E is a one of a kind. It's an SUV that can take itself seriously but on the whole chooses not to. It's a maverick, a rebel and make no mistake, a Mustang. Viva le pony or long live the Mustang (whatever powers it).