After years of rumours, renderings and speculation, Ferrari has finally unveiled the Purosangue, the first four-door, four-seater car in its history. Yes, car, because they really want to detach the term SUV from it, even though it checks many of the boxes to be one. Maybe that's why the marketing material says it is "Unlike any other", and that's where the genius lies.
2+2 cars have played a significant part in Ferrari's history, with many a memorable car in their lineup offering that shape. With the Purosangue, the Italian automaker is 'updating' it to what the market expects not only from the family car shape, but also from one that touts the prancing horse badge.
Purosangue is Italian for thoroughbred, so to guarantee its "pureness", Ferrari has mid-front-mounted the engine with the gearbox at the rear to create a transaxle layout. This delivers an almost perfect 49/51 weight distribution no strange to fully-fledged sportscars. The engine in question is the incredible 6.5-litre V12, which delivers the highest output in a car of this category (at over 533kW) and performance figures that while similar to what the competition offers, will have the naturally aspirated symphony only found here.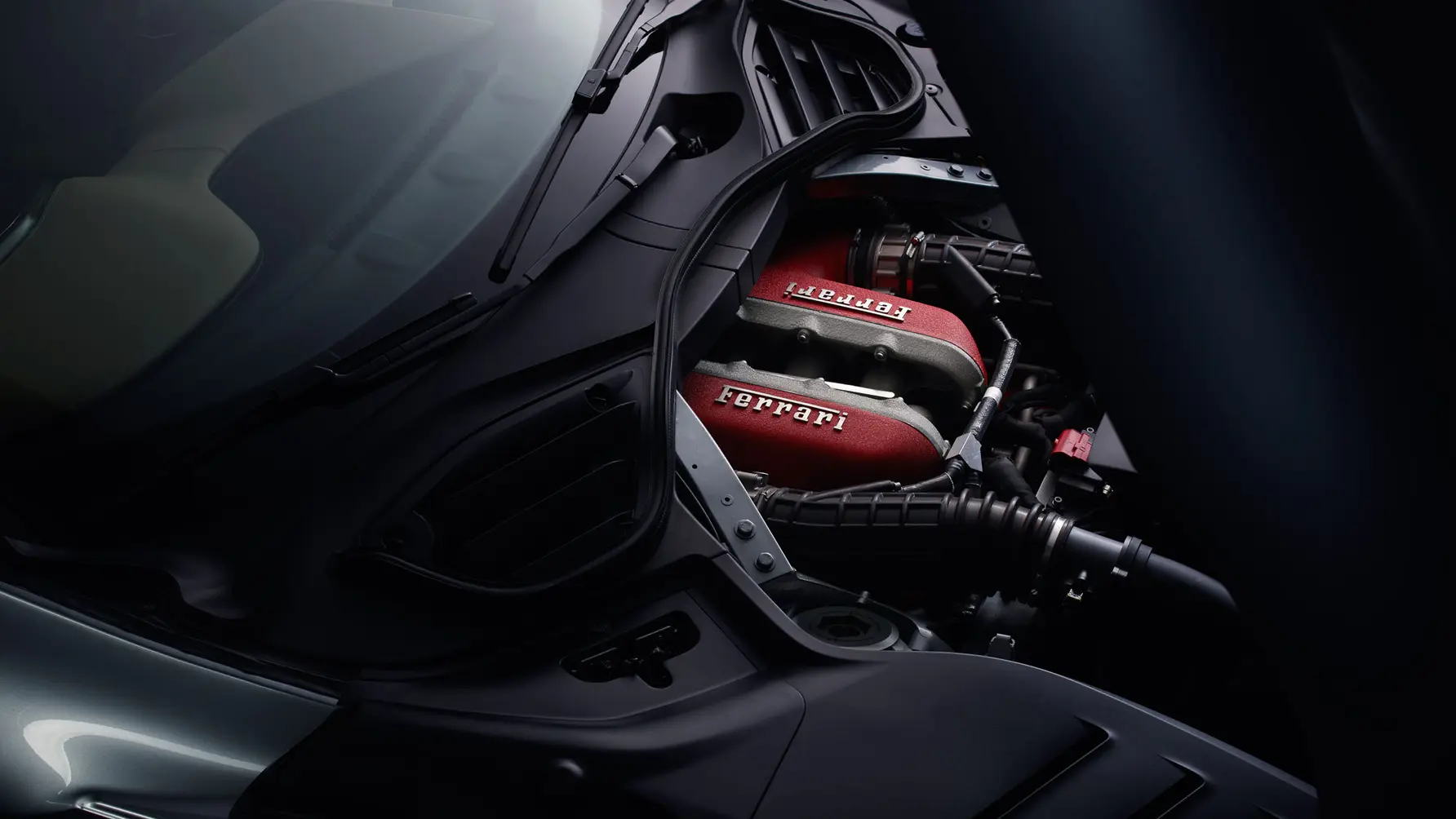 As for the transmission, the layout of the 8-speed, dual-clutch transmission now offers a dry sump and improved clutch performance, transmitting up to 1200 Nm in dynamic torque during gear shifts. New ratios bring shorter and progressive gears, with a longer top ratio geared for greater economy in motorway driving. Down shifts have been calibrated for smoothness with a specific focus on driving pleasure and emphasising the sound of the new V12 plant.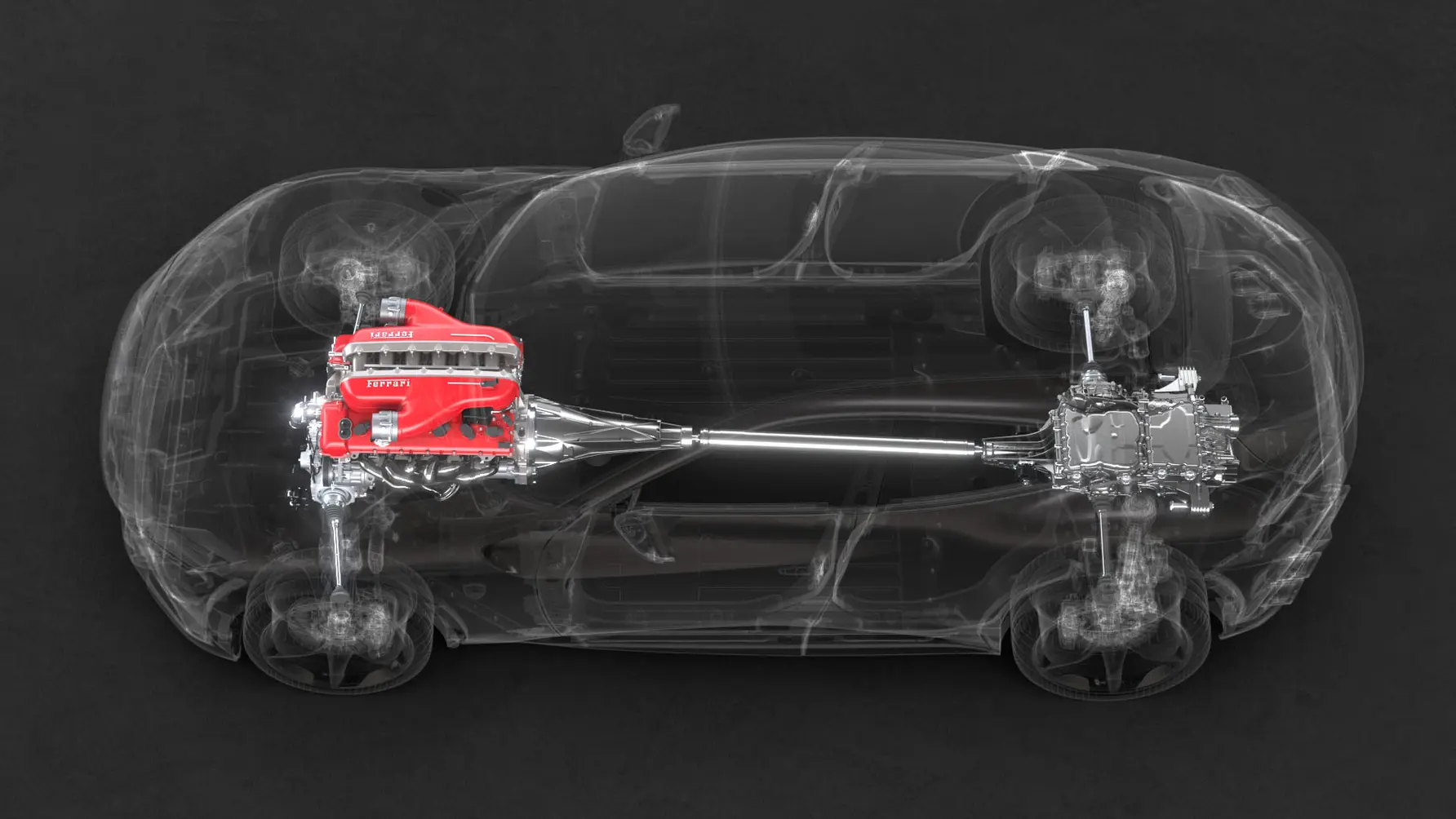 The dynamics are handled through a set of bespoke wishbones that use True Active Spool Valve (TASV) technology from racecar team Multimatic, and combine a 48V fast-reacting electric motor for each shock absorber which spin up to supply pressure when cornering and counteract the natural body roll. Rear wheel steering has also been added to further increase manoeuvrability and nimbleness.
An array of driver assistance systems are offered, including adaptive cruise control, automatic emergency braking, lane keeping assist and departure warning, auto high beam, blind spot monitoring, rear cross traffic alert, traffic sign recognition, driver drowsiness and attention and the mandatory rear view camera. There's also the hill descent control, seen for the first time in a Ferrari and also for the first time in a car trying not to be called an SUV.
The all-new chassis has a carbon-fibre roof to keep weight down where it matters, and offer rear-hinged back doors (the 2022 name is "welcome doors") to make access easy while keeping the car compact. The boot is the largest ever seen on a Ferrari at 473L and the rear seats fold to increase the luggage space.
This new project posed a completely new challenge for Ferrari's aerodynamic department, when trying to balance exterior design, interior room and efficiency. They achieved that through the use of diffusers and aero elements across the whole car but especially around the front end and roof. Drag figures haven't been released, but judging by how much Ferrari is celebrating the work put there and the fact that even a rear wiper became superfluous, one can imagine the results will speak for themselves. Specific forged wheels, 22 and 23 inches big, were designed for the Purosangue based on the same aero concept as those on the SF90 Stradale, in which radial elements on the outer channel facilitate hot air extraction from the wheel arches.
When Climbing inside, Ferrari wants you to experience "an extremely elegant, sporty lounge". Seating is strictly for four, with no three-row in the plans, and each row of seats gets its own climate control system and an electrically adjustable bucket seat. Up front, we see the updated corporate Ferrari cockpit, this time with even more tech for the passenger which gets a 10.2" display. Material choice and finish is typical of the Italian make, but there are some surprises like the optional trim in high-strength fabric used in military uniforms, which should offer exceptional toughness and durability.
There is no shortage of equipment for the Purosangue, from optional massaging seats to being able to replace the carbon fibre roof for a glass one. As standard, buyers will get a Burmester 3D Sound system with a big focus in sound quality, and also infotainment that offers Android Auto and Apple CarPlay – the last being a welcome addition as it used to be an eye-wateringly expensive (for us) option until recently.
With prices expected to start from around USD $400,000, the Purosangue is playing on a league of its own, as all its potential competitors (Lamborghini Urus, Aston Martin DBX, Bentley Bentayga) cost around half as much in some markets. It is possibly going to be rarer than them, and will inevitably face resistance from purists like the others did. That didn't stop interest from growing, though, and if the Purosangue needs to exist so that Ferrari can keep the other product lines running like the Cayenne did for Porsche decades ago, then the purists better deal with it.