When Kia took the wraps off their Stinger back in 2017, it was clear the Korean car maker wanted to shift up a gear, pardon the pun, when it came to performance. Taking the fight to the quick German executive saloon market was not a move I expected. The Stinger was Kia's first attempt at a rear drive performance saloon, and as many in the specialist motoring press have stated, it was a good un.
So, four years later, the Stinger has undergone its first refresh. Its an automotive nip and tuck which is more than skin deep. As I missed the boat back in 2017, I was eager to make up for the lost time by getting to grips with the Stinger GT Sport in 2021.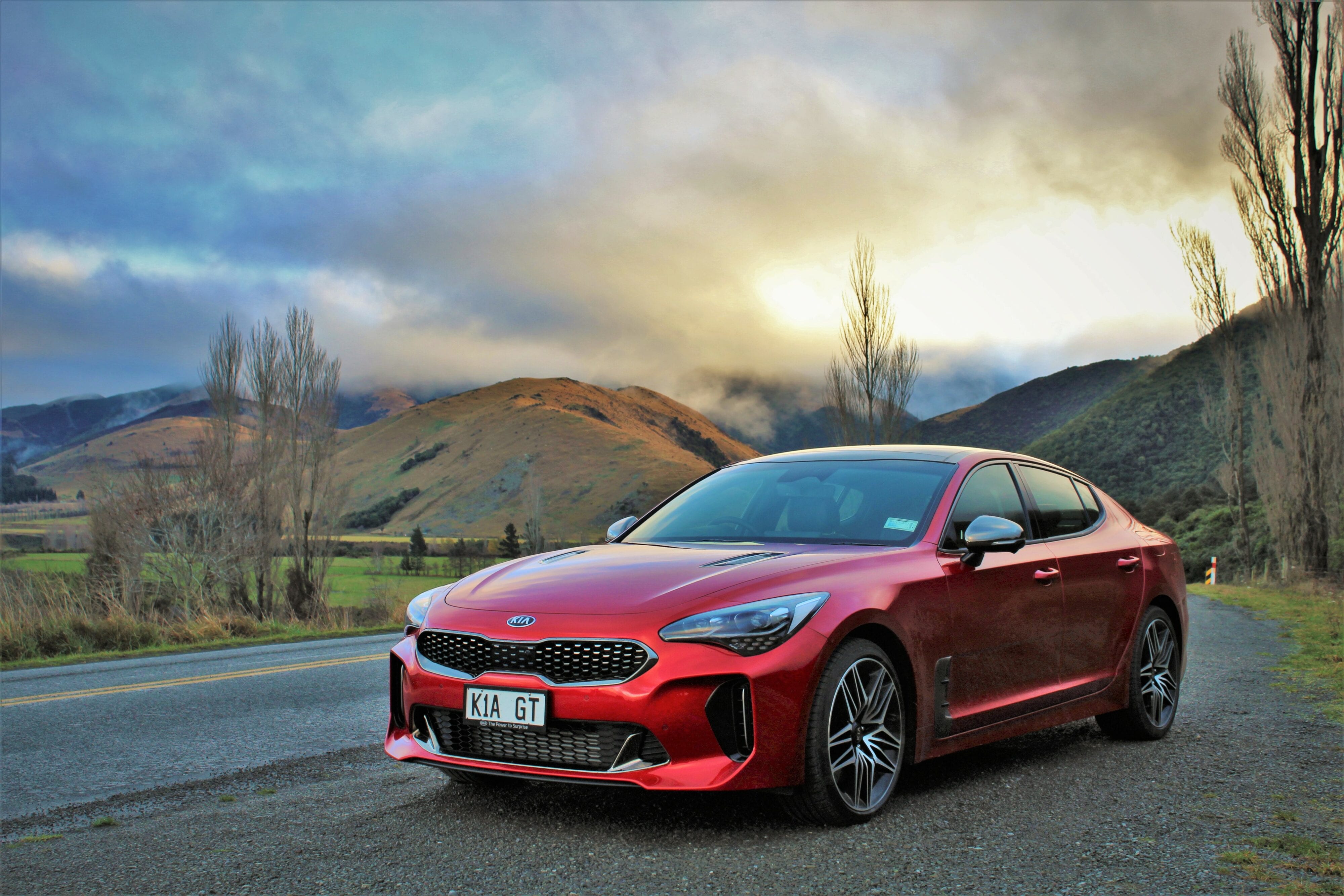 The Looks
On the outside, it still looks good. That wide stance, wrap around headlights and a smattering of gills and vents look just as complementary as before. In fact, at first glance you would be forgiven in wondering if anything has changed at all? The 2905mm wheelbase is the same, and so is the 4830mm length. Take a second gander and you notice the revised headlights which are now full LEDs. The same goes for the taillights too.
The turn signals also consist of 10 individual LED lights in each. These are arranged in a grid set up to ensure anyone in sight of your Stinger will know without question which way you are turning. Other exterior changes include a new set of tasty 19-inch alloys. Apart from this, its just as handsome as before, and more so with those LED contact lenses.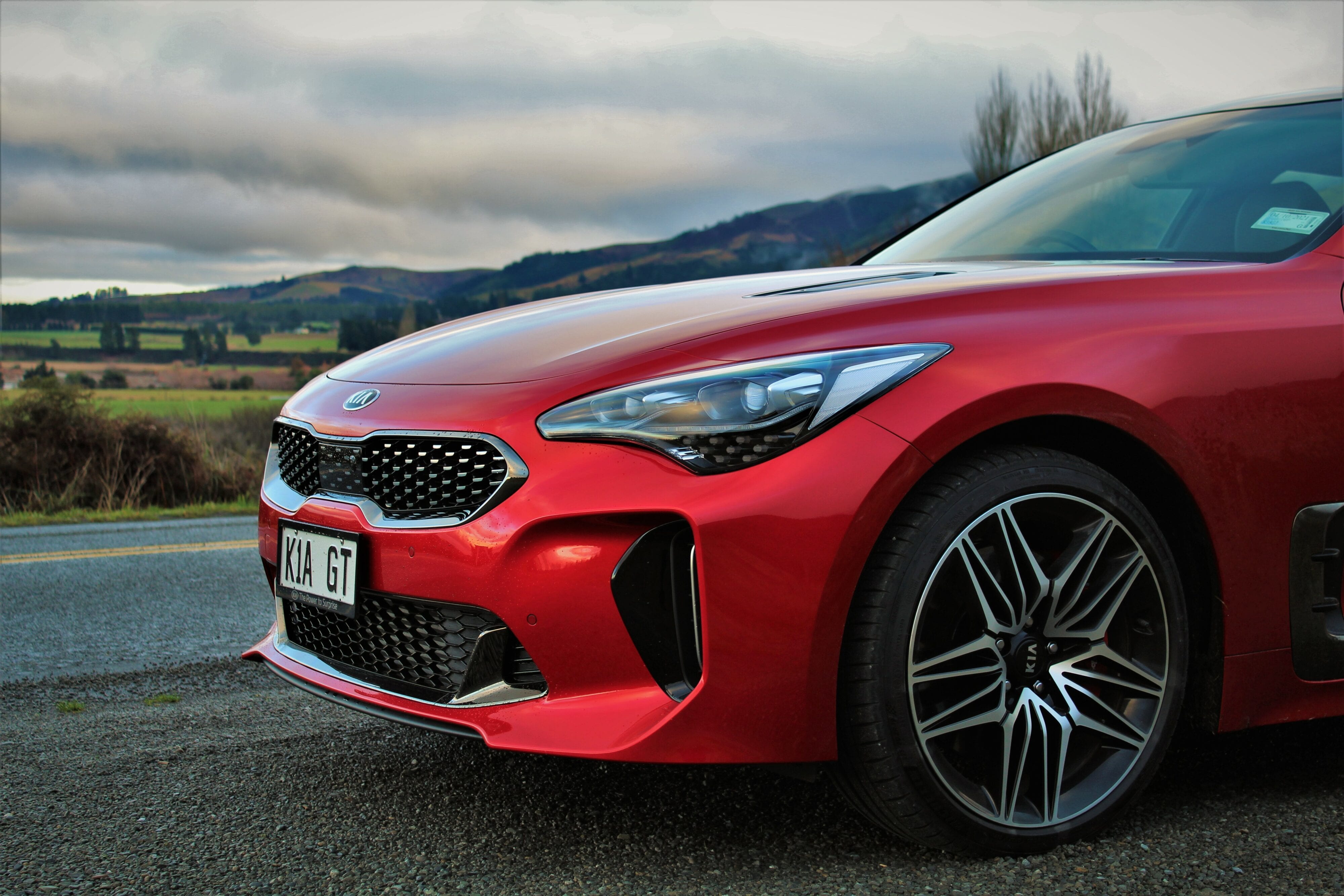 Under the Bonnet
Grunt is still courtesy of Kia's 3.3L twin-turbo petrol V6 engine mated to an eight-speed automatic gearbox. For 2021, there has been an increase in power, but don't hold your breath as its only 2kW. That said, 274kW is still ample grunt and those 510Nm of torque we saw last time is still just as welcome. With drive going to the rear, zero to 100km/h is despatched in 4.9 seconds, which is still brisk in anyone's language. Kia also claims fuel consumption figures of 8.9L/100km and a C02 emissions of 239g/km.
The Interior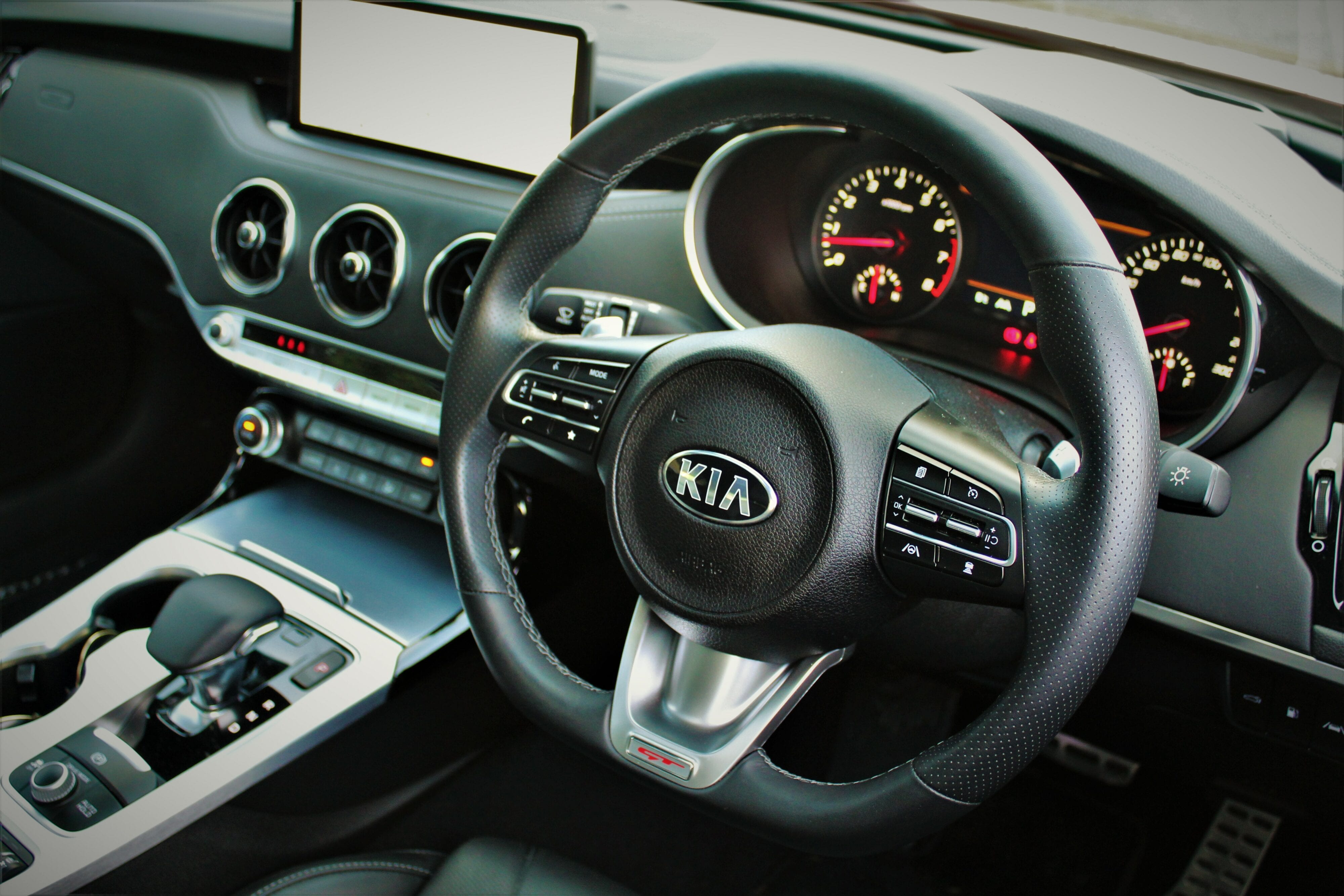 Hop inside and you find a very well laid out interior. I loved the leather surrounding the triple air vents and the subtle use of buttons. Stinger fans will see that Kia have almost carried everything over from the first generation, but there are some upgrades. The biggest of these is Kia's new 10.25-inch infotainment system. Kia's infotainment screens are some of the best around, and this system is very much the same.
Despite being a bit of stretch for the driver to touch, the system itself is very intuitive and clear. Plus, the 15-speaker Harman Kardon Sound System provides symphonic bliss at your command. The Stinger packs a good amount of creature comforts for convenience and safety, including Apple CarPlay/Android Auto, active cruise, lane keep assist, forward collision avoidance, reversing camera, remote engine start, safe exit warning, and blind spot collision avoidance assist.
The latter of these activates a blind spot camera which you can view between the speedometer and rev counter when you indicate left or right. There are also 406 litres of boot space, which when the rear seats are folded, increases to hefty 1,114 litres
The Drive
Once you wake up that 3.3L turbo V6, the sweet sound of six smooth cylinders purring away provide a welcome addition to your immediate surroundings. Blip the throttle and while the response is not immediate, those twin sets of dual sports pipes at the rear amplify quite a nice V6 bellow.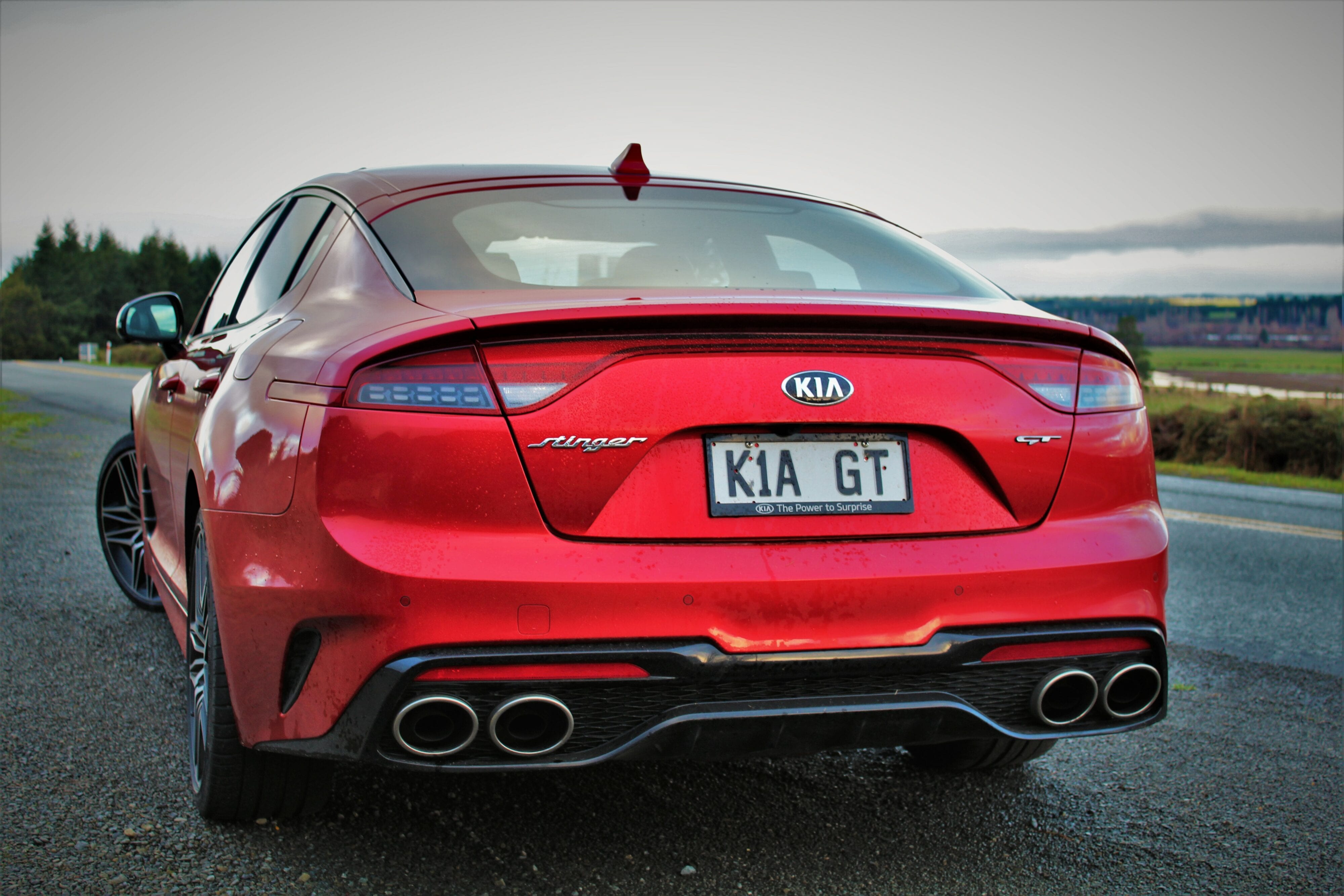 From the get go, its obvious the Stinger GT, while being a comfortable place to be, is set up more for all out sportiness all the time. Ride comfort, despite being in comfort settings, is quite firm in places. I wouldn't call it jarring by any means, but its not as waft-able as I would have thought. In ECO mode and feathering the throttle, I was able to average 10L/100km which for a twin turbo V6 wasn't too bad. Plus, ride comfort aside, the Stinger is pretty unintimidating to drive around town.
Leaving built up areas and out towards Ashley Gorge, the temptation to engage Sport was too good to resist. In Sport mode, the bolsters in the seat contract to hold you firmly in place and the six-pot turbo engine note gets sharper and louder. Throttle response in Sport is improved but it still requires a firm boot for you to move. Switching to manual shift, the eight-speed gearbox shifts fine, but is a tad slow going up through the gears.
However, this is no real hardship when you point than handsome nose in the direction of some twistiness. The roads around Ashley Gorge provided the perfect canvas for the Stinger to do its thing. Steering is nicely weighted and very responsive, allowing you to turn in harder and nail the apex of every corner. Send most of that 274kW to the rear wheels in a corner and the Stinger is very manageable.
The level of grunt is just right. Sometimes a saloon car with what feels like a million horsepower could bite back if unshackled, but the Stinger gives you the confidence to push harder with every bend. Push hard enough and the back end will start to come out to play too.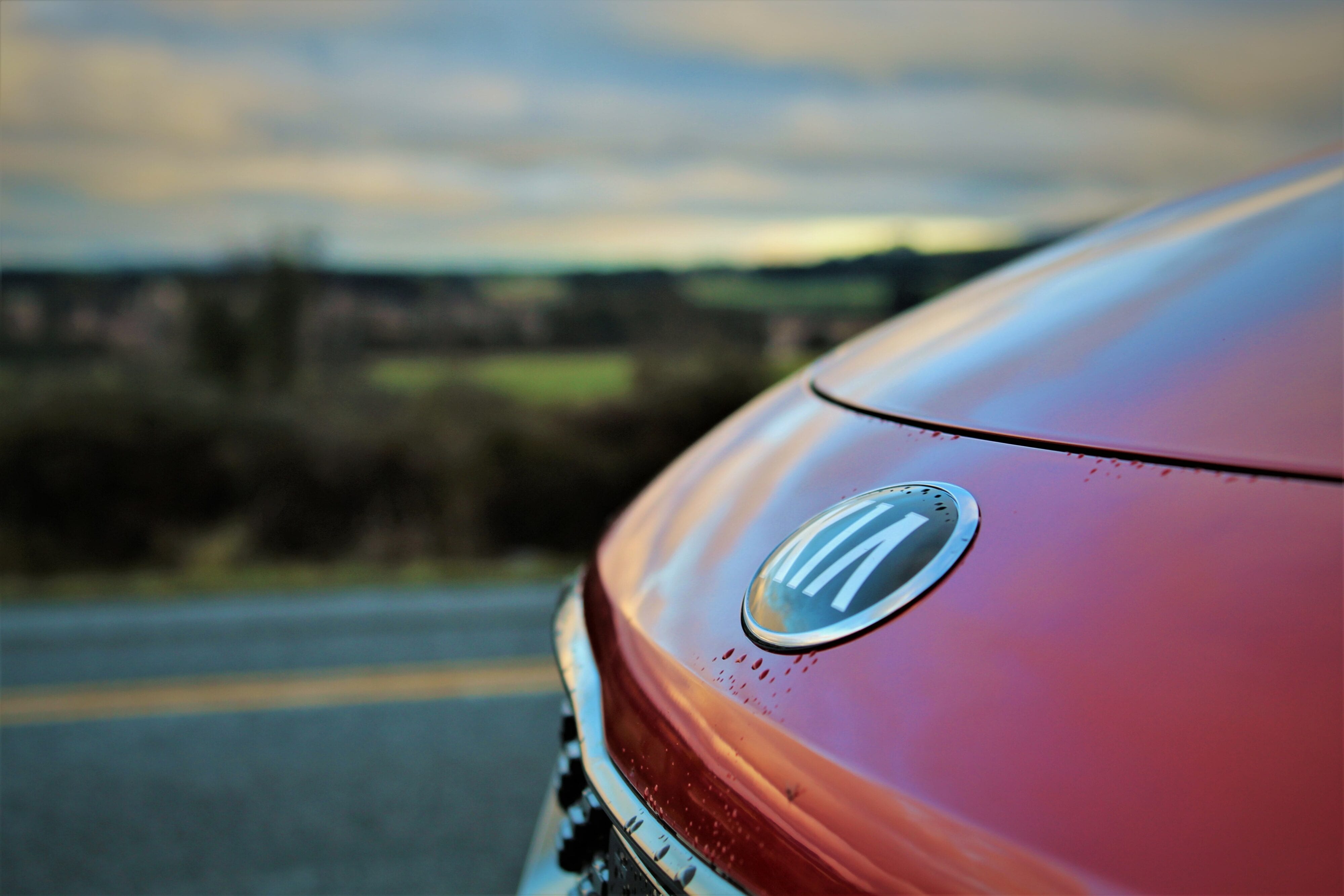 Ashely Gorge's rolling hills often leave cars taking flight for the briefest of moments. The Stinger on the other hand feels planted and more stable at speed. Despite sounding delightful at high rpm, I do wish there was a bit more drama when you lift off. Maybe a few crackles and bangs like a far-off battlefield wouldn't go amiss? When you have finished partaking in driving exuberance, the Stinger plays its party piece. It is a great ground coverer. Things quieten down and you can have a relaxed cruise to your destination.
Verdict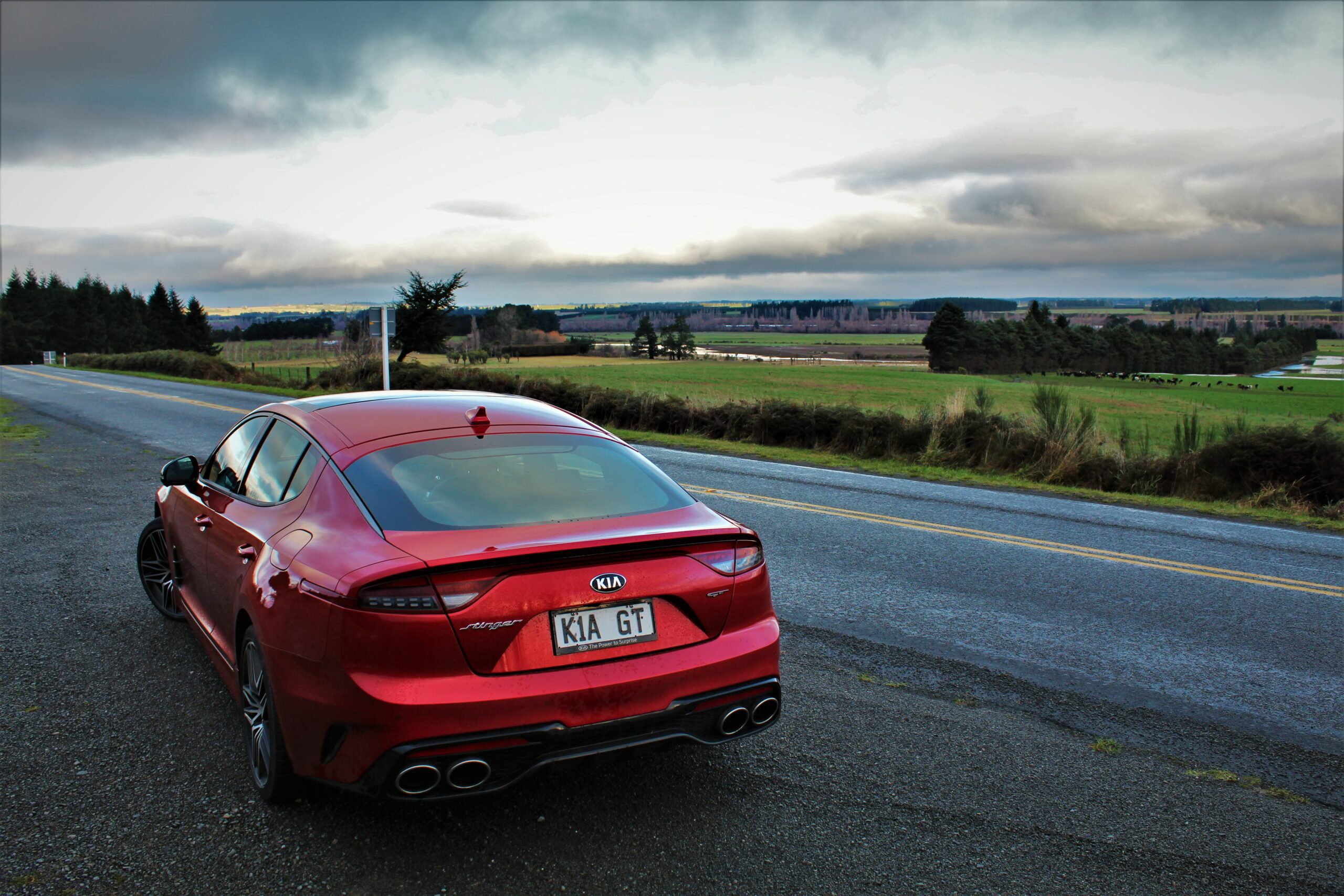 What makes the Stinger such a tempting proposition, is that for all its capabilities as a performance saloon, it is still great value. The Stinger GT Sport retails at $79,990 plus ORC. This undercuts its nearest rivals from Mercedes and BMW considerably.
So, was the Stinger GT Sport worth the wait? You bet. The saloon segment is a shadow of its former self for sure, but the Kia Stinger has injected it with some plucky fun and bang for your buck. This is one sporting saloon you simply must have a peep at.
RATING: 4/5