Prior to last year, the first van one would think of with a Hyundai emblem was the proven iLoad and its sister, the iMax. Now, there is a new ship in the sector in the form of the new Staria. Like its predecessors, the Staria is available as a work focused Load or people focused 8-Seater. Either way, it looks set to boldly go where no van has gone before. Here is what's what with the 8-seater, beginning with that front end.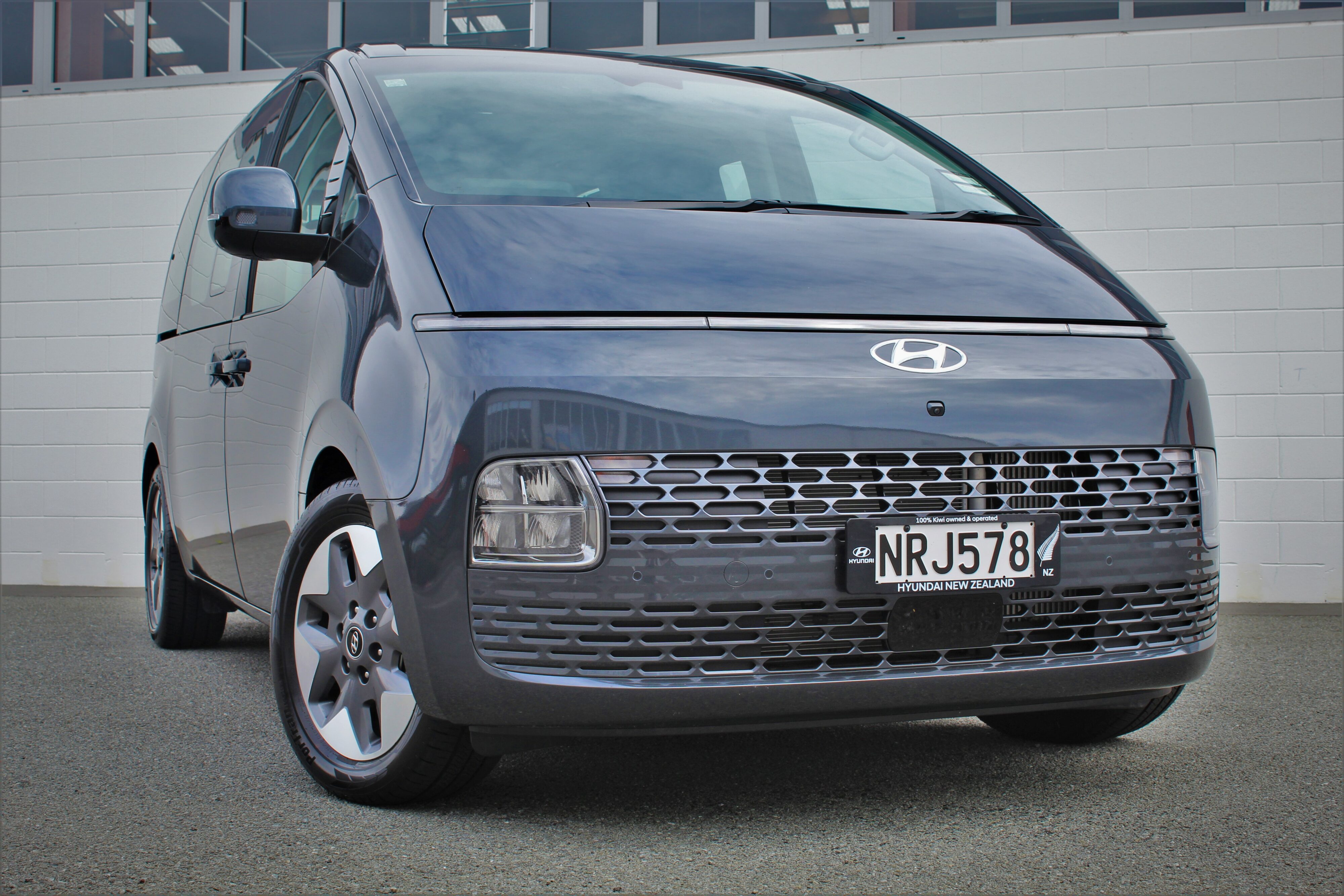 If one were to liken the styling of the Staria to bread spread, it would have to be Marmite. Why Marmite? Because people will either love it or hate it. While plenty who came into contact with the Staria during my week with it thought it was funky and forward thinking, there plenty who didn't.
I mostly agree with the former category. The Staria is like something you would see entering the cargo bay of the USS Enterprise. With its full width LED lightbar grill housed headlights and indicators, it looks striking and like no other MPV on New Zealand roads. Sorry about the Star Trek references by the way.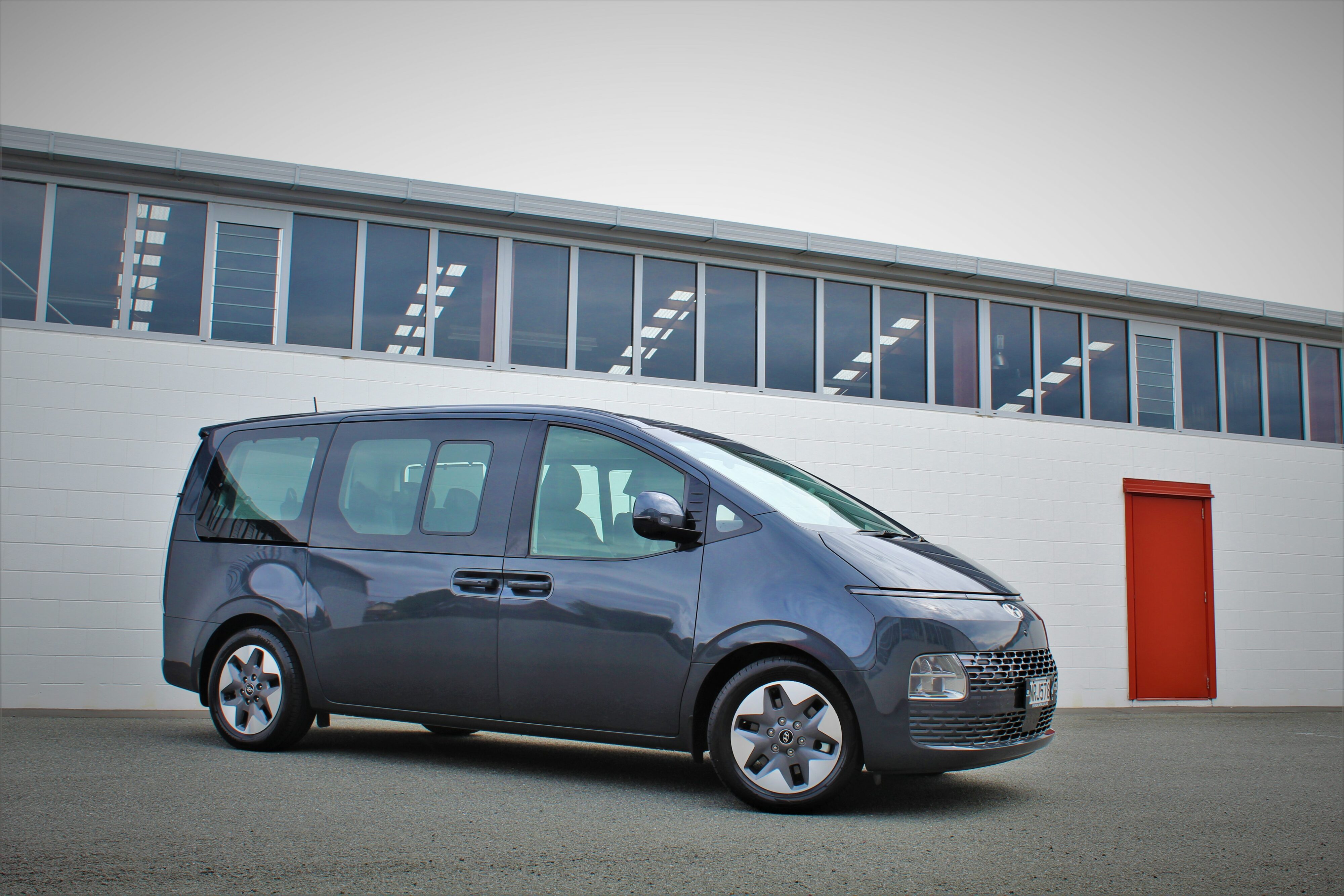 Power comes from a 2.2L CRDi engine producing 130kW and 430Nm of torque. The Staria is also available in 2WD and HTRAC 4WD, the Limited have the distinction of having all four wheels providing propulsion. Also on hand is an eight-speed automatic transmission. Hyundai also claim combined fuel consumption figures of 8.2L/100km for the HTRAC Limited. The best I could average was about 8.5L/100km so not too bad then?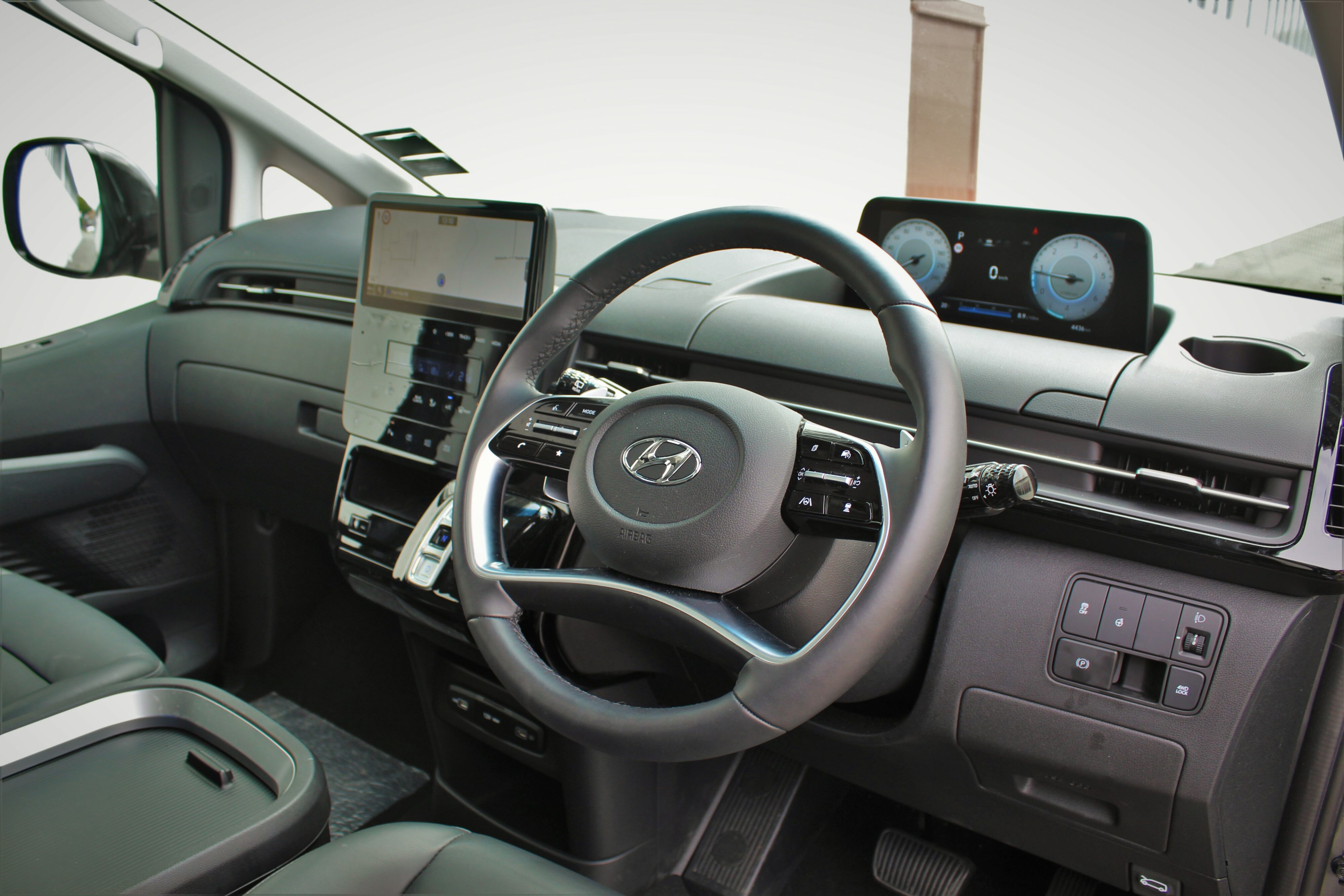 Hop inside and you are greeted with a very premium feeling cabin. Everything is laid out well and while the LCD instrument cluster is positioned far ahead of you, in typical Hyundai fashion, it is clear and easy to read. The leather clad seats in the Limited featured here provide a good deal of support and comfort. All other gizmos are within easy reach though some of the push buttons need a firm press to operate, something which can be distracting while on the move.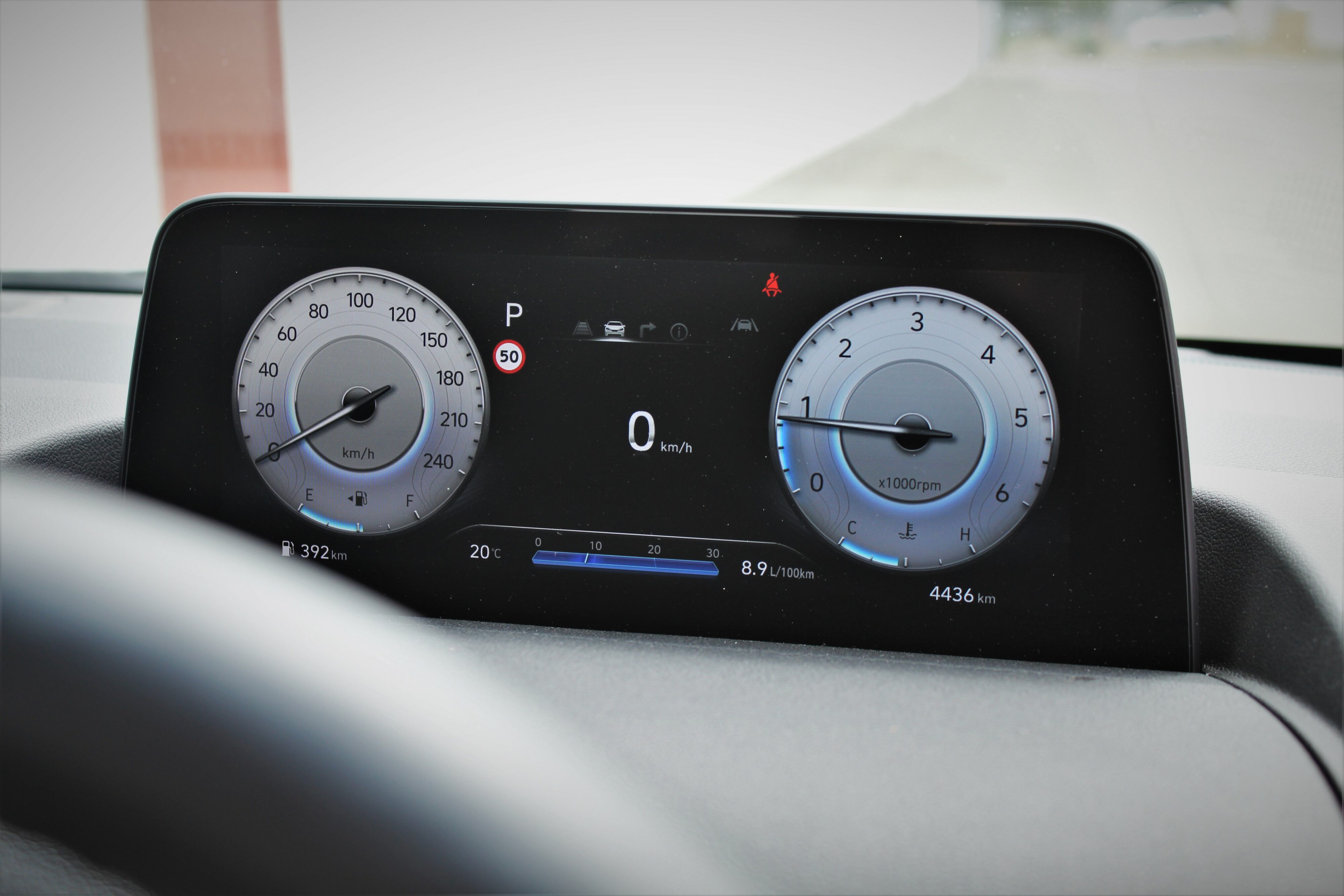 The Staria claws back points by giving a rather comprehensive suite of equipment. The entry level model gives you an 8-inch touchscreen infotainment system, a 2.4-inch colour TFT driver information display, wireless charging, five USB ports and Smart Cruise Control. Oh, and a whopping 16, that's right, 16 cupholders.
The Staria also has a five-star ANCAP safety rating and Hyundai's SmartSenseTM advanced safety and driver assistance system. This gives you Forward Collision Avoidance-Assist, Blind Spot Collision Avoidance-Assist and Rear Cross-Traffic Collision-Avoidance Assist. There are also seven airbags all-round including an industry first front centre side airbag.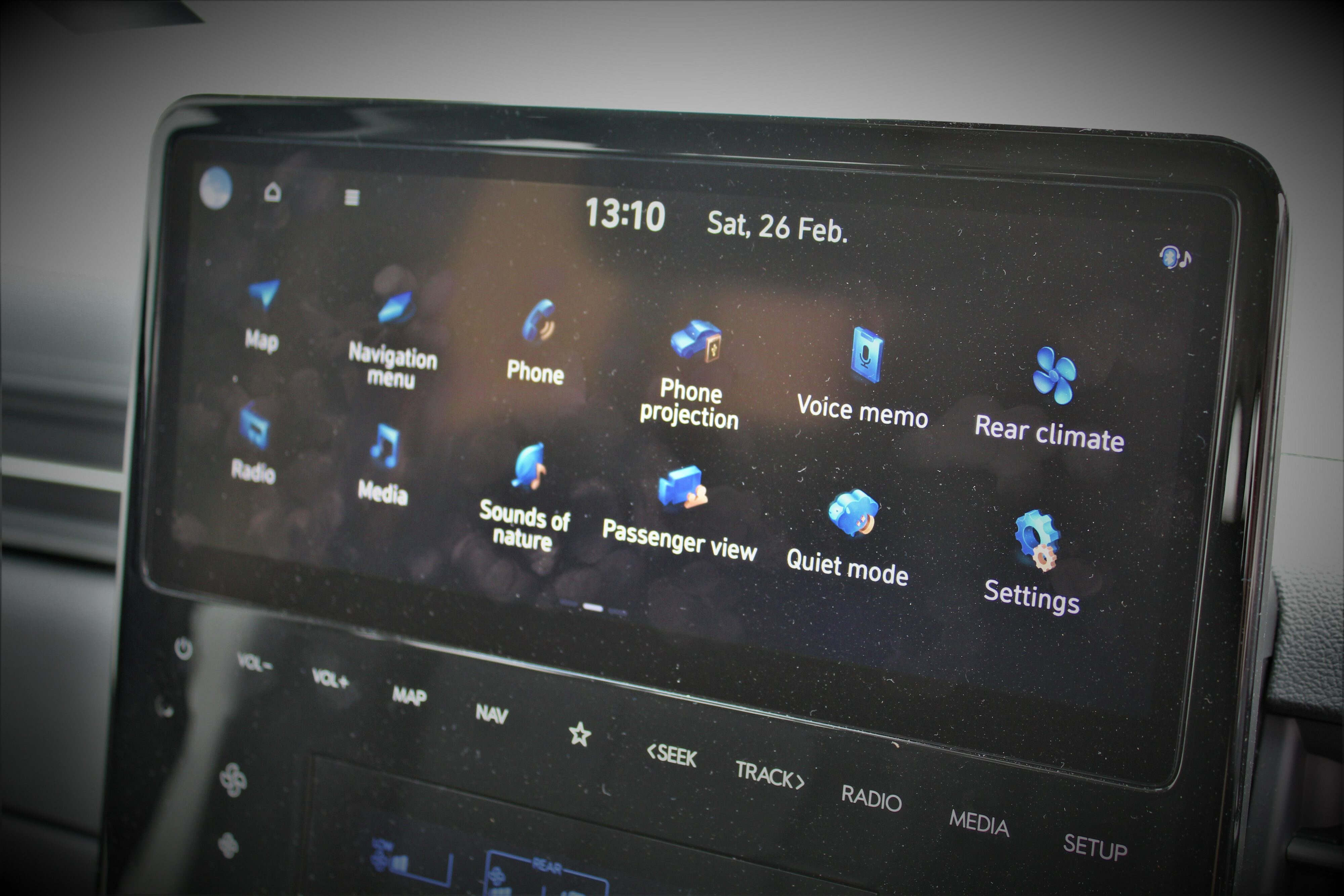 Move up to the Limited featured here and you realise Hyundai have thrown just about everything at the Staria. Stuff like leather trim, heated and ventilated front seats, Push Button and Remote Starting, Blind Spot View Monitor which shows a camera image of your blind spot whenever you indicate left or right, Heated Steering Wheel, Power Tailgate and Surround View Monitor.
A couple features worth mentioning are the Rear Passenger View Monitor, which allows you to keep an eagle eye on your rear occupants and Power Operated Smart Sliding Side Doors, which add a sense of occasion every time your rear passengers disembark the shuttle.
However, once inside, those in the rear will have plenty of room to slob out. The seating for eight can be moved forwards, backwards and the third row can stow away to give a hefty 831L of luggage space. The Staria HTRAC Limited also tips the scales at 2255kg and can tow up to 2500kg.
On the move, that 2.2 CRDi engine is strong reminder Hyundai knows a thing or two about giving us quality turbo diesel engines. At around 1300rpm it pulls strongly and those 430Nm kick low down and allow you to move forward with gusto. You won't be travelling at "Warp Eight" but it does well. Ok, last Star Trek reference for real.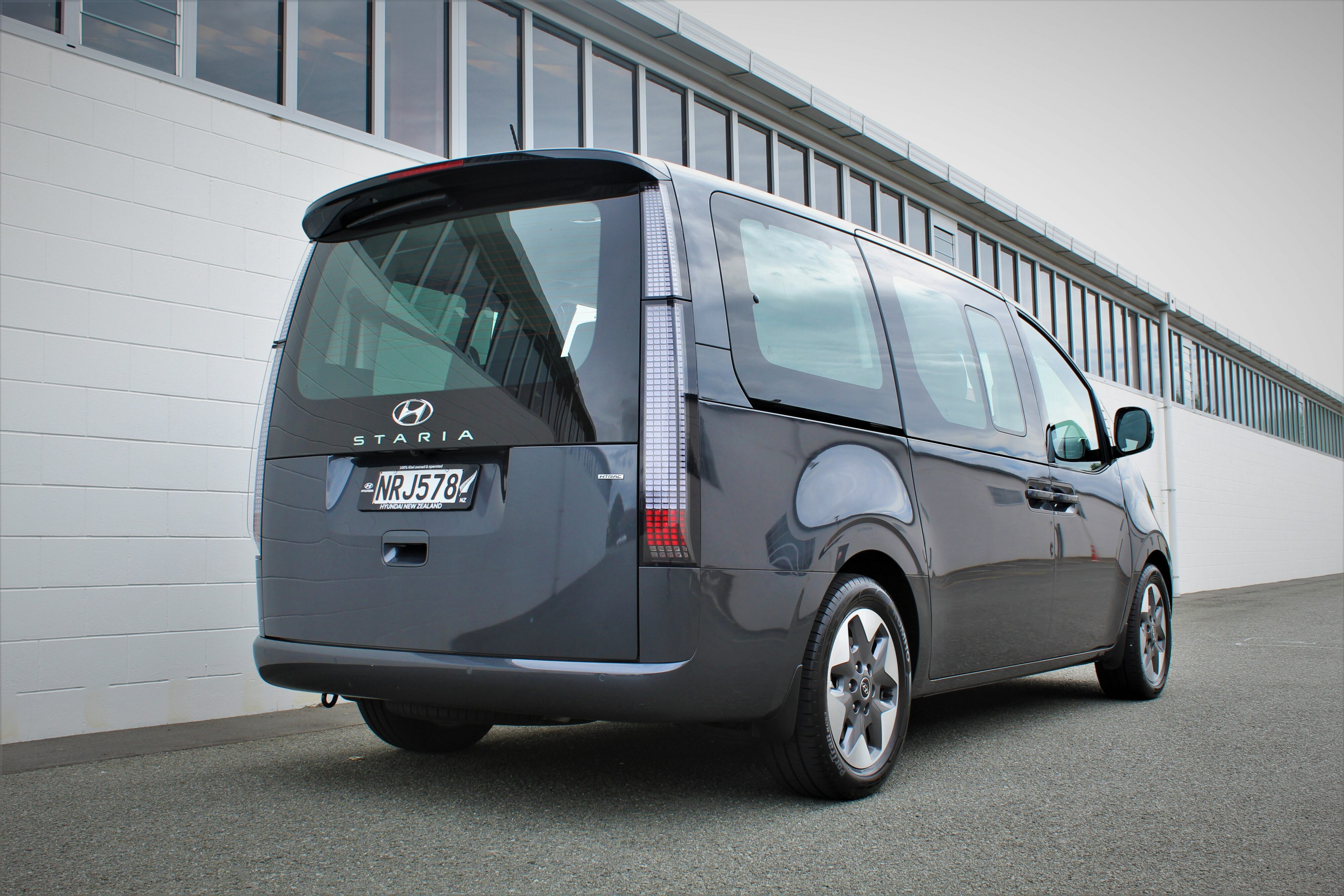 Underneath the Staria shares its underpinnings with the Santa Fe. Therefore, in principle, it should be more car like on the handling front and do you know what? It actually is. I took it for a jaunt to Castle Hill an hour and bit out of Christchurch and was quite surprised.
The bendy bitumen doesn't seem to faze the Staria as it manages to keep relatively planted with the top-heavy characteristics associated with vans kept minimal. I even found myself selecting Sport on occasion and having a bit of fun shifting up and down with the paddles.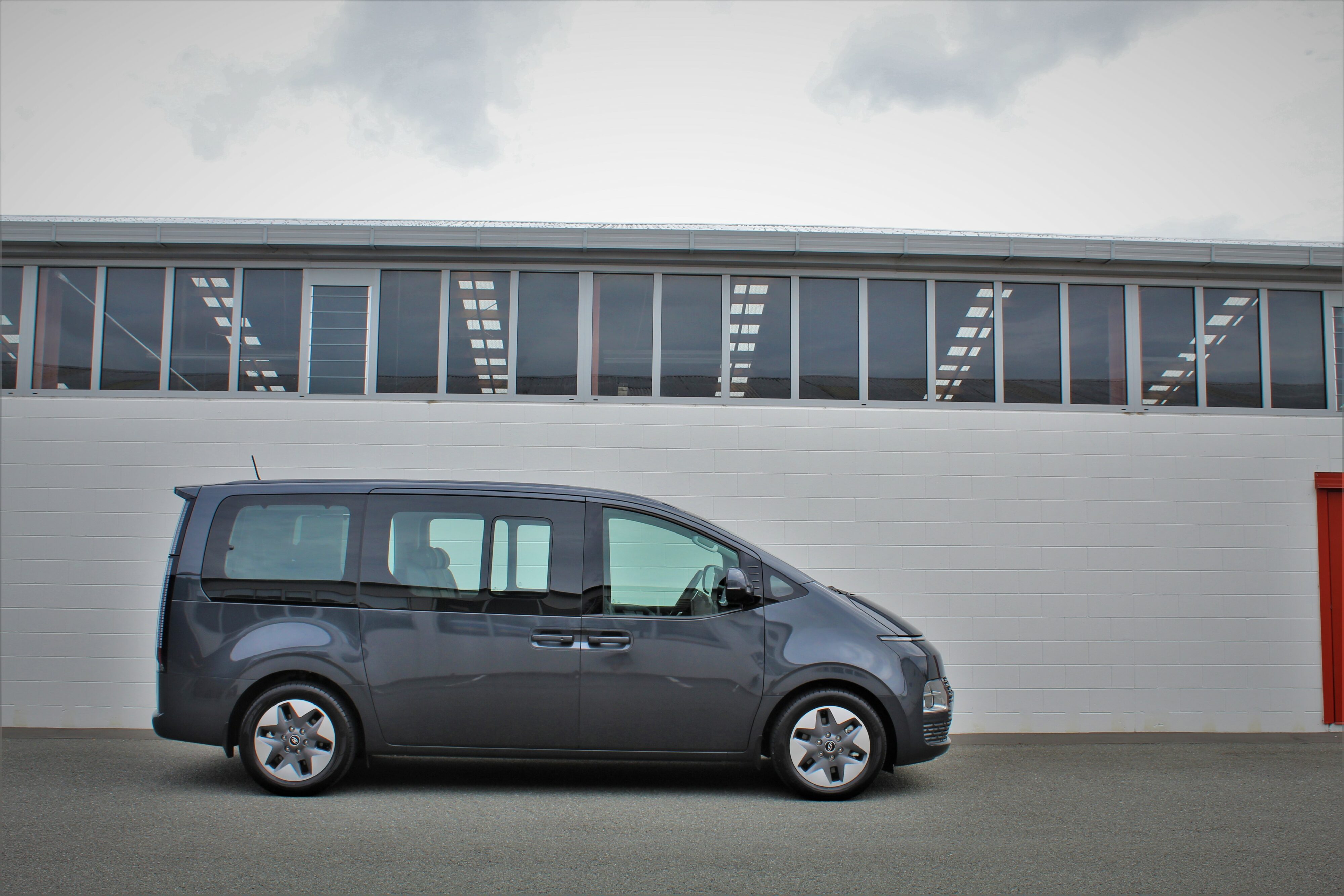 Another aspect about the drive is the level of comfort. You have a supple ride and the bumps are seldom felt. The Staria Mover will set you back $69,990 plus ORC for the entry level version and a fairly substantial $85,990 plus ORC if you want the Limited and AWD. Despite this, there is still plenty to like about the Staria.
It gives you refinement, plenty of tech and most important of all, an injection of character into a rather conservative segment. Basically, this "Next Generation" Hyundai passenger van is a well sorted, unique and accomplished "Voyager" which is worthy of your short list. Sorry, couldn't help it.
RATING: 7/10