If there is one manufacturer's performance arm which seems to be going from strength to strength, its Hyundai's N-division. First the spicy i30 N, then a performance N version of the Kona SUV. Now to round out their N-division trifecta, we have the i20 N. Billed as the first light hot hatch from the Korean car maker, the i20 N promises to be nothing less than a rally car in street form. But is it?
Retailing at $53,990 plus ORC, the i20 N is available in one spec level for the New Zealand market. That spec gives you a SmartStream 1.6L turbocharged four-cylinder petrol engine mated to, wait for it, a six-speed manual transmission. Hyundai claim peak power is 150kW and torque at 275Nm, though in over-boost, torque levels can rise to as high as 304Nm.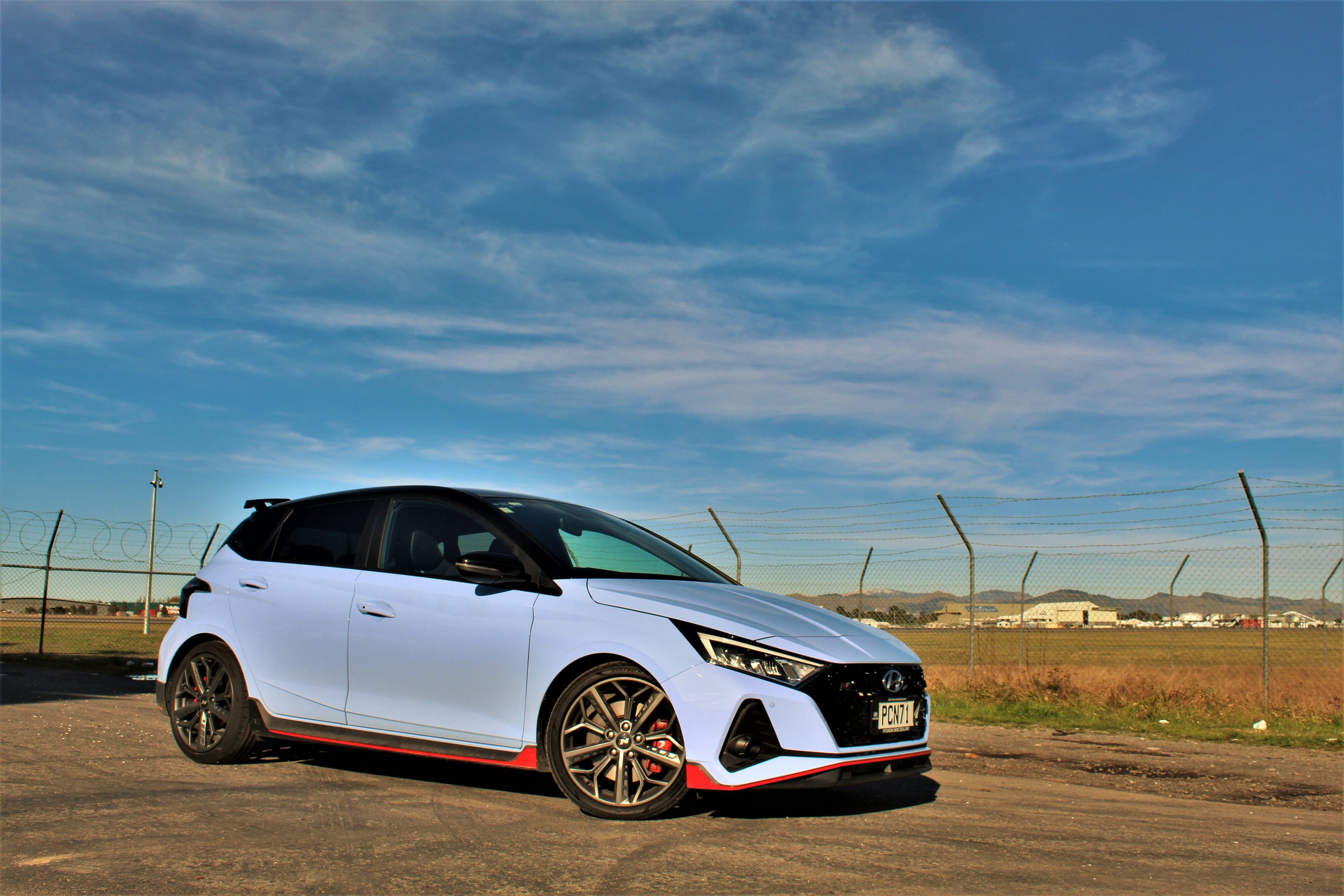 All this is sent to the front wheels via a mechanical limited-slip diff and that turbo four pot comes with a specially designed turbocharger, intercooler and water pump. Underneath, you also have track bred front suspension and an N Power Sense rear axle. Its mechanical dampers were also developed at Hyundai's Namyang test track and further honed at the infamous Nurburgring Nordschliefe circuit.
Bushes have been revised and torsion beams have been strengthened to make the i20 N as tight and as strong as possible. Housed by N-performance 18-inch alloys sit a set of 320mm front performance brakes. These are actually 40mm larger than the regular i20 hatch. Said alloys are also given a set of Pirelli P-Zero rubber.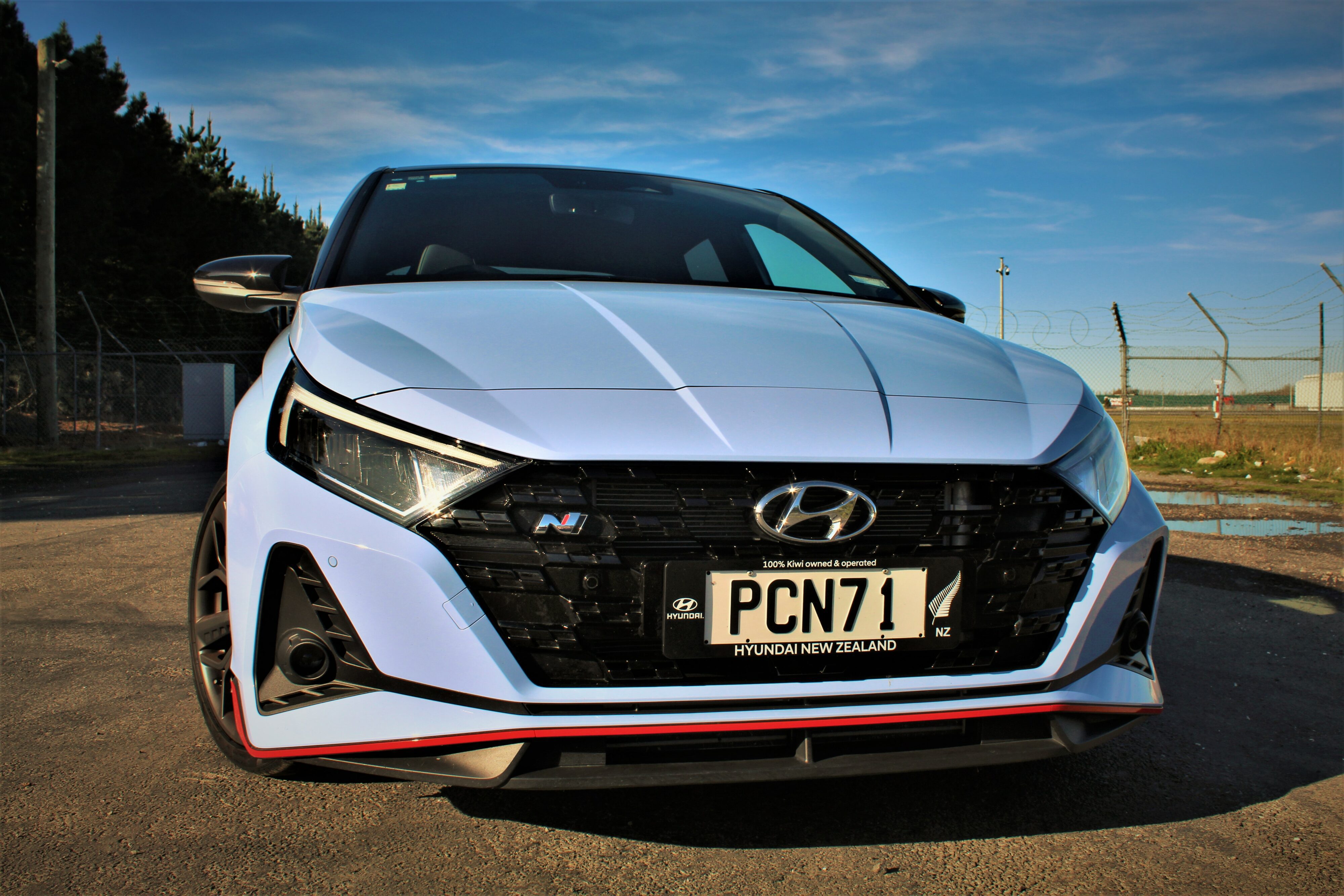 The i20 N's styling certainly emphasizes its hot hatch stance. Front and rear, it looks good with plenty of scoops, spoilers and ducts which scream performance. Despite the nose looking quite pointed and low slung, it is higher off the ground than you might think. However, I think the idea of having rectangular holes in the front grill, despite being a unique design cue, seems like an invitation for small stones to reach your radiator at speed.
Inside, it is very much i20, with added N-ness. You get a set of alloy sports pedals, a sports steering wheel with N badging and some sport bucket seats. The driving position is pretty much spot-on. The sports seats hold you in tight but the bolsters aren't so intrusive that it becomes uncomfortable to move about. The sports wheel is well positioned too and felt tailor-made for my mitts.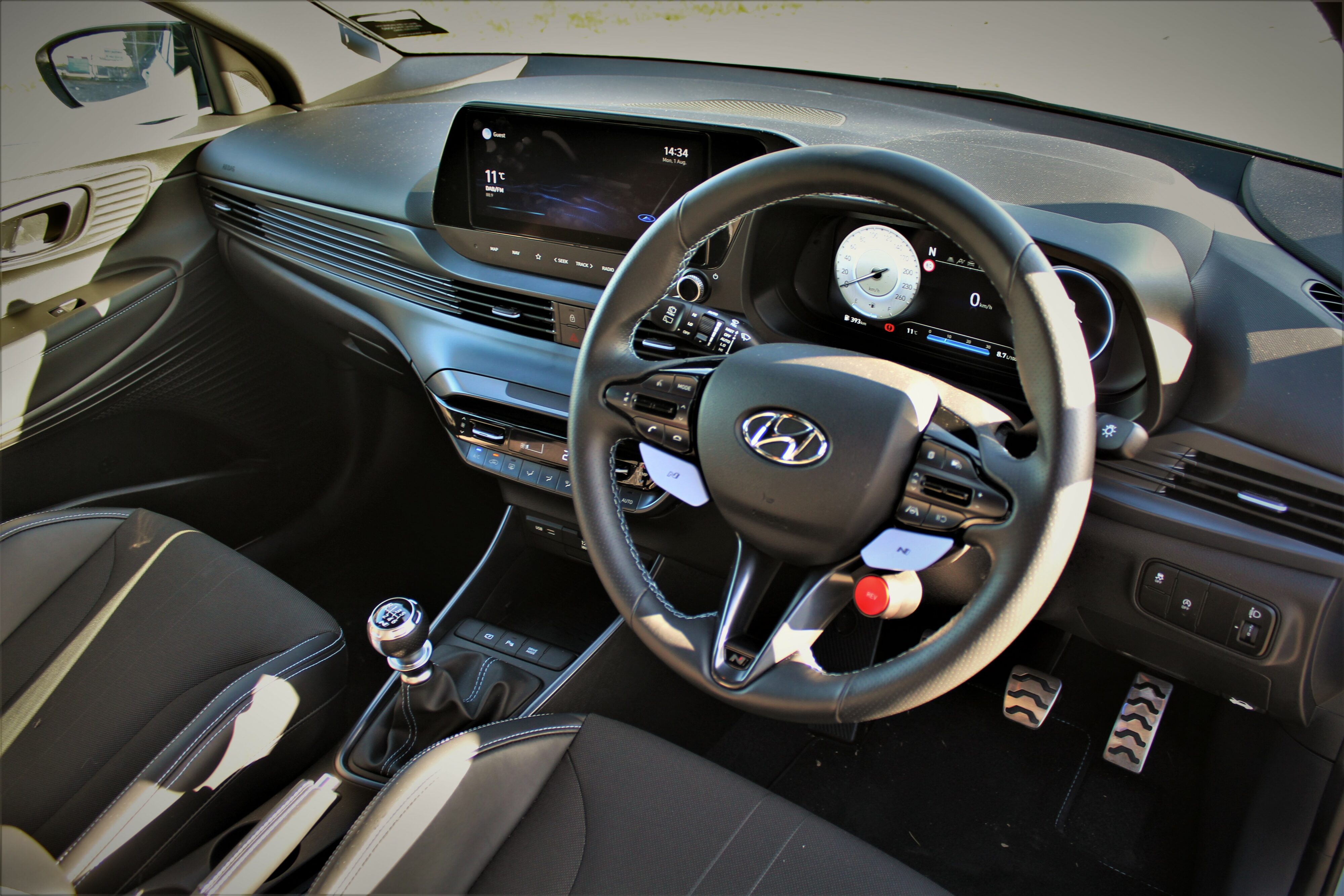 Hyundai have given the i20 N a smattering of tech too. Ahead of you sits a 10.25-inch colour touch screen infotainment system, climate control, cruise control, rain-sensing wipers, LED headlights and combi taillights, sat nav, push button start, wireless charging, Apple CarPlay/Android Auto, a more-than-good eight speaker BOSE stereo system and tyre pressure monitoring.
There is also Hyundai's SmartSense advanced safety score with blind spot warning, forward collision avoidance assist, driver attention warning, lane keep assist, following assist, rear cross traffic collision warning and high beam assist. At 311L, the i20 N also has the boot space needed for those jaunts to the shops. Rear legroom isn't the best, but let's be honest, it's unlikely to be used as a family car.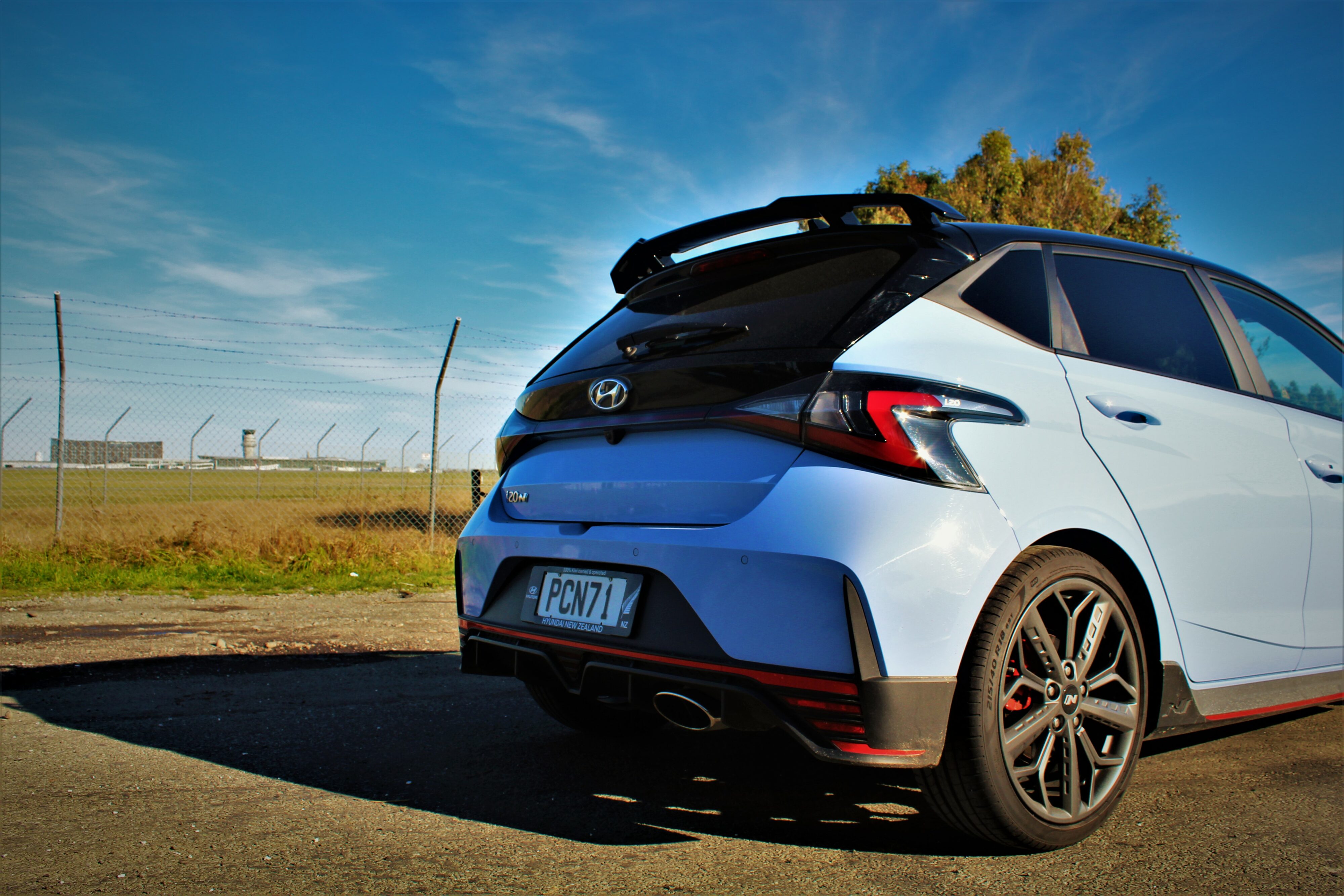 Right, time for some of that driving exuberance. Clutch in, starter button pressed firmly down and a split second later, we have ignition. The i20 N crackles into life with a turbocharged burble worthy of the hot hatch mantra. It's quite a loud mechanical sounding burble on start-up and I must say, certainly pleasing to ear. As things begin to warm up, things settle down and said burble becomes more subdued. Right, off we go.
The i20 N is no waft-mobile but for a pin-sharp hot hatch like this, the ride is surprisingly compliant and supple. Sure, you do feel even the smallest of bumps and undulations but for a car of this type, its not too bad. The gear lever for the six-speed manual box sits further back than I would otherwise expect. This means instead of reaching slightly forward to grab a gear, you can bring your hand off the wheel and straight down. As a result, the motion of swapping cogs feels more organic.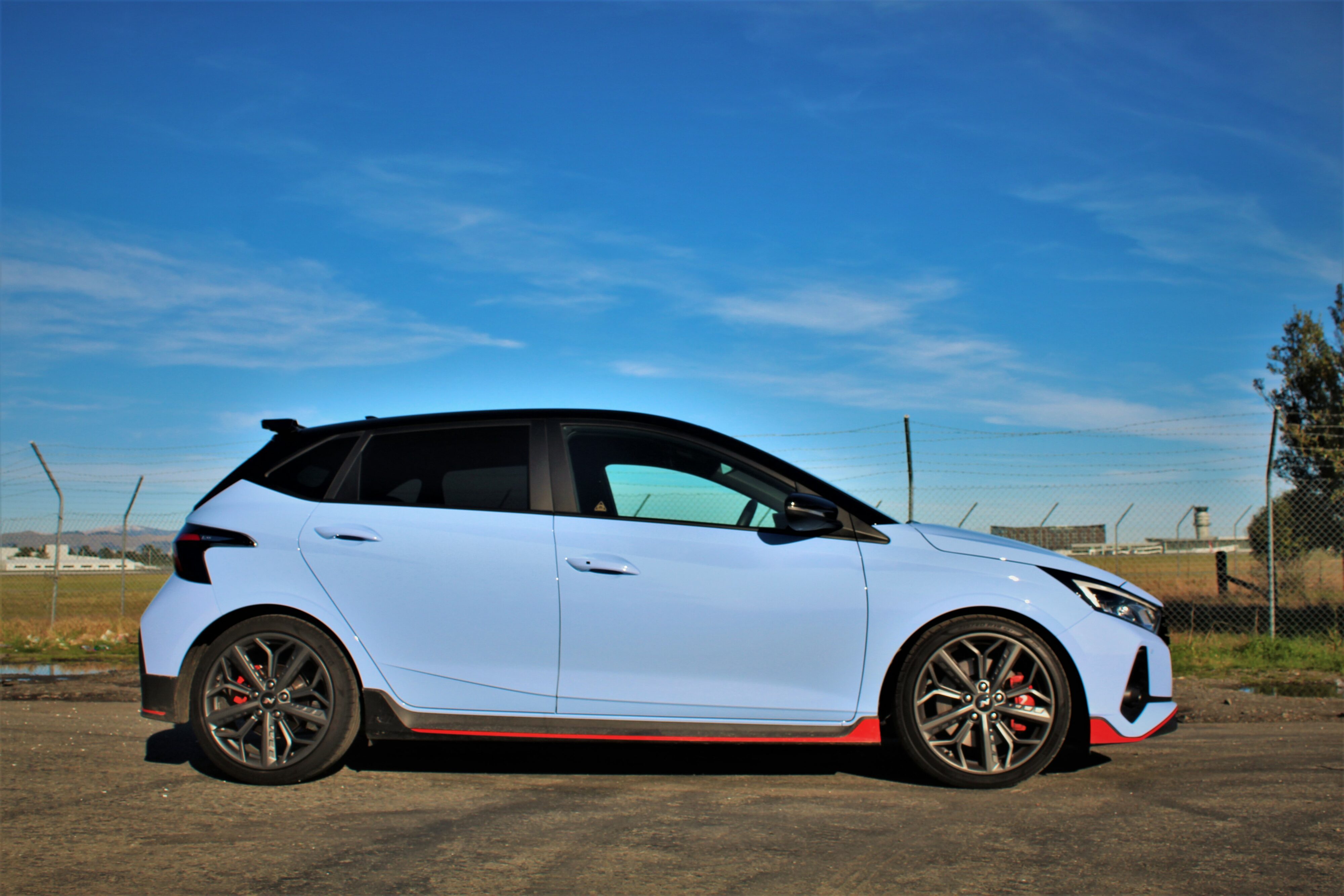 While not feeling completely identical to a bolt action rifle, it is still a very precise and positive throw from gear to gear. I found myself going through the gears up and down just for the sheer sake of it. Those alloy sports pedals are also perfectly set up for some heel and toe shift action.
However, if this is a skill you are yet to master, the i20 N can help with its rev matching system. Press that rather large red button on the steering wheel and you activate a mode which blips the throttle on the down change with each downshift. This means that every wannabe Haydon Paddon can downshift like the man himself on every daily commute.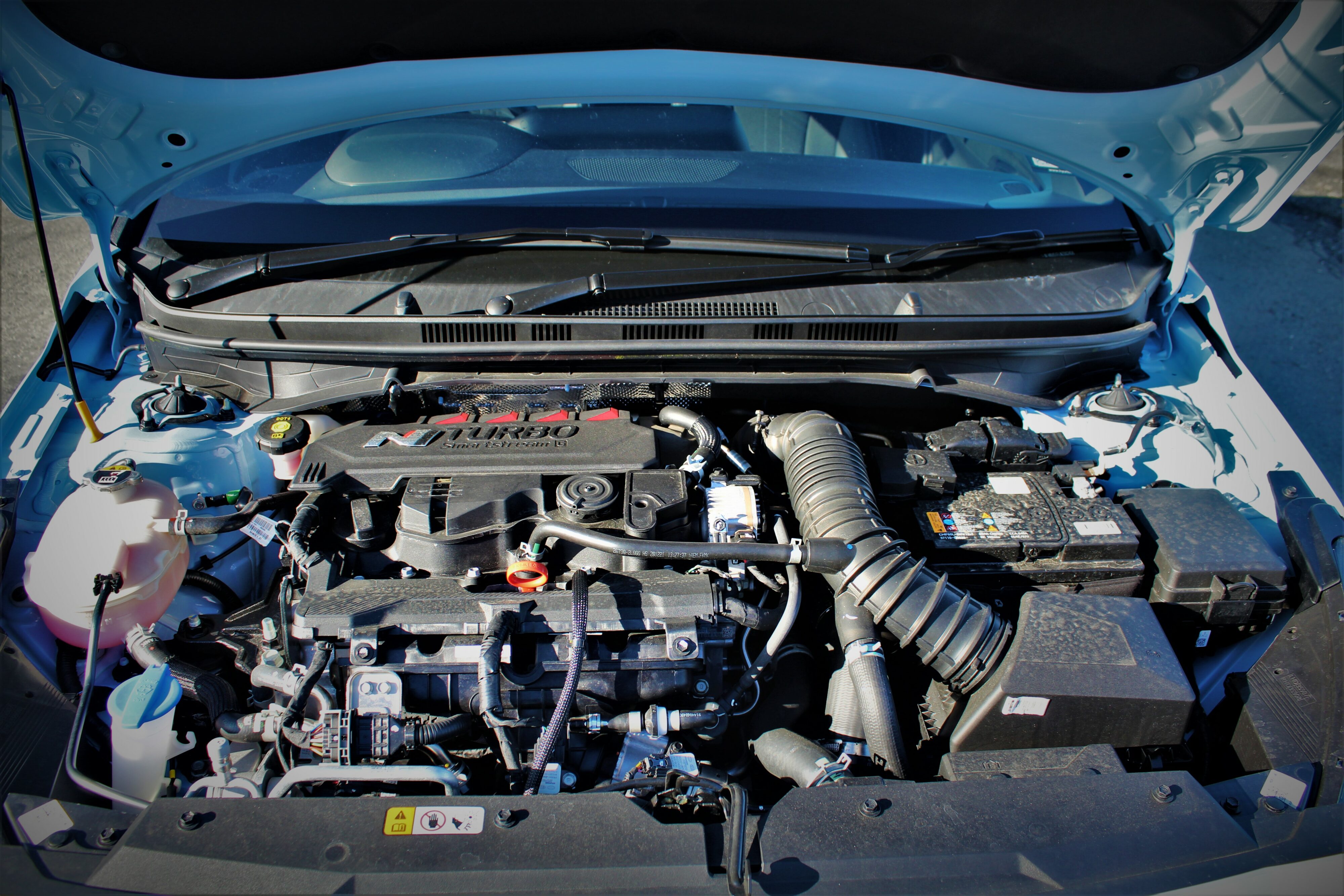 In Normal and Eco mode, the 1.6L turbocharged four pot feels rather docile. I was averaging a mix of 8.4L to 9L/100km in fuel consumption. This is hardly sipping away at the go-faster juice but isn't too bad overall when you consider Hyundai claim a combined 6.9L/100km.
Sport mode quickens up the throttle response, weights up the steering and ever so slightly increases the exhaust noise. Its great, but the ultimate is N mode. This is where the i20 N becomes truly unshackled. Activate this via the N button on the right of that sports wheel and everything becomes even more hardcore.
Build up the revs, lift off and you get the crackle and booming identical to that of a far-off battlefield. Select the N mode screen on the infotainment system and you observe your G-forces in the corners, record lap times and your sprint from zero to 100km/h with Launch Control. There is also N Road Sense. This new system allows the i20 N to detect road signs which indicate sharp turns ahead and advises the driver a switch to N mode would be advised.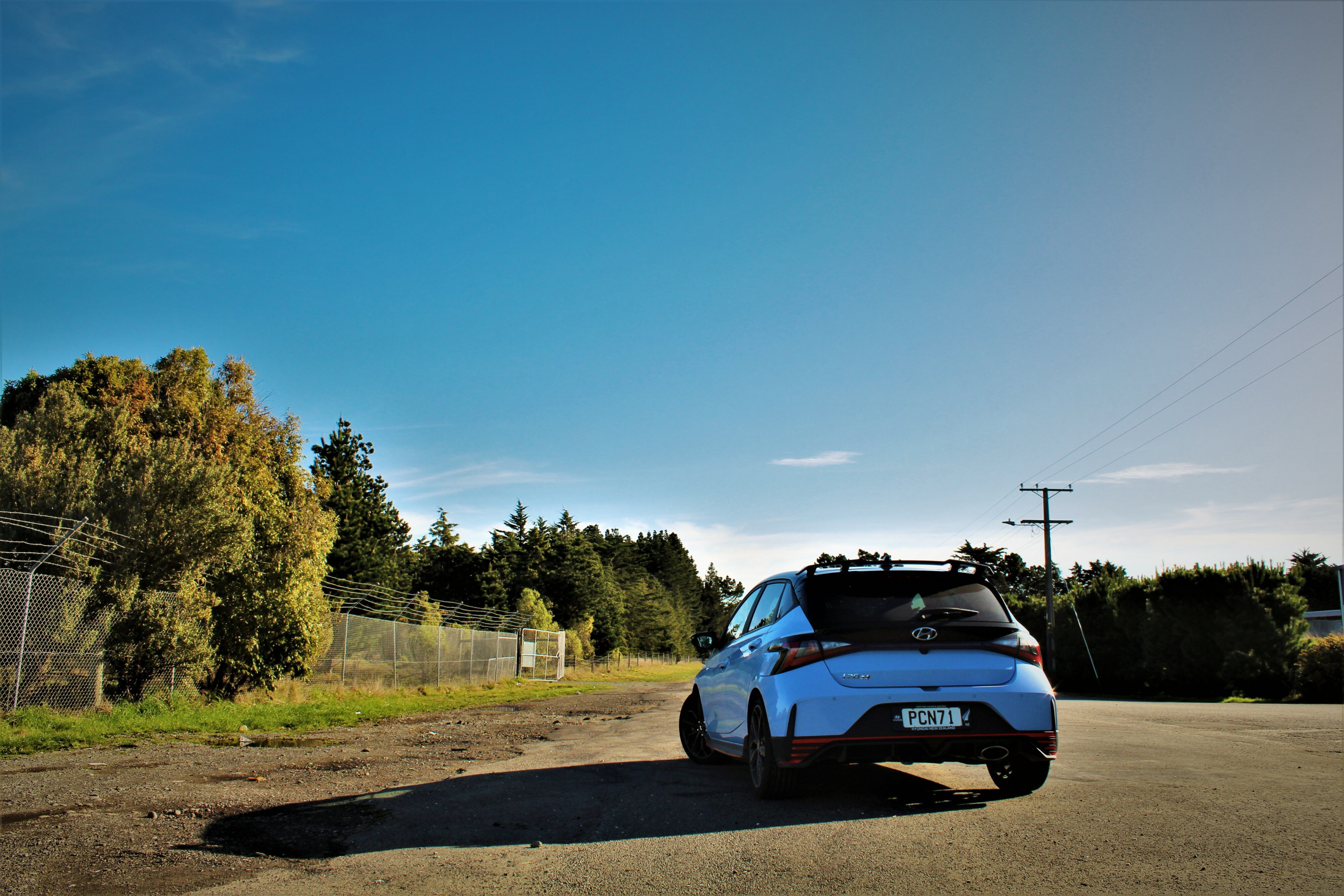 Now it is worth mentioning here the throttle in N mode is somewhat sensitive to the slightest touch, also if you give it what for from a stand still around a sharp corner, torque steer has the tendency to rear its head without warning. Therefore, it is advised that giving it stick is best left for wide-open roads.
Then again, you also have the advantage of Hyundai's "N Grin Control System." This allows you to customise your individual driving preferences including throttle response, steering feel, exhaust noise and stability control to suit your driving style.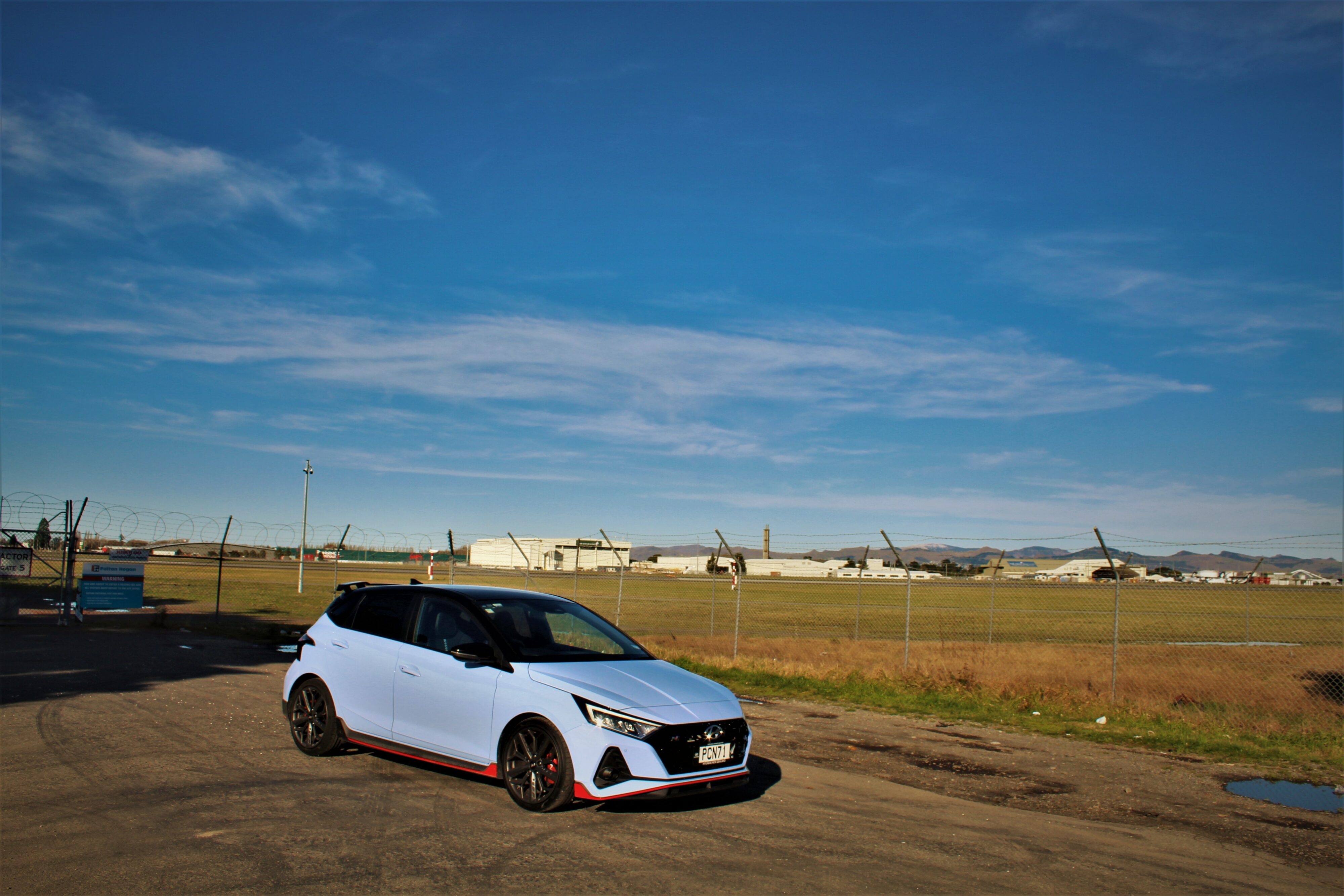 When you reach those wide-open bits of bitumen, you can really have some fun. In N mode between 2000 to 5000rpm, the turbo is working at its best and the i20 N is properly brisk. Get close to the redline and the dash lights up as if to cry out "the time has come for you to find another gear." Dive for third and the process starts all over again while that turbo four pot barks its almost primeval bark.
When you get to the tight switchback bends, you really can believe its underpinnings and mechanical LSD were honed at the Nurburgring. It is unbelievably chuck-able and can corner hard and precise with little to no effort required on your part.
Coax it into a corner with enough effort and you can even get a rear wheel off the ground, though these moments during my time with it were few and far between. It is a seriously addictive piece of kit to drive hard and fast. Although I can't comment on how it performs as a track day tool, one would imagine it being more than competent. Basically, if you desire nothing more than to go for a blat on your day off, the i20 N will not disappoint.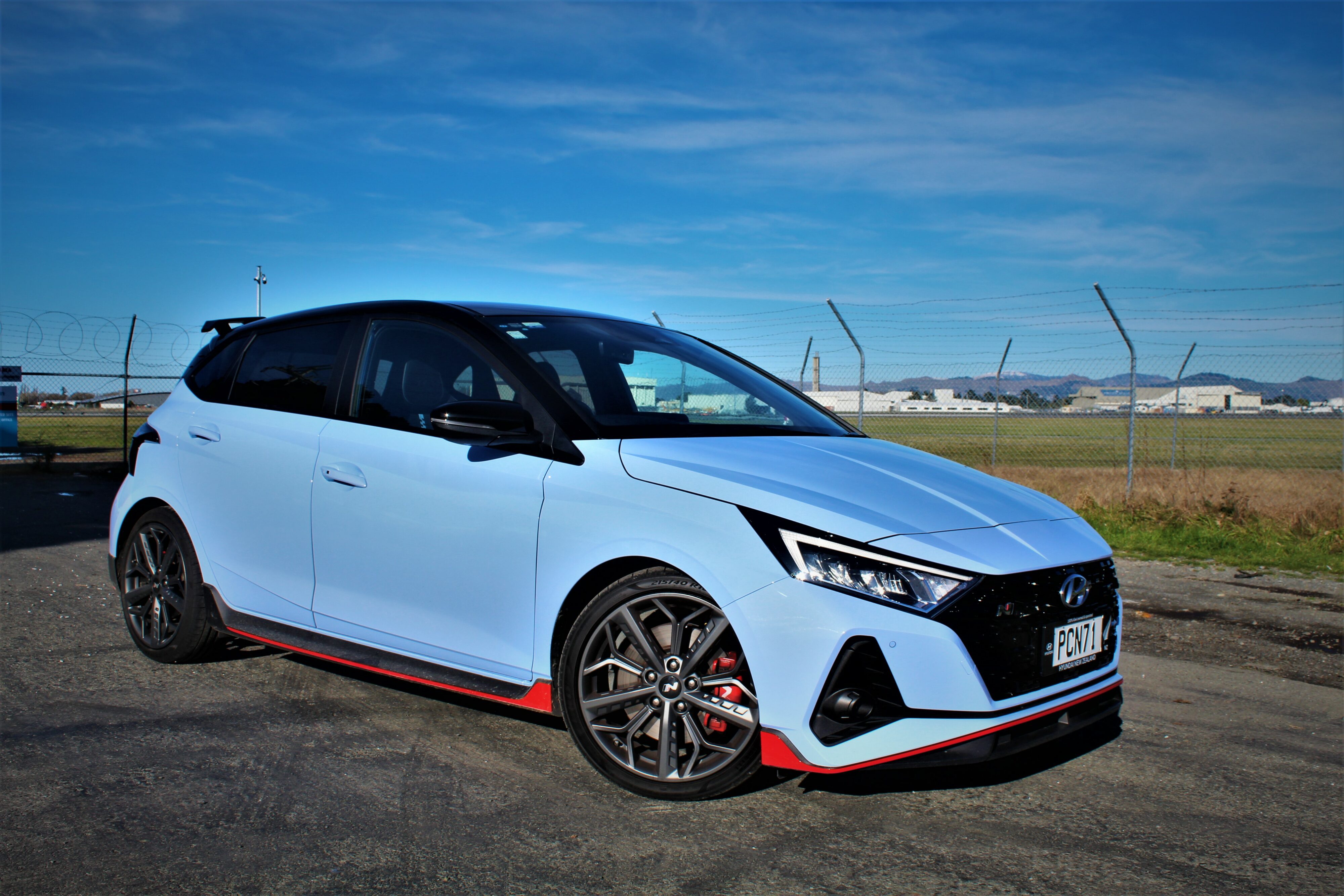 Hyundai have really pulled the rabbit out of the hat with the i20 N. This third act in the pantomime of Hyundai's N-Division is another masterclass of what a modern, driver focused hot hatch should be. It's well equipped, practical enough to use as daily transport and above all, epic fun. Definitely give this a second, third or fourth look.
RATING: 9/10