It really has been sometime since Maserati gave us a bespoke supercar. Decades in fact as it happens. While the MC12 hyper car launched in 2005 was a force to be reckoned with both on and off the track, it was essentially a road going racing car. Plus, a rear window was not an option. When it comes down to it, the MC12 was more of a Ferrari Enzo in white and blue Maserati racing overalls.
Therefore we were all fascinated to hear that Maserati would be returning what is probably the most coveted new car market around. The car is the MC20 and it is something rather special indeed. The MC20 was first launched as far back as 2020, but it wasn't until this year it would arrive in New Zealand. Now its here, and thanks to the team at Euromarque Maserati, I was allowed to spend a morning with one of the most eagerly awaited Italian cars for years. Needless to say the excitement couldn't be understated.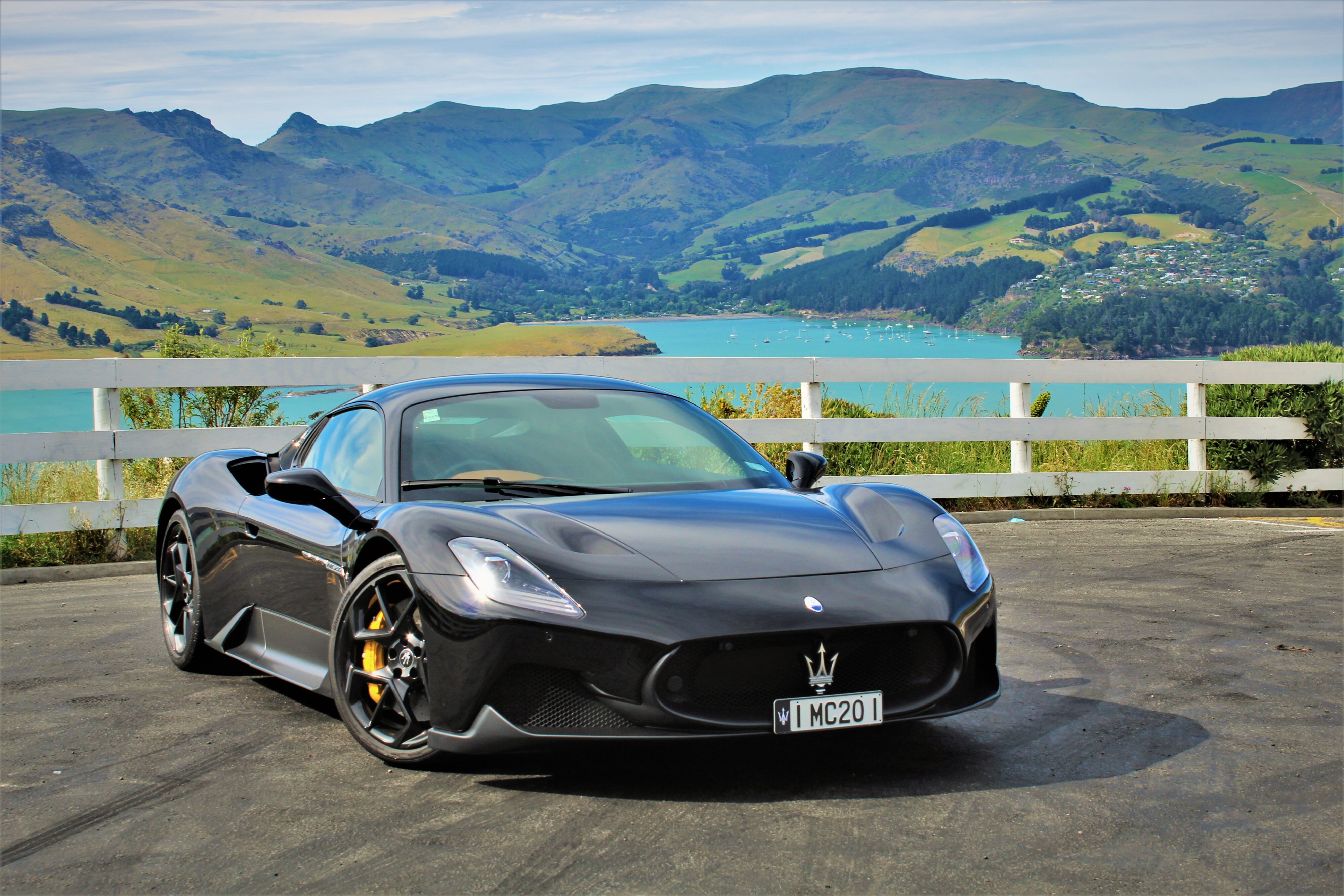 The MC20, unlike the MC12, is Maserati through and through, particularly when it comes to the powertrain within that "molto bella" exterior. Rather than collaborate with their scarlet neighbours from Maranello, Maserati have built their own bespoke power unit for the MC20. Called the Nettuno, it's a 3.0L twin-turbo V6 petrol engine with a unique dry sump, twin spark, pre chamber ignition system.
Maserati claim this is the first time such a production engine has been constructed this way, with this technology usually reserved for Formula One cars. This engine not only replaces the old Ferrari derived 3.8L twin-turbo V8, but expect to find a detuned version housed in the Trofeo versions of the current Maserati range, including the forthcoming Grecale SUV. There will also be a plug-in electric version of the MC20 on the way, but that will be sometime away yet. Right now, its petrol power or nothing, not that we mind.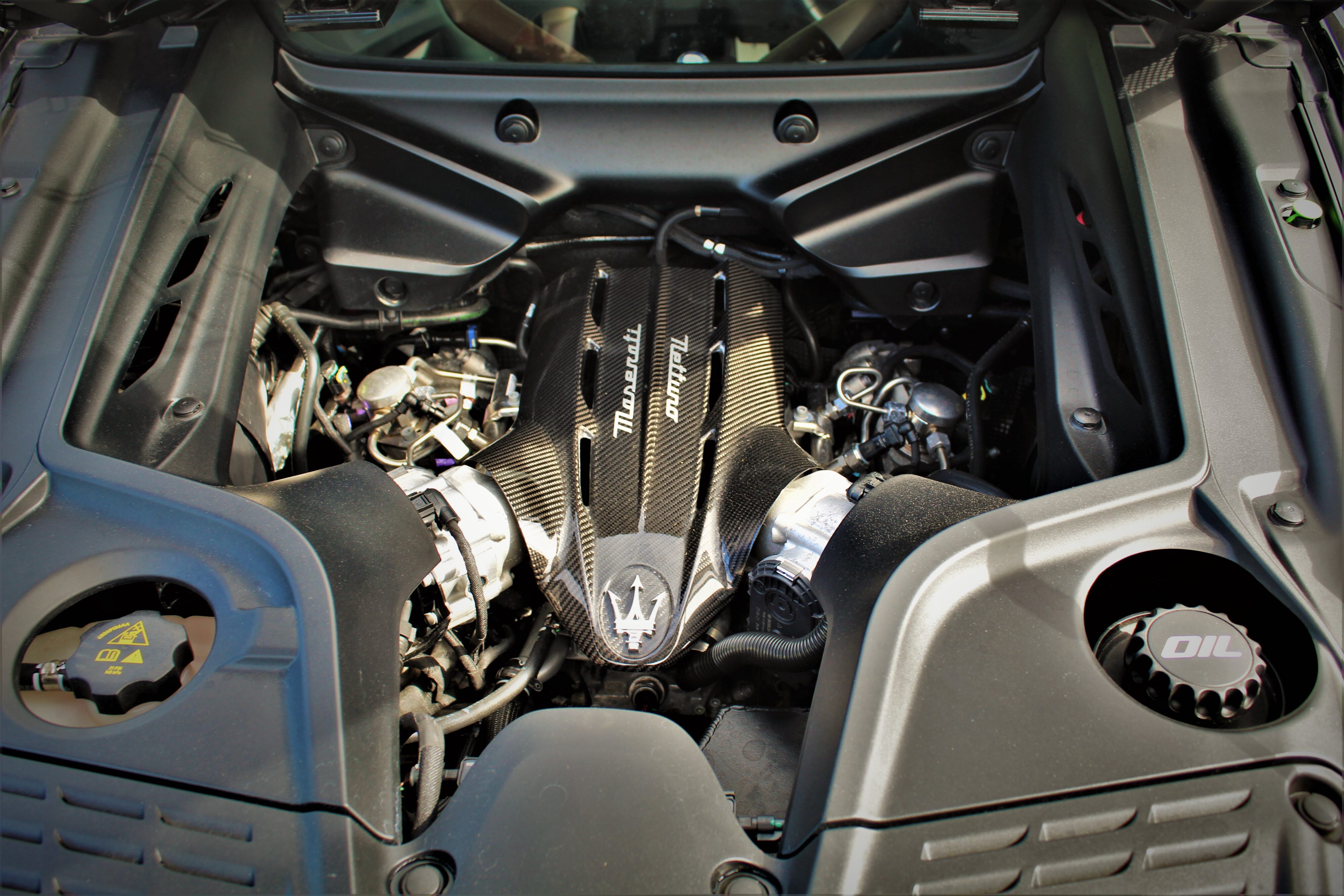 Talking of power, thanks to this clever engineering, the MC20 produces a fairly gargantuan 463kW of power and an equally impressive 730Nm of torque. This is sent to rear wheels via a new eight-speed twin-clutch automatic transmission with shift paddles, naturally. Performance? Try zero to 100km/h in 2.9 seconds and a top whack of 325km/h. Now that is rapid in anyone's language.
Another factor contributing to that mind-bending velocity is the fact the MC20 weighs a snip under 1500kg. It features a carbon fibre monocoque chassis developed in conjunction with seasoned motorsport company, Dallara. There are also new electromechanical dampers on hand but more on those in a bit. The MC20's body is also carbon-fibre and the carbon chassis tub only weighs 100kg. All things considered, the MC20 is a bit of a featherweight, and a seriously good-looking featherweight at that.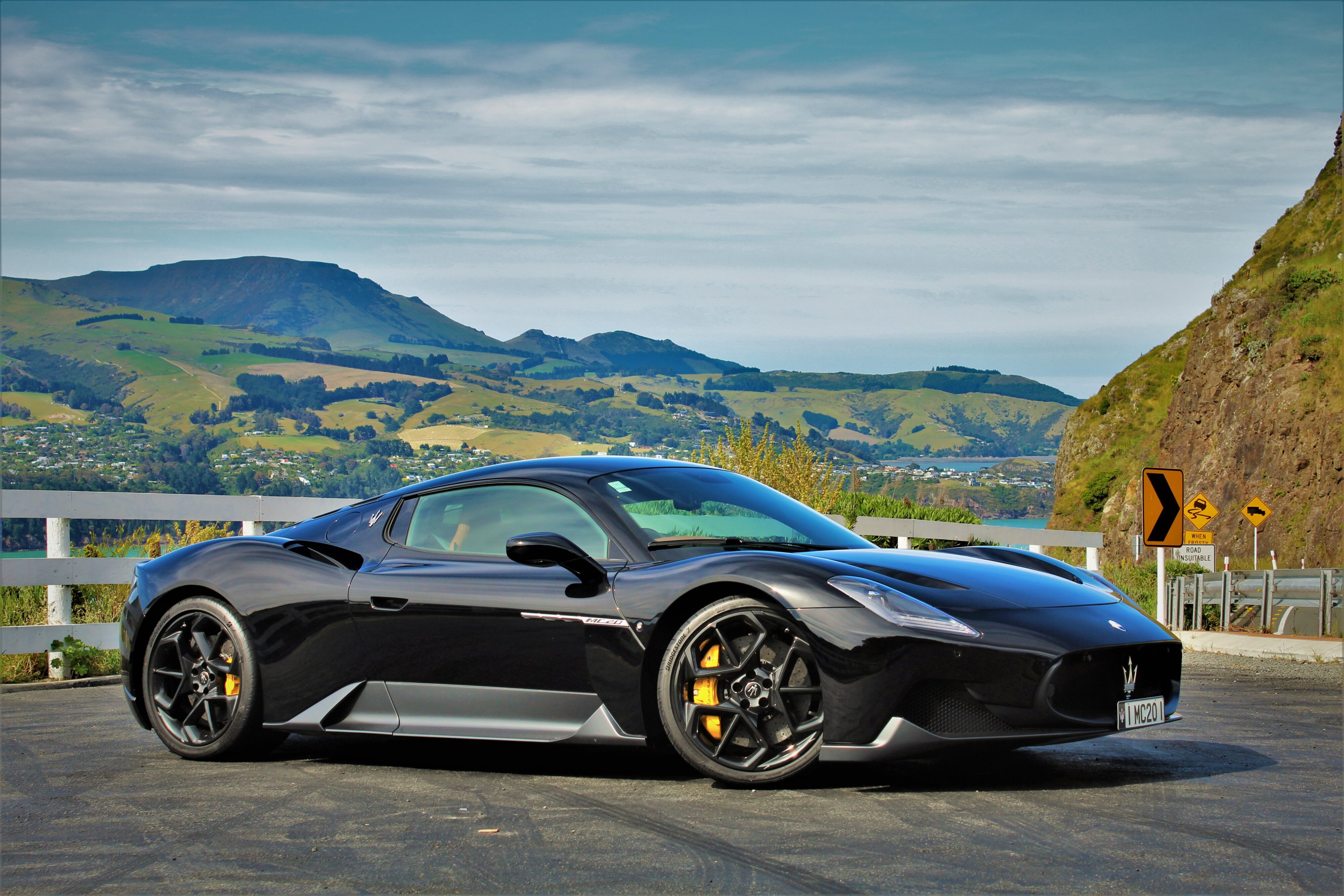 The MC20 is one of those cars which looks decent in photos, but this pales in comparison to seeing it in the flesh. At 4,699mm long, 1,965mm wide and 1,224mm high, it is one seriously handsome package.
There are also lots of lovely stylistic details to behold, such as the vents on the transparent engine cover styled to resemble the Maserati trident, a set of dual blasting exhaust tips, a trident emblem mounted on the rear three quarter and a set of handsome 20-inch alloys housing a set of beefy carbon ceramic brakes. There are also plenty of ducts and scoops to channel the maximum amount of air to that Nettuno powerplant. From front to rear, the MC20 looks epic, plain and simple.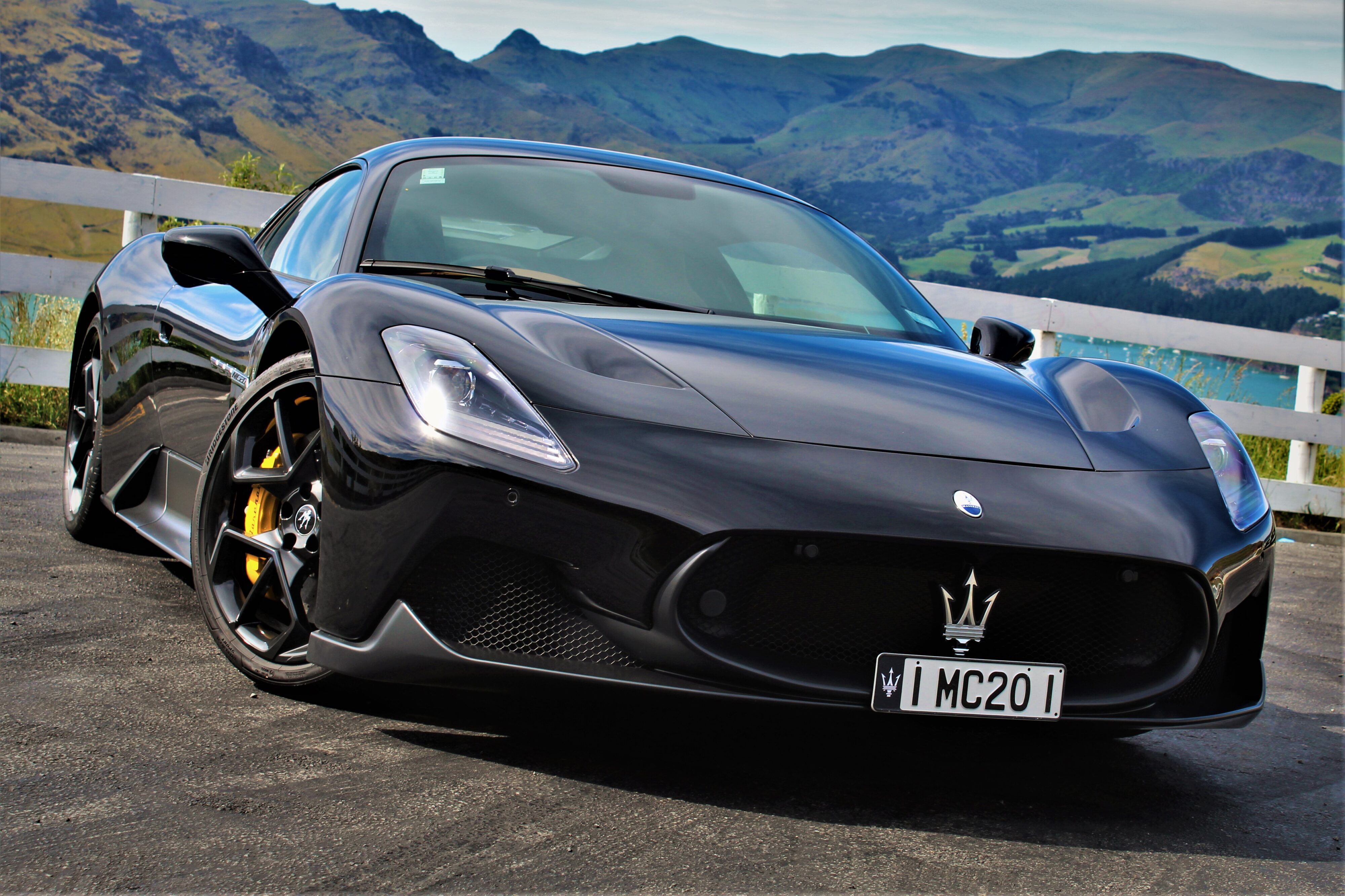 Open up those butterfly doors, and believe it or not, the MC20 is actually not a swine to get in and out of. Some supercars with a carbon tub leave you clambering over the sills to get in. Maserati have worked around this by making the MC20 much easier to slide inside. Once inside, you must be aware you must press a button on the inner door to get out again.
As for the cabin itself, it is more about classical elegance than trying to blind you with switchgear and other gizmos. The trident embossed leather and Alcantara seats are uber supportive and the chunky steering wheel is perfectly positioned to create, well, the perfect driving position. There is also a good amount of head and legroom. Despite the pedal box being offset slightly to the left, it's a great blend of form and function without any unnecessary add-ons.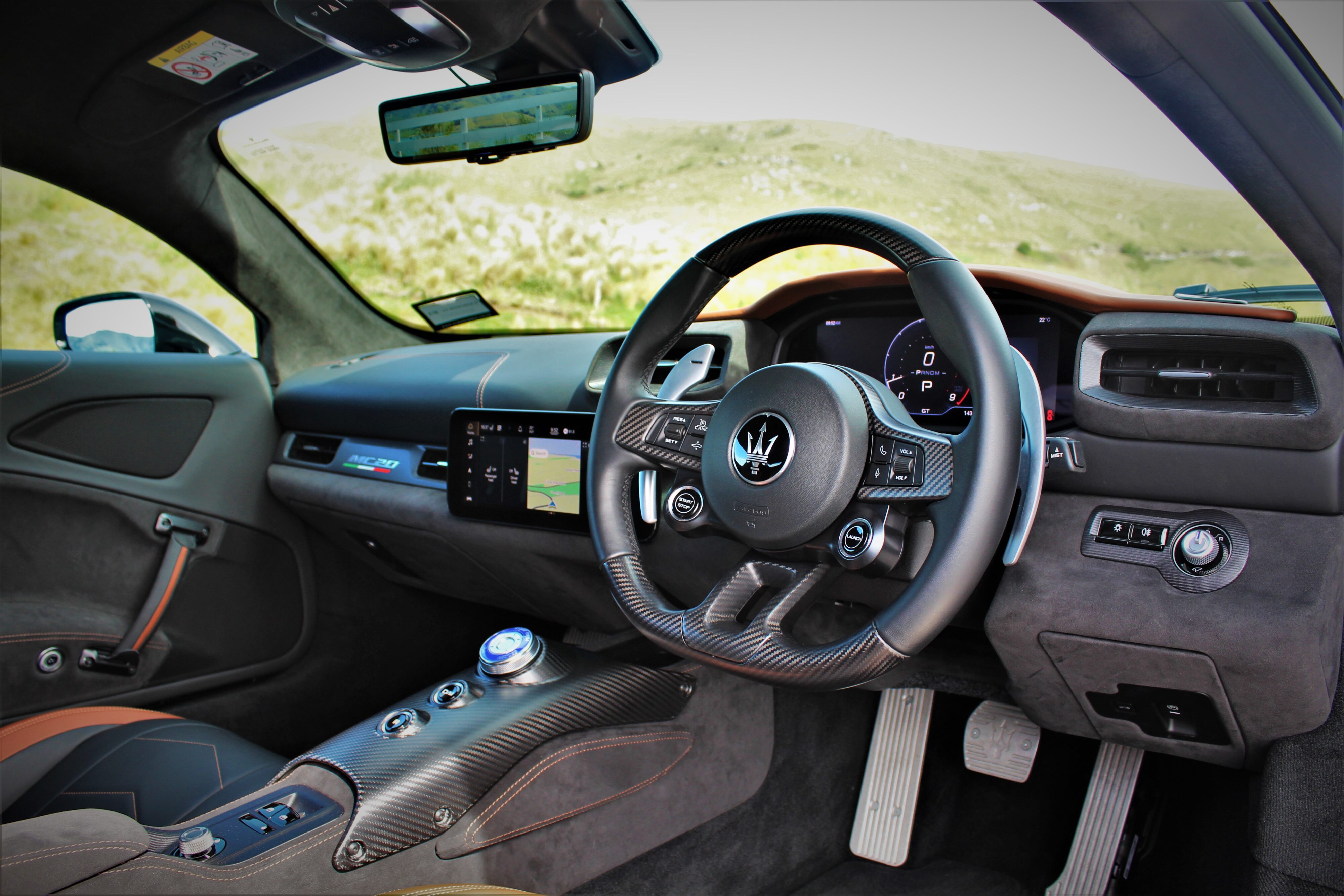 To your left is more carbon fibre, this time on the centre tunnel. Atop this is a drive mode switch which almost resembles a techno-marine watch. You have multiple drive modes including Wet, GT, Sport, Corsa and ESC Off. I spent most of time in either GT or Sport. Ahead of you sits a TFT 10.25-inch digital instrument cluster and next to that, sits a 10.25-inch touchscreen infotainment system.
Here you can operate all manner of on-board gadgets. It's a great system too, managing to be both slick looking and intuitive. On board kit is full of what you would expect including Sat Nav, Wireless Charging etc.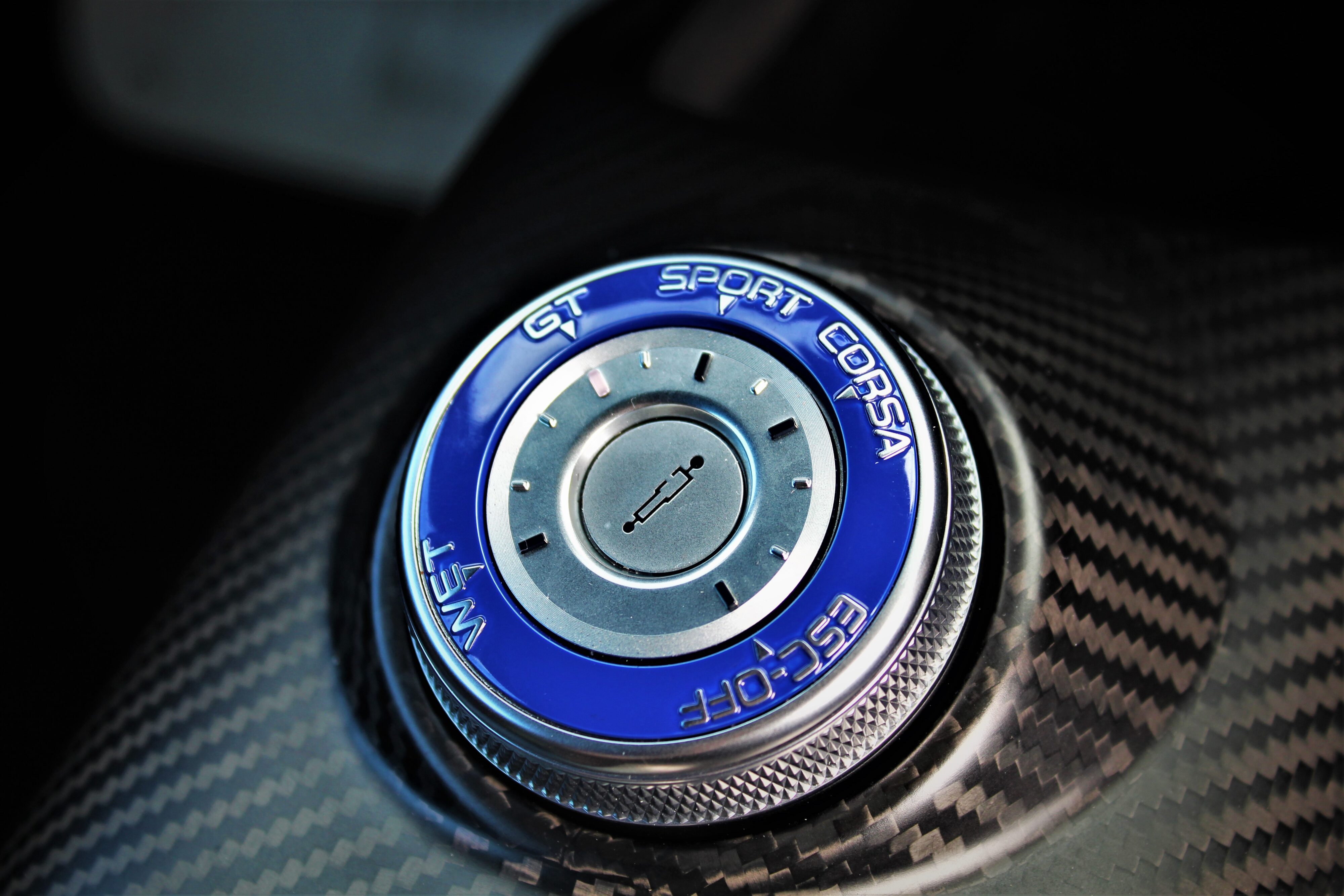 Right, enough drooling over the looks and other interior accoutrements, time for driving. Firing up the MC20 is pretty rudimentary. Foot on brake, press the starter button and seconds later, all 463 Latin kilowatts make themselves known. That 3.0L twin turbo V6 is an absolute darling of an engine, though its raspy turbo six pot soundtrack, while certainly sounding divine at high rpm, is not as dramatic or outlandish as I was expecting.
Maybe, this being Maserati, they may consider a bombastic exhaust note turned up to 11 as being not really their "thing." Either way, its still a lovely noise and as the turbo pressure builds, throttling off provides the boy racer in us a chance to giggle at the whooshing of turbos winding down.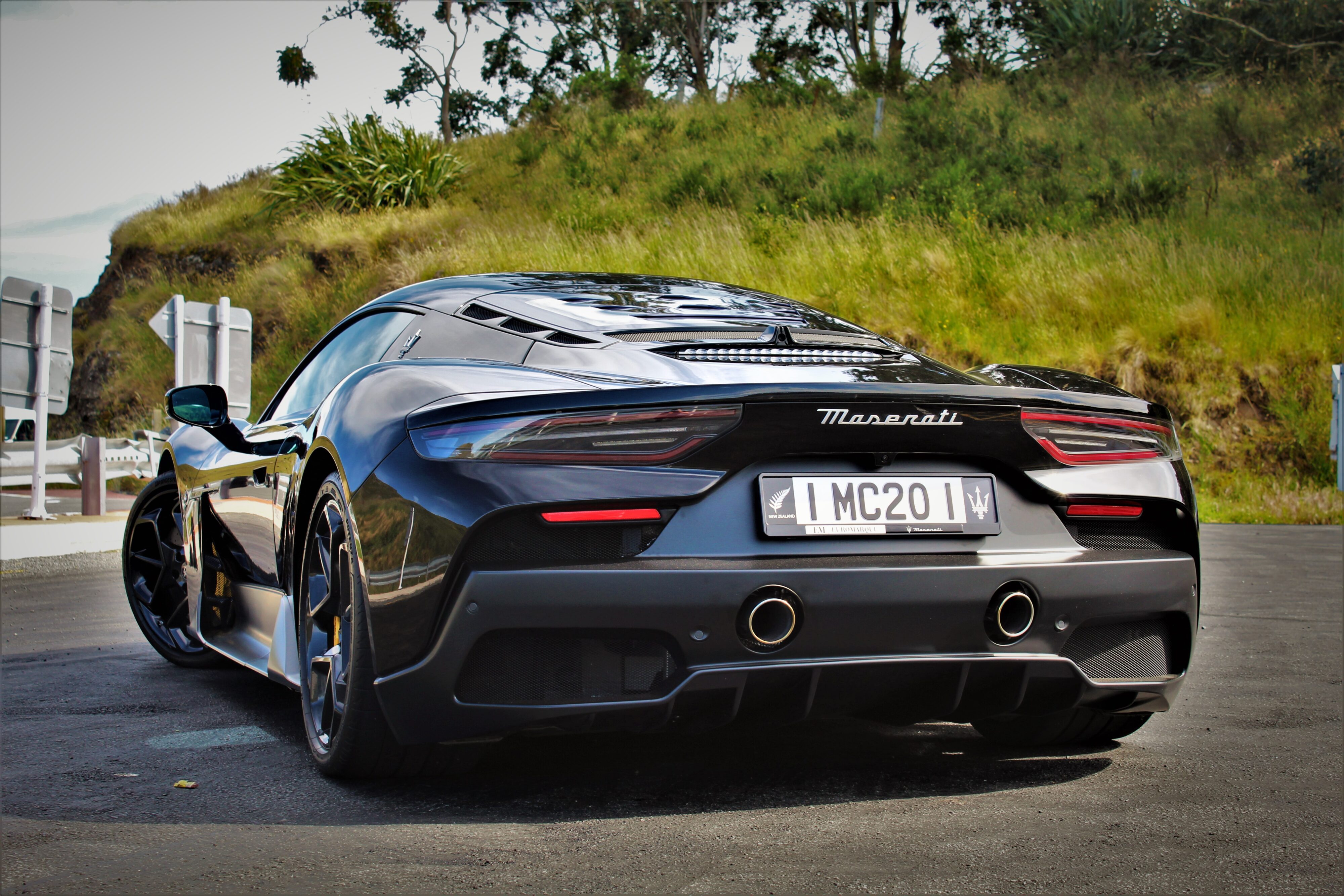 Expertly manoeuvring any low-slung supercar in busy urban traffic is often a daunting exercise. However, things are not so strenuous with the MC20. First of all, you have a wide view ahead above those front haunches which remind you of that achingly pretty front end.
Secondly, despite not having much natural rear view through the trident styled clear engine cover, the rear-view mirror is able to be used also as a rear-view camera, giving you a crystal-clear view of those wanting to get a closer look at your rear quarters. The car's that is, not your own, but I digress. Despite not much in the way of rear three-quarter vision, looking through each wing mirror allows you to see rear traffic but also marvel at the sight of the MC20's intakes and rear haunches.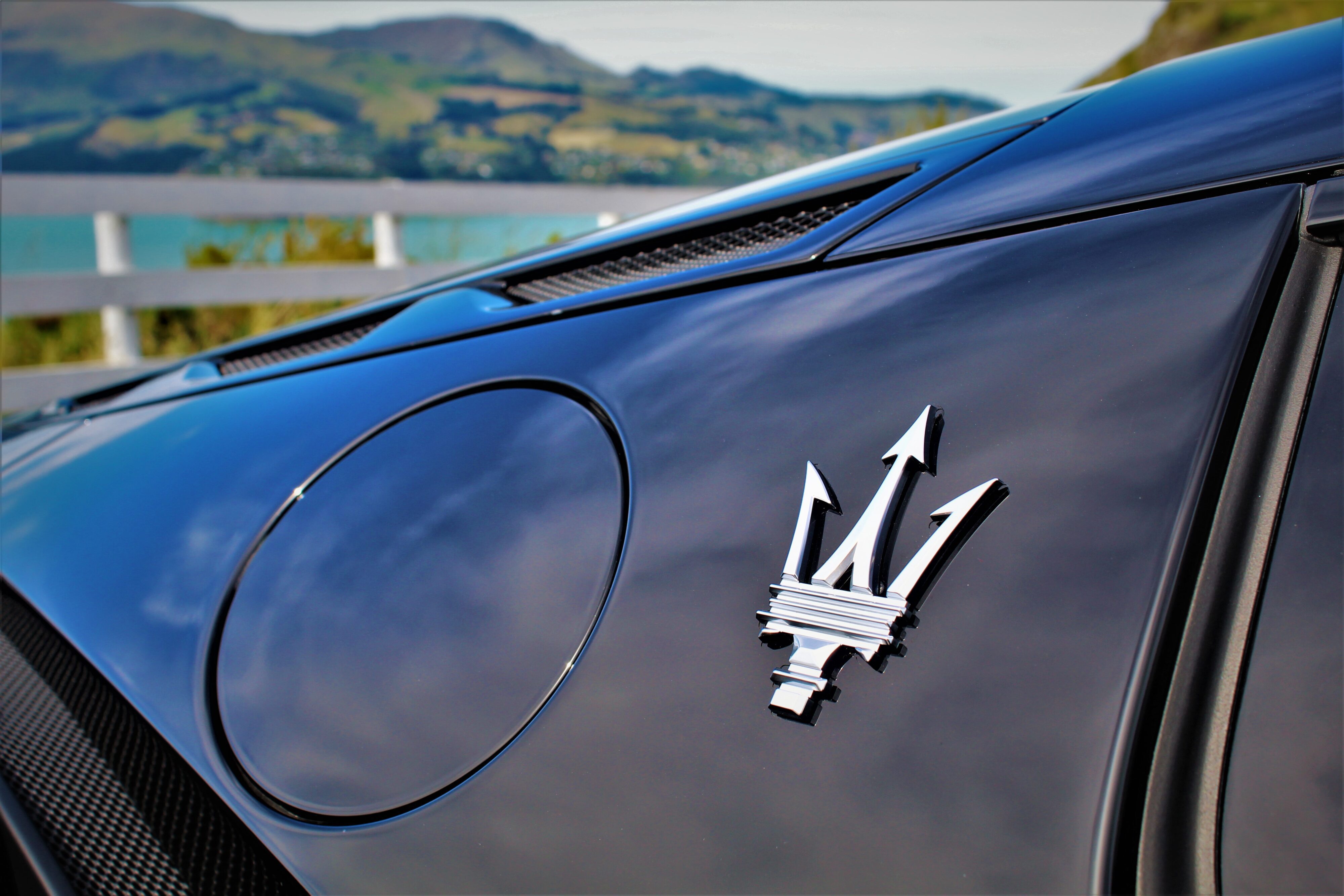 Thirdly, the MC20 is just so comfortable. You would think that, being as low as it looks, that it would be as rough as guts over inner city bitumen. This is not the case at all. Maserati have worked their magic to make the MC20 easy to live with. You aren't gliding over bumps naturally, but for a supercar, it rides very well indeed. You can even have it in Sport mode and select the electromechanical dampers to soft so you can keep that supple ride for longer.
The only trade off with MC20 city driving is that carbon front spoiler is rather low, so to save gouging it on speedbumps and carpark entrance ways, you have a lift kit fitted which removes all danger of doing just that. It only activates at low speed so one must be sure to activate it before you reach that incline.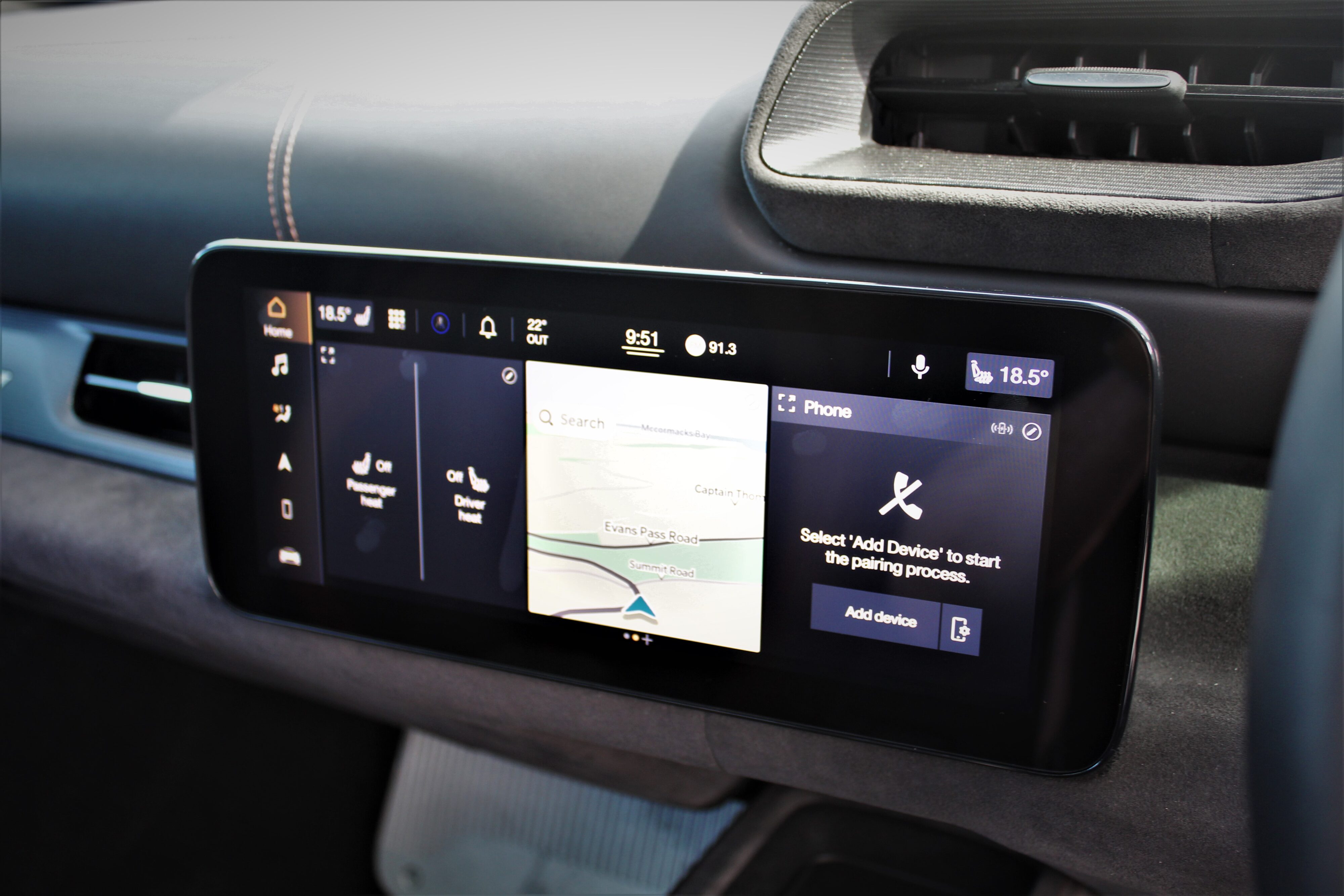 Keeping it in Sport mode, I ventured out of Christchurch and made a beeline for the coast roads towards Governors Bay, via the Lyttleton tunnel of course. It was at this stretch of 100km/h blacktop that I discovered just how rapid the MC20 really is. A few flicks down on the twin-clutch box is accompanied by a torrent of turbo V6 bellow. Flex one's right foot and way-hey, we are well and truly off!
The MC20 is fast, really fast. Keep the power on and it just seems to keep on accelerating. In fact, if I weren't reigned in the national open road speed limit, I would keep that power on as much as possible.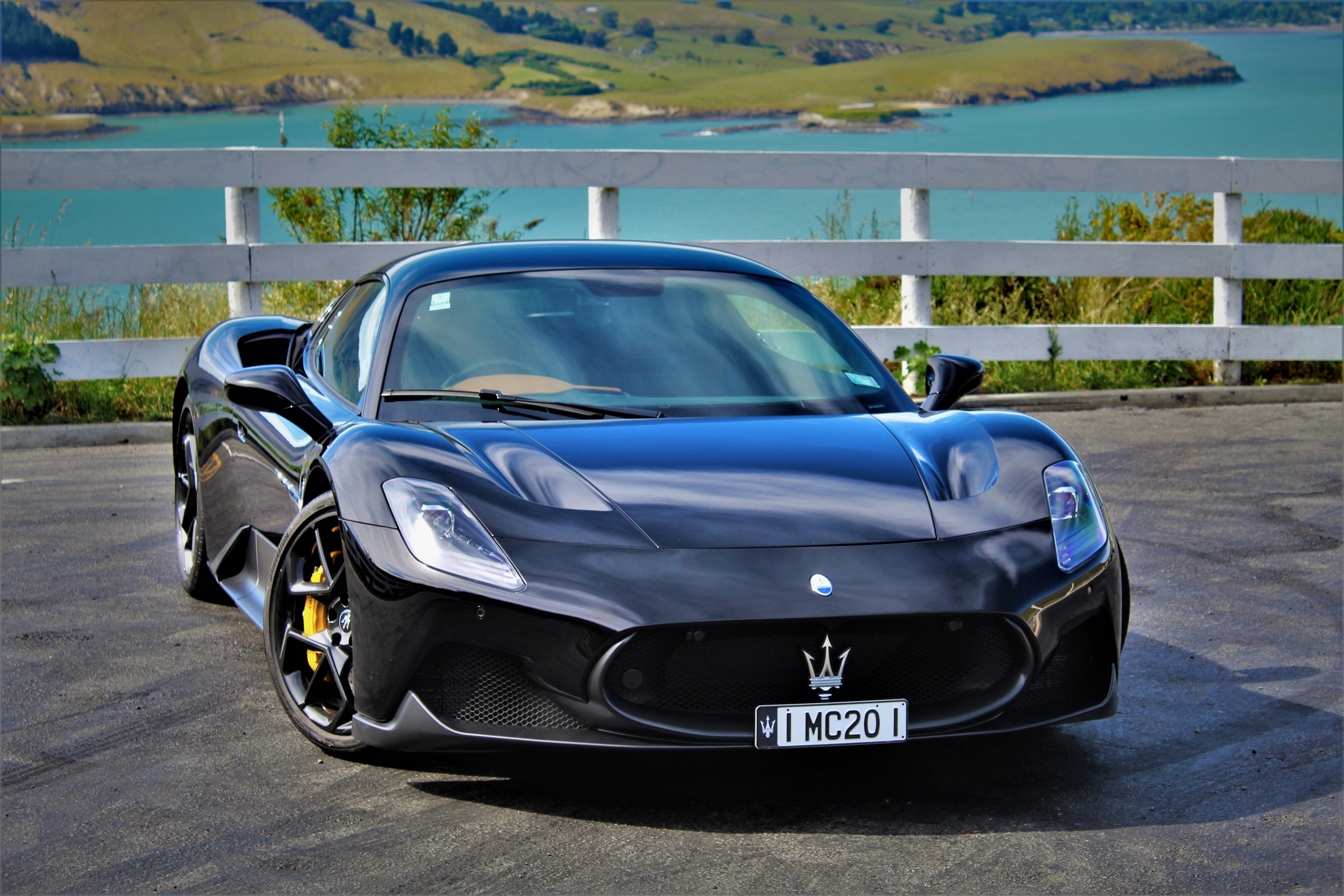 That combination of immense power and torque is able to rearrange your fillings every time you mash the loud pedal into the firewall. Plus, the fact there is no additional electric boost or hybrid drive helping to create this sensation is equally as impressive. The only downside I saw was a bit of tyre roar and wind noise at cruising speed.
Through the Lyttleton tunnel also presented an oppourtunity to let other road users know of your presence. Soon it was clear a Maserati MC20 was coming through, thanks to the symphonic V6 soundtrack. Flicking up through the gears manually is met with a slight delay but things are much quicker on the way down. Mind you, things are already thrilling enough that you don't really mind this after a while.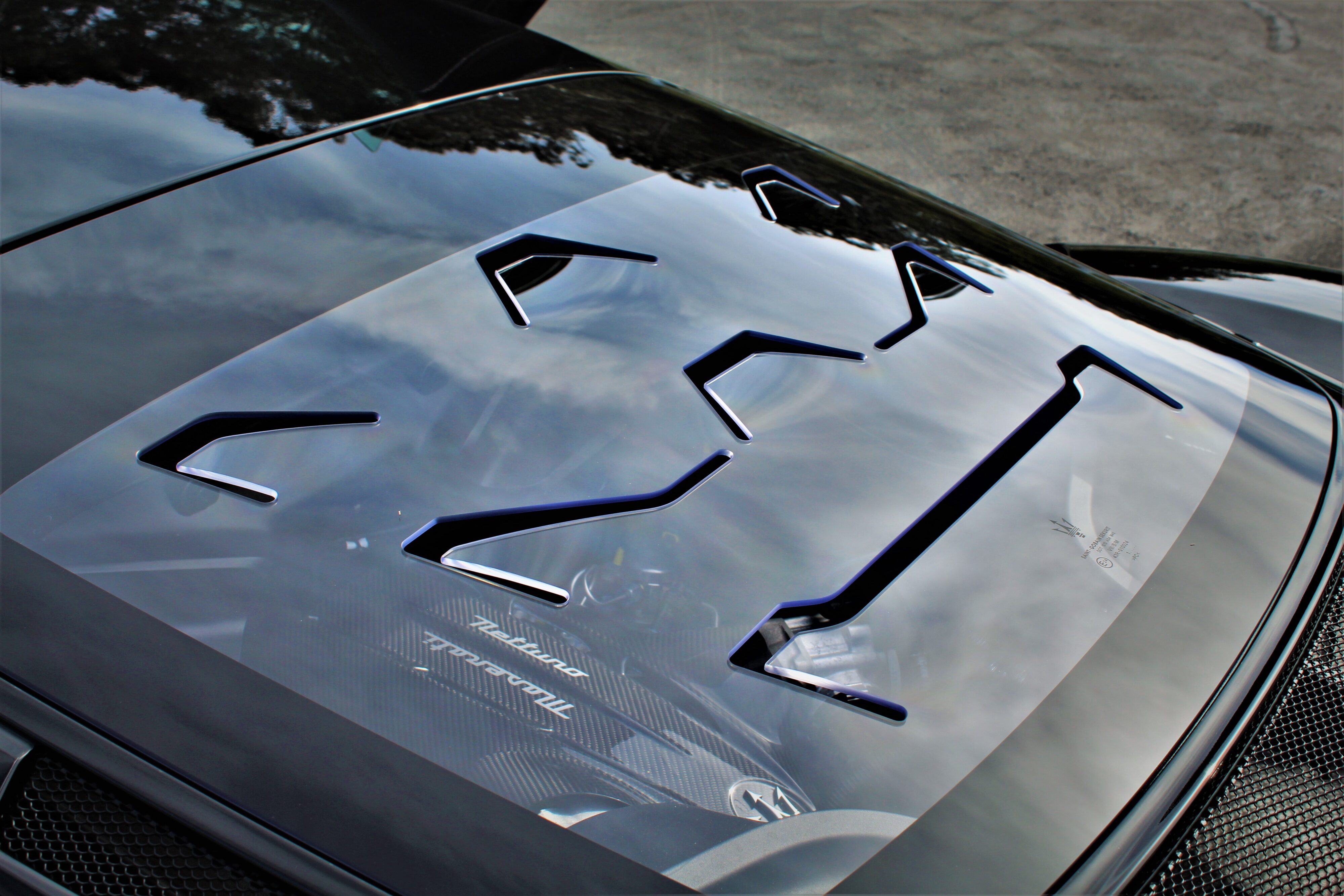 Soon we were onto the twistiness. It was here the MC20 played its Joker card. It is an utter revelation on the handling front. The terms "beautifully balanced" and "race-car like" could be tailor-made to suit this Latin supercar.
Up front, the carbon ceramic brakes do a good job of slowing things down, though until they warm up, you have a stand on the anchors firmly. The steering is nigh-on perfect. There is just the right amount of feedback without it being too much effort and the lightness isn't light to the point of you feeling disconnected from the job.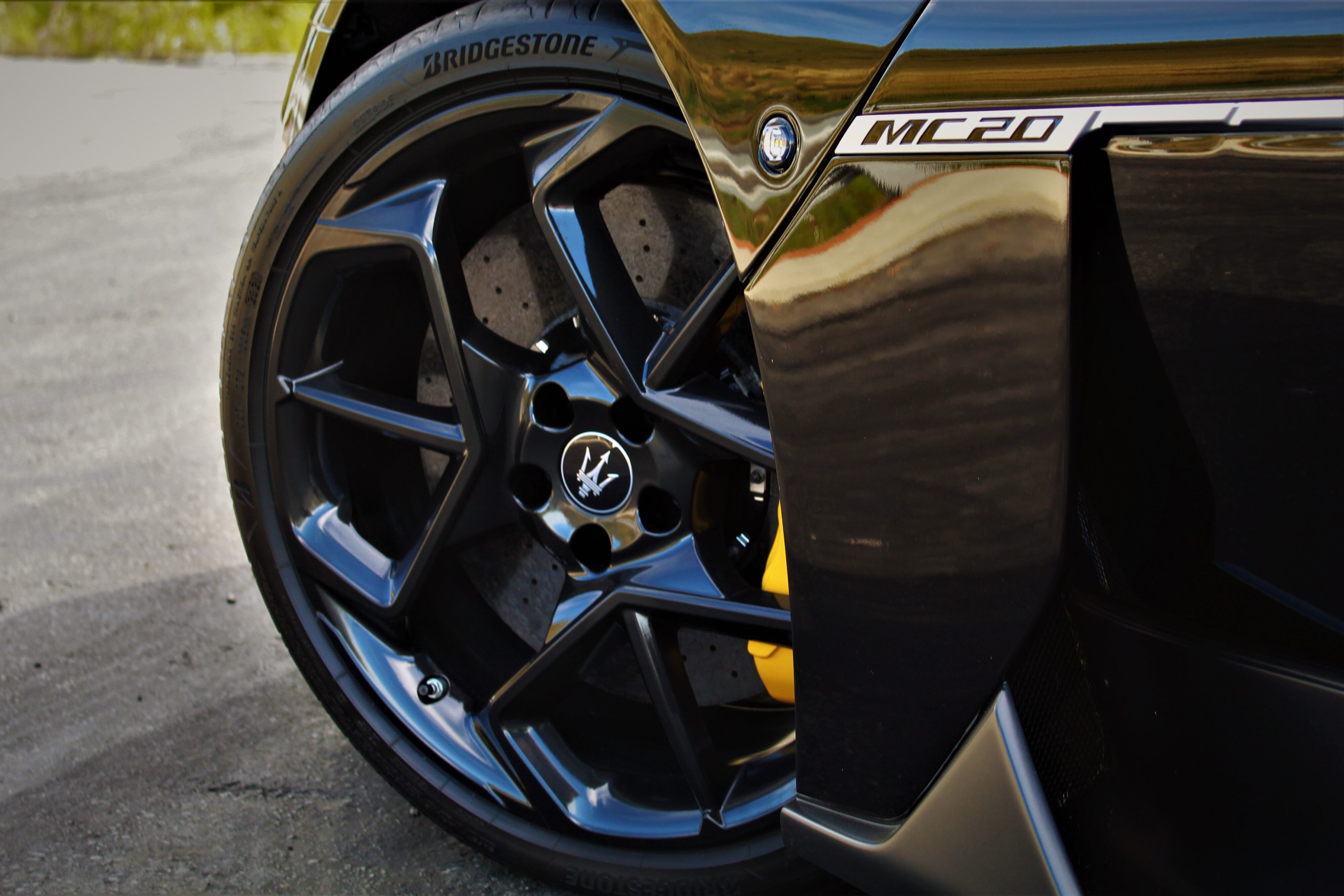 Even with the dampers in soft, you can carry so much speed through each bend and I never once noticed any body roll. You stay planted and true the moment you enter the corner to the moment you exit, usually with a silly grin on your mug. Whether a long sweeping bend or the most technical sharp right hander, you are never beyond control as the MC20 takes it all in its stride.
Yes, the rear luggage compartment isn't much cop and it will set you back $390,000. This one is currently listed for $464,990 thanks to a few options. However, what Maserati have done with the MC20 is at long last create a truly spell-binding supercar of epic proportions.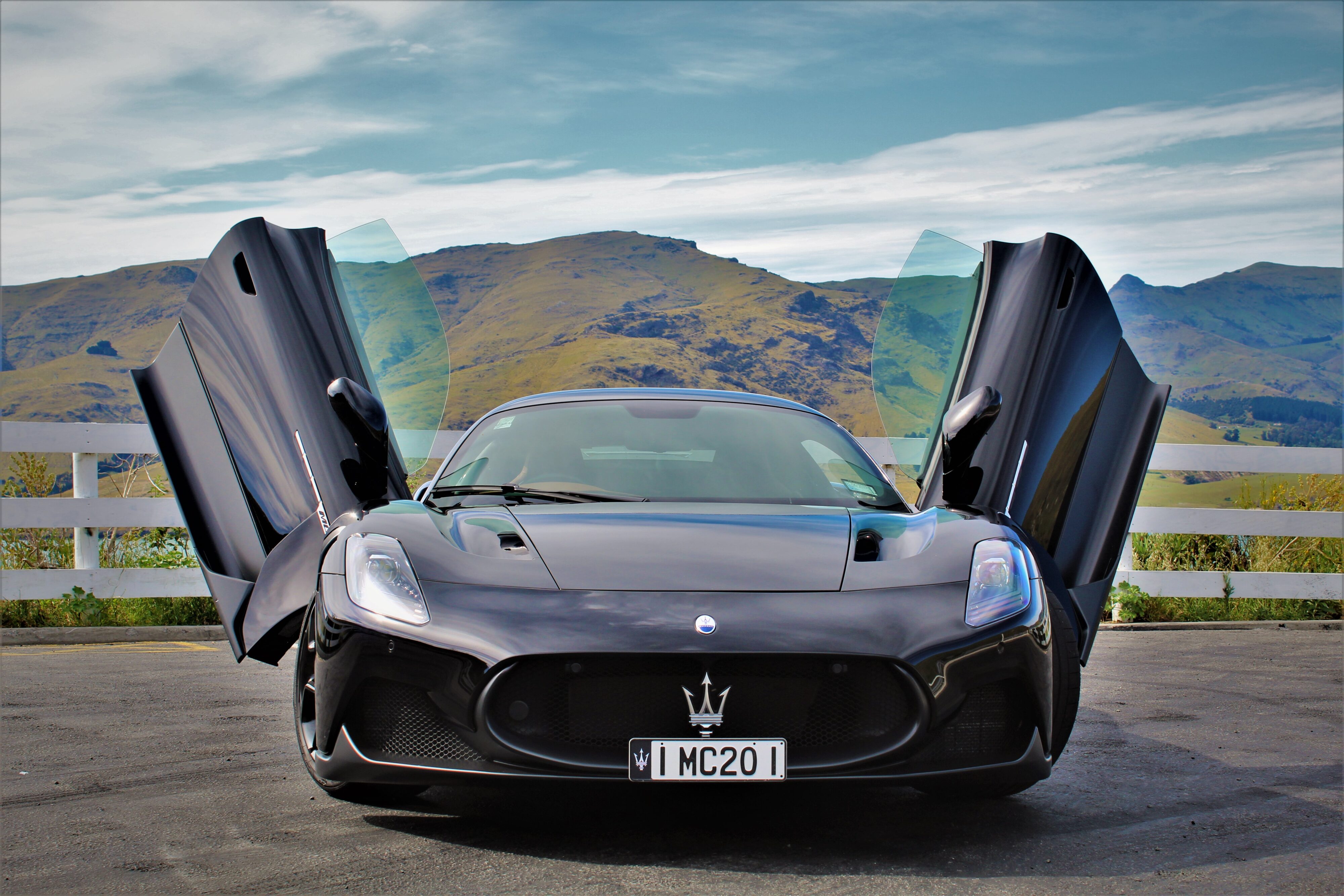 It may not have the flamboyance of its other Italian rivals, but the Maserati MC20's appeal is more in line with the brand ethos of elegance of refinement. As a result, the MC20 is certainly one of the most complete super performance cars on the road today. With an open top Cielo version well on the way too, the Maserati supercar is well and truly back.
RATING: 9/10