The Toyota Fortuner always makes me think of Harry Potter. No, really. I think the fact it shares the same nameplate one of the ever-changing passwords of the Gryffindor common room, "Fortuna Major." Anyway, nerd chat aside, back to a Fortuner that actually exists.
The Toyota Fortuner makes no bones about being a seven-seater off roader which is dead handy at going off road. While the Hilux may be the first vehicle with a Toyota badge that springs to mind when it comes to climbing every mountain and fording every stream, but the Fortuner has been a steady seller for the brand.
Also, thanks to a combination of immense durability and willing grunt, it does tick a number boxes for those of us in the specialist motoring press. This year, the Fortuner has been given a refresh to keep pace with the likes of Mitsubishi's Pajero Sport and the Ford Everest. Here is the low down.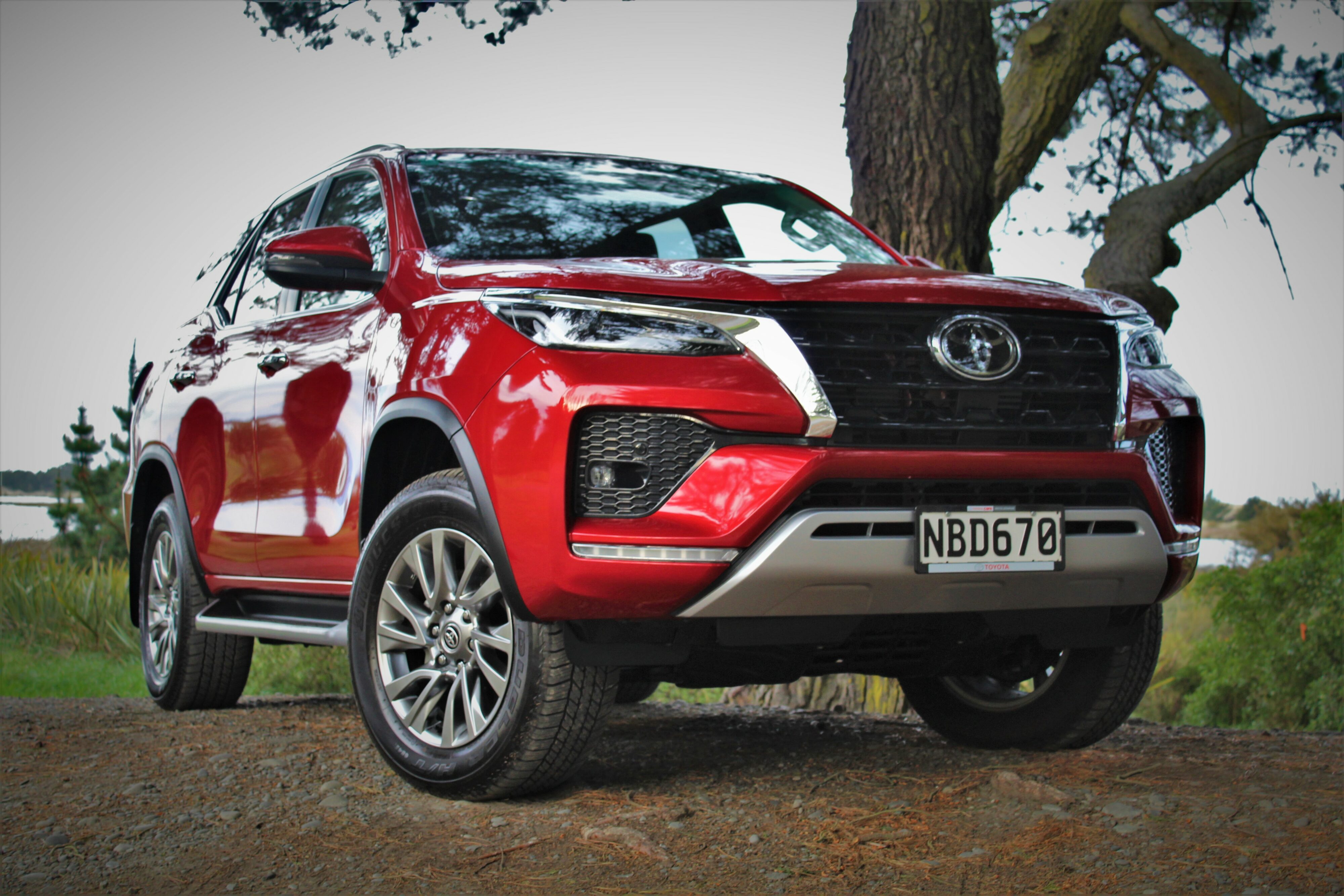 The new Fortuner is available in two spec levels, the entry level GXL and my test car, the range topping Limited. The GXL kicks things off a Toyota Driveaway Price (TDP) of $56,990 whereas you will have to fork out an extra $3k for the Limited at $59,990 TDP.
The Fortuner may share the same underpinnings as its Hilux counterpart, but aside from the doors and bonnet, it is an entirely different car despite still sporting the same rough and ready image. At first glance, you wouldn't think much has changed in the looks department. Take a second gander and you notice a few tweaks here and there such as a new grill, LED headlights, 18-inch alloys and revised taillights. There are also new colours available such as my Limited's "Emotional Red."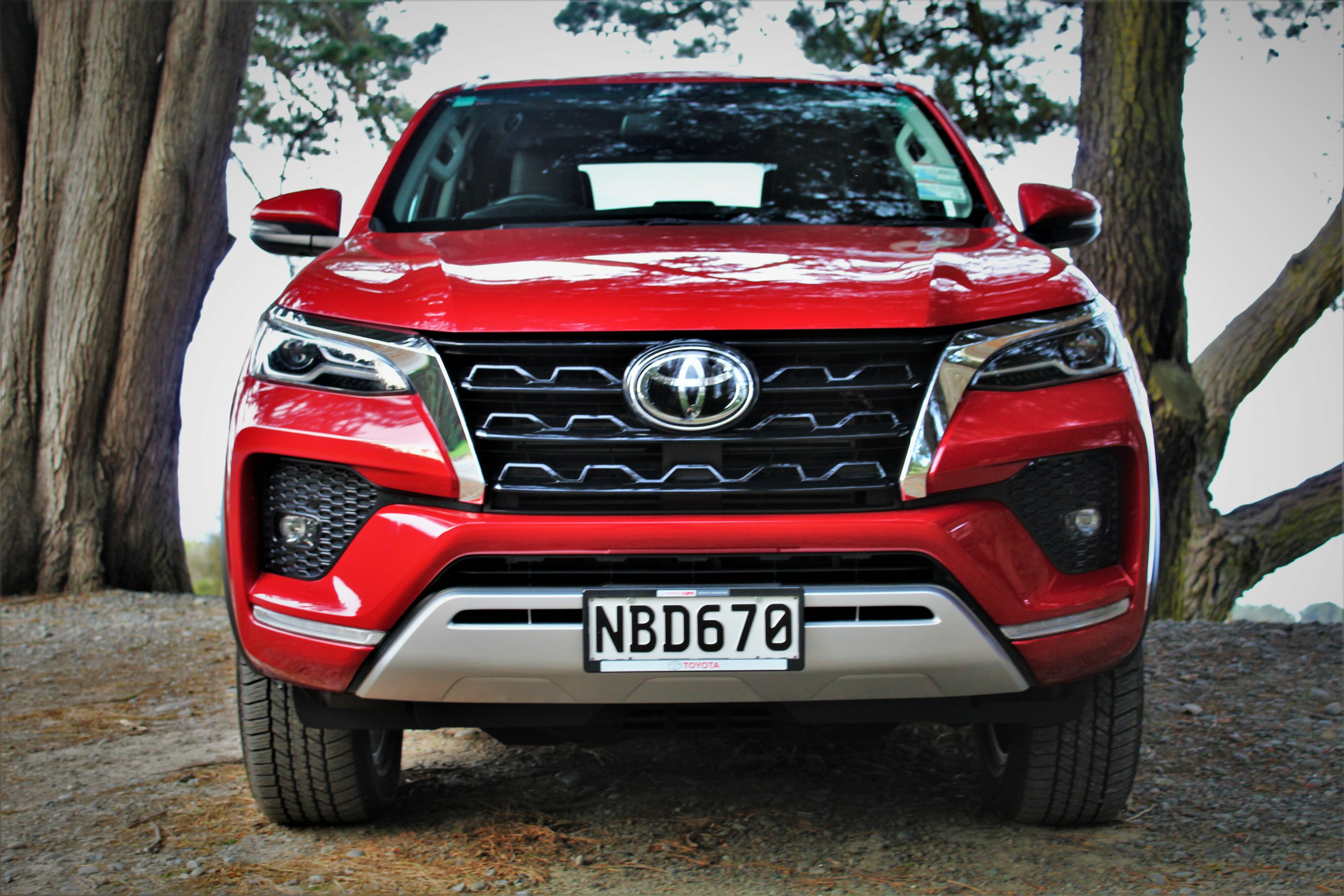 Under the bonnet sits the same 2.8L four-cylinder turbo diesel engine you find lurking under the bonnet of the new Hilux. However, despite being very similar to the previous generation, Toyota's engineers have managed to squeeze extra power and torque out, giving you 150kW, 20kW more than before, and a solid 500Nm respectively.
Toyota claim this is down to tweaking the block itself, redesigning the turbo, pistons and cooling system, while also fitting variable flow power steering to bring down those fuel consumption figures, which now sit at a combined 7.6L/100km. Grunt is channeled to all four wheels through a six-speed automatic gearbox as you would imagine. Towing capacity has also increased to 3100kg from 2800kg.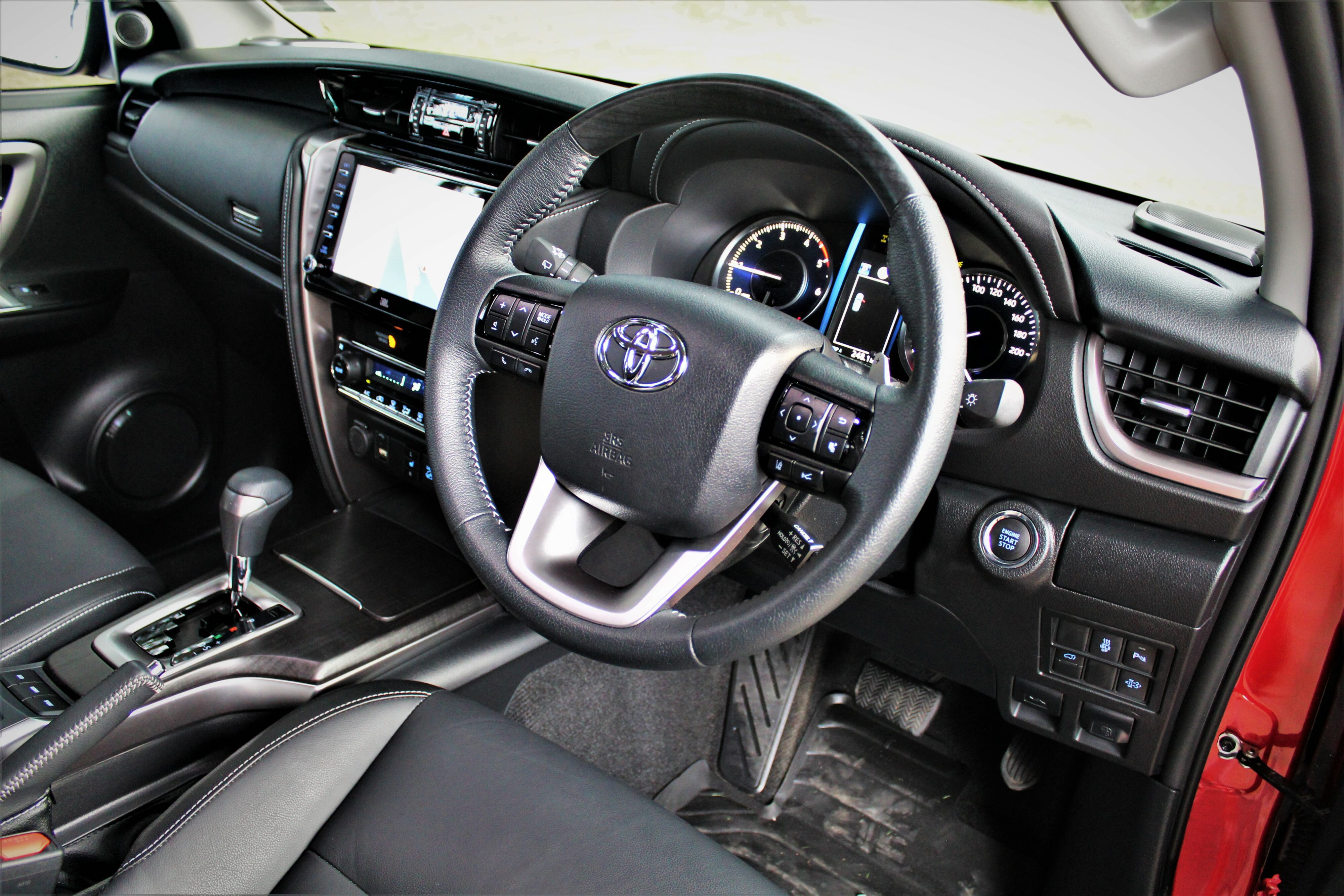 There have been a number of changes to the Fortuner's insides which become quite obvious the moment you step in. The old infotainment system has been replaced with the same 8.0-inch touchscreen set up from the Hilux. It carries over all the technological fruit and includes Apple CarPlay/Android Auto.
The Fortuner also sports a revised digital display between the two analogue dials which also contains Front heel Turning Angle. Also, the thumping JBL 11-speaker sound system gives one a good impression of what Led Zeppelin performing live would actually be like, or Peggy Lee.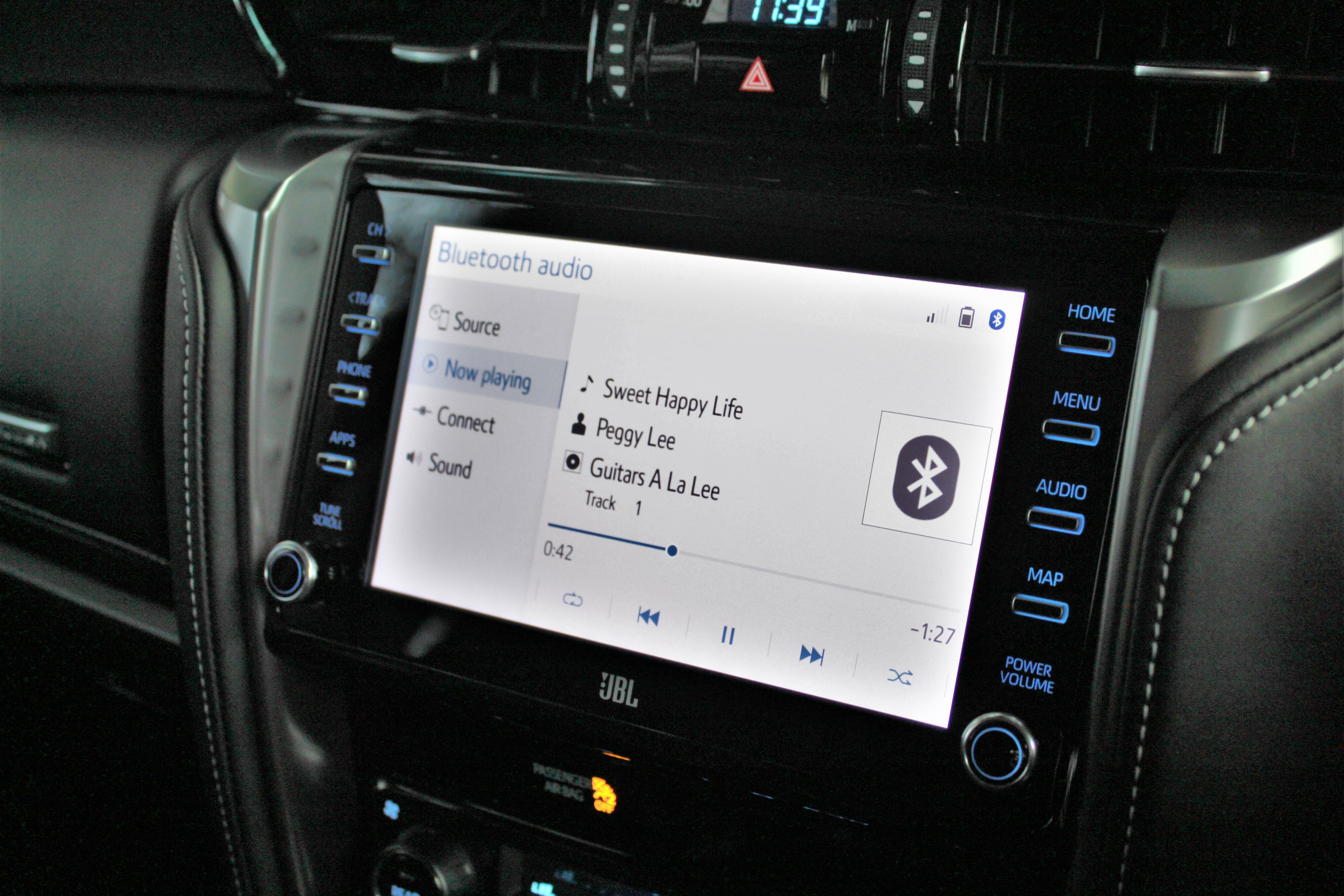 You also get a good amount of Toyota safety kit and other goodies including Pre-Collision System with Autonomous Emergency Braking, Pedestrian and Cyclist Detection, Radar Cruise Control, Lane Departure Alert with Yaw Assist function, Road Sign Assist, Brake Assist, Downhill Assist Control, Drive-Start Control and Trailer Sway Control.
The switchgear does feel very solid and well put together, plus the leather accented heated seats offer plenty of support. However, it would have been nice to see more USB ports around the place.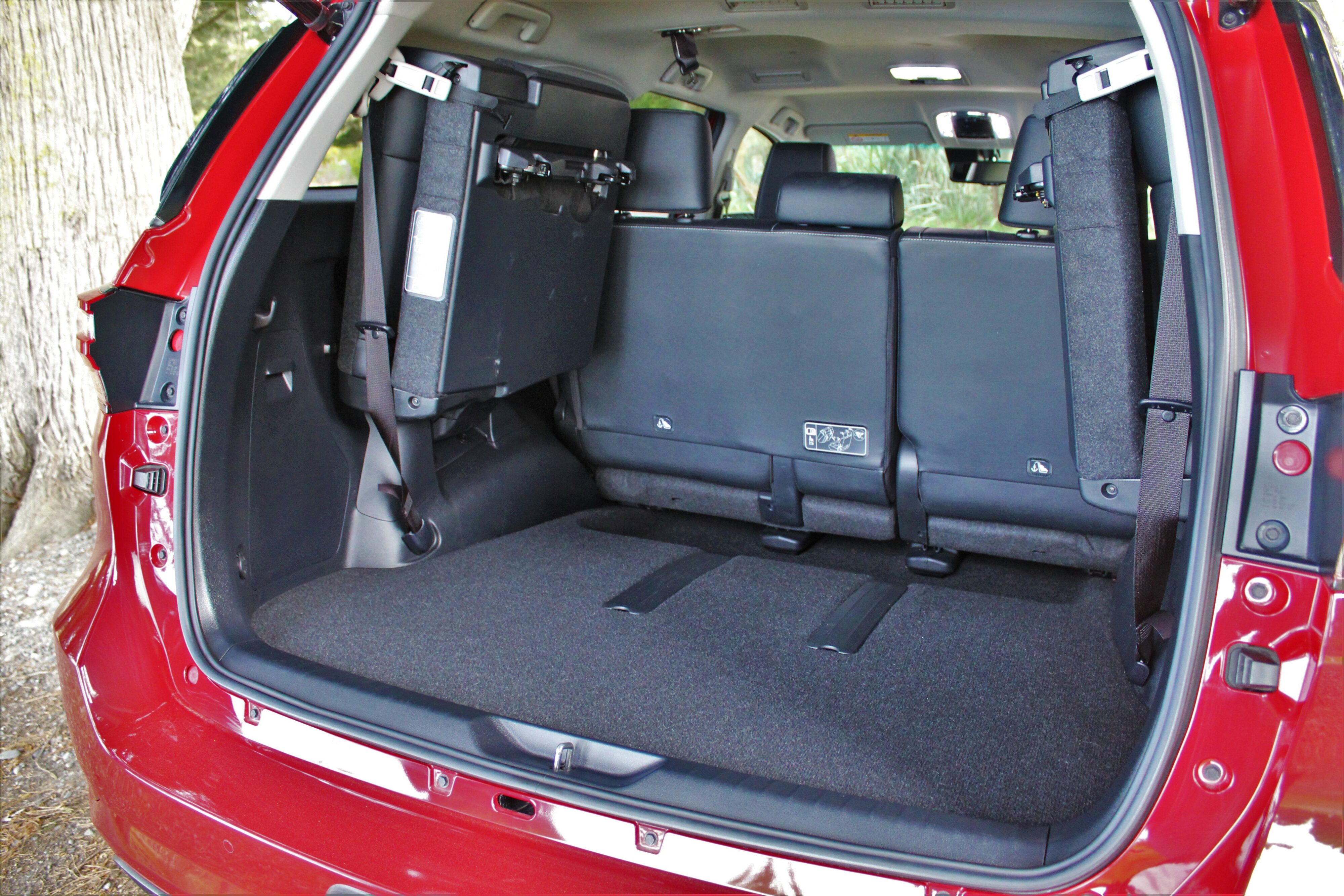 As the Fortuner is a full seven-seater, be prepared to greatly sacrifice boot space if you have a full car load. However, store those rear seats away and you have 716L of space to store whatever. There is also more room for back seat passengers, even folk of a taller disposition will find comfort.
Moving off and that 2.8L turbo diesel four cylinder gives you wads of low-down torque, resulting in a more immediate delivery of power off the line. You still get the same quintessential chug of an old school feeling turbo diesel engine but that power band is very linear and doesn't run out of puff until very close to the redline. Very much ideal for a SH1 overtaking maneuver.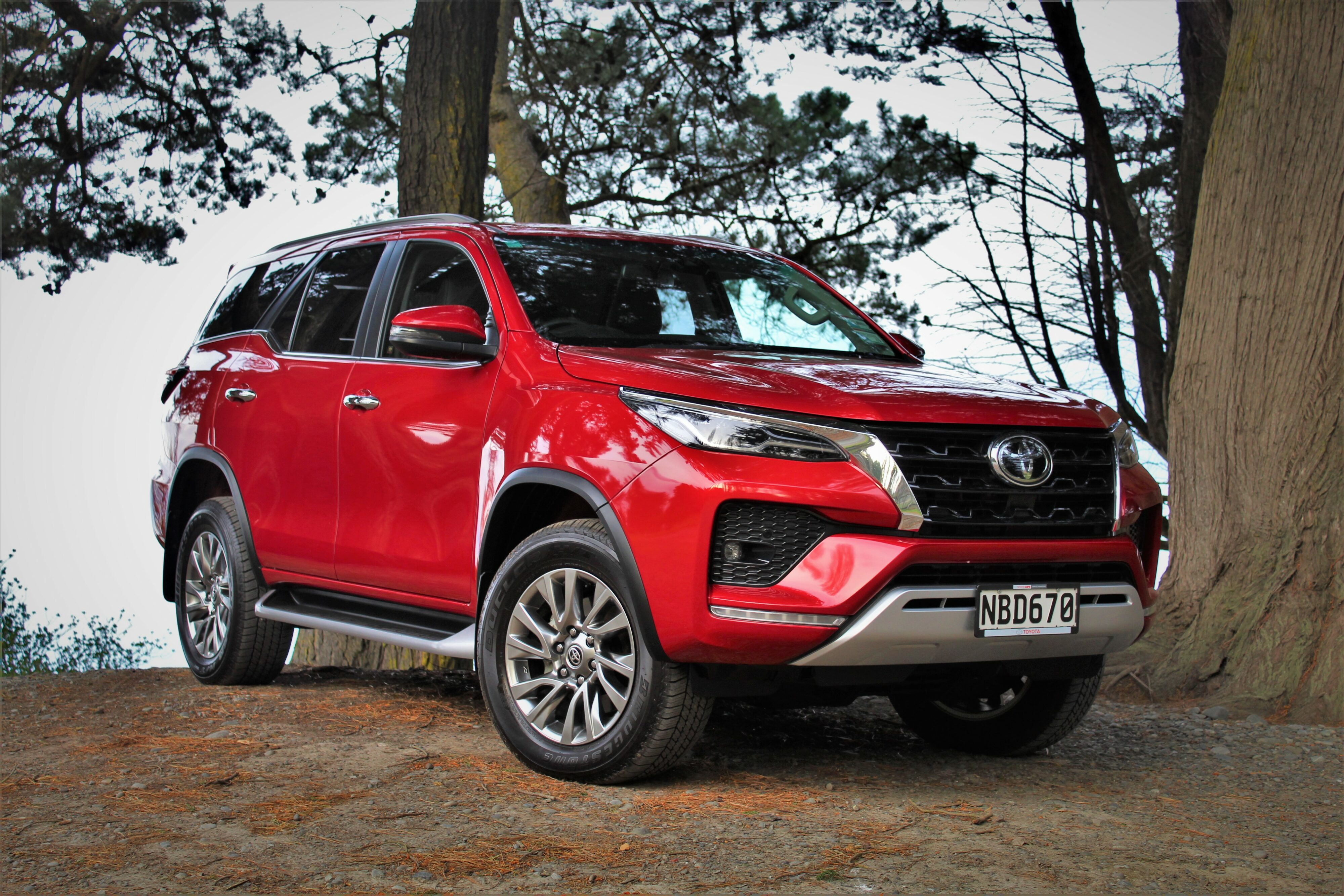 You can do this in Sport mode and flick up and down on the six-speed auto box via the shift paddles, but most of the time I found a firm right shoe in Comfort mode was more than enough.
Whether getting up to speed in a brisk motion or merely negotiating the urban jungle, the new Fortuner is quite manageable and easy to drive. One surprise was the subject of ride comfort. Often vehicles based on a Ute platform tend to bring the bounciness of the ride over with them, but not so here. Rear visibility isn't too bad, but with those rear seats in place, relying on your wing mirrors becomes paramount.
As per the Hilux, you have 2WD, 4WD high and 4WD Low to choose from, the latter coming into play when roughing it. I am happy to say the Fortuner is still very capable as a family go-anywhere (within reason) off roader. That extra grunt and torque allows you spring out of dips and ruts very well indeed, and being able to monitor the front wheels via the front wheel turning angle display is a huge help.
Ute based SUVs were once a rare sight on Kiwi roads. Things are much different today, and the Toyota Fortuner's tweaks and additives for 2021, despite a few cosmetic niggles, makes it an even more compelling buy in segment on the rise.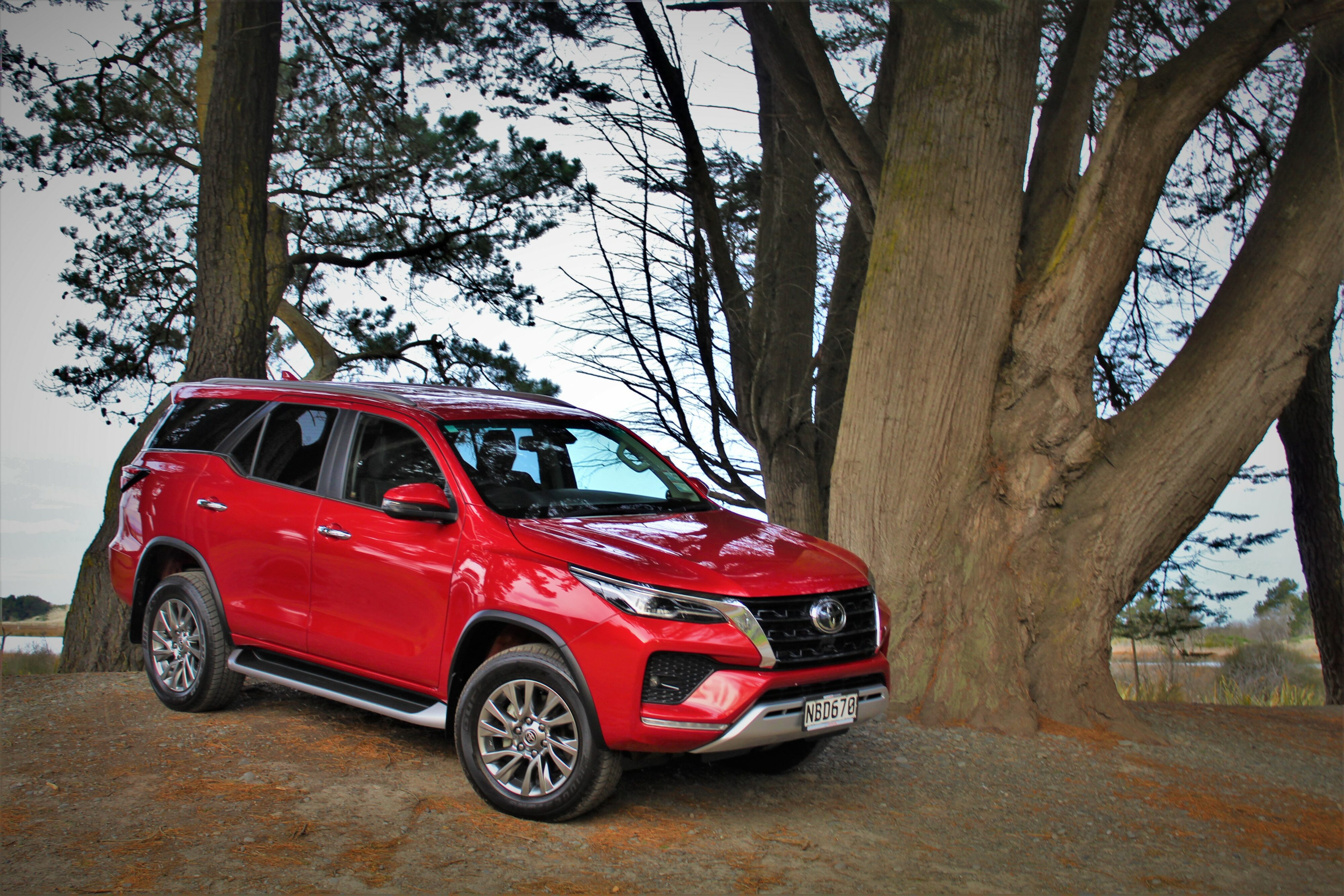 RATING: 8/10