The Mazda CX-30 has only been with us for two years, but already this midway step between the CX3 and CX5 has emerged as one of the most popular cars in Mazda's range. There is a good reason for this too, it happens to be a very good package on many levels. Now Mazda have expanded the CX-30 clan by way of the new CX-30 SP20 MHEV Blackout Edition.
Its namesake may be a bit of a mouthful, but at $44,390 plus ORC, the SP20, as it will henceforth be referred to as in this review, is one of the most cost-effective ways into CX-30 ownership. The SP20 sits at $2k above the base GSX FWD on which it is based. Mazda have also pulled the rabbit out of the hat with five year unlimited kilometers warranty, five years premium roadside assistance and five years free scheduled servicing to boot. Talk about a trifecta.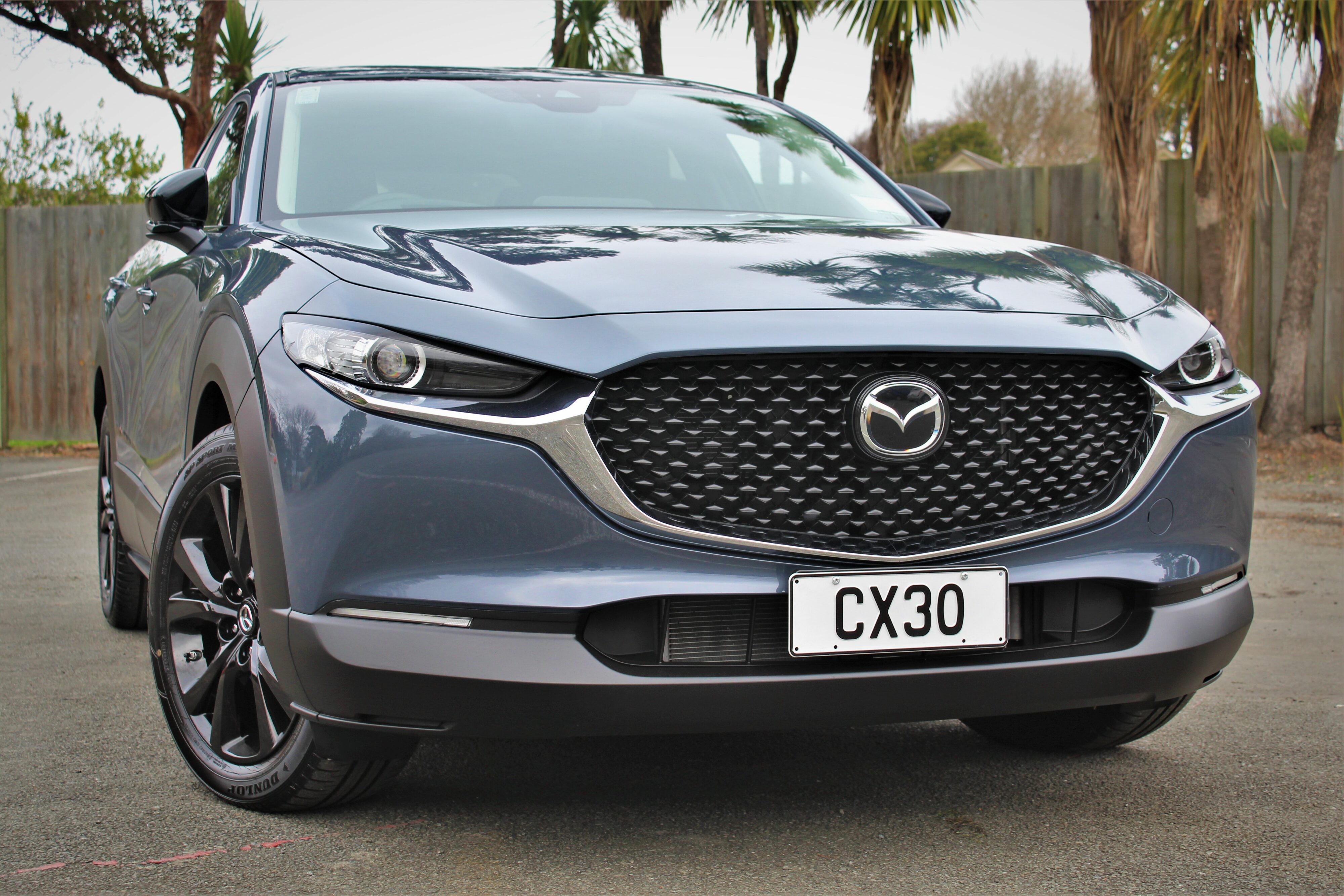 From the outset, as the Blackout part suggests, this CX-30 has been blacked out with things like its 18-inch alloys, door mirrors, rooflines, sills, bumpers and other accents joining the dark side. The interior also gets plenty of blacked out trim pieces and red stitching gives the merest suggestion of a colour which isn't black. A new quartz-like exterior colour, Platinum Quartz Metallic, has been added to the range, but my test car still looked pretty good in Polymetal Grey Metallic.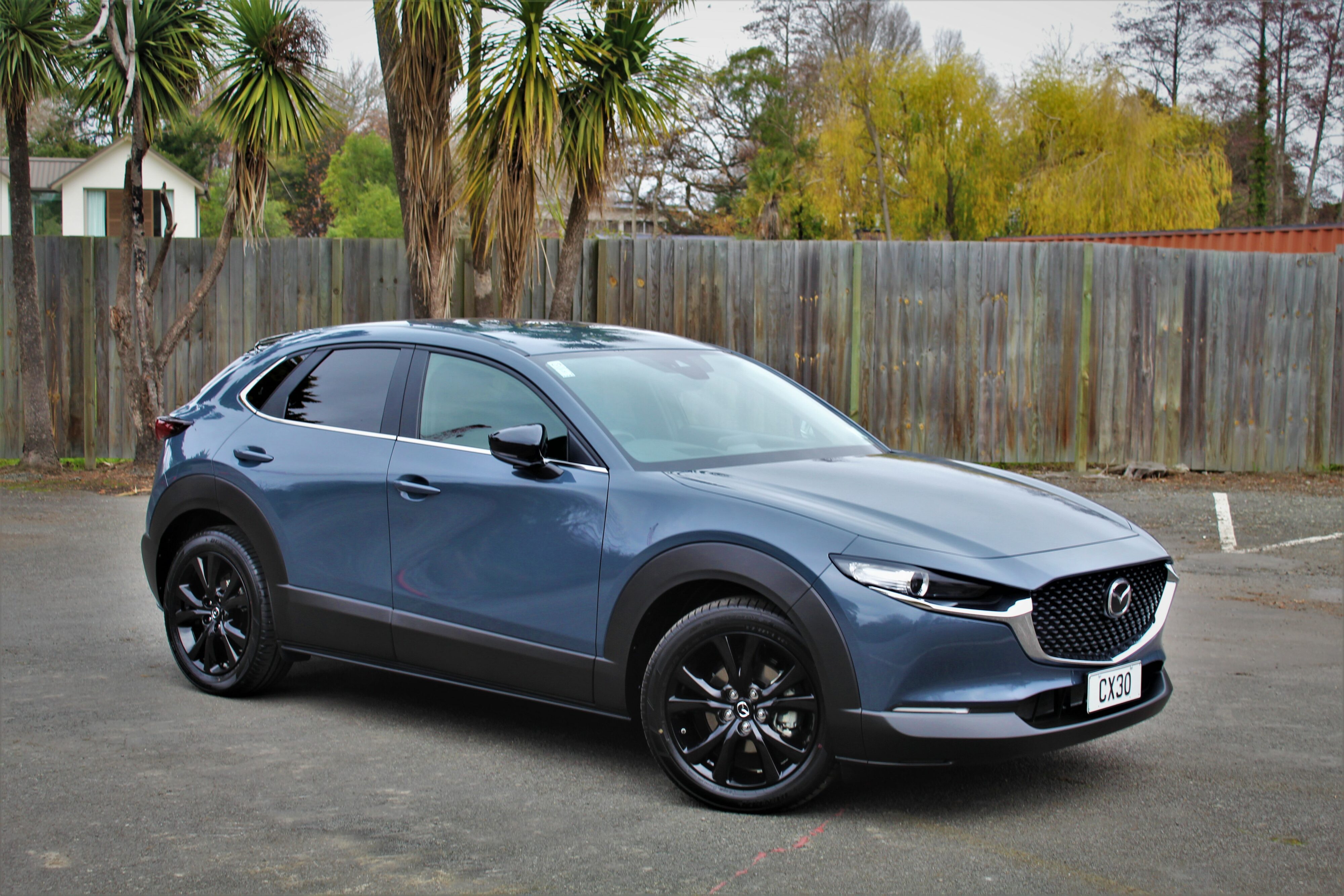 The biggest change, as you may have guessed by those letters MHEV, is the incorporation of a Mild Hybrid system as part of the SP20's e-Skyactiv G 2.0L four-cylinder petrol engine. The Mild Hybrid system is used by storing electricity in the CX-30's 24v Lithium-Ion battery and recycling it when it is needed most.
You won't be able to run solely on electric power like a conventional hybrid but the MHEV set up means things like moving off and slowing to a stop, that built up electric energy is used to give extra efficiency and petrol side of things a breather or assistance. Mazda's proven and smooth six speed automatic transmission also makes a welcome return.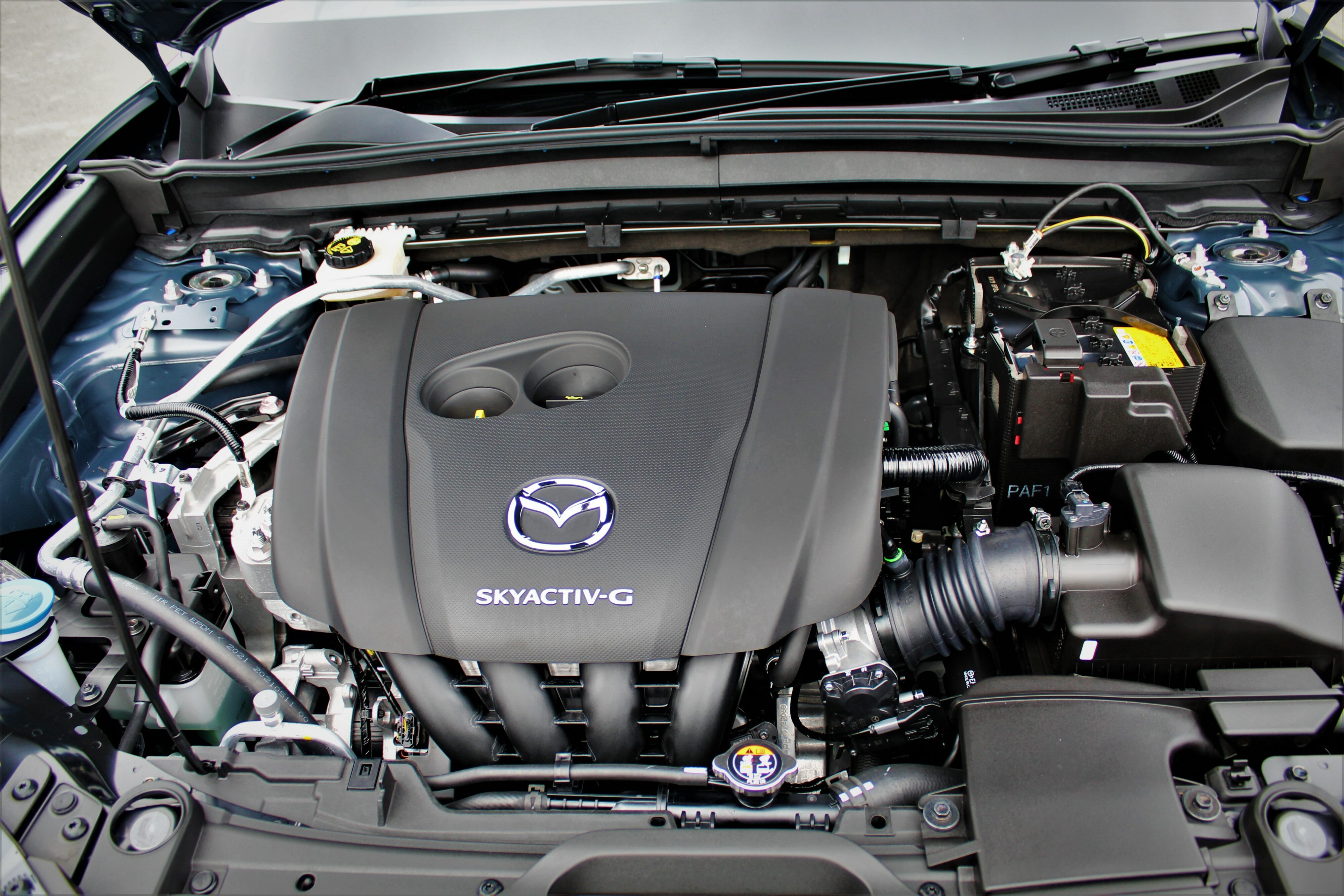 Power and torque figures may stay identical to the base GSX at 114kW and 200Nm, but the MHEV additive means the SP20 is that little bit more economical at 6.3L/100km over the GSX's 6.5L/100km combined fuel figure. Emissions are down too with the SP20 churning out 4g of CO2 less at 148g/km.
As previously said, the interior gets a barrage of black accents, otherwise its very familiar to any CX-30 I've driven before over the last two years. Mazda really know how to give you premium looking and feeling surroundings and with the SP20, its business as usual. Every button and toggle switch feels just better put together than most rivals in this price bracket and, believe it or not, they are actually feel satisfying every time you press them.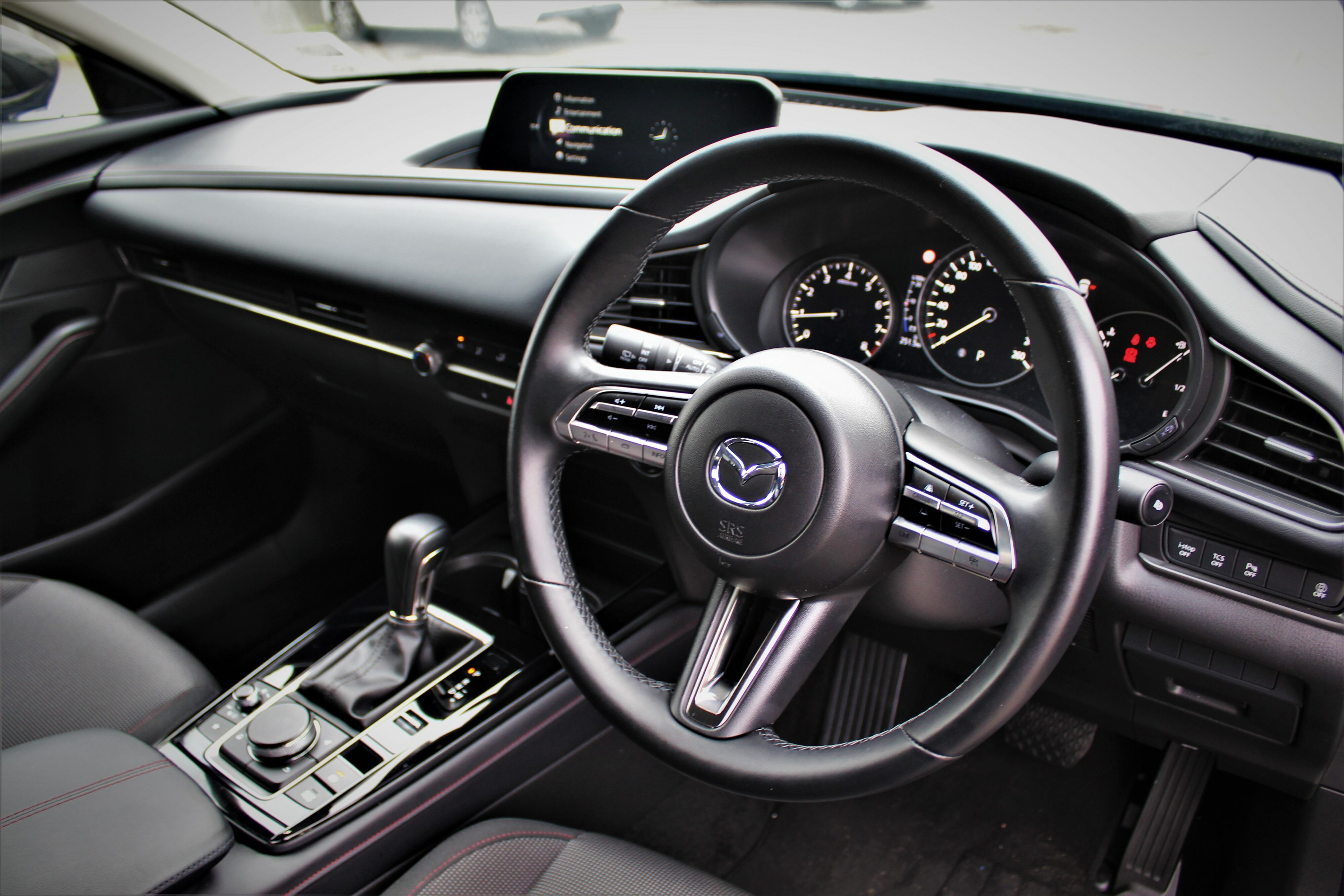 The driving position feels very organic and everything is within easy reach. The SP20 comes standard with all the equipment found in the entry level GSX. This means you get an 8.8-inch widescreen Mazda Connect infotainment screen, a head up display, privacy glass, LED headlights and taillights, Apple CarPlay/Android Auto, sat nav, manual air con, 2x USB ports, reversing camera, rear parking sensors, rain sensing wipers and Mazda's i-Activesense active safety suite.
The latter includes features like lane departure warning, blind spot monitoring, rear cross traffic alert, adaptive cruise control, AEB smart brake support, lane-keep assist and traffic sign recognition. Front and rear passengers have ample head and legroom and you have 317L of boot space. Hidey holes and other storage areas are decent too.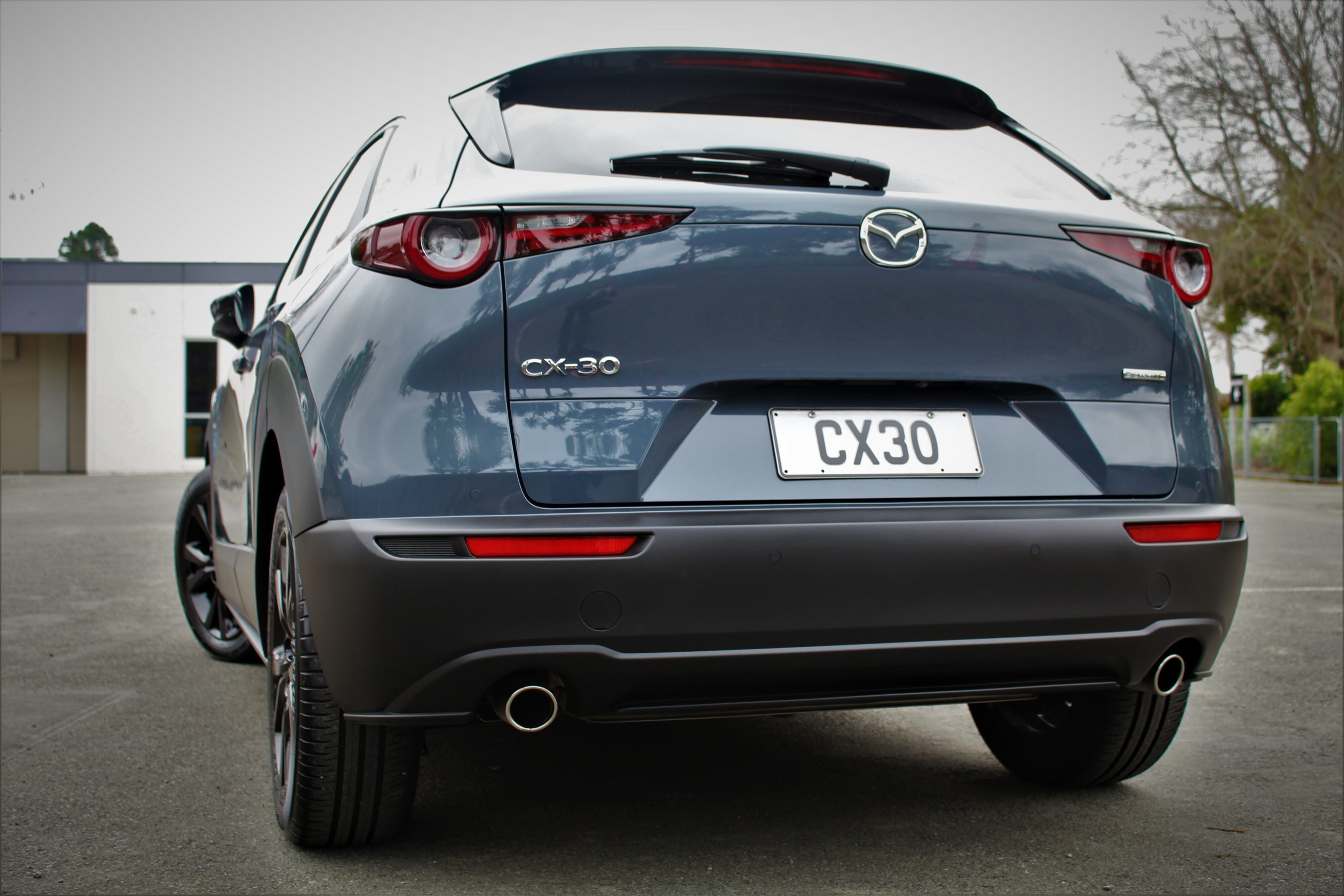 Moving off and straight off the bat you notice the addition of that electric mild hybrid set up. Things feel just that little more refined over the standard GSX when you apply some right foot. It feels meatier low down in the rev range and when you come to a stop, the i-Stop function will actually kick in moments before you become stationary.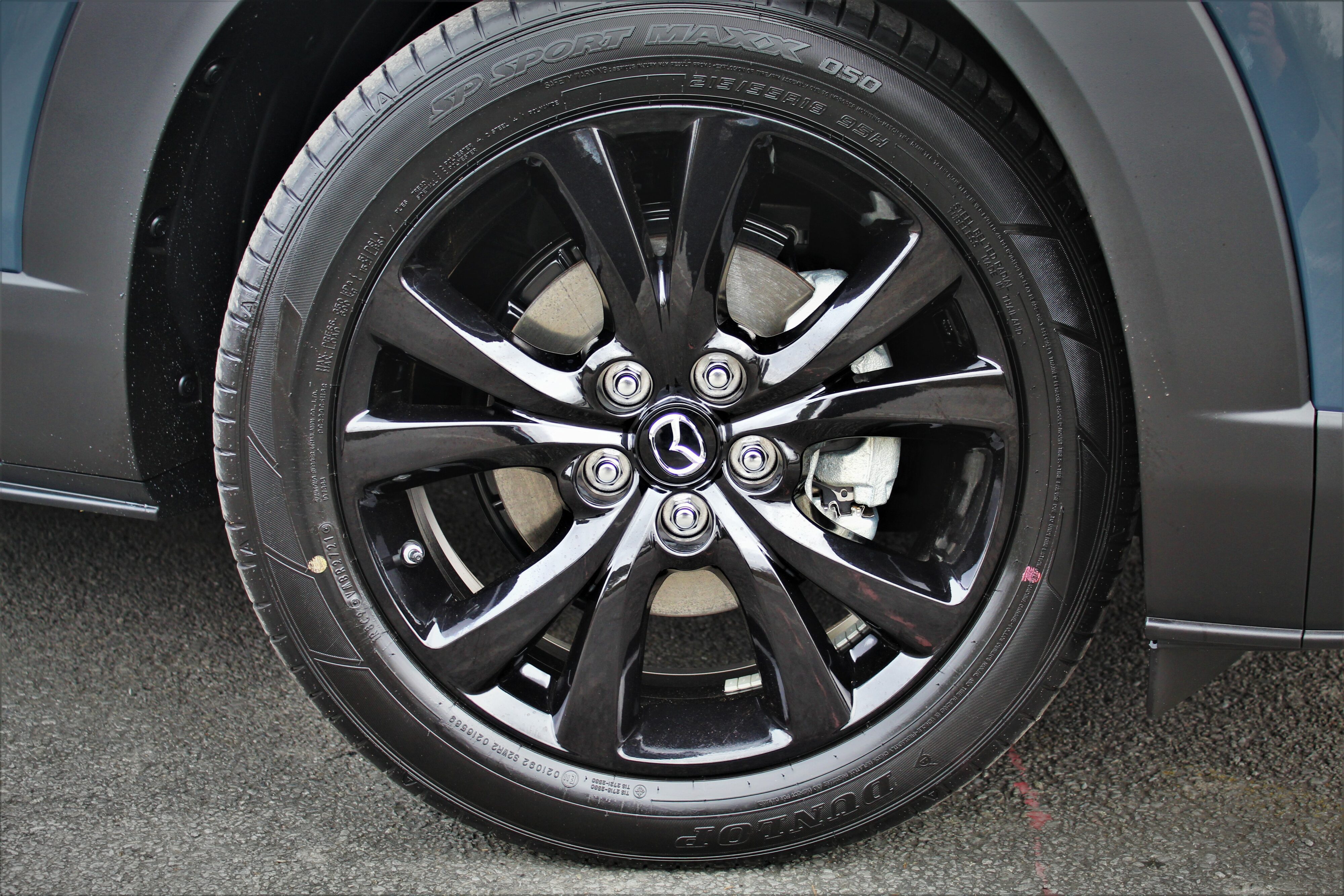 From around 1800 to 4800 rpm is the sweet spot for the e-Skyactiv four cylinder. Coupled with that very slick six speed auto box, you are able to make more than adequate progress. The engine note heard during this ascent up the rev range isn't too bad, but in my view, there are better sounding engine notes out there. This is probably my only gripe with what is essentially a very good power unit. Its refinement and the ease of which you can fully utilize the combo of petrol power and electric assistance is delightful.
The SP-20's steering gets G-Vectoring Control Plus like the rest of the range. This system gives subtle engine and torque changes with every flick left or right to ensure you get the most comfortable ride and the most responsive turn in possible. The steering is tip top in this regard, giving good feedback despite feeling somewhat light.
Ride comfort is very good too. It feels well planted in the corners too. In Sport mode you can surge forward quickly enough but the SP20's forte is at cruising speeds. Its here where you can enjoy it most and with outside noise and tyre roar kept to low levels, it's a pleasant small SUV to enjoy a motorway journey.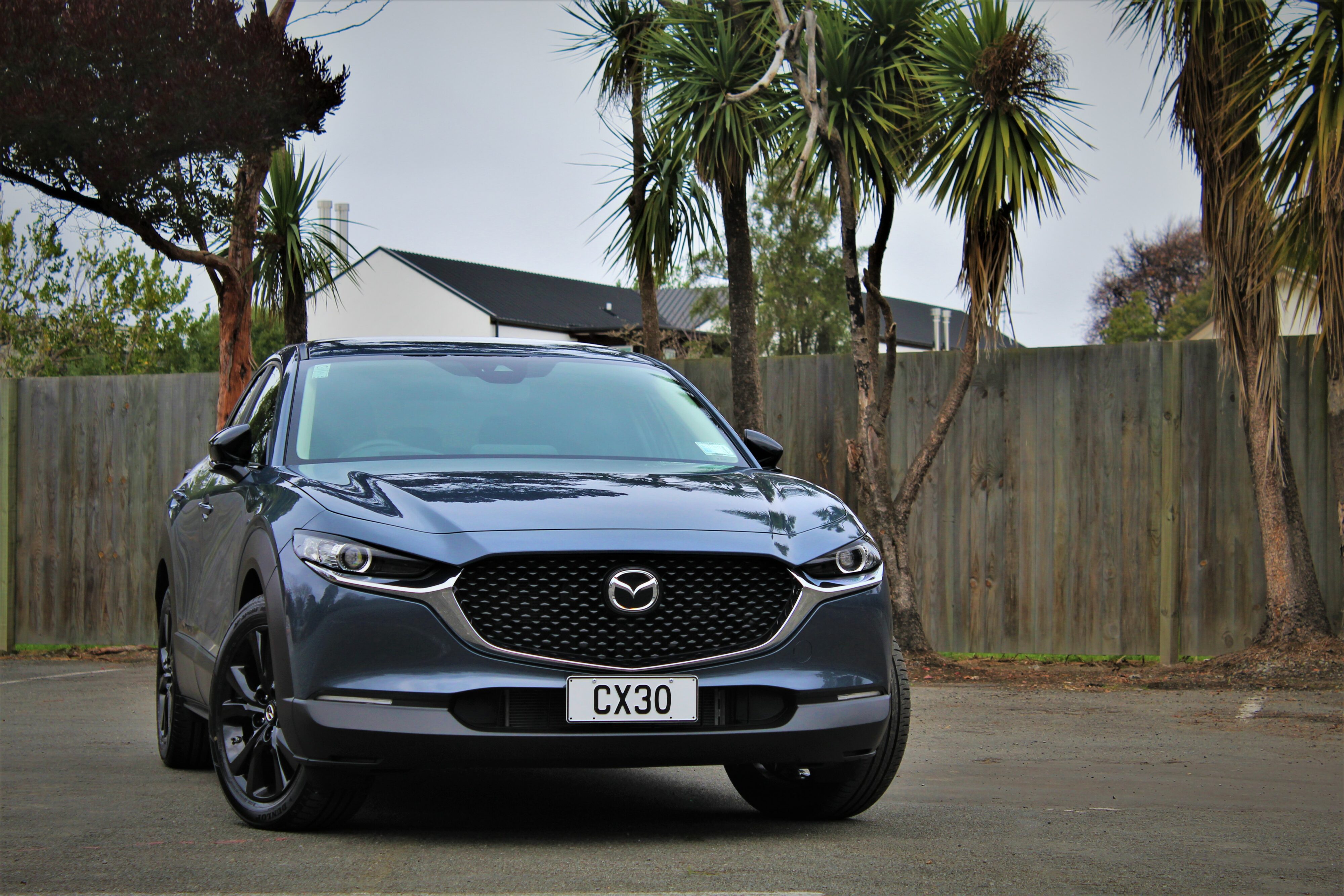 When you compare the SP20 to the GSX, apart from the blackout aspect, the 18-inch alloys and the mild hybrid set up, they are very similar. The SP20 looks slick with its blackout bits, but the gains made in economy thanks to the mild hybrid four pot would be sole reason why I would spend the extra $2k.
RATING: 7.5/10