When buying a five-seater SUV these days, potential buyers often ask the same question, "Is it a hybrid?" The desire to go hybrid or go home has never been burning brighter for the masses, which can only be attributed to the rising cost of fuel and that tempting Government Clean Car Discount.
Hyundai have responded to this buy providing a hybrid variant for much of their SUV line-up. Alongside the Kona, Ioniq and Santa Fe, the current Tucson also now gets the hybrid treatment. The Tucson Hybrid range gets a varied selection of spec levels and both 2WD and 4WD options.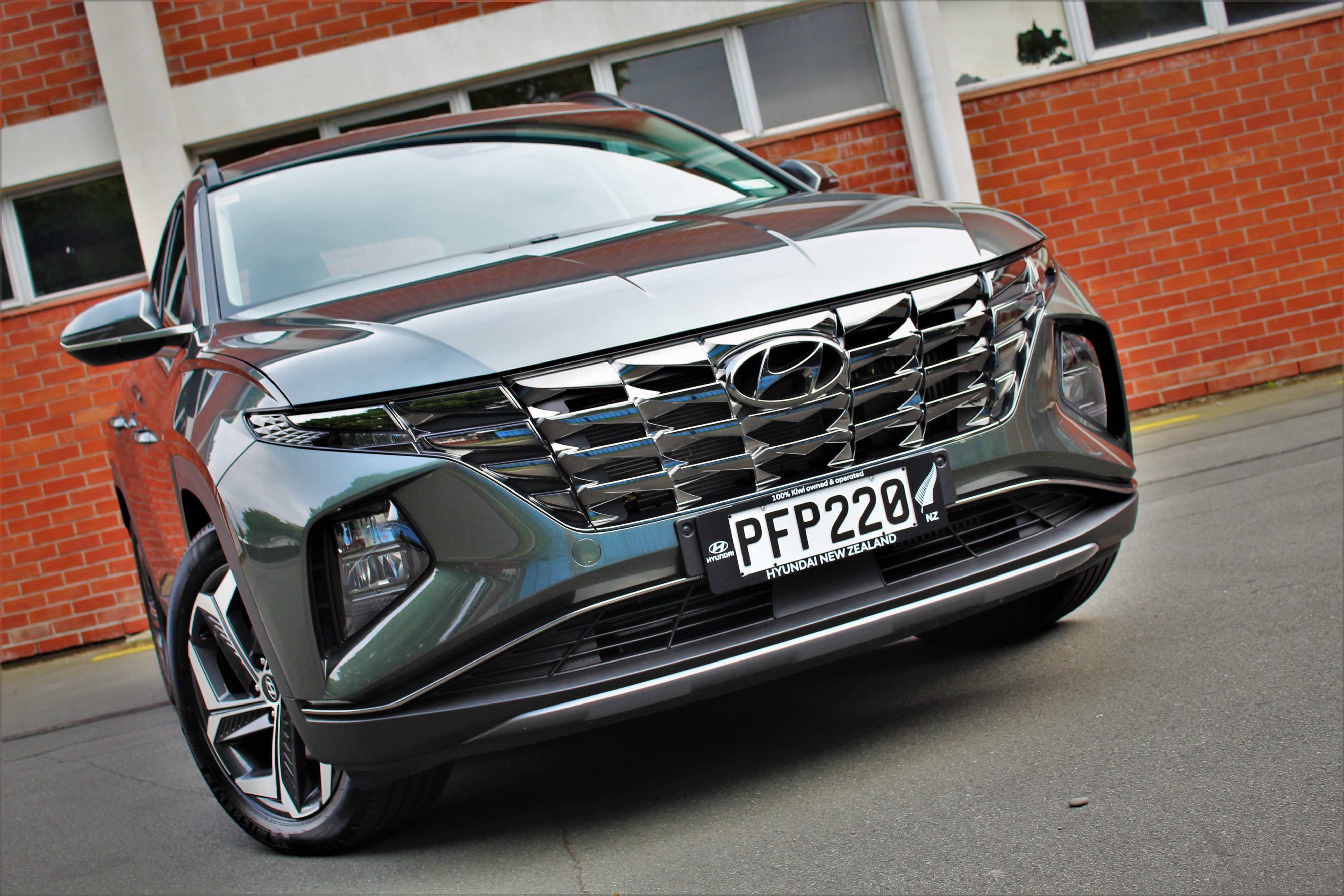 Once starting at $61,990, Hyundai now offer the Tucson Hybrid at a reduced price with the family now starting at $56,990 and finishing up at $89,990. However, choosing to go Hybrid means one should be prepared to fork out an extra $10,000 for the privilege. Having said that, you are entitled that aforementioned Clean Car Rebate which does bring that premium down slightly. Despite these factors, the price is still up there when compared to others in this class.
My test car was the Tucson Elite Hybrid 2WD. Coming in at $66,990, it sits roughly in the middle of the hybrid line up. Throw in the rebate and that takes off $2902 off the retail so look at it as $64,088. Like the rest of the range, the Tucson Elite Hybrid 2WD gets a 1.6L turbocharged four-cylinder petrol engine.
The Hybrid aspect is thanks to a 44kW electric motor and 1.49kWh batter pack working parallel with said petrol engine. Power for the petrol engine alone is rated at 132kW and torque at 265Nm. Add the electric motor and battery pack and this increases to a combined 169kW and 350Nm respectively. This power is channelled to the front wheels via a six-speed automatic transmission.
In the looks department, the current Tucson is no ugly duckling and with the Elite, you get a number of striking visual and more luxurious additives over the standard grade both inside and out. Sitting on bigger 19-inch alloys over the regular Hybrid's 17s, the Elite also gets a set of handsome LED headlights, LED taillights, roof rails, rear privacy glass and other dark chrome exterior trim pieces.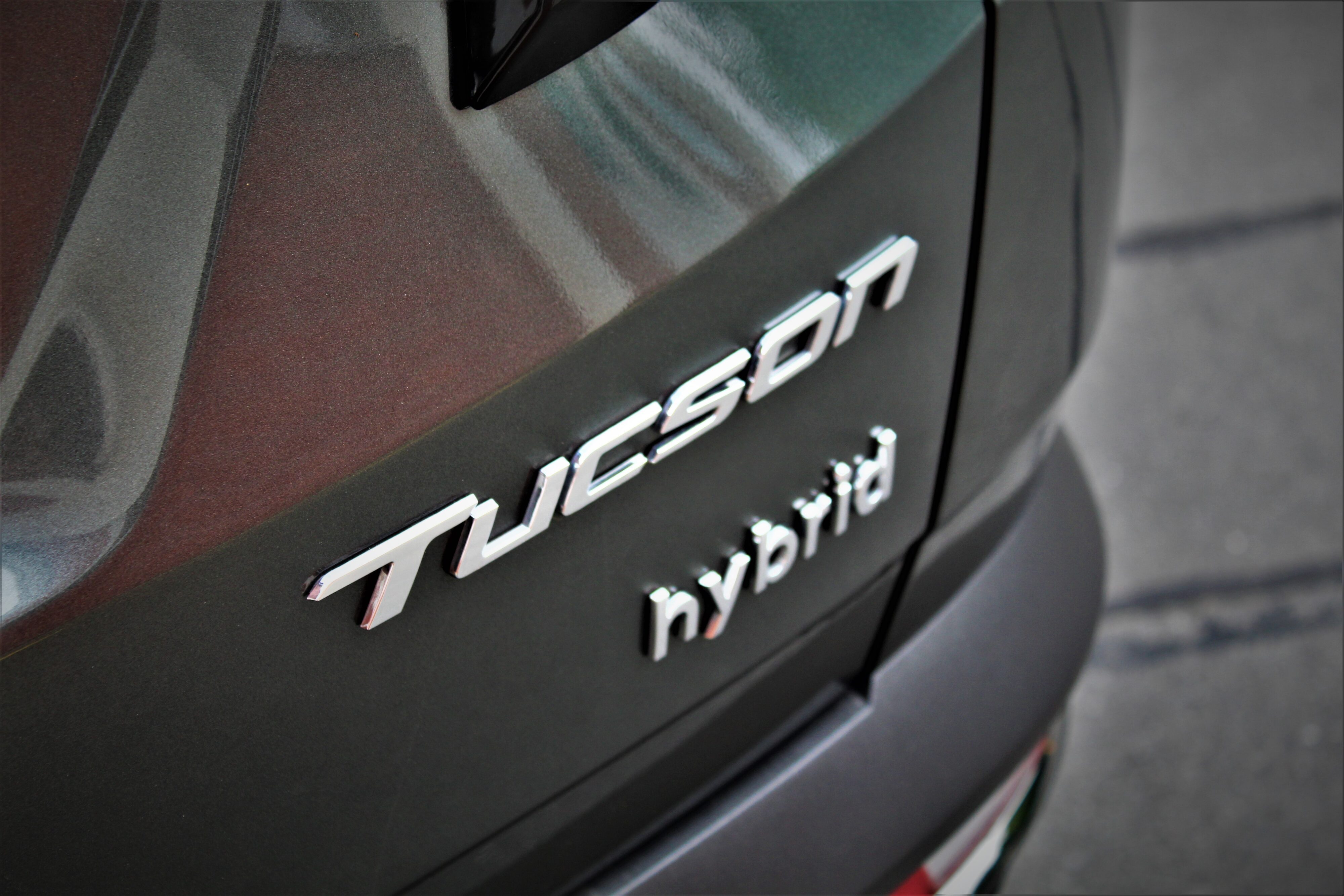 Inside your surroundings do feel rather plush and Elite's addition of leather trim, heated leather seats for the driver and front passenger and 8-way electric adjustment for the driver go down well. Levels of standard equipment are pretty generous too.
You get features like an 8-inch touchscreen infotainment system with Apple CarPlay/Android Auto, 2x USB ports dual zone climate control, adaptive cruise control, safe exit assist, reversing camera, forward collision avoidance, rear cross traffic alert, lane keep assist and lane departure warning.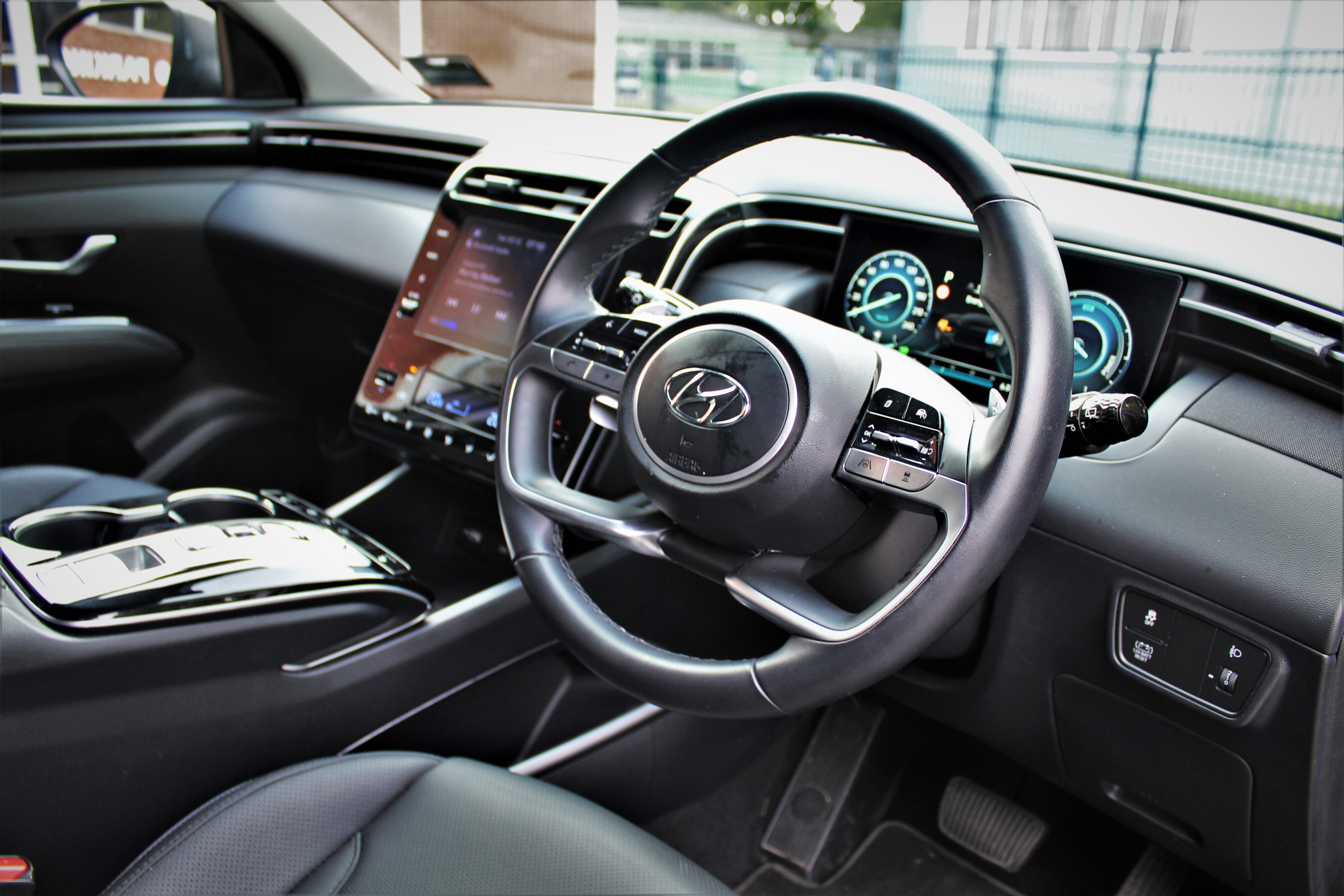 The Elite gets additional goodies like a larger 10.25 TFT instrument cluster, wireless charging, 2x extra USB ports in the rear, rear park assist, and an illuminated vanity mirror.
The cabin itself is also a spacious one. Both for those in the front and back, head and legroom are quite generous, as are the number of storage compartments and other hidey-holes. Boot space is also rated at 503L.
Get going and the Tucson Hybrid champions silent electric running first when you move off. Unlike some hybrids which fire up the petrol engine within seconds of moving forward, the Tucson is quite happy to keep things solely electrified until you leave your street.
The parallel hybrid set combined with that petrol four pot provides some half-decent zing when applying the go pedal. It brings a strong and consistent delivery of power and torque, though it does feel heavy when you are sauntering along at a suburban pace. That said, with comfortable leather chairs and well weighted yet light steering, it makes for a pleasant drive around town.
When selecting drive or reverse via the "Shift By Wire" push button transmission can be a tad delayed. For example, when selecting reverse when conducting a three-point-turn, you have to wait a split-second for reverse to engage which can be a bit annoying. However, the gearbox itself provides clean and smooth shifts when on the move with hardly any change sensation at all.
Hyundai claim a combined fuel consumption figure of 4.9L/100km. After a combination of urban and light motorway traffic on the Christchurch Northern Corridor, both of which I feathered the throttle as much as possible without being a nuisance, I was able to average around 6.0L/100km. This is largely down to the Hybrid's ability to make the seamless transition from ICE to EV mode without you really noticing. Keeping things in ECO mode also helps this no end.
It's a quiet ride too and despite a smattering of tyre roar on coarse surfaces, cabin noise is pretty much non-existent. Most of my time was spent in ECO and Normal drive modes, though when I did venture into Sport, the Hybrid showed the gulf between this mode and Normal, in terms of performance, was noticeable.
Despite the premium price tag and some ergonomic niggles, the new Tucson Hybrid is still a well sorted and quality feeling all-rounder. Those after a premium feeling mid-sized SUV with all the economical advantages of a hybrid powertrain would be well advised to consider this one.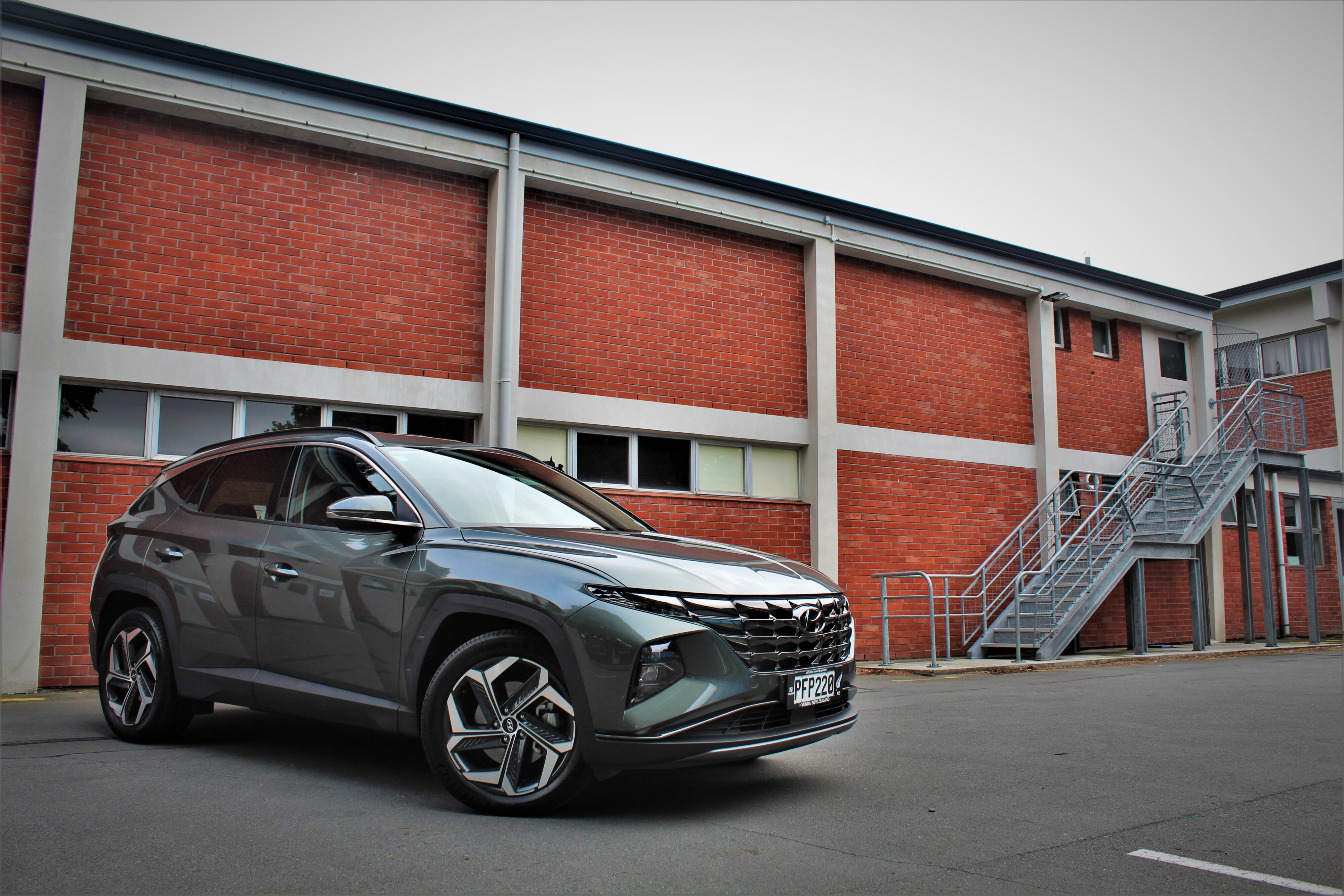 RATING: 8/10