The ŠKODA Superb iV plug-in hybrid (PHEV) is the Czech-born brand's first step into the electrified car melee and what a way to start. Not only is it luxurious and cavernous on the inside, but it's ultra quiet and very clever (just ask Laura). Plus with around 60km of EV only range, it'll now get you around the town with zero-emissions too.
Although locally available in sedan or wagon, as Style or Sportline variants, my review model of the new Superb iV came as a Sportline wagon which made a very pleasant change. Dressed in 'Race Blue' with contrasting black accents, it's an attractive vehicle that carries its 4.86m long, 1.86m wide and 1.48m tall dimensions with the utmost of grace.
In terms of a quick walkaround. The headlights are Matrix-LED with auto light assist, the grille as I said is black and also houses the charging point (I'll get to all that in a moment) and the nose comes with lots of sharp angles and 'Bohemianess' for which the brand is famous for.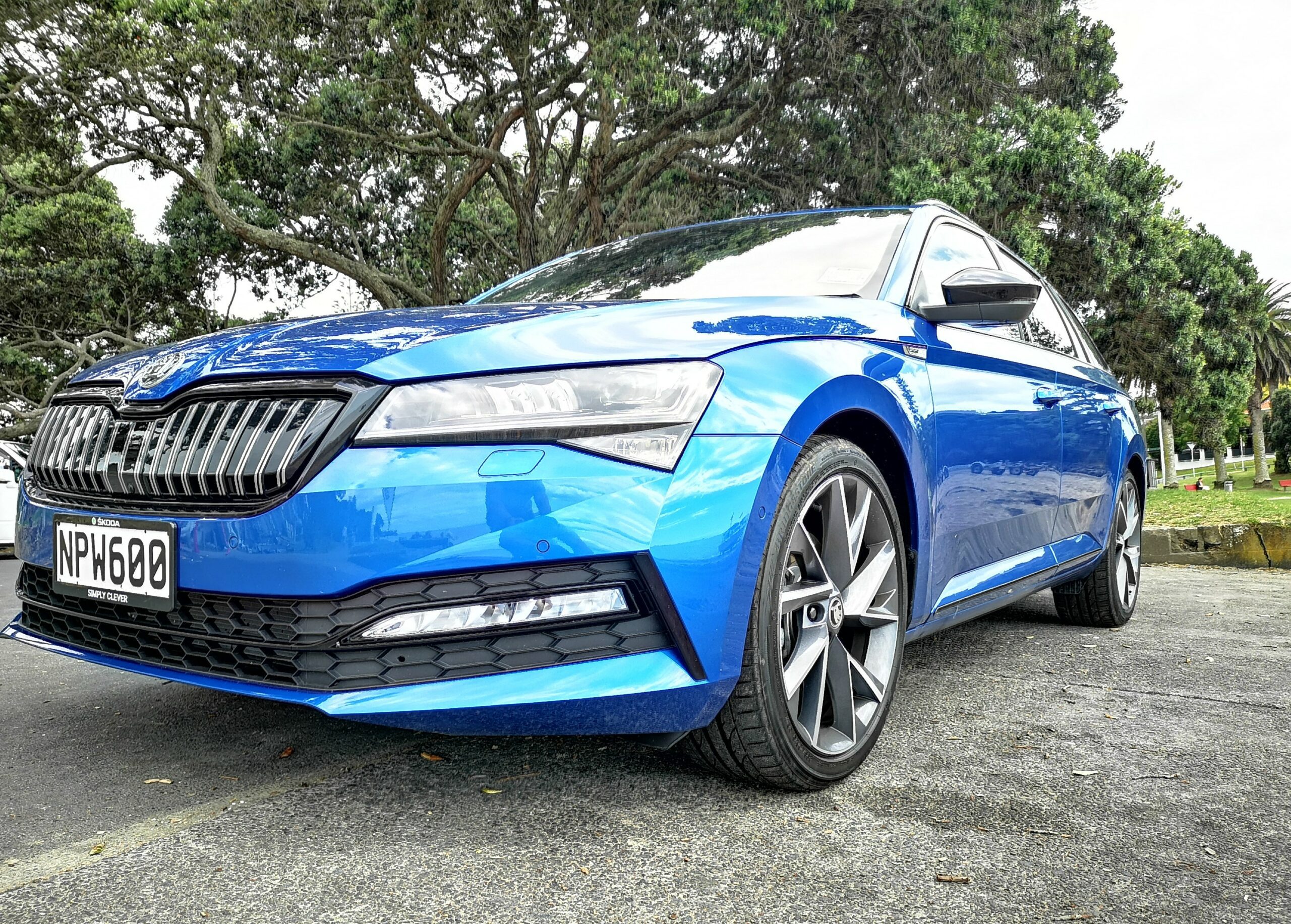 The razor-sharp shoulder line runs from the tip of both front and rear lights and the wagon rides on 19-inch 'VEGA' alloys which look very sporty. The rear is very much in keeping with a sporty wagon, featuring a roofline spoiler, LED lights, a double-flow exhaust and more black accents, including S-K-O-D-A.
The tailgate opens up to 660L of luggage space and (being a clever Skoda) has a great array of hooks and velcro dividers to ensure your gear doesn't roll away. While we're on the subject of internal space, the Superb's 2,841mm wheelbase means that everyone (and I mean everyone) has the opportunity to social distance. I know that I'm not the tallest of guys but I can really stretch out in the rear!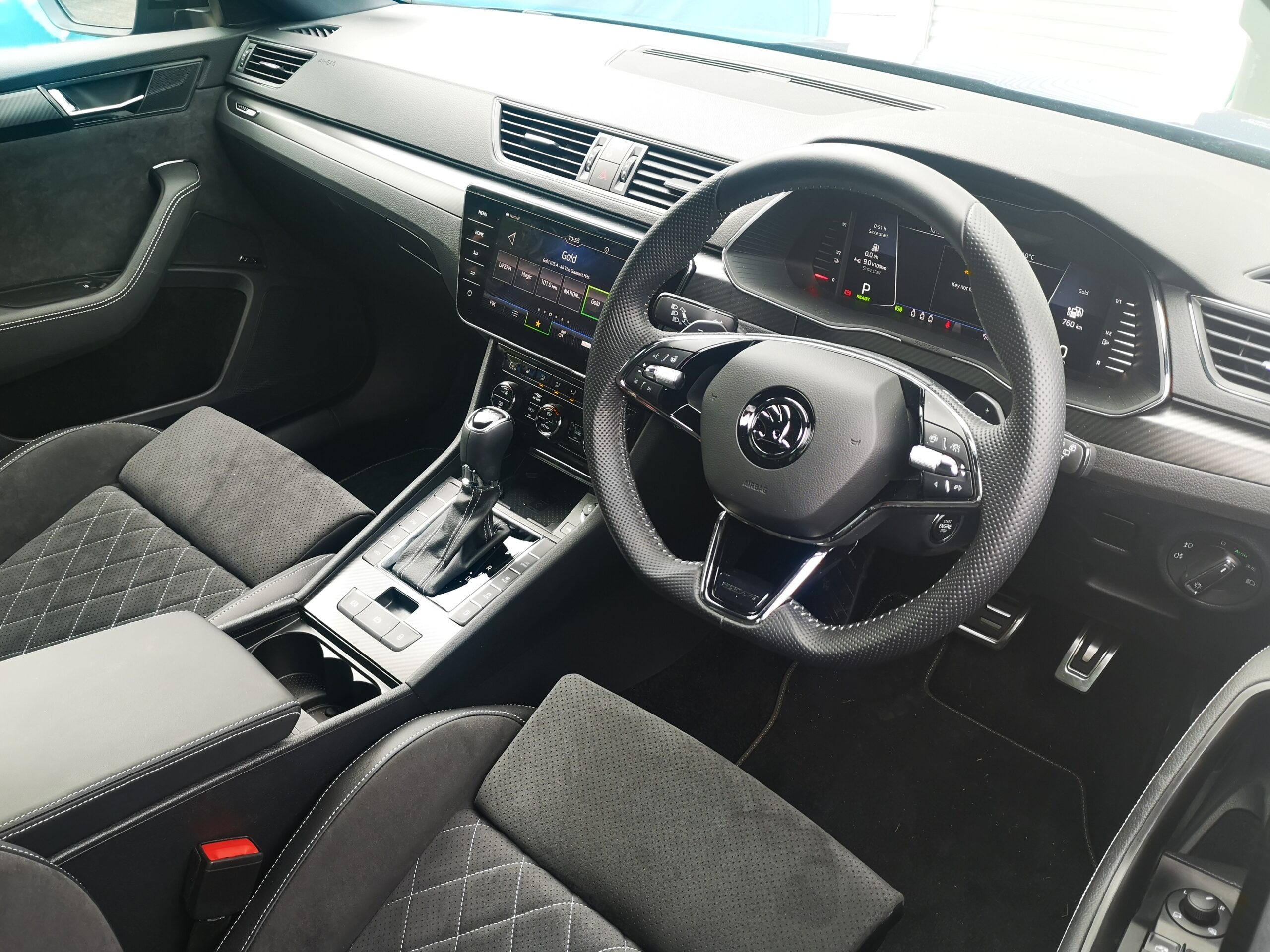 Simply Clever is the Skoda mantra and this is taken to heart in the Superb iV. Umbrellas in the front doors should you get caught in the rain, an ice scraper in the fuel flap, a funnel for adding washer water, all there to make your life easier. Plus in terms of 'connectivity' and infotainment, you get a 9.2″ Navigation Screen and a digital instrument cluster to keep you fully informed of what your iV is up to. You can also ask Laura (Hey Laura) to do various tasks such as where to navigate to or set the radio station – although I did find her a little 'shy' at times and maybe swore at her on the odd occasion.
The new Shhkoda Superb iV combines a turbocharged 1.4-litre TSI petrol engine and 85kW electric motor, delivering a total performance of 160kW and CO2 emissions of less than 40g/km. You can drive emissions-free up to 62km and for those that are worried about range, thanks to a 50L tank it will go up to 930km (when fully charged and fed) when in hybrid mode – that's almost Cape Reinga to Wellington!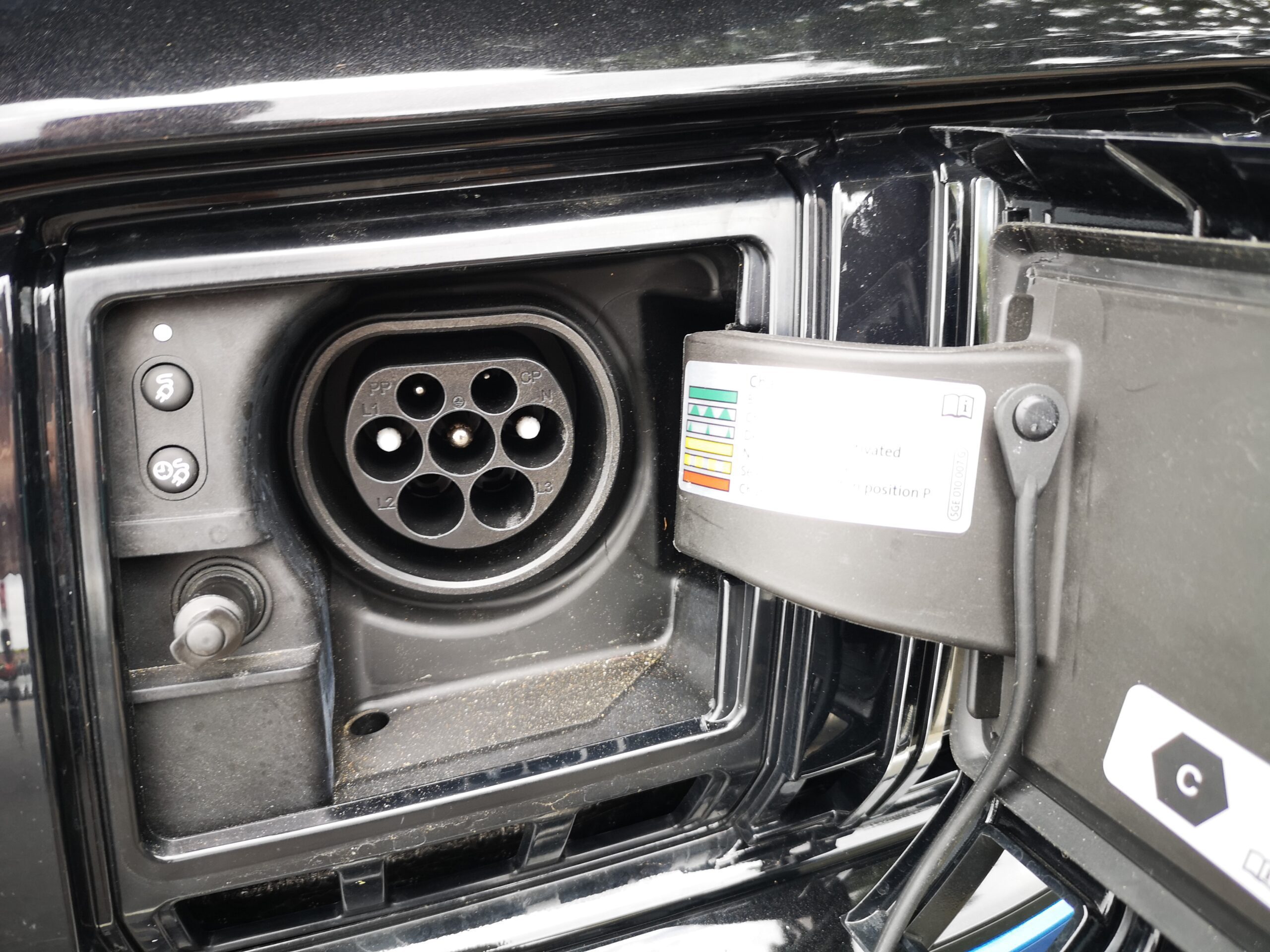 As I said earlier, charging is done via a secret panel in the grille (so as not to mess with the Superd's lines I guess) and takes around three and a half hours to charge from a wall box (using a wall box with a charging output of 3.6 kW) or (ahem) longer with a three-pin charger that is neatly stowed under the boot floor.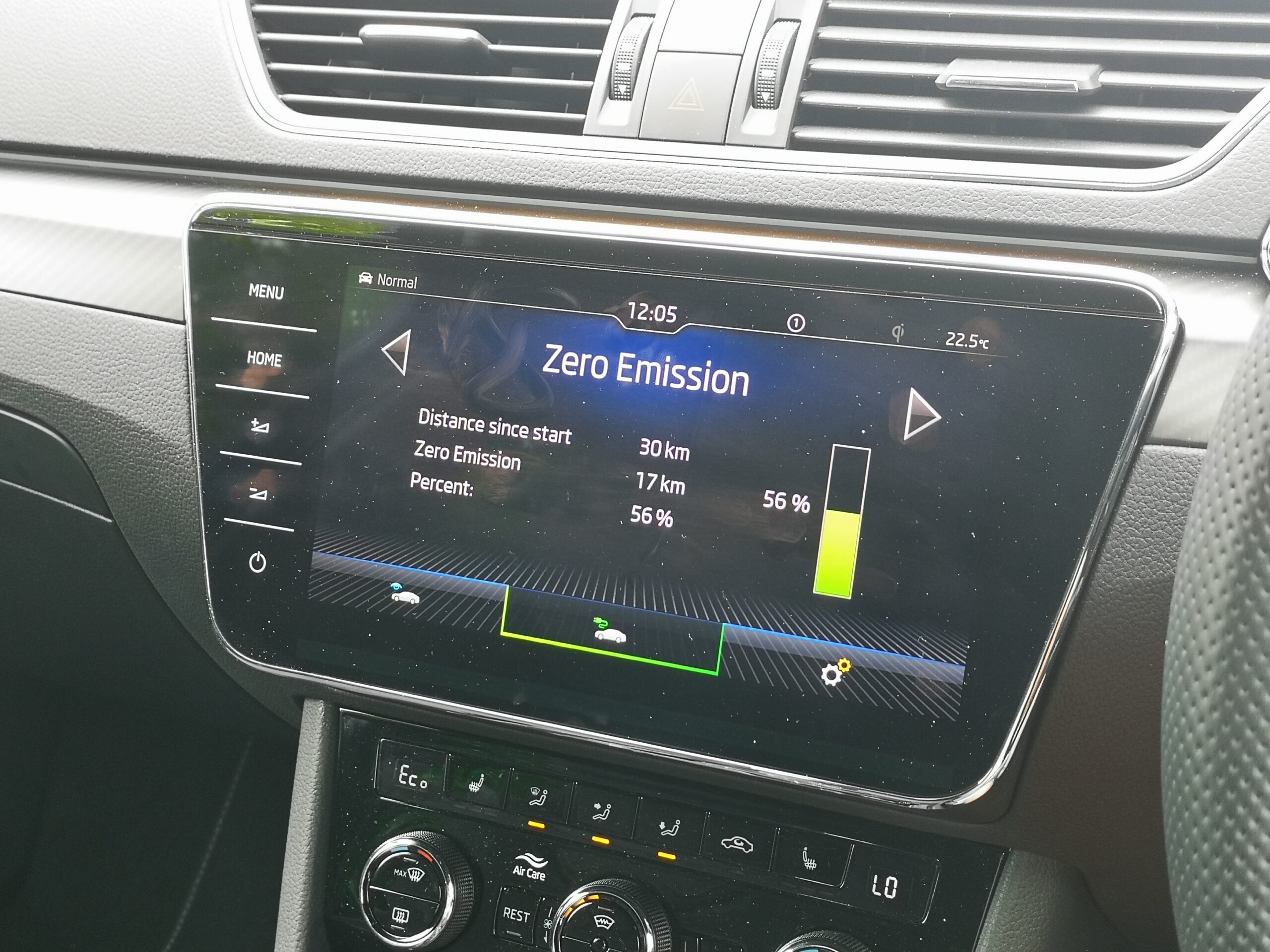 The Superb iV with new driving modes which includes 'E-mode' for electric and 'hybrid drive' and Sport mode, which delivers maximum system performance on hybrid drive. In hybrid driving modes, the car's display will show the electric range available as well as the potential range if the auxiliary applications in the vehicle (heated seats, air-conditioning etc) are turned off. There's also dynamic chassis control which constantly adapts to suit the road and driving conditions.
I spent around four days in the company of the Superb iV and found that it fitted in perfectly with our compact family set up. My son's stinky football gear sat well away from the passengers at the rear of the luggage zone and the numerous drink holders, centre console and all door panels meant that everyone remained hydrated after both the training and the match.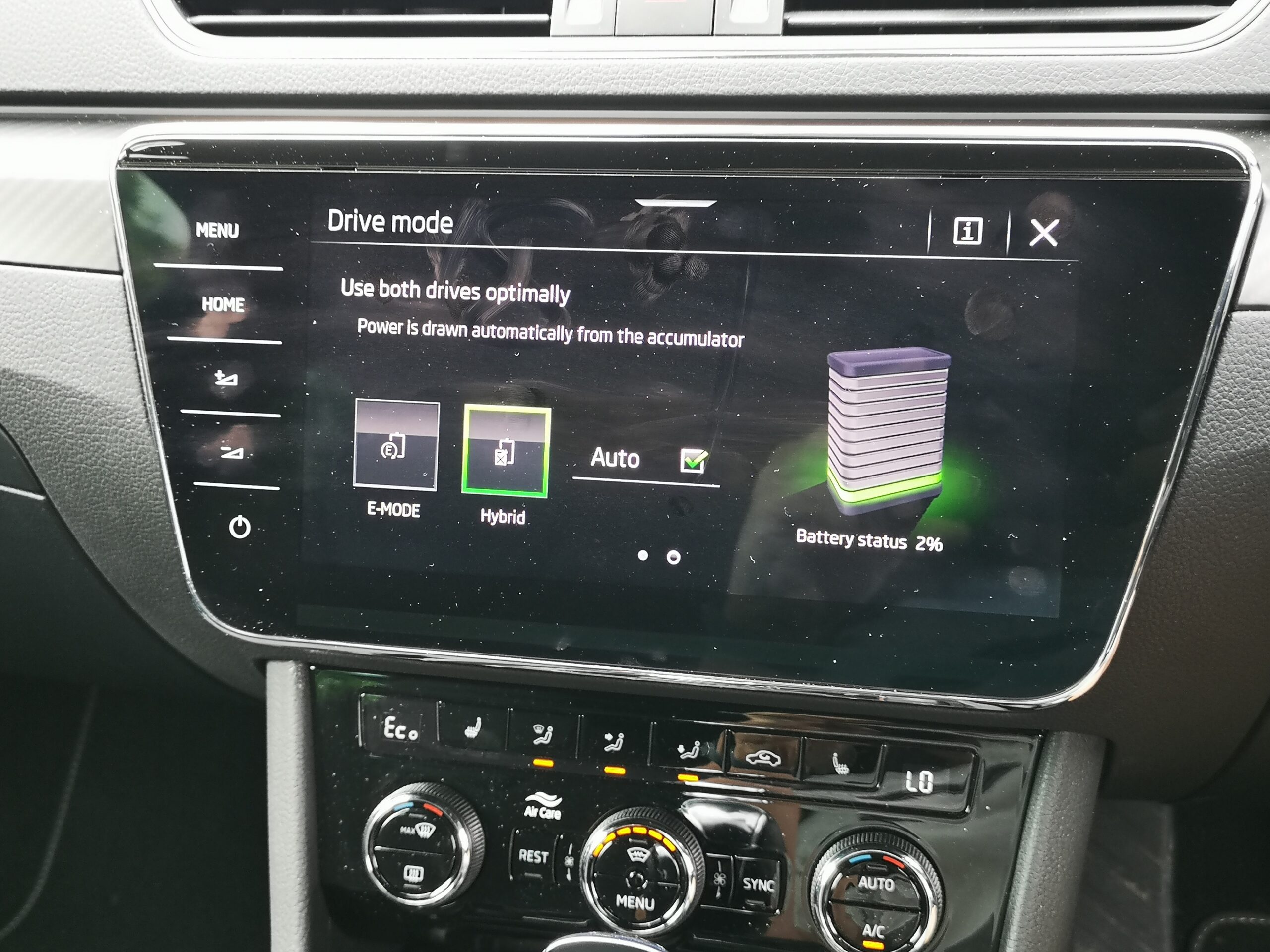 The Superb may be the biggest in the Skoda 'car' range but it handles like a hatch, with plenty of get up and go and just about the right amount of beeps to be helpful and not annoying. I have to admit to spending most of my time in EV or ev-assisted modes and the fuel gauge on the right of the virtual cockpit barely moved. It also felt somewhat comforting not to require filling up at the pumps – have you seen the prices lately?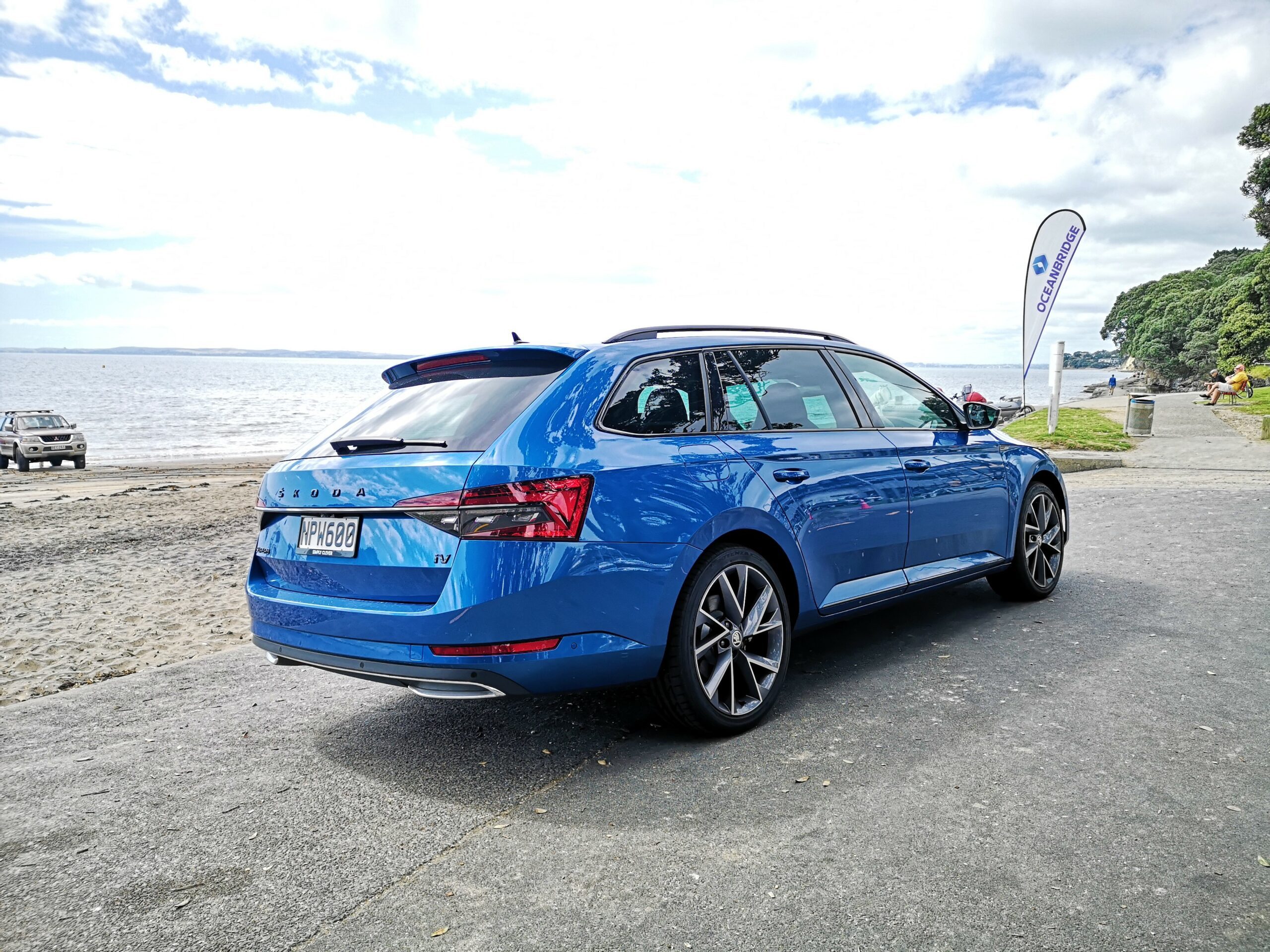 I have to say that I'm a fan of wagons and this one is a cracker. Quick, spacious, modern, efficient and simply clever, this Skoda iV really is a 'Superb' EV.