No one would have believed within the first quarter of the 21st century, that the electric vehicle market was being watched by Hyundai. While many manufacturers busied themselves with their various concerns for zero emission motoring, Hyundai observed and studied, like someone with a microscope studies creatures that swarm and multiply in a drop of water. Hyundai regarded this market with envious eyes, and slowly and surely, drew their plans, for the IONIQ 5.
Please excuse the War of the Worlds references, but I could think of no better way to introduce the new Hyundai IONIQ 5, for this evolution of Hyundai's IONIQ EV looks as if it has landed from another planet. The IONIQ 5 has been making waves in this ever-growing segment since arriving on the scene earlier this year. Hyundai say the IONIQ 5 has joined its EV family and will "set the benchmark to redefine the electric mobility lifestyle with sustainable and innovative features."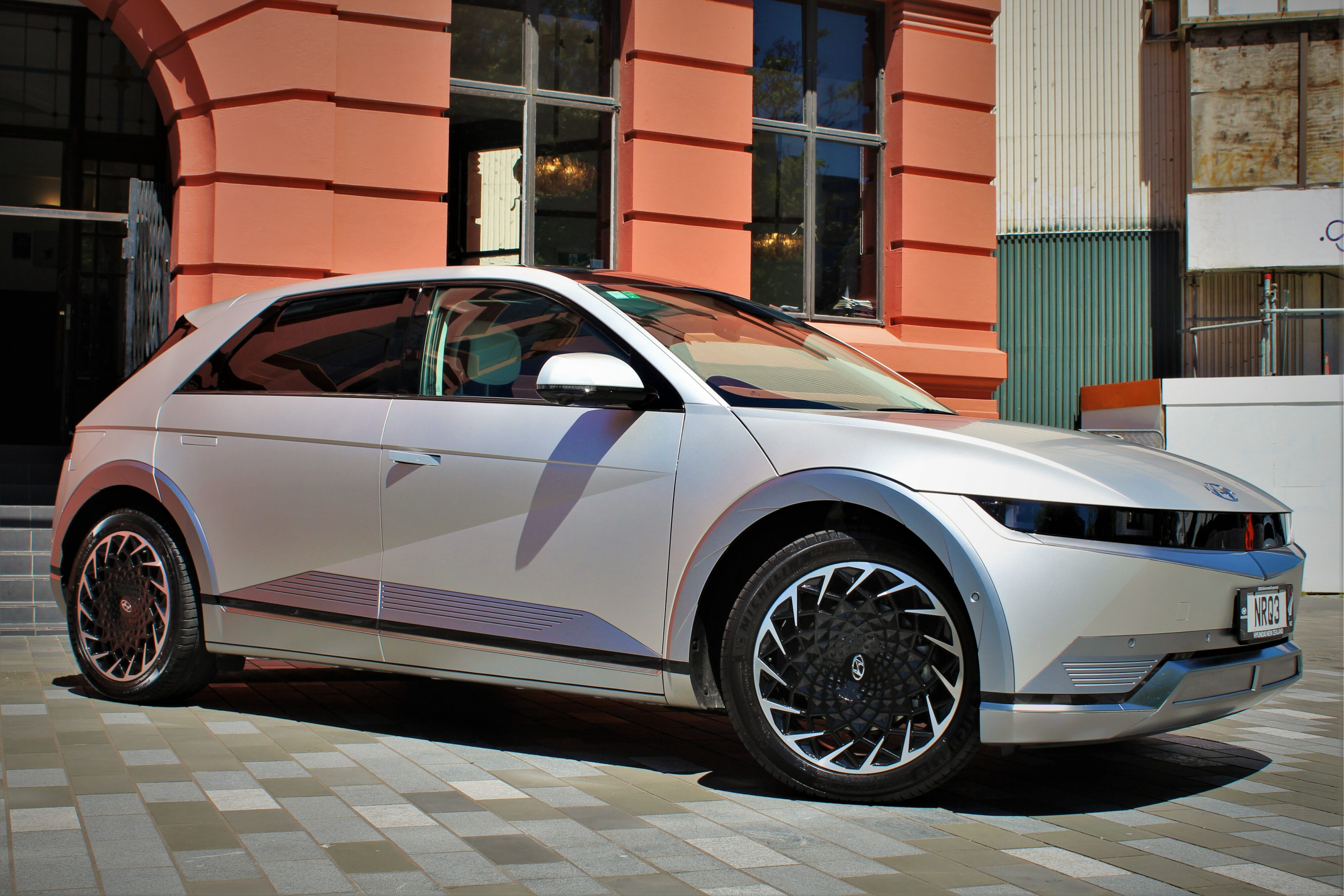 Well in terms of looks, they have certainly knocked it out of the park. A combination of Blade Runner and a shuttlecraft from the USS Enterprise, its like it never left the concept stage. I loved so many of the design cues like the robot-esque LED headlights and that swish full-width rear light cluster which reminded me of an old Windows XP OS webpage loading bar.
With so many angles, clean cut lines and a barrage of overwhelming minimalism, it certainly turns heads. In fact, several times I would be next to a high-end car worth three times the money, and the IONIQ 5 got all the looks.
Despite not looking exactly like a mid-sized SUV, Hyundai says the IONIQ 5 is just that. The IONIQ 5 sits on the Hyundai's dedicated BEV E-GMP underpinnings, or Electric-Global Modular Platform if you prefer. This allows the IONIQ 5 to look the way it does despite being on an elongated wheelbase.
There are several models on offer and a choice of two different battery packs. The range starts with the entry level 58kWh 2WD at $79,990 plus ORC. This means the base model just qualifies for the Government's clean car rebate. However, you can only get the 58kWh battery system in this grade, for the other models higher up the range get the extended range and more powerful 72.6kWH battery pack. You also get the option of 2WD and AWD at $89,990 and $94,990 respectively.
Above that sits the Elite 2WD at $96,990 and my test car, the range topping Limited AWD for $109,990. However, my test car was fully loaded with Hyundai's Solar Roof which raises the price to $112,990. A combination of AWD, two electric motors for each axle and that 72.6kWh battery, gives you 225kW of grunt and a fairly hefty 605Nm of torque. Hyundai claim giving it welly from a standstill will allow you to reach 100km/h in 5.2 seconds.
If you opt for the 2WD with the 72.6kWH batter, you will get an impressive 470 km range based on WLTP ratings. If you have AWD, its more likely around the 420km mark. However, if you use a DC fast charging system, you can get from 10 per cent to 80 per cent charge in around 18 minutes. To access the charge point, you simply press the flap and it opens electronically. To close, you press a button and it retracts. Very satisfying. Also, because this car features the optional Solar Roof with built-in solar panels, there is additional charge for the battery and power for the air con.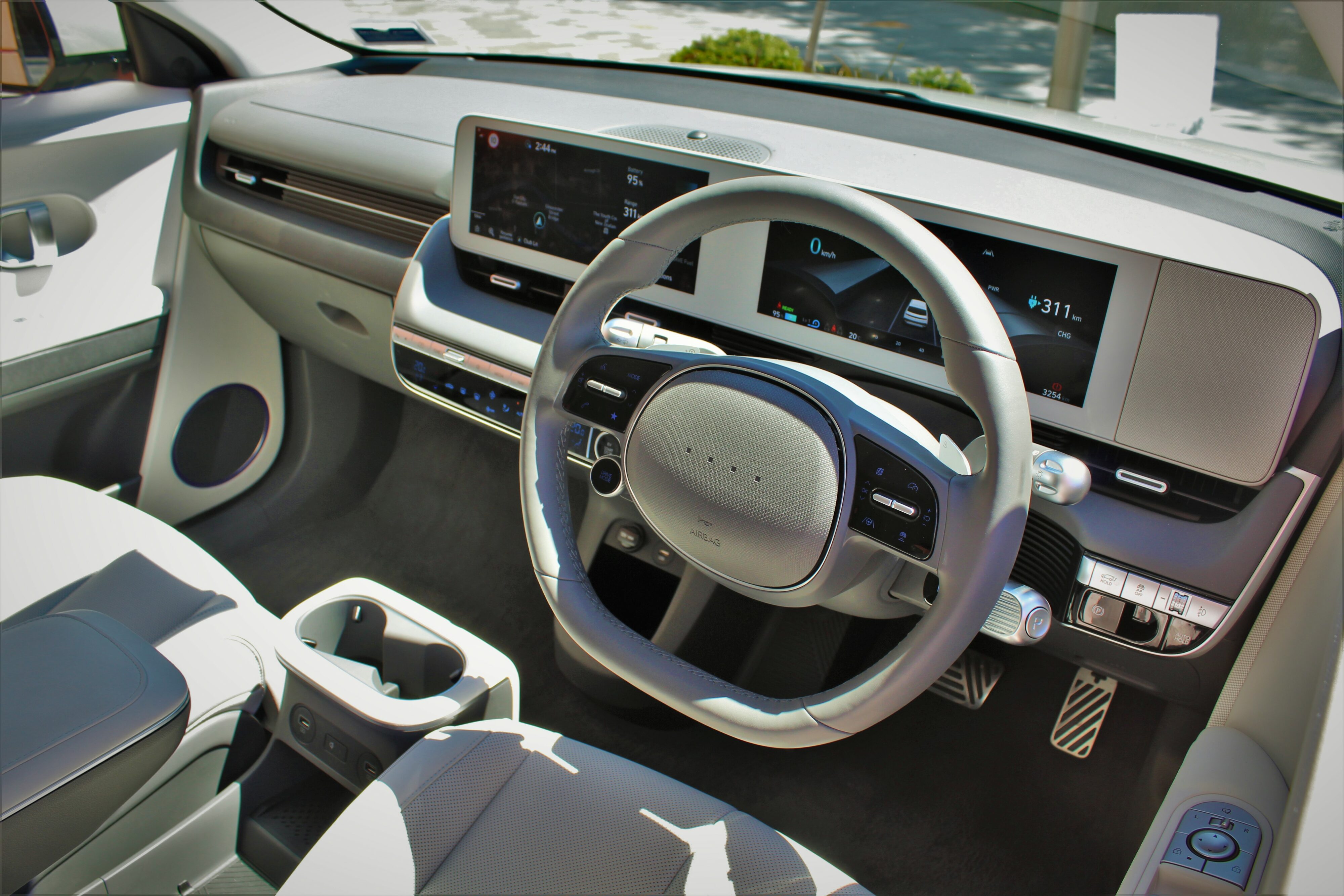 Unlock the IONIQ 5 and those flush door handles pop out allowing you to access probably one of the most forward-thinking cockpits around. You get a choice of two interior colours, but the white used in mine just lifted the surroundings. Hop inside and the IONIQ 5s minimalist cabin gives off plenty of starship vibes. Lookahead and you see the 12-inch touch screen infotainment system and 12-inch instrument cluster sitting beside each other to form a single unit.
It does have a vibe of old iPod speaker stations about it but it still looks good. Aside from buttons to visit various screens on the infotainment system, all other features are operated by touch buttons. Sometimes touch buttons can be tiresome but not so here. A gentle press activates everything easily and you aren't having to poke and prod with your index finger to get everything to work.
This being the range topping Limited AWD, you get plenty of the fruit you would expect from a car in this price bracket. Things like radar cruise control, 20-inch alloys, Apple CarPlay/Android Auto, wireless charging, forward collision avoidance assist, blind spot monitoring, surround view monitoring, rear-cross traffic alert, remote staring, remote smart park assist, to name but a few.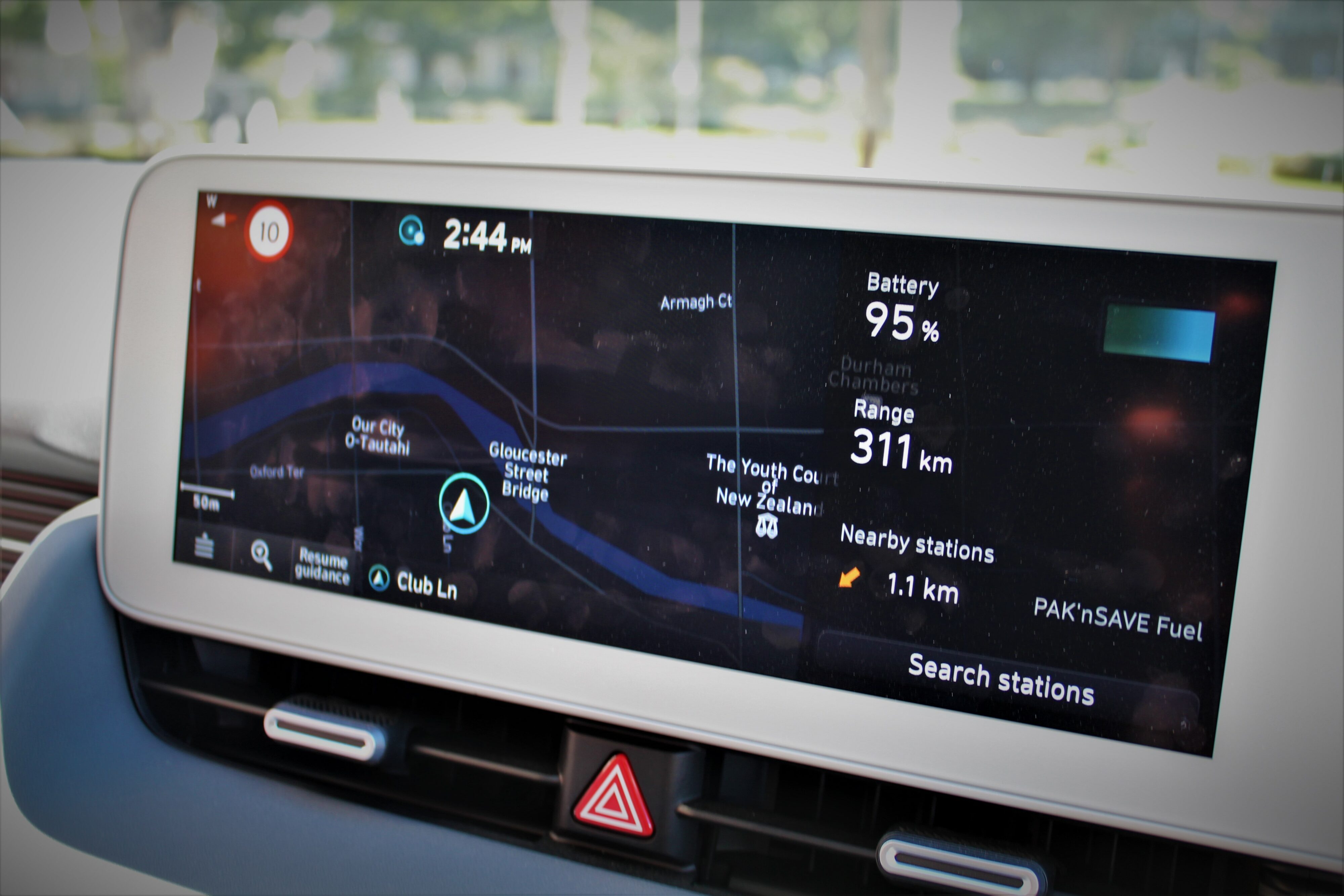 What is really impressive is the sheer number of hidey holes and storage areas you have inside. The glove box opens like a sizeable filing cabinet and there are places to store large drink bottles and countless other knick-knacks. Space really is the final frontier with the IONIQ 5. Plenty of head and legroom exist front and rear and despite the boot floor being not overly wide, you still get 521L of space.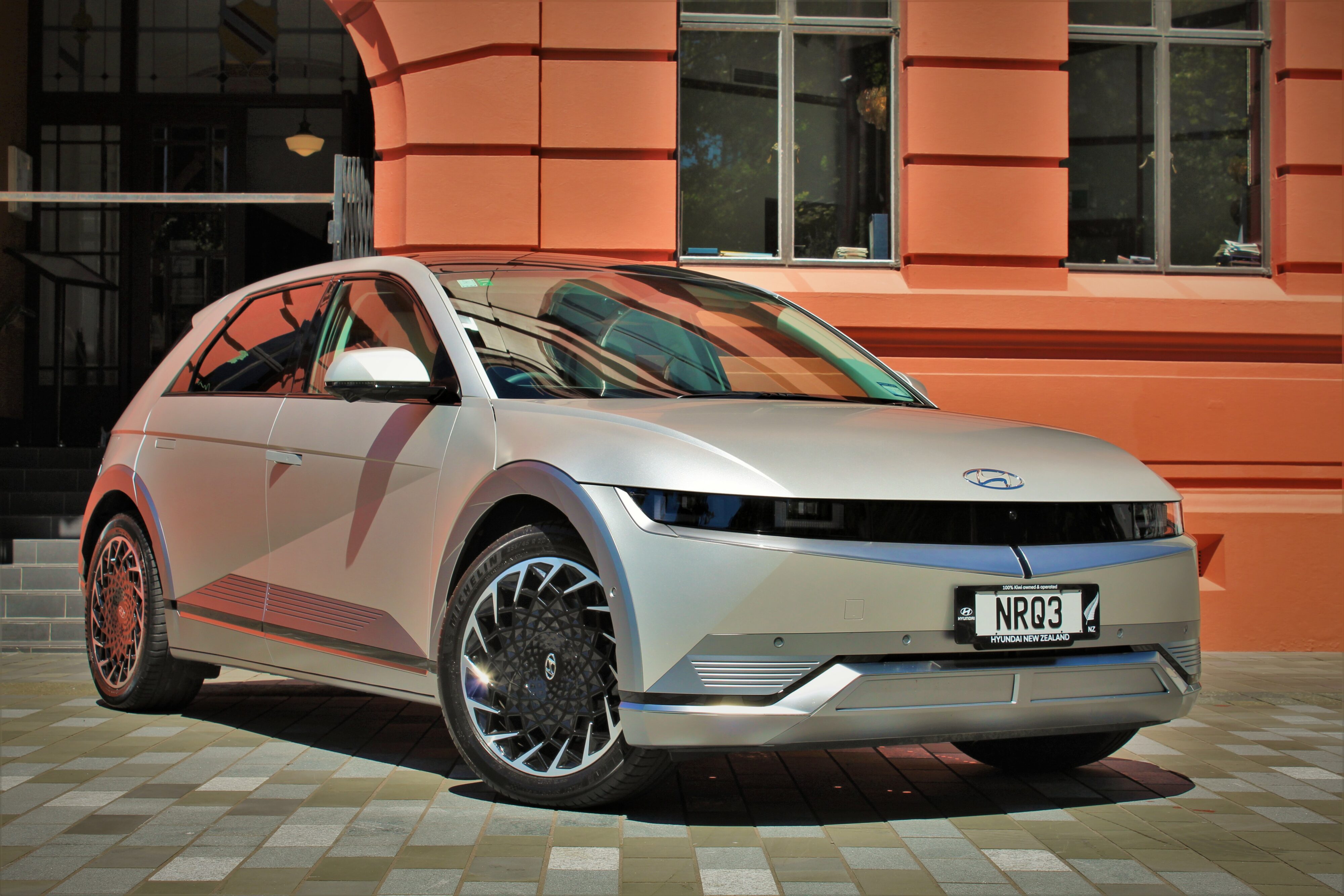 The steering wheel feels good in your hands but for my driving position, the rim tends to block some of the information on the instrument cluster. Also, why did Hyundai choose not to add a company logo to the hub? Anyway, in typical EV fashion, it is all silent running and despite having some lower profile tyres, the ride isn't too shabby. There is a bit of tyre roar, but then again that could largely be down to the fact there are no other noises to distract you.
Being an BEV, the shift paddles are designed to give you several stages of regenerative braking to prevent you from having to use the brakes yourself. That said, the IONIQ 5 takes it one step further with the fourth braking setting called i-PEDAL. Once activated, it brings the IONIQ 5 to an almost complete stop just as quickly as if you were braking hard yourself. You have to be gentle with the paddles as it doesn't respond to rapid fire through the braking levels.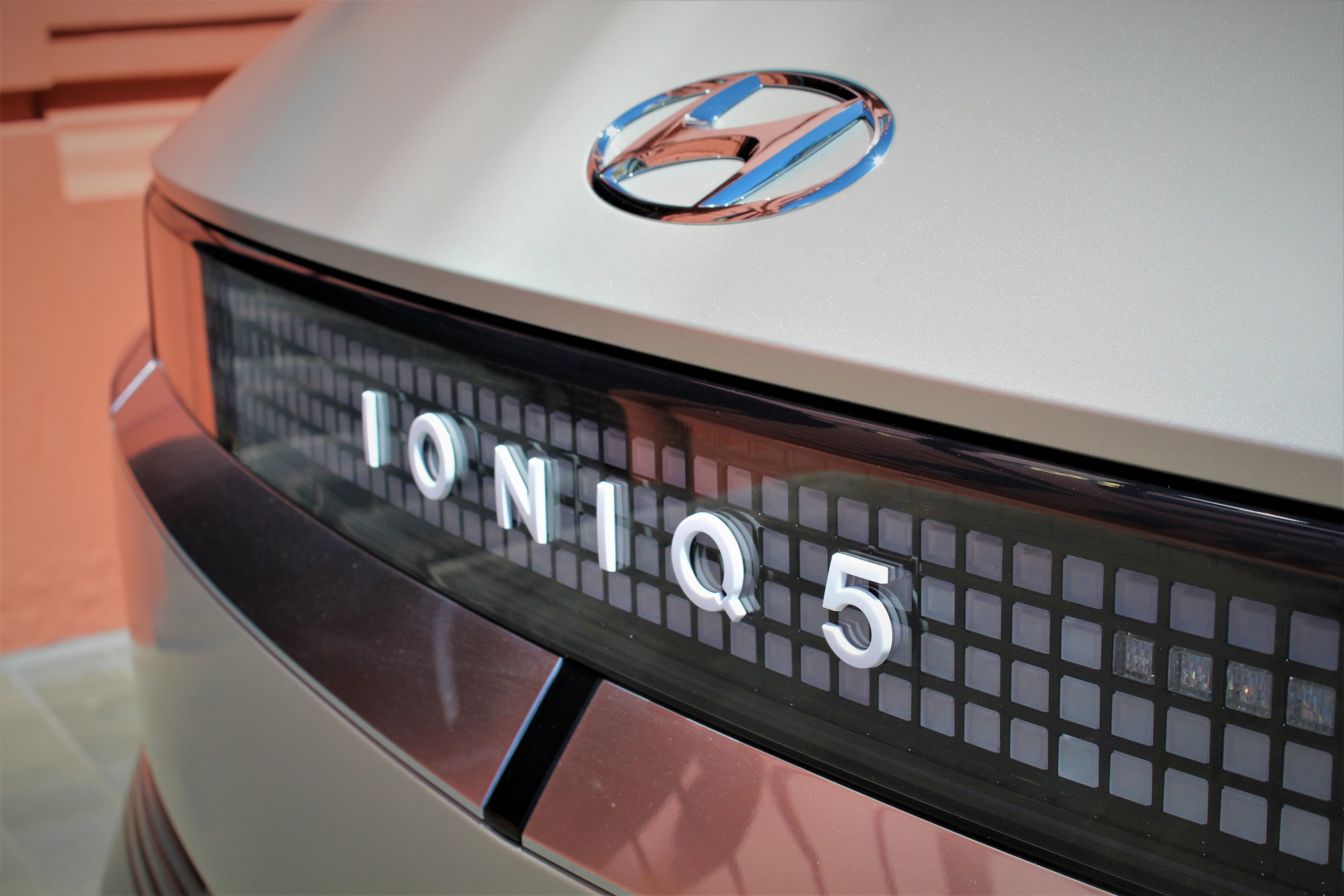 Averaging around 22kWh/km is pretty decent and the IONIQ 5 stays very planted at speed. Its not a lightweight of course but it can still shift. Flick over to Sport and it is very sprightly. That instant torque means you make immense progress in no time at all. It is also very engaging and quite happy for you to wring its neck should you want to.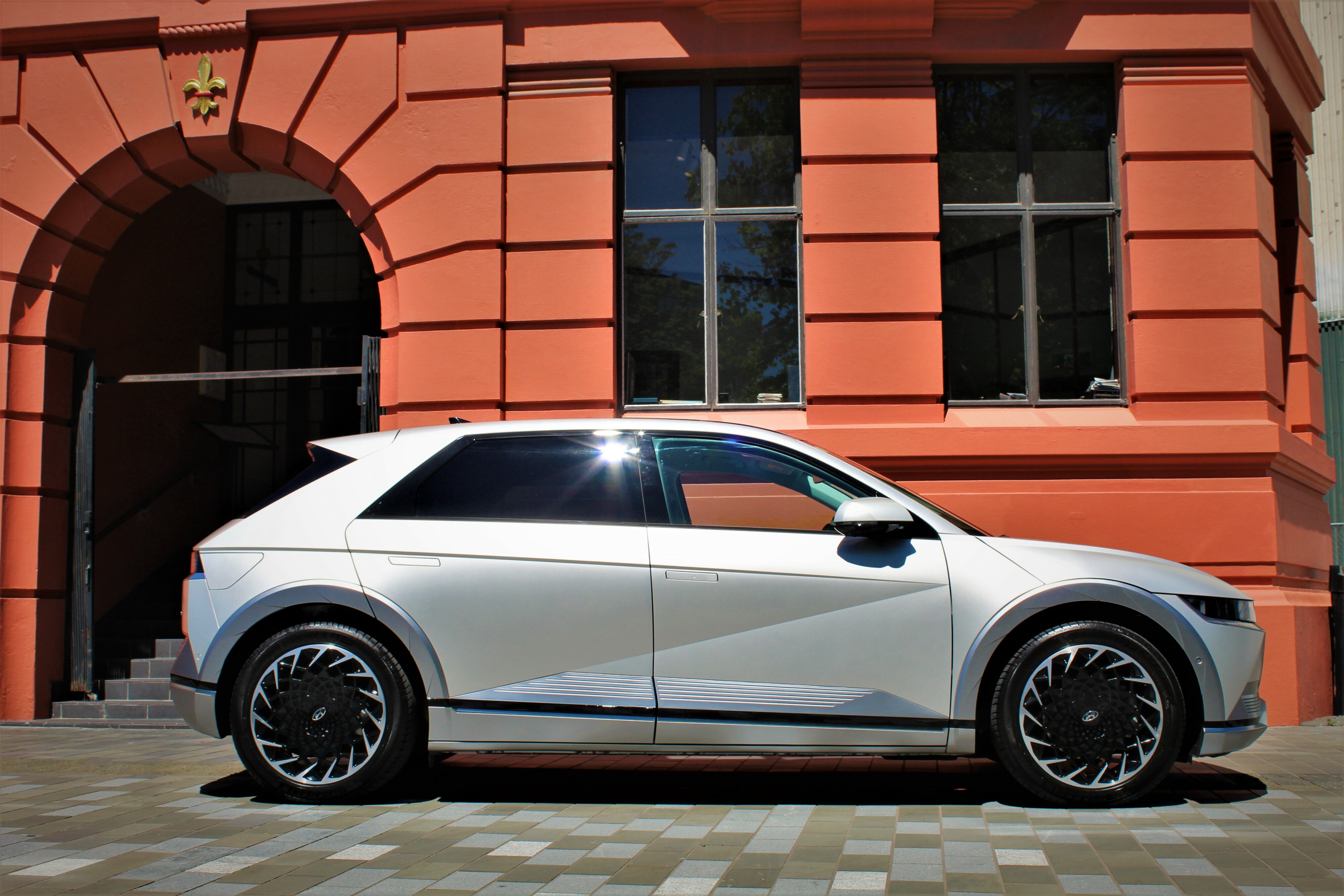 Some may be put off because they aren't necessarily a fan of its SCI-FI styling and fair enough too. However, after spending a week at the controls, it was quite difficult not to like Hyundai's new UFO for the road. Some ergonomics could be improved, but overall, the IONIQ 5 is a very well sorted and stunning looking bit of a kit, boldly going where no mainstream EV has gone before. Put simply, this alien automotive life form does almost everything right.
RATING: 9/10