Ford has taken their beloved Mustang and turned it into an electric pony (and when it comes to the GT), a pony on steroids! They call it the Mustang Mach-E, and it's here to conquer both the EV and SUV segments. To help showcase its unbridled (get it) performance, the NZ launch had us for a spin on the road and galloping around the racetrack.
Now, we know the Mustang has a massive fanbase that has worshipped the nameplate for over five decades. So naturally, some die-hard enthusiasts might be a little sceptical about this electric SUV incarnation. But fear not, my friends, because the Mach-E still oozes Mustang style and above all, it's an absolute blast to drive.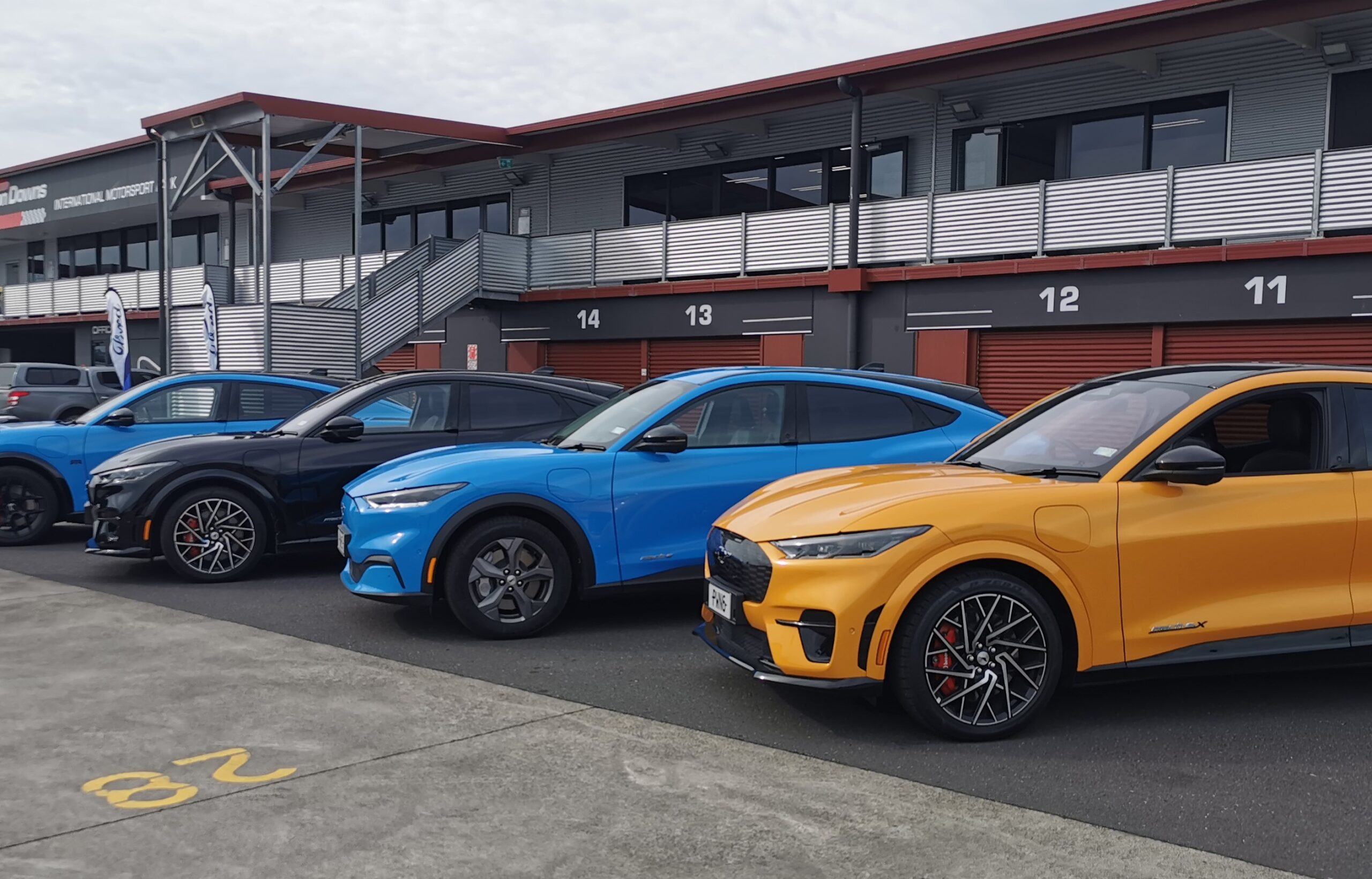 Ford New Zealand is offering three flavours of the Mach-E to choose from, hot, hotter and hottest. The base model RWD starts at $79,990 drive away and comes with a single electric motor that puts out 198kW of power and 430Nm of torque. It's equipped with a 75.7kWh 'standard battery' that's good for 440km of range and will do the 0-100km/h dash in 6.1 seconds.
If you crave more power and all-wheel drive, you can step up to the AWD model, starting at $109,990+orc, this beast rocks a 98.7 kWh 'extended battery' (550km range) and twin motors that deliver a rather substantial 258kW of power and 580Nm of torque.
Last but not least is the GT AWD ($124,990+orc). It too comes with the 98.7kWh battery (490km range), however its twin motors offer a whopping 358kW of power and 860Nm of torque.
And for those who want to pimp out their RWD or AWD Mach-E, you can add an RTR kit with fancy decals and tires for an extra $9k. Talk about making a statement!
Now, let's talk looks. The Mach-E may be a family-sized five-seater, but it's shorter than its 2+2 sibling, making up for it with some extra height. It's got that signature long bonnet, muscular rear haunches, and those iconic 'tri-bar' tail lights. The grille still sports the iconic pony, but it's closed off because, let's face it, there's no roaring V8 engine lurking behind it anymore. Ford has also made a few tweaks to improve the aerodynamics, boasting a slick 0.3cd.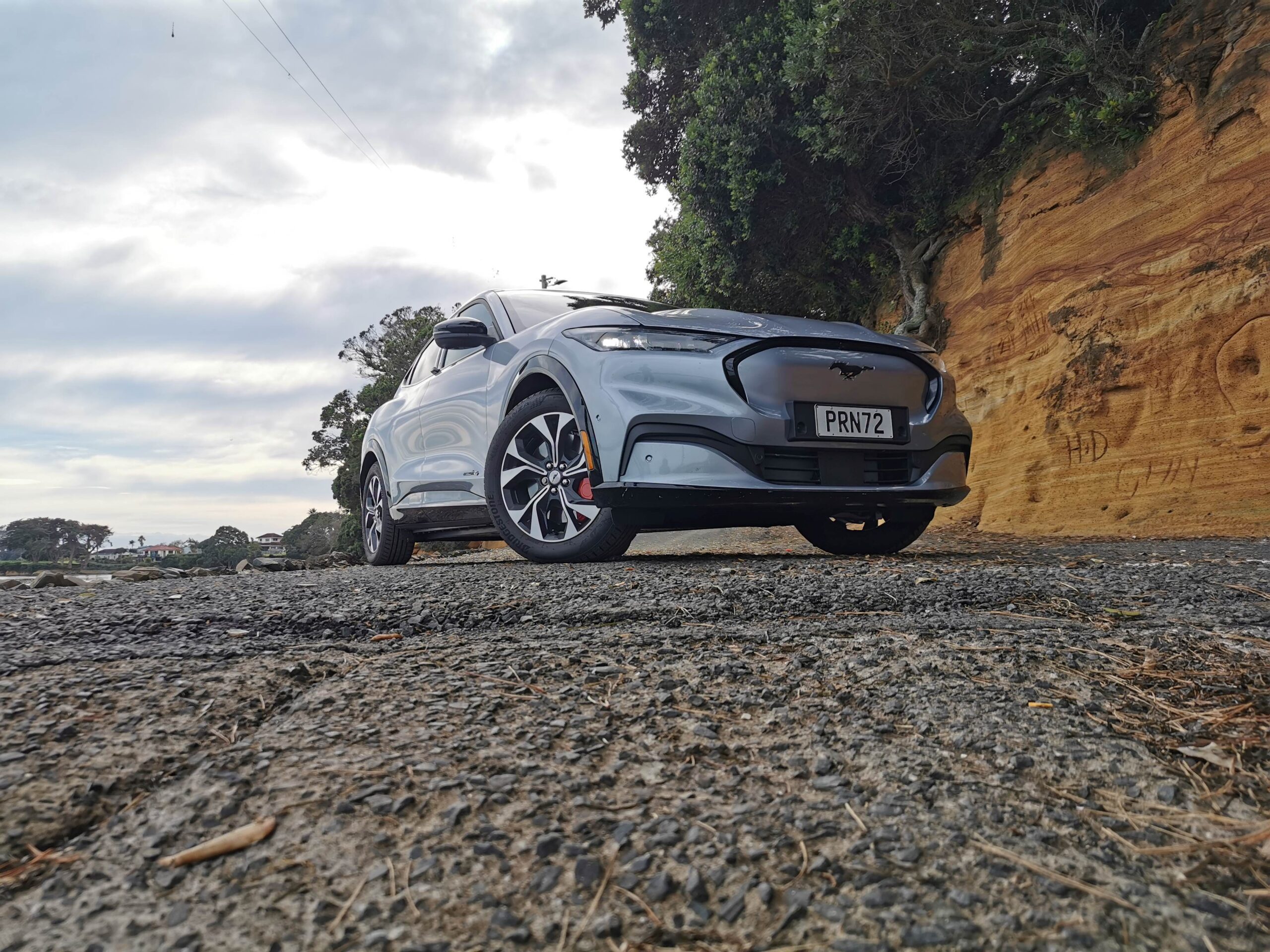 They've softened up the design a bit, but don't worry, it's still a head-turner. The sloping roofline adds an extra touch of sportiness, and for those looking for space, when you pop open the electric tailgate, you'll find a decent amount (402L), plus there's an extra 'frunk' storage area under the bonnet that you can even use as a cooler. Pretty nifty, right?
They've ditched the traditional door handles and replaced them with an E-latch 'push button' system and apparently Ford have made it so you can't trap your fingers in the rear doors, so kids and clumsy adults can rest easy.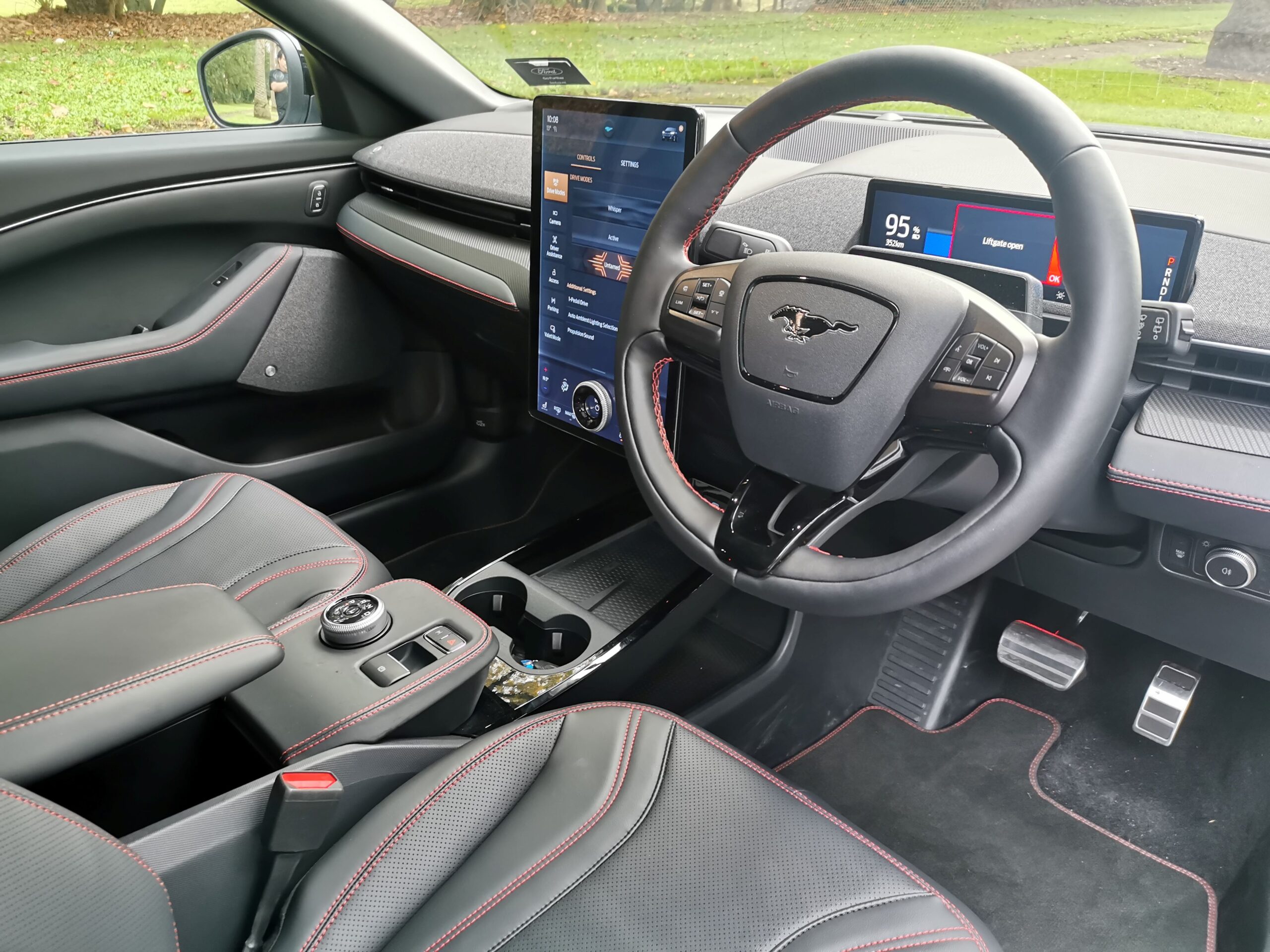 The cabin is spacious and minimalist, it's bright too thanks to the full-length panoramic roof that floods the space with light. You'll find a mix of upmarket materials like contrast-stitched leather-like seats and faux carbon fibre accents. Although, they did cut some corners with the plastics below the beltline. But hey, no one's perfect.
You can't miss the massive 15-inch infotainment screen, which acts as the command centre for everything from driving modes (Whisper, Active, and Untamed) to propulsion sound and even a fancy 10-speaker Bang and Olufsen sound system. Our Irish spec models had some quirks with the apps, but the list of driver and safety aids was still pretty extensive.
Speaking of displays, they've replaced the regular Mustang's big instrument cluster with a smaller 10.2-inch strip that gets straight to the point. Speed, traffic sign recognition, a bird's eye view of the car, and range—all there in a no-frills manner. Think head up display but in 3D.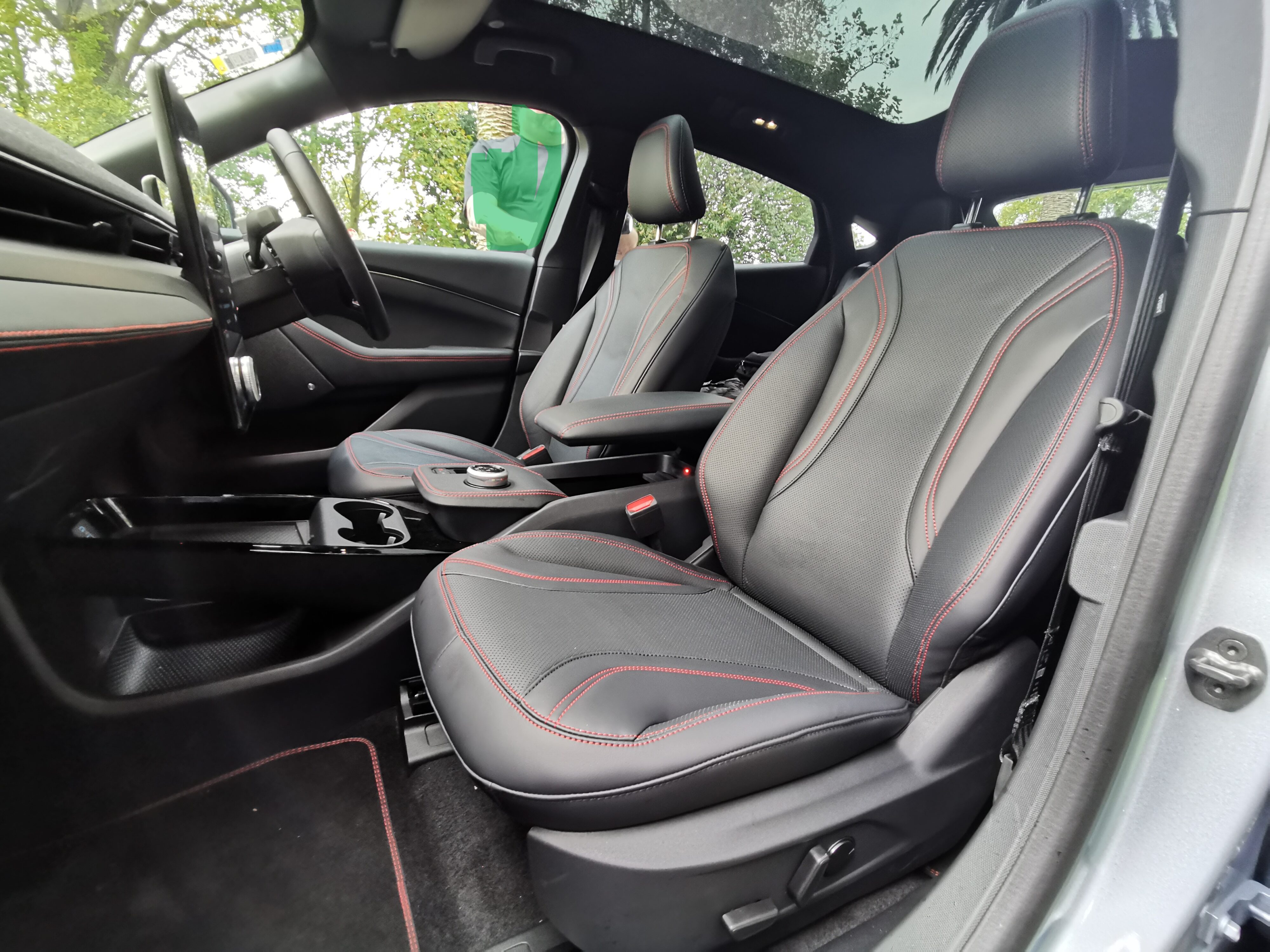 When it came to hitting the road, we got our hands on the AWD with a standard battery, like I said (Irish spec), but even so, the Mach-E still boasted around 400km of range. The push-button start and gear selection dial on the centre console had us on the move quickly and when you're sitting up high and looking out over that long hood with those wide hips in the mirrors, you can't help but feel like a badass. The visibility overall is better than your average Mustang, especially through the rear glass, but those side mirrors could be a tad larger considering the size of the vehicle.
Acceleration is super fast, thanks to the electric powertrain and the AWD claims of 0-100km/h in 5.1 seconds seem totally legit. What's more, there's a delightful rear-wheel bias that shows off a little tail-wagging action when you push it. The steering is spot-on, and it gets even more responsive as you switch between different driving modes. Oh, and don't forget about the 1-pedal drive mode that you can select on the infotainment screen. It's not as aggressive as you might expect, but it'll hold (not creep) when you come to a stop.
Road noise is kept to a minimum, although there can be a bit of wind noise when you're cruising at 100km/h on the highway. The ride is firm yet comfortable, not bone-rattling, but the rebound in Untamed mode can feel a bit jumpy, but hey, we're talking about a hefty vehicle weighing over two tonnes here.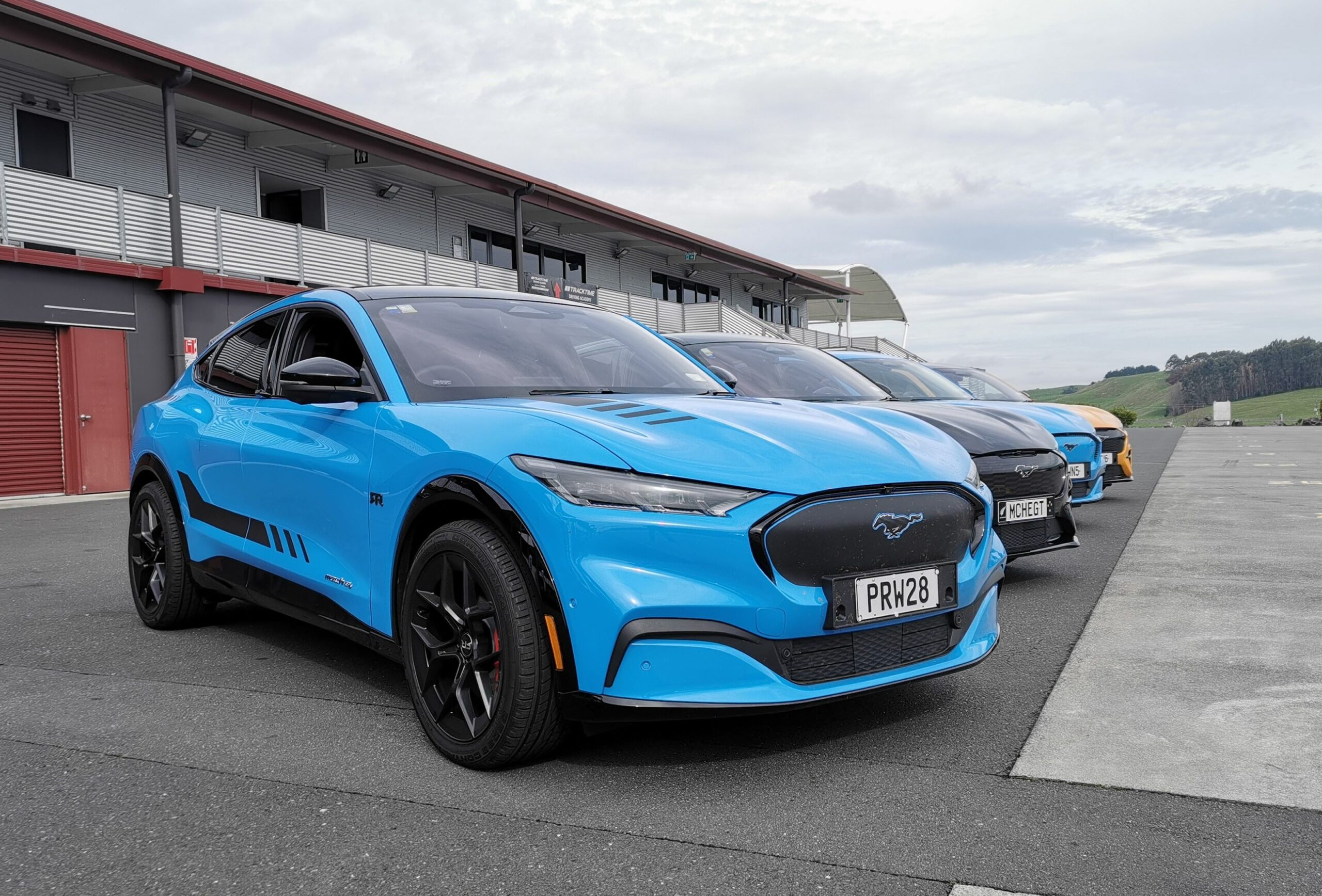 Next stop for us was Hampton Downs Motorsport park for some serious speed and handling tests, we really put the Mach-E, especially the GT and RTR models, through their paces.
We kicked things off with a high-speed slalom, followed by a 90km/h lane-change swerve test, and a drag race, culminating in some exhilarating track laps.
Of course we stayed in 'Untamed' mode, and boy, did that electric pony gallop! In the drag race, the GT showcased all of its 3.7 seconds 0 to 100km/h prowess (leaving us a bit queasy if I'm honest). The slalom had the Mach-E's rear end wagging like an excited puppy, and the accompanying tyre squeal soundtrack was glorious.
The lane change exercise was possibly the biggest thrill. We hit 90km/h, let off the accelerator and sharply turned the wheel left and right through the cones, the rear end kicked out with a smile-inducing grace, but everything remained well under control – really mind-blowing stuff.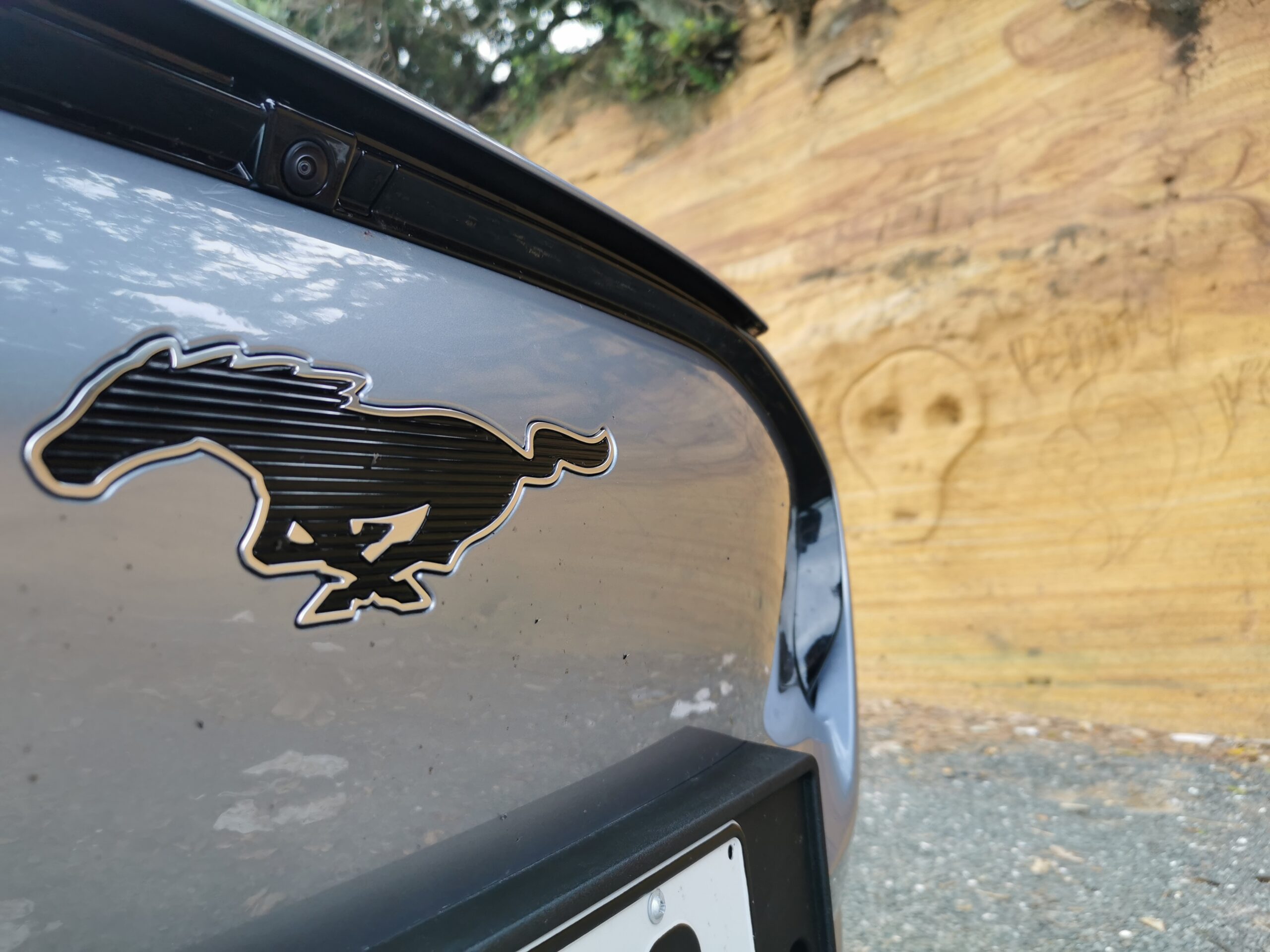 We switched between the sporty-looking RTR and the GT, and both delivered similar heart-pounding experiences, (but the GT was the best).
We wrapped up the day with some adrenaline-fueled laps on the track and let's just say we all had sore faces from grinning so much.
The Mustang Mach-E is not your typical EV, it's an absolute blast to drive, whether you're on the road or tearing it up on the track. It may have a different feel from its low-slung sibling, but it still retains that unmistakable Mustang spirit.