The fourth generation Leon has arrived in New Zealand and it's better than ever, with stunning new designs, advanced technology and both 'clean car' economical or 'heart-racing' ferocious powertrains. There are three models on offer and we got to test them all.
Named after the Spanish city of Leon (which incidentally also means lion), the SEAT Leon was first launched near the turn of the century and was originally only available as a hatch. This popular compact car won hearts and minds and even took out Car of the Year at neighbouring Portugal in 2001.
Generation two came along in 2005 and with it came the introduction of a CUPRA (Sports) version to enliven the senses. Among a raft of other upgrades, with the third generation (in 2012) came a three door hatch option and an estate/wagon, increased safety and 'drive settings' to further tailor your Leon experience and in 2017 a new face was introduced. 
With the history lesson out of the way, let's talk about Gen 4!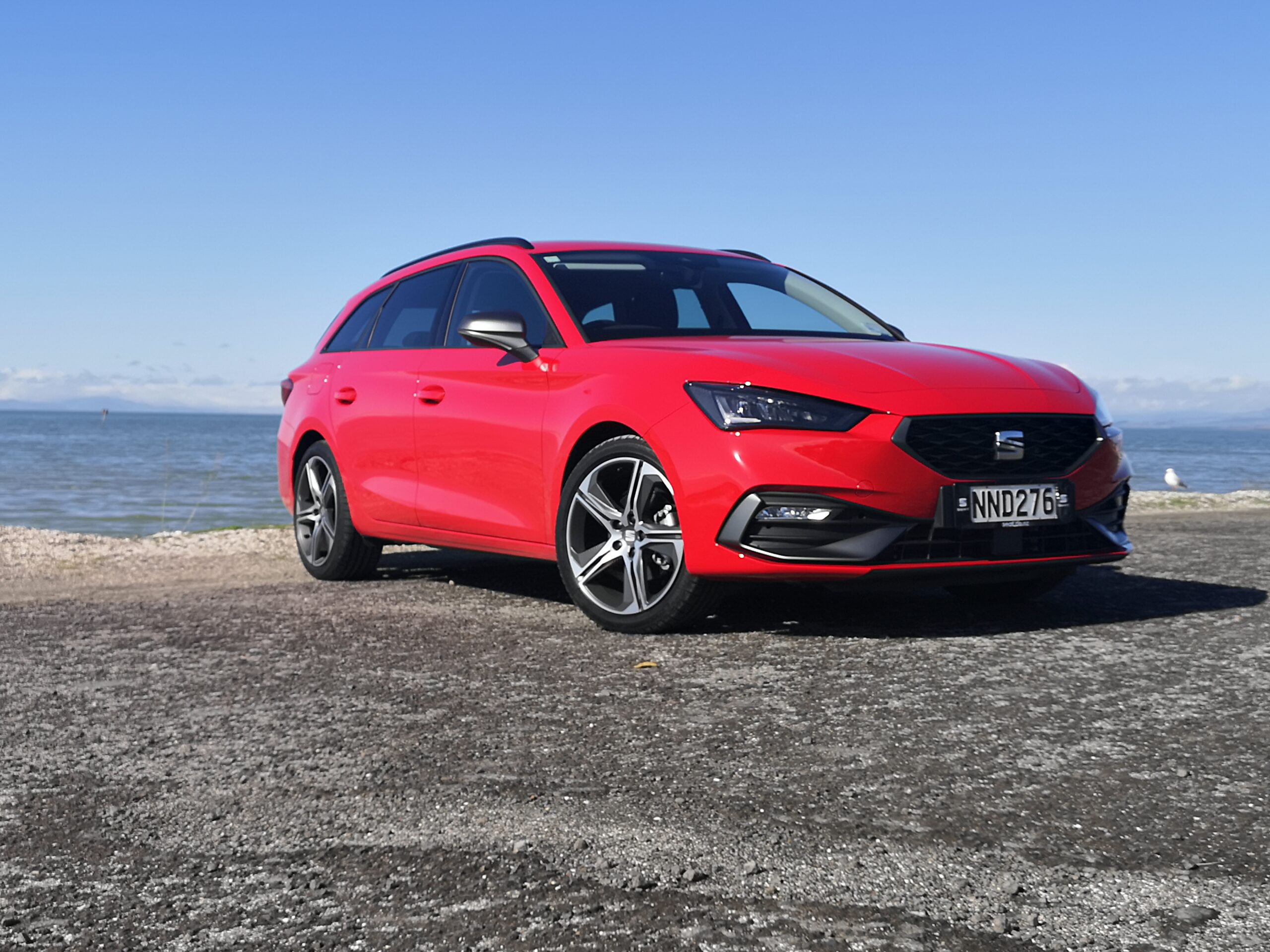 For the SEAT side of the business, NZ is only offering the Sportstourer (Estate/Wagon) model, but don't be unduly concerned it's pretty darn good. It has a shapely bonnet with long flowing contours, LED lights (front and rear), a signature SEAT grille and a sharp lower valance. At around 4.64m long and 1.8m wide, it's marginally smaller than another wagon member of the VW group, (but very comparable) and for those that like luggage space the Leon has 620L of it. The rear comes with a 'coast to coast' lightbar which extends across the width of the tailgate (lights are the new chrome apparently) and the tailgate itself is hands free.
The SEAT Leon's interior is much improved, with a 10.25-inch instrument cluster, 10-inch infotainment screen and wraparound lighting (did I mention that light is the new chrome?) while its 5-Star safety rating includes a plethora of airbag (even a couple between driver and passenger), AEB with pedestrian and cyclist protection, lane keep assist and adaptive cruise control.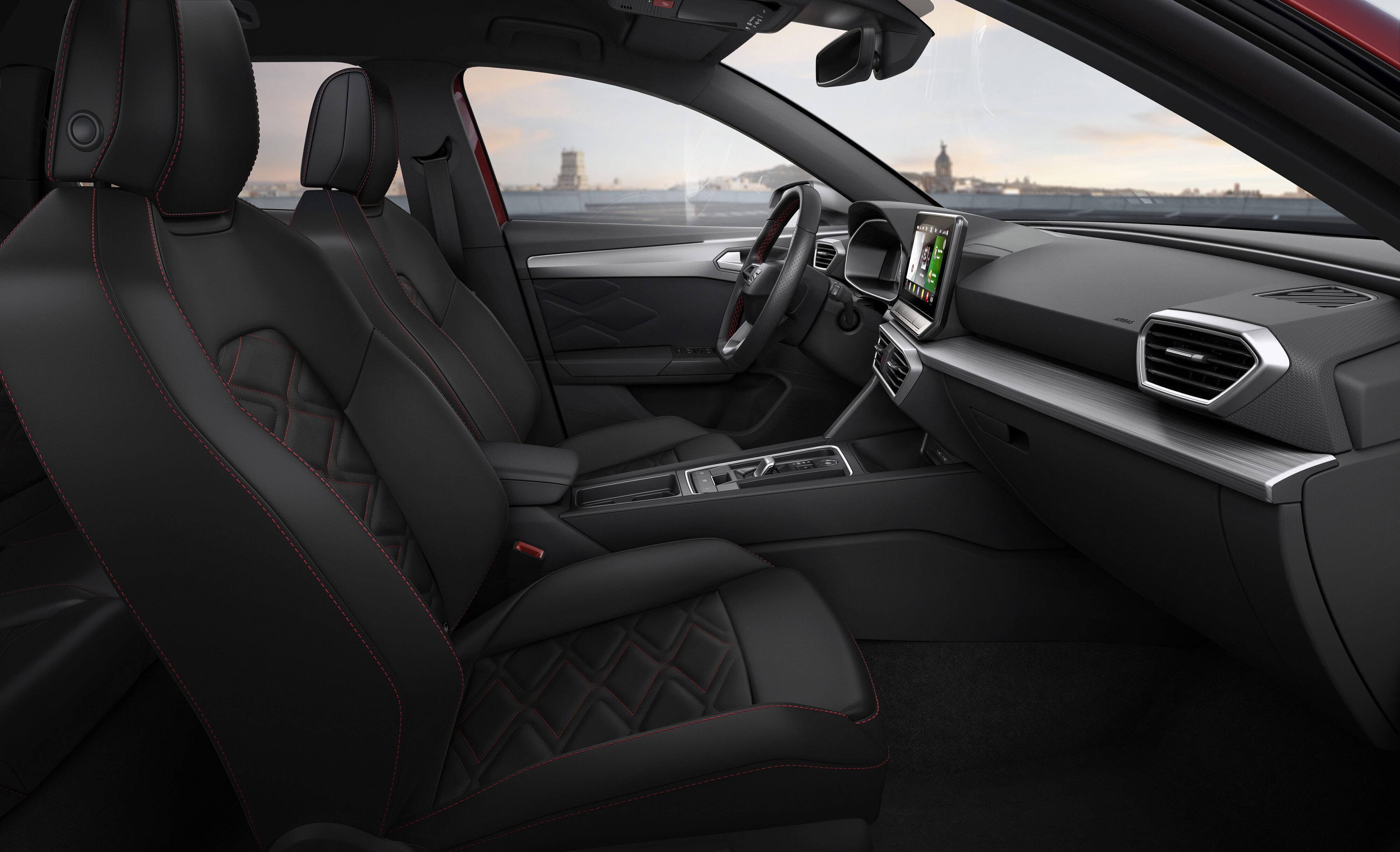 Under its shapely bonnet is a 1.5L (mild hybrid) engine married to a 7-speed DSG that offers up 110kW of power and 250Nm of torque. It sips fuel at a rate of 4.9L/100km and its 128g/km emissions means that it comes with an estimated $2,030 'clean car' rebate.
The CUPRA Leon is a whole different kettle of fish.
Available in two models, a super VZ hot hatch and sizzling VZ Sportstourer, the CUPRA Leon offers everything that's on the SEAT option – and then some. 'Lighting may be the new chrome' but both CUPRA's come dripping with distinctive copper accents too, and it really sets them apart. Also, both come with a 2L turbo engine married to a 7-speed DSG and both offer 400Nm of torque, however, thanks to the Sportstourer being AWD and having a fraction more kWs (221kW vs 228kW) the wagon leaps from 0-100km/h in 4.9 seconds verses the 5-door hatch's 5.7 seconds – provided you use the launch control correctly (I'll get to that soon).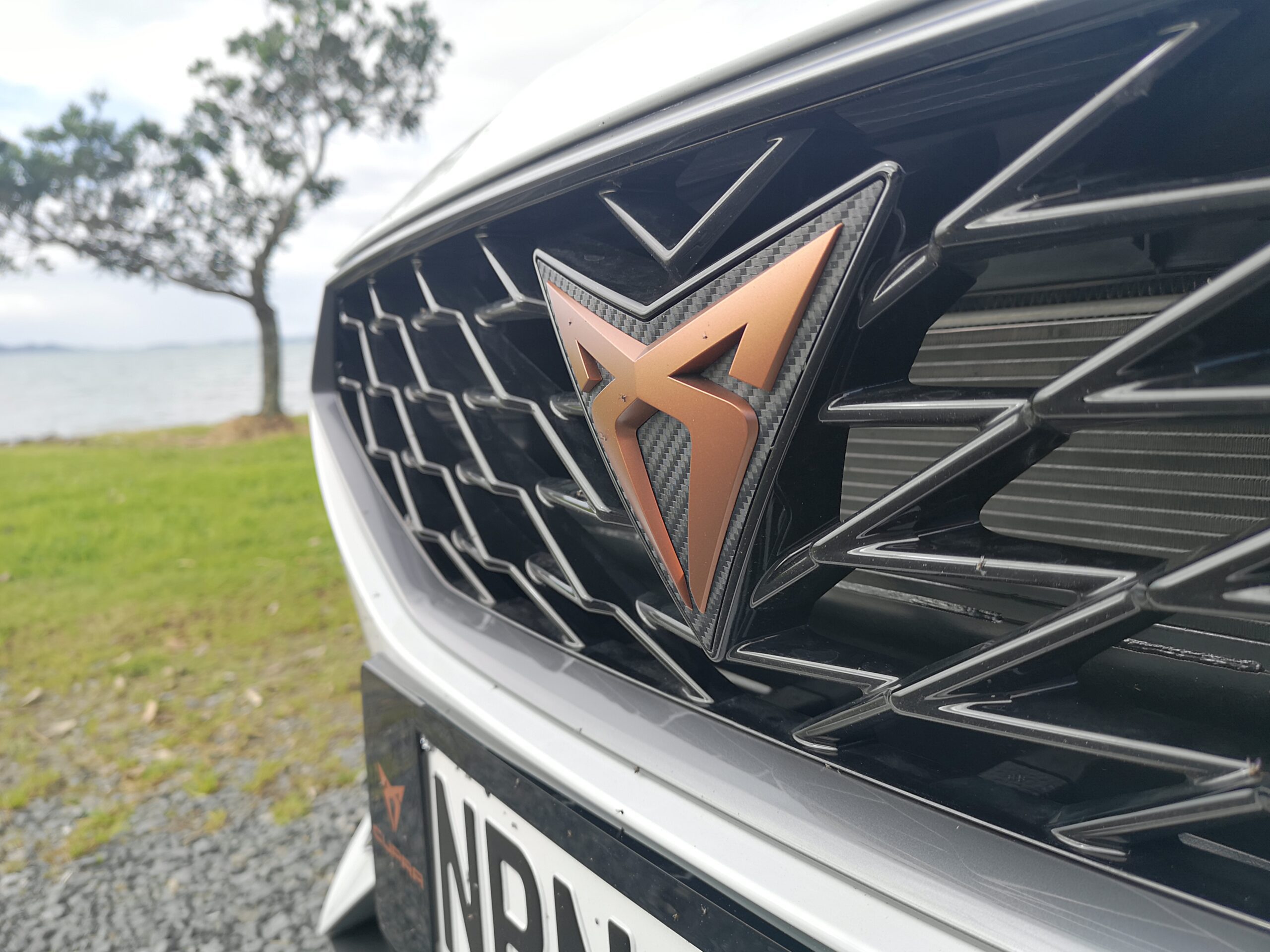 The CUPRA Leon exteriors look (and are) sportier than the SEAT, with more emphasis on airflow including wider vents and diffusers (meaning that the hatch is unable to have a tow bar fitted – shame, not) and CUPRA puddle lighting when opening the doors. But they also have a more refined and sportier interior too, with more copper accents, BEATs audio, dynamic chassis control and sporty, figure-hugging seats.
Our drive route for the day was a giant loop that began and ended at Giltrap's head office in Grey Lynn and included a lunch stop in Clevedon. It would be a solid couple of hours behind the wheel(s) with plenty of places to enjoy a spirited drive.
We opted for the CUPRA hatch to begin with and headed south on SH1 to the Bombay's. On the highway the hatch holds its own nicely, the interior light surround flashes orange when vehicles are in its blind spot and the BEATs system is an audible feast. However, it's when you leave the highway and push down hard on the accelerator that the FWD Leon hatch comes alive. Wheels can (allegedly) spin a lot but somehow the clever traction system keeps you pointed in the right direction, the engine roars and pops and rev matches on downshifting, and the steering is positive with a great weight. Off the mark is quick and would have been quicker had I not mistaken the 'brake hold' button for the 'traction off' one (which is actually in a menu) and therefore messed up my chances of launch control – sometimes I'm such a professional.
At Kaiaua fisheries we swapped in to the SEAT Leon Sportstourer, which despite being a far more sedate Leon, handled the enthusiastic ride to Clevedon with relative ease. The 1.5L performed well under pressure and it gripped well around the coastal roads. It's spacious too, and I would say would comfortably fit a family of four and all their gear on both or long runs.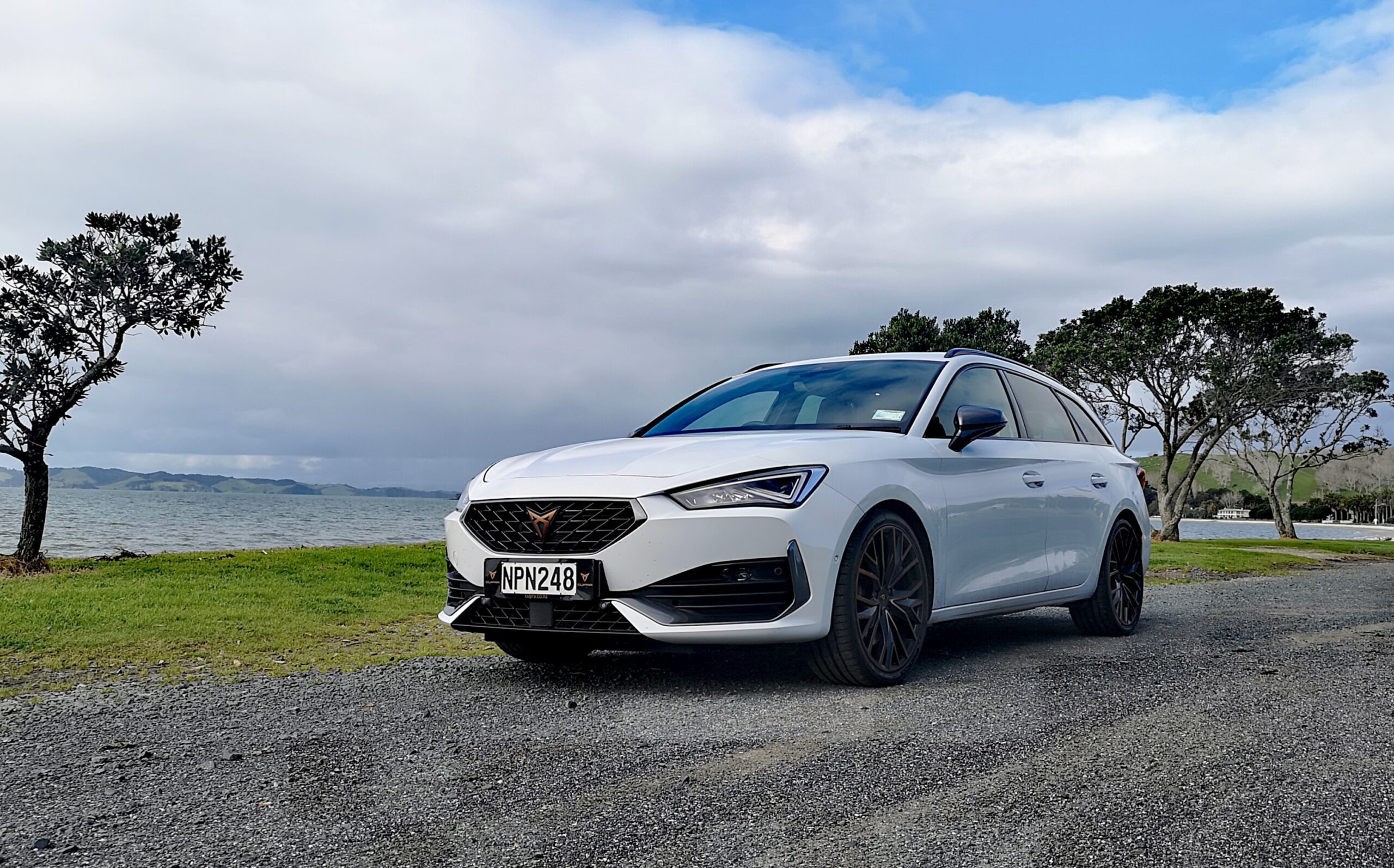 Following lunch at Hallertau (the burgers are fab) we swapped Leon again, only this time to the CUPRA Sportstourer – my fave for the day. The CUPRA Leon Sportstourer offers wagon space with race car ferocity, seriously how many 'family wagons' will sprint from 0-100km/h in under 5 seconds. I'm happy to report that the launch control is easier to use too!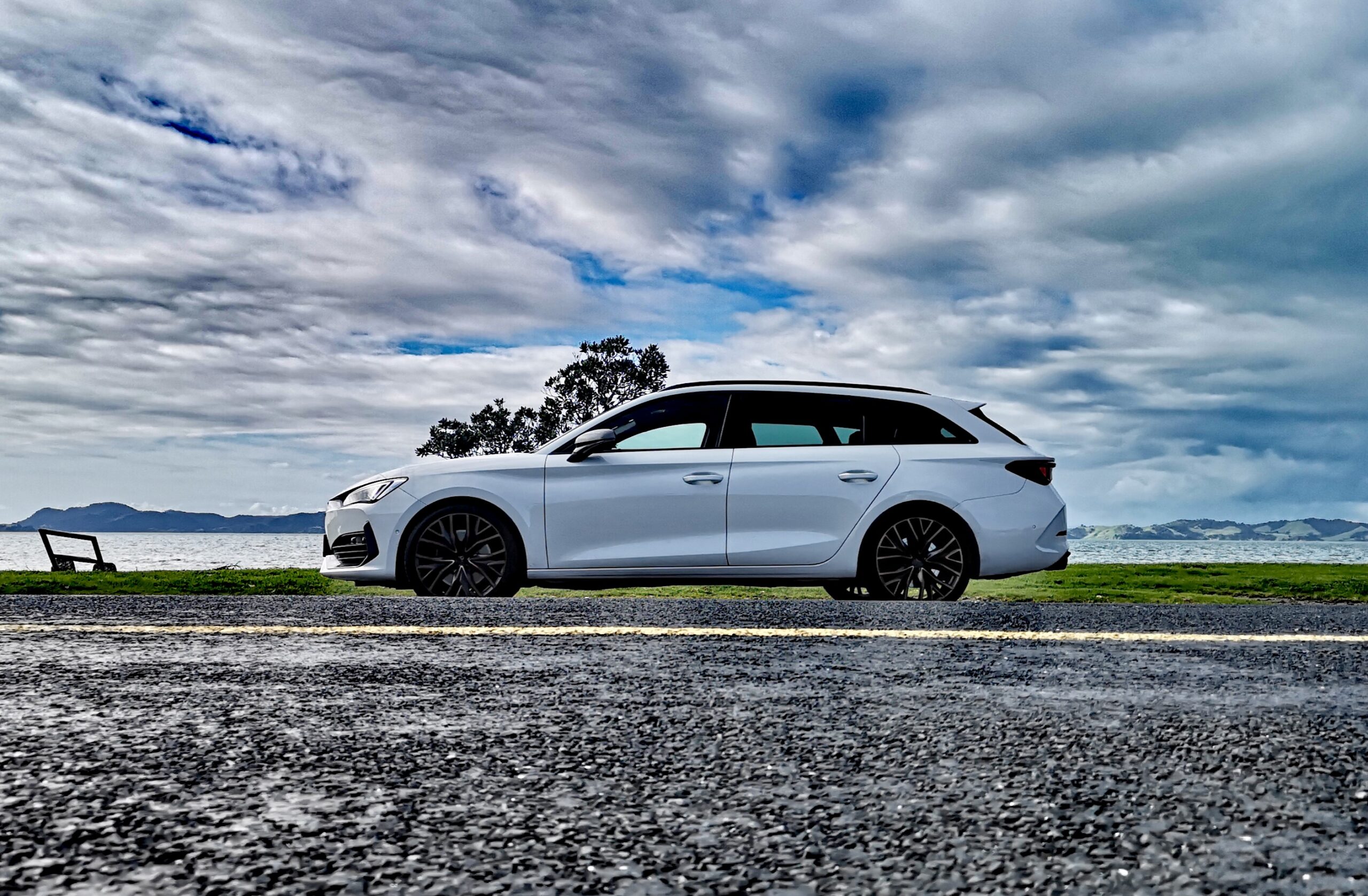 The AWD system gives extra confidence in the corners and the suspension isn't bone-shakingly hard, which means that you can drive enthusiastically without needing chiro work after. Things like the push button start being on the steering wheel adds to its racing flavour too.
Whether it's king of the family wagons or king of the road, the new SEAT and CUPRA Leon seems to have it all. It's racy and stylish, roomy or compact, frugal or well, not so frugal. It's loaded with safety features and (when it comes to the CUPRA) hotter than the mid summer Spanish sun at midday.