For me, BMW's 5-Series is the perfect fit. Sure I still have the 'old school' mentality of preferring Sedans over SAVs but in terms of size, function and (when you get up to the M5), ferocity, the 5 has it all. Well now they've added a PHEV to the range and BMW New Zealand let us check it out.
Around 2013/4, the German automaker launched into the EV scene with the i3 and i8. Both looked futuristic and turned heads wherever they went. They fully embraced battery power and showcased what was possible with their vision of EV and Hybrid world. Since then, the brand itself has forged ahead and become leaders in the high end luxury/environmentally considerate space and have subsequently been recognised as such. Oddly though, the new 530e barely stands out at all.
My review model came dressed in an M-Sport body kit that I believe BMW NZ are adding to all their 5's as standard, but virtually essentially nothing else. I guess I was expecting more EVness, more greens or blues to yell 'look at me I'm helping to save the planet!' However, I'm quite happy about its subterfuge.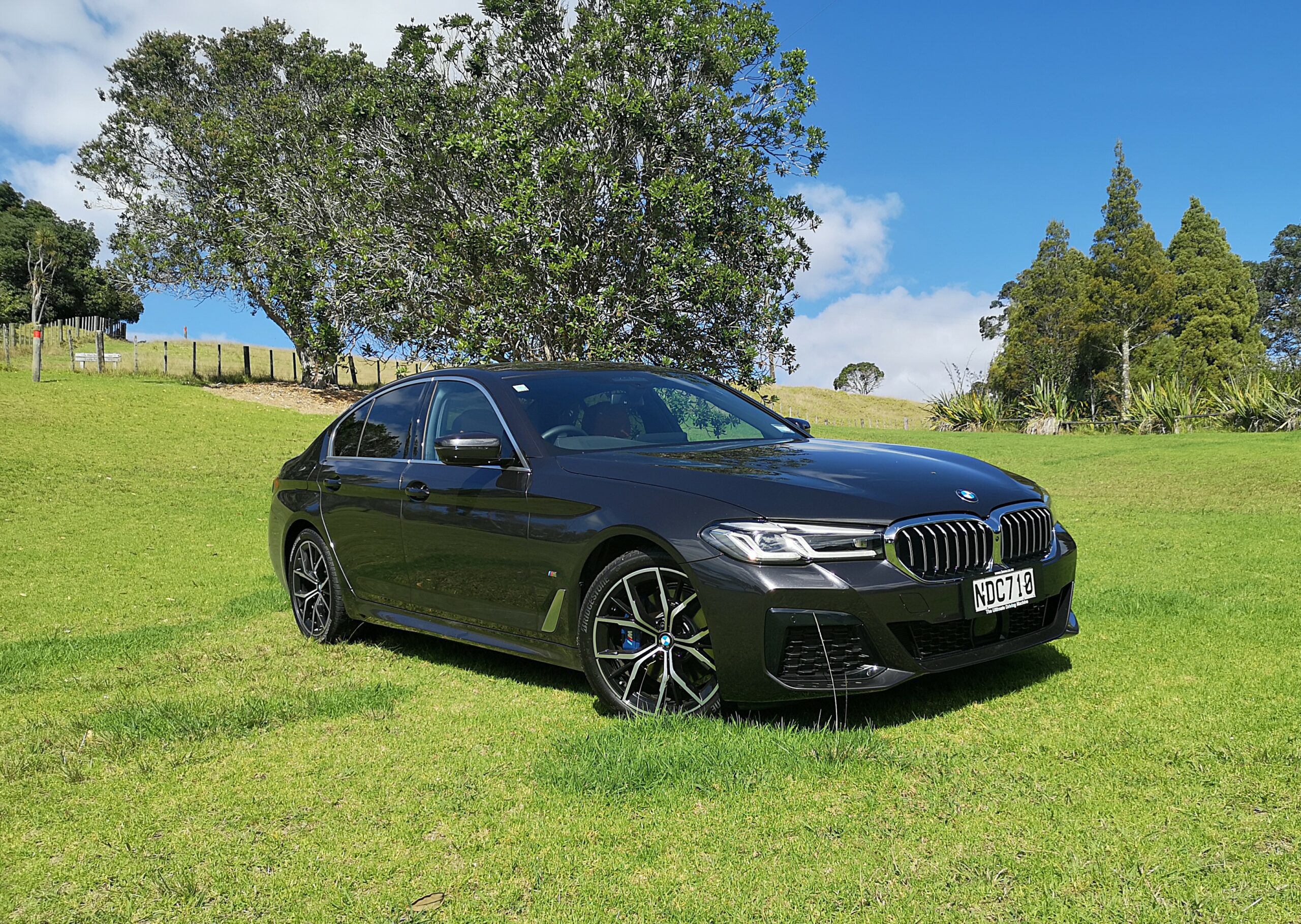 The chrome kidney grilles are larger in this latest model but not as blingy as the X7 and not tainted by blue highlights and the headlights are adaptive and LED but don't unfortunately have the blue of lasers. The Sedan's profile offers up 19-inch alloys with run flat rubber, blue M-Sport brake callipers and an M-Sport badge below the charging flap (I'll get to that in a moment). The rear has been modernised with LED lights and exhaust pipes that are actually connected to an exhaust, while the boot lid subtly adds an e to the end of 530 badging – finally. 'Kicker' access to the boot opens up to a (thanks to the battery) compromised 410L – don't worry, it'll still take your golf clubs.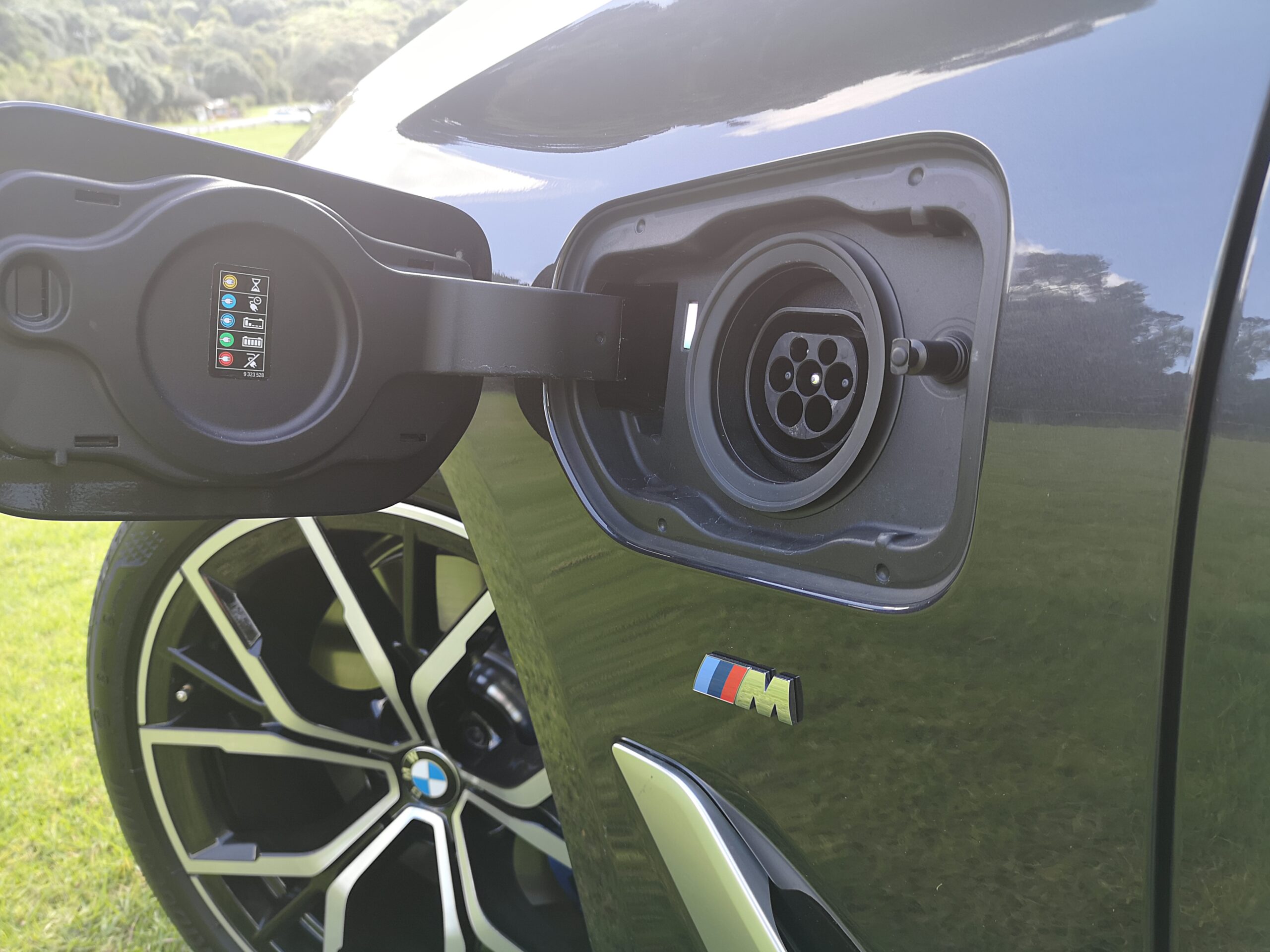 The interior is very BMW 5 normal too. Leather throughout with hints of piano black and a carbon wood trim. The furniture is supportive and luxurious and offers up a slight blue contrast stitch, while the whole cabin feels upmarket and yet familiar with iDrive and 'hey BMW' activation for the infotainment services. It doesn't come with gesture control though, so for those of you out there that like wagging finger control, you may need to look at extra package options. But it does come with BMW Live Cockpit Professional, Connected package Professional, Driving Assistant Professional, Parking assistant Professional, Comfort access
Head-up display, Acoustic protection for pedestrians (in EV mode), eDrive Connected services, Harman/Kardon hi-fi sound system, Adaptive suspension and Ambient lighting so I'm not sure that you'll be missing out in any way.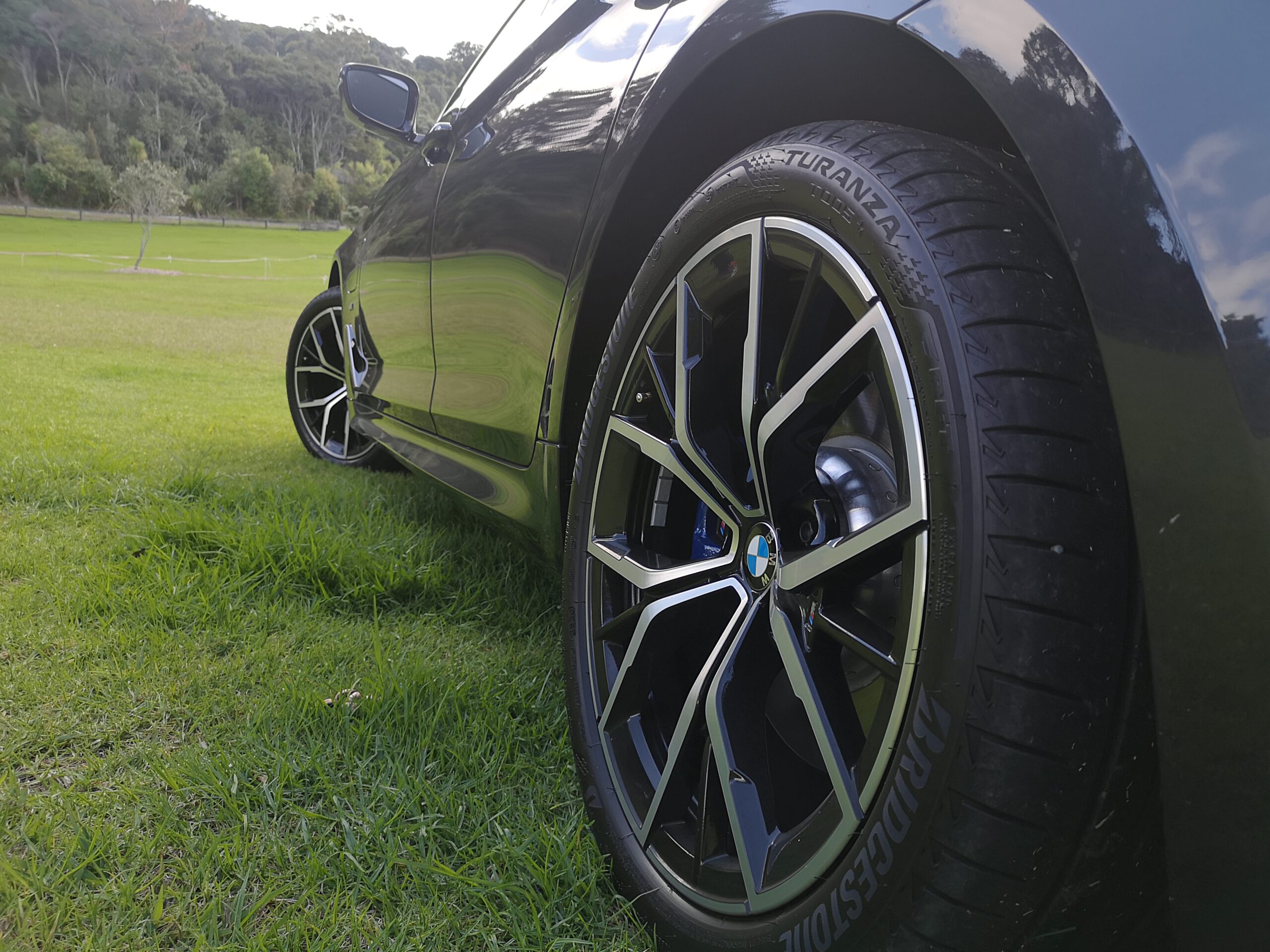 Under the bonnet is a BMW TwinPower Turbo 4-cylinder petrol engine + 12kWh Electric Motor (185kW + 30kW) gives you a total of 215kW of power under foot and 420Nm of torque. 0 – 100km/h can be achieved in an impressive 6ish seconds, fuel-efficiency sits around the 1.6/1.8L/100km mark and what's more, emissions are touted to be 36-41g/km.
The battery itself is a 12kWh lithium-ion with a 'wallbox' changing time of around 3.4 hours and range of around 60km, plus it will travel in EV mode up to 140km/h.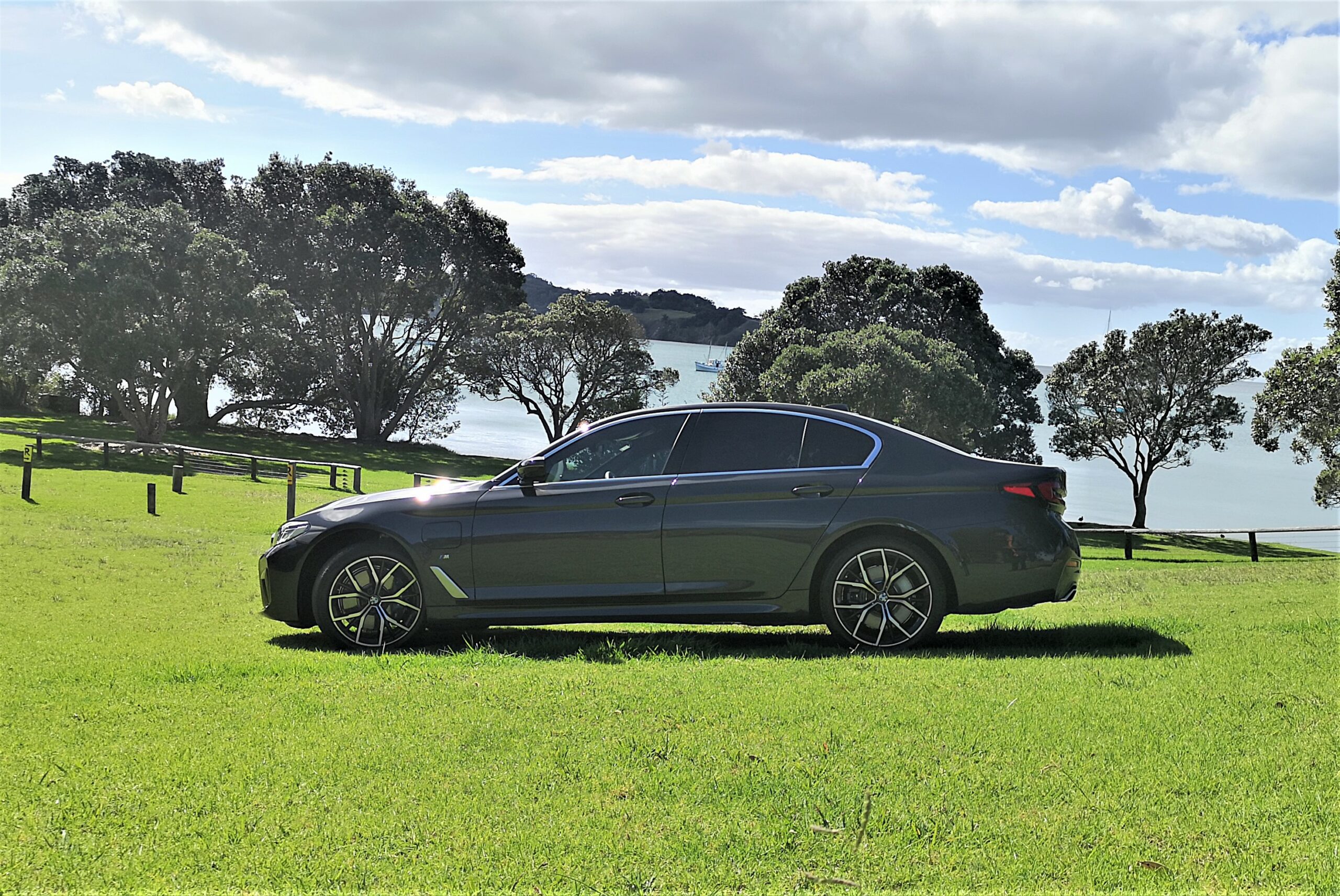 I had the 530e PHEV for a week and enjoyed every moment. Having a 5-series on the driveway makes you feel like a manager and the ride is better still. It feels like a heavy car and with 2L under the hood I assumed it would be sluggish but it's not. The 8-speed Steptronic Sport automatic transmission seamlessly ficks up and down the gears and there's more than enough power at every step.
Unfortunately my accommodation isn't really set up for plugging in cars and my normal goto free Vector power source didn't have the connections required to charge the battery but a simple push of a button near the gearstick had the ICE engine and braking system flooding the battery with power while I went about my driving business and remarkably soon I had a full complement of EV only range to play with.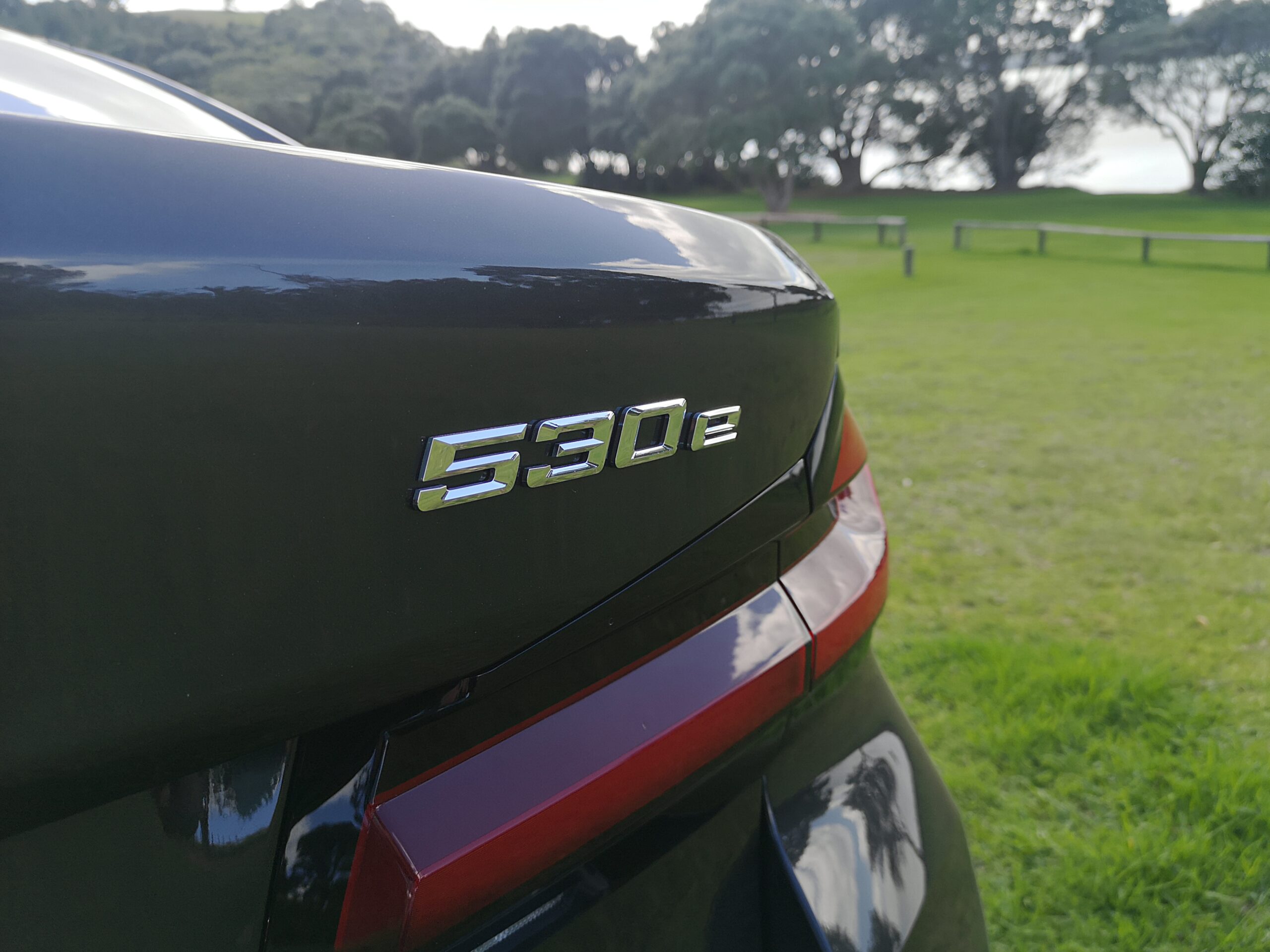 The 530e feels well balanced on the road and in the corners and happily allows you to push the Sedan when necessary, but it's also a bit of a cruiser on the highways and open roads with treats such as adaptive cruise control and lane keep assist taking care of your leisurely drive needs – it does ask you to put your hand on the wheel regularly though – even when it's already there.
From an everyday point of view I feel that this 530e PHEV leaps to the top of BMW New Zealand's 5-series line-up. It's great on fuel and good to drive. Sure the boot space is reduced but the trade off's far exceeds this compromise. Top marks for this electric exec.