Yes, it's that grill. A quick probe of the memory banks has resulted in the conclusion of few car design updates in recent years creating the same level of division with car fanatics than BMW's new look nose.
Some think the design is amazing and wouldn't have it any other way, others will promptly run a mile at the slightest glance. If BMW's new look conk was a bread spread, it would be Marmite without a doubt. You either love it, or you don't.
As for me, I don't dislike it, but it hasn't entirely grown on me either. What has grown on me is the way the BMW M440i featured here drives, because whether or not you like that nose, underneath is a seriously capable sporting coupe.
UNDER THE BONNET
The M440i is very much the M4 lite, or in curry terms, the Madras, rather than the full Vindaloo. Despite being not as spicy, the M440i still has plenty of kick in the flavour department. That kick is courtesy of BMW's twin scroll turbo 3.0L straight six engine with 285kW of grunt and a fairly meaty 500Nm of torque.
With BMW's eight speed automatic box on hand challenging aforementioned grunt to all four wheels via BMW's X-Drive AWD system, zero to 100km/h is dealt with in a very brisk 4.5 seconds. BMW also claim carbon emissions of 161g/km and combined fuel figures of 7.1L/100km. The best I managed to average during my week with the M440i was around the 9.5L/100km mark, so while it's not sipping away at the juice, those figures aren't too bad.
OUTSIDE
New nose aside, the rest of the M440i is classic textbook BMW coupe. Long bonnet, sloping rear roofline and a wide stance. The Laser LED headlights are more aggressive and those 19-inch M Sport alloys look really good with blue M Sport brake calipers. That said, the alloys themselves seem to be lost in the arches when seen from the rear.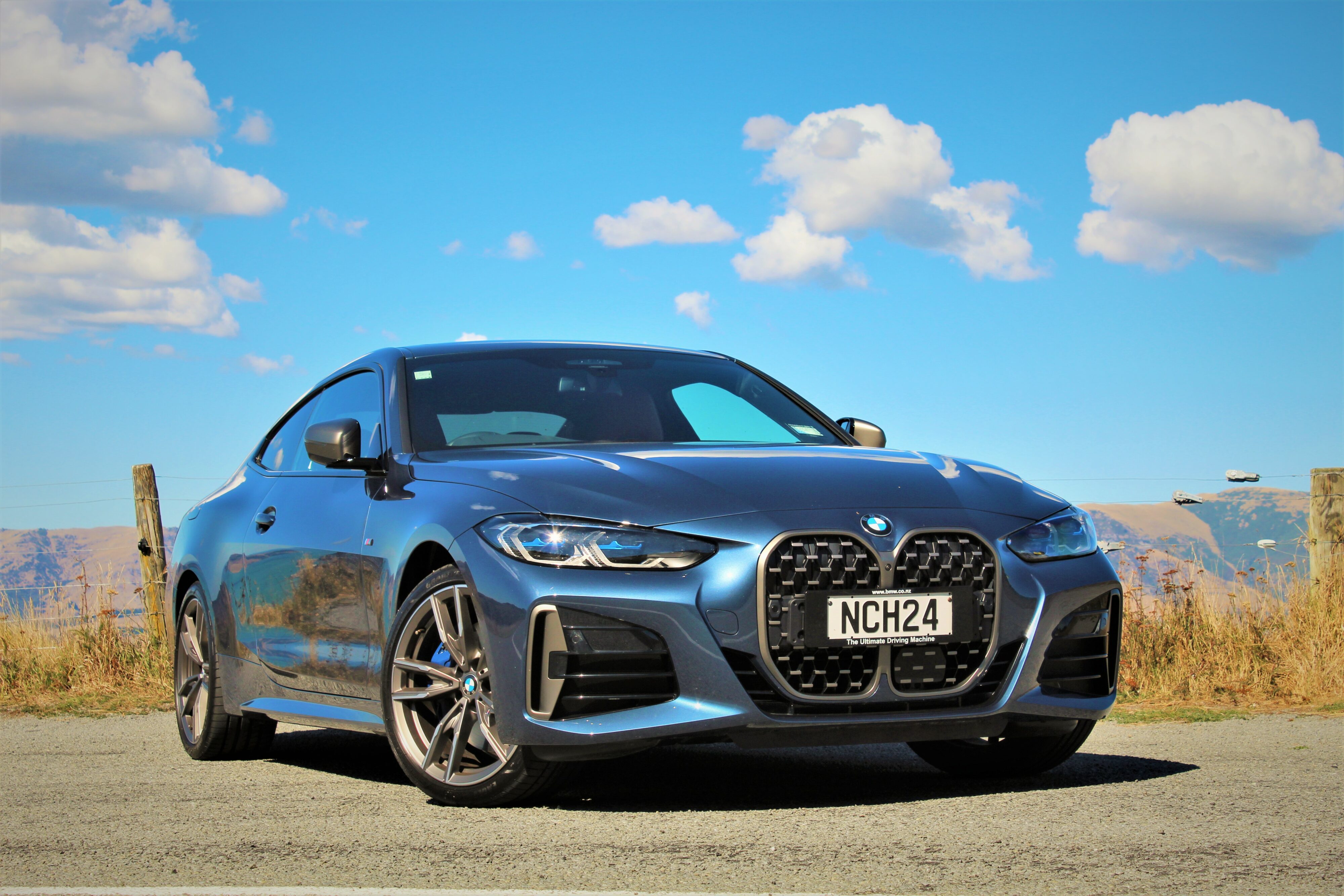 The rear end looks good, and it seems BMW have made the rear emblem a tad bigger than before. If you want a more outlandish muscular design, go whole hog and buy the M4, the M440i is more about restrained and subtle cues which still look clean cut and modern.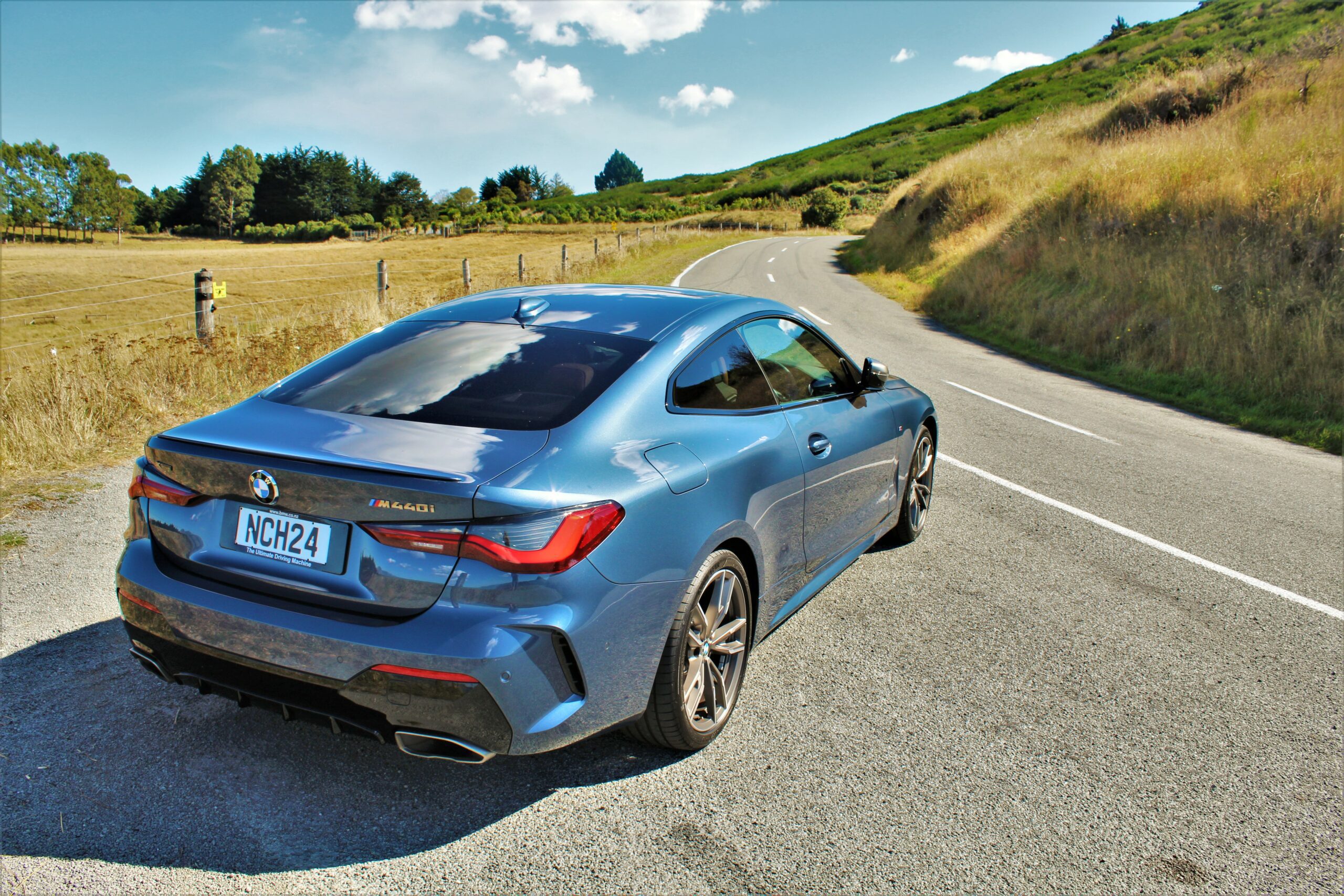 What I loved about my test car was the combo of Arctic Race Blue paintwork and Vernasca Cognac Leather. The blue and rich tan is a timeless colour combo and it was such a welcome presence in a car which more than often ends up in a cliché combo of black or white paint on black leather.
INSIDE
Hopping inside, it is very much a case of BMW interior Deja Vue. With all high end brands heading embracing the world of touchscreen this and touch button that, it is nice and quite satisfying to be able to push buttons to operate the various bits and bobs. While too many buttons would be a little over the top, there is just the right amount here for my liking.
The M440i gets a lot of fruit as standard, such as Adaptive M Suspension, Auto Tailgate operation, BMW Gesture control, a 12.3" digital instrument display, a very good Harman/Kardon Surround Sound System, M Sport Diff, M Sport Aero Package, Parking Assistant with Active Park Distance Control rear, Reversing Assistant with 360 camera, Wireless Charging, and heated leather seats.
BMW's user voice interface returns. Simply say "Hey BMW" and you can command various tech with less required on your part than traditional voice activation. It's a great system and very Star Trek, but when it gives you the option of raising and lowering the driver and passenger window by the sound of your voice, you get the impression its technology for technology's sake. Let's face it, we have all really struggled at moving our index finger over to the electric window switch and pulling it haven't we?
Tech aside, the M440i is a sublime place to sit. The seats offer just the right amount of hip hugging comfort without being too soft that you just sink into them.
The driving position is nigh on perfect and there is plenty of visibility all around. While it is four-seater, seldom will any people be seated in the back, so you may as well fold those rear seats down and increase the boot space.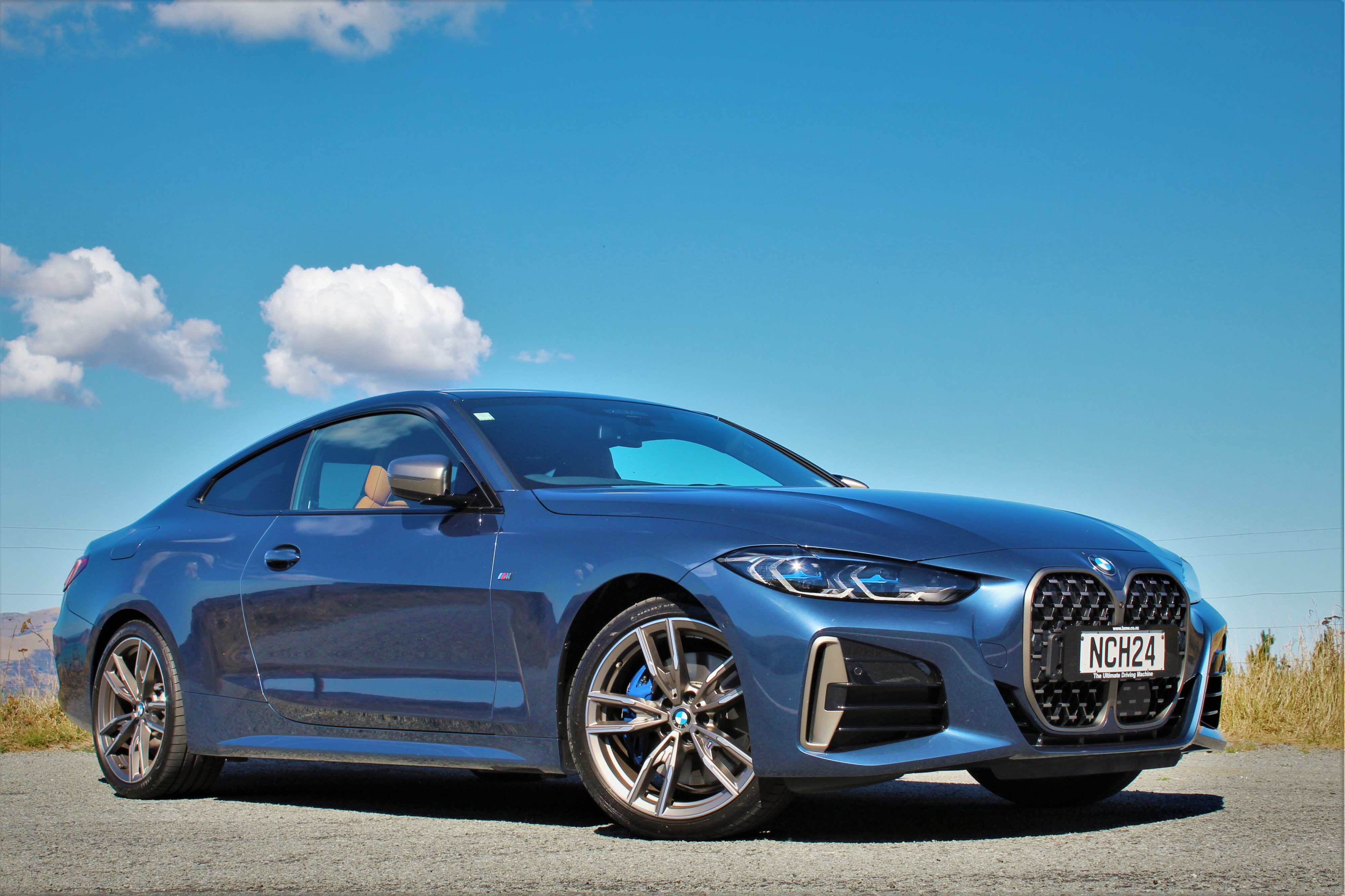 ON THE ROAD
Push start and that twin turbo six just purrs. Flex your big toe and the revs rise quicker than you might think, emitting that sweet turbo six noise which BMW have nailed over decades of development.
Despite the M-Sportiness, ride comfort deserves to be mentioned as there is plenty of it. It feels live and supple when cruising without being too wallowing in the bends.
Moving on to SH1, the M440i will certainly get up to speed in brisk manner should you want it too. Plant boot after switching from Comfort to Sport and way hey, you are off.
The power delivery is very linear and while it wont leave you pinned to your seat, it is more of a gradual surge of grunt, resulting in you backing off quickly when it becomes all too apparent you are beginning to stray over the 100km/h limit.
Easing off the power and sliding over Eco Pro, the M440i settles and quietens down. Sitting at a snip above 1100rpm, it's a relaxing environment to munch up the miles.
However, it only takes a turn off onto your favourite bit of twisting B road for the M440i to let its hair down. Flick over to Sport Plus and the dial of sportiness, while not going up to 11, certainly goes pretty high.
Shifting up and down via the paddles of the eight speed Steptronic box is a delight, as is a blip of the throttle with every down change. The thick rim steering wheel feels really good in your hands as you guide the M440i at speed into yet another sharp left hander.
The M Differential and M Dampers work their magic and provide plenty of feedback and never let you feel unaware of what the front and rear of the car is up to.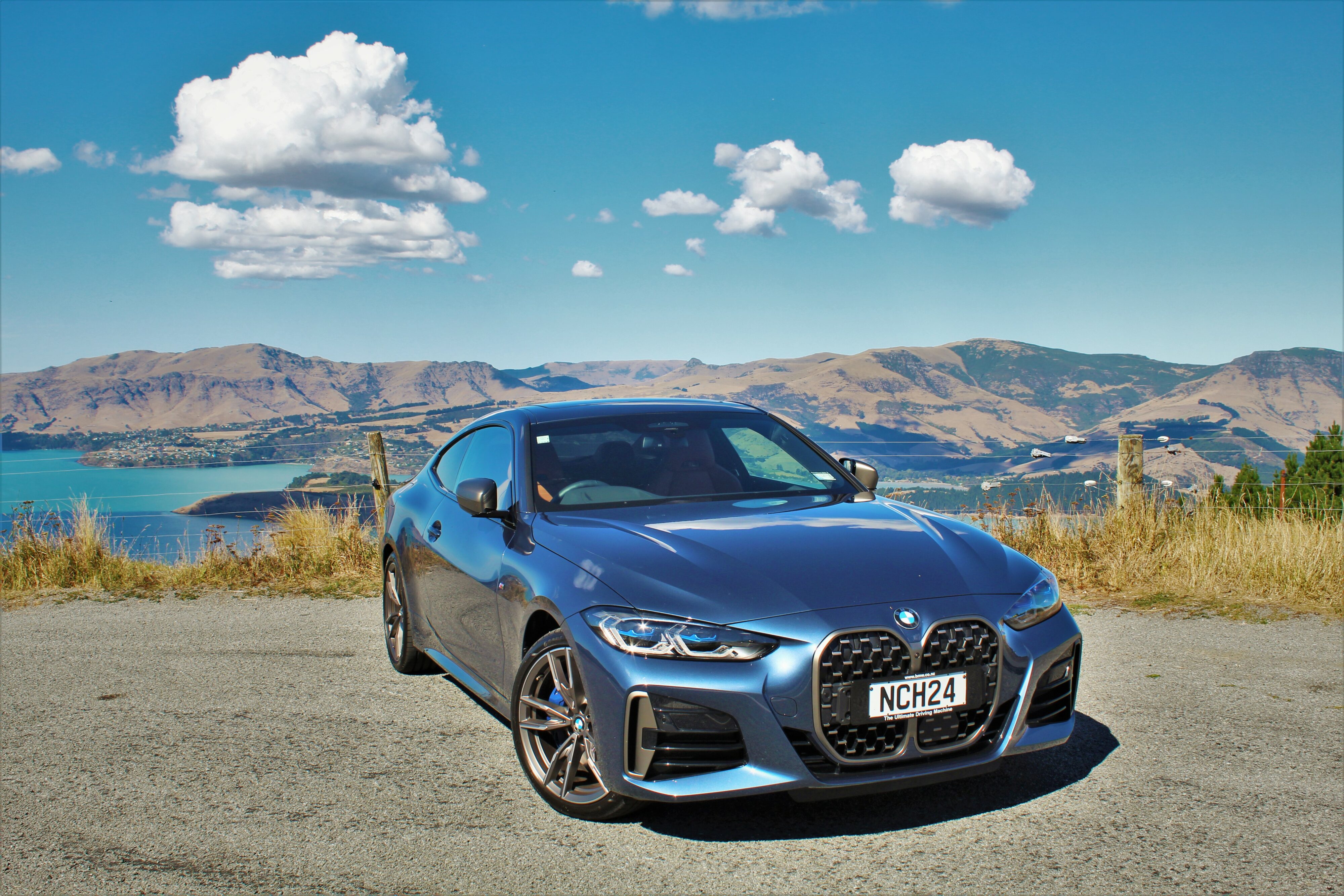 Few in this segment can nail the purist driving dynamics like BMW. Feed in the power and coax in some steering and you can rocket out of each corner grinning from ear to ear. And this is the diet M4 remember.
Plenty of grip and plenty of go are vital ingredients to the recipe that is the M440i, and when you get it right, the rewards are massive. You feel flattered like it was your doing and not the cars.
VERDICT
The M440i will set you back $129,900 plus ORC, though my test car was $139,500 thanks to the extra $9,000 worth of Visibility and M Carbon Exterior Packages. The price is up there, but the M4 is also so much more.
In summary, the M440i will still provide more than ample thrills and driving dynamism to keep most of us who profess to be of an enthusiastic motoring nature very happy indeed.
BMW manage to get the high-end coupe recipe pretty much spot on and the new M440i is yet more evidence of that. Whether or not it is right for you, depends greatly if you are a fan of that Marmite grill.
RATING: 4.5/5